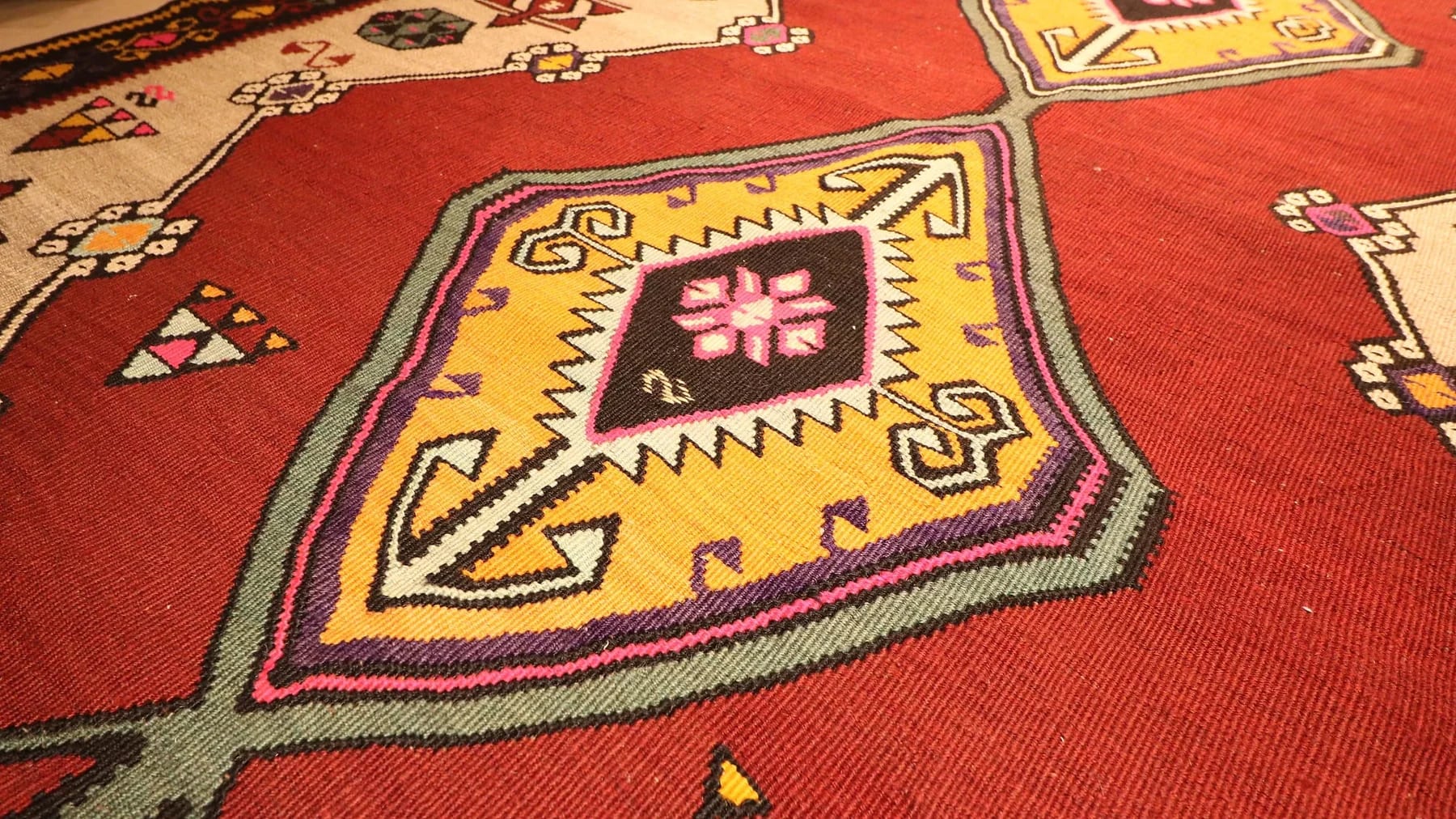 Recognizing Real Value - Understanding Vintage Turkish Kilim Rugs and Avoiding Fakes
At Kilim Couture New York, we take immense pride in offering the most well-preserved Anatolian rugs and kilims that have stood the test of time, primarily from the mid-20th century. What sets our brand apart is our unwavering commitment to authenticity. We do not sell antique-looking fake rugs or washed-out imitations. Our collection consists of rugs that have aged gracefully and authentically, maintaining the integrity of the Turkish rug-making tradition.
However, in recent years, the market has been flooded with fake antiques and artificial aging techniques that have deceived buyers. In this article, you will learn how to recognize genuine and valuable Turkish rugs and how to avoid counterfeit products.
Identifying Real Turkish Rugs
Turkish rugs are renowned for their unique designs, quality materials, and craftsmanship. When it comes to authentic Turkish rugs, Kilim Couture New York adheres to the highest standards of quality. To identify genuine Turkish rugs, pay attention to the following features:
Material Quality: Authentic Turkish rugs are made from high-quality wool or silk. They are thick, durable, and provide a luxurious feel to the touch. We source only the finest wool and silk to create rugs that are thick, durable, and luxurious to the touch.
Patterns and Designs: Each region has its distinctive patterns and color palettes. By studying traditional Turkish patterns, you can learn about the different regional styles. Each rug in our collection is a testament to the rich diversity of Turkish regional styles, offering you a window into the captivating world of Turkish design.
Handcraftsmanship: Genuine Turkish rugs are crafted by artisans using traditional techniques. Look for imperfections and irregularities in the design, as these are signs of authentic handwork. At Kilim Couture New York, we celebrate the imperfections and irregularities in our rugs, as they signify genuine handwork and preserve the traditional techniques that make Turkish rugs unique.
Natural Dyes: Authentic Turkish rugs often use natural dyes, which may change over time, resulting in a beautifully aged appearance. Our rugs showcase the beauty of natural dyes, aging gracefully over time to provide your home with an enduring aesthetic.
Knot Count: The knot count can vary, but a higher knot count is generally indicative of a more finely crafted rug. We offer rugs with varying knot counts, but rest assured, our collection is finely crafted, ensuring that you get a piece of true value.
Beware of Artificial Aging Techniques
We are well aware of the prevalence of counterfeit Turkish rugs, and we take great care to avoid these artificial aging techniques. Unfortunately, there is a growing market for counterfeit Turkish rugs that employ artificial aging techniques. These methods are designed to make a rug appear older than it is. Some common techniques include:
Distressing: Fake aging may involve roughening up the surface or adding artificial wear and tear. Our rugs maintain their authenticity, free from any artificial wear and tear.
Artificial Stains: Stains or discolorations may be added to mimic age and use. Kilim Couture New York guarantees that our rugs are stain-free, preserving their original beauty.
Color Fading: Fake aging can change the rug's colors to simulate the natural fading that occurs over time. We do not alter our rugs' colors to mimic natural fading because we believe in celebrating their original, vibrant hues.
Chemical Treatments: Some fake rugs are subjected to chemical treatments to alter their appearance. Our commitment to preserving the true essence of Turkish rugs means that we steer clear of chemical treatments that alter their appearance.
Buying from Reputable Sources
To ensure you're purchasing a genuine Turkish rug, it's important to buy from reputable sources. Look for established sellers who can provide information about the rug's origin, history, and authenticity. Kilim Couture New York is your trusted source for genuine Turkish rugs. We connect you directly with artisans and markets in Turkey, ensuring that you can find and appreciate genuine, handmade rugs here in the heart of New York City.
Turkish rugs and kilims are not just decorative pieces but also works of art that hold cultural significance. By understanding the hallmarks of genuine Turkish kilims and being aware of artificial aging techniques, you can make informed purchases and protect yourself from counterfeit products. Support the art of traditional craftsmanship and enjoy the beauty and history that genuine Turkish rugs bring to your home.
Comparison of Authentic Antique and Vintage Turkish Rugs by Kilim Couture New York (on the left) vs. Replica Worn-Out and Faded Rugs (on the right)
Explore Further Inspiration
Read More