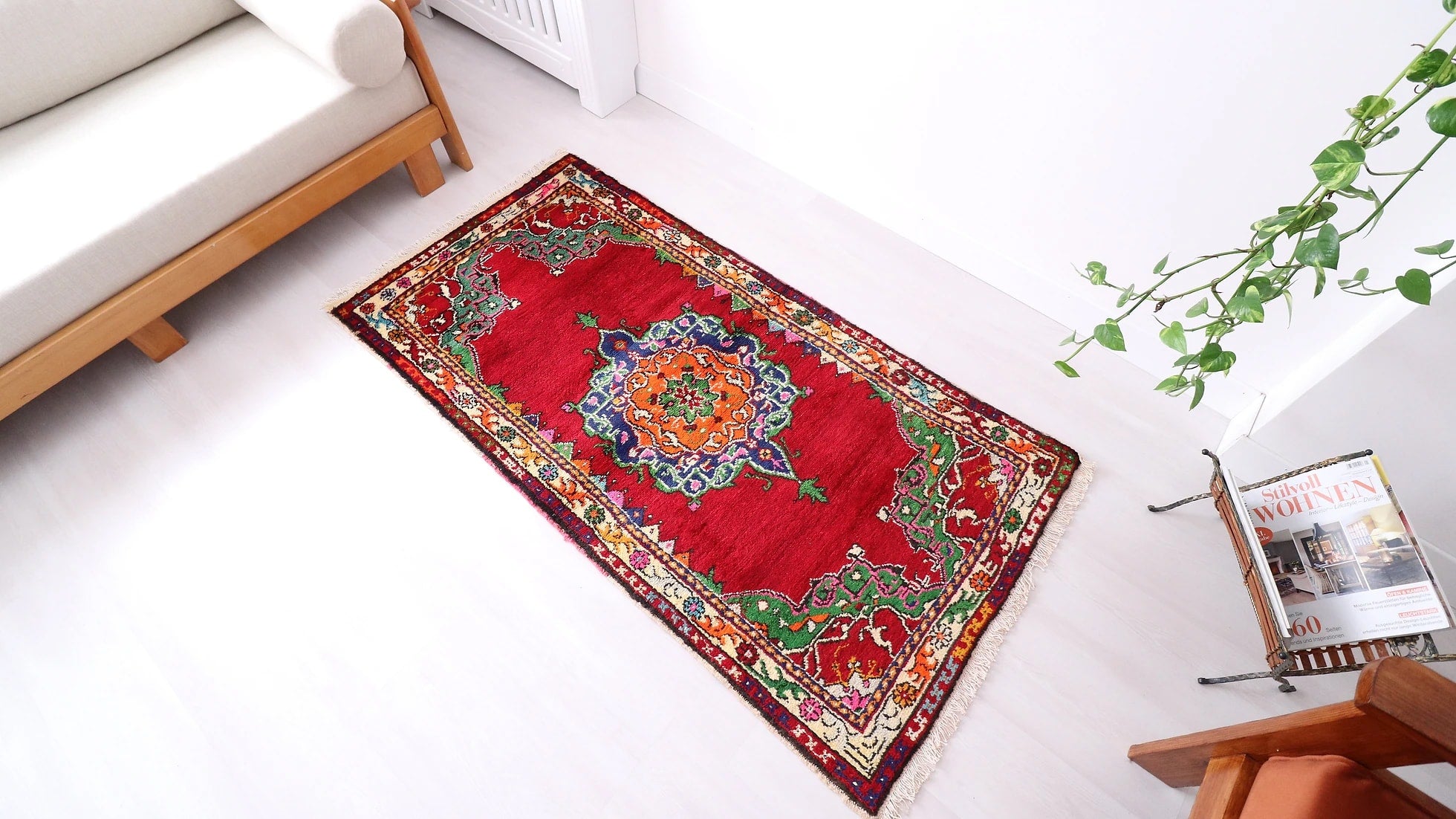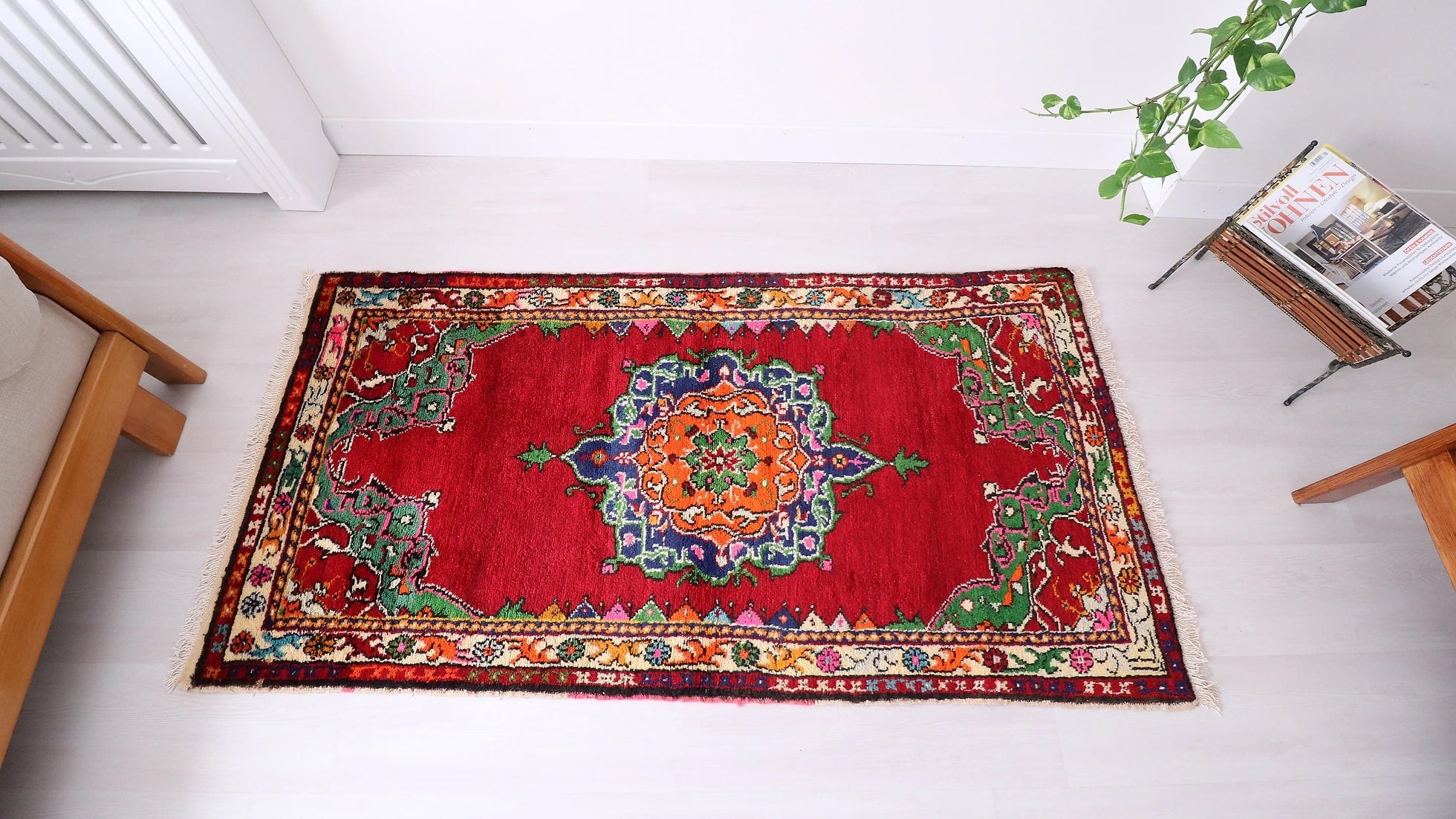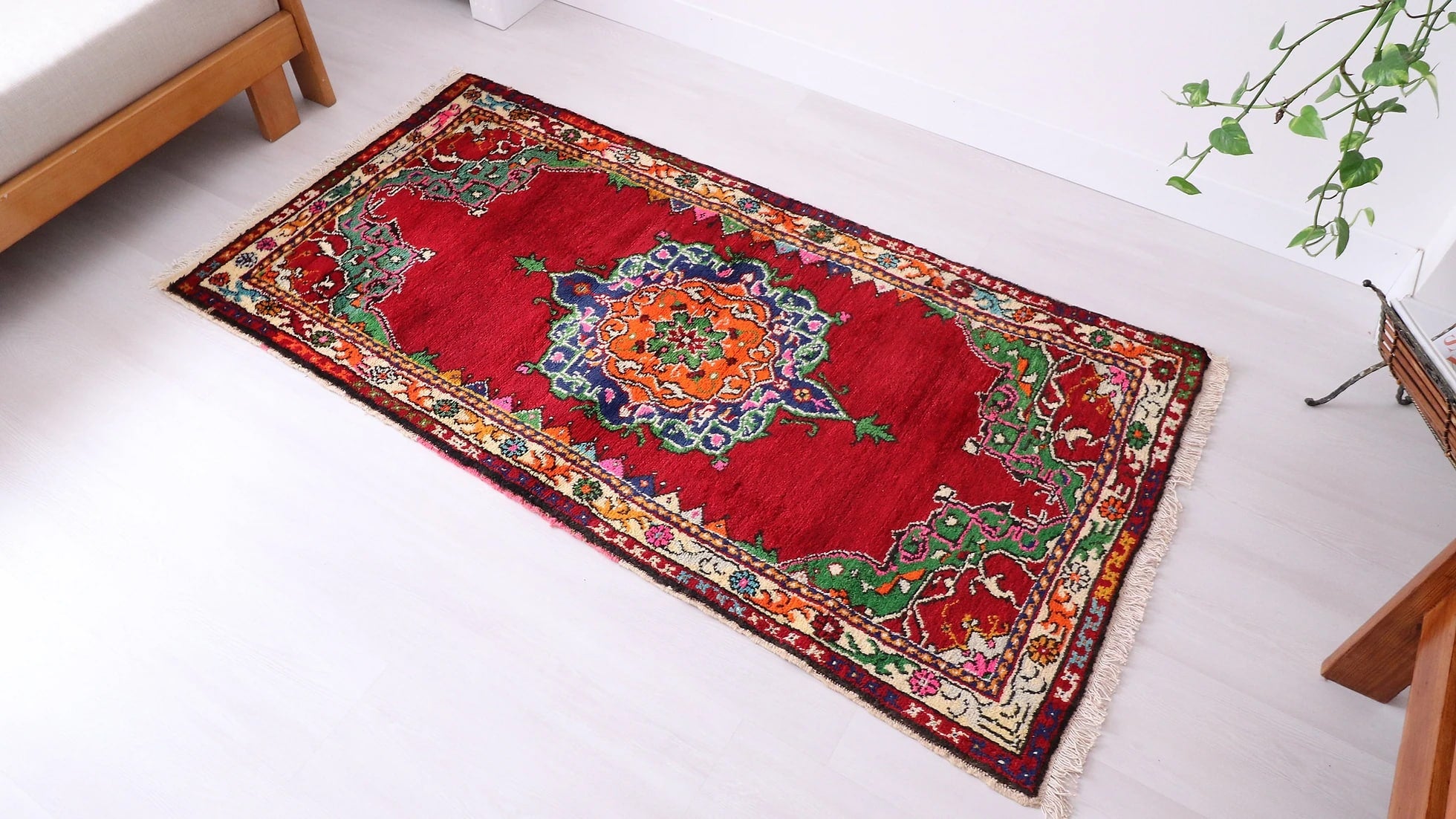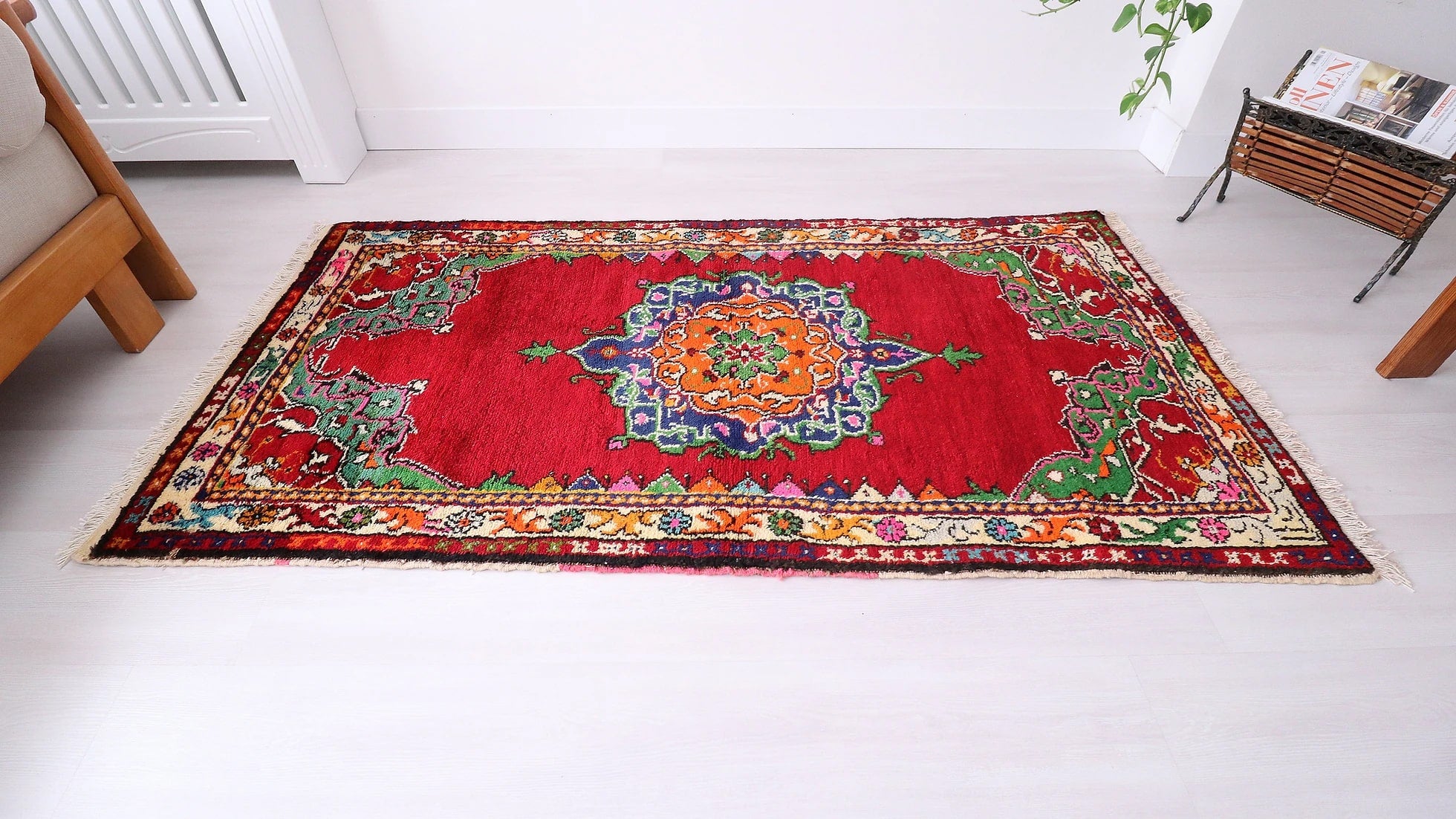 Vintage Turkish Hand-Knotted Runner | Kirsehir Oriental Rug with Central Medallion 1960s
Sale price

$1,090.00
Regular price

$1,390.00
(/)
---
Enter a realm where time stands still, where ancient traditions intertwine with masterful artistry. From the enchanting embrace of Cappadocia, Turkey, the Kirsehir village presents to you a true marvel - the Mid-Century Oriental Handwoven Turkish Carpet.

This rug serves as a living testament to the region's impeccable craftsmanship and its rich artistic legacy. At its core, a resplendent floral medallion blooms forth, a veritable bouquet of blossoms in captivating shades of cerise and ruby red, evoking the romantic hues of a Cappadocian sunset.

Yet, this medallion is no mere centerpiece; it is a gateway to a world of vibrant enchantment. Exuberantly brilliant, it radiates with tangerine orange, profound sapphire navy, and luxuriant emerald green. These colors harmonize, each one narrating tales of a culture steeped in history and beauty.

Venture further, and you'll uncover a captivating tapestry of floral motifs adorning its intricate borders. These beguiling patterns come to life in shades like the verdant oasis, a testament to lush greens; rose petal blush, a delicate homage to pinks; azure dream, an embodiment of tranquil blues; mandarin zest, the embodiment of vibrant oranges; crimson elegance, a deep homage to reds; and earthy taupe, a whisper of understated sophistication.

Measuring a harmonious 3x6 feet, this oriental rug beckons you to embark on a journey through the annals of time. Its vintage charm, harking back to the 1960s, carries with it the weight of history, weaving the tales of generations past into its intricate patterns.

This medium-sized masterpiece transcends the realm of mere decor; it is a work of art that seamlessly integrates into eclectic, traditional, and transitional interiors alike. Whether gracing the floors of your home or adorning the hallways of your office, this rug bestows a touch of timeless elegance upon every space it graces.

Our traditional rug is more than just an item of decor; it is a voyage through history and a tribute to the enduring allure of Turkey's artistic heritage. Elevate your surroundings into a sanctuary of color, history, and elegance with this singular masterpiece from Kirsehir Village, where tradition converges with artistry.
Age: 1960s

Condition: Excellent

Dimensions: 2' 11" W x 5' 8" L

Floor Heating Safe: Yes

Material: Wool on cotton

Origin: Kirsehir, Turkey

Primary Color: Red

Product Care: Vacuum clean gently or professional cleaning

Shape: Rectangle

Style: Oriental style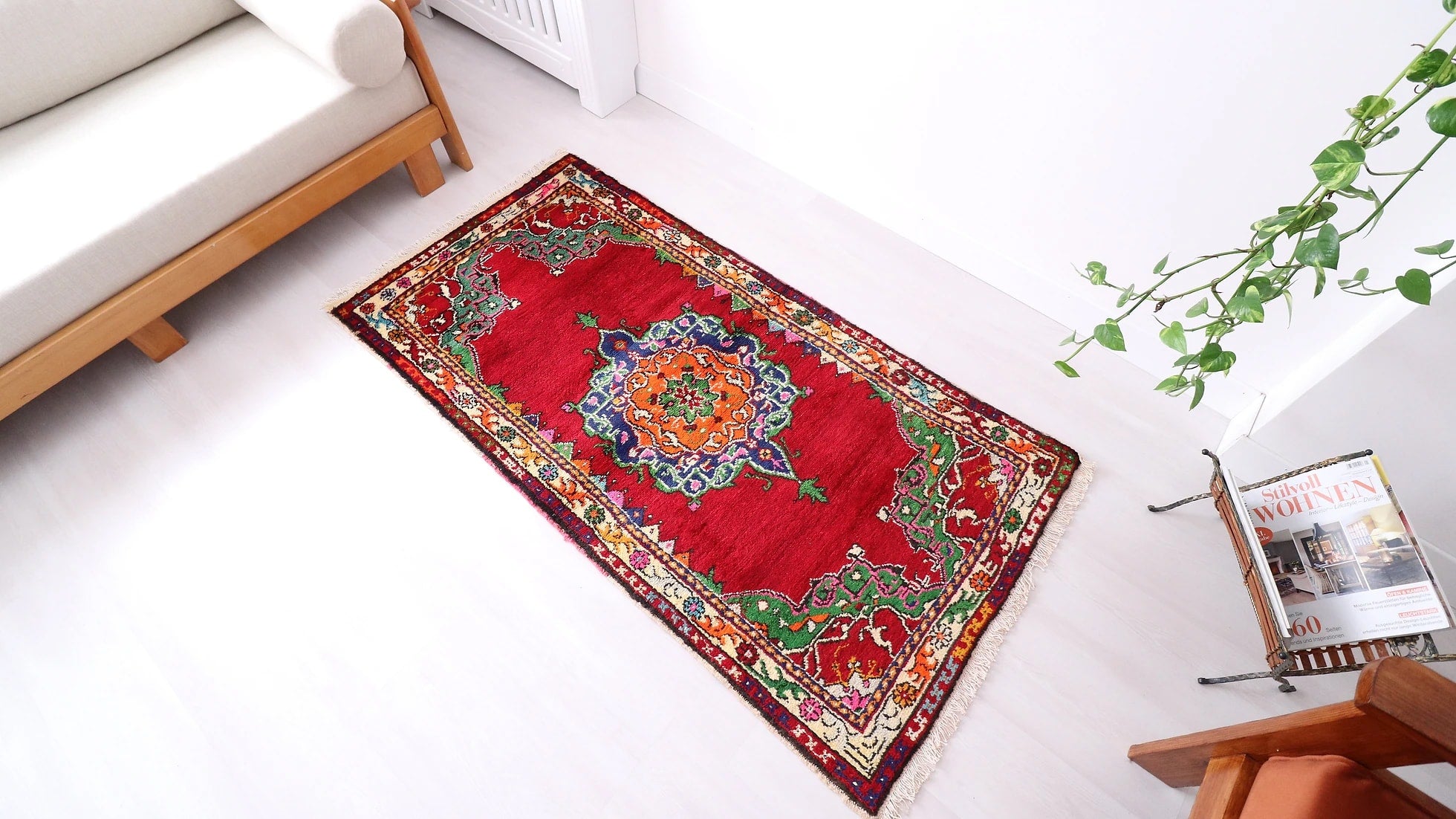 Vintage Turkish Hand-Knotted Runner | Kirsehir Oriental Rug with Central Medallion 1960s
Sale price

$1,090.00
Regular price

$1,390.00
Choose options