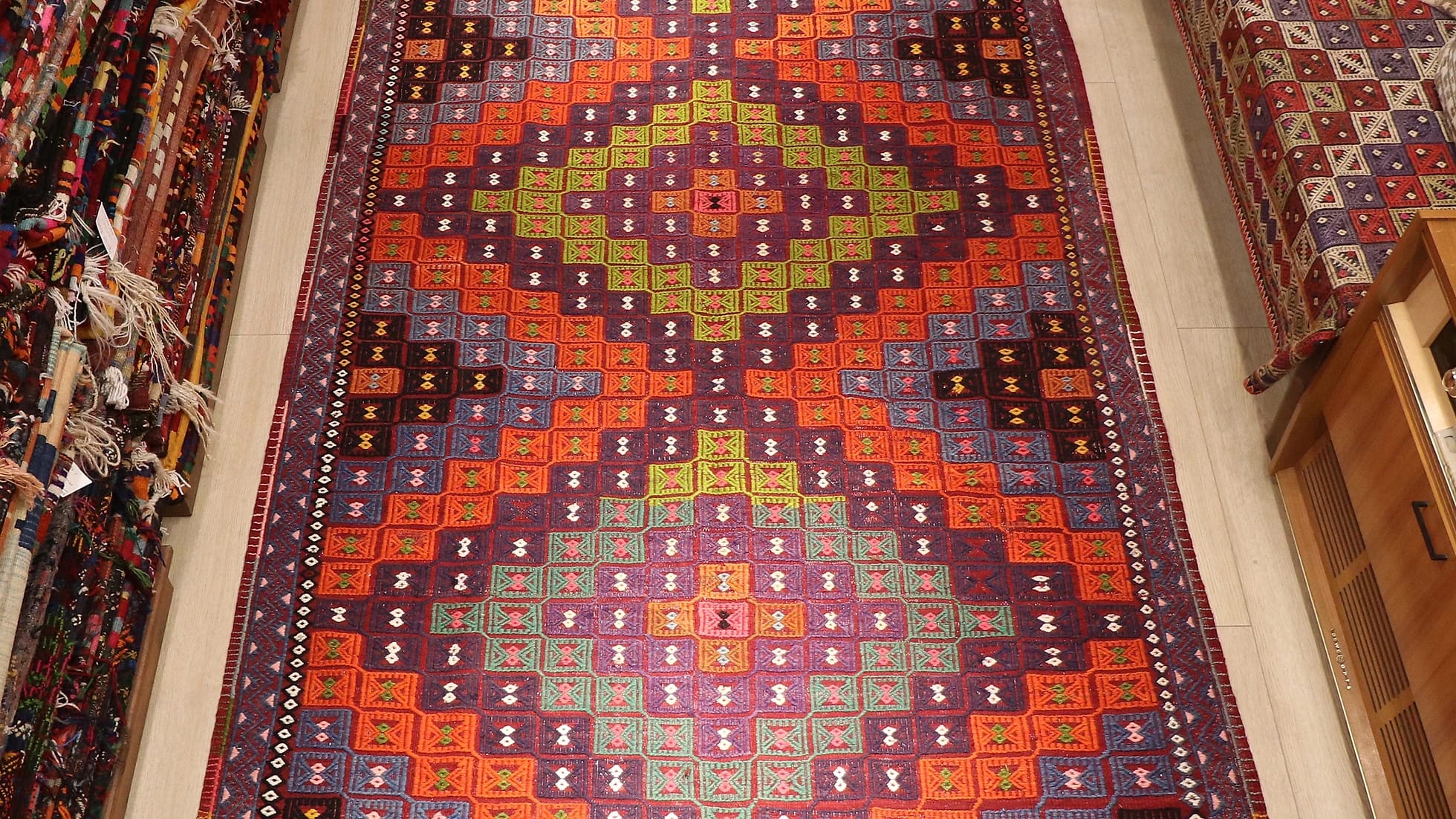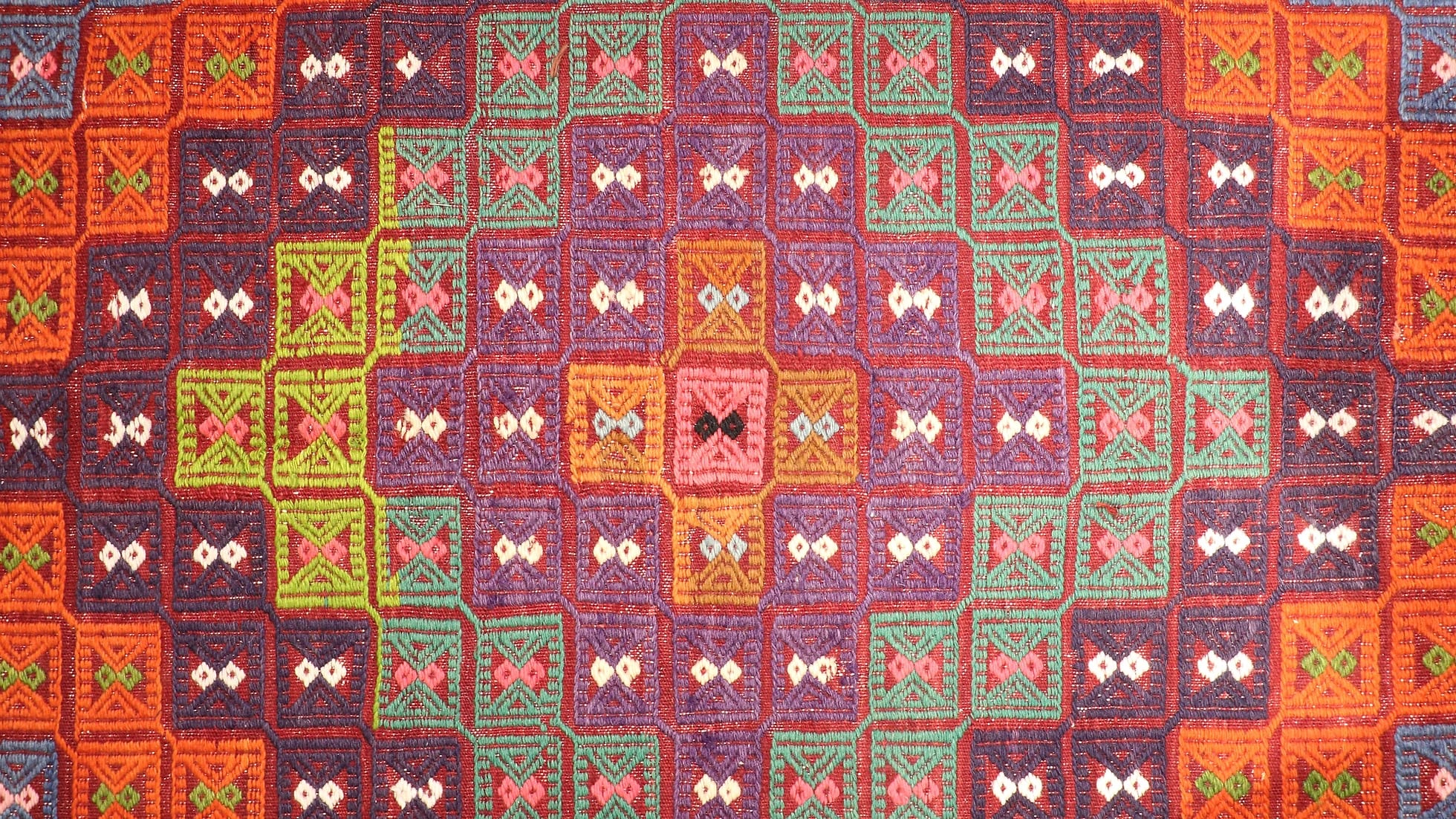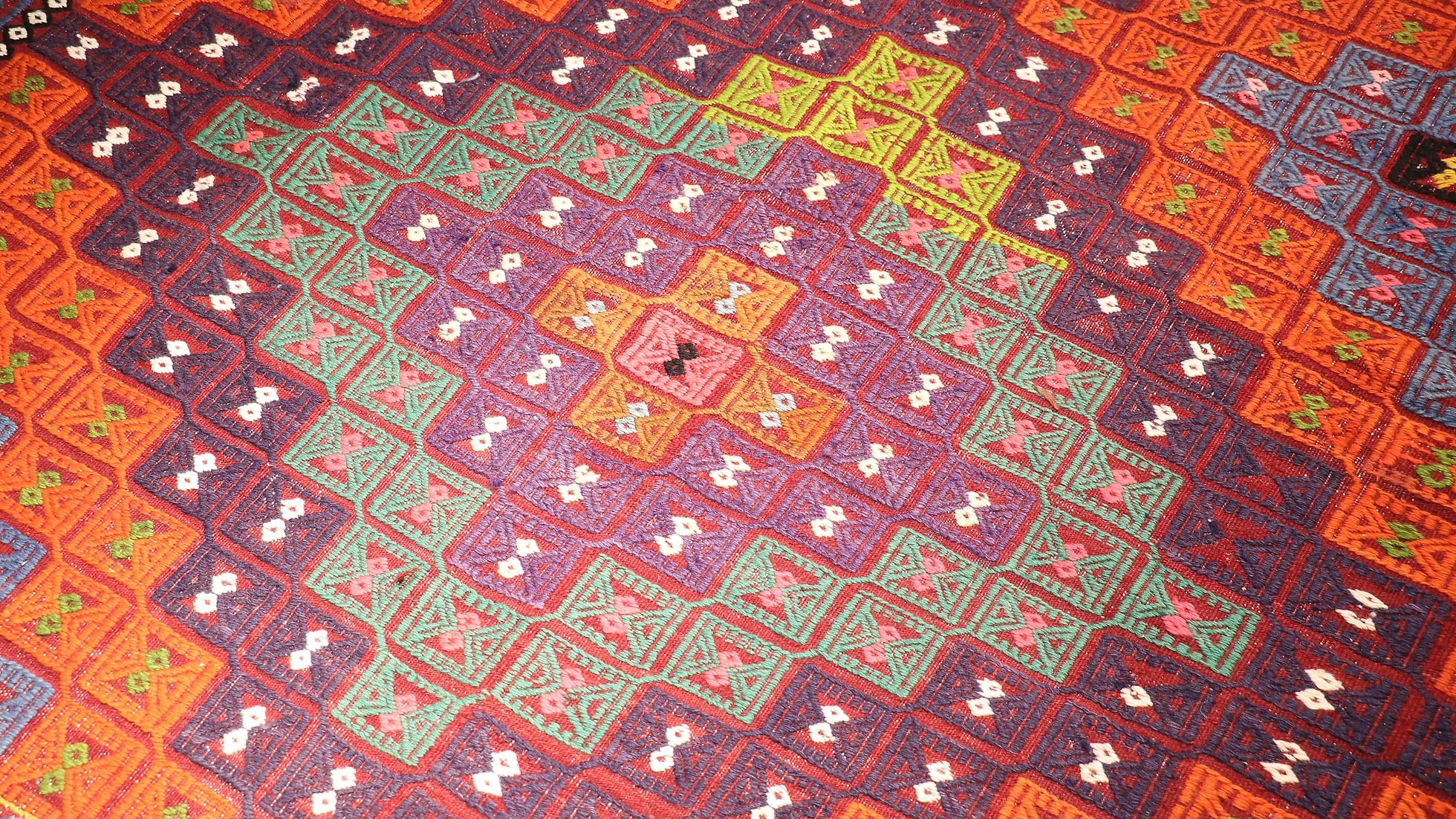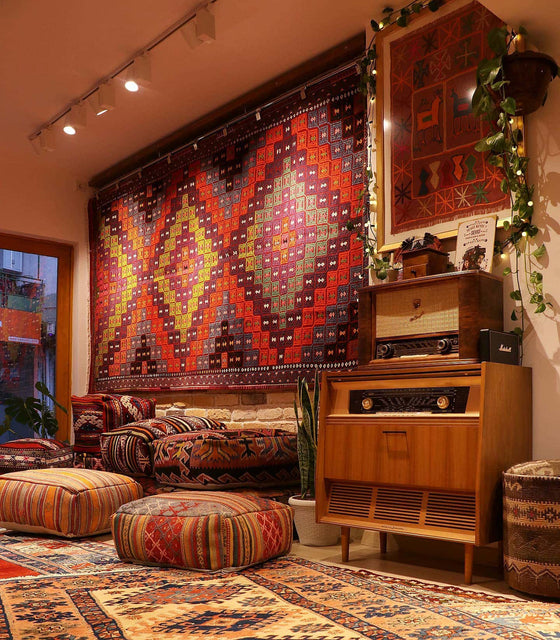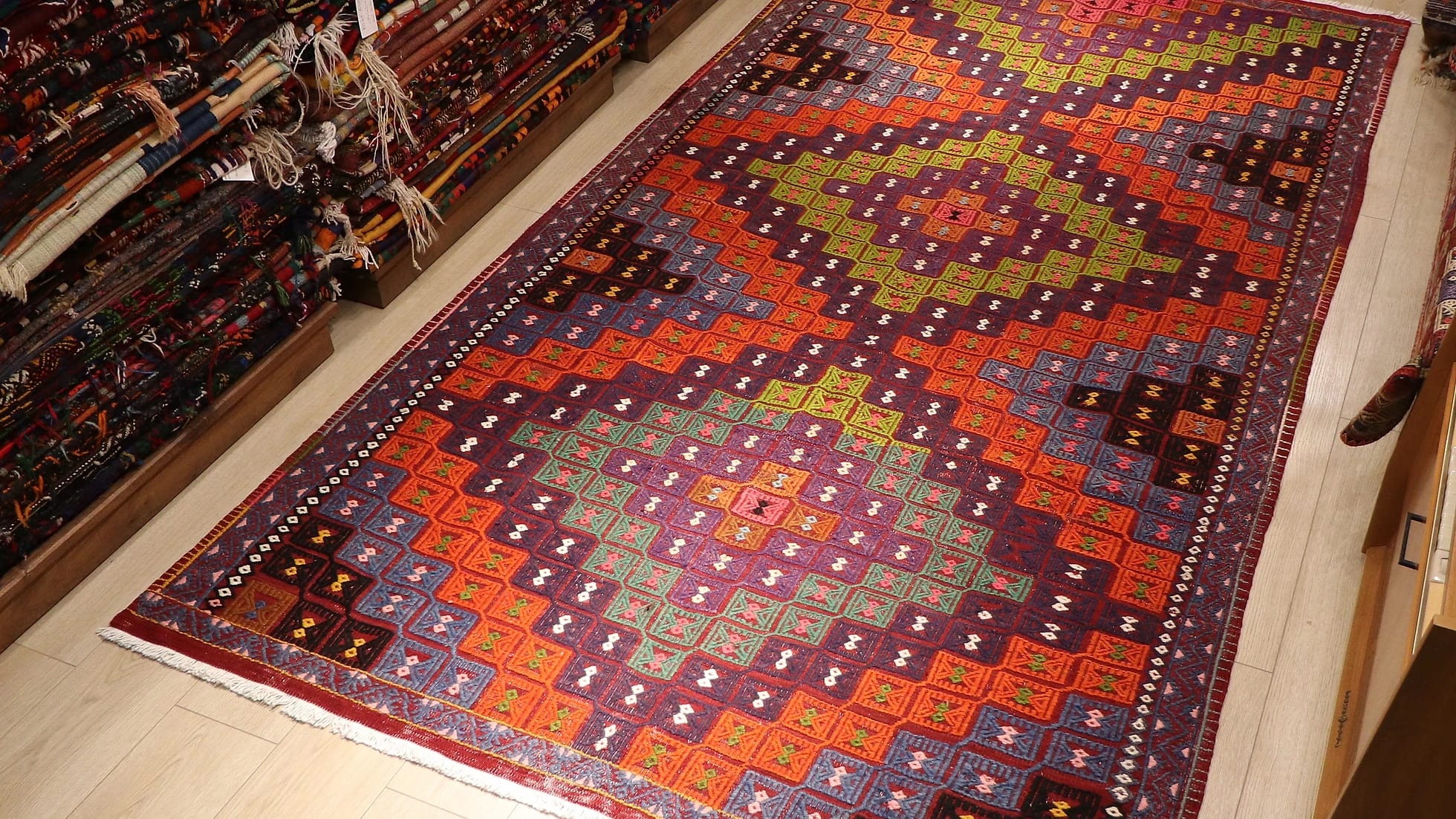 Vintage Turkish Hand-Knotted Rug | Manisa Rare Cecim Kilim in Red / Blue / Purple 1950s
Sale price

$2,390.00
Regular price
(/)
---
Introducing Kilim Couture's crowning jewel, the prestigious Cecim/Cicim Kilim Collection, where artistry meets tradition in the form of the extraordinary 6x10 Kurdish Kilim Rug. Transport yourself to mid-century Turkey, where this opulent creation was born from the hands of masterful artisans employing time-honored techniques of unparalleled craftsmanship.

Behold the enchanting allure of the bohemian masterpiece that is the Polychromatic Vintage Cecim Rug. A symphony of colors unfolds, each shade meticulously curated to evoke sophistication in every thread. Delve into the depths of emerald greens, crimson reds, sapphire blues, and regal purples adorning the canvas of this rare kilim rug—a vibrant testament to the dexterity of local artisans who dedicated months to its creation. The sustainably dyed hues echo a commitment to both artistic expression and environmental consciousness.

Crafted from the finest 100% wool, this rug stands as a testament to endurance and luxury. A time-honored relic meticulously preserved in a chest after its creation, ensuring that its beauty is preserved with grace and poise.

Immerse yourself in the vintage charm of the Polychromatic Vintage Cecim Rug, as it gracefully imparts a bohemian essence to any space it graces. Whether adorning a bedroom, living room, office, or serving as a captivating wall hanging, this rug is not just an accessory but a genuine reflection of Turkish culture and the ancient art of rug weaving. Its geometric lozenge patterns echo the rich tapestry of vintage Turkish rugs, capturing the essence of a bygone era.

For the connoisseur of fine rugs or the seeker of a distinctive home decor statement, the Colorful Rare Kilim Rug stands as an impeccable choice. Meticulously crafted with precision and utmost care, this rug is more than an accessory—it is a true masterpiece destined to leave an indelible mark on your living space for generations to come.
Age: 1950s

Condition: Excellent

Dimensions: 5' 7" W x 10' 0" L

Floor Heating Safe: Yes

Material: Wool on cotton

Origin: Manisa, Turkey

Primary Color: Polychromatic

Product Care: Vacuum clean gently or professional cleaning

Shape: Rectangle

Style: Cecim style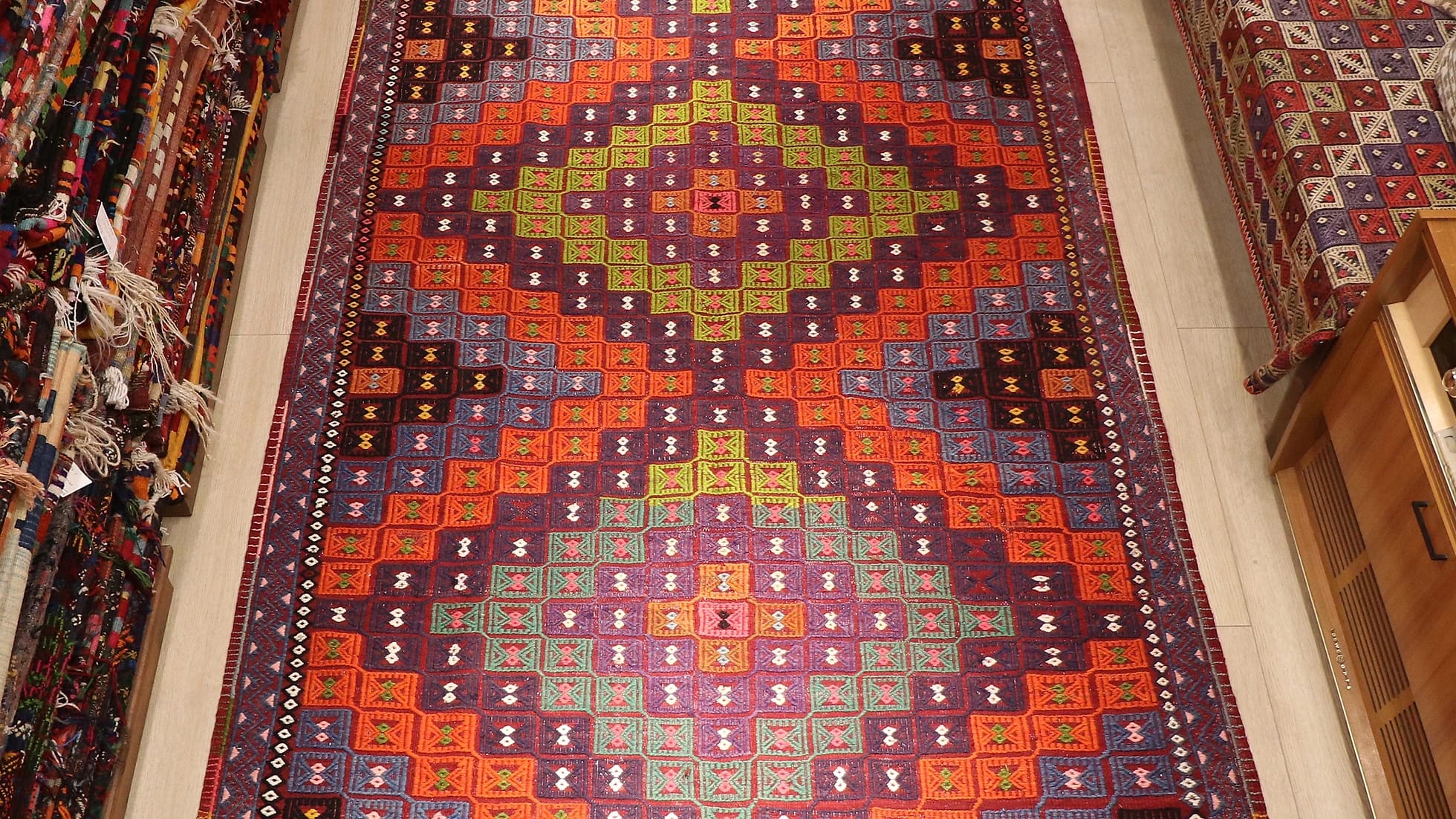 Vintage Turkish Hand-Knotted Rug | Manisa Rare Cecim Kilim in Red / Blue / Purple 1950s
Sale price

$2,390.00
Regular price
Choose options