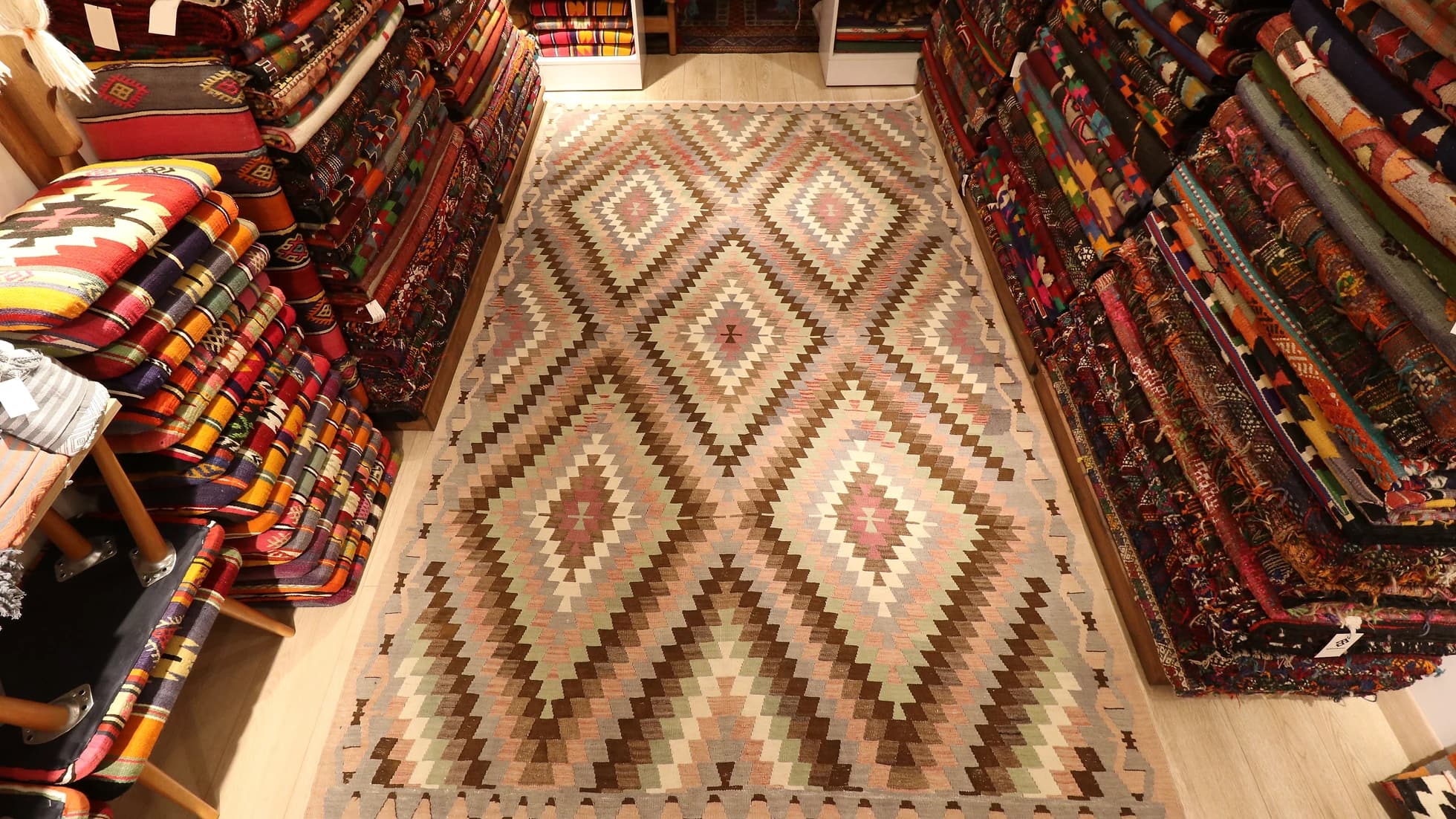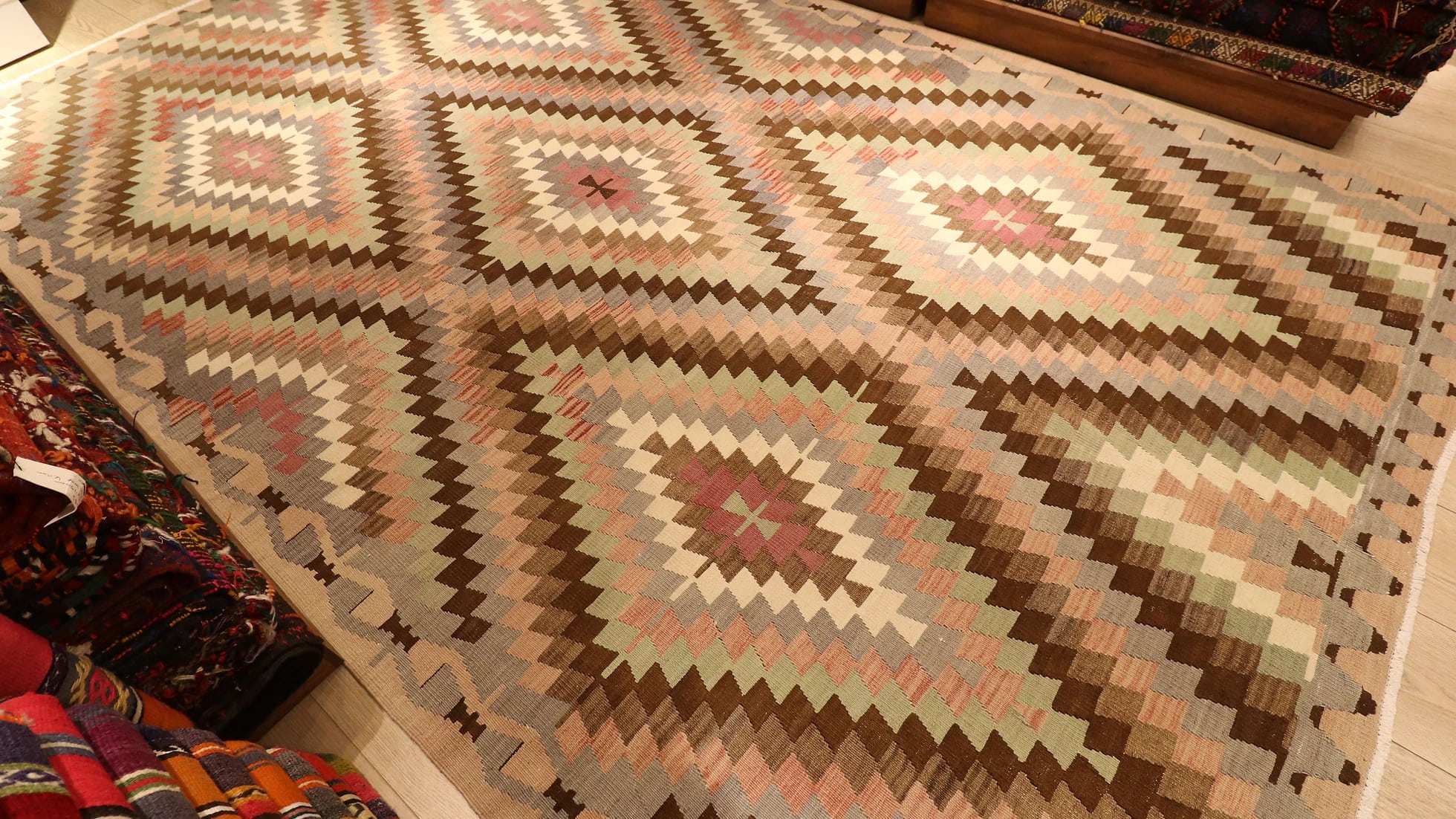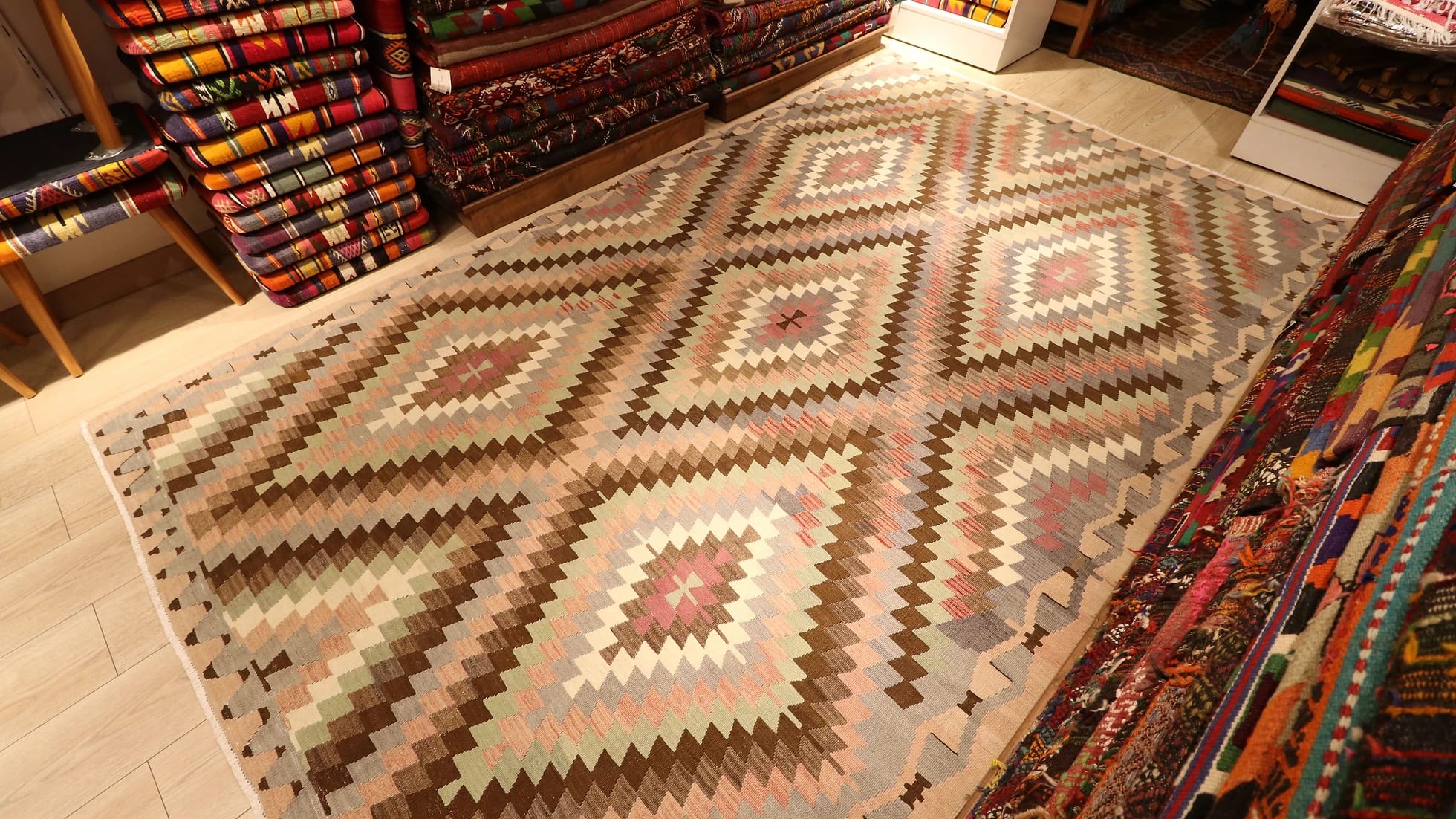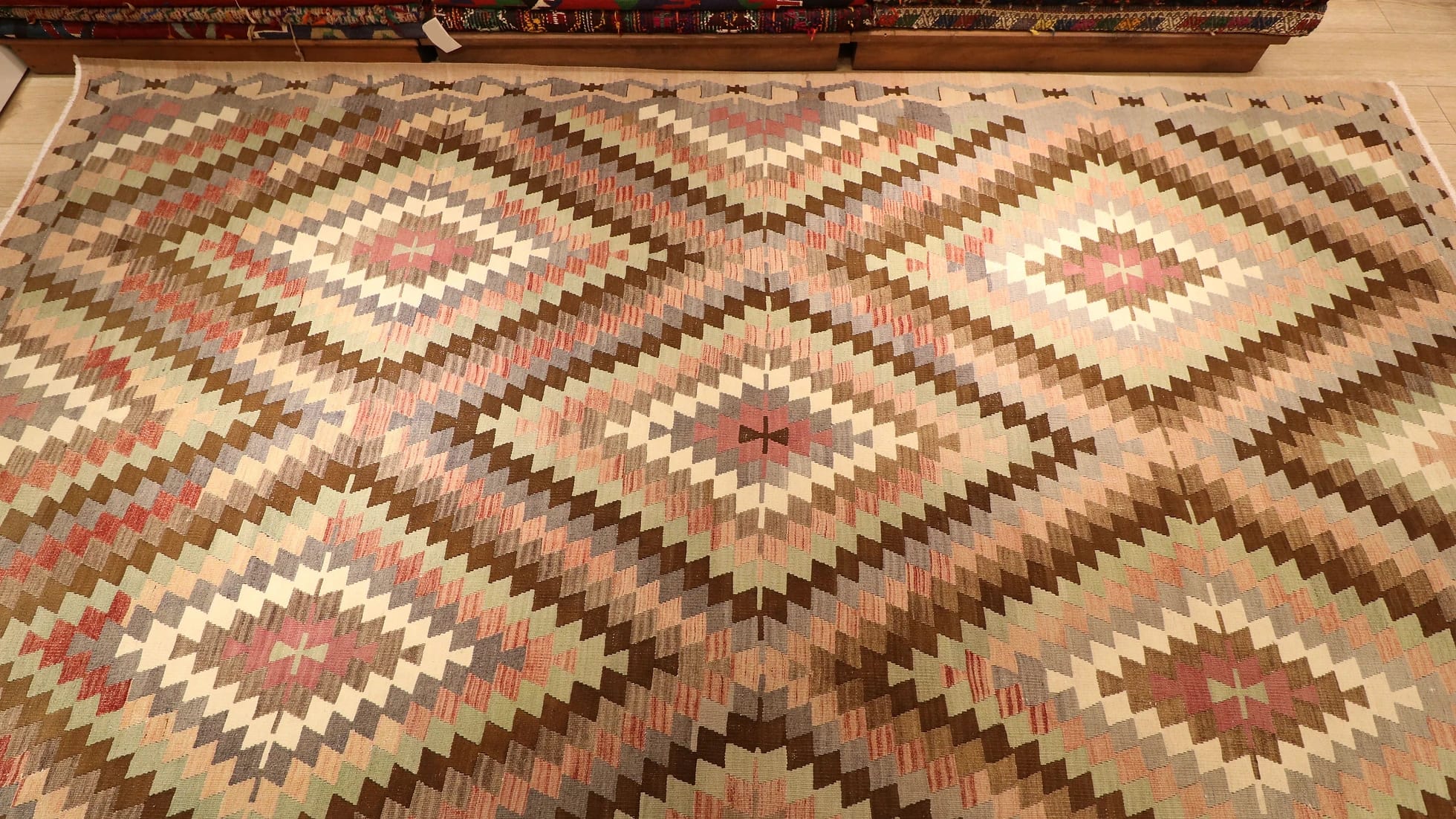 Vintage Turkish Hand-Knotted Rug | Manisa Pastel Kilim in Neutral Diamond Patterns 1950s
Sale price

$3,090.00
Regular price
(/)
---
At Kilim Couture New York, we take pride in sourcing the most exquisite treasures, and our latest discovery is nothing short of a masterpiece. Behold, the timeless allure of our handpicked vintage flat-woven rug, a testament to craftsmanship and heritage that transcends the sands of time.

Crafted in the heart of Manisa, Turkey, nestled in the mystical west of ancient Anatolia, this vintage kilim rug is a proud relic of the mid-20th century, dating back to the enchanting era of the 1950s. Measuring a perfect and ideal size of 6x10 feet, this mid-century modern rug is not just a floor covering but a piece of history, an heirloom that will grace your space for generations to come.

Drenched in the essence of its origin, this masterpiece showcases a mesmerizing palette of natural and neutral muted shades. Pastel blue, pastel green, pastel salmon, and a spectrum of earthy taupe dance harmoniously across the canvas, punctuated by delicate cream accents. It's as though the colors of nature itself have conspired to create this symphony of visual delight.

Quality is paramount, and this large area rug is no exception. Expertly handwoven from a sumptuous blend of wool and cotton, it not only boasts a timeless aesthetic but also ensures durability that stands the test of time. The design, featuring intricate diamond patterns, also known as the lozenge motifs, covers the entirety of the rug, imbuing your space with an air of sophistication and tradition.

One of the most remarkable aspects of this rug is its versatility. Its natural, soothing tones seamlessly adapt to any interior design style, whether it be mid-century modern, minimal, contemporary, rustic, farmhouse, eclectic, transitional, vintage French, Southwestern, or even the bold allure of maximalism. This vintage gem doesn't just fit in; it elevates any space it graces.

The 6x10-foot dimensions make it the perfect fit for various rooms in your home, be it the kitchen, living room, dining room, guest room, bedroom, or the grandeur of your entryway. With every step, you'll be greeted by the soft, velvety touch of this exquisite kilim, a testament to both its beauty and utility.

Owning this handpicked vintage Turkish rug from Kilim Couture New York is not just a purchase; it's an investment in a piece of history, a timeless addition to your interior space that will continue to mesmerize and delight for generations. Embrace the allure of heritage, embrace elegance, and embrace forever with this exquisite rug. Order now and make this timeless masterpiece a part of your legacy.
Age: 1950s

Condition: Excellent

Dimensions: 6' 3" W x 10' 4" L

Floor Heating Safe: Yes

Material: Wool on cotton

Origin: Manisa, Turkey

Primary Color: Neutral muted tones

Product Care: Vacuum clean gently or professional cleaning

Shape: Rectangle

Style: Contemporary style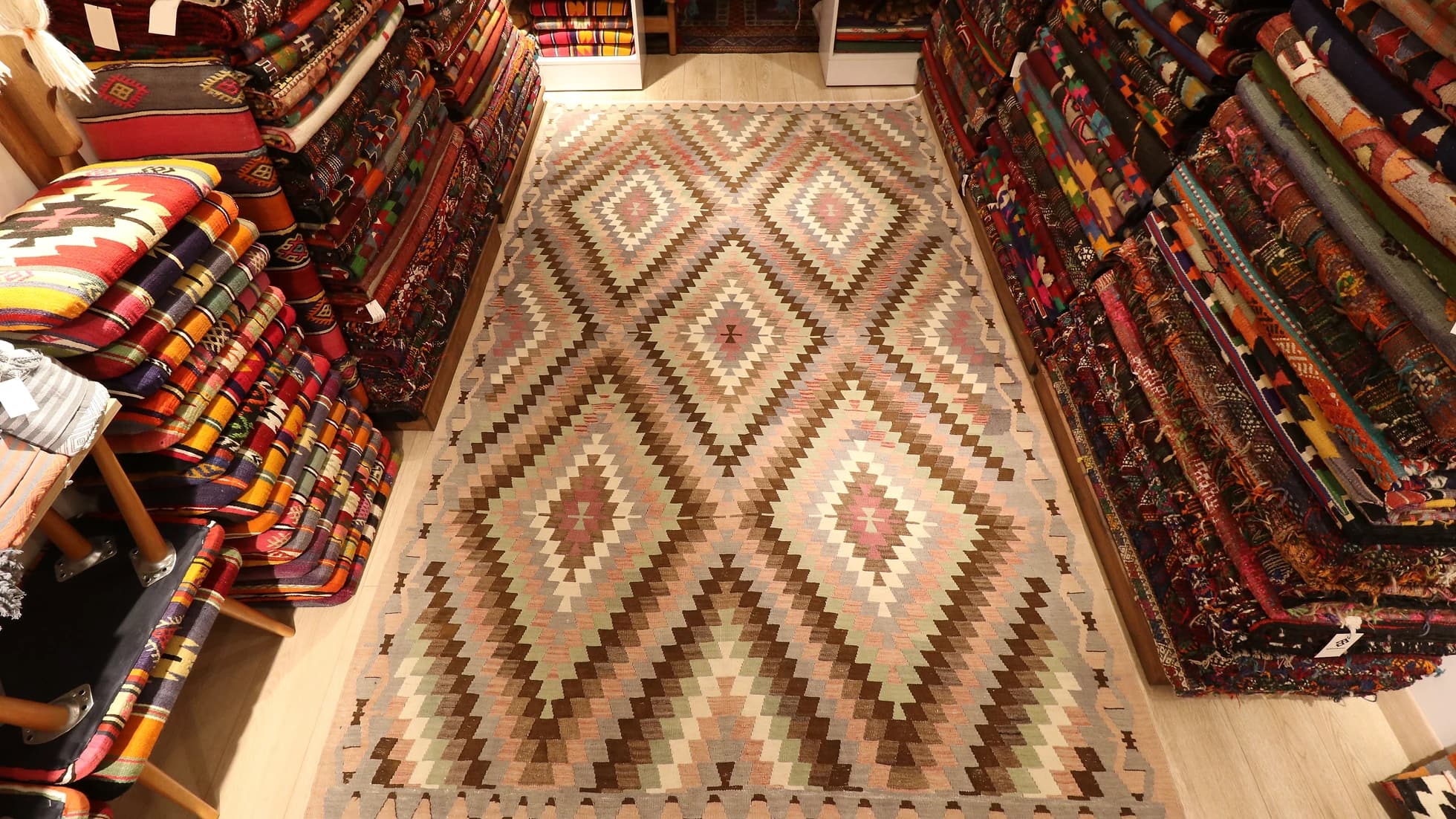 Vintage Turkish Hand-Knotted Rug | Manisa Pastel Kilim in Neutral Diamond Patterns 1950s
Sale price

$3,090.00
Regular price
Choose options