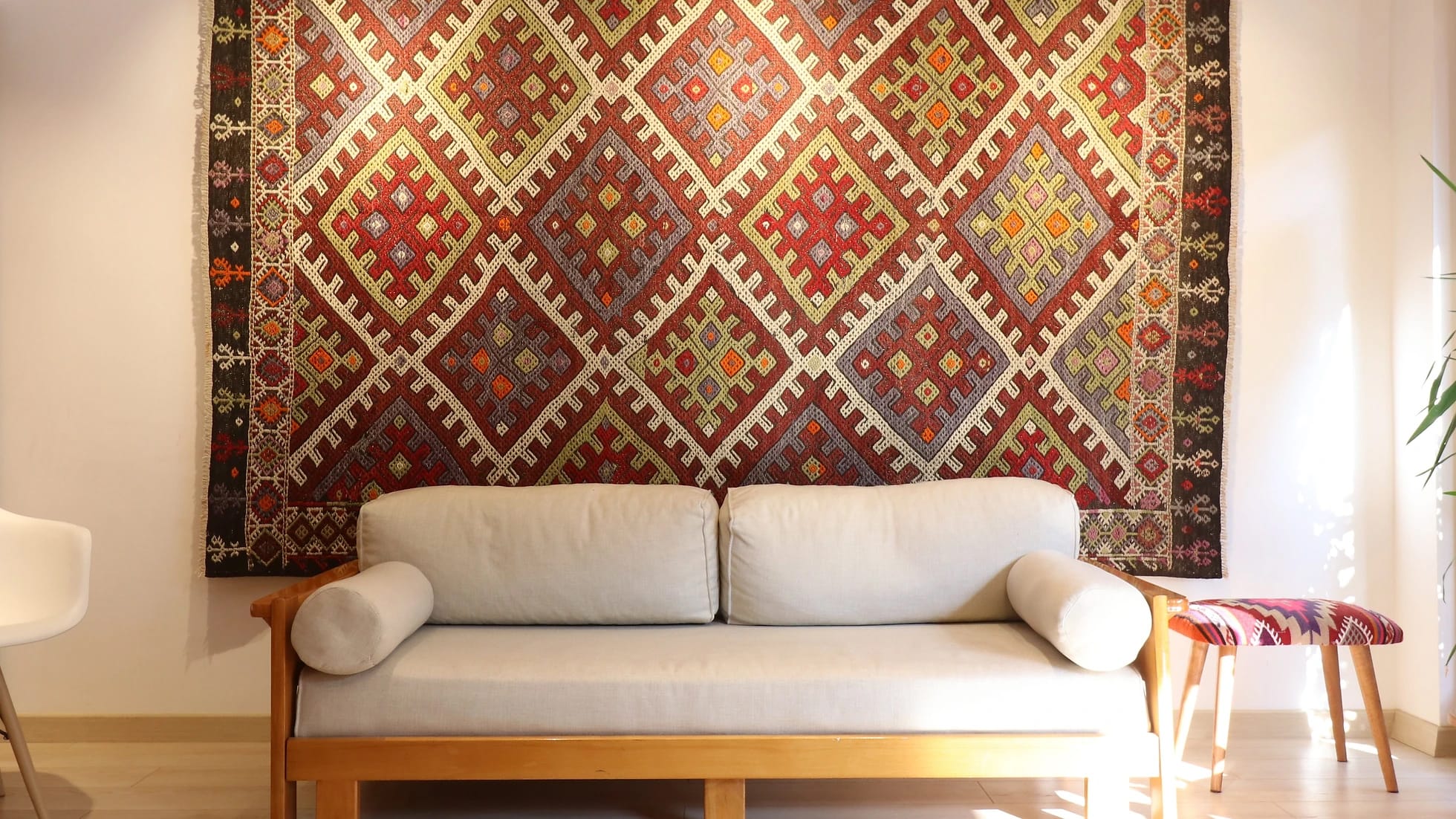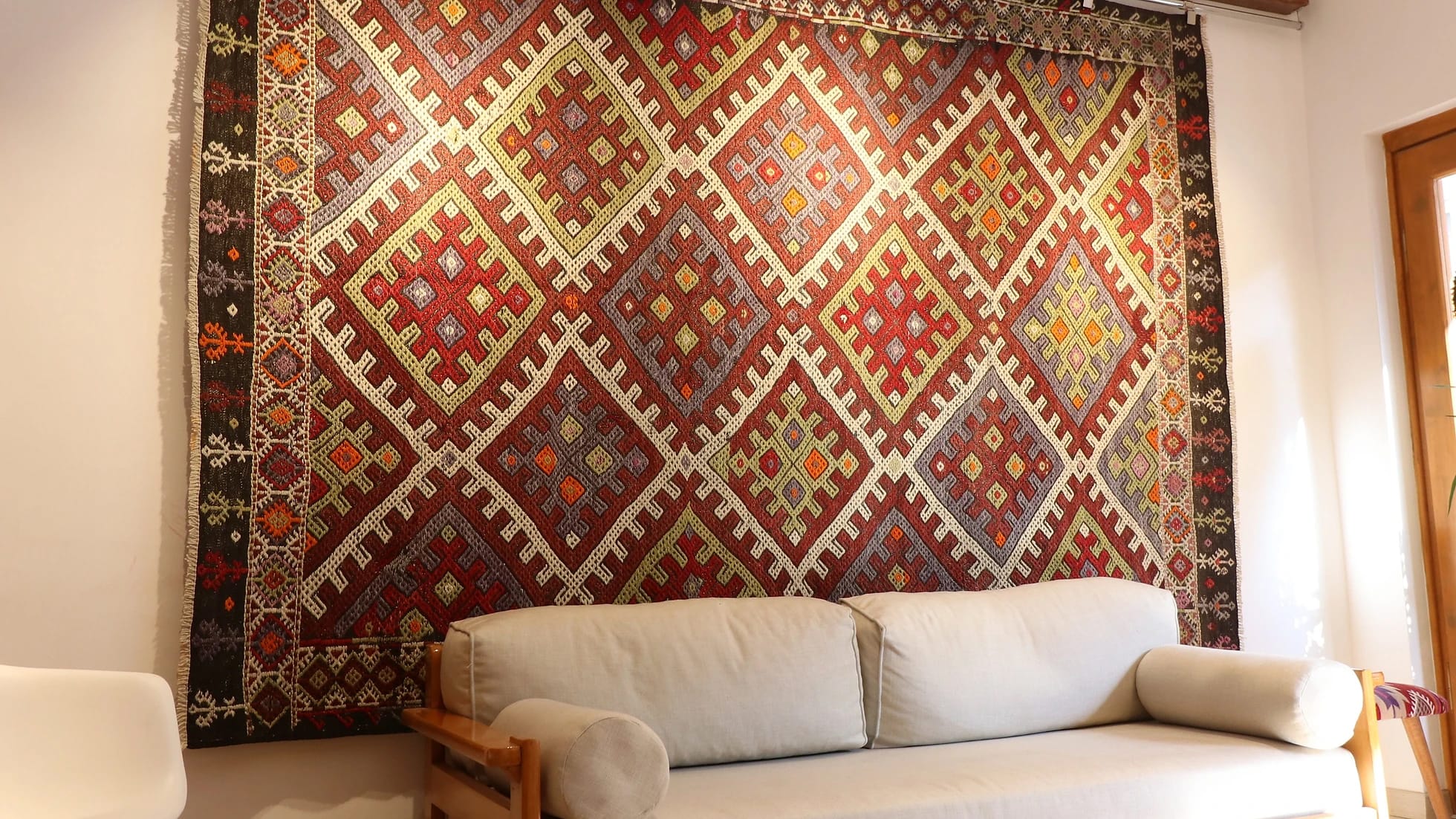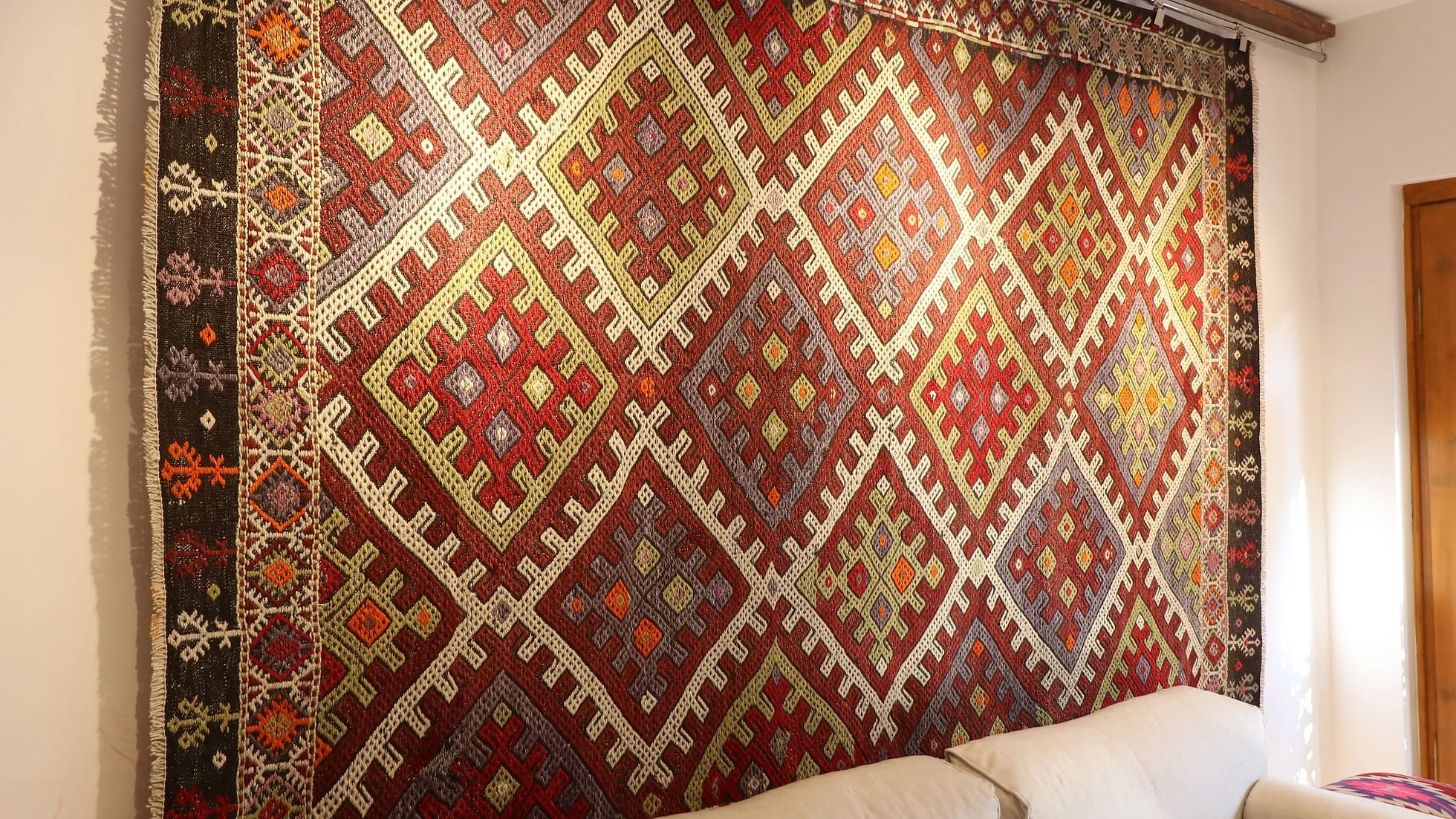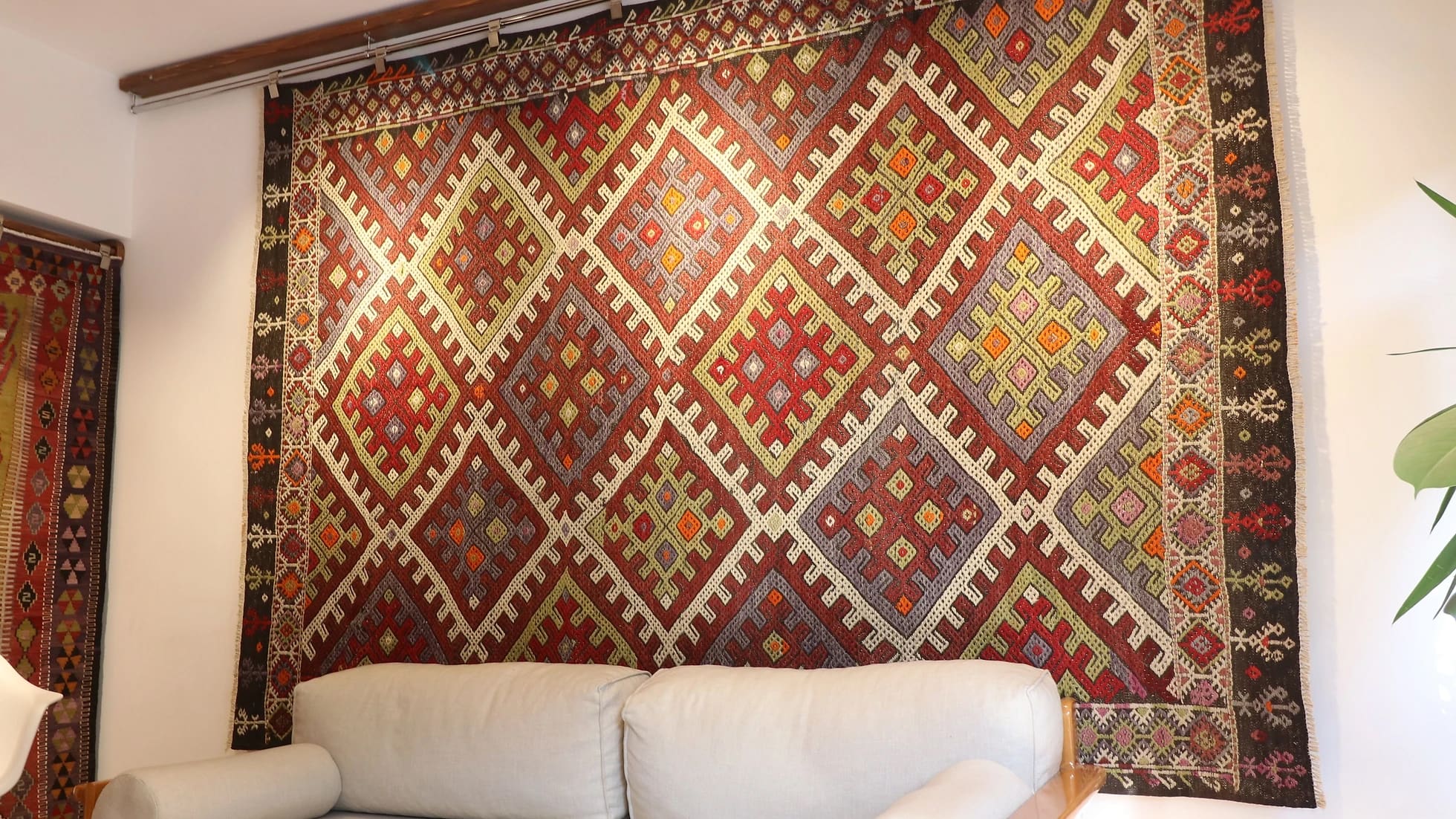 Vintage Turkish Hand-Knotted Rug | Konya Rustic Cecim Kilim in Muted Earthy Tones 1940s
Sale price

$2,190.00
Regular price

$2,790.00
(/)
---
Transport yourself to the enchanting landscapes and rich artisanal heritage of Konya, the heart of central Turkey, with our meticulously crafted Vintage Turkish Handwoven Cecim Rug from the 1940s. Steeped in the rich heritage of the Cecim style, also known as cicim, jijim, jejim, or jajim, this rug bears the soulful craftsmanship of Turkish women artisans who have perfected the art of weaving, imparting an exquisite embroidered allure to each thread.

Crafted with a meticulous blend of goat wool and cotton, these woolen wonders transcend mere floor coverings to become the captivating centerpiece of your home, effortlessly altering the atmosphere while keeping spaces warm. Handmade using only natural ingredients and dyed sustainably, this mid-century rug is a testament to both tradition and environmental consciousness.

What sets this magnificent rug apart is its meticulously woven borders—a narrative in themselves. The inner border, adorned with rare and captivating motifs reminiscent of lacework, encircles the canvas with a nod to ancient Turkish interiors. Along the outer edges, an unexpected twist emerges—a black background that elevates the design, lending it a striking contrast and allure.

Adding to its charm, delicate muted white tassels, also known as fringes, adorn both widths, enhancing its grace and adding a touch of understated luxury. Measuring an impressive 7x9, this large rustic rug effortlessly complements various interior design aesthetics, including traditional, transitional, maximalist, minimalist, rustic farmhouse, cozy cottage, vintage French, British elegance, and even Victorian styles.

This versatile piece finds its place as a captivating centerpiece in dining rooms, guest rooms, kitchens, living spaces, entryways, offices, and art galleries. Its beauty extends beyond the floor—gracefully adorning walls as a tapestry or layered with other rugs for a curated, eclectic vibe.

Embrace the allure of a rich cultural heritage and timeless craftsmanship with this Vintage Turkish Tribal Rug—a cherished heirloom that weaves stories of tradition and artistry into the very fabric of your space.
Age: 1940s

Condition: Excellent

Dimensions: 6' 8" W x 9' 5" L

Floor Heating Safe: Yes

Material: Wool on cotton

Origin: Konya, Turkey

Primary Color: Rustic earthy tones

Product Care: Vacuum clean gently or professional cleaning

Shape: Rectangle

Style: Tribal Cecim style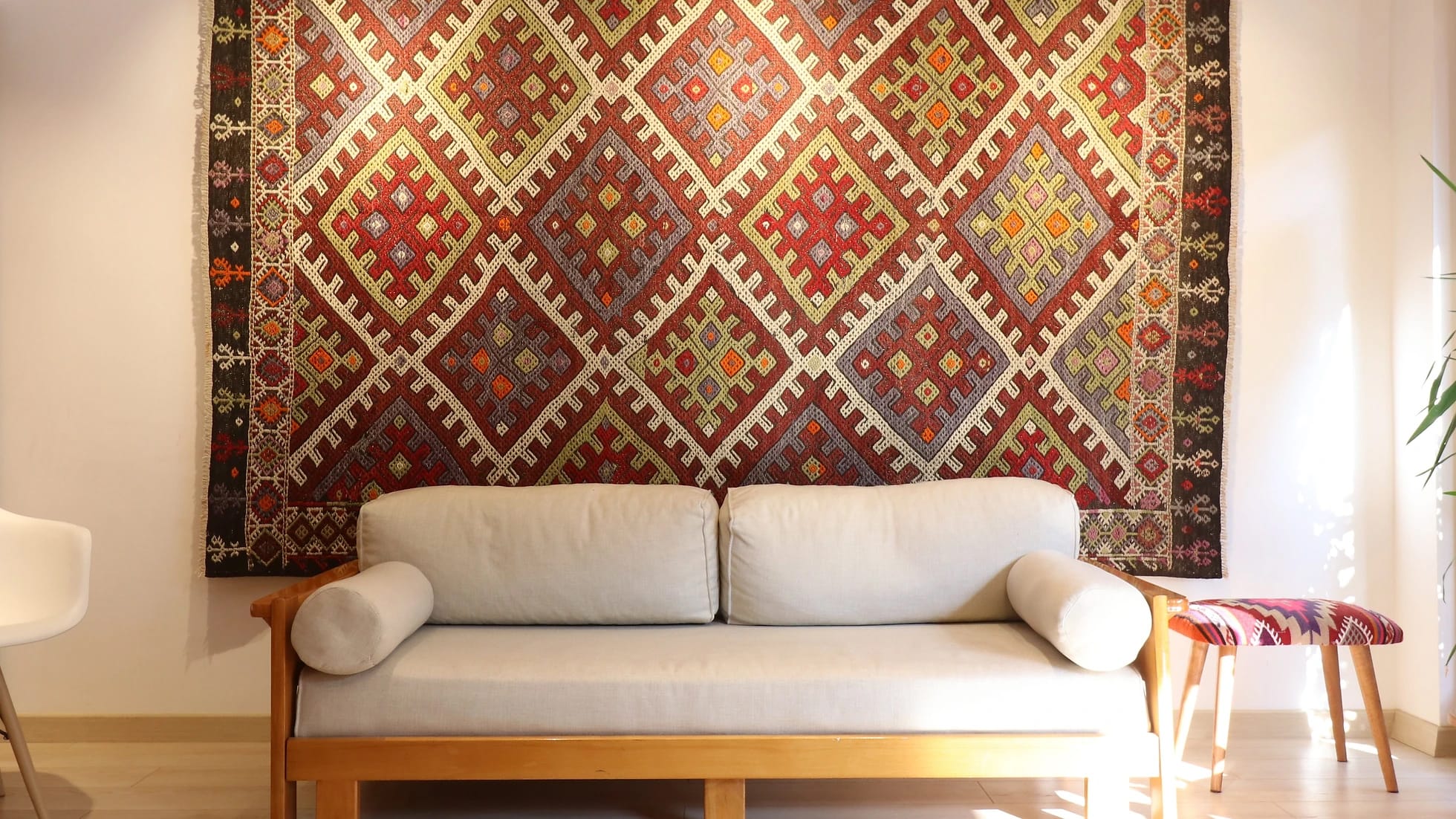 Vintage Turkish Hand-Knotted Rug | Konya Rustic Cecim Kilim in Muted Earthy Tones 1940s
Sale price

$2,190.00
Regular price

$2,790.00
Choose options