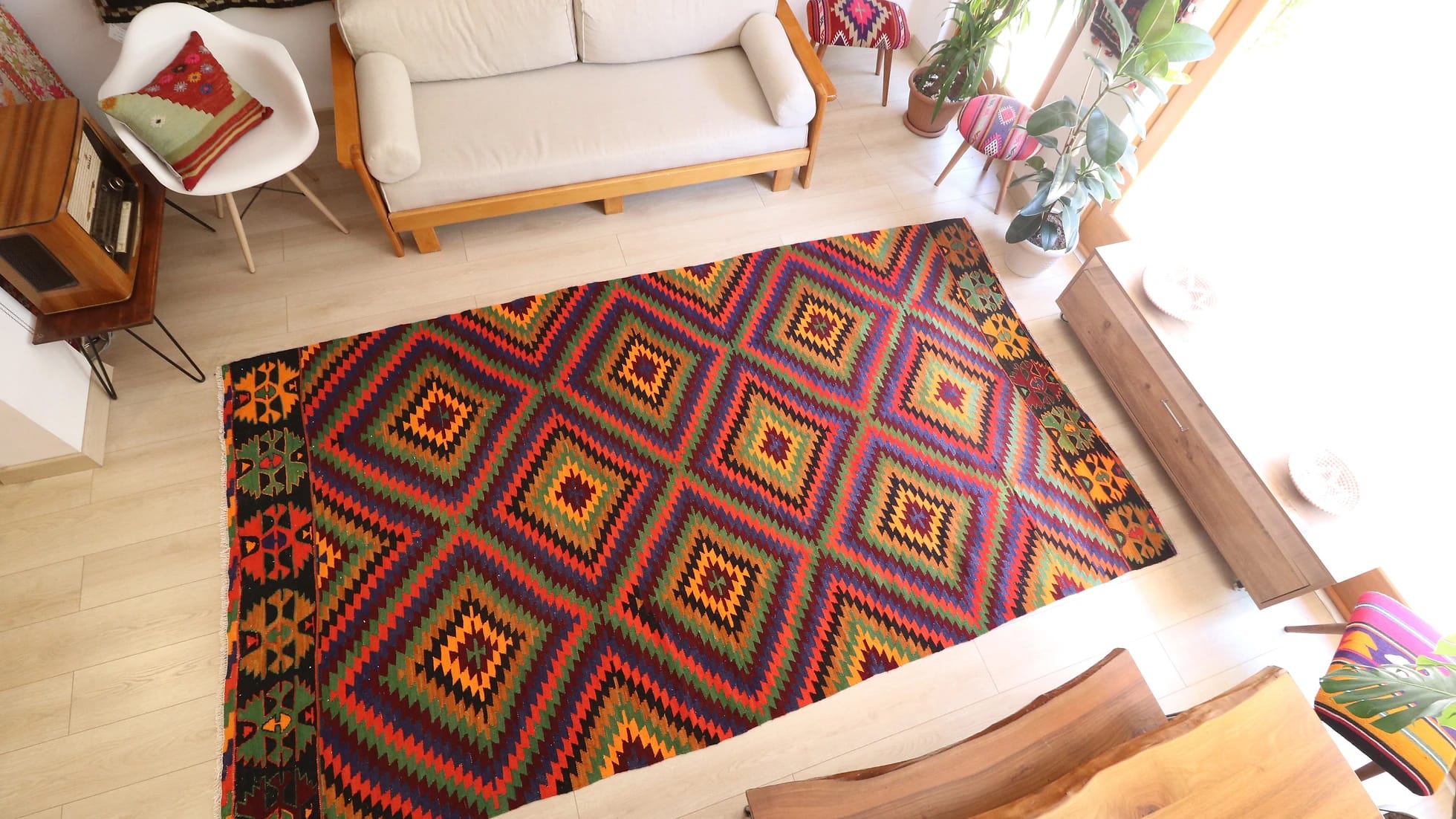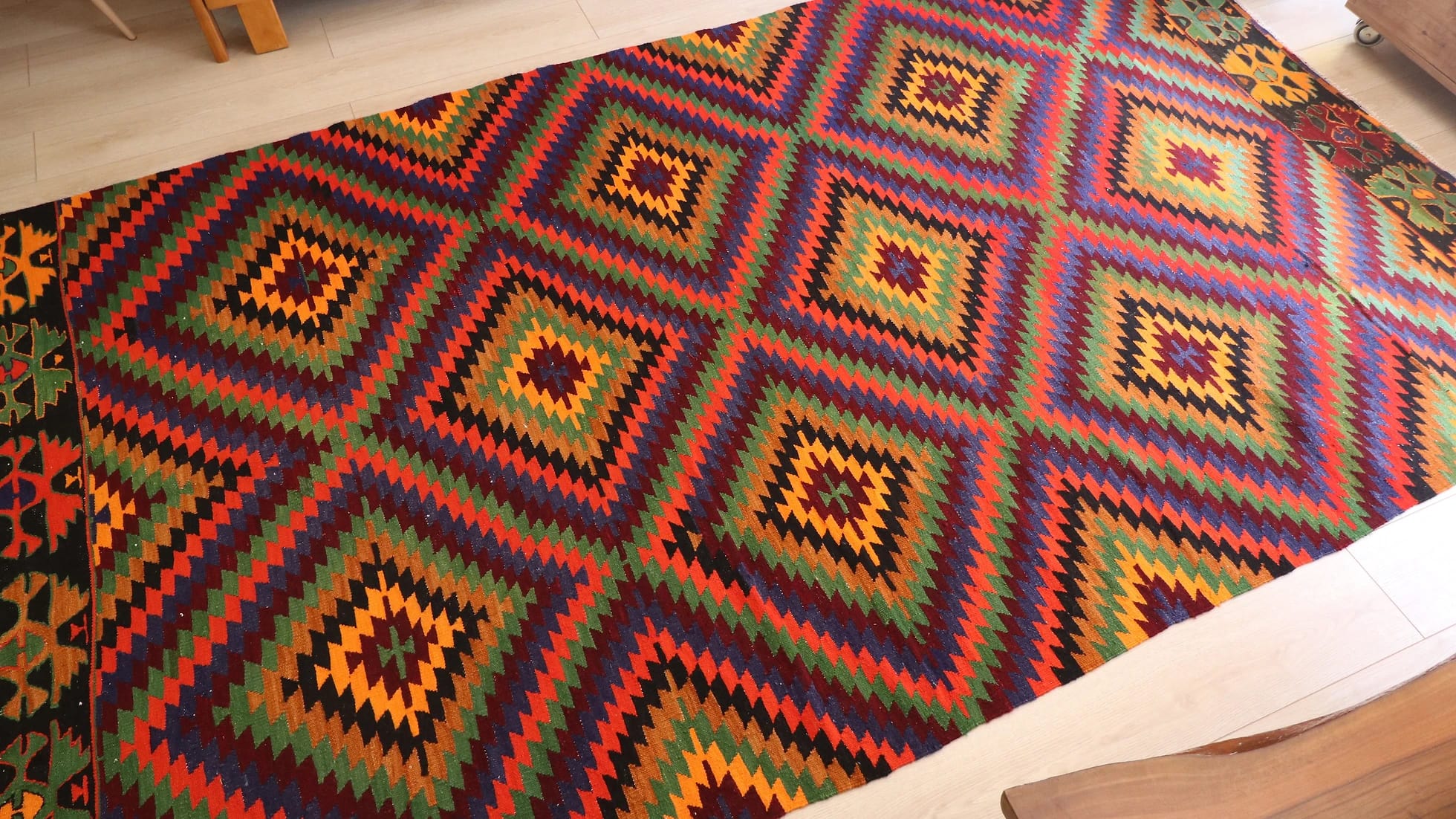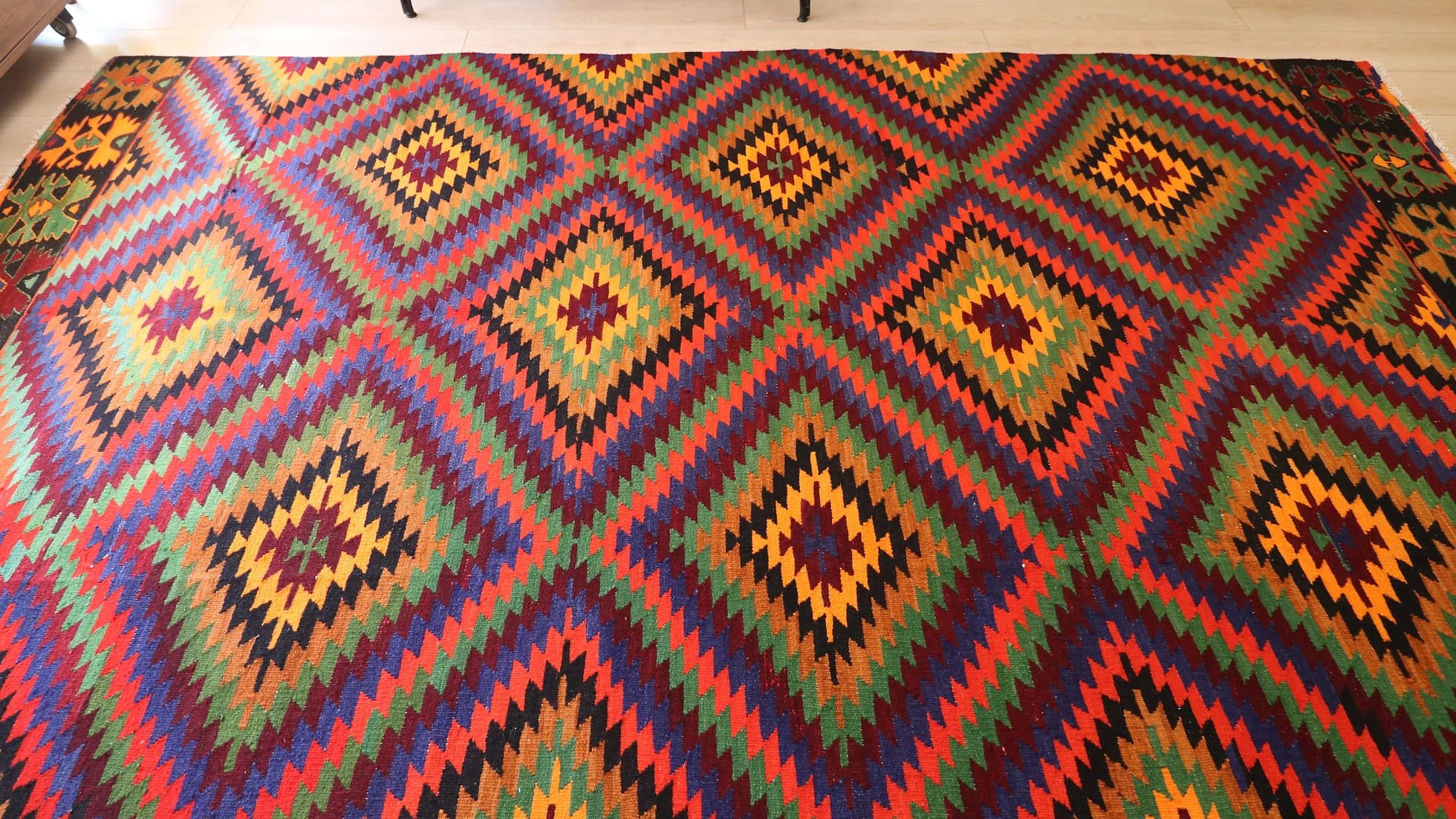 Vintage Turkish Hand-Knotted Rug | Cal Polychromatic Rustic Flat-Weave Rug 1960s
Sale price

$1,890.00
Regular price

$2,390.00
(/)
---
Introducing our opulent Cal Flat-Weave Rug, a sprawling 6x11 masterpiece born from the artistic soul of the charming village of Cal in Denizli, Turkey. Steeped in the rich cultural tapestry of the 1960s, this extraordinary piece of art is a testament to the unparalleled craftsmanship and heritage of the region.

Dive into a mesmerizing symphony of hues with our this kilim, where the enchanting Cal style unfolds in a kaleidoscope of colors. The "star" motifs adorning its design, a generous embrace of vibrant blues, passionate reds, sunny yellows, lush greens, fiery oranges, and profound blacks, paints an infinite panorama across the canvas, capturing the essence of celestial beauty.

Bordered along the width on both sides, traditional motifs known as "wolf's mouth" and "wolf's track" unfold in a rich interplay of earthy taupe, fiery orange, lush green, and deep red, harmoniously complementing the hues of its gracious canvas. The result is a visual masterpiece that transcends time, seamlessly blending tradition with contemporary allure.

As your gaze wanders across this rug, be captivated by subtle white tassels, also known as fringes, delicately adorning both ends, adding a touch of cultural charm to an already remarkable piece. This flat-woven rug is not just a decor item; it's a work of art, a living testament to history and tradition.

Perfectly suited for rustic cottages, cozy farmhouses, or any interior seeking to infuse vibrant hues, our tribal rug is a versatile statement piece. Whether your aesthetic leans towards traditional, eclectic, transitional, maximalist, or minimalist, each shade exudes an air of opulence and sophistication, effortlessly elevating your living space.

Beyond its aesthetic appeal, this kilim pays homage to the skilled women weavers who poured their heart and soul into crafting this magnificent piece. By inviting it into your home, you're not merely enhancing your decor; you're embracing a legacy of craftsmanship, culture, and timeless beauty.

Elevate your living space with this Mid-Century Modern Rug from the storied Cal village – a touch of history, a burst of colors, and a symbol of artistry that transcends time. More than a rug, it's a living piece of Turkish heritage ready to grace your home.
Age: 1960s

Condition: Excellent

Dimensions: 6' 0" W x 10' 6" L

Floor Heating Safe: Yes

Material: Wool on cotton

Origin: Denizli, Turkey

Primary Color: Rustic hues

Product Care: Vacuum clean gently or professional cleaning

Shape: Rectangle

Style: Cal style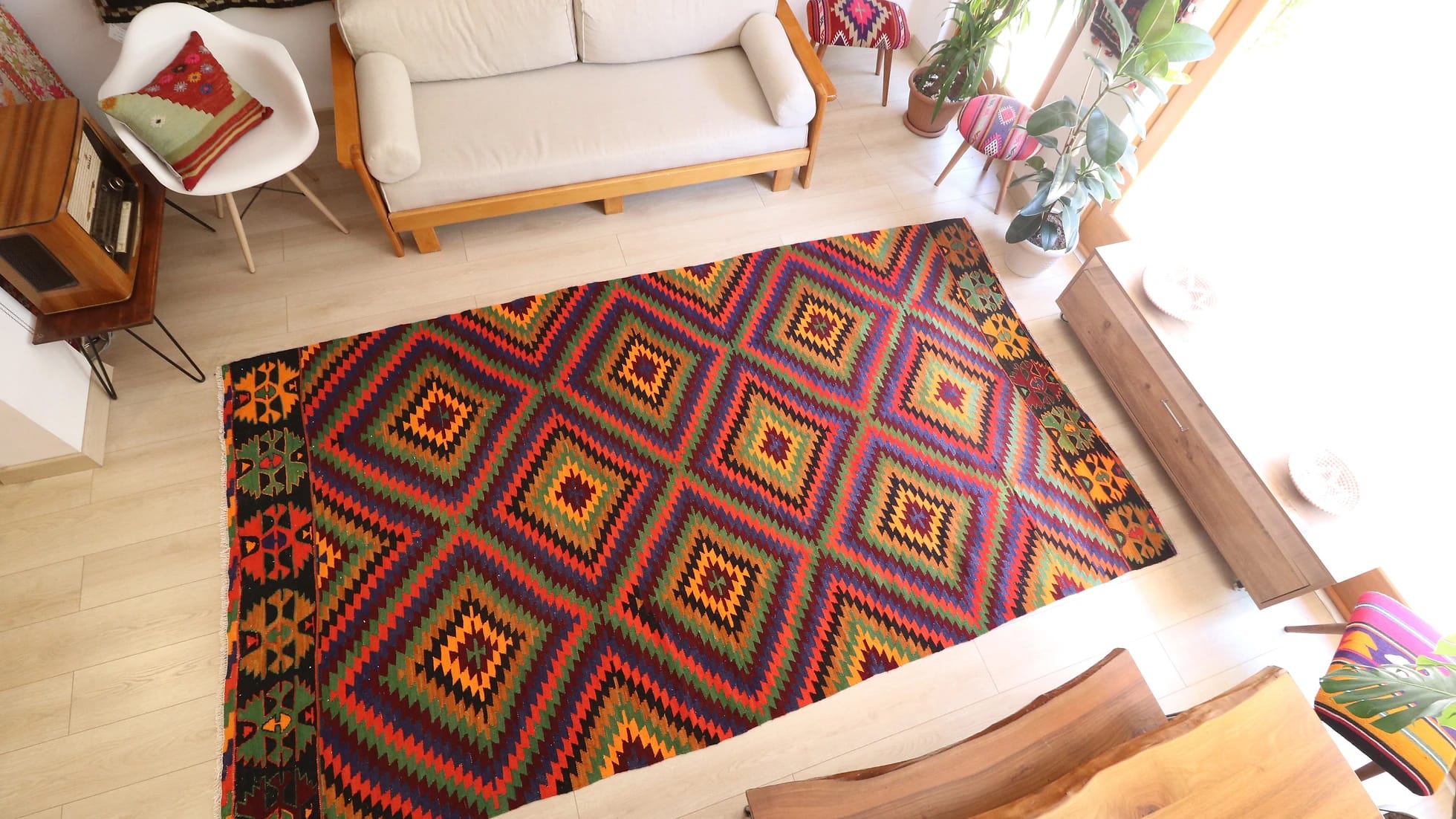 Vintage Turkish Hand-Knotted Rug | Cal Polychromatic Rustic Flat-Weave Rug 1960s
Sale price

$1,890.00
Regular price

$2,390.00
Choose options