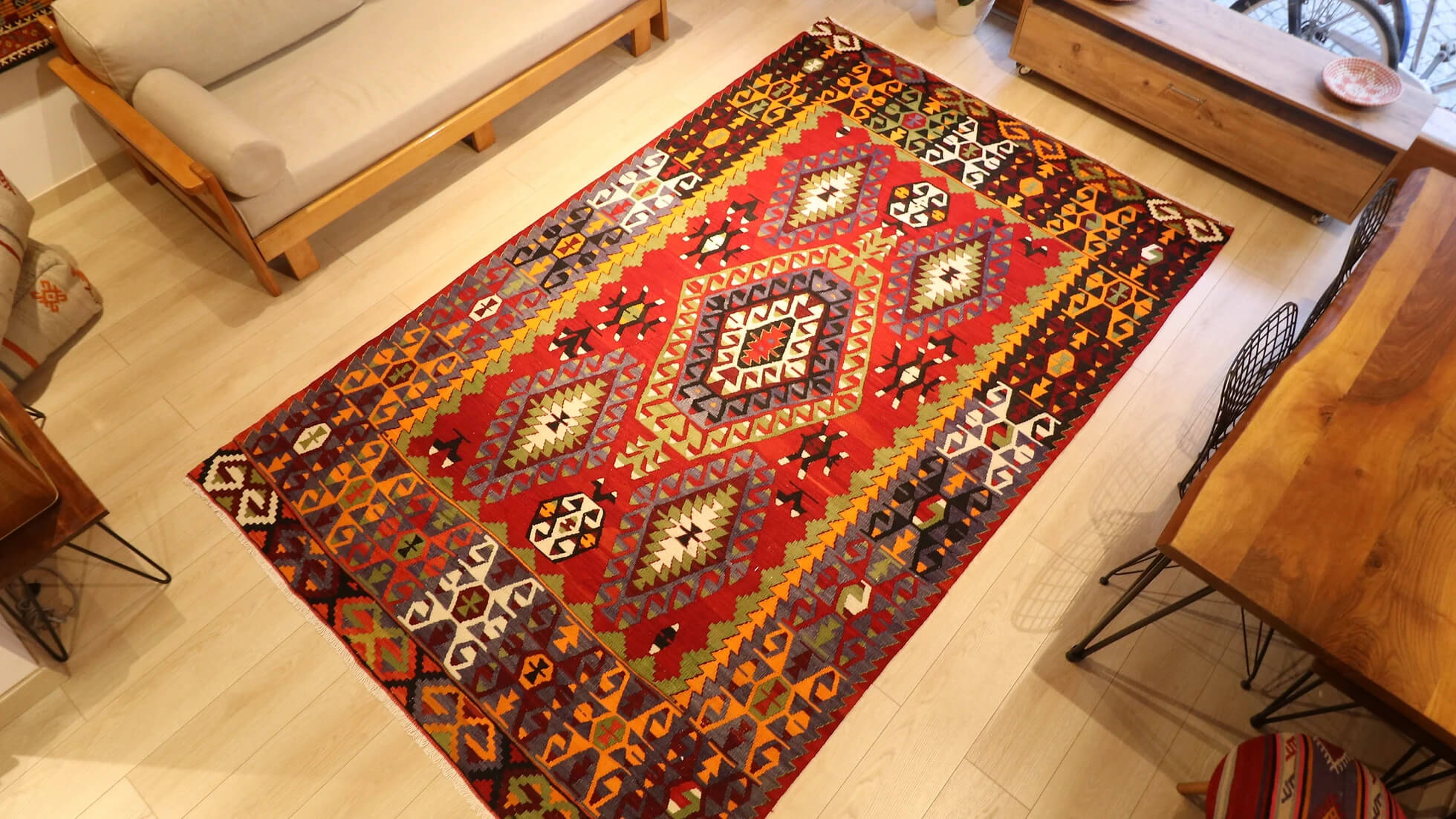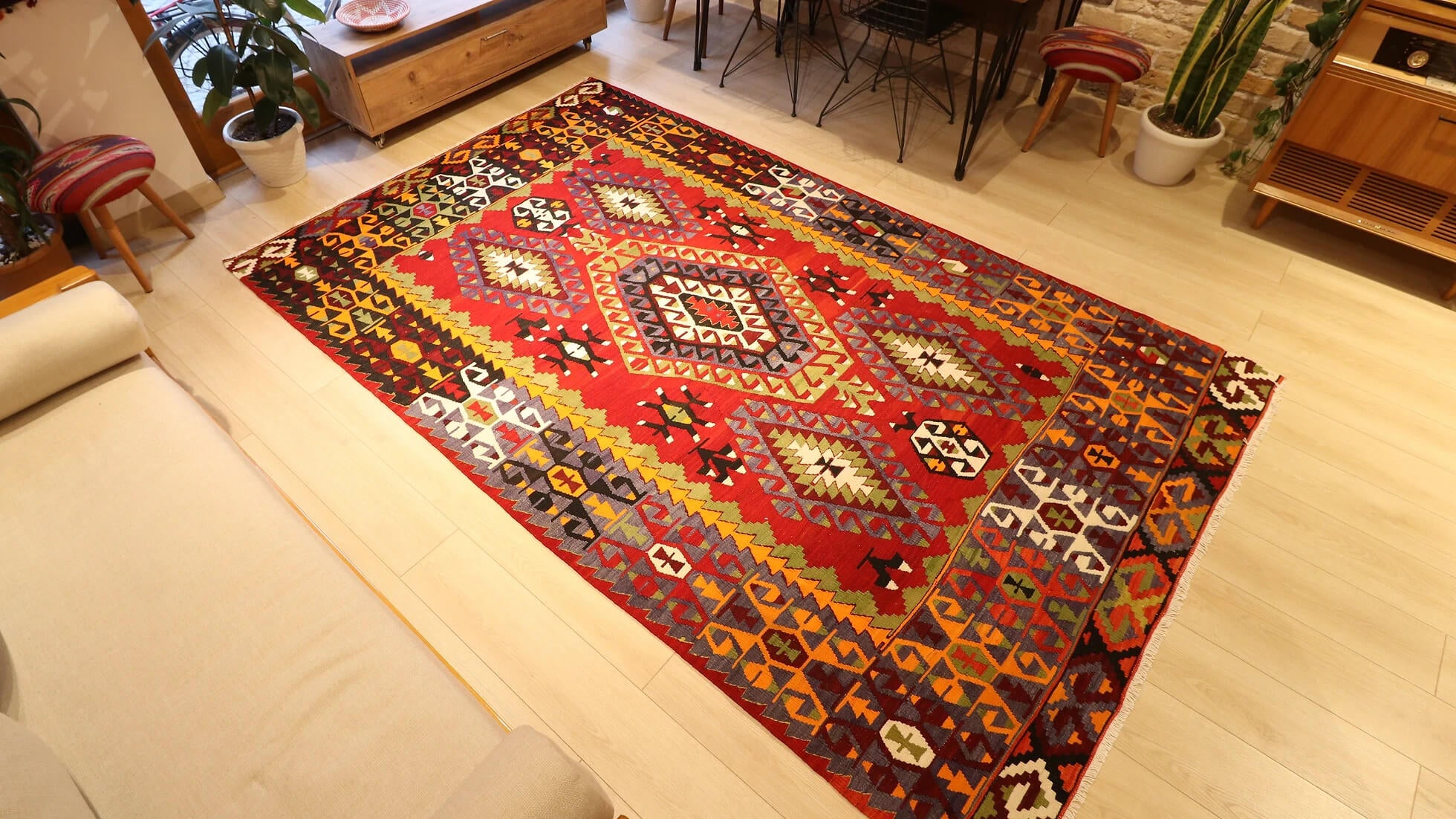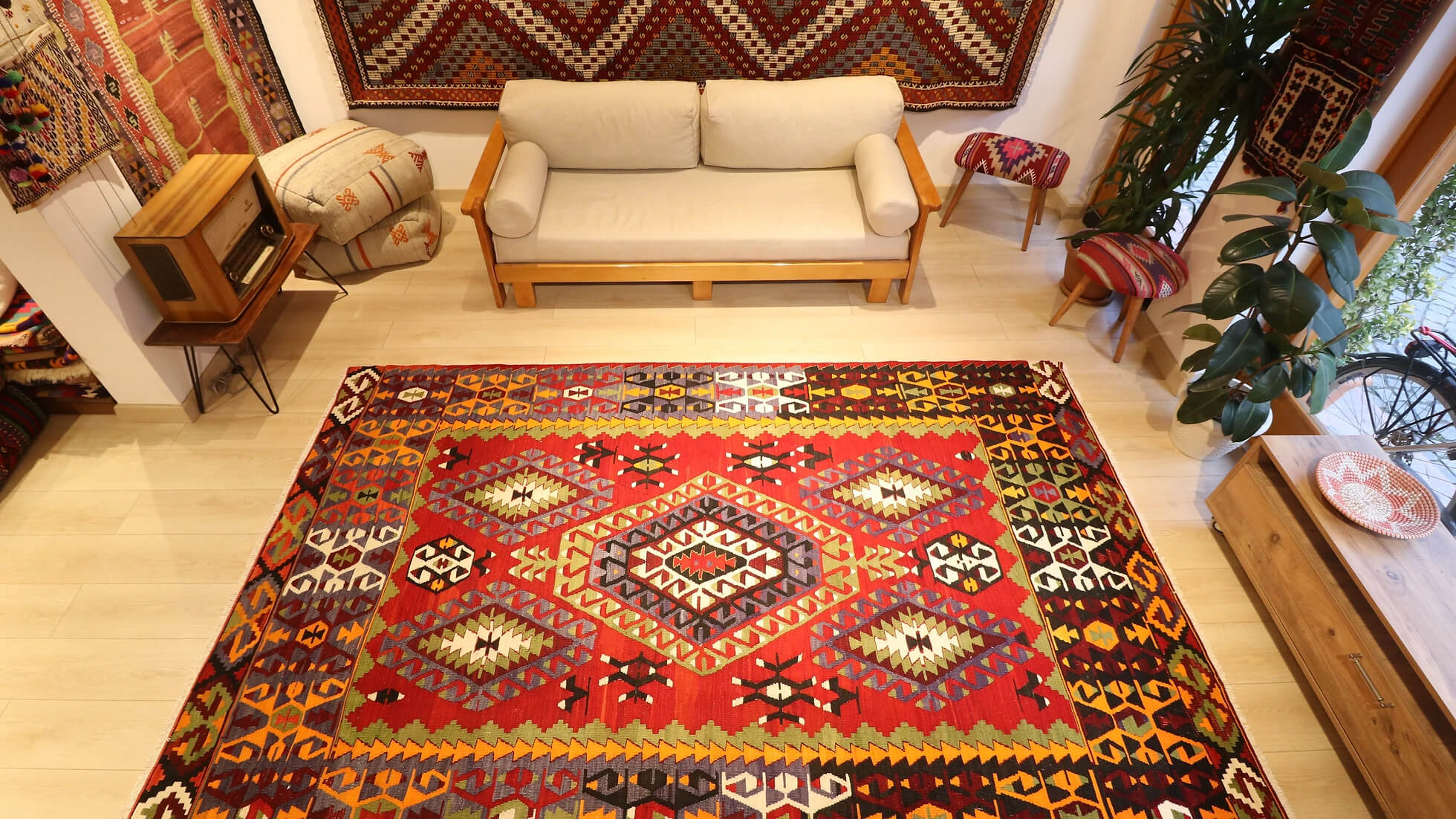 Vintage Turkish Hand-Knotted Rug | Cal Oriental Flat-Woven Rug in Terracotta 1960s
Sale price

$2,190.00
Regular price

$2,790.00
(/)
---
Transport yourself to a bygone era with this exquisite mid-century masterpiece, a Vintage Turkish Flat-Weave Oriental Rug that hails from the picturesque Cal village nestled in the Aegean region of Turkey. A true testament to the artistry of its time, this oriental-style rug was meticulously crafted during the 1960s, taking inspiration from a rich tapestry of tradition and culture.

At the heart of this enchanting kilim, you'll find a majestic and commanding giant dragon motif. This mythical creature is the focal point, surrounded by four smaller dragons dancing harmoniously around it, all in a palette of muted earth tones. Against a backdrop of passionate red, the rug truly comes alive, invoking a sense of vitality and vigor that is both timeless and striking.

What truly sets this kilim apart are the intricate "hands on hips" motifs adorning its canvas. These motifs serve as a symbol of motherhood and fertility, tracing their origins back to a mother goddess statuette from 3000 B.C. discovered in Ahlatlibel. This central design is framed by a symphony of red and orange "running water" patterns, creating an inner border that is as visually captivating as it is historically significant.

The outer border, equally mesmerizing, features larger "hands on hips" motifs, each infused with its unique story. Some symbolize "love and unison", echoing the principles of Ying-Yang, while others carry the "hair band" motif, signifying not just creativity but the depth of the weaver's skills. These nuances serve as a testament to the weaver's dedication and artistry.

This vintage kilim is not just a piece of art; it's a window to a rich cultural tapestry. Crafted from the purest wool and cotton and dyed sustainably, it exemplifies the finest traditions of Turkish rug-making. The earthy and adaptable color palette ensures that it seamlessly blends into any interior style. Be it a modern farmhouse, rustic haven, eclectic sanctuary, transitional retreat, contemporary marvel, or even a vintage French hideaway, this kilim rug transcends time and styles, becoming an enduring and versatile piece that will transform your space into a work of art.

With its generous dimensions measuring a substantial 6x10, this mid-century rug seamlessly marries artistry and versatility, making it an ideal addition to your kitchen, bedroom, living room, guest room, dining room, offices, art gallery, hallway, entryway, or even as an enchanting statement piece at your doorway. It's a true masterpiece that transcends boundaries and seamlessly weaves its beauty into every corner of your home or workspace.

This is more than a rug; it's a connection to history, a testament to craftsmanship, and an invitation to bring a piece of Cal village's enchantment into your home. With its captivating allure and time-honored design, this Vintage Turkish Handwoven Kilim Rug is not just a purchase; it's a journey into the heart of tradition and artistry. Enrich your home, touch your emotions, and create a space that tells a story with every fiber and thread.
Age: 1960s

Condition: Excellent

Dimensions: 6' 3" W x 9' 11" L

Floor Heating Safe: Yes

Material: Wool on cotton

Origin: Denizli, Turkey

Primary Color: Terracotta

Product Care: Vacuum clean gently or professional cleaning

Shape: Rectangle

Style: Cal style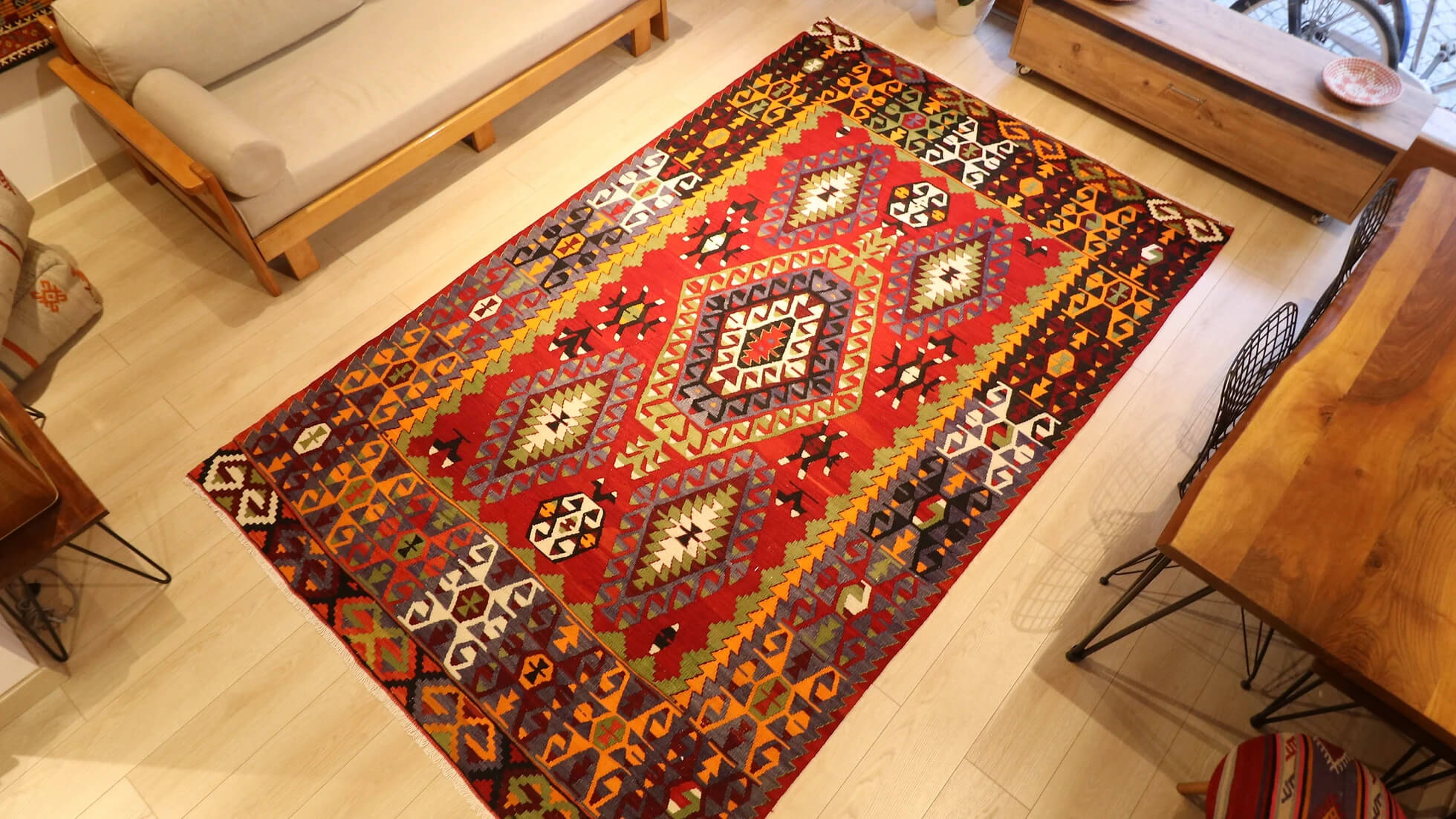 Vintage Turkish Hand-Knotted Rug | Cal Oriental Flat-Woven Rug in Terracotta 1960s
Sale price

$2,190.00
Regular price

$2,790.00
Choose options