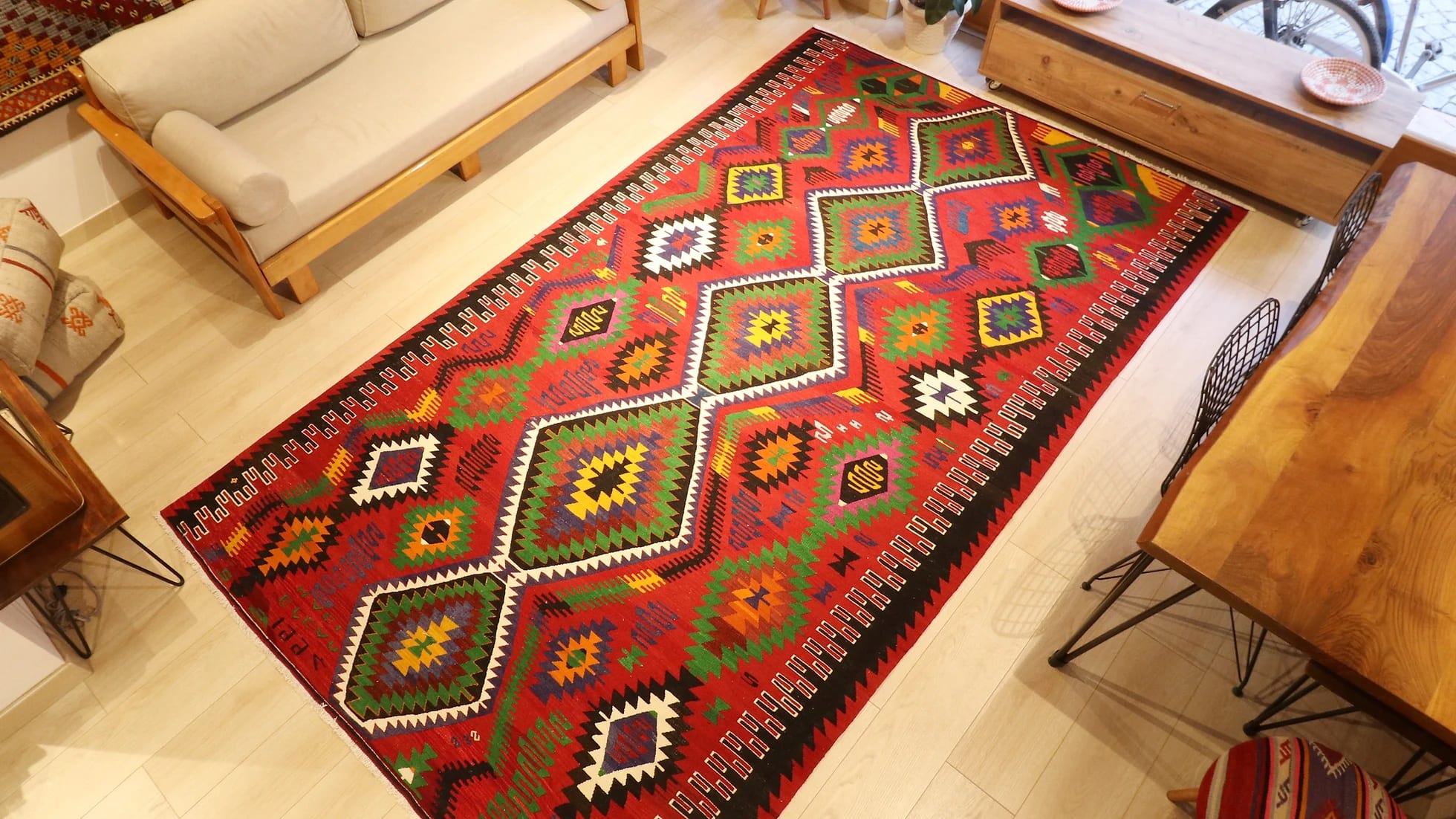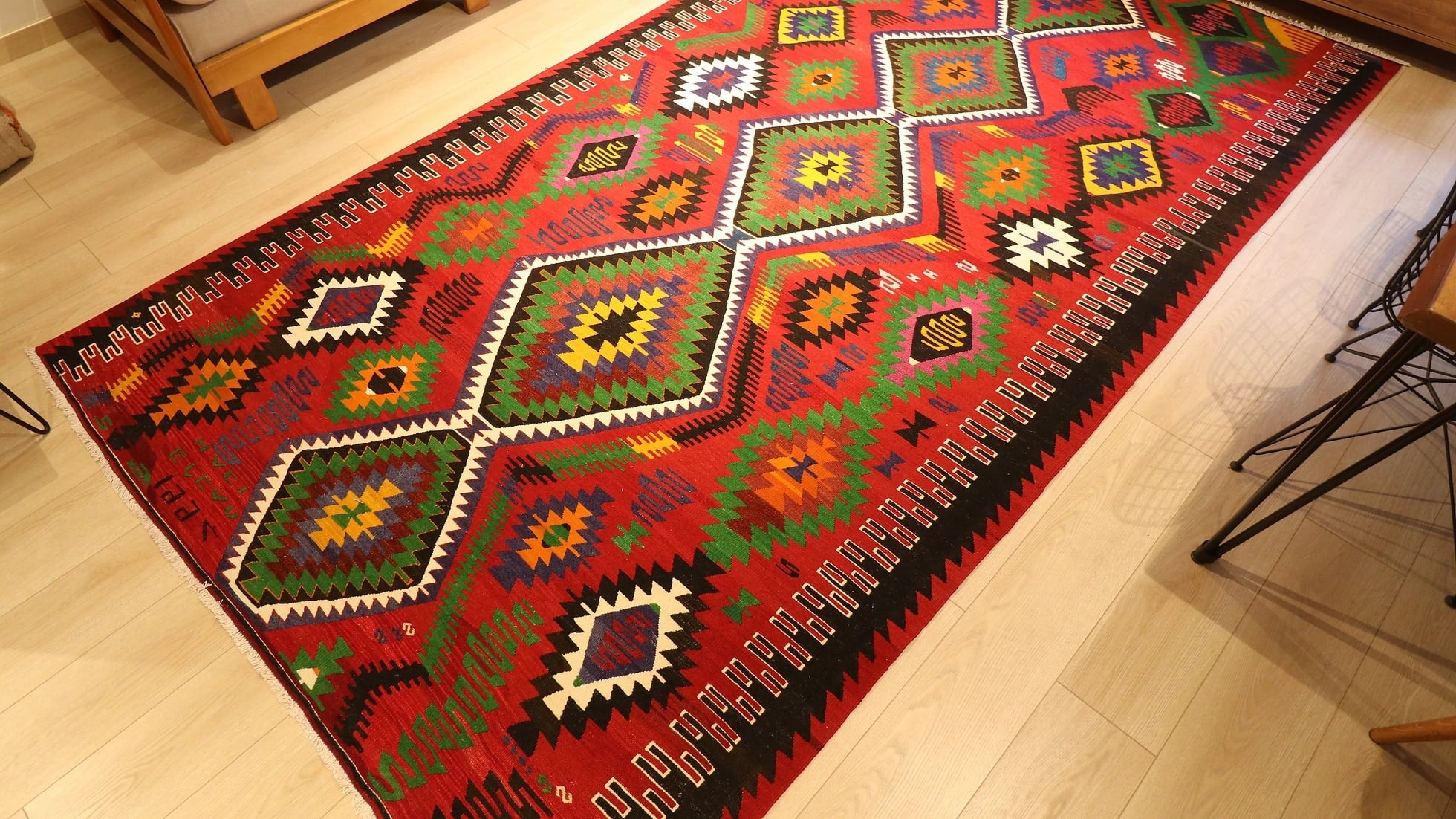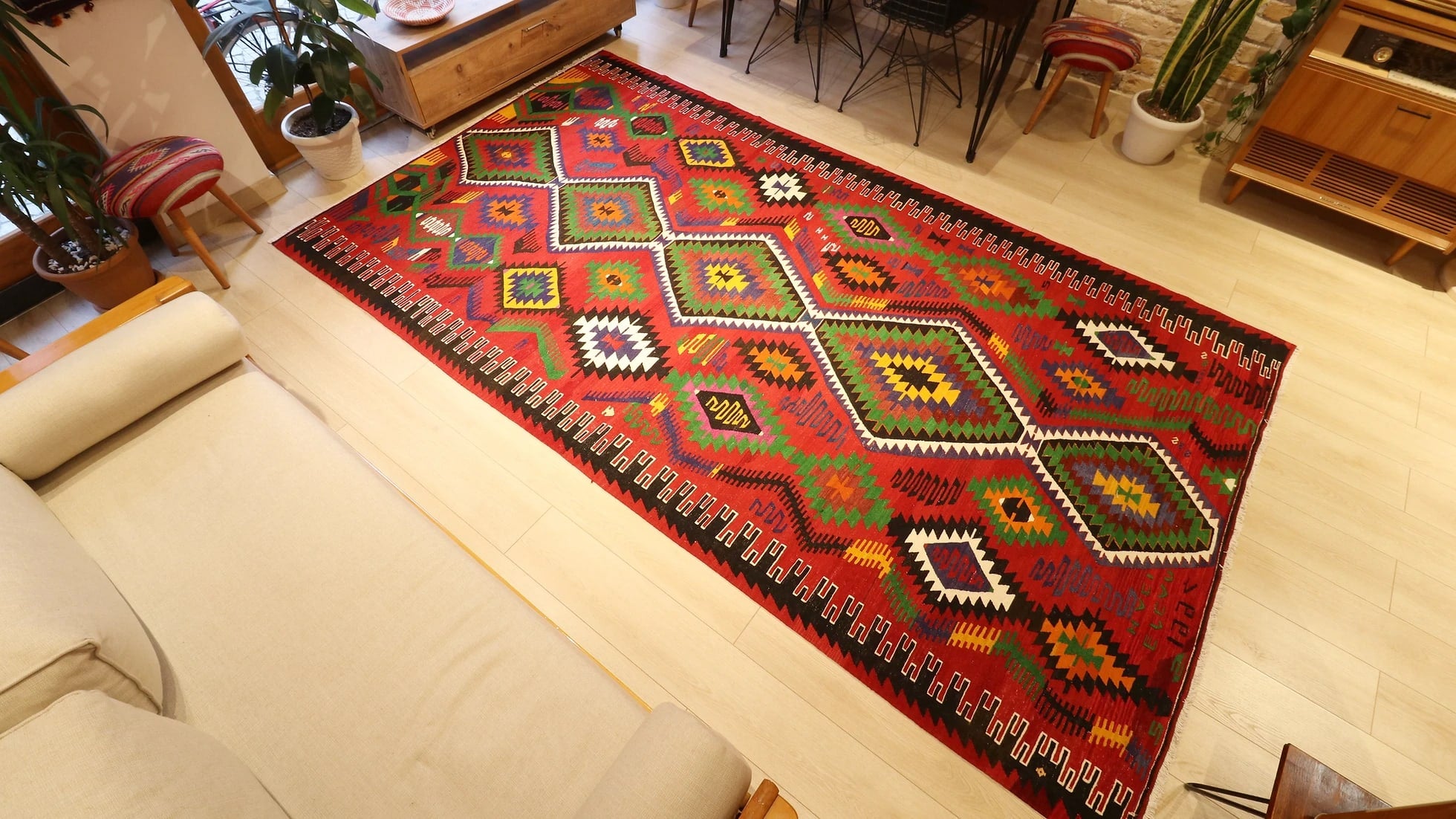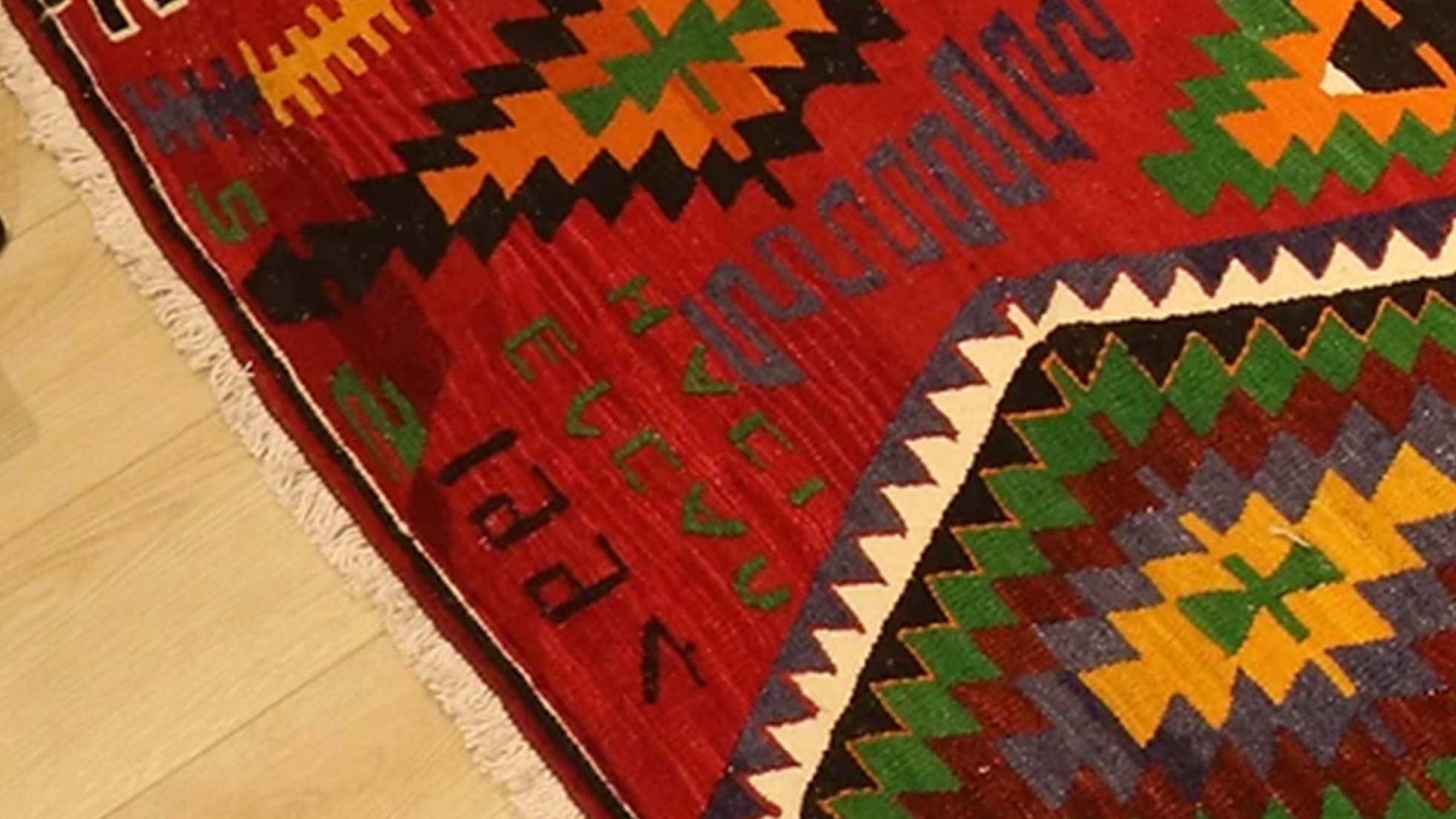 Vintage Turkish Hand-Knotted Rug | 1994 Signed Oushak Esme Tribal Flat-Woven Rug in Terracotta / Jade / Yellow
Sale price

$1,890.00
Regular price

$2,390.00
(/)
---
Step into a timeless narrative woven within the threads of our Oushak Esme Tribal Flat-Weave Rug, meticulously handwoven in 1994. This captivating ode to artistry boasts the unique touch of its weaver, who not only crafted its intricate design but also left a lasting mark by signing her name and dating the piece on the rug's canvas, making it an exceptionally special creation. Behold the majestic allure of this rug, an exemplar of enduring quality and meticulous craftsmanship that transcends time.

This extraordinary kilim rug unveils a mesmerizing tapestry, where sprawling giant medallions, adorned with celestial "star" motifs, gracefully span its length at the center, commanding attention within a singular column. Nestled beneath these resplendent medallions, smaller lozenge motifs intricately weave a story steeped in tradition and tribal heritage.

Immerse yourself in a symphony of hues as the color palette dances with an enchanting diversity. Radiant strokes of sunlit gold evoke warmth, while regal amethyst whispers tales of royalty. Crimson red pulses with passion, and verdant emeralds breathe life into the fabric canvas. Citrus blaze and blushing rose harmonize amidst ebony night and ivory moon accents, each contributing to an opulent tableau that transcends both eras and expectations.

Enclosed by a border featuring traditional "comb" patterns in bold black against a regal red backdrop, this rug measures a gracious 6x11 feet, making it the perfect addition to any space. Whether adorning a living room, kitchen, dining room, guest room, entryway, doorway, office, or even gracing the walls of art galleries, its presence elevates the ambiance with an air of refined opulence.

This kilim rug effortlessly complements a spectrum of interior design aesthetics, from the timeless allure of traditional and transitional styles to the eclectic vibrancy of boho-chic and the understated elegance of minimalist and maximalist designs. Its adaptability extends to rustic farmhouse, cozy cottage, vintage French, British elegance, and even Victorian-inspired spaces.

Unleash your creativity by layering it with other rugs to create a tapestry of textures, or let it stand alone as a regal centerpiece. Alternatively, elevate your interior space to museum-worthy status by hanging it on the wall, transforming your home into a gallery where every visitor is captivated by the precious and magnificent work of art beneath their gaze. Revel in the luxury of a rug that transcends time, embodying the essence of enduring beauty and unparalleled craftsmanship.
Age: 1994

Condition: Excellent

Dimensions: 6' 4" W x 10' 11" L

Floor Heating Safe: Yes

Material: Wool on cotton

Origin: Usak, Turkey

Primary Color: Polychromatic

Product Care: Vacuum clean gently or professional cleaning

Shape: Rectangle

Style: Tribal Oushak style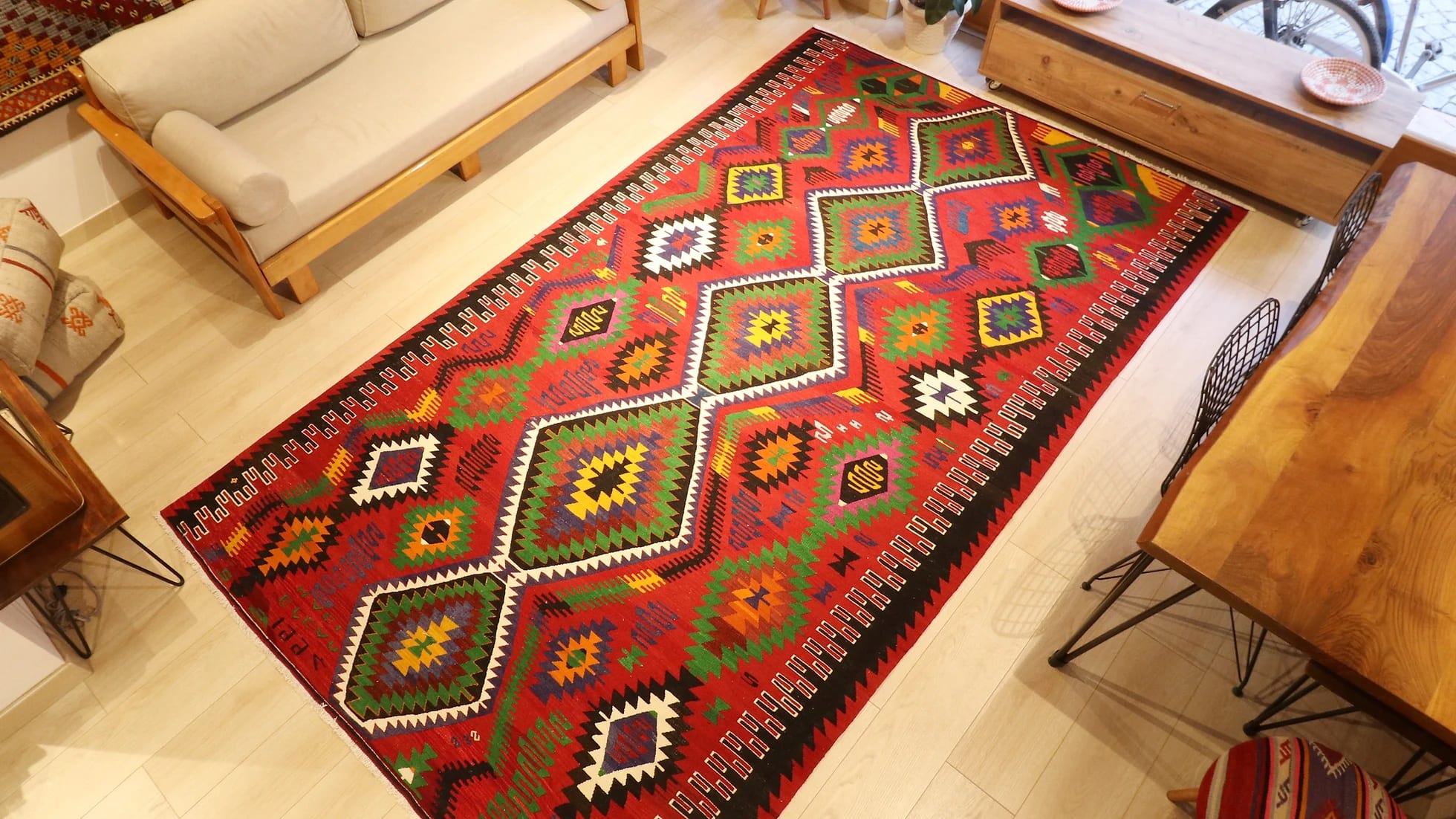 Vintage Turkish Hand-Knotted Rug | 1994 Signed Oushak Esme Tribal Flat-Woven Rug in Terracotta / Jade / Yellow
Sale price

$1,890.00
Regular price

$2,390.00
Choose options