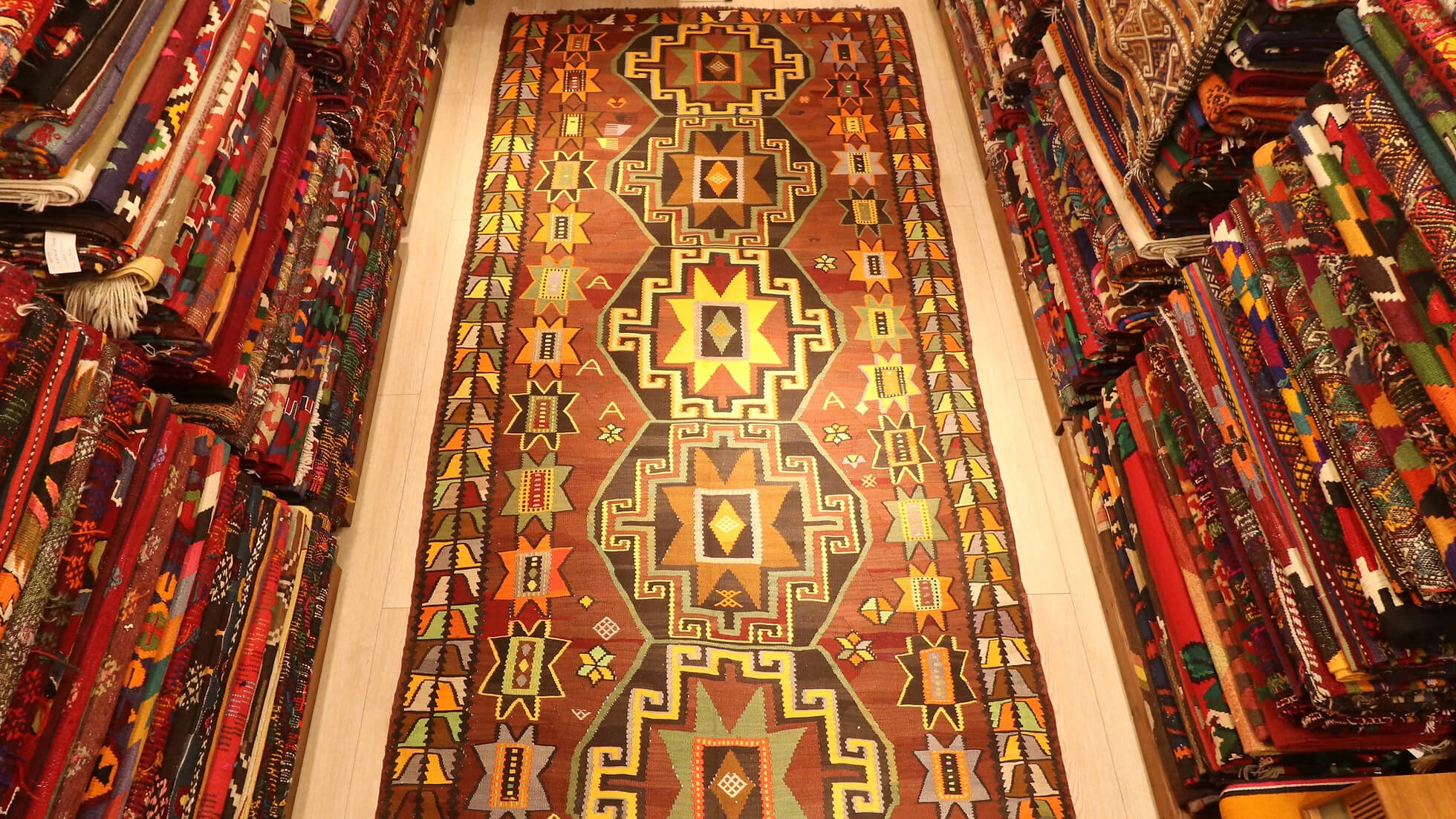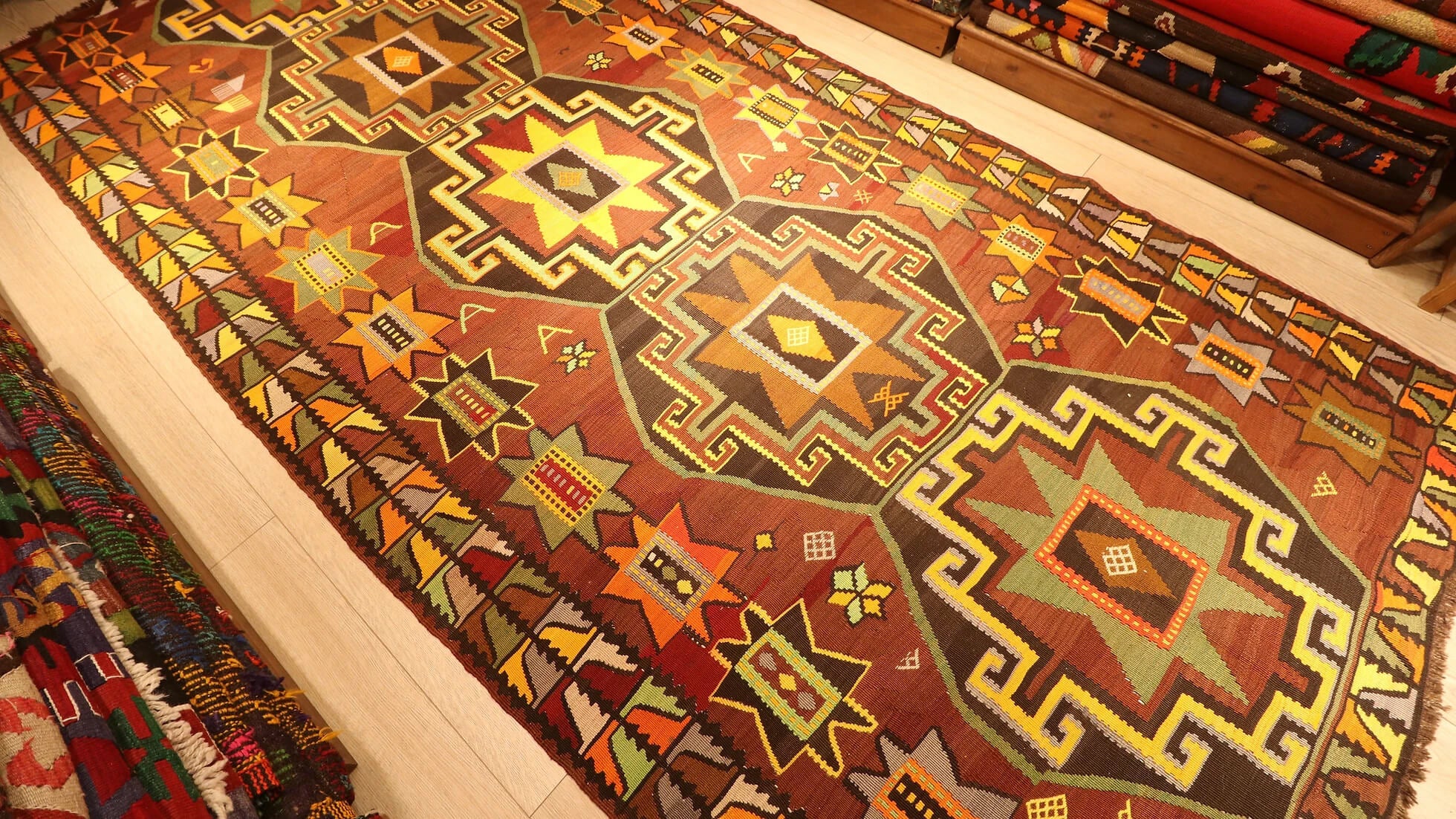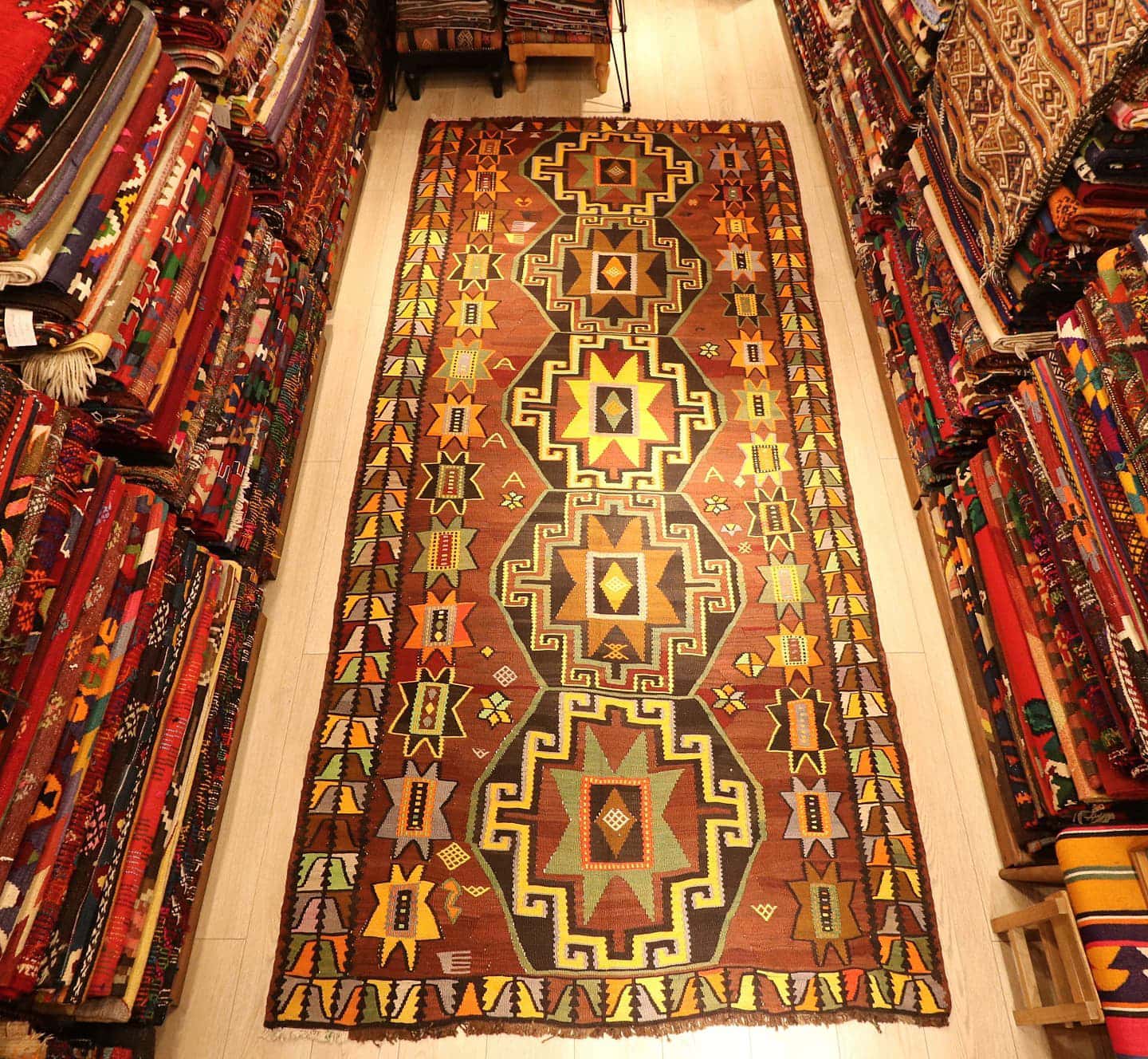 Vintage Turkish Hand-Knotted Gallery Rug | Initial Signed Kars Medallion Kilim in Brick Red / Green / Yellow 1950s
Sale price

$2,790.00
Regular price

$3,490.00
(/)
---
Introducing a masterpiece of timeless artistry and cultural heritage - the Handwoven Vintage Kars Runner Rug from the heart of Kars, Turkey. Measuring an impressive 5x11 feet, this exceptional piece transcends mere utility to become a captivating hallway runner or a mesmerizing gallery rug, elevating any space it graces.

Behold the rare and extraordinary medallion style rug belonging to mid-century era, a tapestry of motifs that will transport you to the rich history and traditions of Anatolia. Crafted from the finest wool, it exudes a sense of opulence and luxury. This unique kilim proudly carries the unmistakable signature of its master weaver, denoted by the elegant letter "A" in a subtle, yet enchanting yellowish-green hue, repeated four times across its canvas.

At the heart of this magnificent creation, you'll discover five colossal medallions, resplendent in hues of goldenrod, crimson, chestnut, and viridescent moss, reminiscent of nature's most exquisite palette. These medallions, often referred to as "dragon" motifs in Ancient Anatolia, are steeped in symbolism and history, echoing the tales of a bygone era.

As your gaze explores the expanse of this kilim, you'll find yourself entranced by the graceful dance of "burdock", the majesty of "bird", the delicate allure of "flower", and the strength of the "ram's horn" motifs. Furthermore, the rug tells a tale of "love and unison", invoking the timeless duality of Ying and Yang. Each motif is meticulously woven into the fabric, creating a symphony of design that is both captivating and harmonious.

Adding to its allure, star motifs grace the length of both sides of this rug, bestowing a celestial elegance to the composition. This flat-weave masterpiece is gently encased by a distinctive "running water" pattern, rendered in refined shades of gunmetal gray, sun-kissed lemon yellow, warm terracotta orange, and verdant emerald green. These shades, reminiscent of a painter's palette, enhance the rug's intrinsic beauty and contribute to its overall charm.

This hand-knotted kilim rug is the perfect addition to a range of interior aesthetics, including eclectic, southern charm, traditional opulence, transitional allure, vintage French elegance, rustic comfort, and farmhouse serenity. It seamlessly marries the old and the new, infusing your living space with the spirit of ancient Anatolia.

Elevate your home with a piece of history, a work of art, and a testament to the skill and craftsmanship of Kars weavers. This rug is more than a decorative item; it's a journey through time and culture, a treasure that will adorn your home for generations to come. Embrace the mystique of the Medallion style, and let this Handwoven Vintage Kars Runner become the focal point of your decor, telling a story of elegance and tradition that transcends borders and time itself.
Age: 1950s

Condition: Excellent

Dimensions: 5' 2" W x 11' 2" L

Floor Heating Safe: Yes

Material: Wool on cotton

Origin: Kars, Turkey

Primary Color: Earthy tones

Product Care: Vacuum clean gently or professional cleaning

Shape: Rectangle

Style: Kars medallion style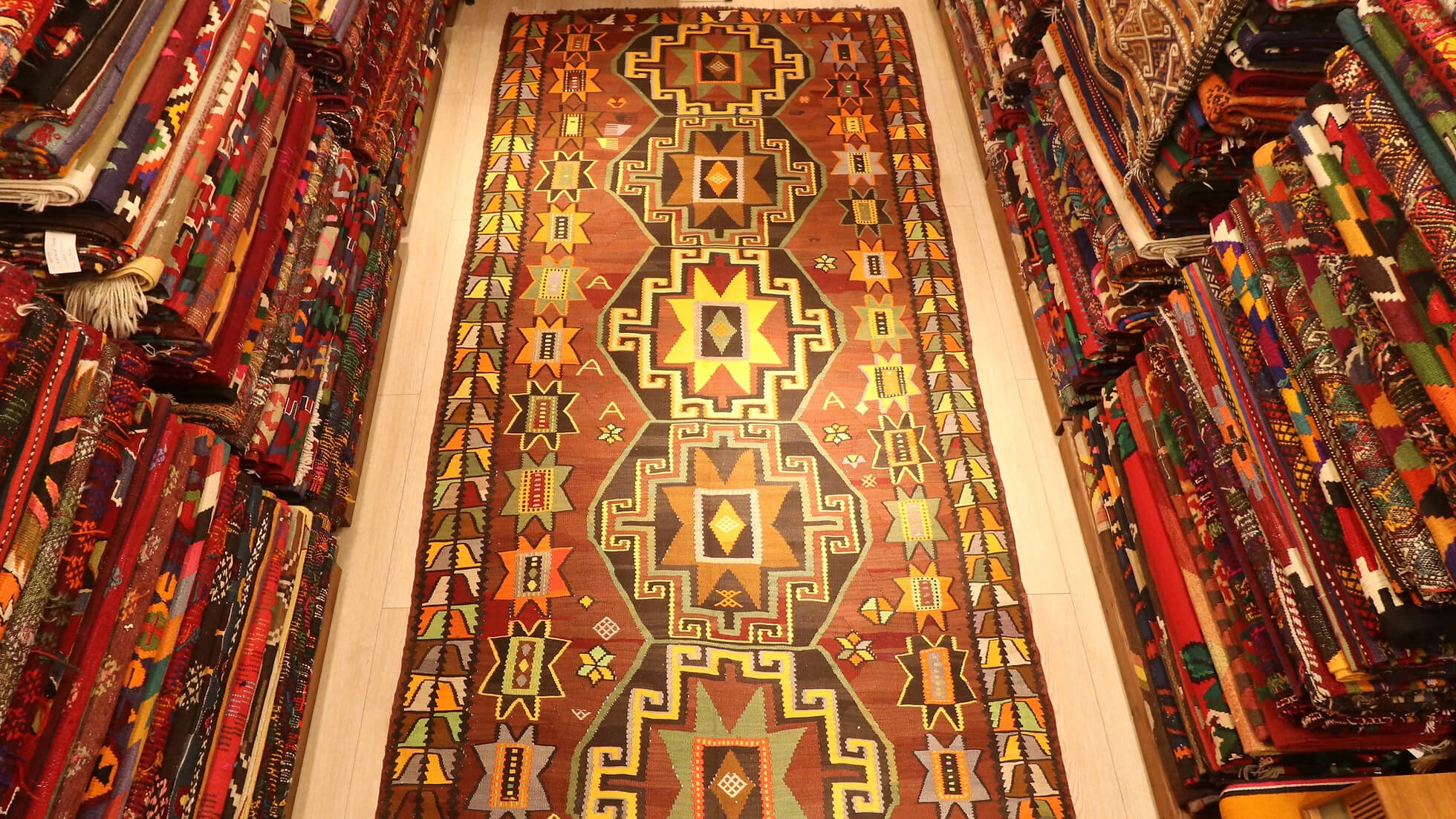 Vintage Turkish Hand-Knotted Gallery Rug | Initial Signed Kars Medallion Kilim in Brick Red / Green / Yellow 1950s
Sale price

$2,790.00
Regular price

$3,490.00
Choose options