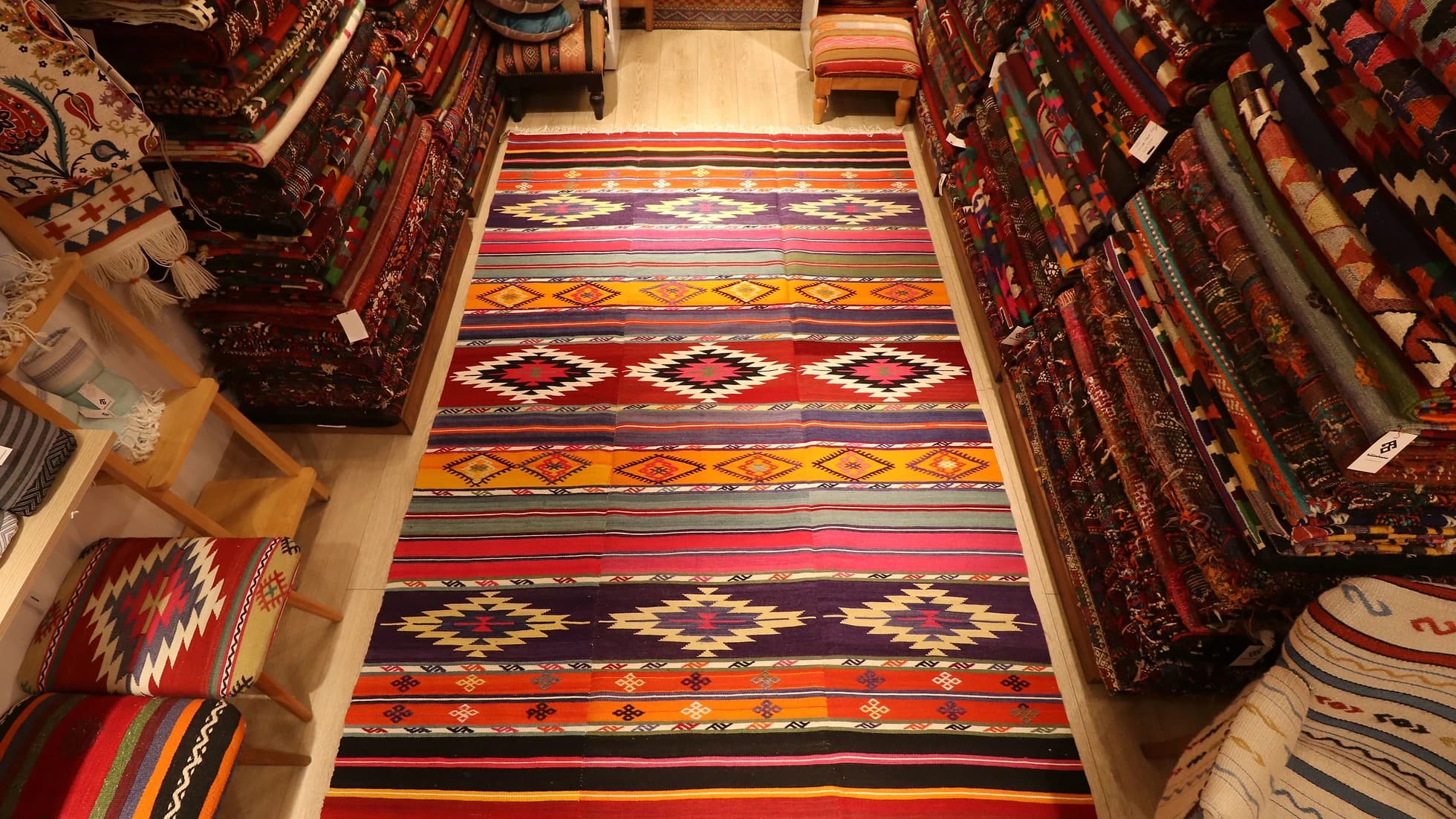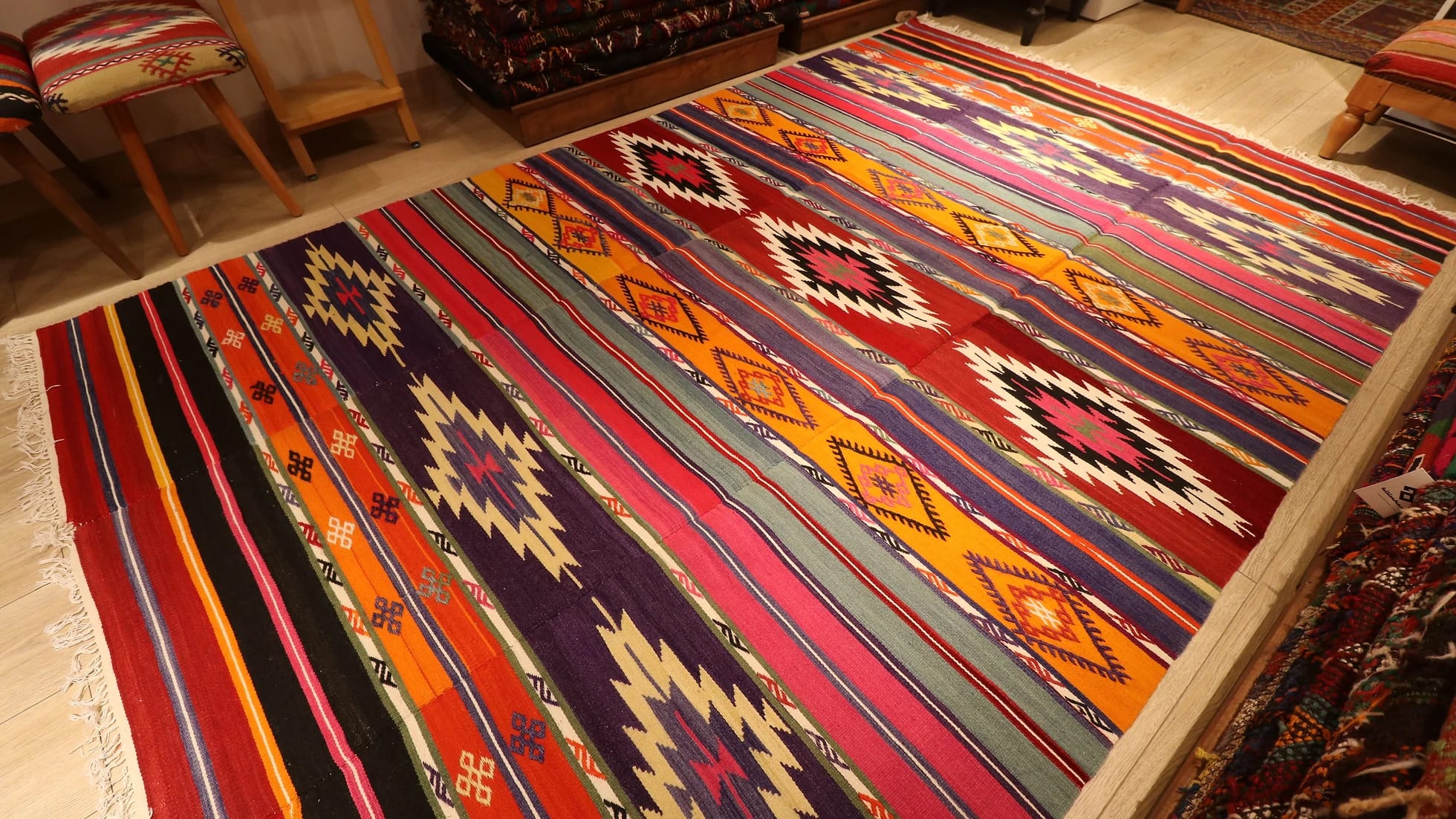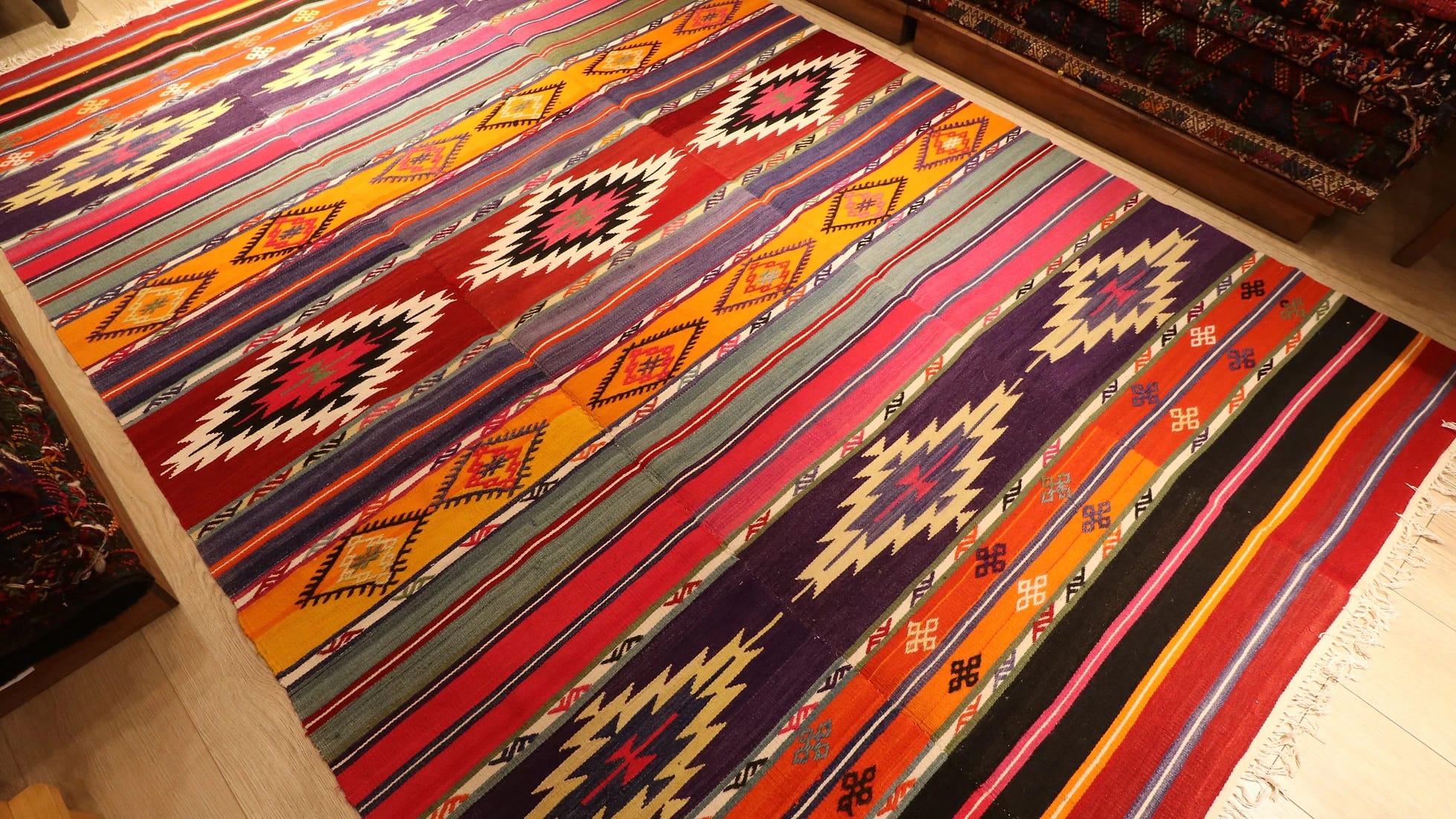 Vintage Turkish Hand-Knotted Rug | Balikesir Polychromatic Flat-Woven Rug 1960s
Sale price

$1,790.00
Regular price

$2,290.00
(/)
---
Step into a world of vibrant nostalgia with our exquisite 1960s Anatolian Vintage Kilim Rug from Balikesir city. This 6x10 masterpiece is a living testament to a bygone era, where tradition and artistry merged to create a tapestry of unparalleled beauty.

Our kilim boasts an array of traditional motifs that tell a fascinating story. The prominent "hair band" and "star" motifs are meticulously woven into the fabric, representing a rich tapestry of Anatolian heritage. Small "hook" motifs and charming stripes adorning the width of the rug add an extra layer of intrigue.

One glance at this kilim, and you'll be transported to a realm of color like no other. Each stripe is a canvas of vibrant artistry, showcasing an array of shades that read like a painter's dream. Picture sunlit sunflower yellow, mesmerizing fuchsia fusion, tranquil pastel meadow green, dreamy baby's breath blue, soothing lavender bliss, passionate crimson red, and enigmatic nightfall black. And don't forget the invigorating tangerine zest.

The kilim's "star" motifs are a sight to behold, elegantly arranged in three distinct rows, each row featuring a trio of these celestial symbols. What makes them even more captivating is the playful variation in bright hues that make them pop.

This Turkish rug is a chameleon of style, seamlessly enhancing every corner of your home. Whether in the kitchen, where its vibrant hues spark culinary inspiration, the living room, initiating conversations, or the bedroom, offering cozy comfort underfoot, it effortlessly blends into any indoor setting. Beyond indoor spaces, it transitions beautifully outdoors, adorning your patio, deck, or garden with Anatolian charm.

This rug isn't just a piece of history; it's a celebration of the beauty and liveliness of the Anatolian region. Its energy radiates through every thread and weave, making it the perfect addition to your Southwestern sanctuary, eclectic haven, rustic retreat, or modern farmhouse.

Immerse yourself in the legacy of Anatolian craftsmanship and fill your space with the joy of colors that dance across the ages. Don't miss the chance to own a piece of history, a splash of art, and a burst of joy - all woven into one.

Elevate your space, make it special, and let this 1960s Anatolian Vintage Kilim Rug be the centerpiece of your décor. Act now, and bring home this magnificent work of art today. Your home deserves it!
Age: 1960s

Condition: Excellent

Dimensions: 5' 10" W x 9' 7" L

Floor Heating Safe: Yes

Material: Wool on cotton

Origin: Balikesir, Turkey

Primary Color: Polychromatic

Product Care: Vacuum clean gently or professional cleaning

Shape: Rectangle

Style: Yuruk style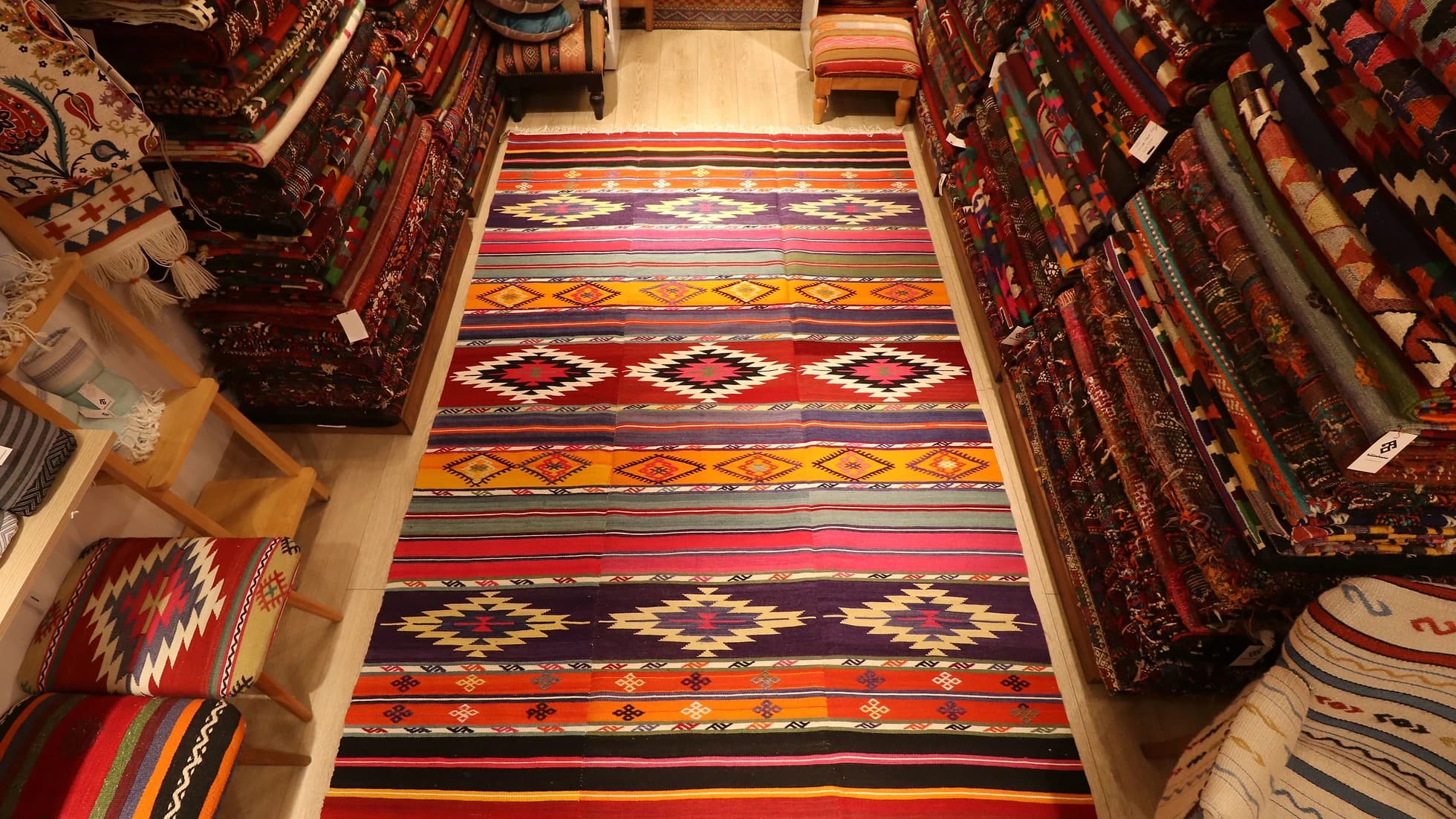 Vintage Turkish Hand-Knotted Rug | Balikesir Polychromatic Flat-Woven Rug 1960s
Sale price

$1,790.00
Regular price

$2,290.00
Choose options