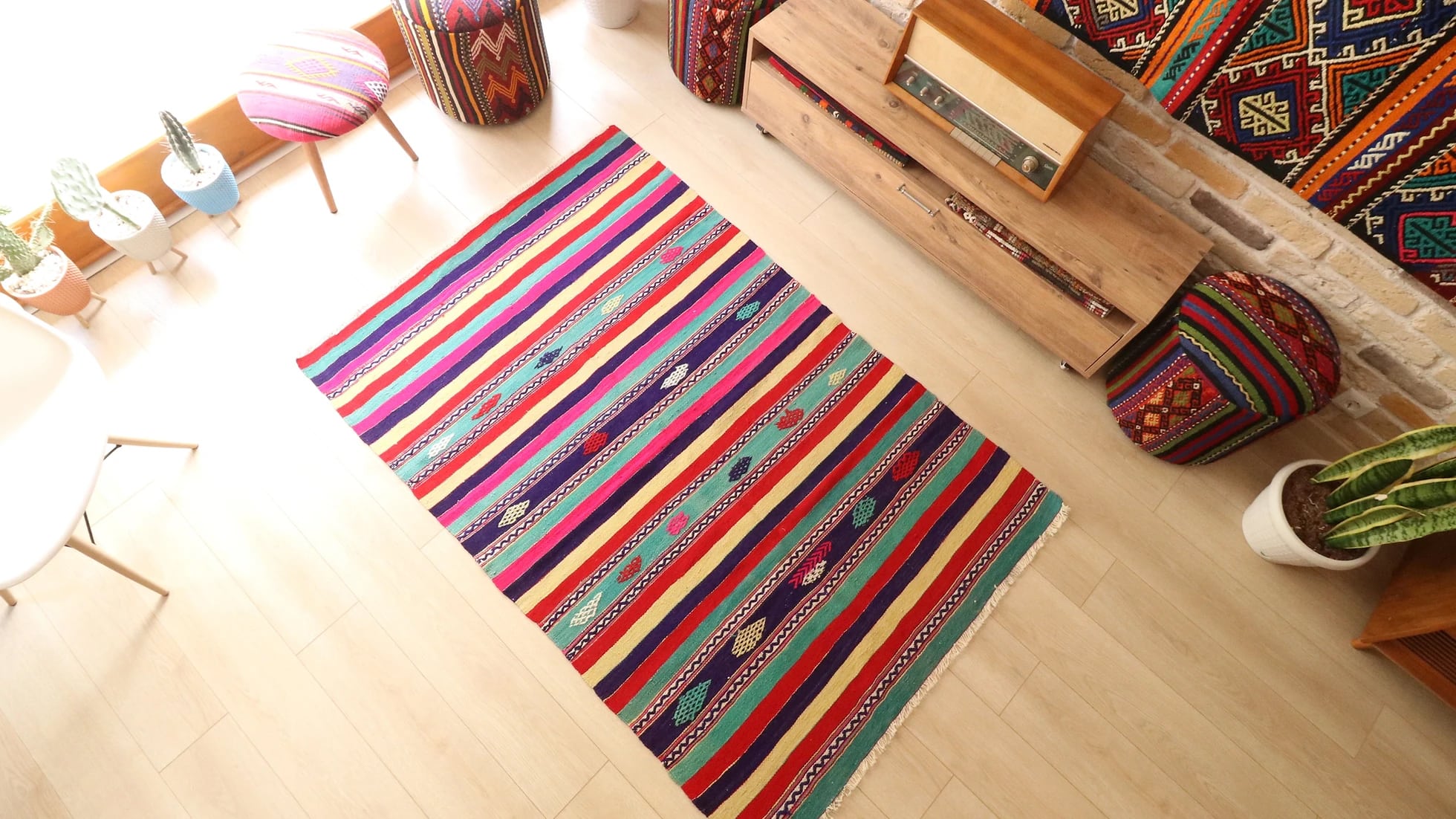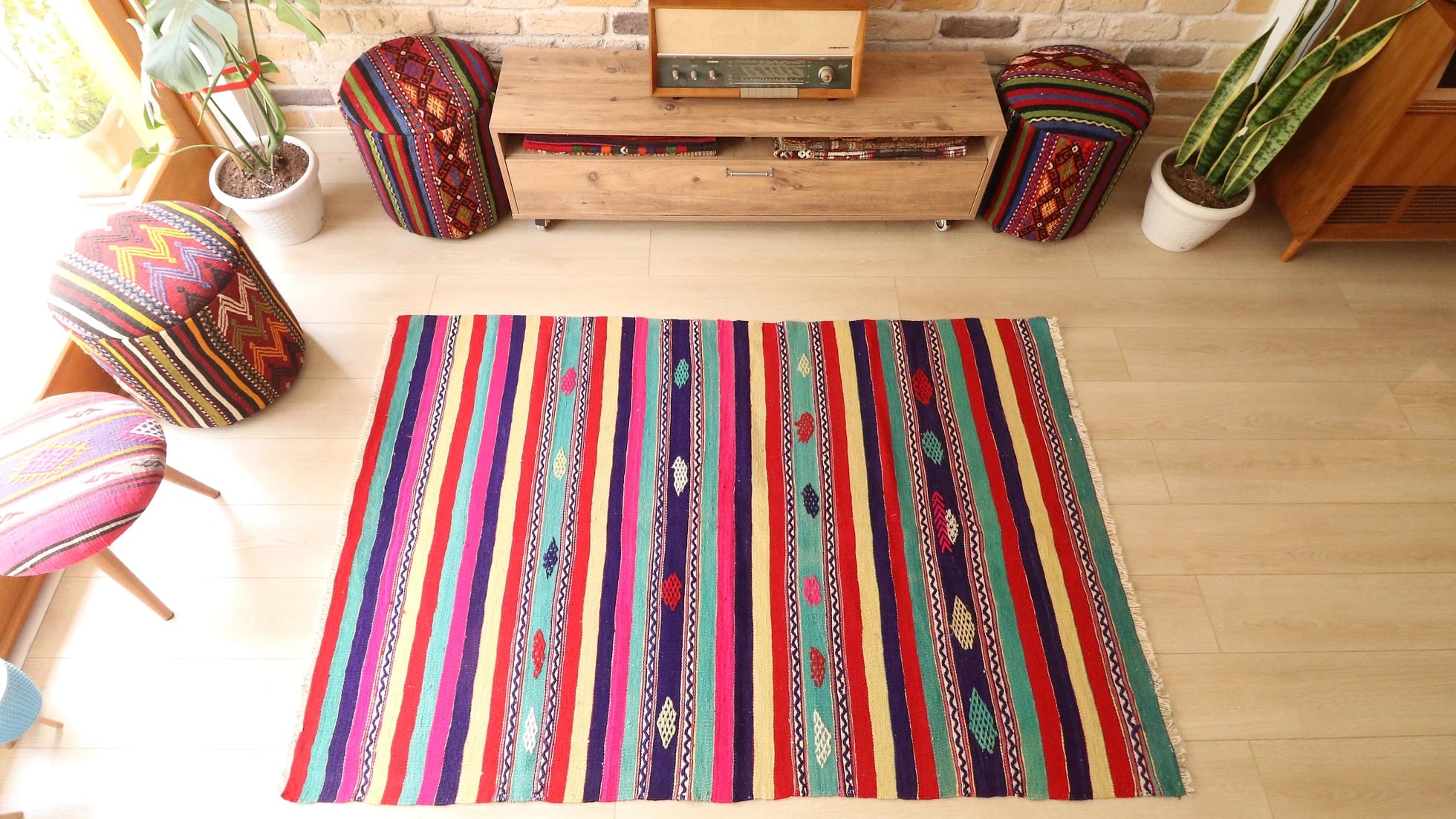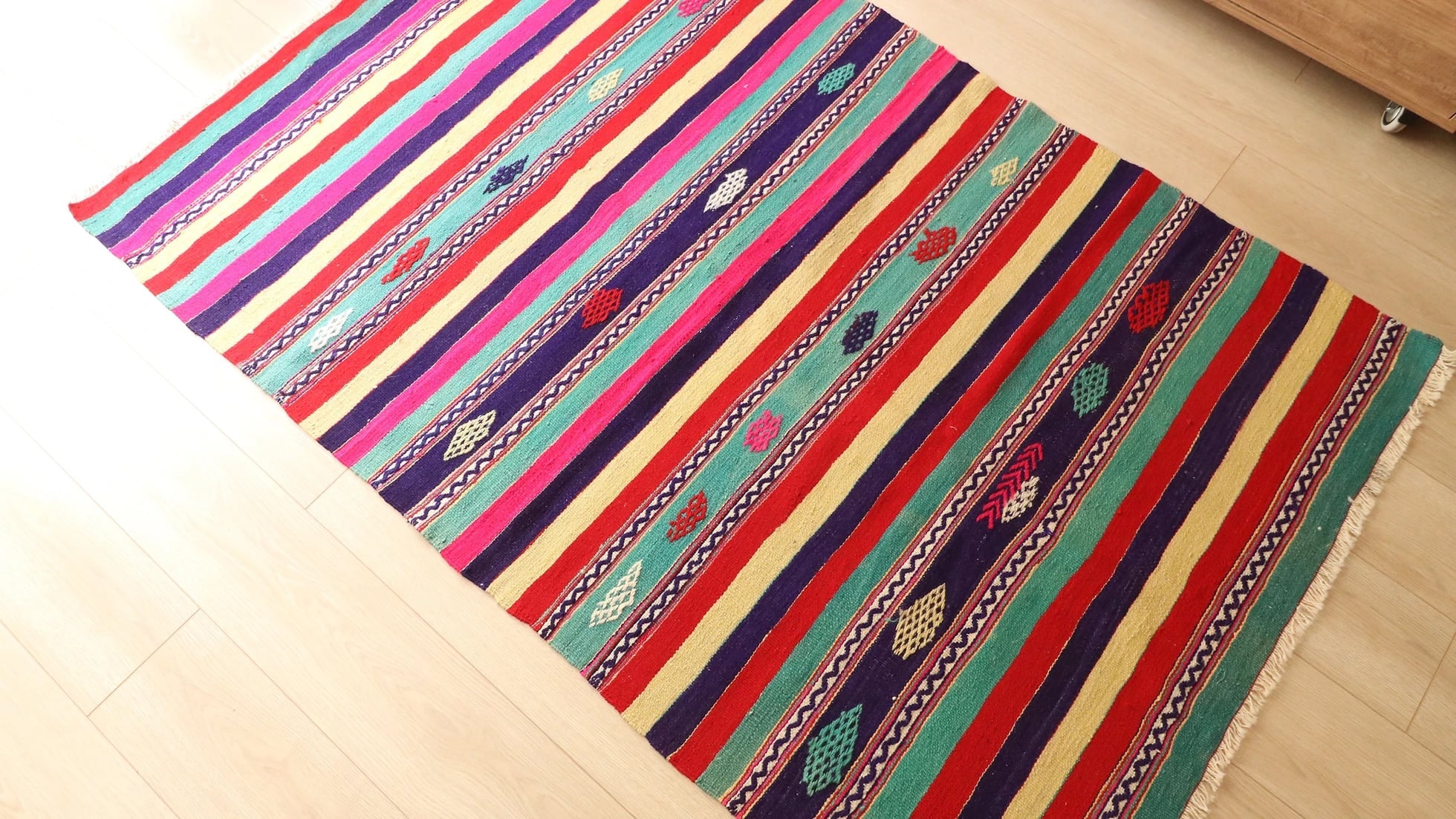 Vintage Turkish Hand-Knotted Rug | Balikesir Polychromatic Striped Kilim 1960s
Sale price

$1,490.00
Regular price
(/)
---
Step into the enchanting world of Balikesir, with our Handwoven Flat-weave, a mid-century masterpiece that encapsulates the rich cultural heritage of this historic city. This captivating kilim, measuring 4x6, boasts a symphony of colors, including elegant shades of pink, purple, blue, red, and yellow, beautifully arranged in classic striped patterns. These patterns are embellished with traditional motifs inspired by the "burdock" plant, known for its burrs that cling to clothing and animal fur, believed to protect against the evil eye and symbolize abundance.

Woven with meticulous craftsmanship, this stunning kilim rug was handcrafted by skilled women artisans using time-honored weaving techniques and high-quality wool. It's a living tapestry of tradition, carrying the essence of Balikesir's cultural heritage within its vibrant threads.

What sets this kilim apart is its ability to seamlessly bridge the gap between the past and the present. With its vintage charm and contemporary appeal, it effortlessly complements a variety of interior design styles, whether your space is modern, maximalist, eclectic, or coastal. This rug isn't just an accessory; it's an artful statement piece that elevates your decor.

Owning our vintage Turkish kilim rug isn't just about enhancing your interior; it's about possessing a piece of history, a tangible link to Balikesir's vibrant culture and tradition. It's a conversation starter, a symbol of prosperity, and a guardian against malevolent forces. This kilim rug invites you to become a custodian of a rich heritage and bring the magic of Balikesir into your home. 

Enrich your living space with the enchanting allure of Balikesir, where the vibrant spirit of Turkey comes alive. Embrace the opportunity to infuse your home with timeless beauty and profound cultural significance by ordering our Vintage Turkish Kilim Rug today. Immerse yourself in a world of unparalleled elegance and unique heritage.
Age: 1960s

Condition: Excellent

Dimensions: 4' 2" W x 6' 2" L

Floor Heating Safe: Yes

Material: Wool on cotton

Origin: Balikesir, Turkey

Primary Color: Polychromatic

Product Care: Vacuum clean gently or professional cleaning

Shape: Rectangle

Style: Coastal style
Choose options