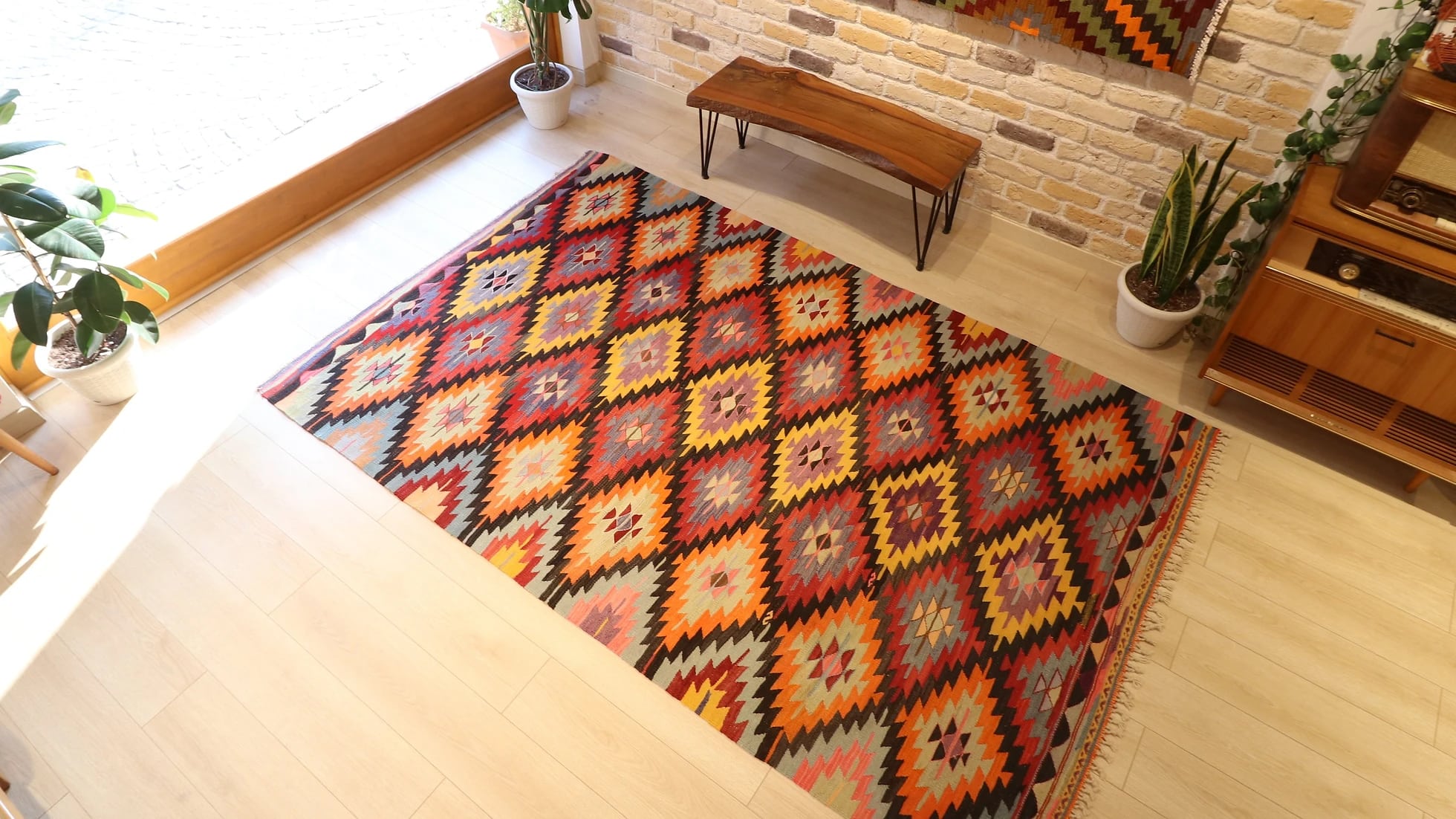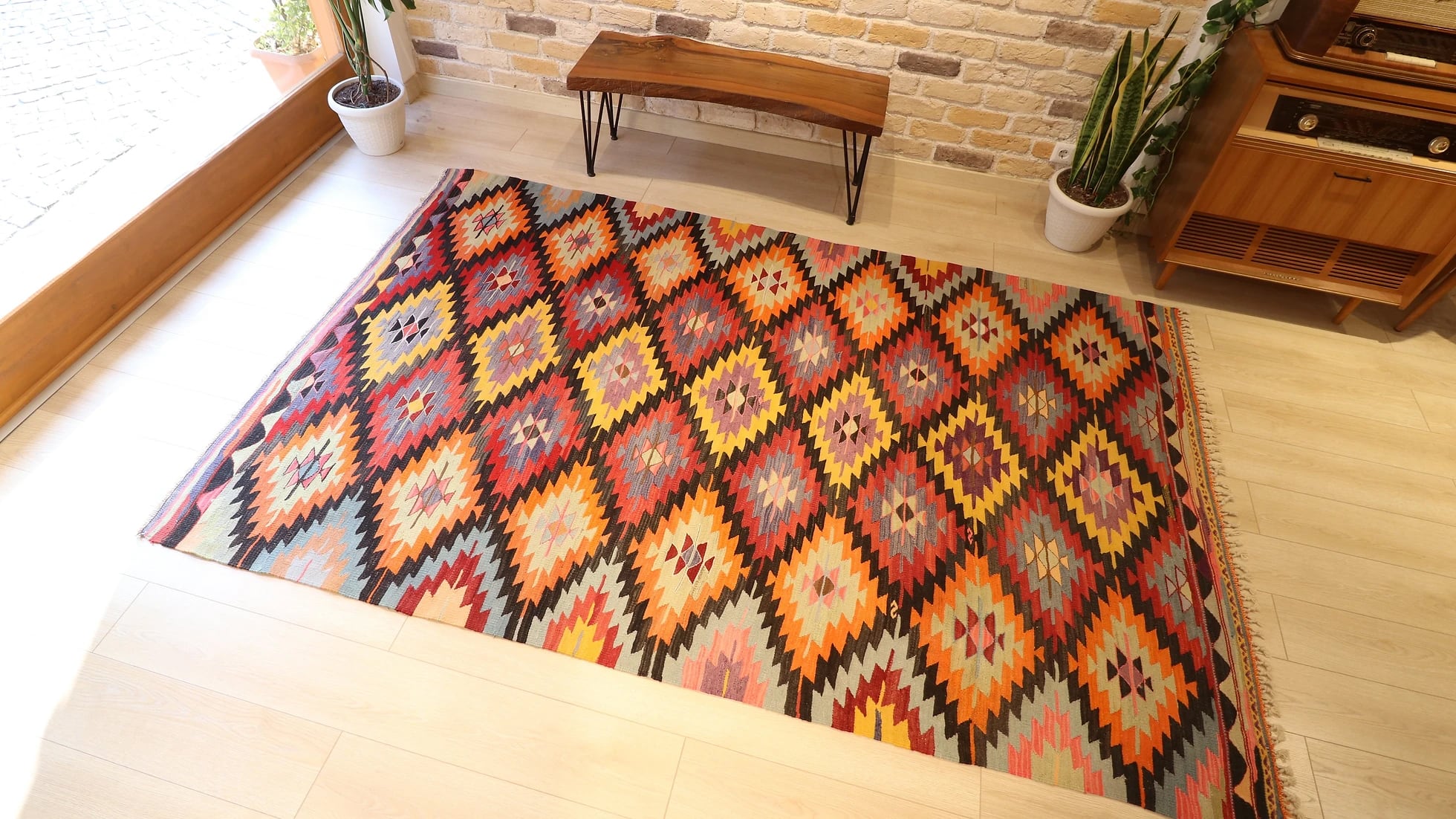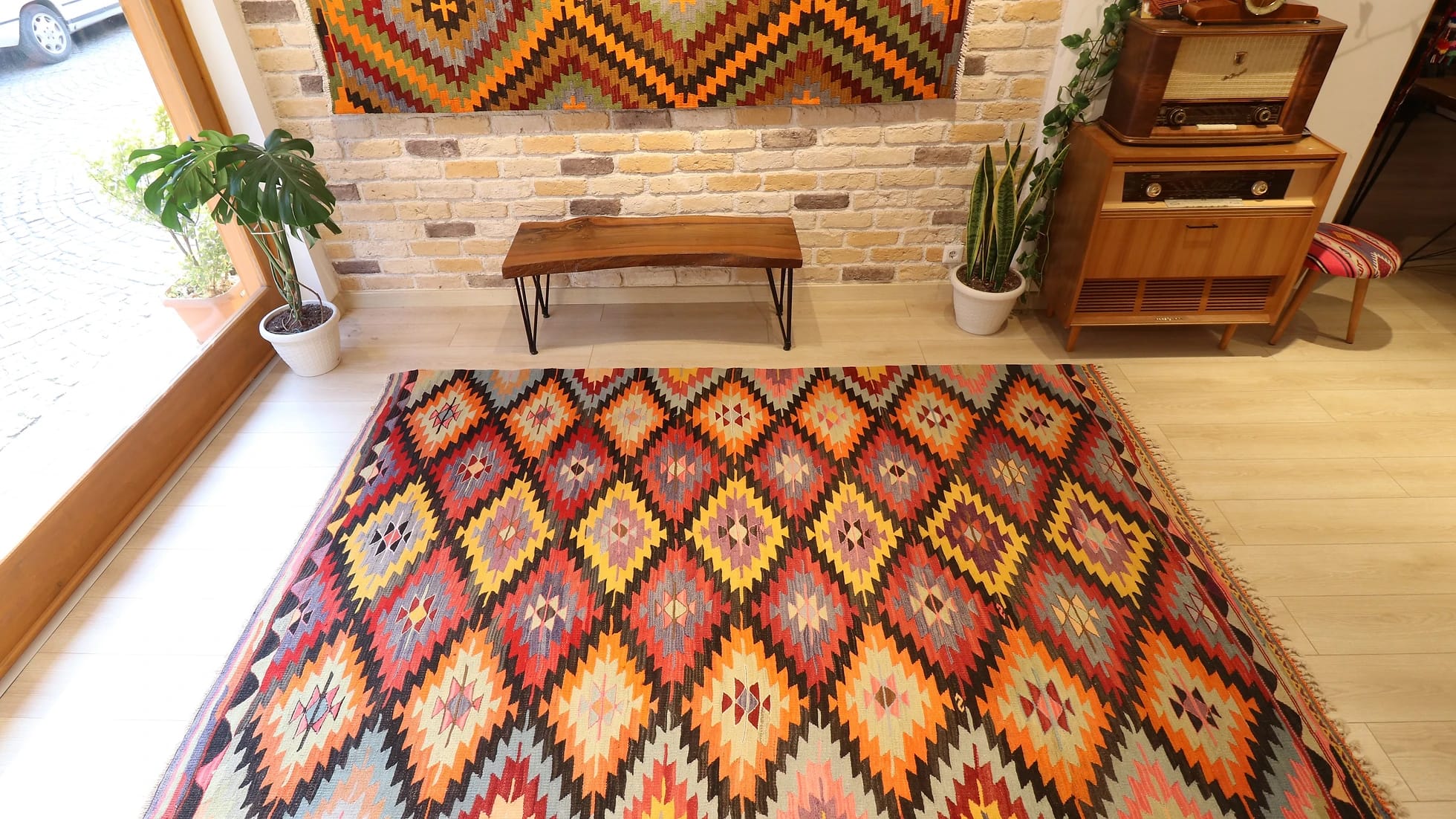 Vintage Turkish Hand-Knotted Rug | Polychromatic Flat-Woven Rug in Traditional Patterns 1950s
Sale price

$2,090.00
Regular price

$2,590.00
(/)
---
Step into a realm of timeless elegance with our Vintage Turkish Hand-Knotted Rug from the vibrant era of the 1950s. This cultural masterpiece, a symphony of craftsmanship and artistry, unveils a mesmerizing tapestry of all-over symmetrical motifs, embracing a palette that dances between shades of sunlit citrus orange, golden harvest yellow, crimson red, lush forest green, and the dignified anthracite grey.

As if woven with the threads of tradition and nostalgia, this Ethnic Flat-Weave Rug transcends time with its energetic design, featuring traditional "star" motifs. Each motif weaves a narrative of cultural significance and mystique, inviting you to explore the rich tapestry of Turkish heritage beneath your feet.

At a generous size of 6x9, this tribal wool rug demands attention and effortlessly transforms any space into a gallery of refined taste. Whether placed in the entryway, doorway, guest room, dining room, or kitchen, it becomes a conversation starter, as guests inevitably find themselves captivated by its intricate beauty.

Crafted with meticulous care and enduring quality, this rug is not just an accessory but a testament to the enduring legacy of Turkish craftsmanship. Its vibrant color scheme and traditional motifs coalesce into a harmonious blend, injecting life and personality into your surroundings.

Versatility is the hallmark of this rug, seamlessly integrating into a myriad of interior design styles. Whether your aesthetic leans towards boho-inspired, contemporary, traditional, transitional, maximalist, vintage French, British elegance, or any fusion thereof, this rug effortlessly adapts, becoming the pièce de résistance in your curated space.

Embrace the marriage of cultural heritage and contemporary style as this Colorful Flat-Woven Rug transcends its utilitarian roots to become a statement piece. Elevate your decor, captivate your guests, and immerse yourself in the captivating charm of a rug that is more than just floor covering—it's a work of art that tells a story of a bygone era while seamlessly fitting into the narrative of your modern life.
Age: 1950s

Condition: Excellent

Dimensions: 5' 10" W x 9' 3" L

Floor Heating Safe: Yes

Material: Wool on cotton

Origin: Afyon, Turkey

Primary Color: Polychromatic

Product Care: Vacuum clean gently or professional cleaning

Shape: Rectangle

Style: Ethnic style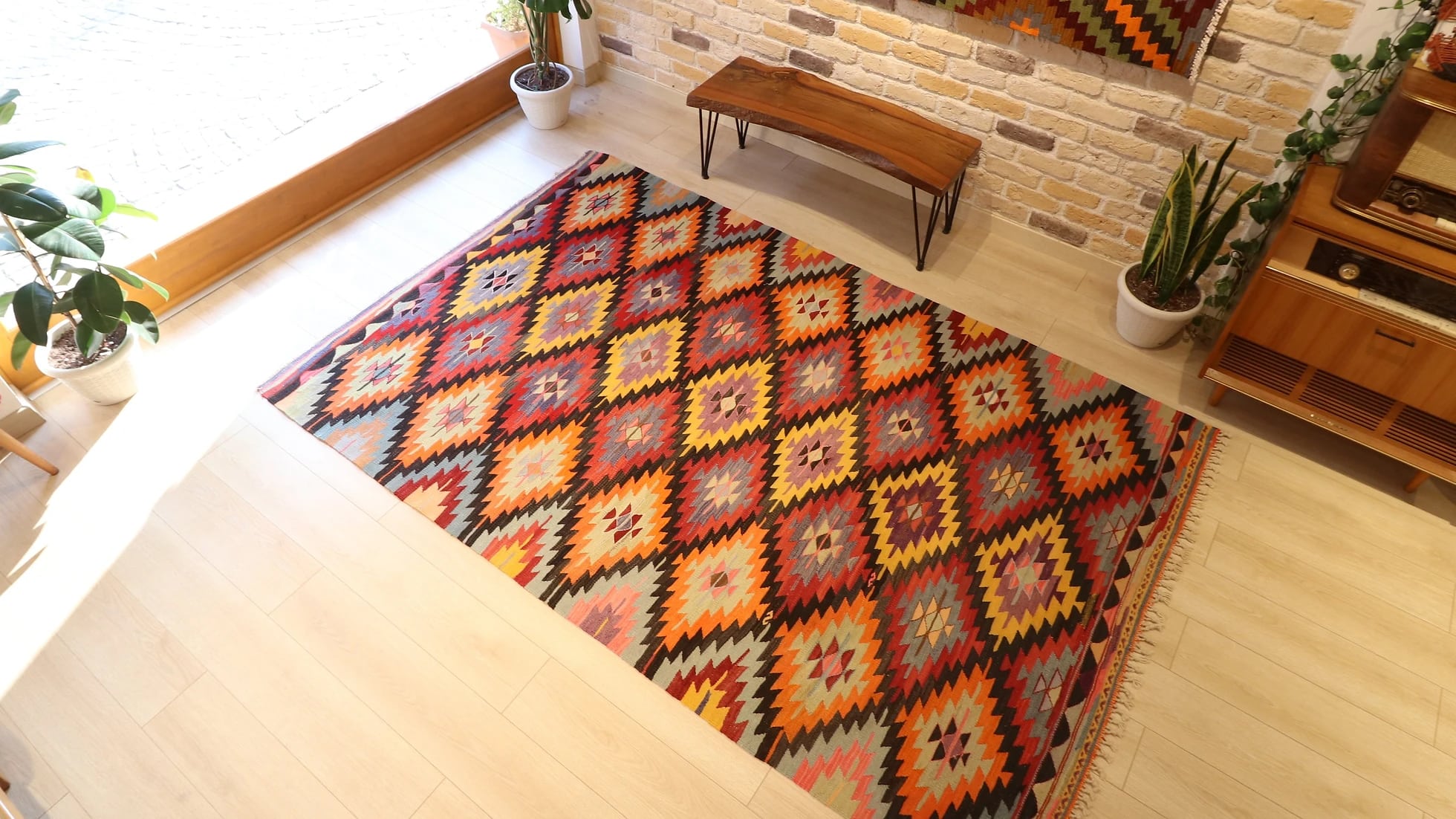 Vintage Turkish Hand-Knotted Rug | Polychromatic Flat-Woven Rug in Traditional Patterns 1950s
Sale price

$2,090.00
Regular price

$2,590.00
Choose options