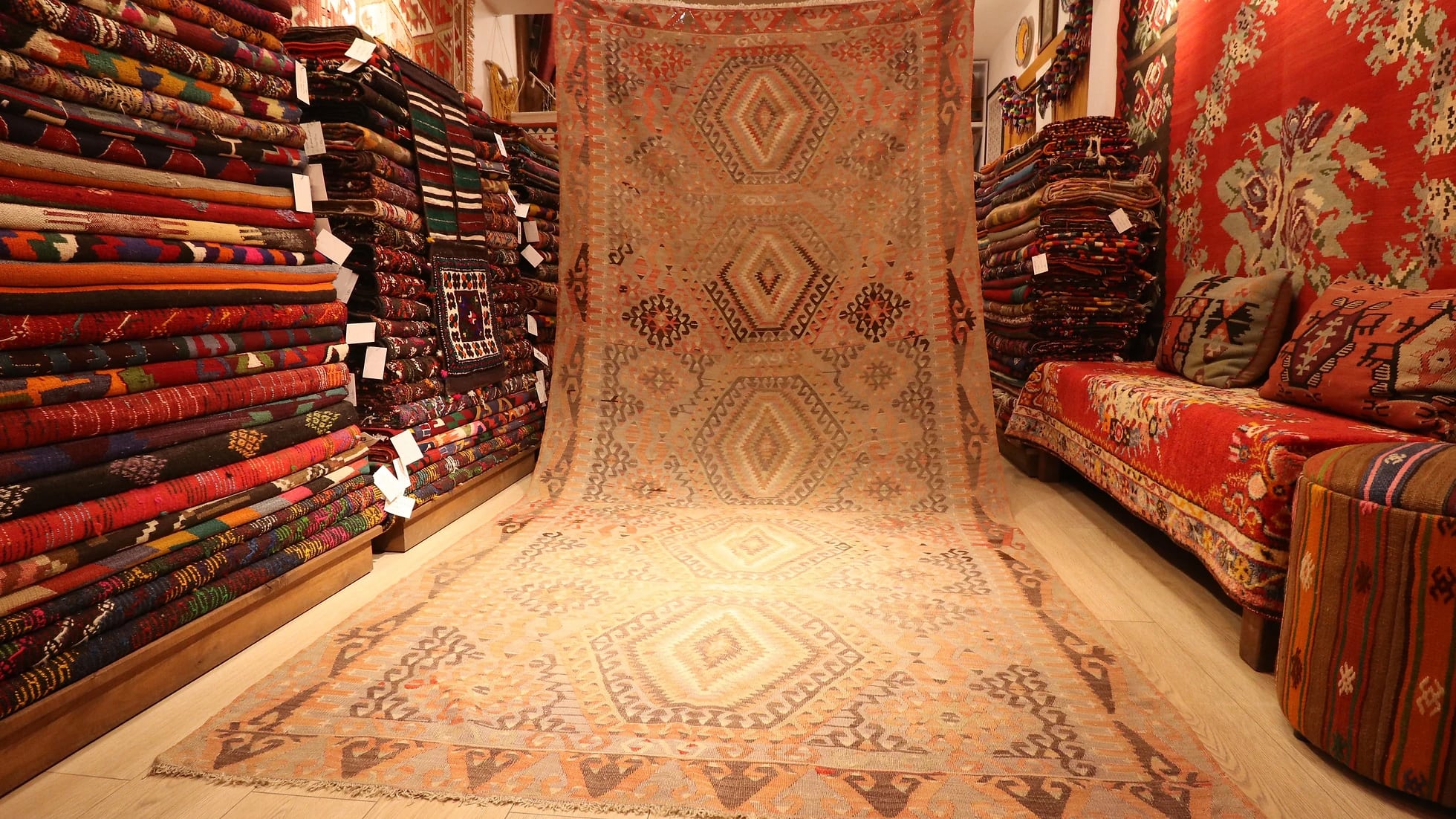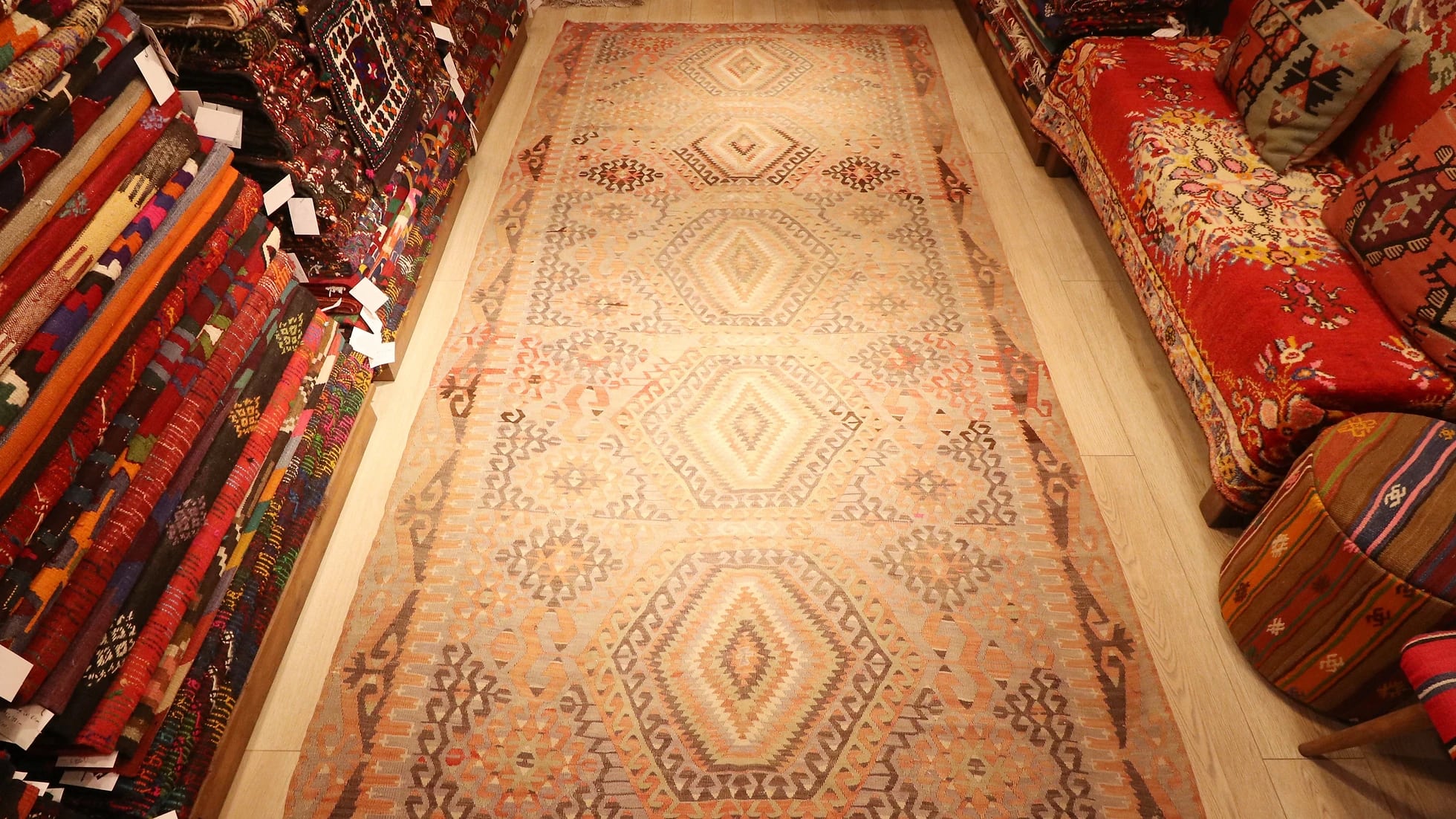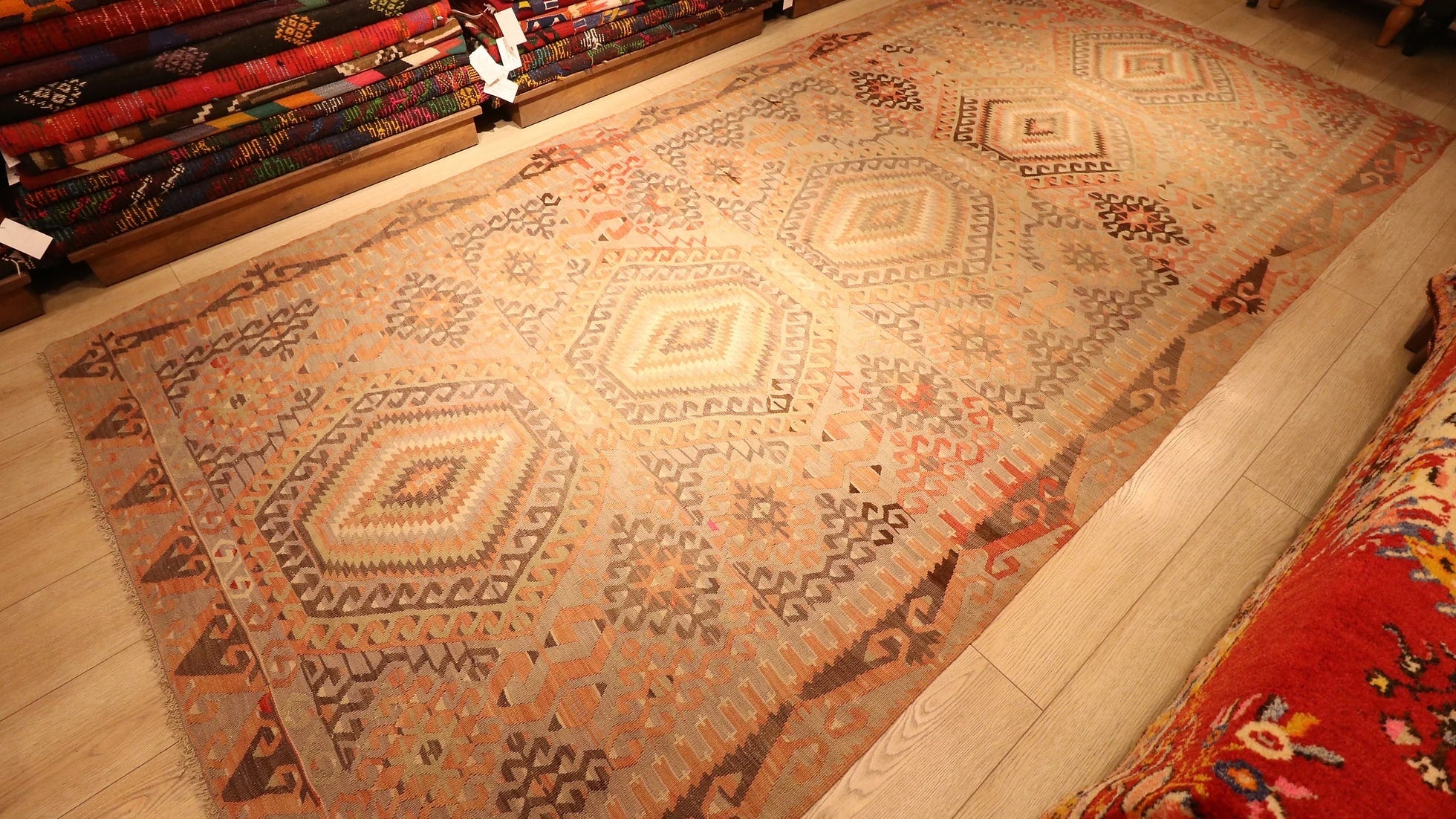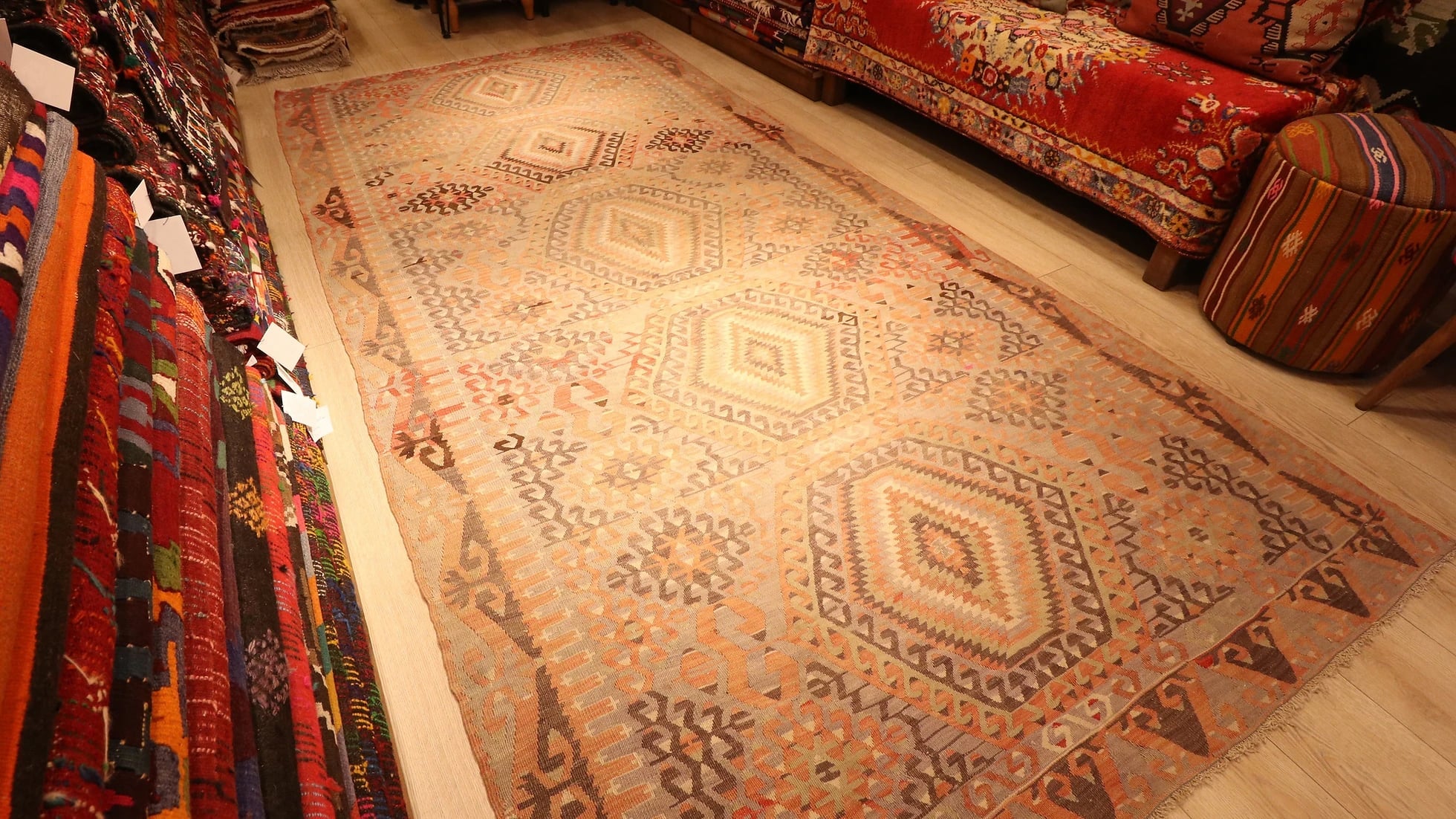 Vintage Turkish Hand-Knotted Gallery Rug | Oushak Oriental Kilim in Medallion Style
Sale price

$3,190.00
Regular price

$3,990.00
(/)
---
Introducing our exquisite Vintage Oushak Rug - a true masterpiece of Turkish craftsmanship, carefully handwoven in wool during the mid-20th century, circa 1950-1960. This remarkable flat-weave kilim rug carries with it a rich heritage, hailing from the land of Turkey, where tradition and artistry converge seamlessly.

A rarity in the world of kilim rugs, this piece is a testament to time-honored motifs and stories woven into its very fabric. At its heart, five magnificent "dragon" motifs take center stage, exuding an air of mystique and ancient charm. These dragons, mythological creatures reminiscent of lions, snakes, and winged beings, have long been revered as guardians of treasures and secrets, as well as symbols of the vital elements - air and water.

The design is further adorned with the enchanting "hands on hips" motifs, a pattern known by various names in Anatolia, such as gelin kiz, cocuklu kiz, and aman kiz, symbolizing motherhood and fertility. The border, adorned with the distinctive "comb" motif, adds authenticity and carries a deep cultural significance. It symbolizes the desire for marriage and the protection of both marriage and birth from the evil eye, embodying the hopes and dreams of generations.

This Vintage Oushak Kilim Rug transcends time, offering a glimpse into a world where artistry and tradition intertwine. Its design evolution traces back to a 3000 B.C. mother goddess statuette found near Ankara, a testament to its enduring cultural relevance.

This 5x11 area rug is ideal for large interiors with a penchant for traditional, eclectic, or maximalist styles. It is more than just a decorative piece; it's a window into history, a symbol of culture, and a work of art that transcends time. Invite the beauty of the past into your living space with this extraordinary vintage kilim rug, and let its stories weave into the fabric of your home. Experience the magic of the dragon, the guardian of treasures, and the symbol of fertility, in every step you take on this exquisite rug.
Age: 1940s

Condition: Excellent

Dimensions: 5' 4" W x 11' 4" L

Floor Heating Safe: Yes

Material: Wool on cotton

Origin: Usak, Turkey

Primary Color: Neutral earthy tones

Product Care: Vacuum clean gently or professional cleaning

Shape: Rectangle

Style: Oriental Oushak style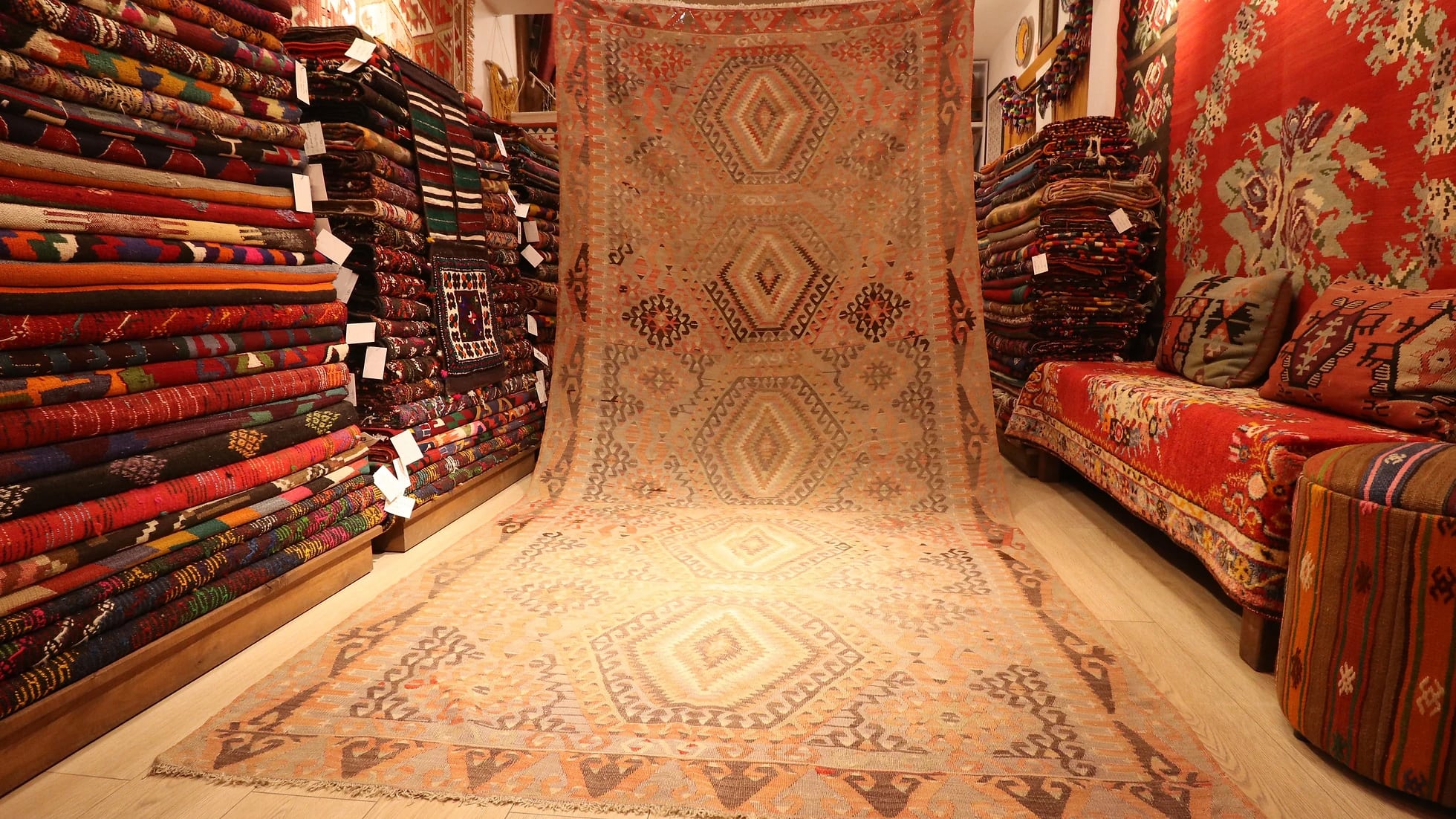 Vintage Turkish Hand-Knotted Gallery Rug | Oushak Oriental Kilim in Medallion Style
Sale price

$3,190.00
Regular price

$3,990.00
Choose options