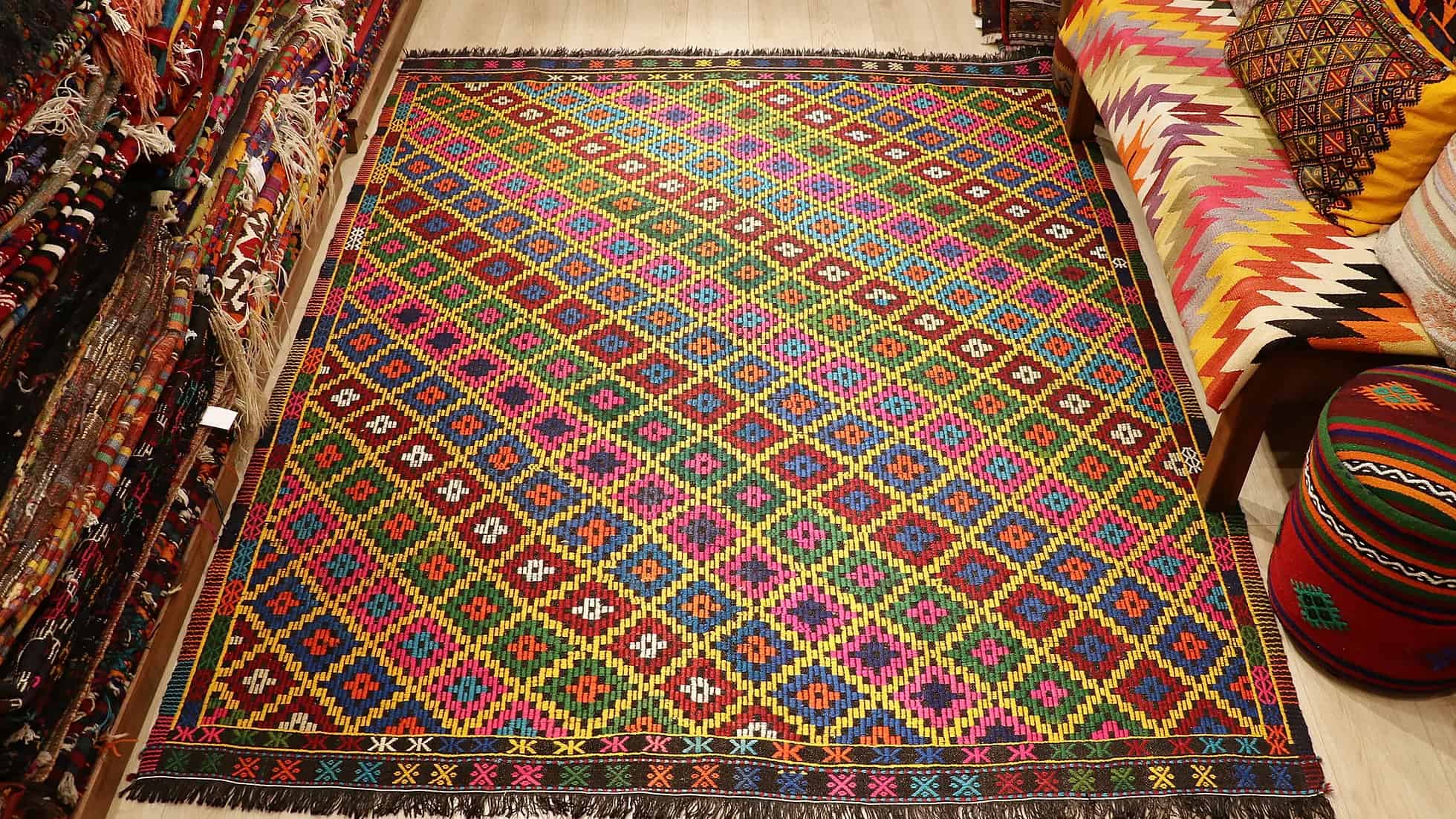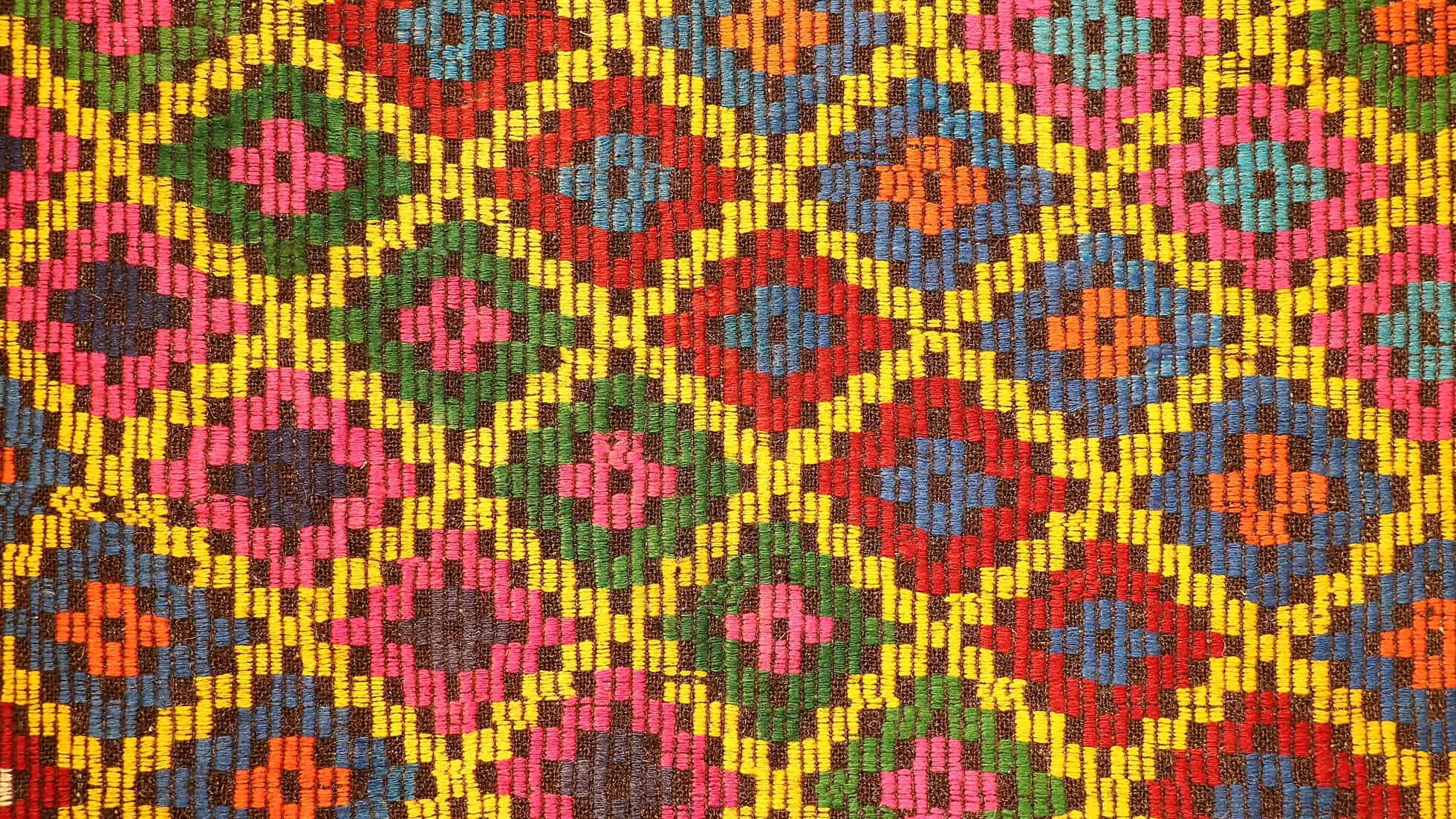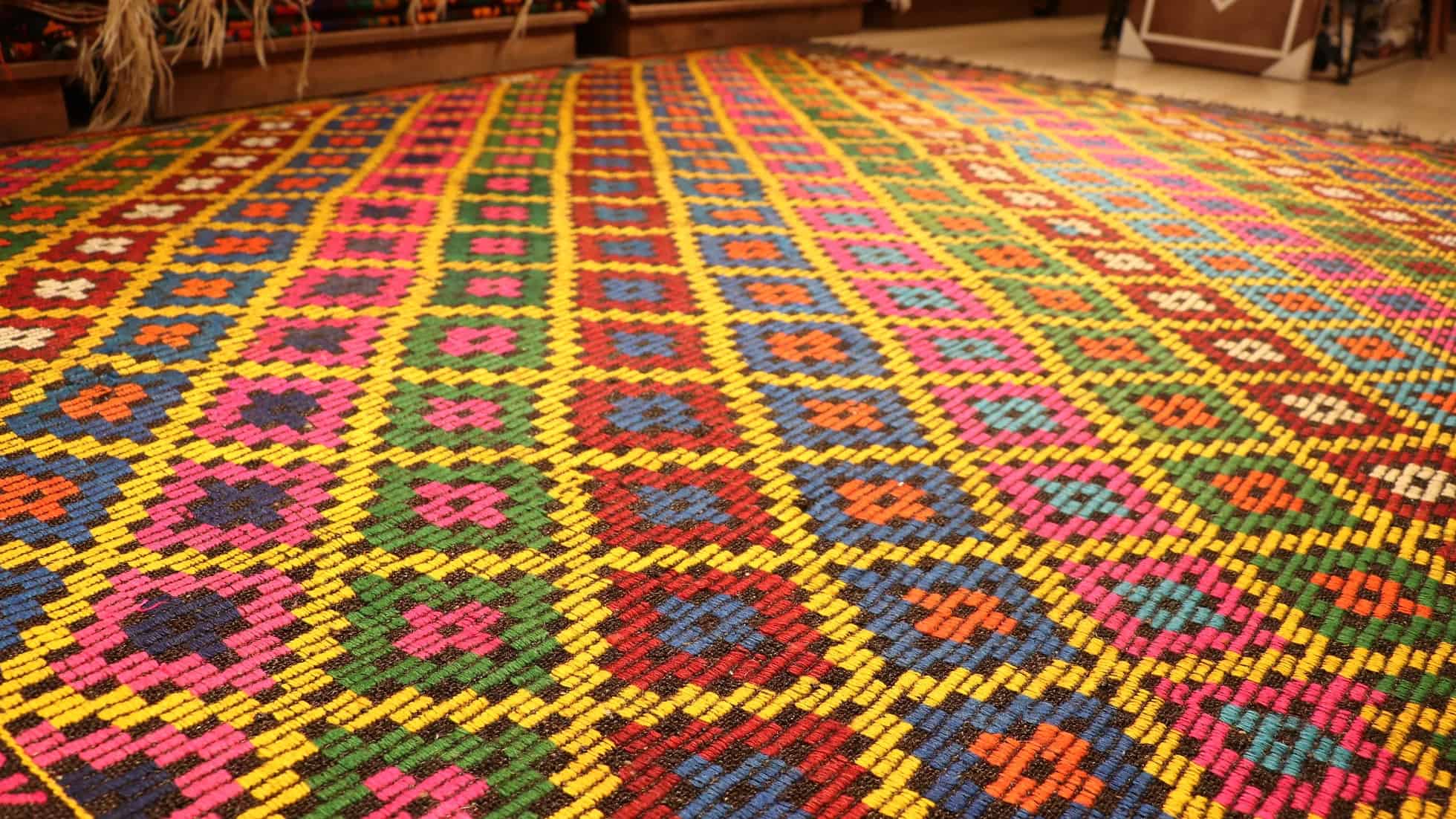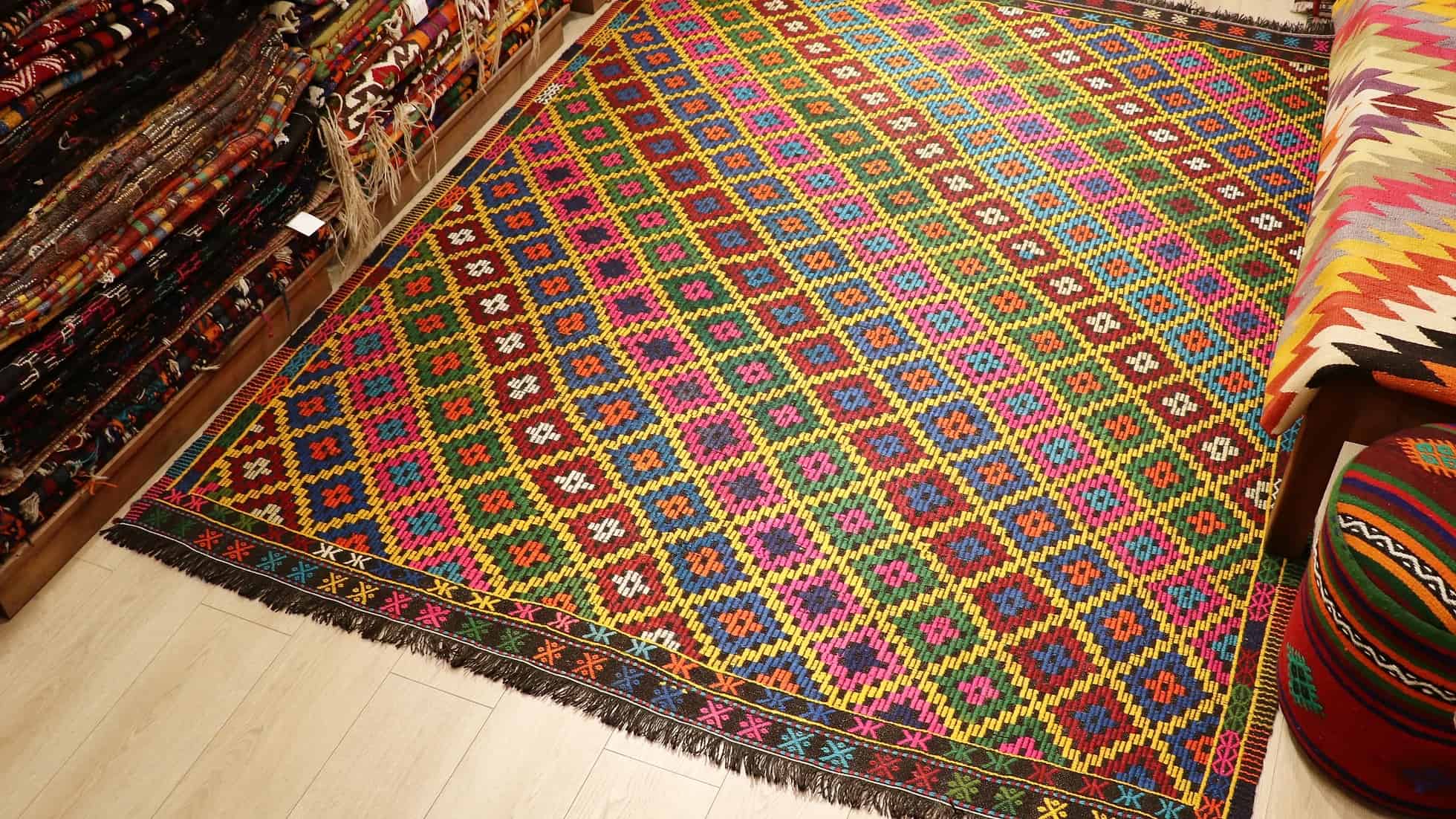 Vintage Turkish Hand-Knotted Rug | Manisa Cecim Kilim with Tassel in Blue / Pink / Green / Yellow
Sale price

$1,290.00
Regular price

$1,590.00
(/)
---
Step into a world where tradition meets modern allure with the Vintage Cecim Polychromatic Flat-Woven Rug. This exquisite masterpiece isn't just a rug—it's an ode to Turkish heritage, a canvas of artisanal brilliance, and a bridge between the past and present. At 7x8, it's more than a decor piece; it's a conversation-stirring tapestry.

Crafted with unparalleled care and finesse, this rug embodies the essence of Turkish artistry. Handwoven by skilled artisans using techniques passed through generations, each Cecim kilim is a testament to time-honored craftsmanship. Fashioned from premium cotton and wool, its enduring quality stands as a testament to the artisan's dedication, promising not just a rug, but an heirloom.

The intricate play of colors—a symphony of blue like the Aegean Sea, pink reminiscent of a Turkish sunrise, verdant greens echoing lush landscapes, oranges hinting at spice markets, passionate reds, creamy hues like Anatolian cliffs, and accents of sunshine yellow—all blend harmoniously. Each shade tells a story, each thread whispers tradition.

The tactile delight of goat hair tassels invites your touch, adding an element of rustic elegance. Tiny, vibrant geometric patterns, akin to colorful lozenge-shaped gems, adorn the canvas, showcasing the meticulous skill woven into every inch. Bold hues and intricate designs infuse personality, ensuring this rug is an unmissable statement piece.

Not merely a rug, but an artful conversation starter, it carries within its sustainably dyed black fringes a narrative of old-world splendor. Its mid-century modern appeal elevates any space, transforming it into a realm where history and sophistication converge seamlessly.

More than a furnishing, this rug embodies an aesthetic narrative. It's an invitation to experience the allure of Turkish culture and the enchantment of handwoven artistry. Whether adorning a boho-inspired living room, a cozy bedroom, or an elegant office, this Cecim kilim breathes life into any space, radiating elegance and charm.

For those seeking not just a rug but an embodiment of cultural richness and timeless elegance, the Vintage Turkish Cecim Tribal Rug stands as the epitome of refinement. Its boho-inspired allure, vibrant patterns, and masterful craftsmanship make it the quintessential choice for spaces seeking a touch of sophistication and grace.
Age: 1950s

Condition: Excellent

Dimensions: 6' 6" W x 8' 4" L

Floor Heating Safe: Yes

Material: Wool on cotton

Origin: Manisa, Turkey

Primary Color: Polychromatic

Product Care: Vacuum clean gently or professional cleaning

Shape: Rectangle

Style: Cecim style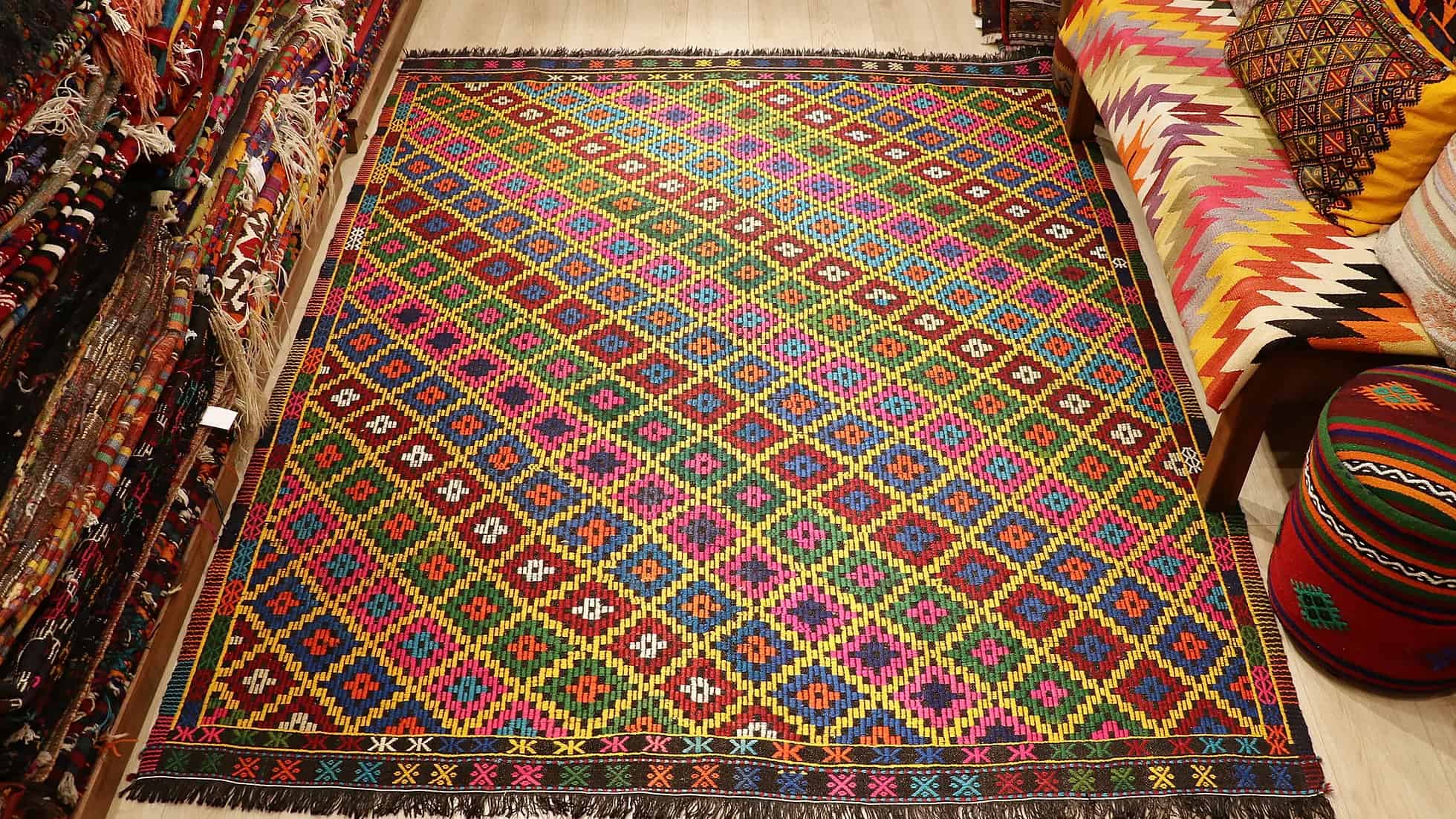 Vintage Turkish Hand-Knotted Rug | Manisa Cecim Kilim with Tassel in Blue / Pink / Green / Yellow
Sale price

$1,290.00
Regular price

$1,590.00
Choose options