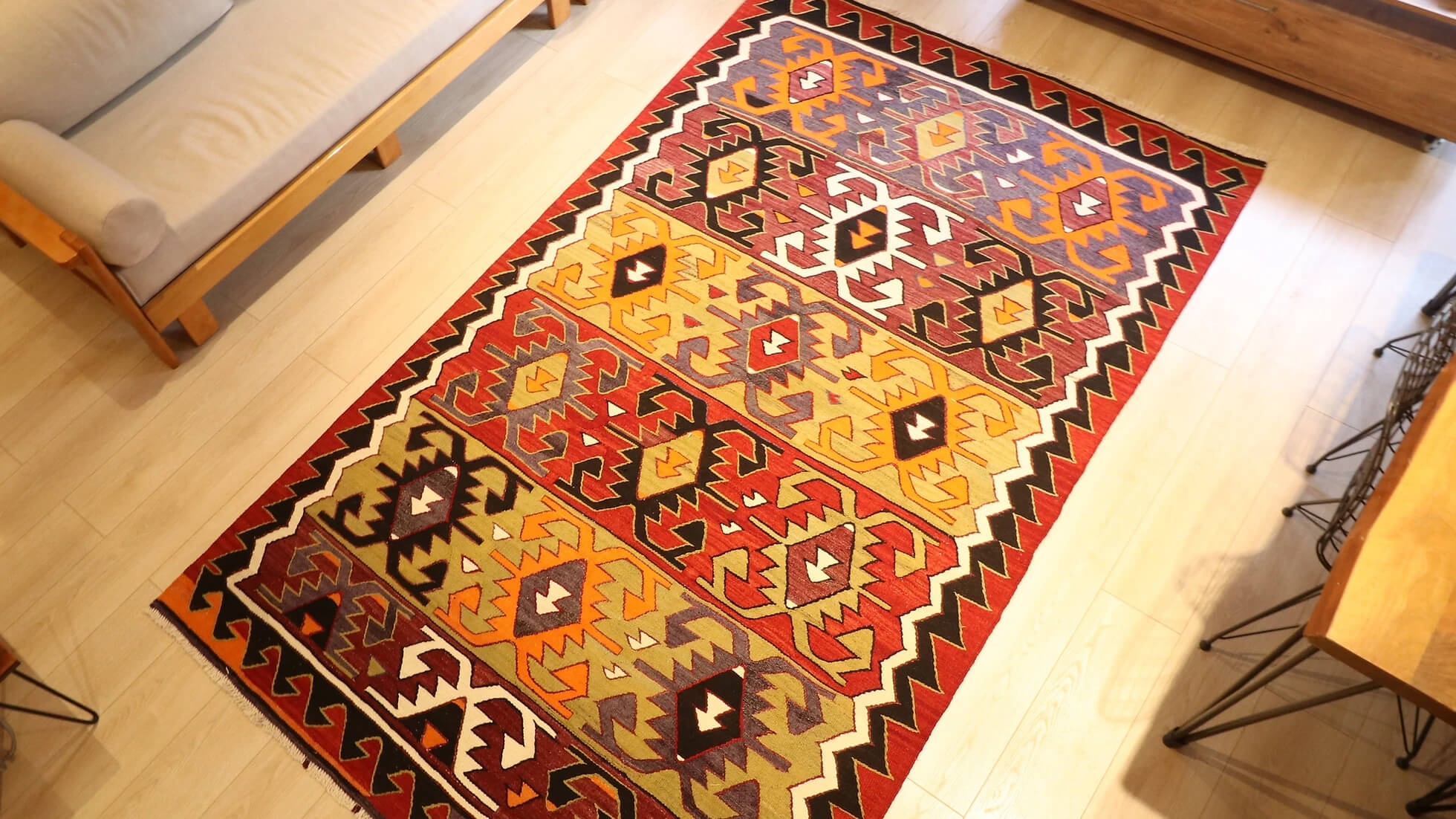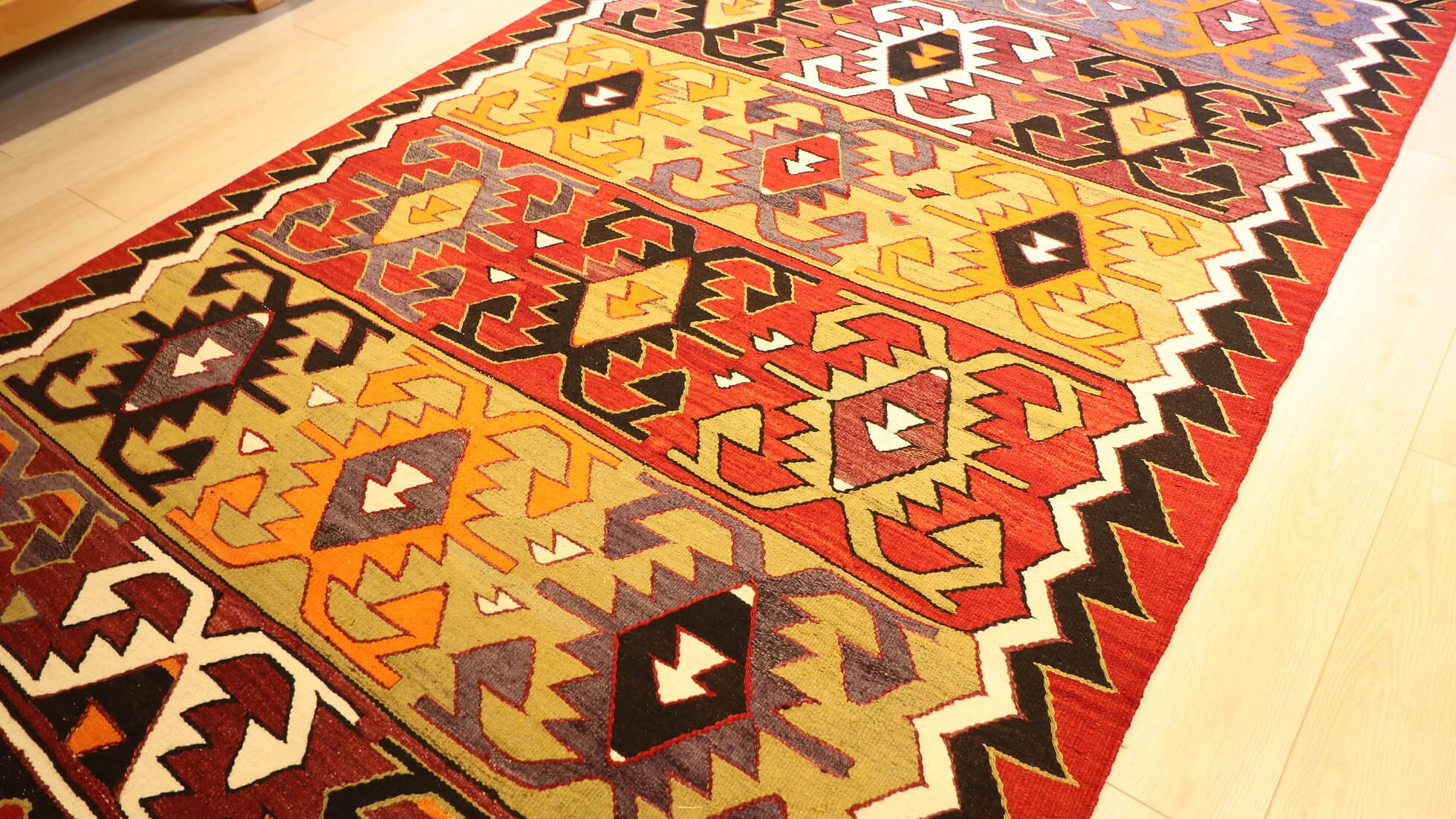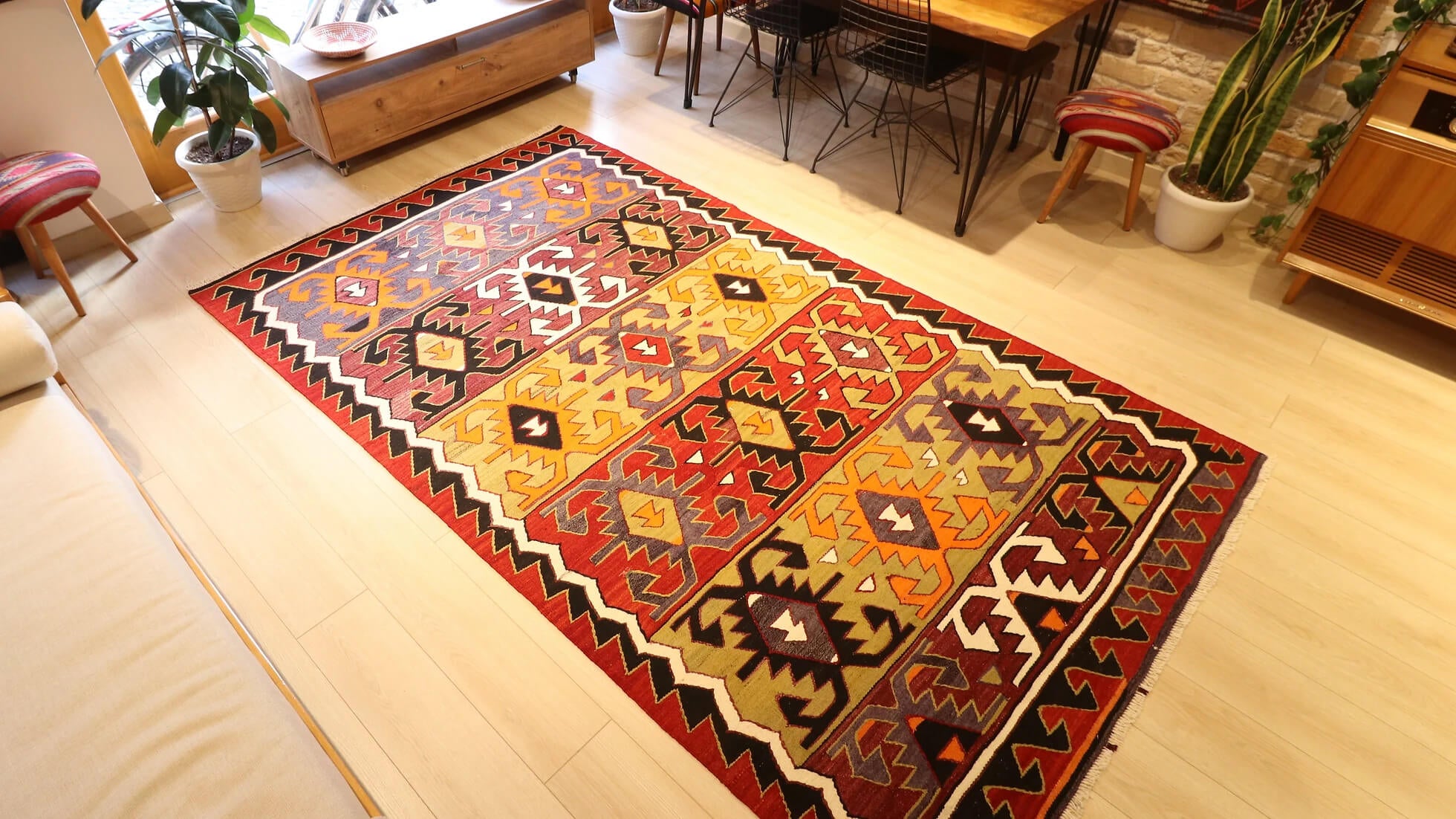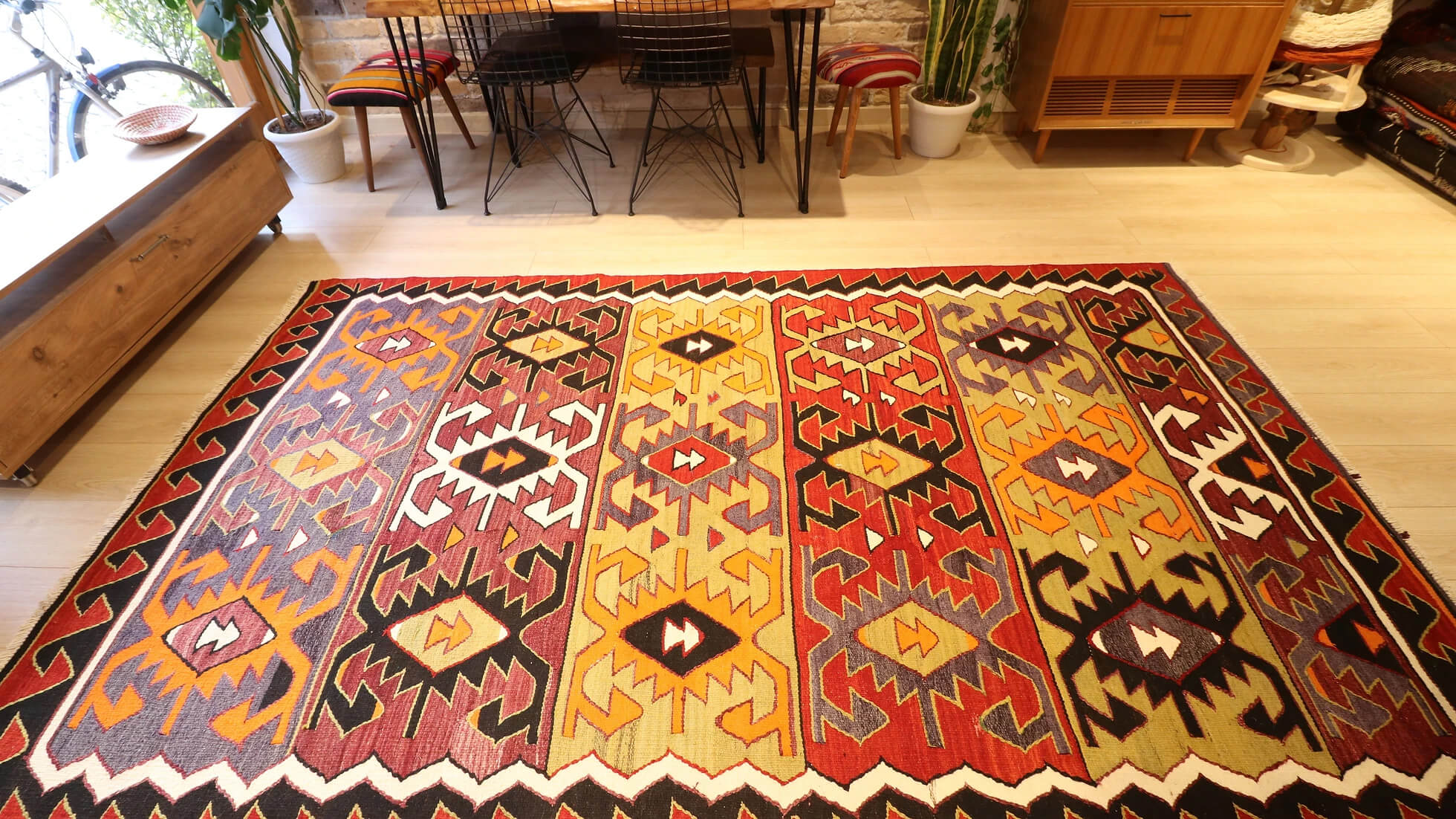 Vintage Turkish Hand-Knotted Rug | Konya Semi-Antique Tribal Kilim in Terracotta 1960s
Sale price

$2,390.00
Regular price
(/)
---
Nestled in the heart of Central Anatolia, Turkey, the '60s Vintage Konya Flat-Weave unveils a rich tapestry of tradition, artistry, and elegance. With dimensions that measure a generous 6x10, this exceptional piece boasts a magnificent Anatolian motif, known as the "hands on hips," adorning its canvas. Earthy tones, reminiscent of terracotta red, khaki, and lavender, grace the rug with their sumptuous presence. Allow yourself to be captivated by the dance of colors: black, white, faded orange, and aubergine, meticulously arranged in each row.

The centerpiece of this majestic work of art is framed by a mesmerizing "running water" motif in black, gracefully juxtaposed with an inner white zigzag pattern that tantalizingly mimics the soothing ebb and flow of waves on the shore. It is an enchanting symphony of colors and patterns, where the artisan's skill meets creativity, transcending time and place.

Handwoven with the finest wool and cotton, this masterpiece embraces sustainability, having been dyed using only natural dyes by Anatolian women. Their dedication to the craft not only ensures the rug's eco-friendliness but also adds a layer of depth to its profound value, making it a priceless treasure. The "hands on hips" Anatolian motif is a rare gem, primarily found adorning flat-woven rugs hailing from Konya.

This rug beautifully marries traditional Anatolian patterns and motifs with a palette and design that transcend the confines of time and space. It seamlessly blends into contemporary spaces and complements the allure of oriental designs with grace and poise. This versatile piece transcends design aesthetics and finds itself at home in a rustic, modern farmhouse, cottage style, eclectic, or maximalist-inspired interior.

Beyond its artistic charm, this tribal rug's ideal size of 6x10 opens a world of possibilities. It serves as a distinguished accent rug in outdoor sanctuaries such as patios, porches, and terraces, adding a touch of sophistication to your alfresco moments. Simultaneously, it finds its place within the sanctum of indoor spaces: kitchens, dining rooms, living rooms, bedrooms, guest rooms, and even offices. Its presence elevates the atmosphere and transforms your space into an art gallery of its own.

In the Handwoven Konya Tribal Rug, tradition, artistry, and sustainability intertwine to create an exquisite masterpiece. It is not merely a floor covering; it's an enduring symbol of timeless elegance and a testament to the skill and dedication of local Turkish artisans. Bring home a piece of Anatolia's heart and soul with this exceptional creation.
Age: 1960s

Condition: Excellent

Dimensions: 5' 7" W x 9' 6" L

Floor Heating Safe: Yes

Material: Wool on cotton

Origin: Konya, Turkey

Primary Color: Polychromatic

Product Care: Vacuum clean gently or professional cleaning

Shape: Rectangle

Style: Yuruk style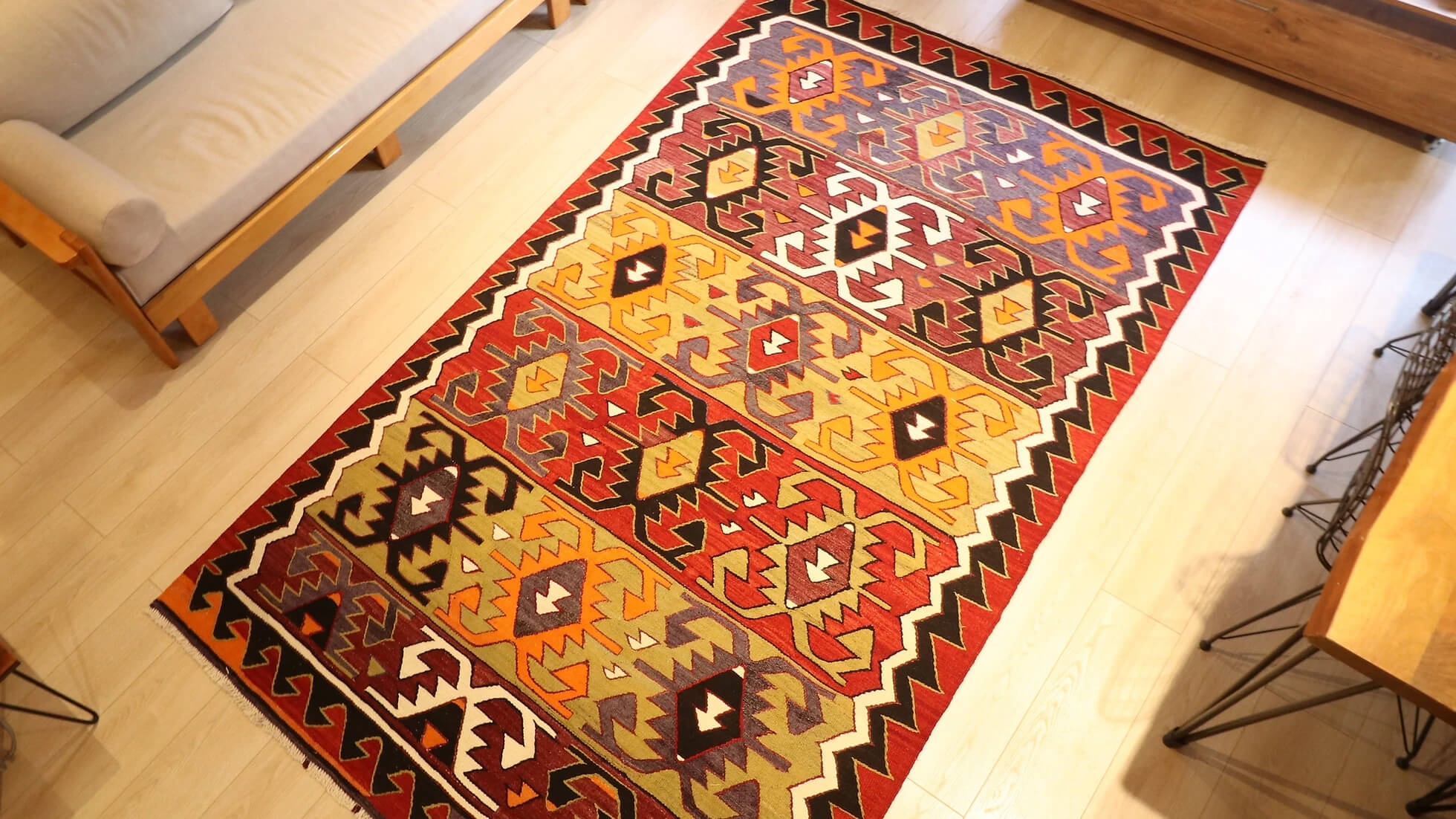 Vintage Turkish Hand-Knotted Rug | Konya Semi-Antique Tribal Kilim in Terracotta 1960s
Sale price

$2,390.00
Regular price
Choose options