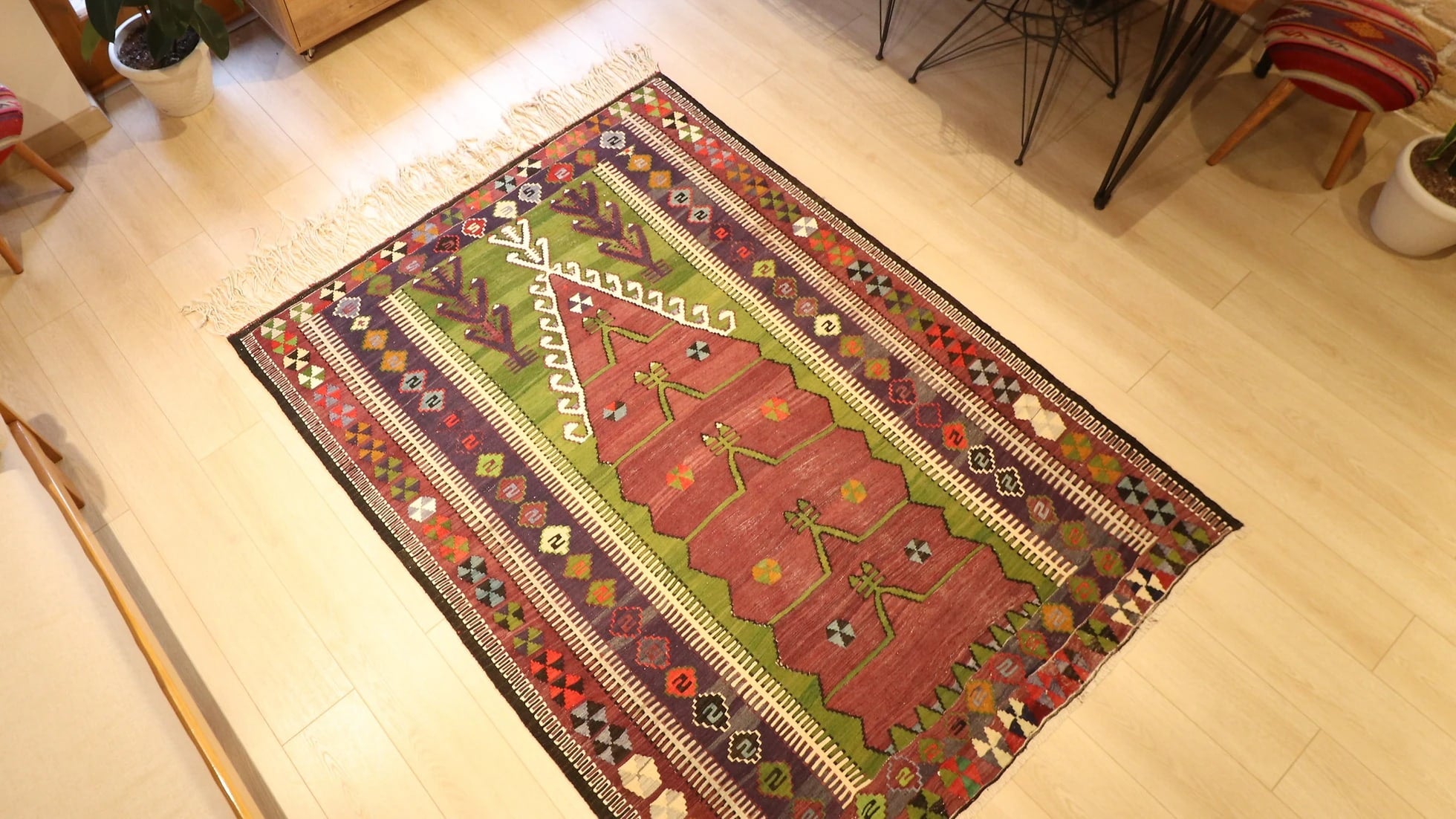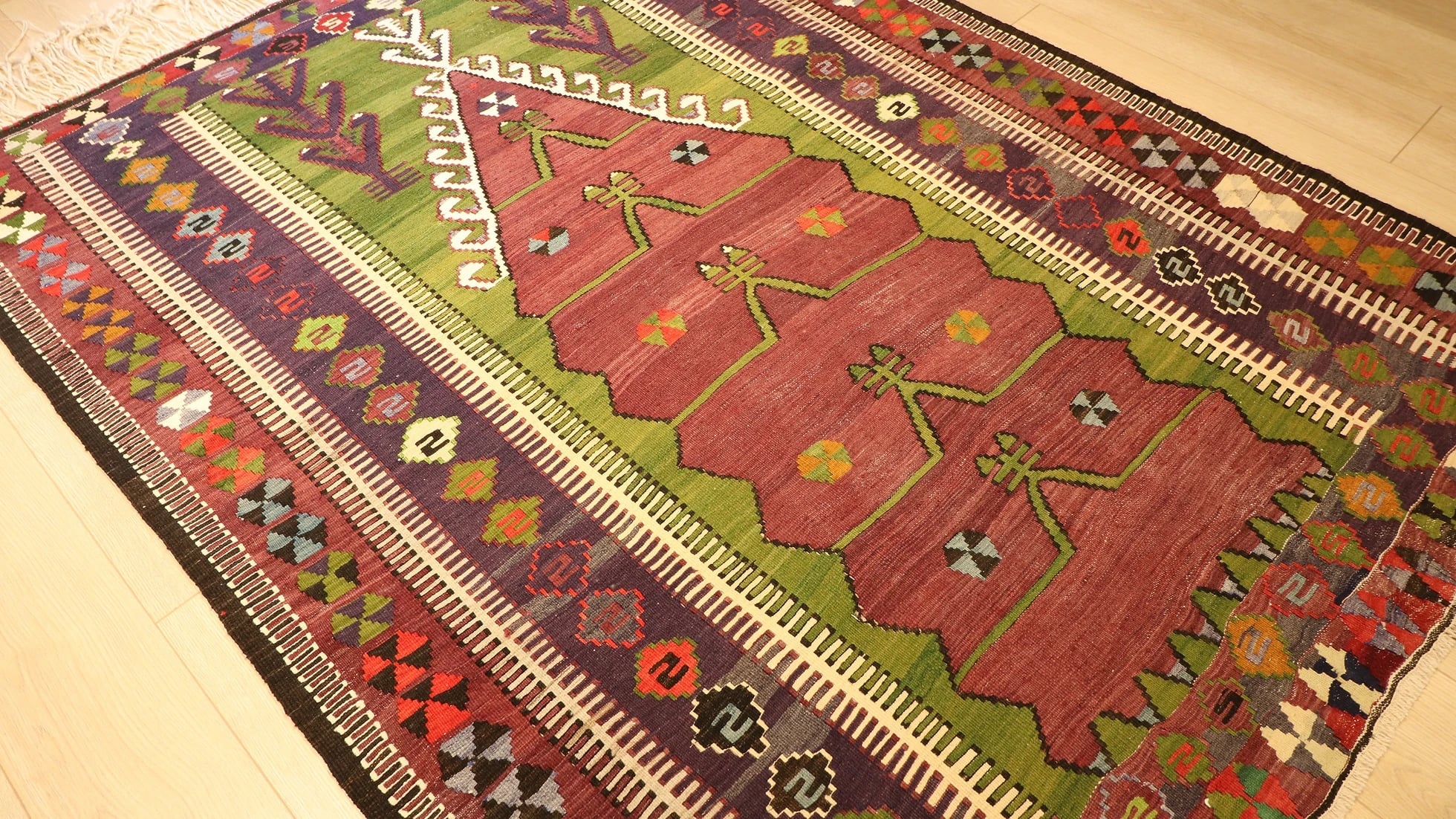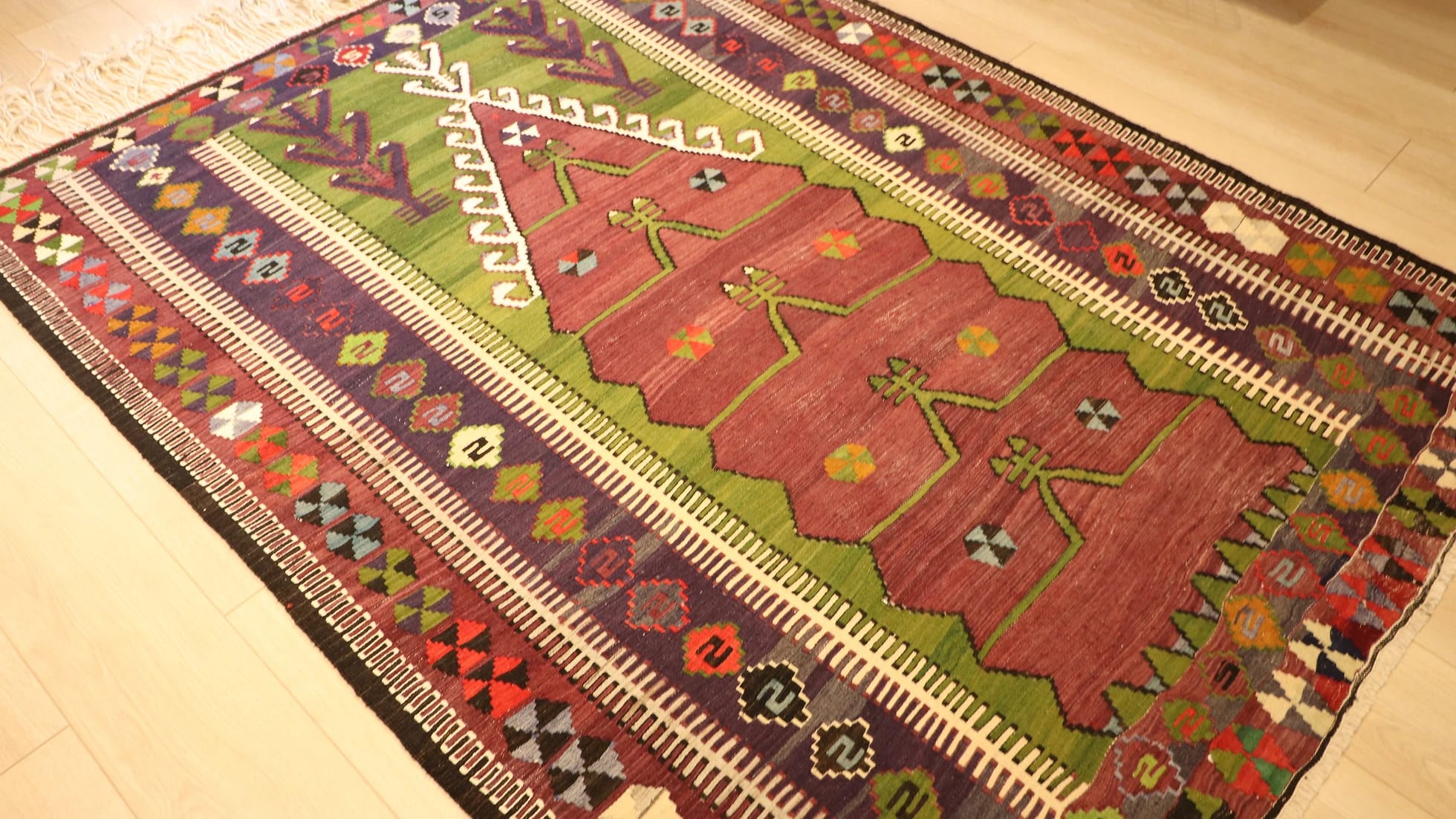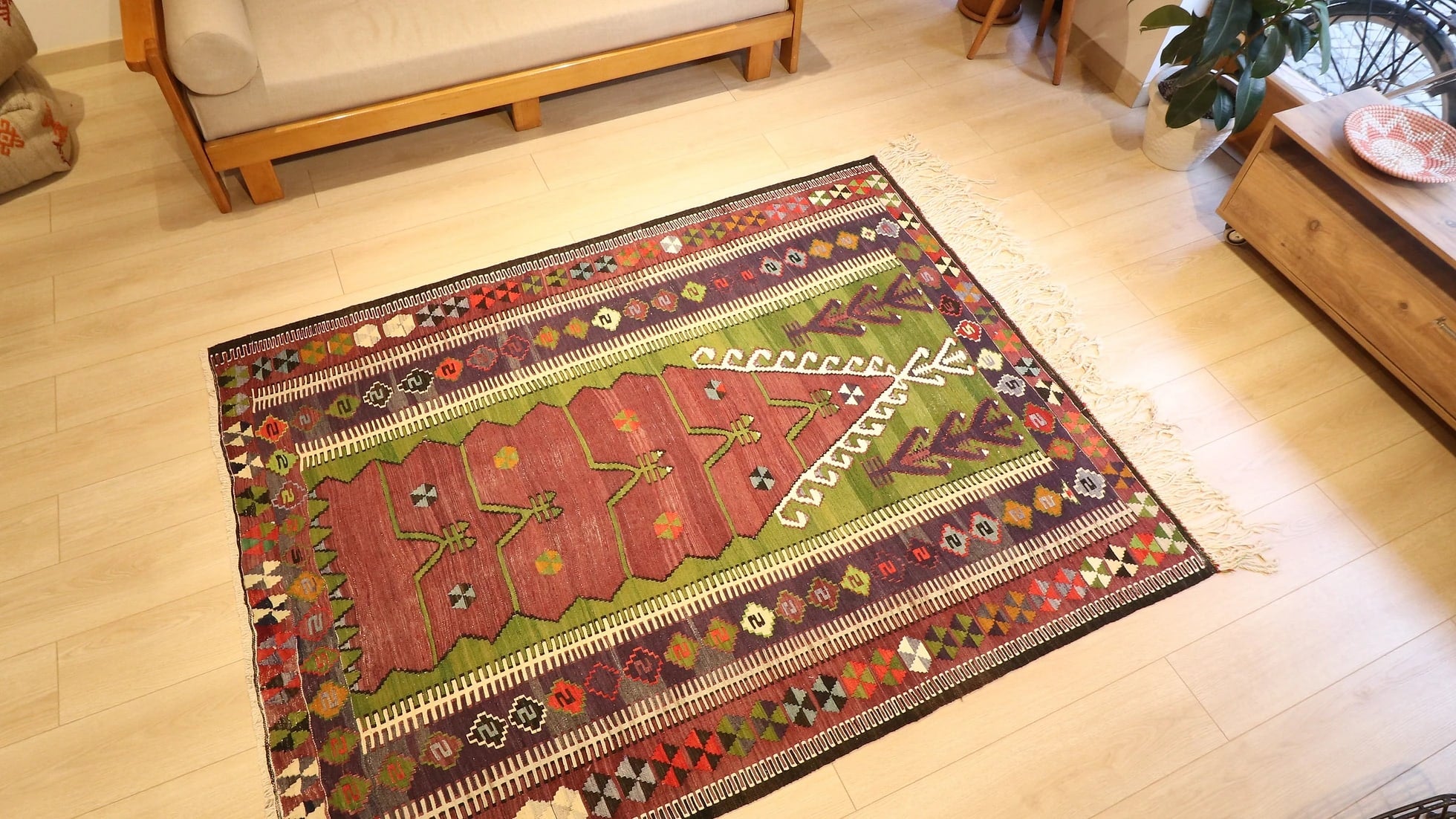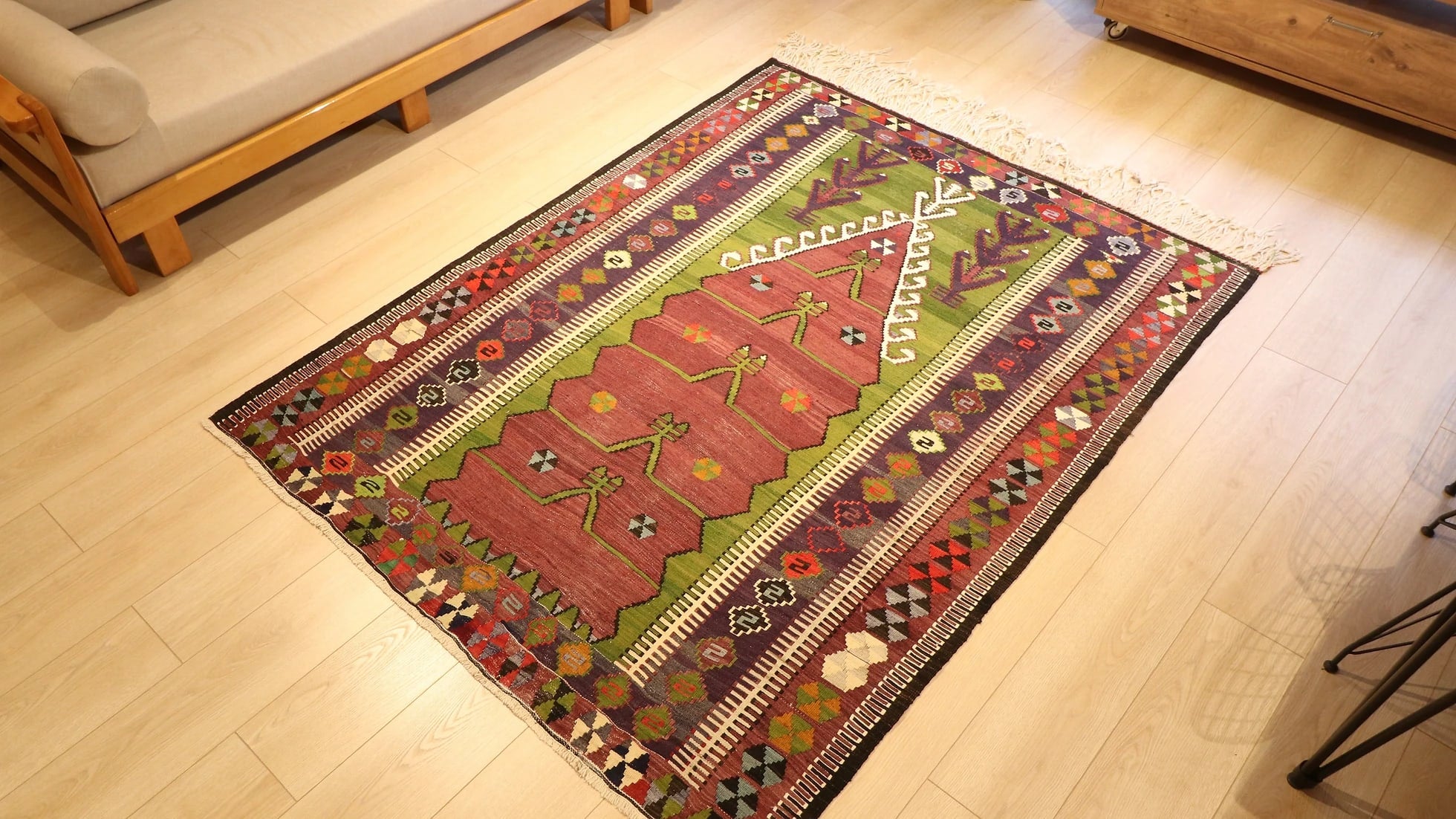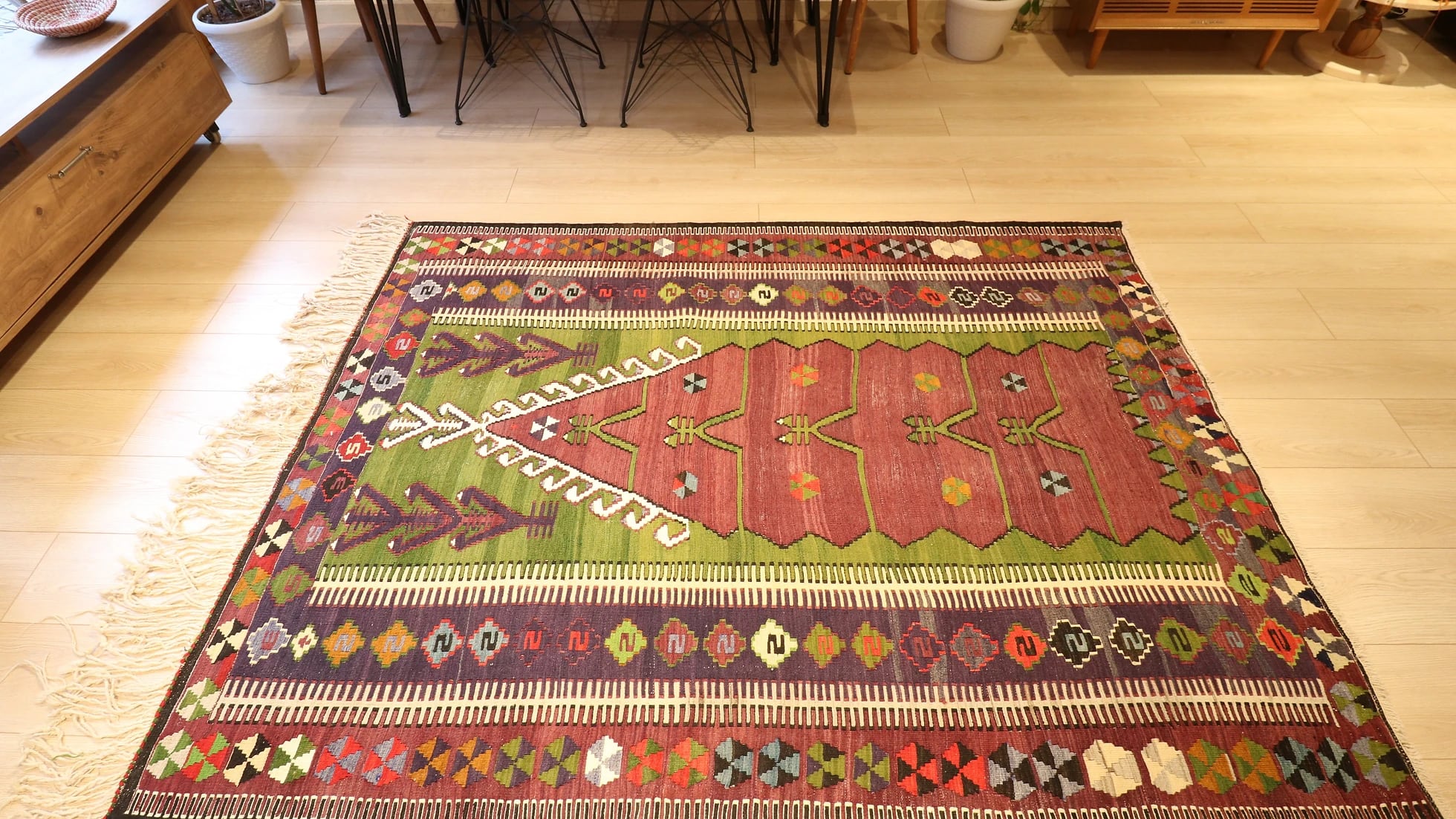 Vintage Turkish Hand-Knotted Rug | Konya Semi-Antique Obruk Kilim in Red / Green 1960s
Sale price

$1,790.00
Regular price
(/)
---
Elevate your living space with the rarefied allure of this 1960s kilim rug, measuring 5x7, a masterpiece of Turkish artistry hailing from the heart of Anatolia. A true embodiment of nomadic craftsmanship, this exquisite rug was meticulously handwoven by the skilled hands of women artisan weavers, using a harmonious blend of wool and cotton. With a heritage that dates back generations, this rug is a symphony of tradition, culture, and history.

This opulent rug is resplendent with a multitude of traditional motifs that are both captivating and symbolic. At its core, a grand "tree of life" blooms in fiery shades of vermilion upon a serene backdrop of misty green, reminiscent of the ethereal light that bathes Anatolian mosques. This venerable symbol of the "tree of life" transcends borders and faiths, unifying cultures that believe in a singular divine entity. The fruit, a vessel of immortality, remains tantalizingly forbidden to mortals, echoing the age-old tale of the serpent's beguilement of Eve. Here, the tree becomes a symbol of hope, an aspiration towards eternal life beyond the mortal coil.

This magnificent green canvas, reminiscent of lush meadows, is adorned with meticulously crafted "comb" patterns in purest alabaster. Nestled within this intricate web are a myriad of "eye" motifs, each bearing its own distinctive "hook" motifs. These mystical eyes watch over, protecting and guiding, creating a visually compelling narrative that is both enigmatic and mesmerizing.

What sets this kilim apart is its one-sided tassel embellishment, a hallmark of prayer rugs, rendering it as a grandiose prayer tapestry of monumental significance in the realm of Anatolian kilims. This unique detail lends a spiritual air to your living space, enhancing the sanctity of the ambiance.

In an array of colors such as vermilion serenity, mystical meadow green, and purest alabaster, this kilim is a versatile masterpiece, seamlessly complementing interiors of various design philosophies. Whether adorning a traditional, eclectic, maximalist, Southwestern, modern farmhouse, rustic, transitional, or boho-themed space, this Turkish treasure promises to infuse a timeless elegance that transcends the boundaries of style.

Its medium size makes it also a versatile accent rug, seamlessly blending with any area, whether it be your kitchen, dining room, living room, bedroom, or even your patio. Its adaptable charm knows no bounds. Unearth the essence of Anatolian heritage and Turkish craftsmanship with this mesmerizing Vintage Handwoven Kilim Rug from the Obruk Village of Konya - a true work of art for those who appreciate the extraordinary.
Age: 1960s

Condition: Excellent

Dimensions: 5' 1" W x 6' 8" L

Floor Heating Safe: Yes

Material: Wool on cotton

Origin: Konya, Turkey

Primary Color: Earthy red, green

Product Care: Vacuum clean gently or professional cleaning

Shape: Rectangle

Style: Yuruk style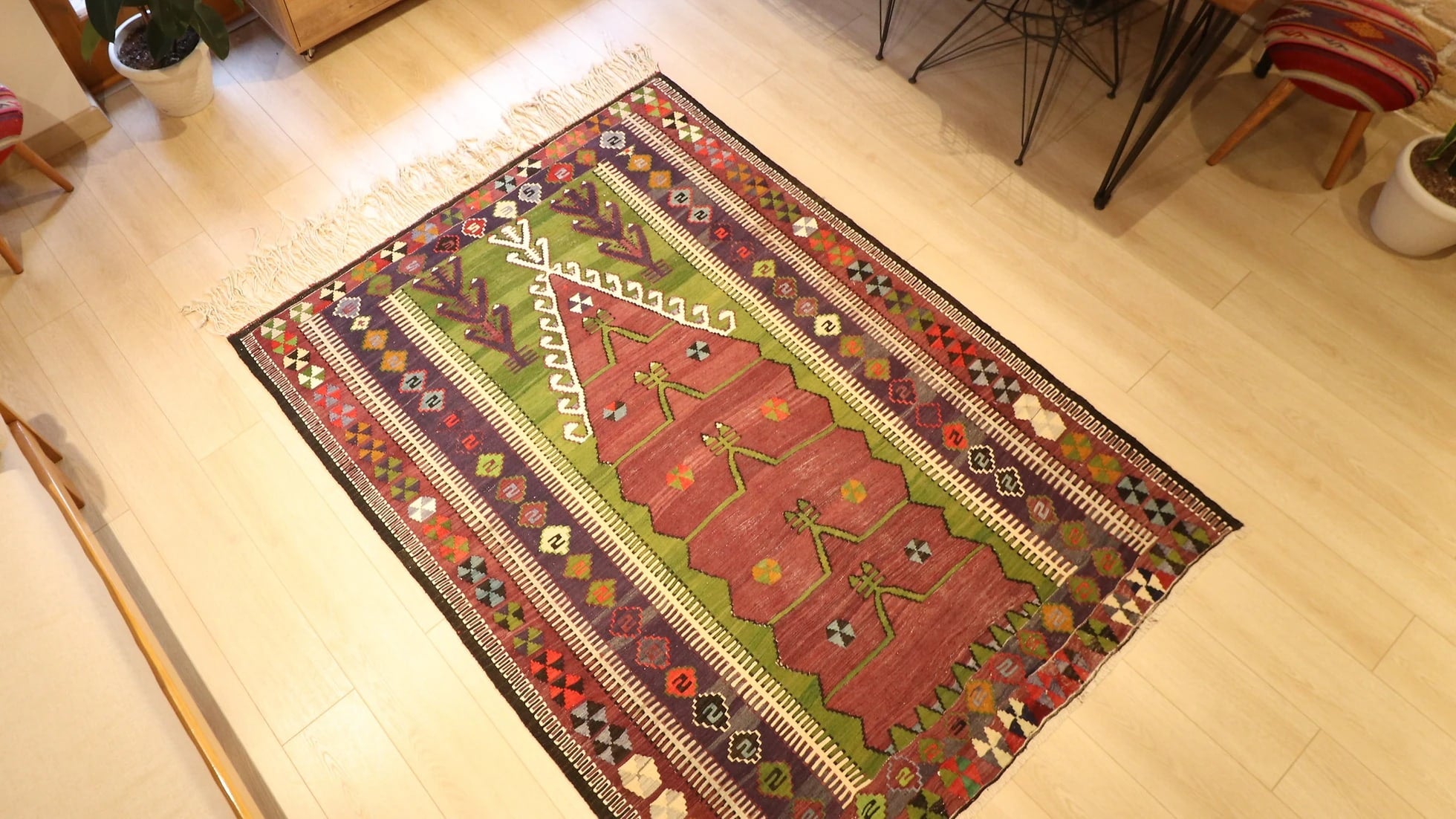 Vintage Turkish Hand-Knotted Rug | Konya Semi-Antique Obruk Kilim in Red / Green 1960s
Sale price

$1,790.00
Regular price
Choose options