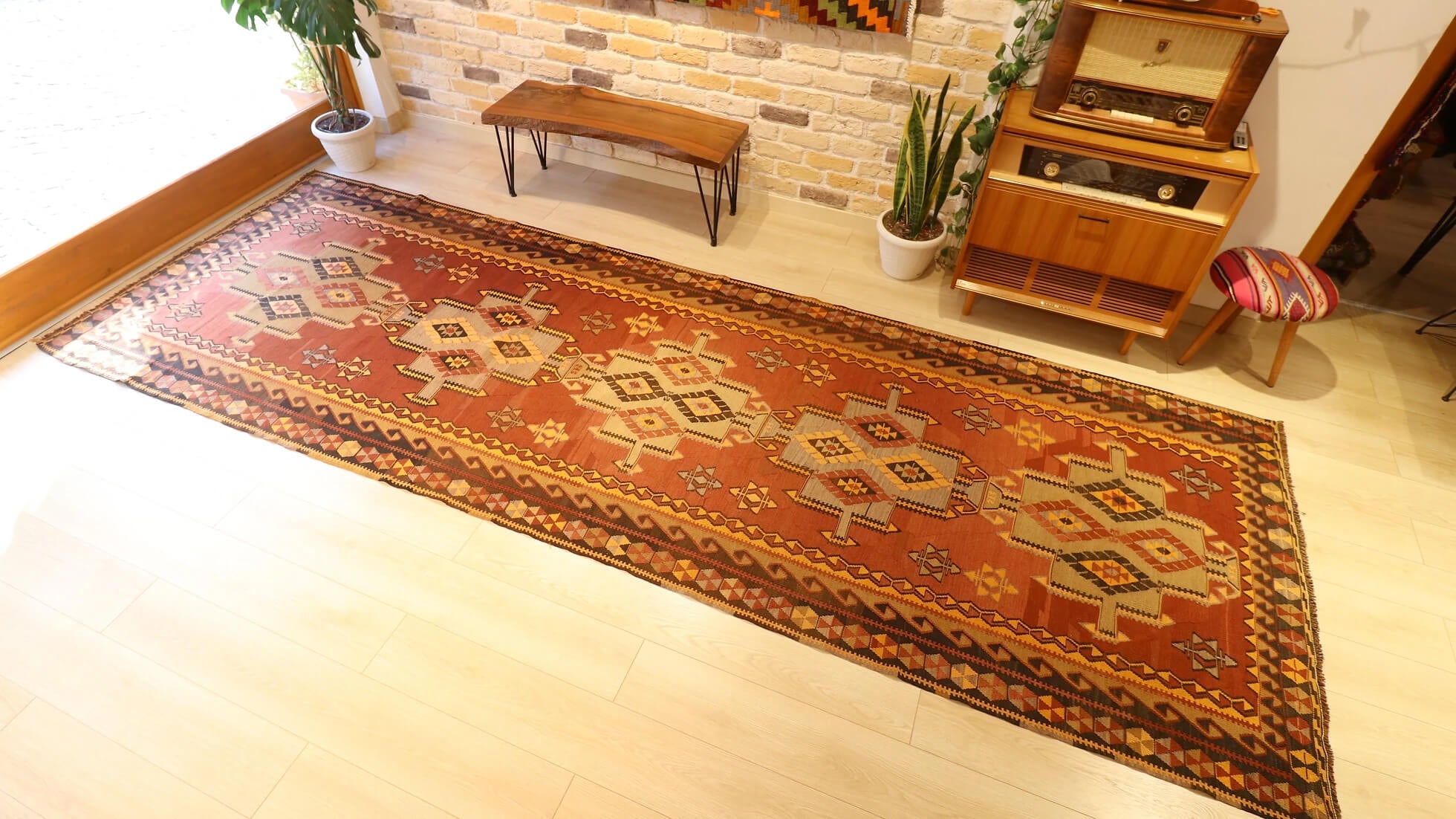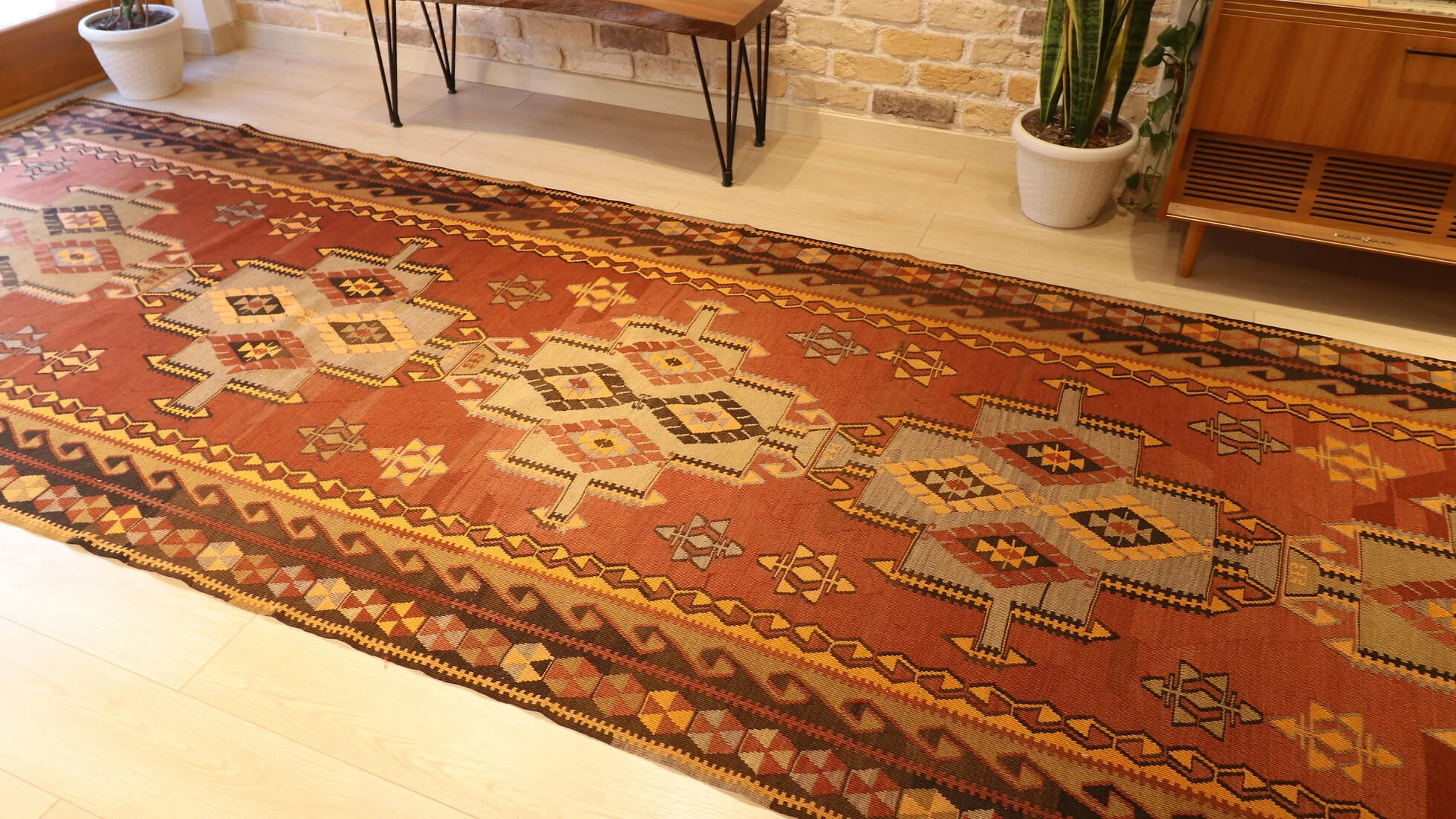 Vintage Turkish Hand-Knotted Gallery Rug | Kars Medallion Kilim in Taupe / Terracotta / Gold 1950s
Sale price

$3,490.00
Regular price
(/)
---
Transport your space into a bygone era, where history, artistry, and culture converge beneath your feet. Admire the enchanting mystique of our Vintage Kars Tribal Runner Rug, a majestic 5x15 ft kilim that hails from the illustrious 1950s. This isn't just a rug; it's a masterpiece, a gallery-worthy testament to the timeless craft of handweaving.

Woven by the skilled hands of local women artisans in Kars, this exceptional rug harmoniously combines wool and cotton, offering both comfort and sustainability. Its resplendent hues are a testament to eco-friendly dyes, rendering it a choice that not only honors tradition and craftsmanship but also pays homage to the environment.

At its core, this remarkable rug showcases a symphony of five unmatched "dragon" medallions, each a unique work of art. Imagine these medallions, reminiscent of creamy moonlight, dancing elegantly alongside opulent gold, soothing taupe, and warm terracotta. These exquisite colors breathe life into your space, infusing it with an aura of sophistication and fascination.

As your fingers trace the canvas, a mesmerizing narrative unfolds before you. The central stage, adorned with traditional "star" motifs, rests upon a deep, enchanting muted terracotta backdrop, slightly faded with the patina of time, adding a layer of beauty and authenticity to its character. This canvas, steeped in history and tradition, invites you to connect with the culture that birthed this masterpiece.

But there's more to discover. Surrounding the central tale are intricate, double-layered "running water" patterns, each with its own distinctive story. These complex patterns, akin to ripples on a tranquil pond, imbue the rug with a sense of movement and depth, transforming every step into a journey through time and artistry.

The rug's story extends to its very edges, where a stunning frame adorned with colorful "love and unison, Ying-Yang" motifs on a deep rustic brown canvas encapsulates the rug's essence. These patterns glisten like celestial gems, framing the masterpiece and introducing an element of surprise and contrast.

This Turkish rug transcends mere decoration; it is a work of art that effortlessly harmonizes with a variety of interior styles. Whether your space exudes traditional, oriental, eclectic, transitional, vintage French, Southwestern, farmhouse, or rustic vibes, this rug's eclectic charm and timeless allure will seamlessly blend into your surroundings.

Its generous size makes it the ideal choice for long hallways, stately doorways, elegant guest rooms, captivating galleries, and welcoming entryways, effortlessly elevating the aesthetic of any space it graces.

If you seek more than just a rug, if you yearn for a conversation starter, a piece of history, and a portal to a world of artistry, then our Kars Flat-Weave Rug is your perfect choice. Welcome it into your space and let the enchantment of the 20th century weave its charm into your life.
Age: 1950s

Condition: Excellent

Dimensions: 4' 10" W x 14' 6" L

Floor Heating Safe: Yes

Material: Wool on cotton

Origin: Kars, Turkey

Primary Color: Muted earthy tones

Product Care: Vacuum clean gently or professional cleaning

Shape: Rectangle

Style: Kars medallion style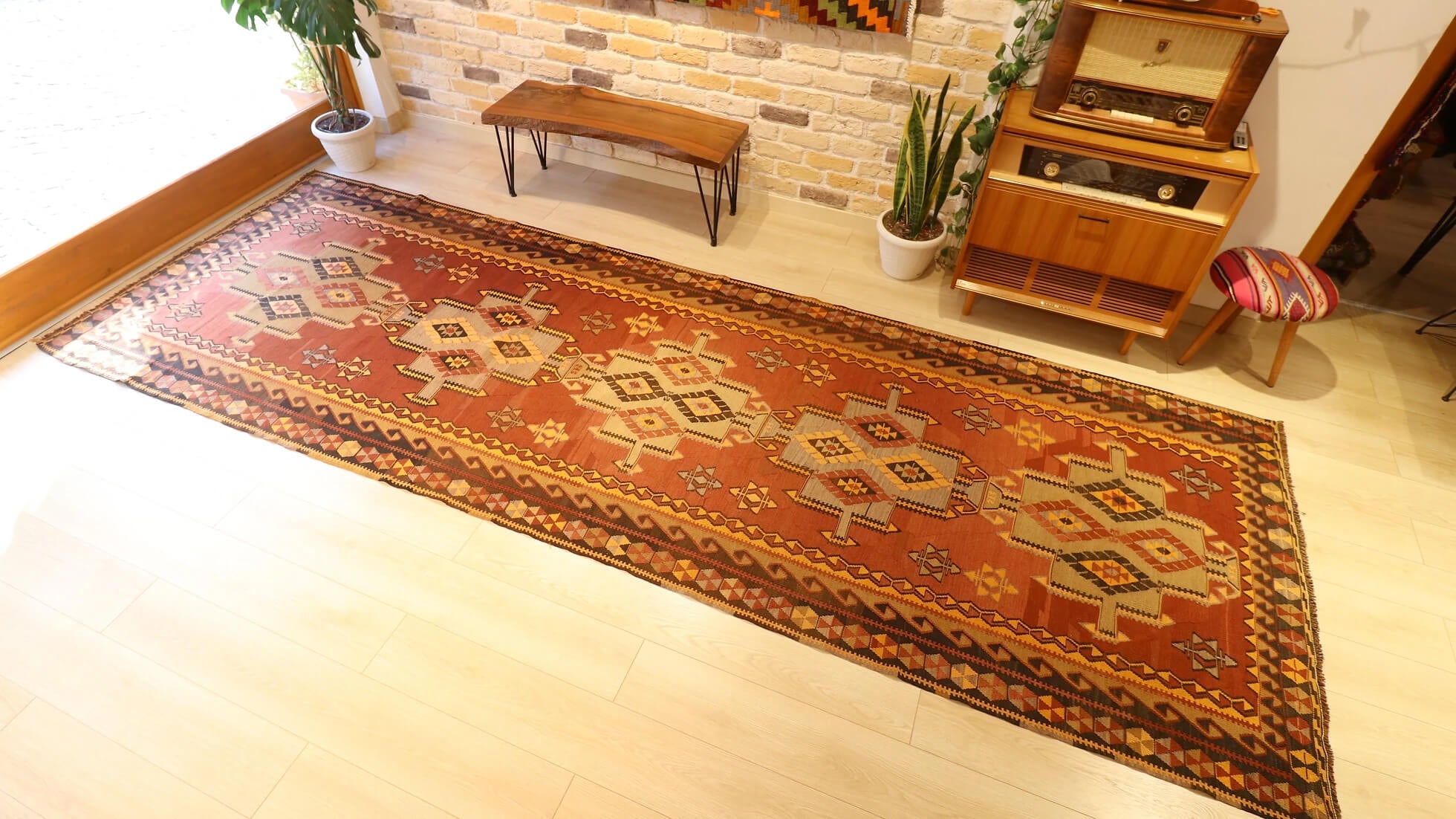 Vintage Turkish Hand-Knotted Gallery Rug | Kars Medallion Kilim in Taupe / Terracotta / Gold 1950s
Sale price

$3,490.00
Regular price
Choose options