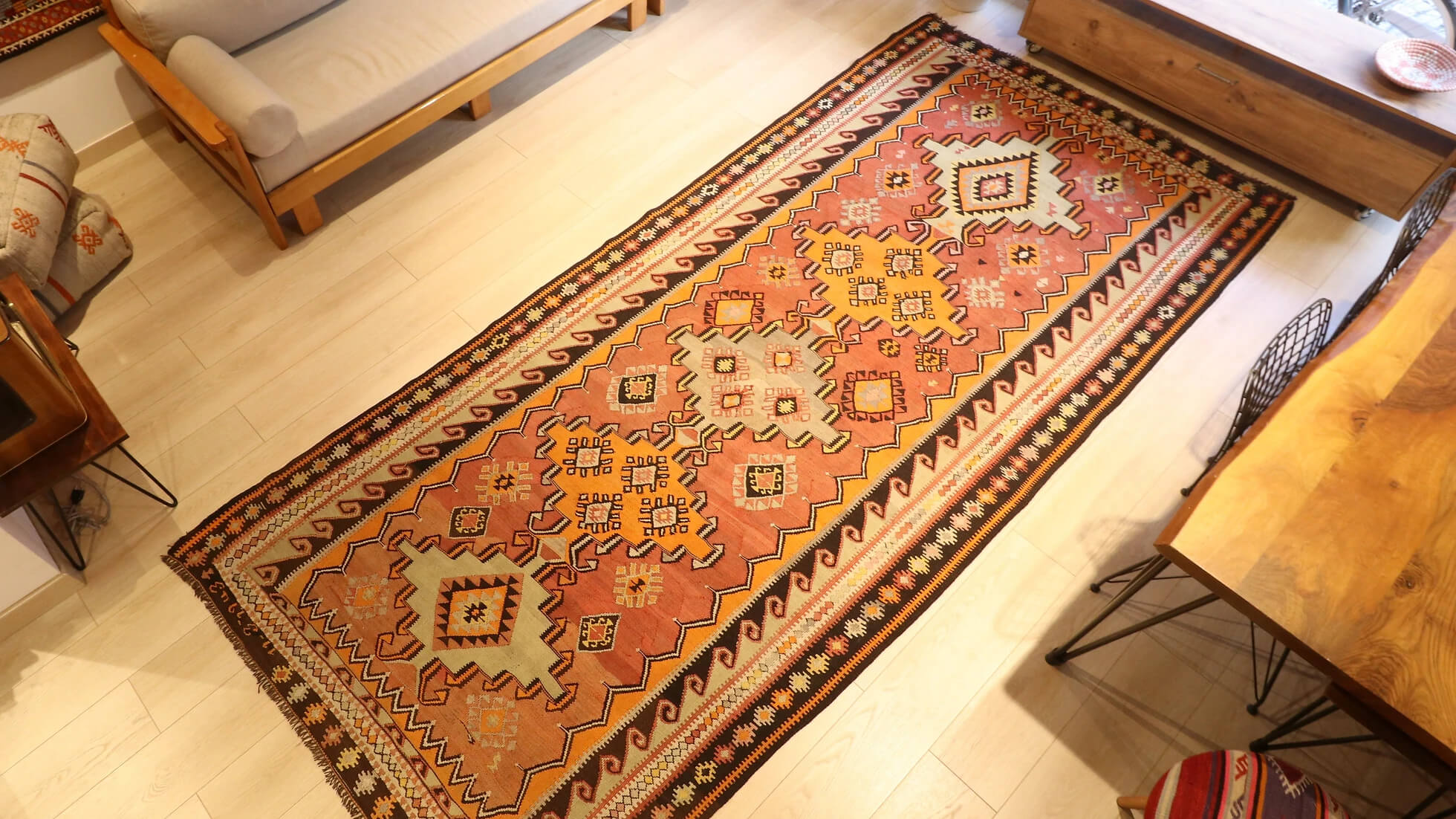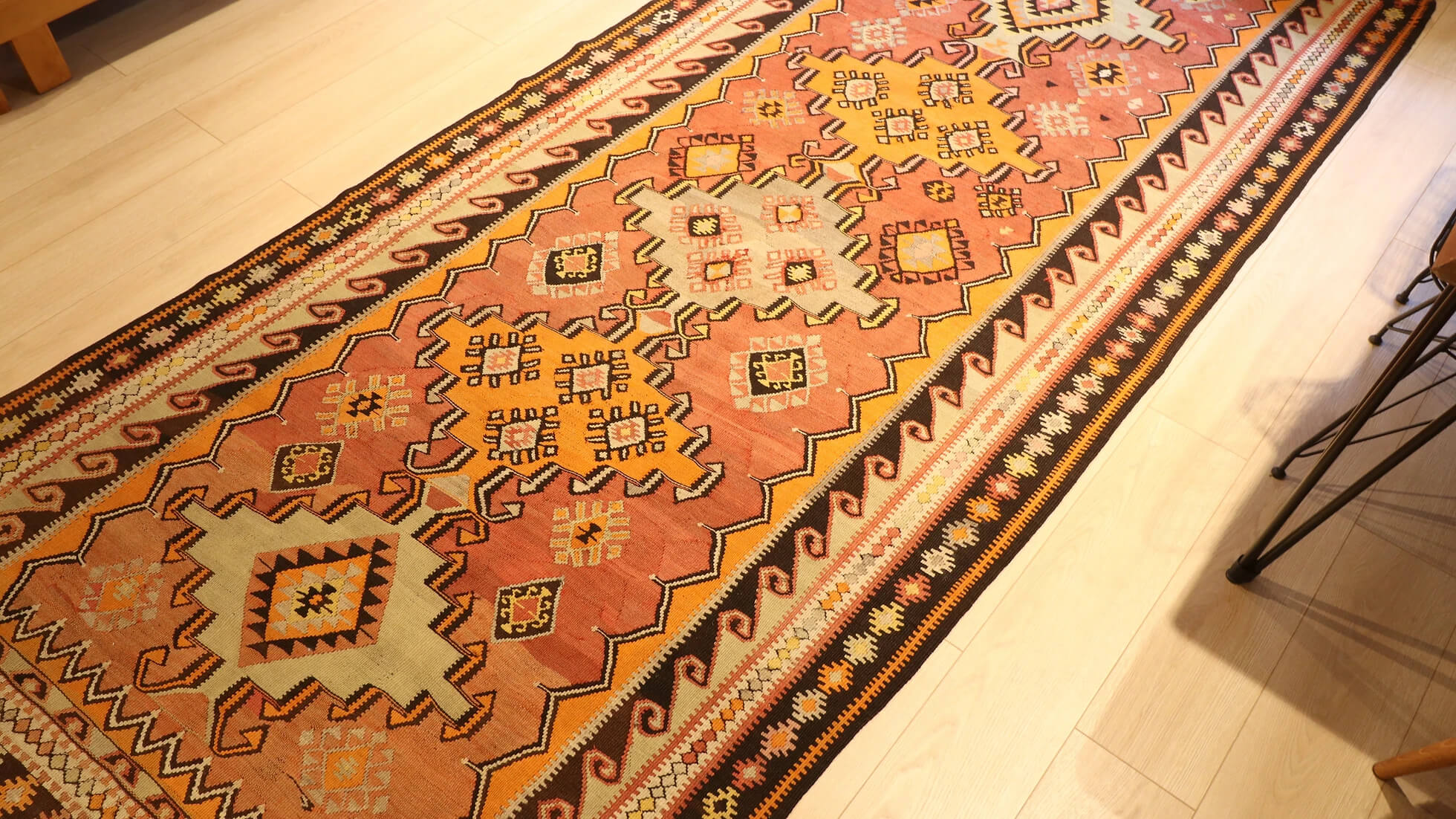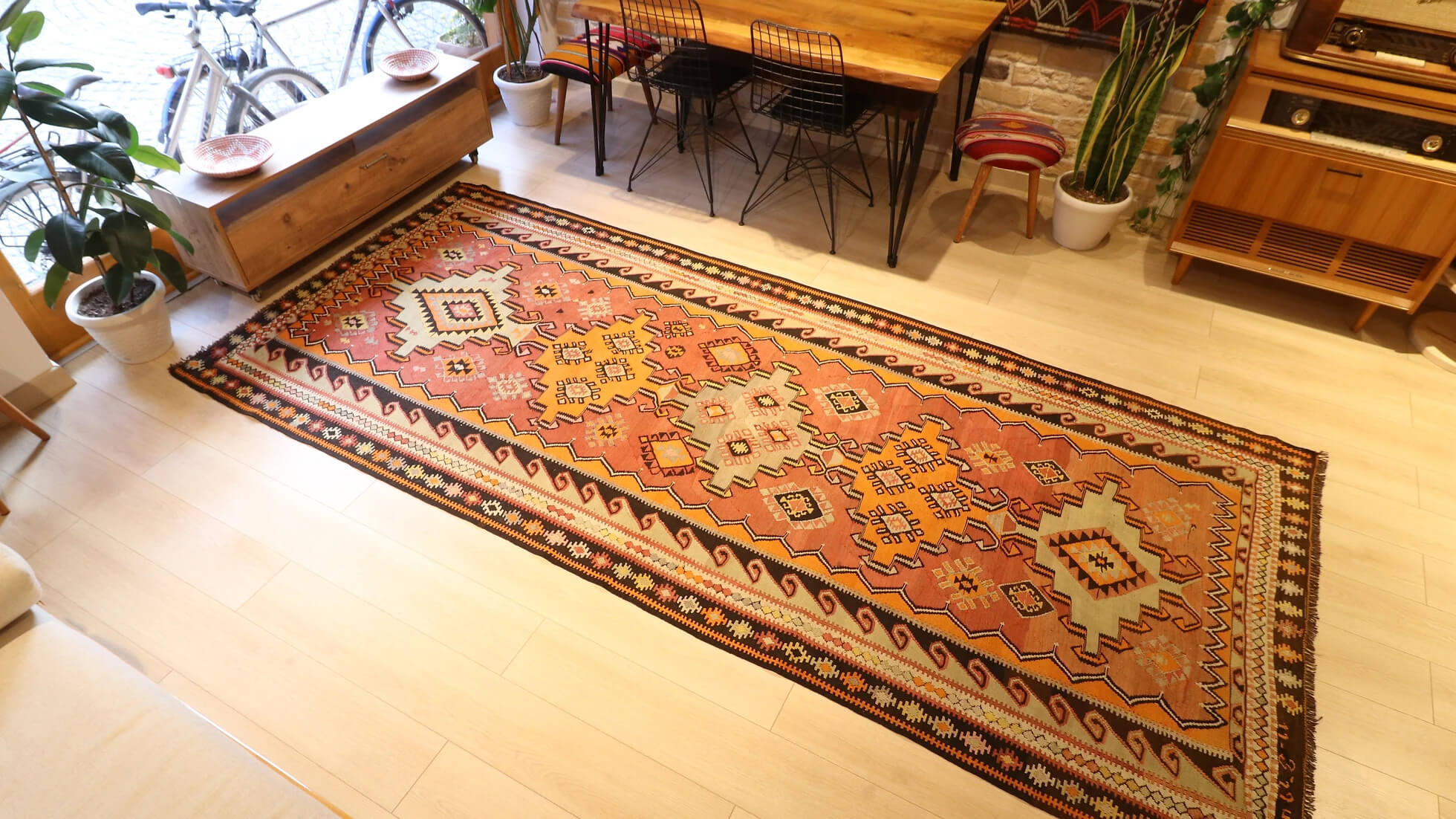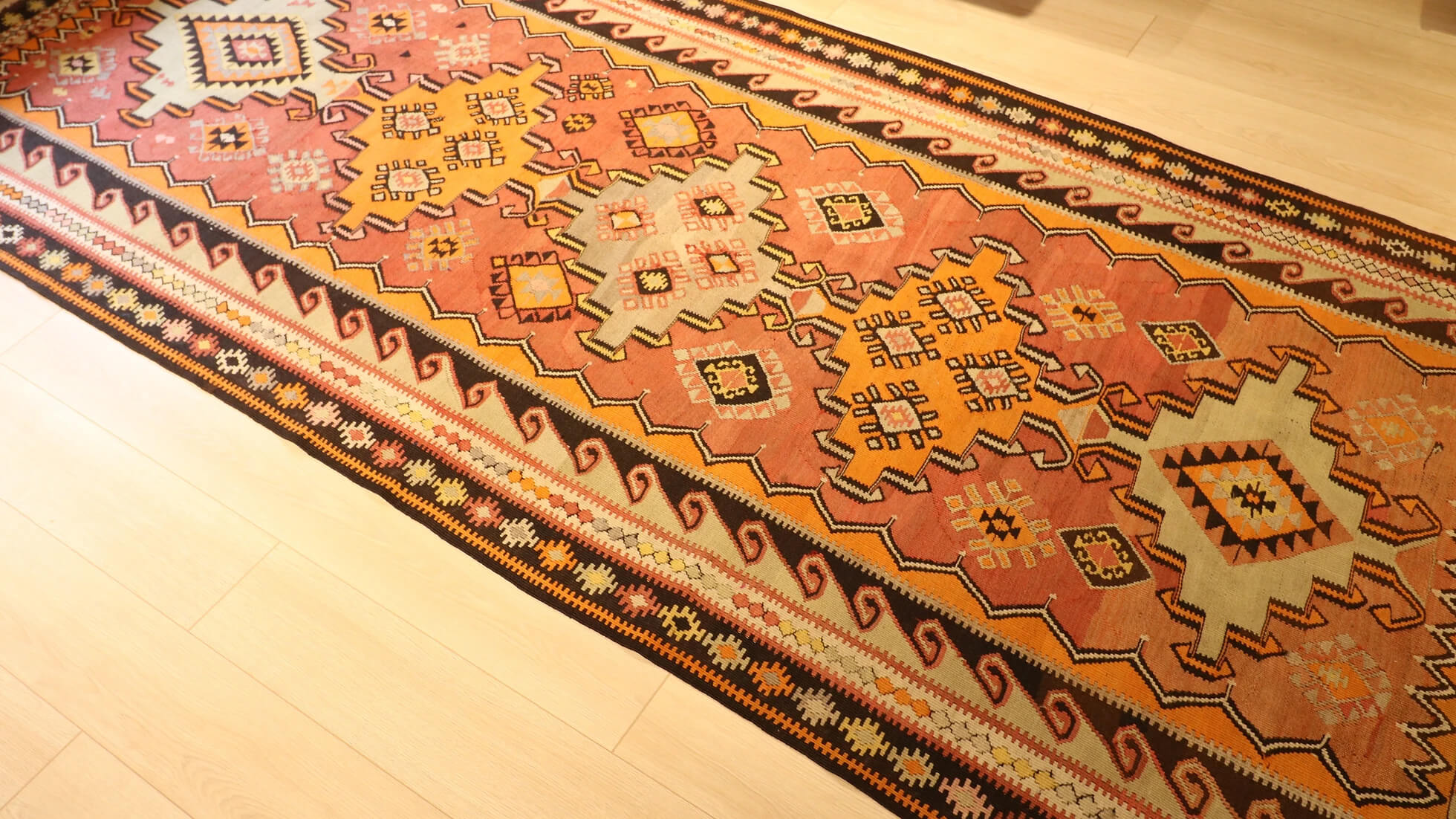 Vintage Turkish Hand-Knotted Gallery Rug | Kars Medallion Kilim in Brick Red / Orange / Cream 1940s
Sale price

$2,990.00
Regular price
(/)
---
Elevate your space with a piece of history, art, and culture underfoot. Behold the captivating allure of our 5x11 ft Kars Runner Rug, a timeless testament to the craft of handweaving and a treasure from the mid-20th century. This remarkable rug isn't merely a floor covering; it's a gallery-worthy masterpiece that will transport you to a world of tribal mystique and artistic finesse.

This tribal flat-weave rug, handwoven by local women artisans in the 1940s, blends wool and cotton for both comfort and sustainability. Its rich colors are derived from eco-friendly dyes, making it a timeless and responsible choice that honors tradition, craftsmanship, and the environment.

At the heart of this resplendent rug lies a symphony of five unmatched "dragon" medallions, each one a unique work of art in itself. Picture the medallions in shades of creamy ivory, reminiscent of moonlight, gracefully interplaying with the warmth of a rich, burnt orange, akin to the soft glow of a desert sunset. These exquisite colors breathe life into the rug, infusing your space with an atmosphere of elegance and intrigue.

As you trace your fingers along the canvas, you'll discover a mesmerizing tale unfolding. The central stage, adorned with traditional "scorpion" motifs, rests against a deep and enchanting brick red backdrop. This canvas, enriched by history and tradition, invites you to connect with the culture that birthed this rug.

But there's more to this masterpiece than meets the eye. Encircling the central narrative are double-layered "running water" patterns, each distinct and imbued with its own story. These intricate patterns, like ripples in a tranquil pond, create a sense of movement and depth, making every step a journey through time and artistry.

The rug's story doesn't end there; it extends to its very borders. A stunning frame, resplendent with colorful "star" motifs on a midnight black canvas, encapsulates the rug's essence. These stars twinkle like celestial gems, framing the masterpiece and adding an element of surprise and contrast.

This Turkish rug transcends mere decoration; it is an art piece that can harmonize with a range of interior styles. Whether your space is traditional, oriental, eclectic, transitional, vintage French, Southwestern, farmhouse, or rustic, this rug's eclectic charm and timeless allure will find its place seamlessly within your surroundings.

So, if you're seeking more than just a rug – if you're looking for a conversation starter, a piece of history, and a portal to a world of artistry – then our Handwoven Kars Rug is your perfect choice. Add it to your space, and let the magic of the 20th century weave its charm into your life.
Age: 1940s

Condition: Excellent

Dimensions: 5' 1" W x 11' 4" L

Floor Heating Safe: Yes

Material: Wool on cotton

Origin: Kars, Turkey

Primary Color: Neutral earthy tones

Product Care: Vacuum clean gently or professional cleaning

Shape: Rectangle

Style: Kars medallion style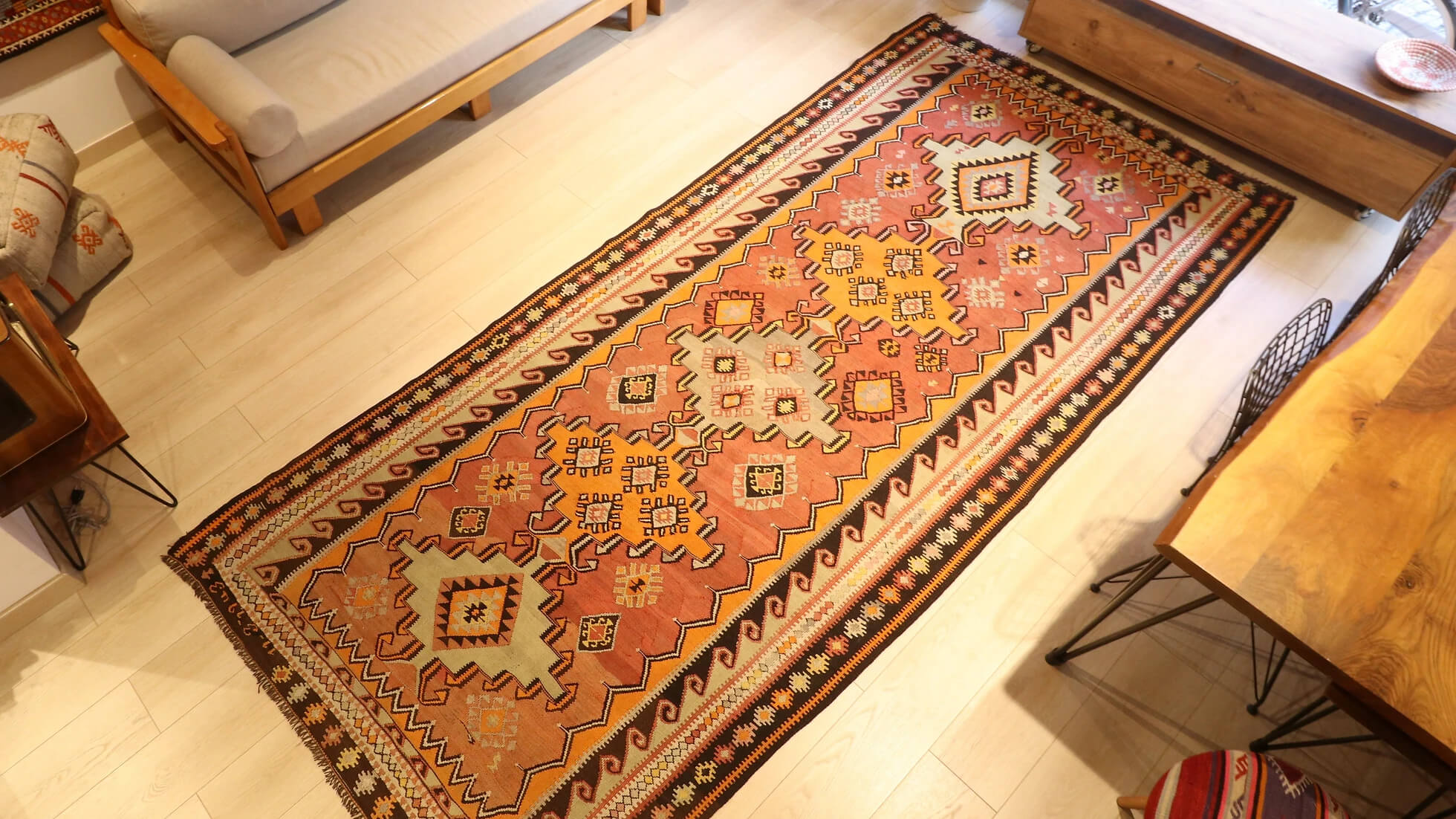 Vintage Turkish Hand-Knotted Gallery Rug | Kars Medallion Kilim in Brick Red / Orange / Cream 1940s
Sale price

$2,990.00
Regular price
Choose options