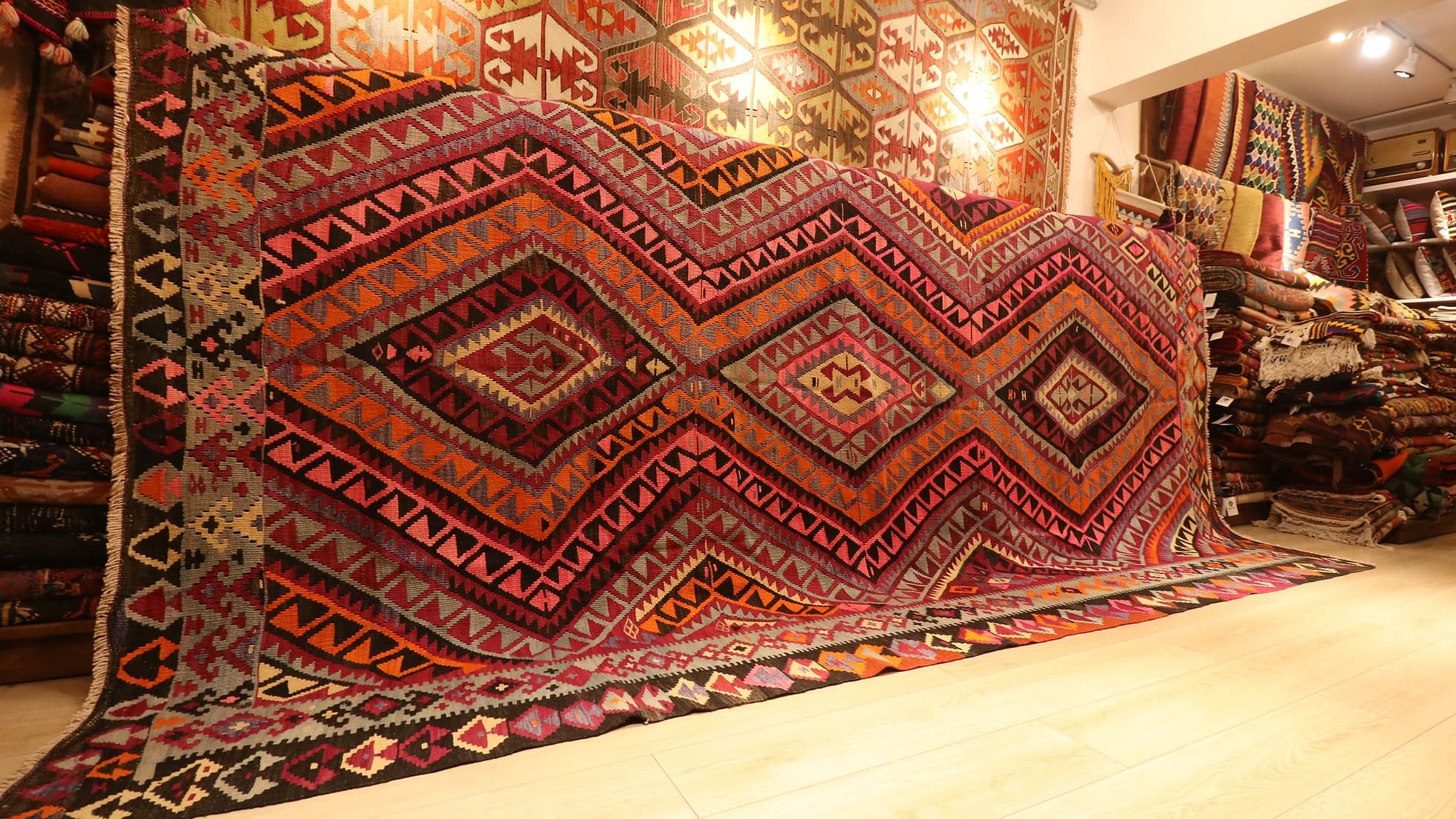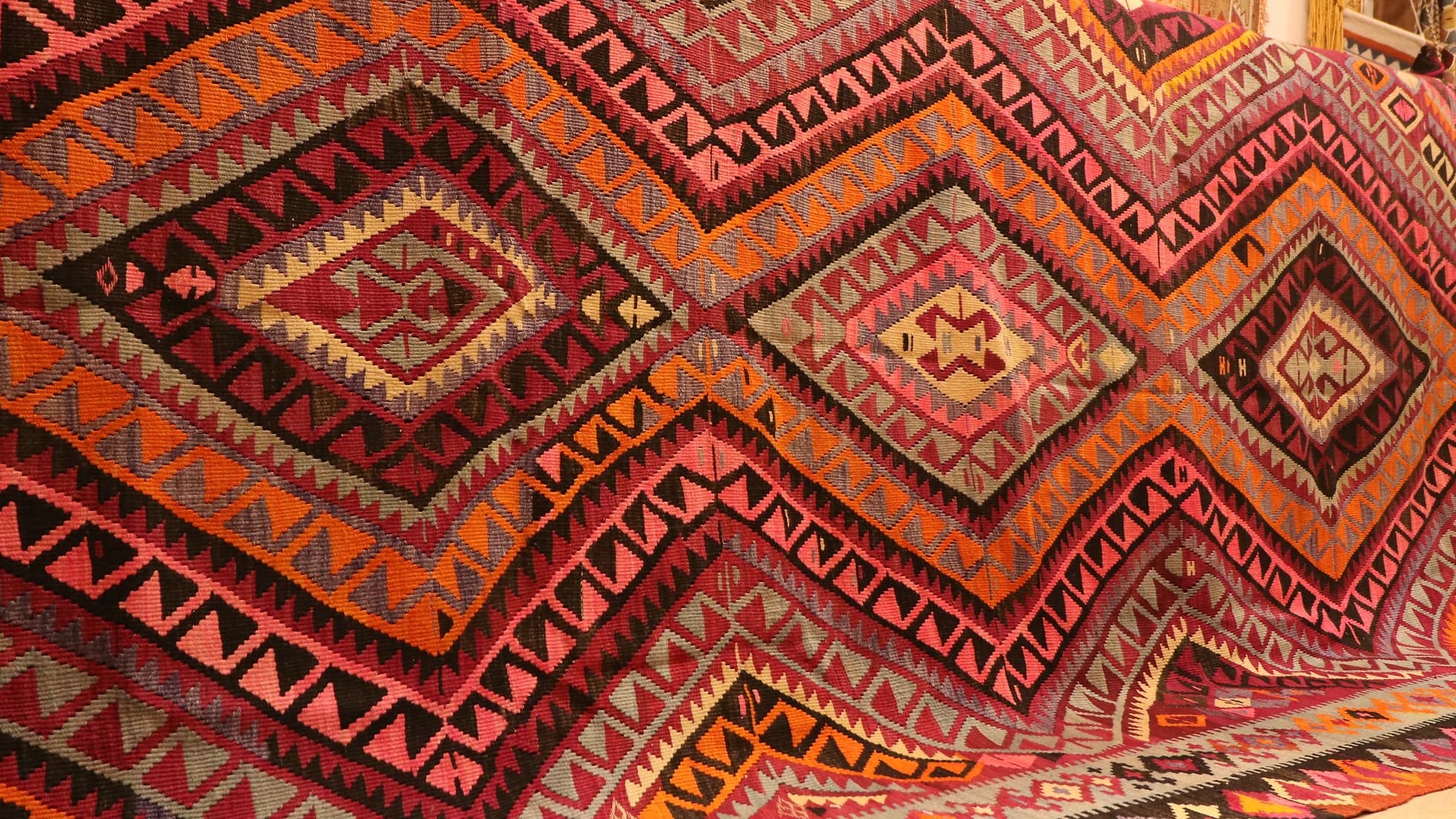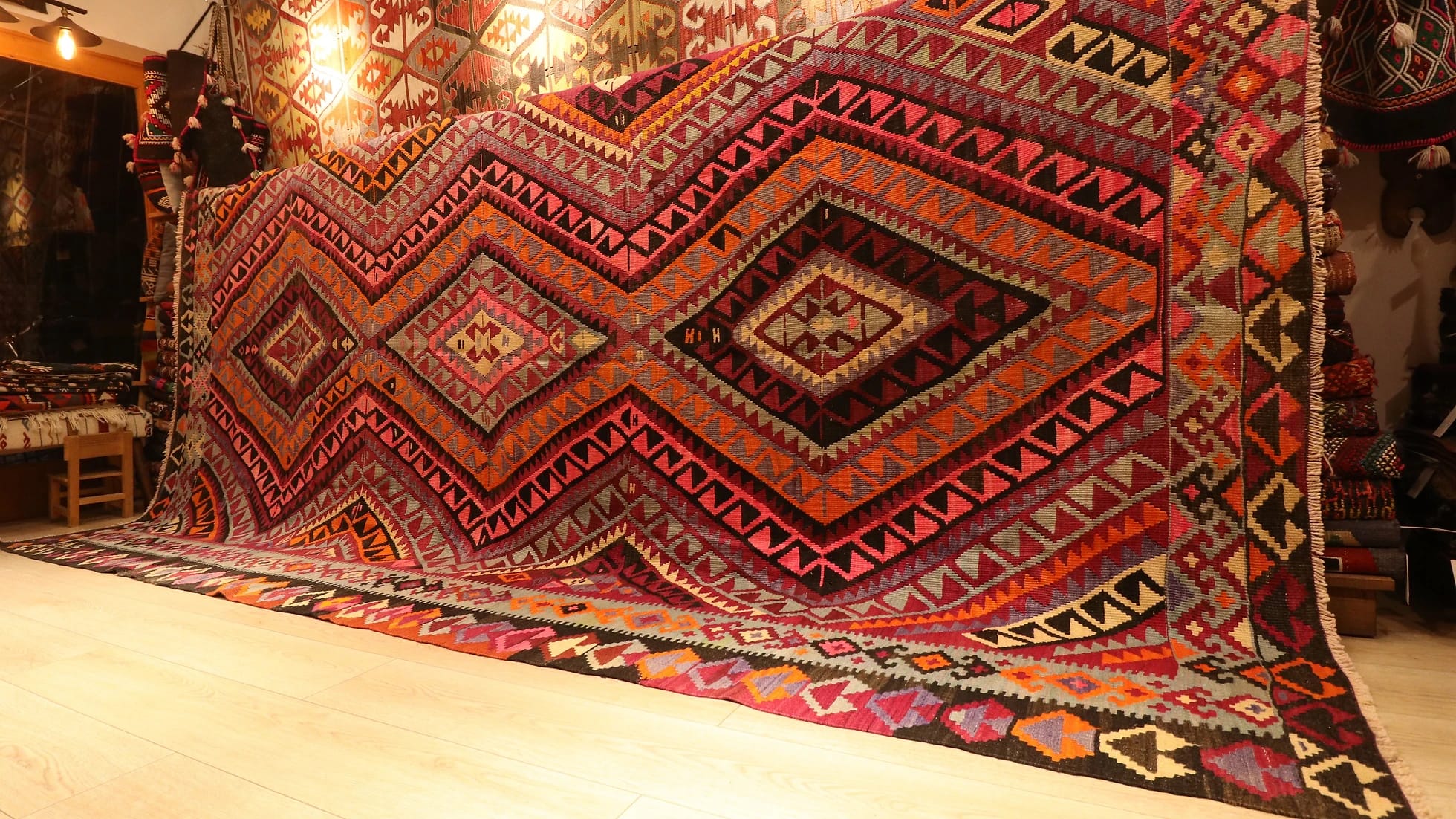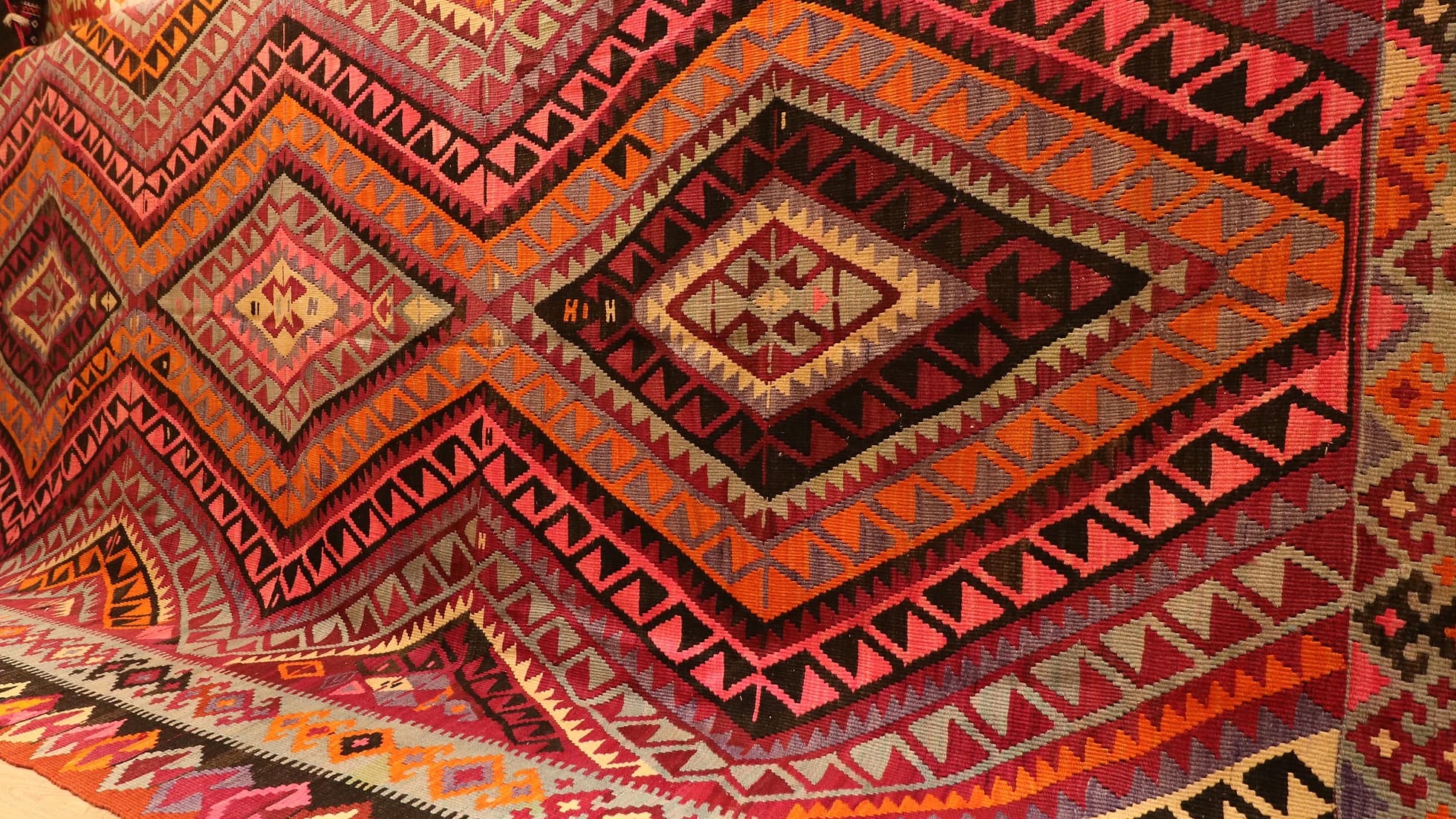 Vintage Turkish Hand-Knotted Gallery Rug | Fethiye Kilim in Pastel Lozenge Patterns 1960s
Sale price

$4,790.00
Regular price

$5,990.00
(/)
---
Introducing a true masterpiece of timeless elegance, the Vintage Turkish Hand-Knotted Gallery Rug from Fethiye, measuring an impressive 7x13 ft. This splendid flat-woven rug, also known as a kilim, hails from the enchanting era of the 1960s and stands as a testament to the unparalleled artistry of Turkish weaving. What sets this wool rug apart is not only its age but the exquisite details that set it apart as a one-of-a-kind and rare gem. Imperfections, borne from the skilled hands of its weaver, add an extra layer of uniqueness to this already extraordinary piece.

In a delightful departure from convention, this rug boasts a color palette that is strikingly contemporary, a captivating contrast to its age and vintage charm. At its heart, the rug features three magnificent lozenges, gracefully resting along its length, also known as diamond patterns. These traditional Anatolian motifs, often referred to as "dragon" motifs, manifest in an array of charming colors - pastel pink, stone gray, vivid orange, and brick red - all dancing against a deep black backdrop. A closer inspection reveals vibrant "fetter" motifs scattered within the frame, further enriching the tapestry with not only a kaleidoscope of colors but a diverse array of motifs. These resplendent diamonds stretch to the very edges of the rug, merging seamlessly with their unfinished counterparts, a testament to the weaver's touch.

The room-sized masterpiece is crowned by a double-layered border, encapsulating the exquisite central design. The inner border, adorned with polychromatic "hands on hips" motifs against a serene stone gray background, exudes a sense of poise. In contrast, the outer border delights with colorful "ram's horn" motifs on a mysterious black canvas, creating a visual tapestry that offers depth and intrigue. Imperfections, appearing sporadically in the borders, lend an air of authenticity, with two of them serendipitously converging as a unique signature left by the weaver.

This oversized area rug is tailor-made for grand interiors; be it a regal dining room, an inviting guest room, a sophisticated living room, a majestic doorway, or a cherished gallery. Each step across this rug is like stepping back in time, while its vibrant colors infuse contemporary vitality into any space.

In owning this precious vintage artwork, you invite a slice of history into your home, an heirloom that will captivate generations to come. Let this rug transform your living space into a realm of luxury, charm, and character. Treat yourself, your home, and your guests to an experience of unparalleled beauty and timeless allure with the Vintage Turkish Handwoven Tribal Rug. It's not just a rug; it's an embodiment of artistry and a testament to the craftsmanship of a bygone era. Make it yours and let your home be a canvas of true sophistication.
Age: 1960s

Condition: Excellent

Dimensions: 7' 4" W x 12' 6" L

Floor Heating Safe: Yes

Material: Wool on cotton

Origin: Fethiye, Turkey

Primary Color: Pastel tones

Product Care: Vacuum clean gently or professional cleaning

Shape: Rectangle

Style: Yuruk style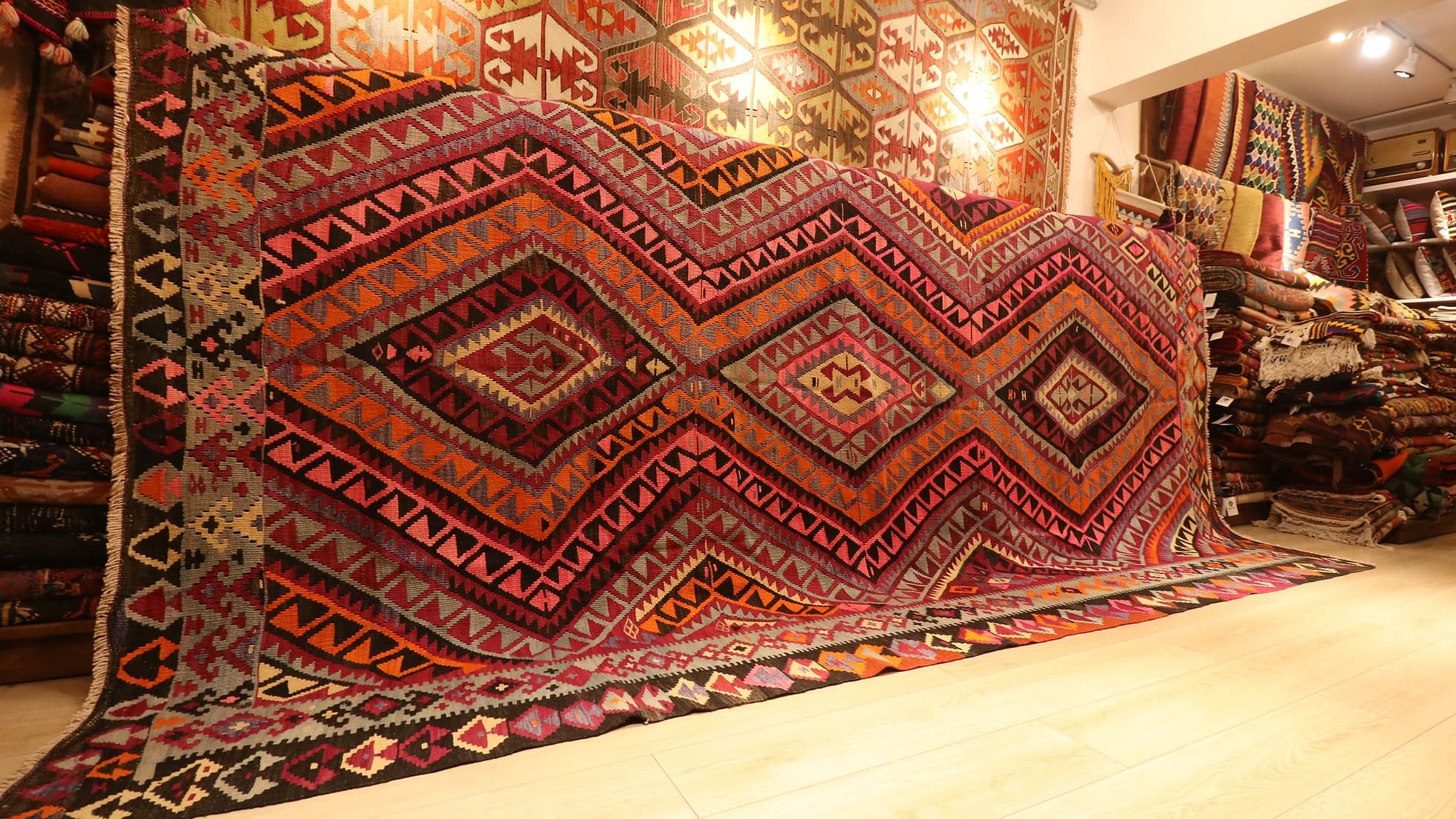 Vintage Turkish Hand-Knotted Gallery Rug | Fethiye Kilim in Pastel Lozenge Patterns 1960s
Sale price

$4,790.00
Regular price

$5,990.00
Choose options