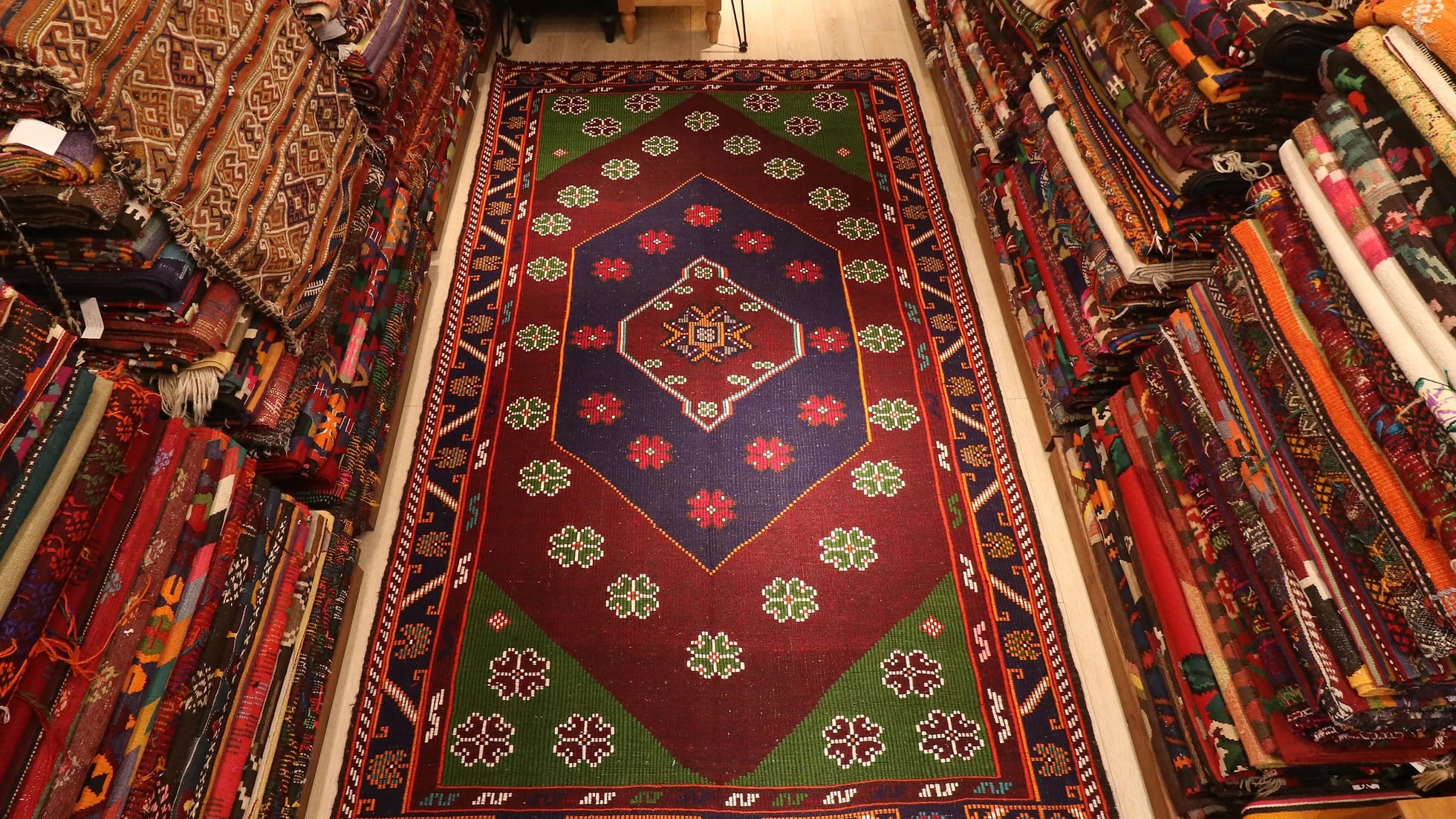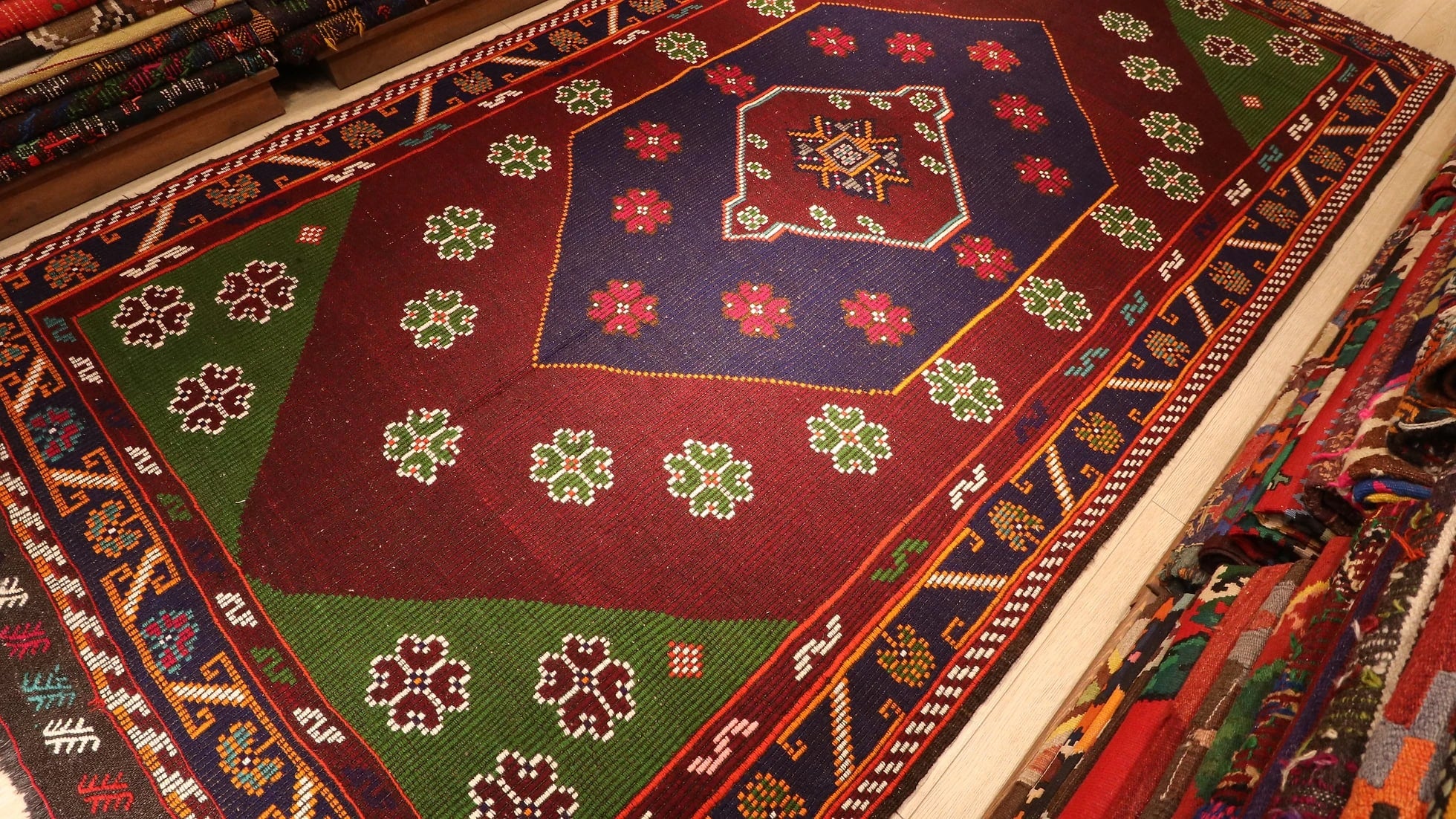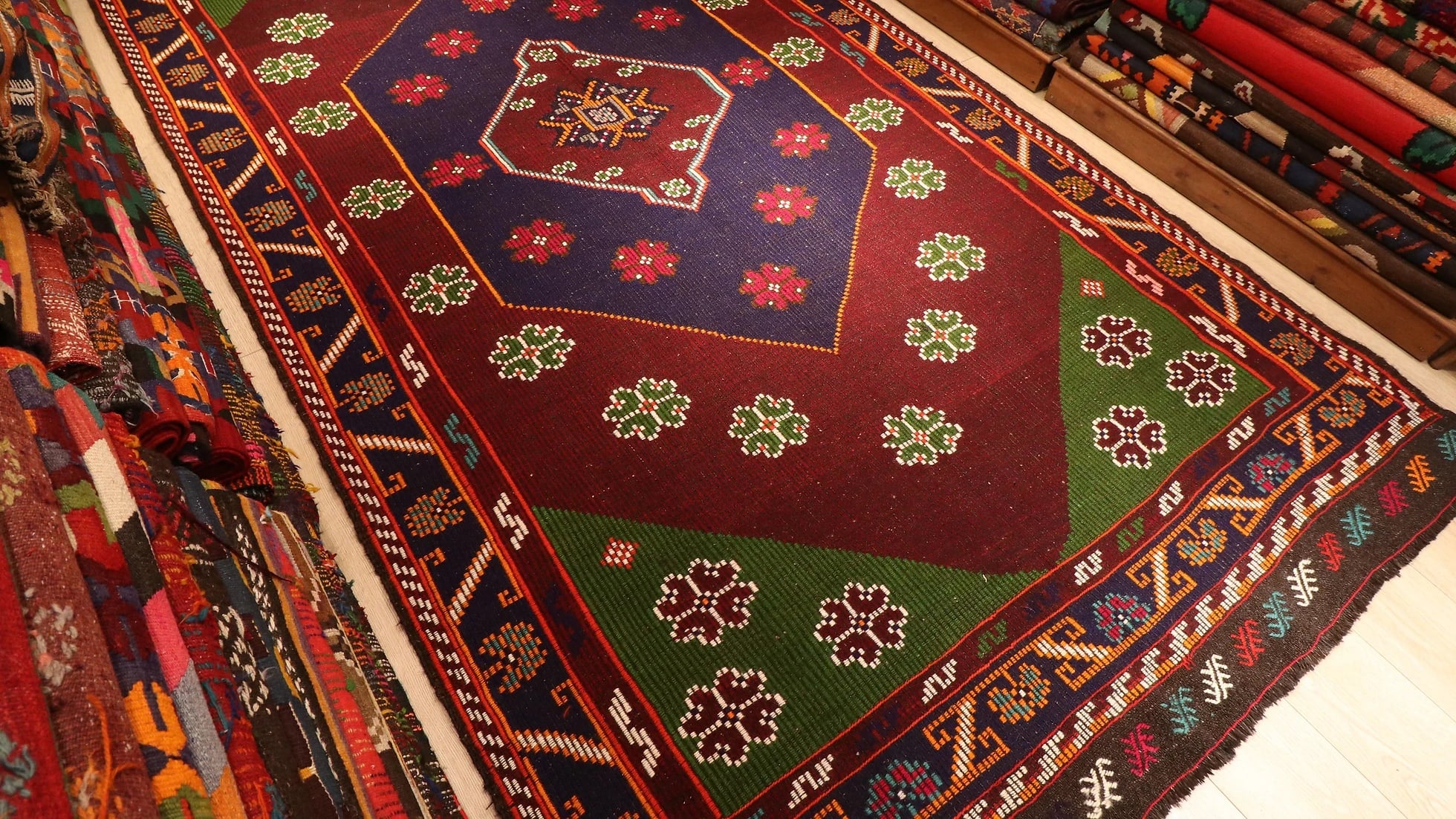 Vintage Turkish Hand-Knotted Rug | Denizli Oriental Cecim Kilim in Red / Navy / Green 1950s
Sale price

$1,690.00
Regular price

$2,090.00
(/)
---
In the heart of Denizli, Turkey, where the rich tapestry of history and artistry seamlessly intertwines, this exquisite hand-knotted kilim rug was born. Crafted during the mid-century by the skilled hands of women artisans, it embodies not just the essence of an era, but a commitment to sustainable craftsmanship using only the purest of materials.

Organic cotton and wool threads, along with the artistry of natural dyes, converge in a harmonious dance, weaving a narrative that transcends time. This is not just a rug; it's a testament to tradition, an ode to the past. It is crafted using the revered "cecim" technique, known by many names – jijim, jejim, jajim, cicim – each evoking the echoes of a bygone era.

Measuring a grand 6x11, it unfurls its vibrant tale, a three-layered canvas resplendent in shades as rich as a tapestry of dreams. The outer layer, resplendent in crimson, showcases delicate floral motifs set against a verdant backdrop. Moving inward, the second layer reveals a profusion of green clover motifs, a testament to the prosperity that tradition brings.

However, at the heart of this masterpiece lies the pièce de résistance – a colossal medallion that ensnares the gaze. Vibrant red florals and timeless motifs bloom on a navy and red backdrop, a stunning emblem of artistic prowess and an evocation of the age-old charm of Anatolian heritage.

Surrounding this masterpiece are the stunning borders, each replete with intricate Anatolian patterns, where history whispers its stories in threads of gold, crimson, and emerald. This rug is not just an accessory; it is a window to another time, a bridge to the past.

Unseen until now, this one-of-a-kind oriental rug is a priceless addition to Kilim Couture New York's rug collection, a testament to craftsmanship, history, and the enduring allure of Turkish artistry. Its traditional design makes it the quintessential choice for those seeking to infuse their living spaces with an aura of maximalist opulence, transitional charm, vintage French or British elegance, the rustic warmth of a vintage cottage or farmhouse, or, in essence, any classic and elegant interior design project.

With its impressive dimensions, this rug has the power to transform any room it graces. A perfect addition to your living room, welcoming guests in your entryway, adding an air of luxury to your dining room, character to your kitchen, grace to your offices, or even becoming the masterpiece of an art gallery.

This Denizli Vintage Turkish Hand-Knotted Rug, with its lavish canvas and timeless charm, brings an opulent, ageless allure to your home, making it not just a rug but a legacy. Elevate your space with this rare and one-of-a-kind treasure, and let it transport you to a world of elegance and tradition, where history is woven into every fiber.
Age: 1950s

Condition: Excellent

Dimensions: 5' 11" W x 10' 9" L

Floor Heating Safe: Yes

Material: Wool on cotton

Origin: Denizli, Turkey

Primary Color: Red

Product Care: Vacuum clean gently or professional cleaning

Shape: Rectangle

Style: Oriental Cecim style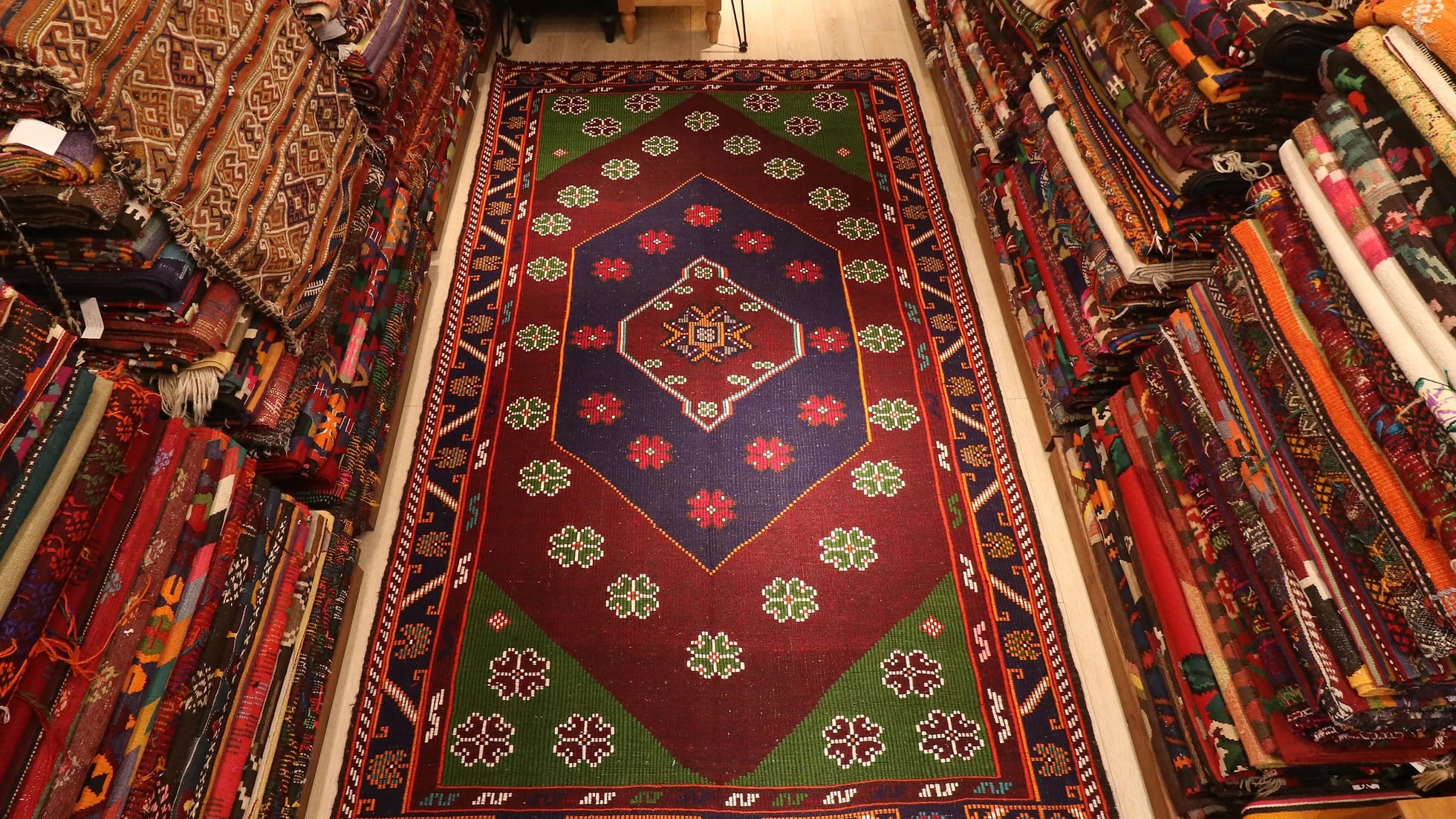 Vintage Turkish Hand-Knotted Rug | Denizli Oriental Cecim Kilim in Red / Navy / Green 1950s
Sale price

$1,690.00
Regular price

$2,090.00
Choose options