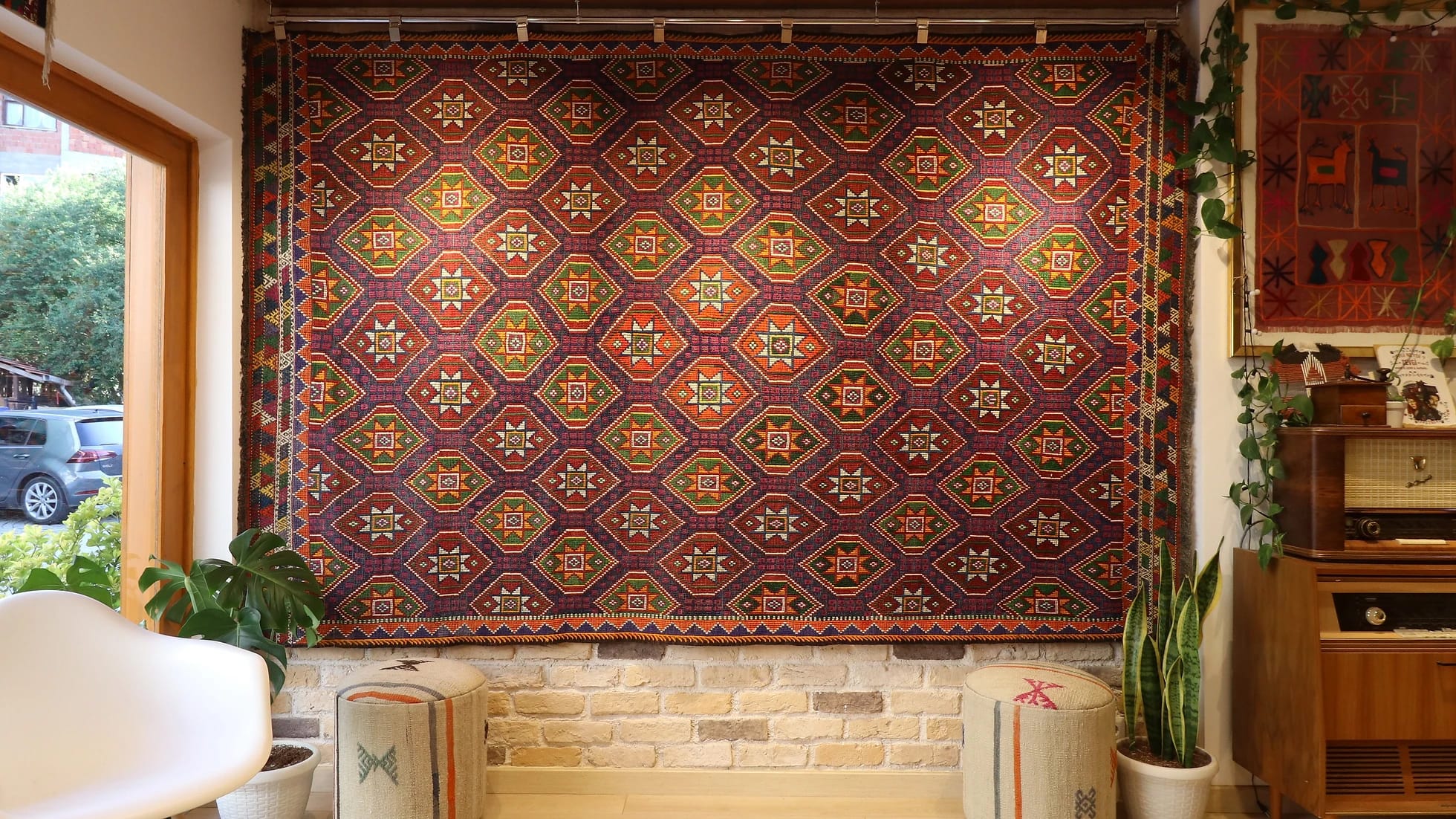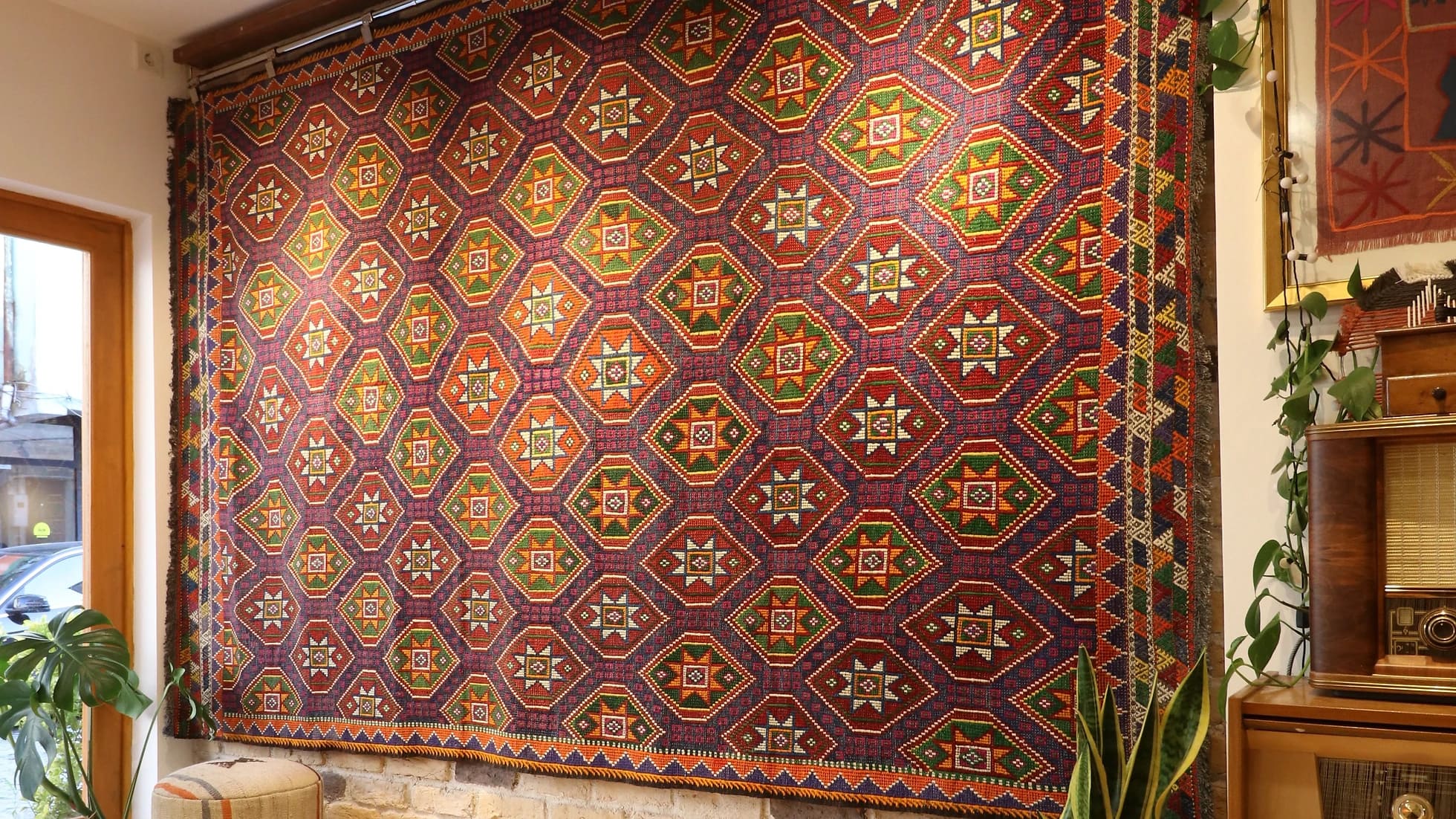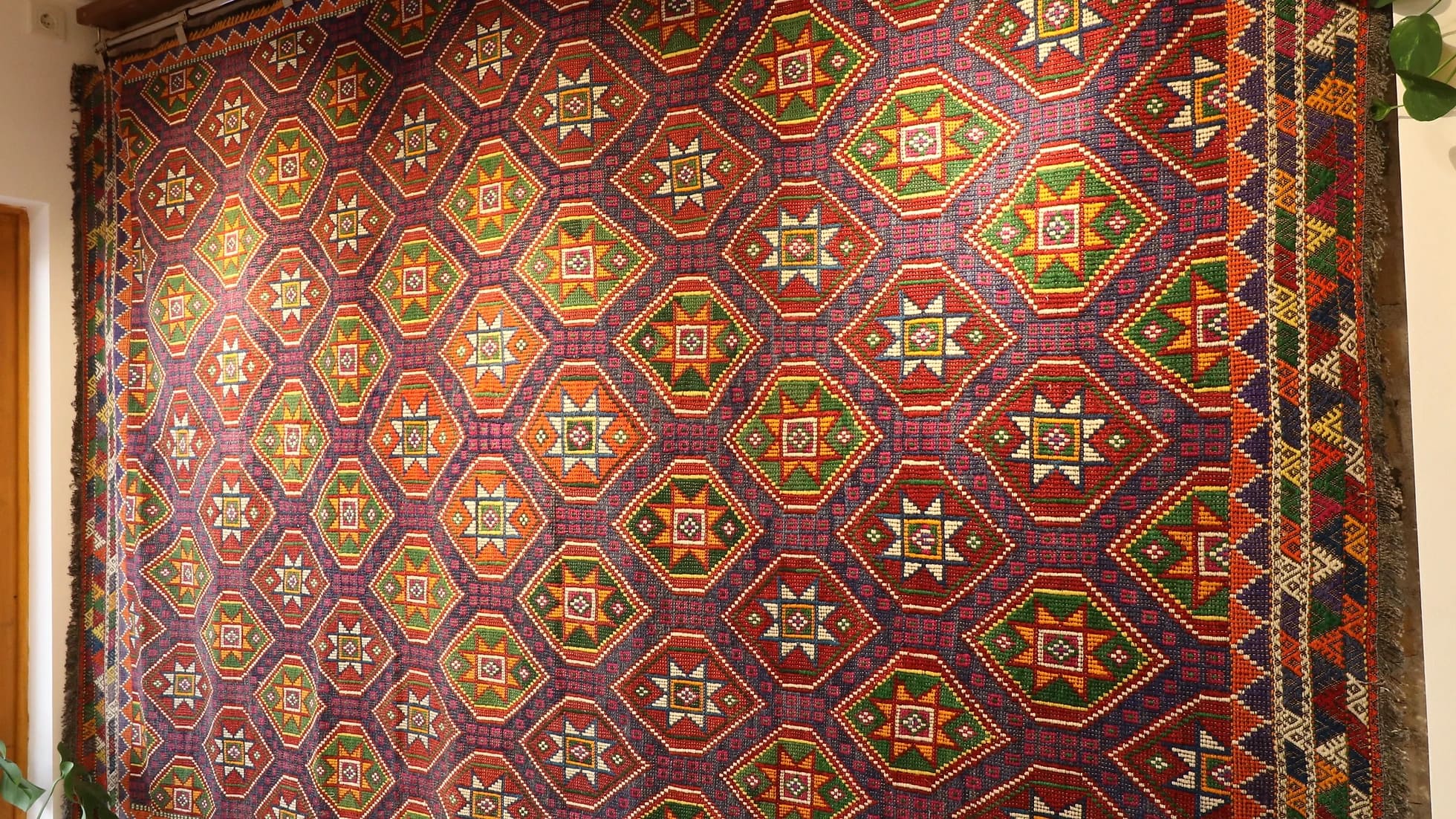 Vintage Turkish Hand-Knotted Rug | Denizli Mid-Century Cecim Kilim in Bordeaux / Orange / Green
Sale price

$2,190.00
Regular price

$2,790.00
(/)
---
From the historic looms of Denizli, Turkey, where the centuries-old art of textile weaving has been perfected, we proudly present our exquisite Denizli Cecim Kilim Rug. This vintage treasure encapsulates the essence of an era when craftsmanship was revered and intricate details were the hallmark of true artistry.

Hand-knotted with the utmost precision, this rug showcases the awe-inspiring Cecim technique, a weaving method so complex that it transforms the traditional flat and embroidery interlocking of weft and warp yarns into a mesmerizing tapestry of 3D depth. Remarkably rare, Cecim kilim rugs like this are a testament to the dedication of Denizli's weavers, making each piece a cherished heirloom.

Also known as jejim, jajim, or cicim, this kilim rug belongs to the mid-century era, where the blending of classic and modern sensibilities gave birth to design innovation. The designer's inspired choice of Bordeaux for the background, with tribal "star" motifs in striking shades of orange, green, and gold, is a visual symphony that sets this rug apart. These stars, nestled within small hexagonal diamonds, are gently framed by a creamy border that sets the motifs aglow, enhancing the entire rug's allure.

What truly sets this kilim rug apart is the weaver's meticulous placement of each motif. The result is a harmonious lozenge pattern that, when observed closely, unveils perfect symmetry and a visual feast for the discerning eye. The 7x10 size, enclosed by a "running water" patterned border, elevates the rug's charm, adding a touch of sophistication to your living space.

Perfect for a range of interior styles, from traditional to vintage French, Victorian to oriental, modern farmhouse to classic British, this tribal wool rug transforms any room into a visual wonderland. Its color palette, which includes shades like bordeaux, amber orange, verdant green, and glistening gold, evokes a sense of elegance and nostalgia, making it the perfect addition to your living room or dining room.

Embrace the opulence of the Denizli Cecim Kilim Rug, an exceptional creation that pays homage to the rich heritage of Denizli's textile tradition. Elevate your living space and infuse it with a unique blend of timeless beauty and contemporary sophistication. Indulge in the allure of this vintage masterpiece, and bring a piece of Denizli's legacy into your home.
Age: 1950s

Condition: Excellent

Dimensions: 6' 6" W x 9' 11" L

Floor Heating Safe: Yes

Material: Wool on cotton

Origin: Denizli, Turkey

Primary Color: Bordeaux

Product Care: Vacuum clean gently or professional cleaning

Shape: Rectangle

Style: Tribal Cecim style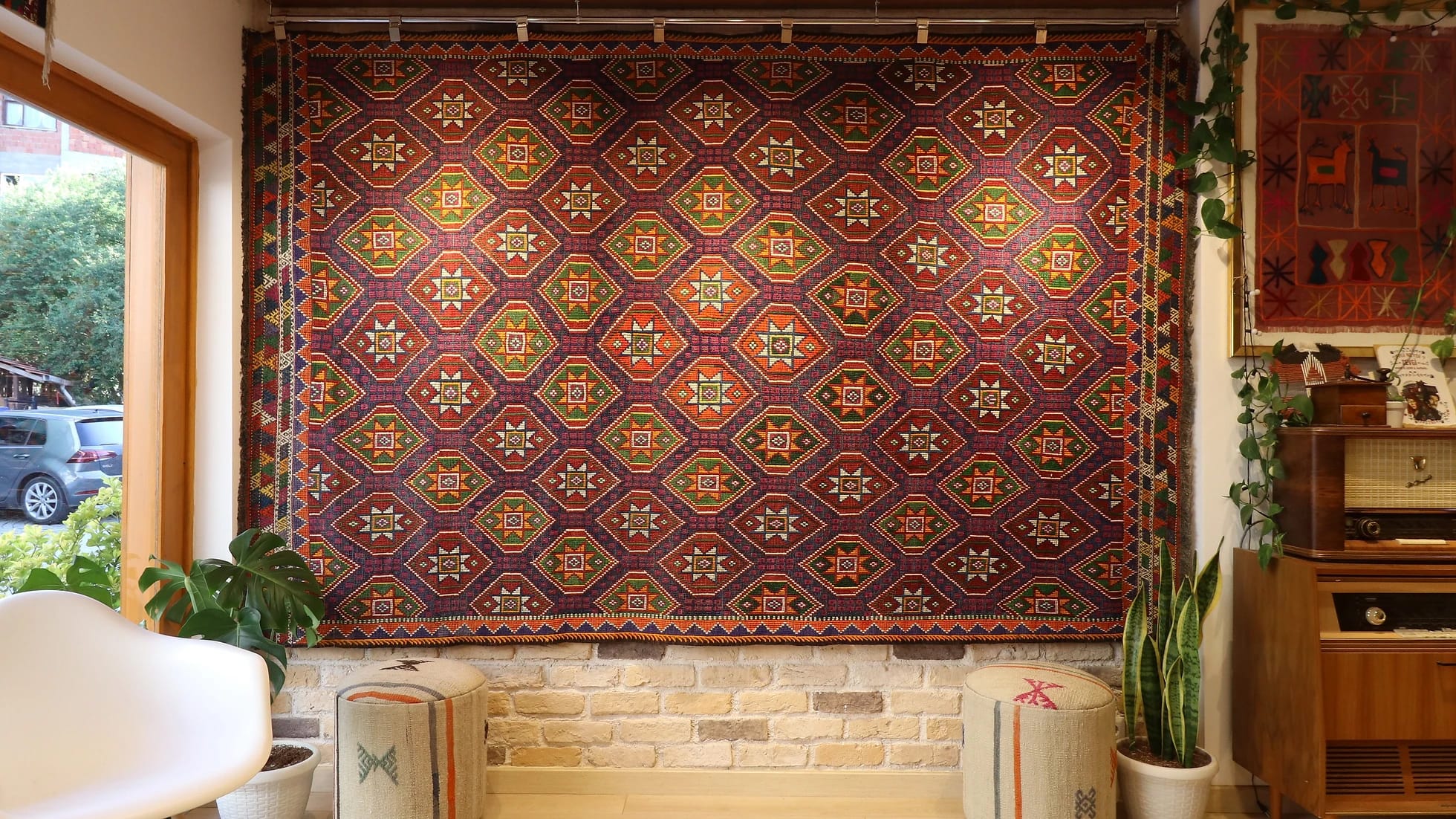 Vintage Turkish Hand-Knotted Rug | Denizli Mid-Century Cecim Kilim in Bordeaux / Orange / Green
Sale price

$2,190.00
Regular price

$2,790.00
Choose options