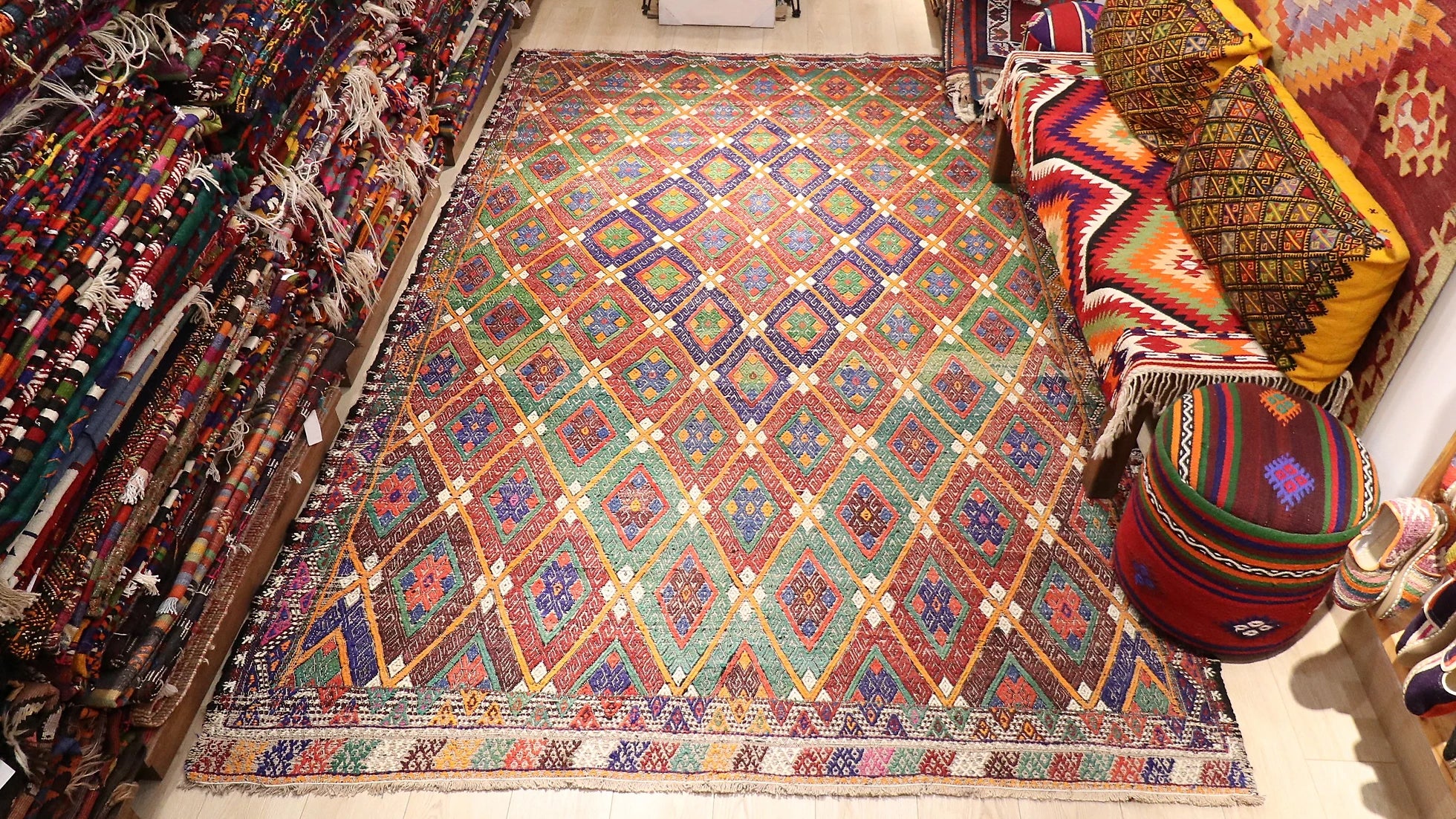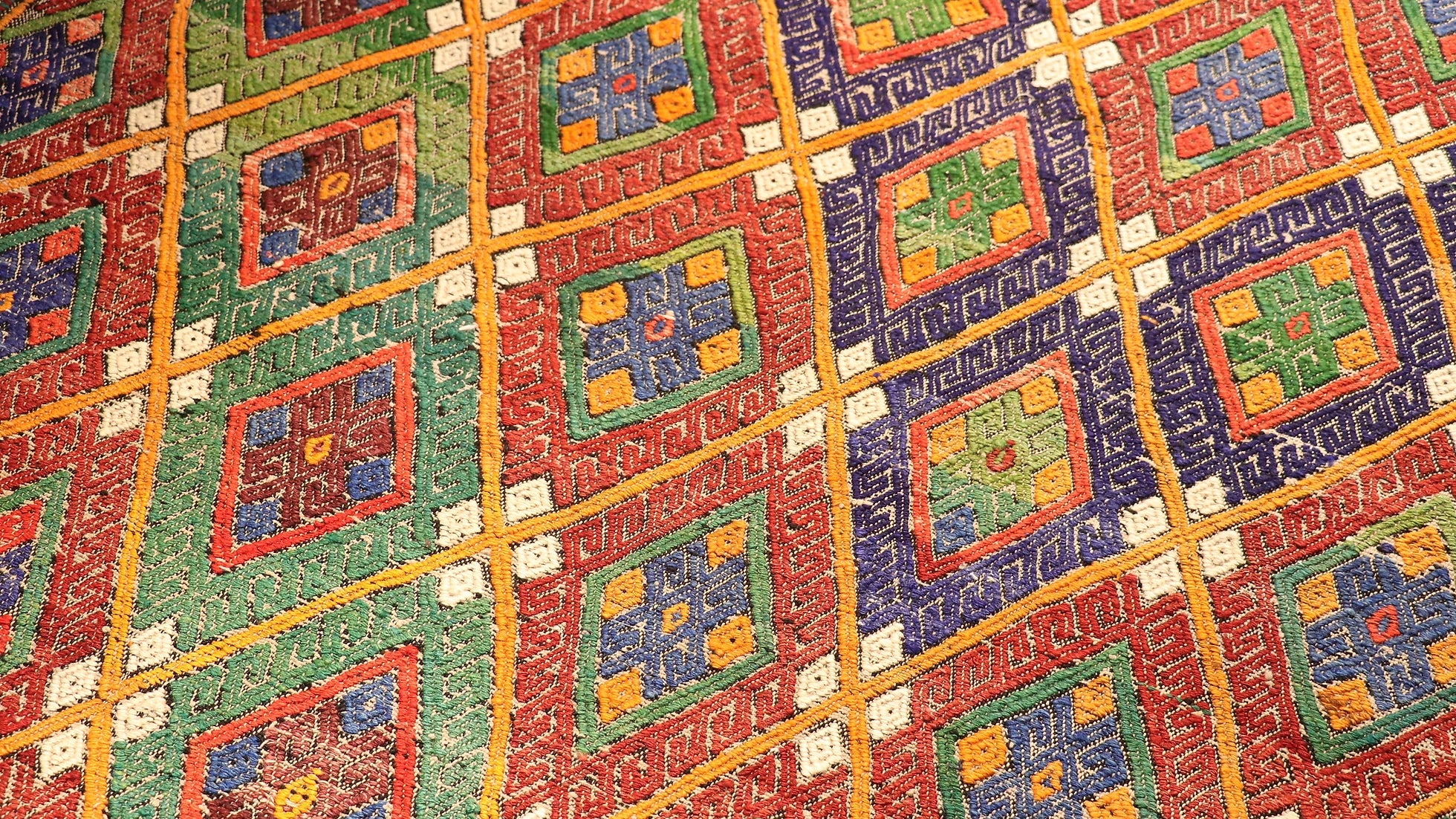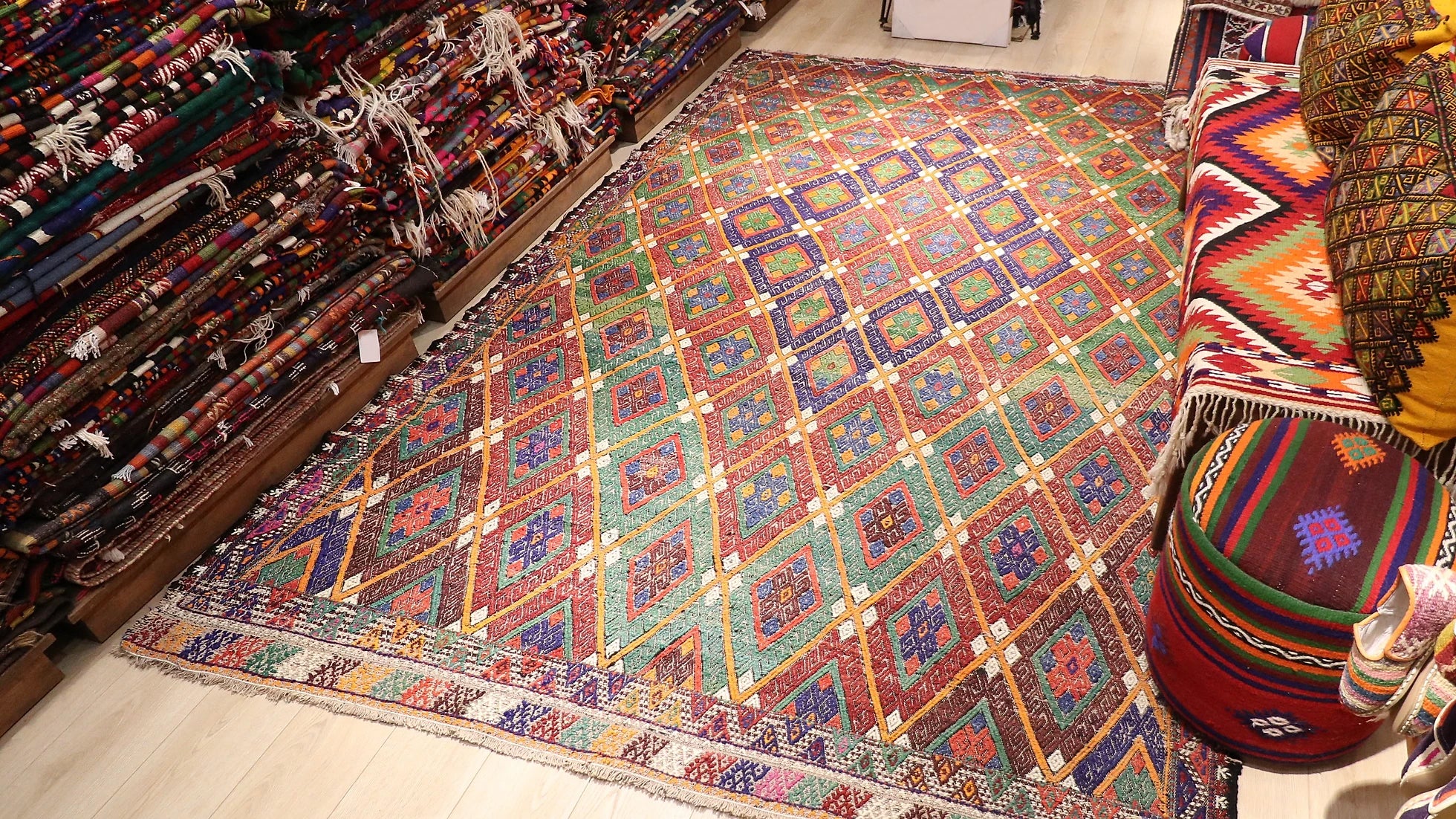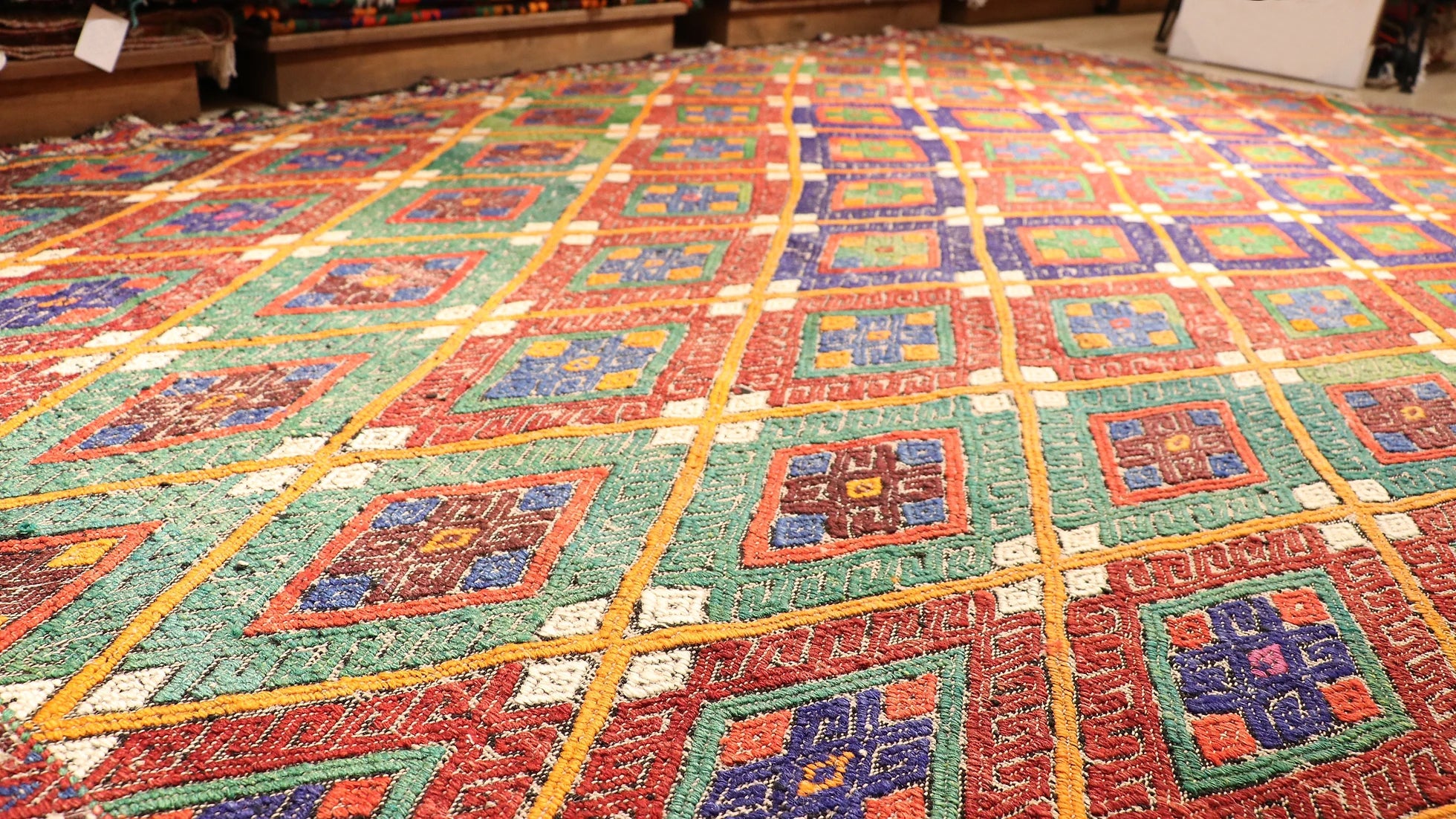 Vintage Turkish Hand-Knotted Rug | Manisa Cecim Rustic Kilim in Pastel Maroon / Mint / Navy 1950s
Sale price

$2,390.00
Regular price

$2,990.00
(/)
---
Introducing a true treasure from the midcentury era, the exquisitely handwoven Kurdish Kilim Rug, hailing from the vibrant tapestry of the 1950s. This remarkable piece encapsulates the mastery of traditional craftsmanship, offering a unique and rare addition to your discerning collection.

Delight in the beauty of this kilim rug, adorned with an intricate pattern of intertwined diamond motifs, delicately interwoven in a symphony of pastel tones. The sublime palette of maroon, mint, and navy dances harmoniously across the rug's surface, forming a captivating and colorful patterned frame that enthralls the beholder. The symmetrical arrangement of these elegant diamonds bestows a sense of balance and order, elevating the aesthetic appeal to new heights.

Beholding this magnificent rug is an experience that transcends the visual realm. The gaze is met with an overwhelming sense of tranquility, evoking a deep-rooted calmness within. Each glance entices feelings of serenity and harmony, creating an atmosphere that cherishes its surroundings and envelops your space in an aura of positivity.

Crafted with meticulous attention to detail, this Kilim rug boasts dimensions of 7x10, making it an ideal centerpiece for luxury homes. Its perfect size ensures a seamless integration into your interior design, accentuating the grandeur and sophistication of your living spaces.

This kilim represents an embodiment of time-honored artistry and rare beauty. Its vintage allure and mesmerizing presence make it a truly exceptional find, suited for those with a discerning taste for the extraordinary. Don't miss the opportunity to own this remarkable piece of history, as it promises to enrich your home and evoke admiration from all who behold its captivating charm.
Age: 1950s

Condition: Excellent

Dimensions: 6' 9" W x 10' 3" L

Floor Heating Safe: Yes

Material: Wool on cotton

Origin: Manisa, Turkey

Primary Color: Pastel maroon, mint, navy

Product Care: Vacuum clean gently or professional cleaning

Shape: Rectangle

Style: Tribal Cecim style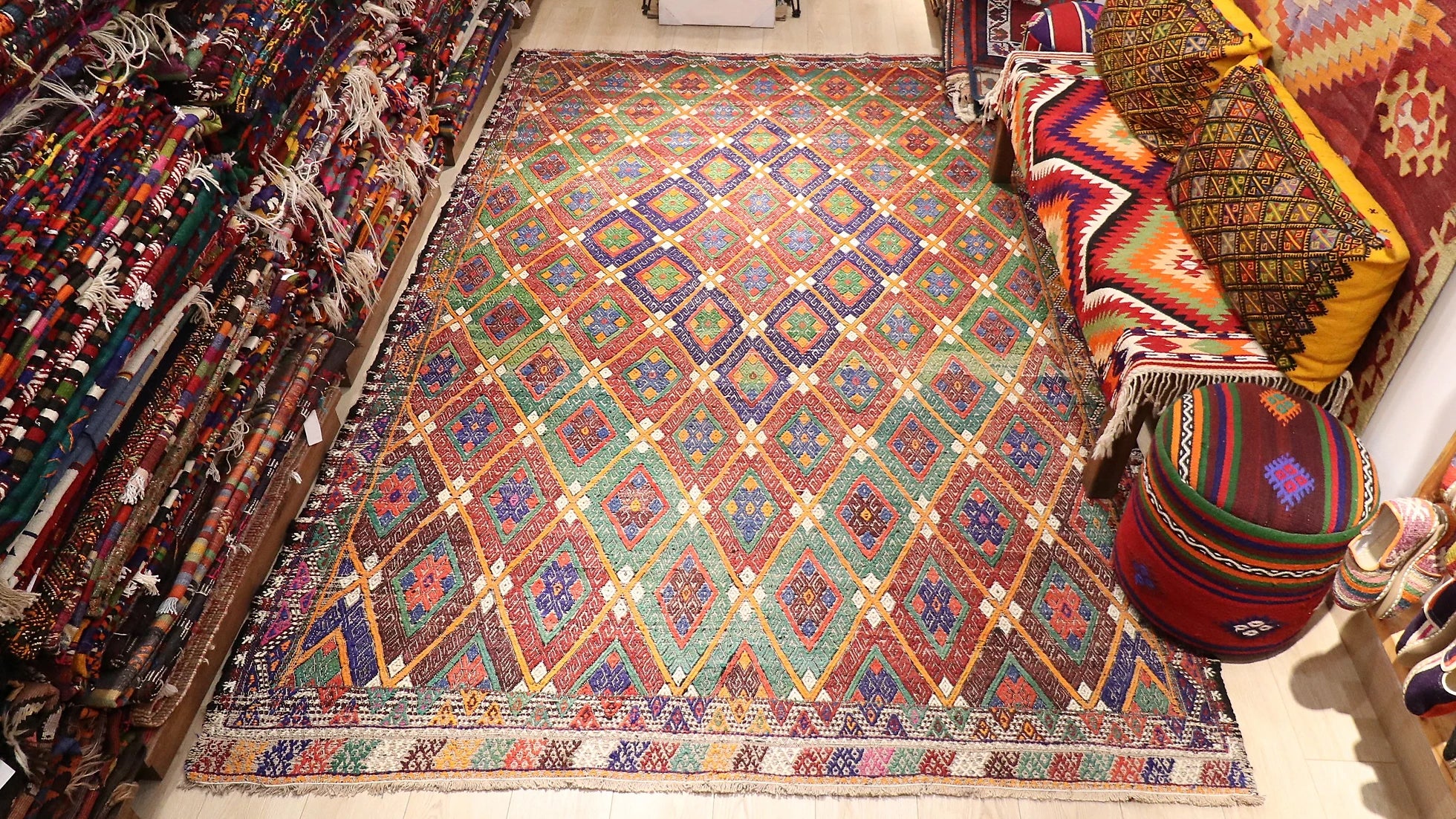 Vintage Turkish Hand-Knotted Rug | Manisa Cecim Rustic Kilim in Pastel Maroon / Mint / Navy 1950s
Sale price

$2,390.00
Regular price

$2,990.00
Choose options