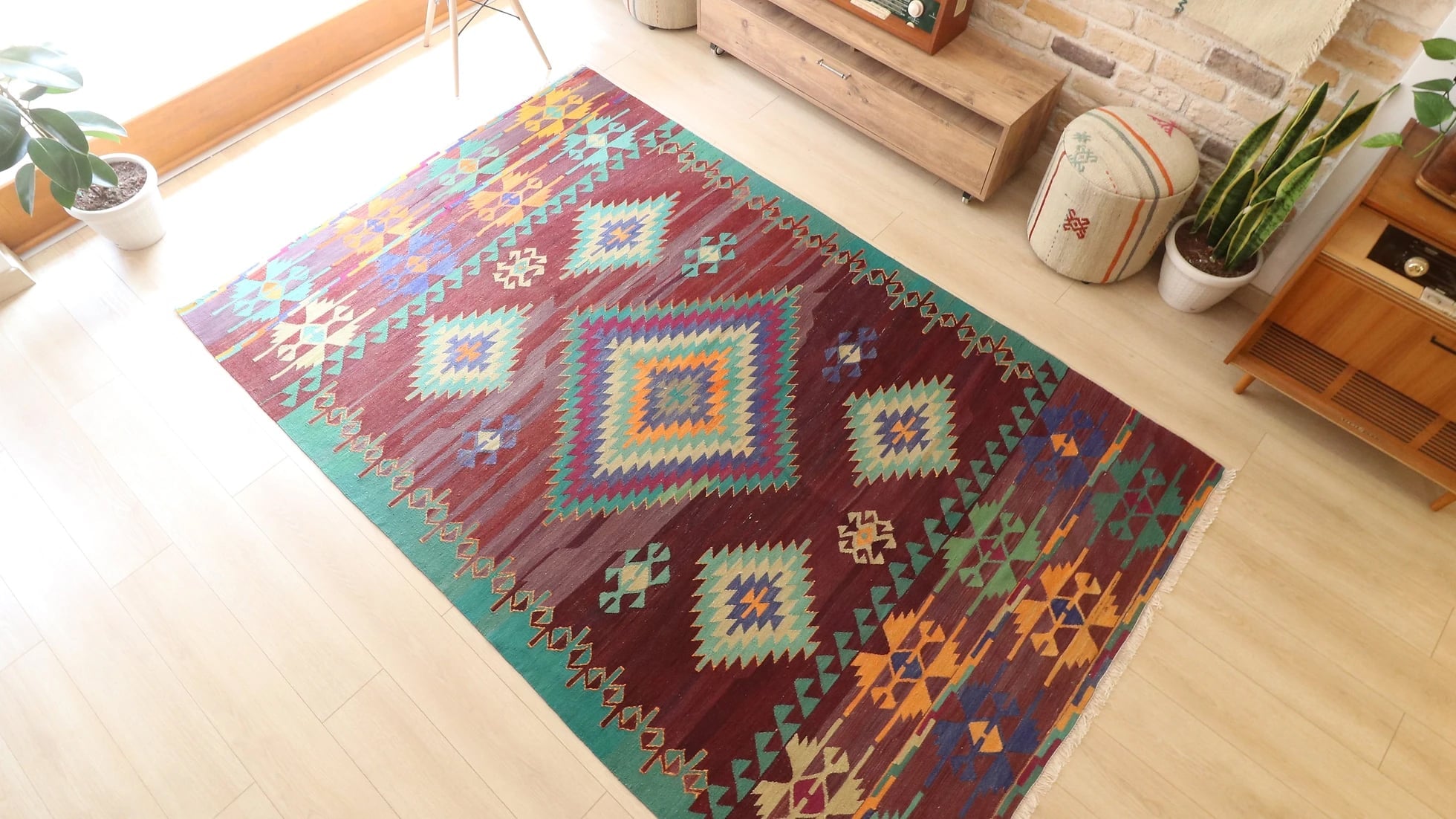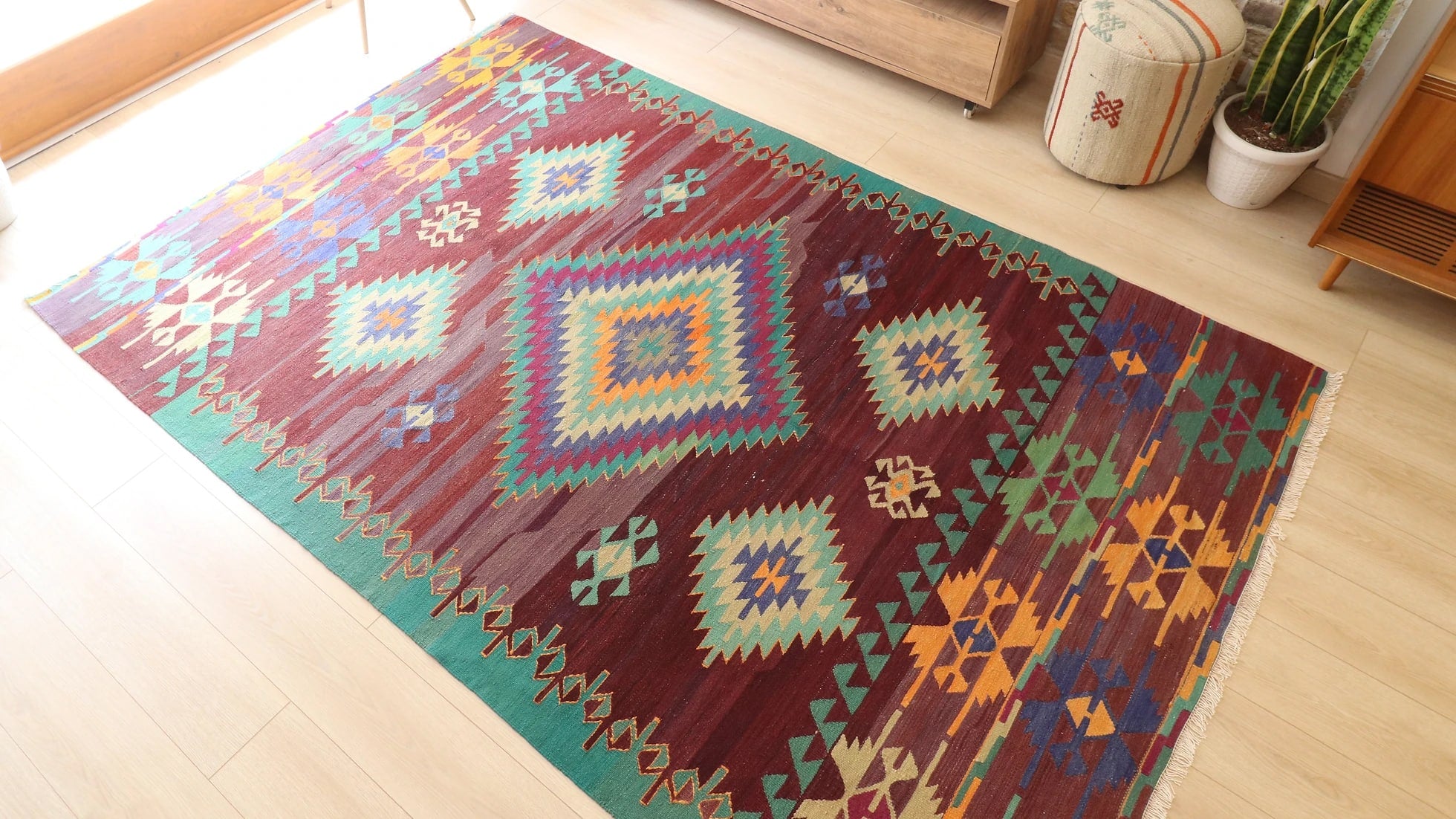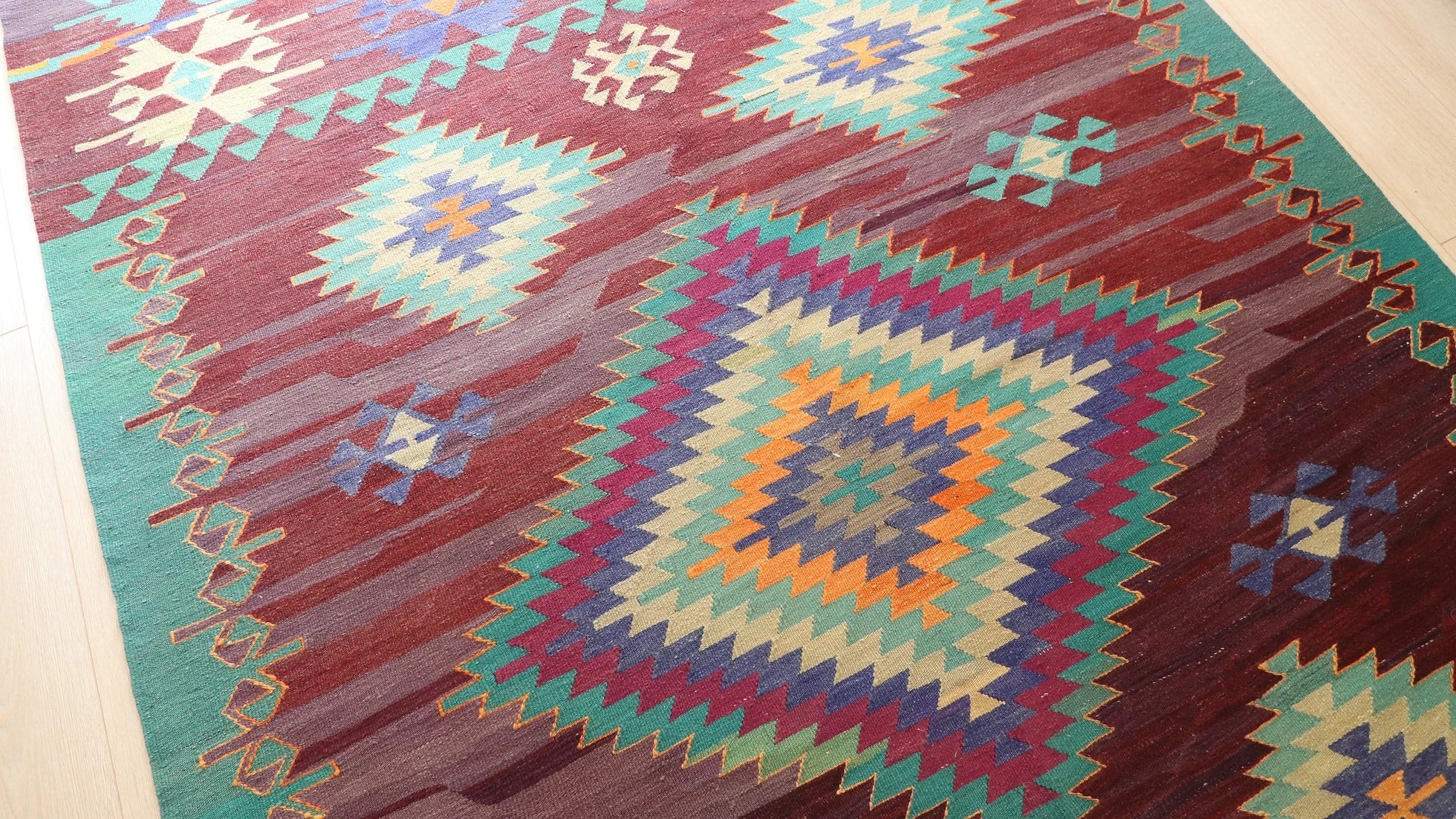 Vintage Turkish Hand-Knotted Rug | Cal Coastal Modern Kilim 1960s
Sale price

$1,790.00
Regular price

$2,290.00
(/)
---
Introducing our exquisite Cal Kilim Rug, measuring 6x9, a true masterpiece from the quaint village of Cal in Denizli, Turkey, dating back to the vibrant 1960s. This extraordinary piece of art is a testament to the rich cultural tapestry and craftsmanship of the region.

The color palette of this wool kilim embodies the enchanting Cal style, boasting a symphony of hues that will mesmerize any beholder. At its heart lies a generous "star" motif, resplendent in various shades of opulent azure, gracefully dancing in harmonious contrast with the warmth of lustrous orange. This central star serves as the radiant focal point, drawing your gaze into its intricate details.

Surrounding this celestial centerpiece, you'll find four petite azure stars adorning a captivating brick-red canvas, adding an enchanting charm to this vintage treasure. Along the width of the rug, a double-layered border showcases traditional motifs known as "wolf's mouth" and "wolf's track", rendered in rich shades of orange and blue, seamlessly complementing the hues of the central star.

As you explore this rug further, your eyes will be captivated by two fertility motifs thoughtfully woven around the central star, adding layers of symbolism and cultural significance to this remarkable piece.

This flat-woven rug is a work of art steeped in history and tradition. Perfectly suited for coastal homes, modern farmhouses, or any eclectic or transitional interior seeking to infuse the serenity of deep blues into its ambiance. Each shade, from the tranquil azure to the warm, inviting orange, exudes an air of opulence and sophistication.

Furthermore, this kilim is a tribute to the skilled women weavers who poured their heart and soul into crafting this magnificent piece. By inviting it into your home, you're not just enhancing your decor; you're celebrating a legacy of craftsmanship, culture, and timeless beauty.

Elevate your living space with this Mid-Century Modern Rug from Cal village – a touch of history, a burst of colors, and a symbol of artistry that transcends time. It's more than a rug; it's a living piece of Turkish heritage waiting to grace your home.
Age: 1960s

Condition: Excellent

Dimensions: 6' 1" W x 9' 5" L

Floor Heating Safe: Yes

Material: Wool on cotton

Origin: Denizli, Turkey

Primary Color: Blue, red

Product Care: Vacuum clean gently or professional cleaning

Shape: Rectangle

Style: Cal style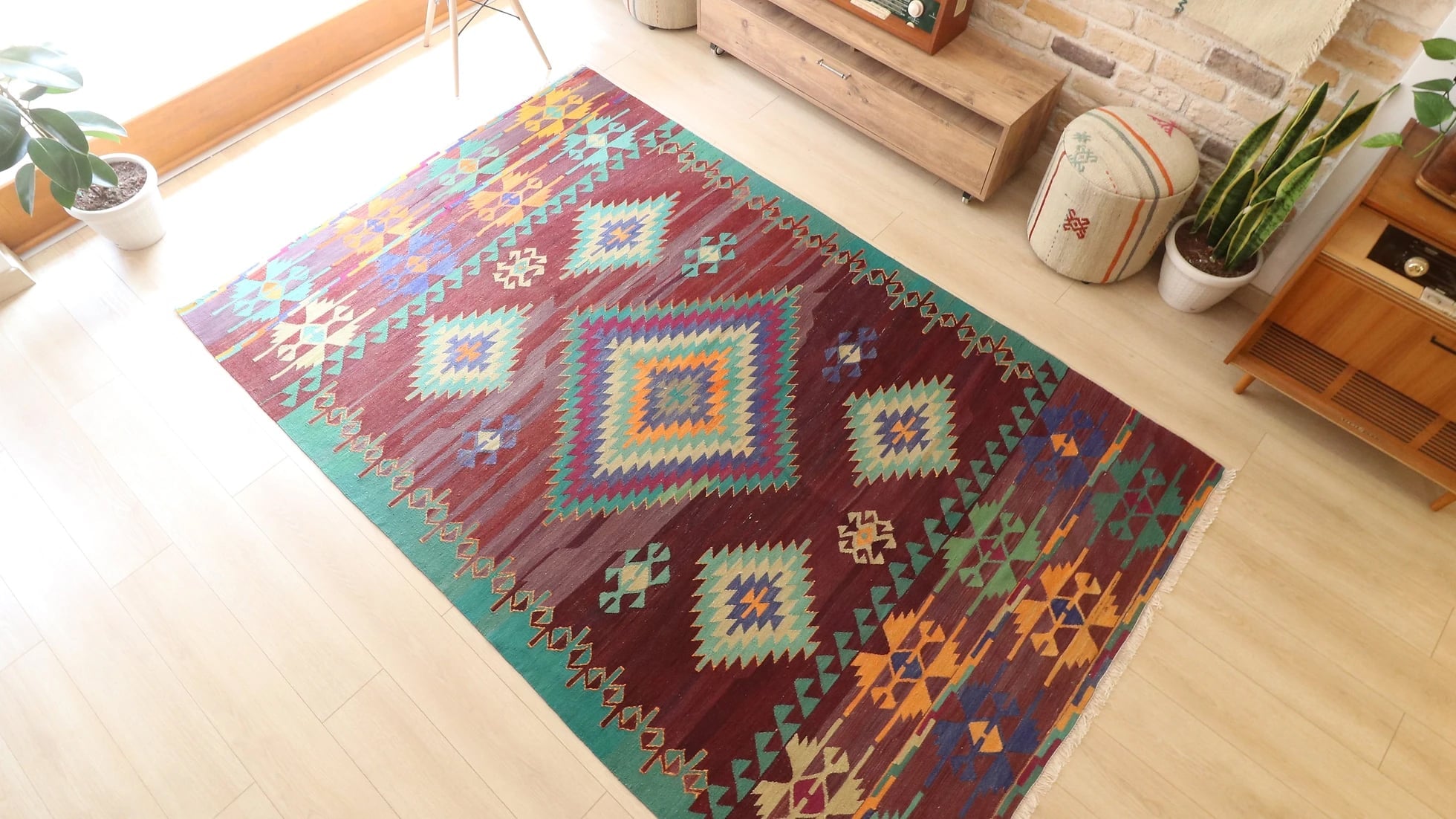 Vintage Turkish Hand-Knotted Rug | Cal Coastal Modern Kilim 1960s
Sale price

$1,790.00
Regular price

$2,290.00
Choose options