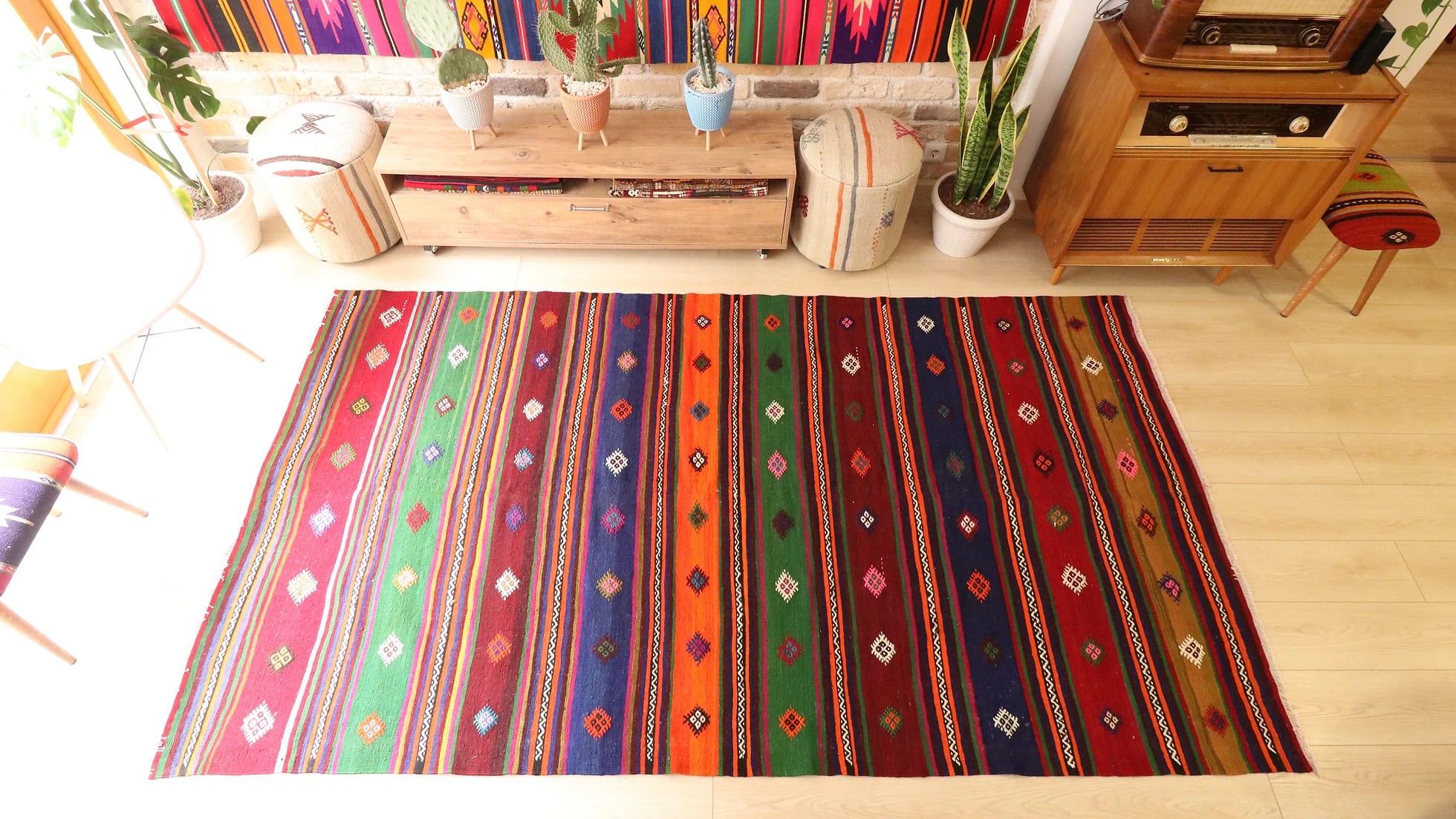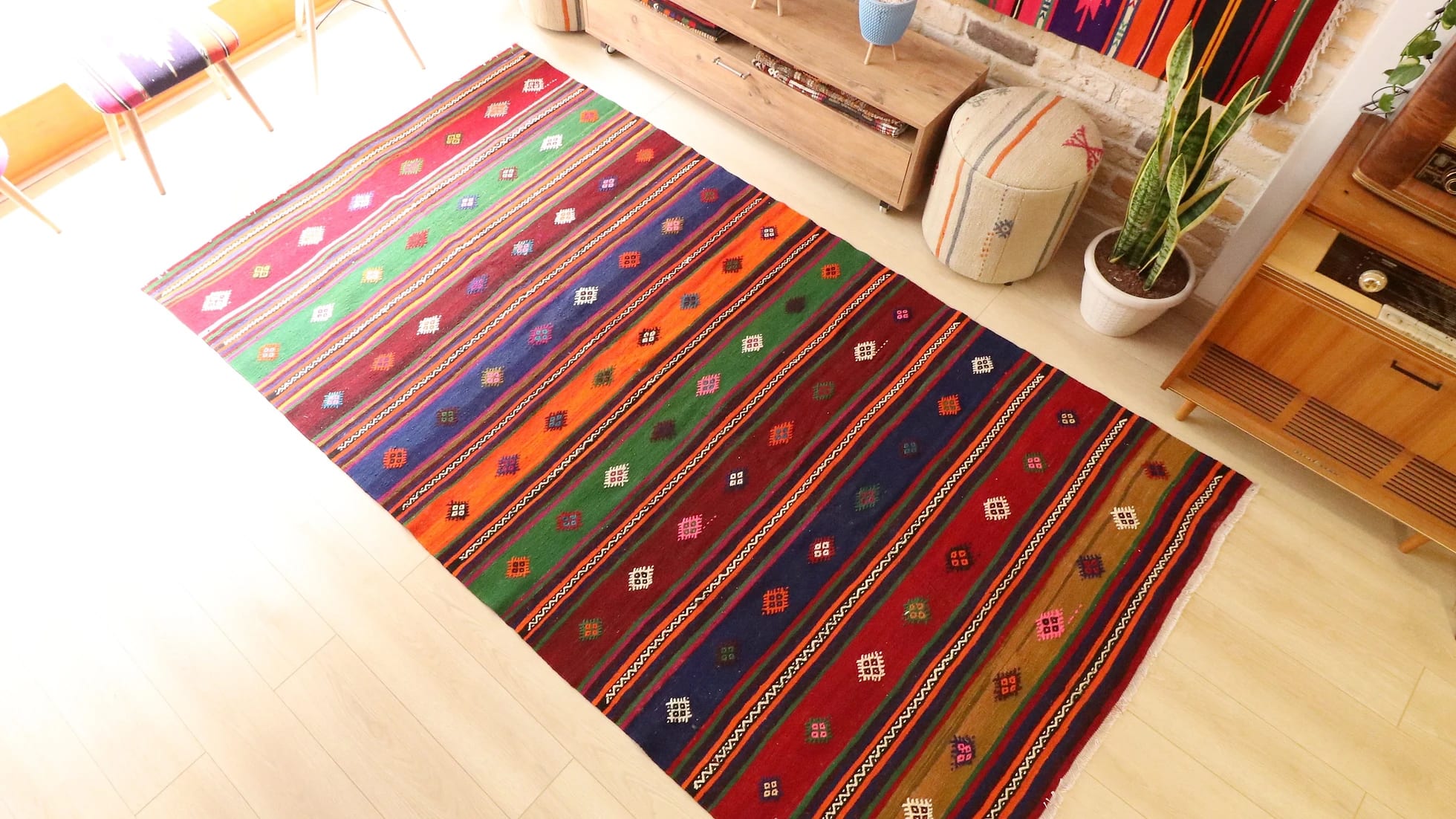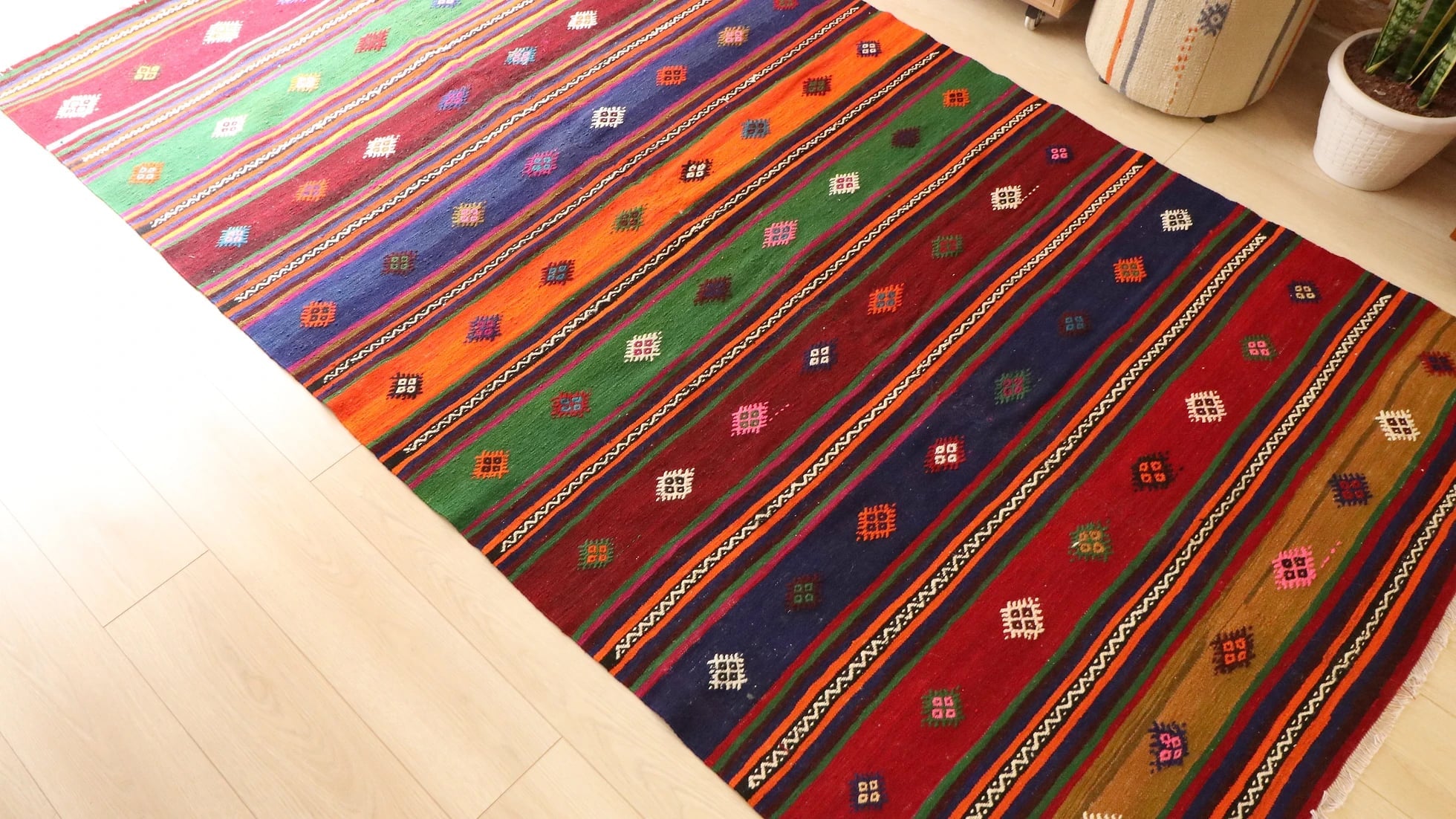 Vintage Turkish Hand-Knotted Rug | Balikesir Striped Flat-Weave Rug in Earthy Tones 1960s
Sale price

$1,490.00
Regular price

$1,890.00
(/)
---
Elevate your living space with our enchanting Vintage Turkish Rug, measuring 5x10, a true work of art that encapsulates the rich heritage of Balikesir. Crafted with devotion from a harmonious blend of wool and cotton, this rug exudes an aura of antiquity while maintaining timeless charm.

A symphony of colors unfolds on this rug, as earthy tones transform into vibrant stories beneath your feet. Picture the radiance of a setting sun - our rug showcases captivating shades reminiscent of a sunset spice orange, meadow mist green, terracotta, and azure dreams blue. These hues dance together, creating a visual masterpiece that speaks to the soul.

Delicate "running water" patterns meander gracefully between the stripes, whispering tales of tranquil rivers and serene landscapes. Scattered among them, you'll find tribal Anatolian motifs in lively "burdock" that add an exotic touch, reminiscent of the nomadic wanderers who wove this enchanting creation.

In a world where mass-produced items dominate, this authentic flat-woven rug stands as a testament to the artisanal craftsmanship of a bygone era. Each knot, a testament to tradition, speaks to the hands that wove it with love and care.

The versatility of this kilim knows no bounds, making it an ideal addition to your home decor. Whether your space embodies the rustic charm of a farmhouse, the vibrancy of a bohemian paradise, or the timeless elegance of traditional and eclectic styles, this rug seamlessly fits in. With an adaptable size, it's the perfect match for your kitchen, living room, dining room, or bedroom. Its durable nature even welcomes the great outdoors, so you can breathe life into your patio or garden with a burst of color and heritage.

Discover the magic of the Vintage Balikesir Rug, an exquisite fusion of art, history, and nature, designed to enliven your surroundings and transcend time. Make a statement that echoes across the centuries with this timeless masterpiece underfoot.
Age: 1960s

Condition: Excellent

Dimensions: 5' 3" W x 9' 6" L

Floor Heating Safe: Yes

Material: Wool on cotton

Origin: Balikesir, Turkey

Primary Color: Natural earthy tones

Product Care: Vacuum clean gently or professional cleaning

Shape: Rectangle

Style: Yuruk style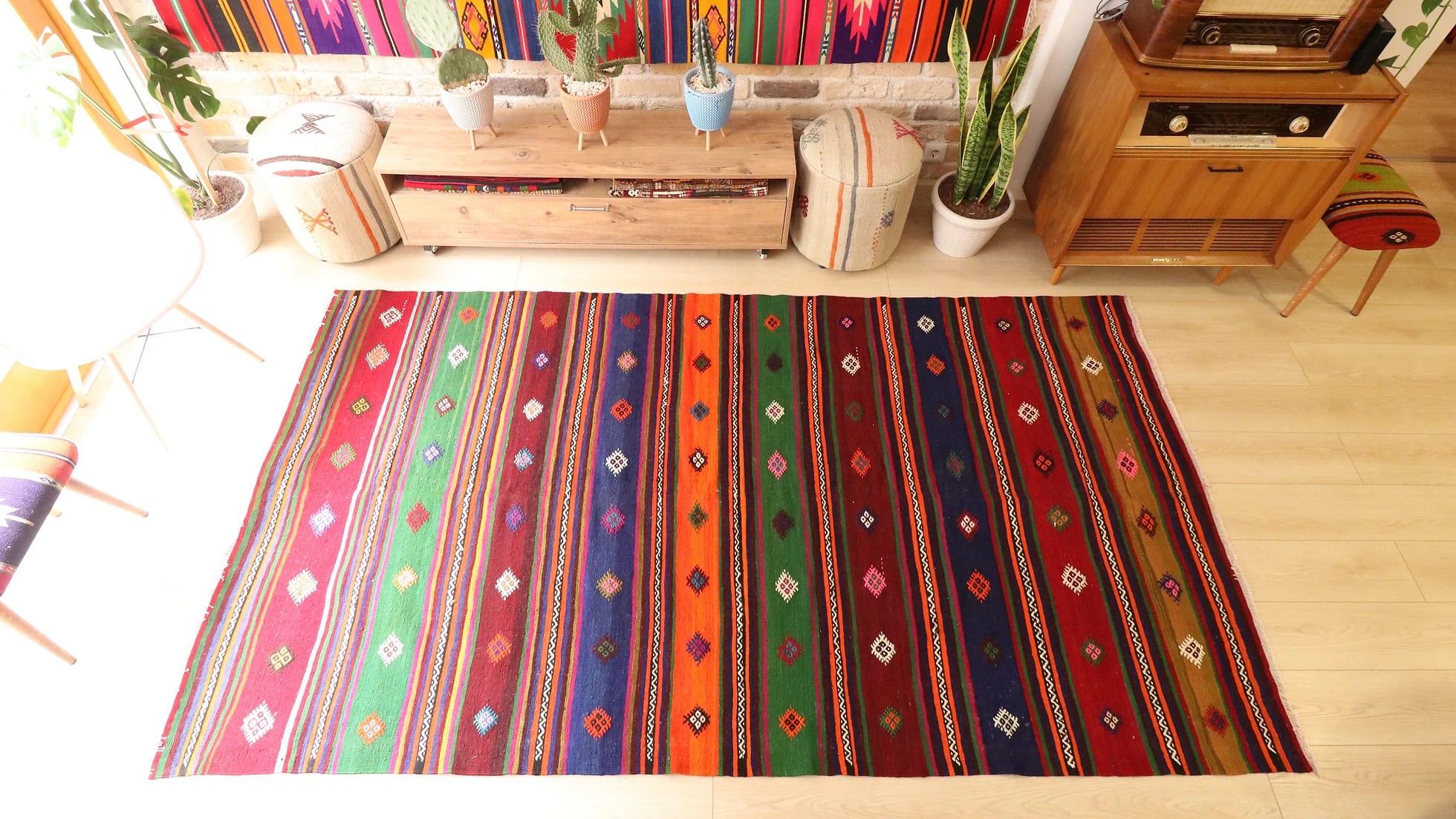 Vintage Turkish Hand-Knotted Rug | Balikesir Striped Flat-Weave Rug in Earthy Tones 1960s
Sale price

$1,490.00
Regular price

$1,890.00
Choose options