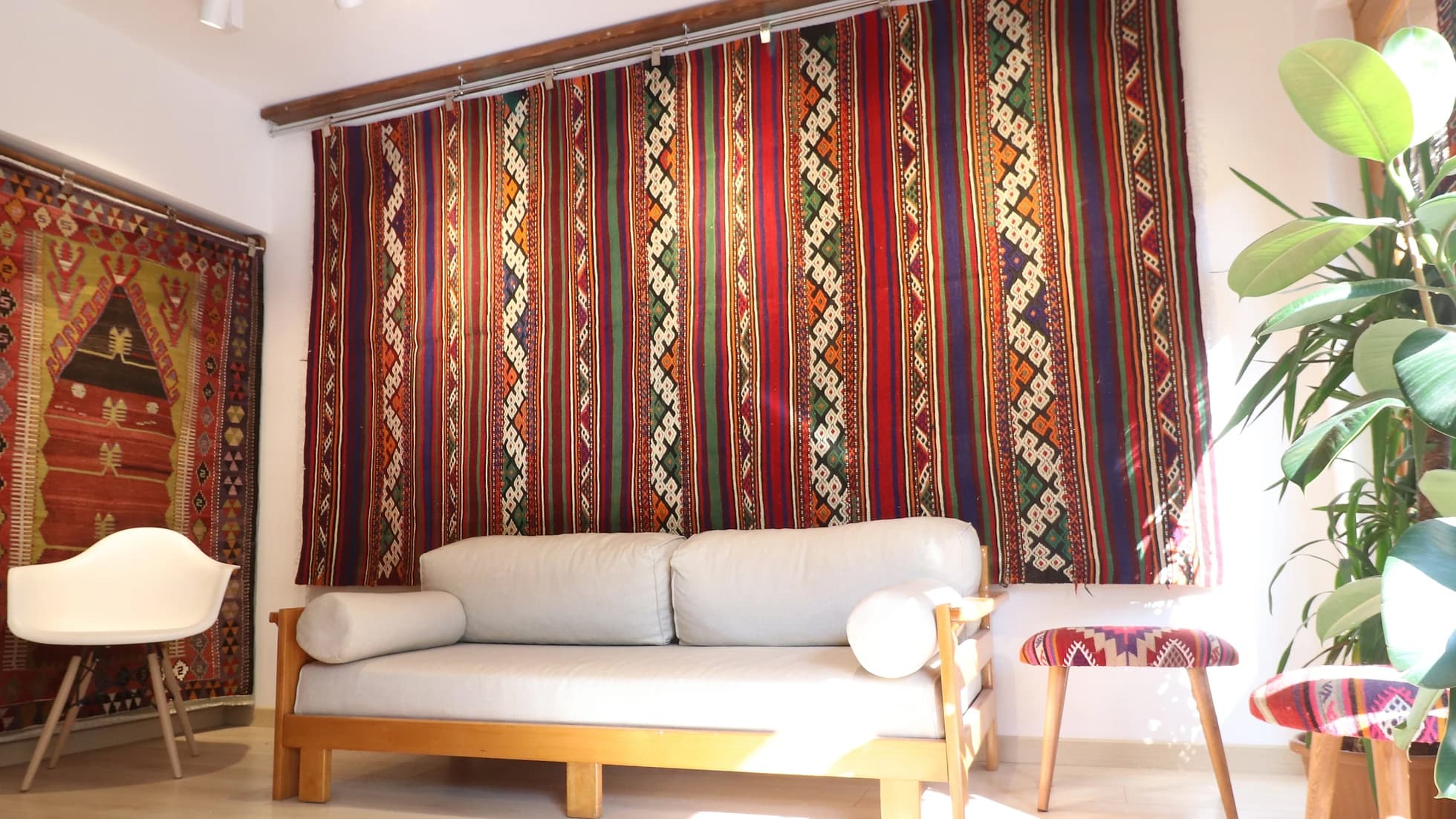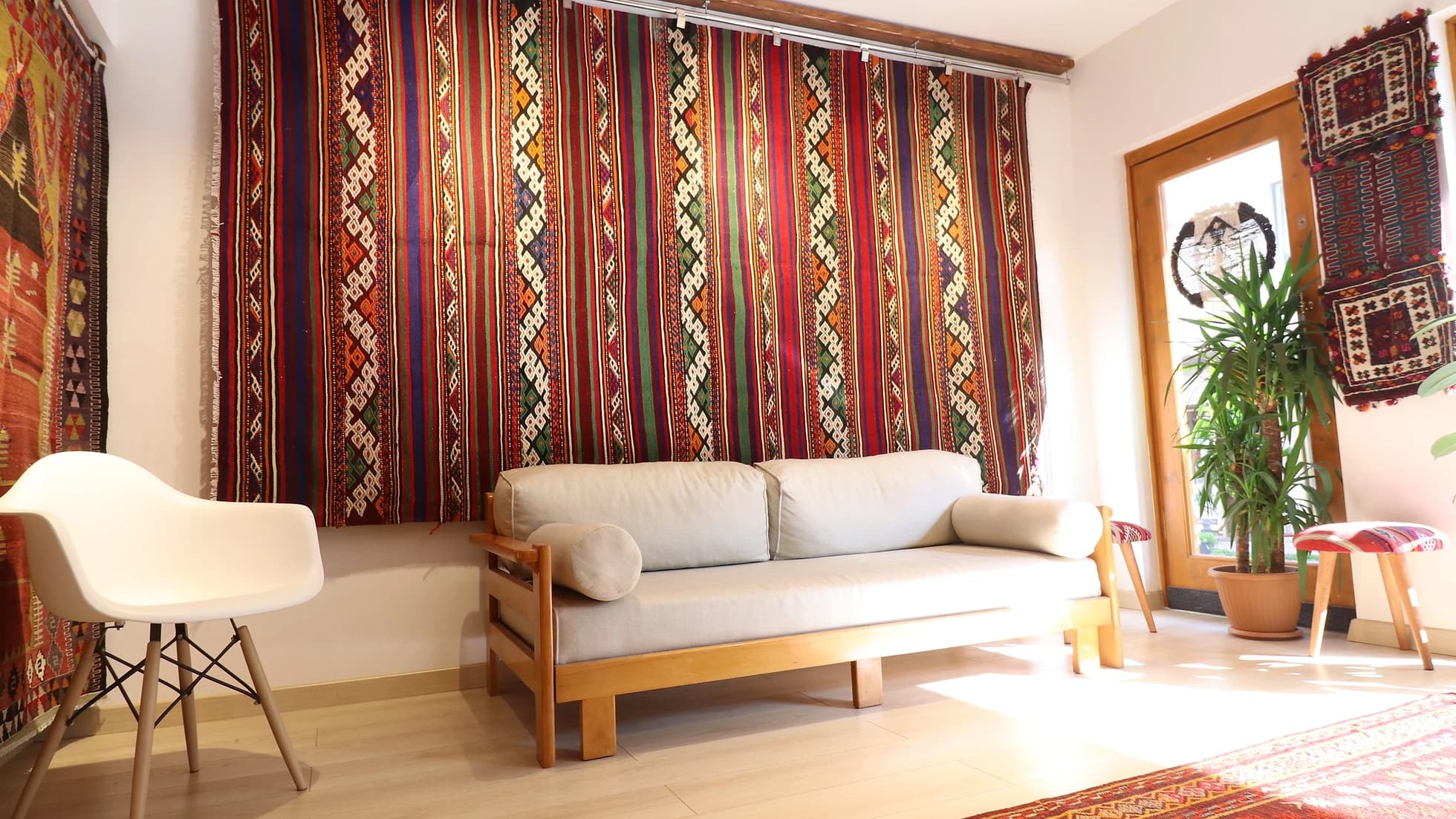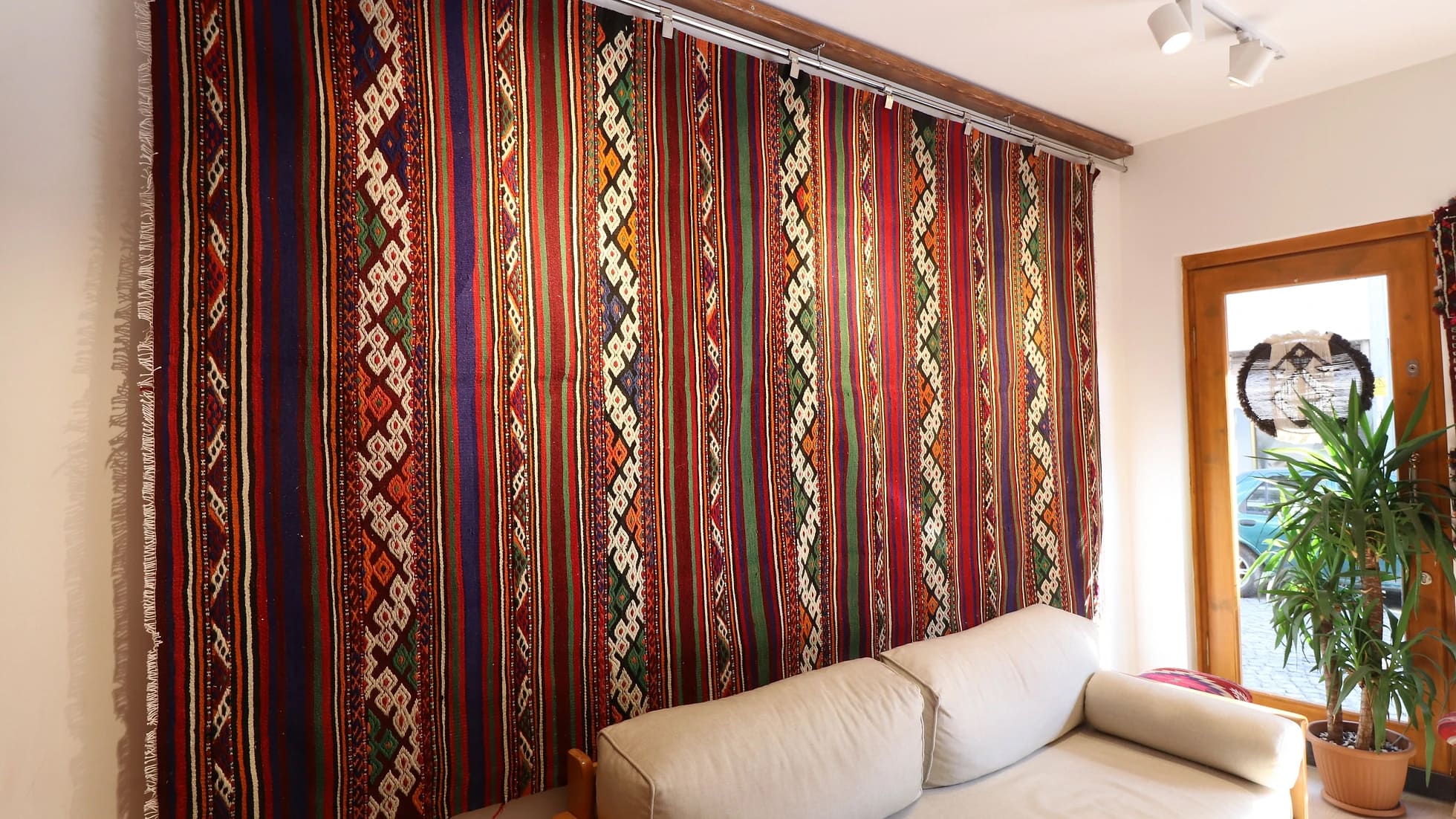 Vintage Turkish Hand-Knotted Rug | Balikesir Rustic Kilim in Muted Earthy Tones 1960s
Sale price

$1,990.00
Regular price

$2,490.00
(/)
---
Step into a world of timeless elegance with our Handwoven Vintage Kilim, a true masterpiece hailing from the heart of Balikesir, Turkey. This extraordinary piece of art captures the essence of the mid-century era, dating back to the 1960s, and stands unrivaled in its uniqueness and craftsmanship.

At a generous 6x11 size, this kilim area rug is a work of art that tells a story through its intricate patterns and vibrant colors. The multi-sectional pattern fragments, which are colorful stripes, are a true testament to the skilled local artisans who brought this kilim to life. But what sets this kilim apart are the sections where the stripes gracefully yield to small lozenge patterns, creating a mesmerizing zigzag effect reminiscent of "running water" motifs.

The color palette of this kilim is a visual feast for the eyes. Alongside natural earthy tones like rustic reds, earthy greens, rich browns, and soothing beiges, you'll discover a symphony of vibrant shades. Imagine the warmth of sunset captured in a hue of burnt orange, the deep mystique of the night in navy blue, and the regal charm of royalty in a shade of royal purple.

Versatile and adaptable, this handwoven vintage kilim finds its place in various settings throughout your home. From large kitchens to inviting living rooms, elegant dining rooms to welcoming hallways, graceful entryways to cozy bedrooms, and even art-filled galleries – the possibilities are endless. No matter where you choose to place it, this kilim will infuse its charm and character into your space.

As for style compatibility, this kilim is a true chameleon. It seamlessly complements rustic, vintage, and mid-century interiors, adding a touch of boho-chic allure. It also finds a perfect match in modern farmhouse and southwestern decors, effortlessly blending in with their aesthetics. But don't let its adaptability stop there; it's equally at home in maximalist, eclectic, or transitional interiors, adding a burst of personality and sophistication.

Elevate your living spaces with this one-of-a-kind Handwoven Vintage Kilim from Balikesir, Turkey, and experience the transformative power of artistry, history, and craftsmanship beneath your feet. Unmatched in its beauty, this kilim rug is more than just a floor covering; it's a conversation starter, a piece of history, and a testament to the enduring art of handweaving. Bring home this extraordinary kilim and make a statement that transcends time and trends.
Age: 1960s

Condition: Excellent

Dimensions: 6' 5" W x 11' 1" L

Floor Heating Safe: Yes

Material: Wool on cotton

Origin: Balikesir, Turkey

Primary Color: Muted earthy tones

Product Care: Vacuum clean gently or professional cleaning

Shape: Rectangle

Style: Yuruk style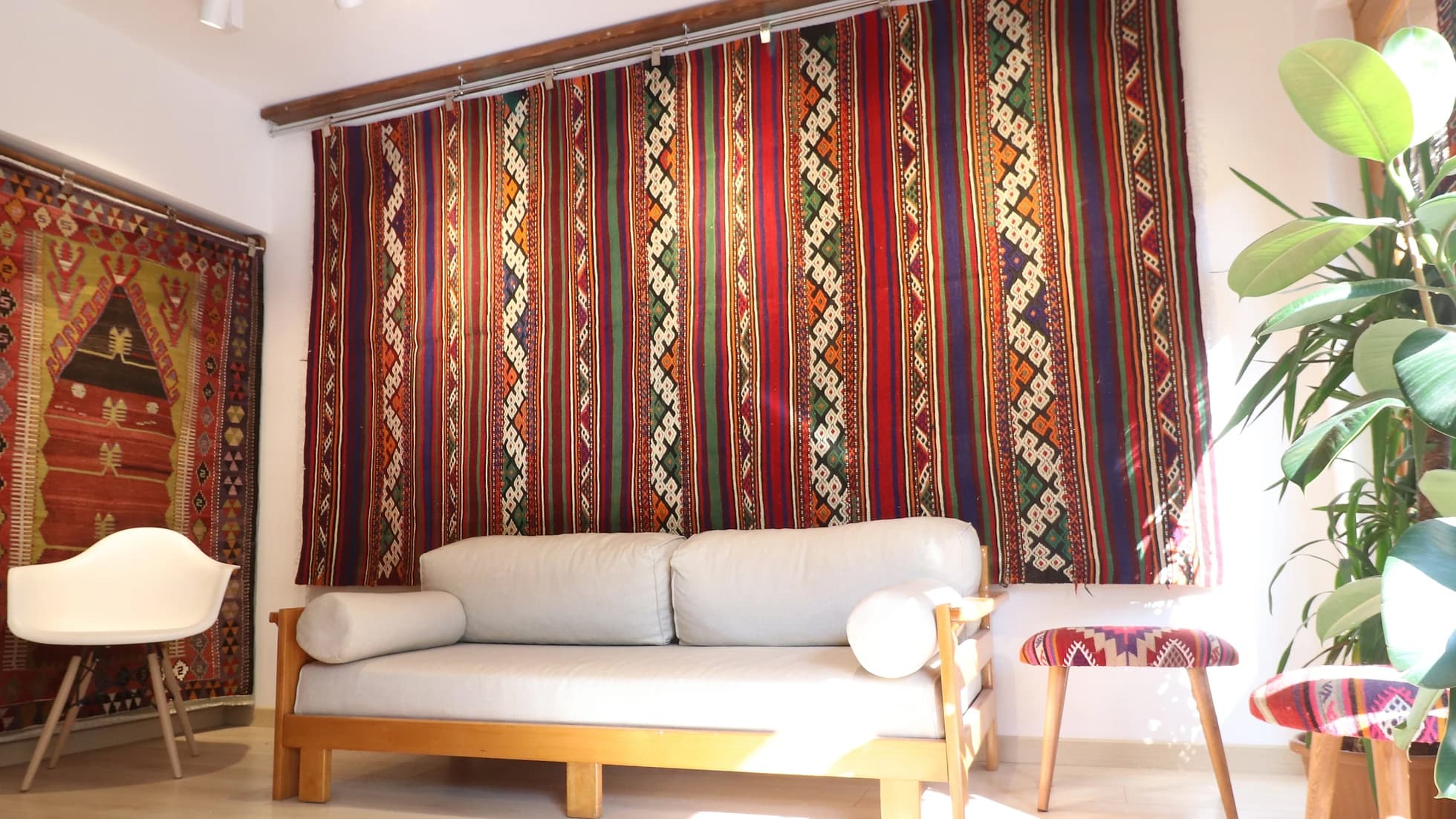 Vintage Turkish Hand-Knotted Rug | Balikesir Rustic Kilim in Muted Earthy Tones 1960s
Sale price

$1,990.00
Regular price

$2,490.00
Choose options