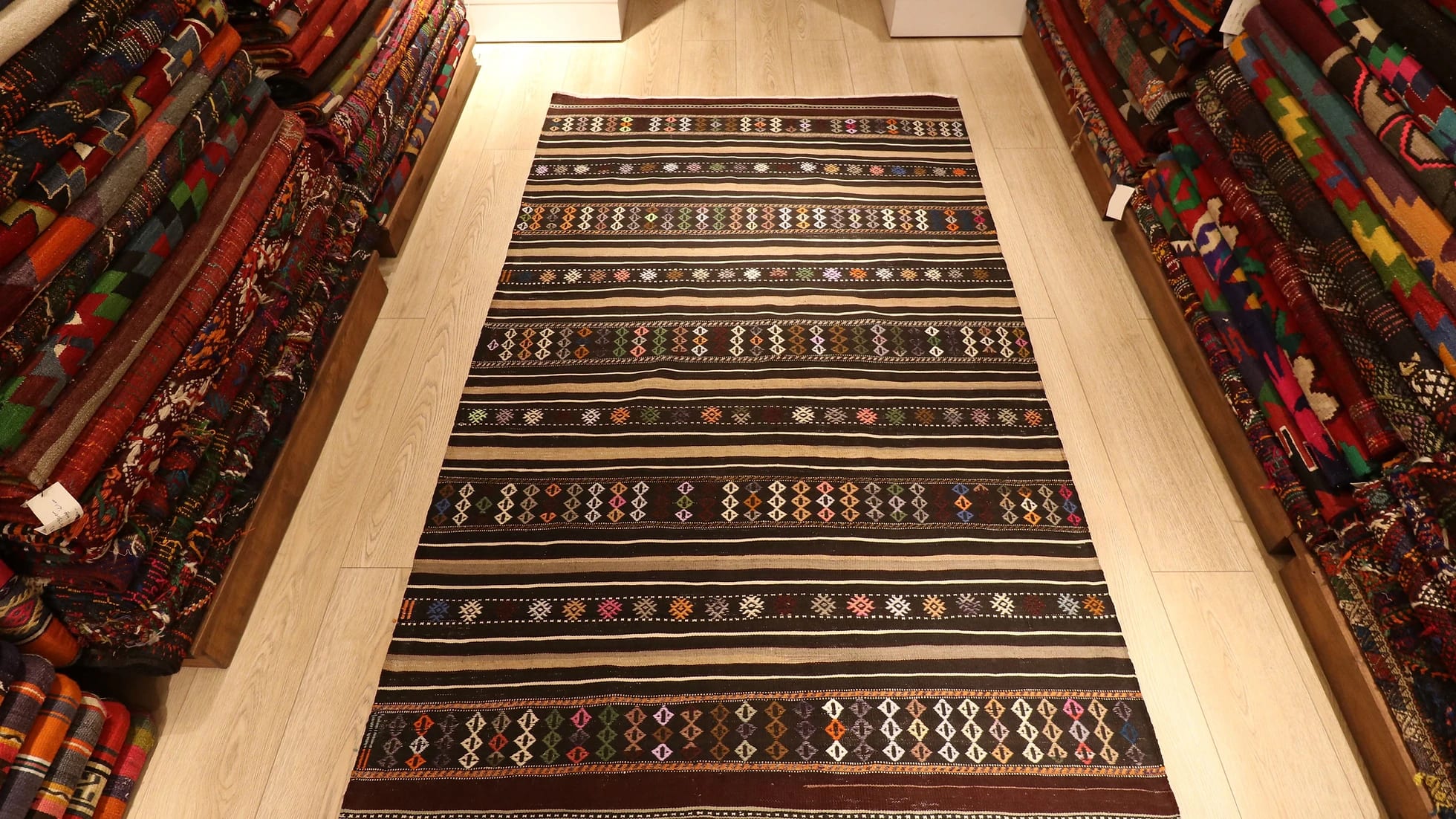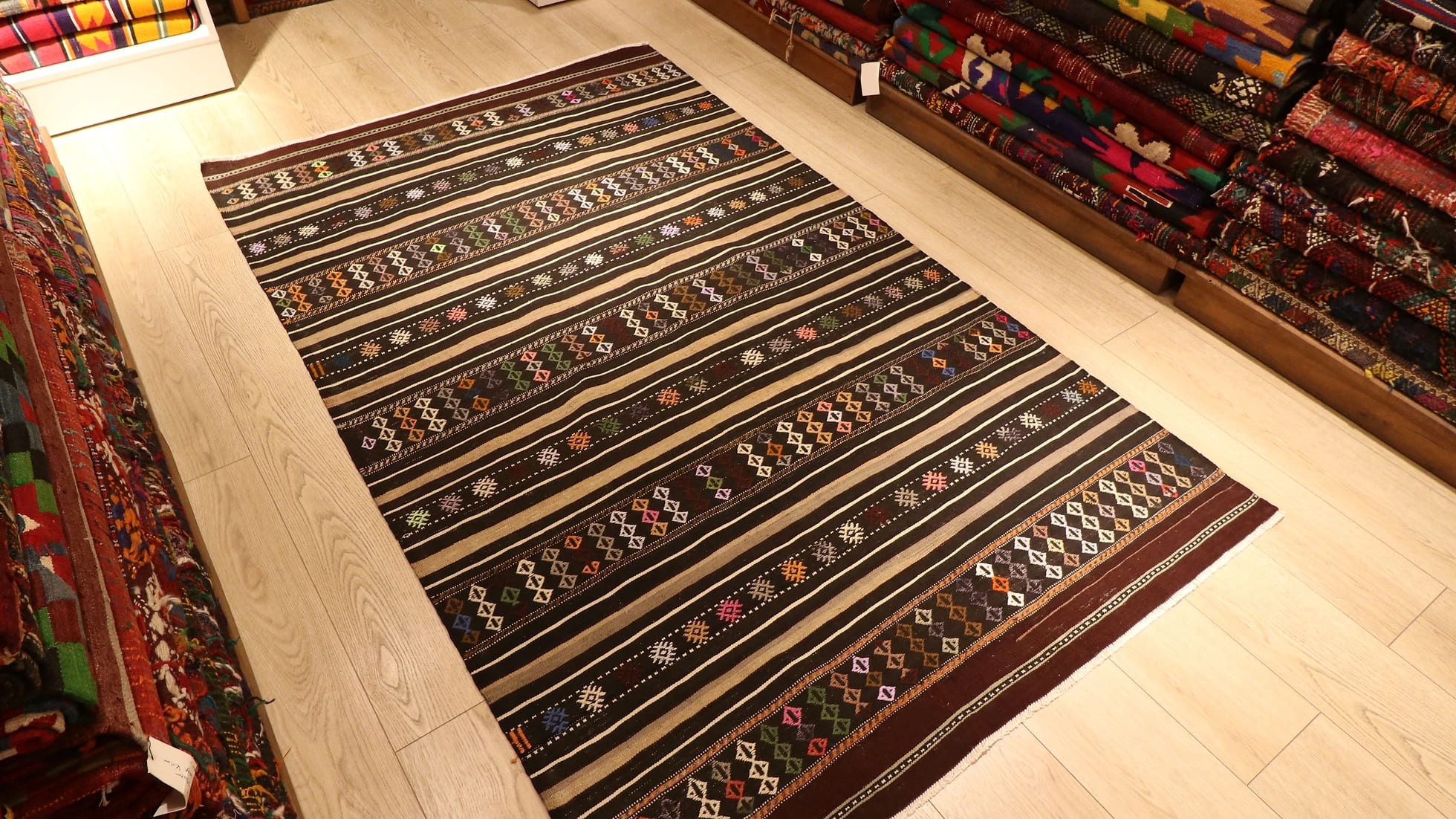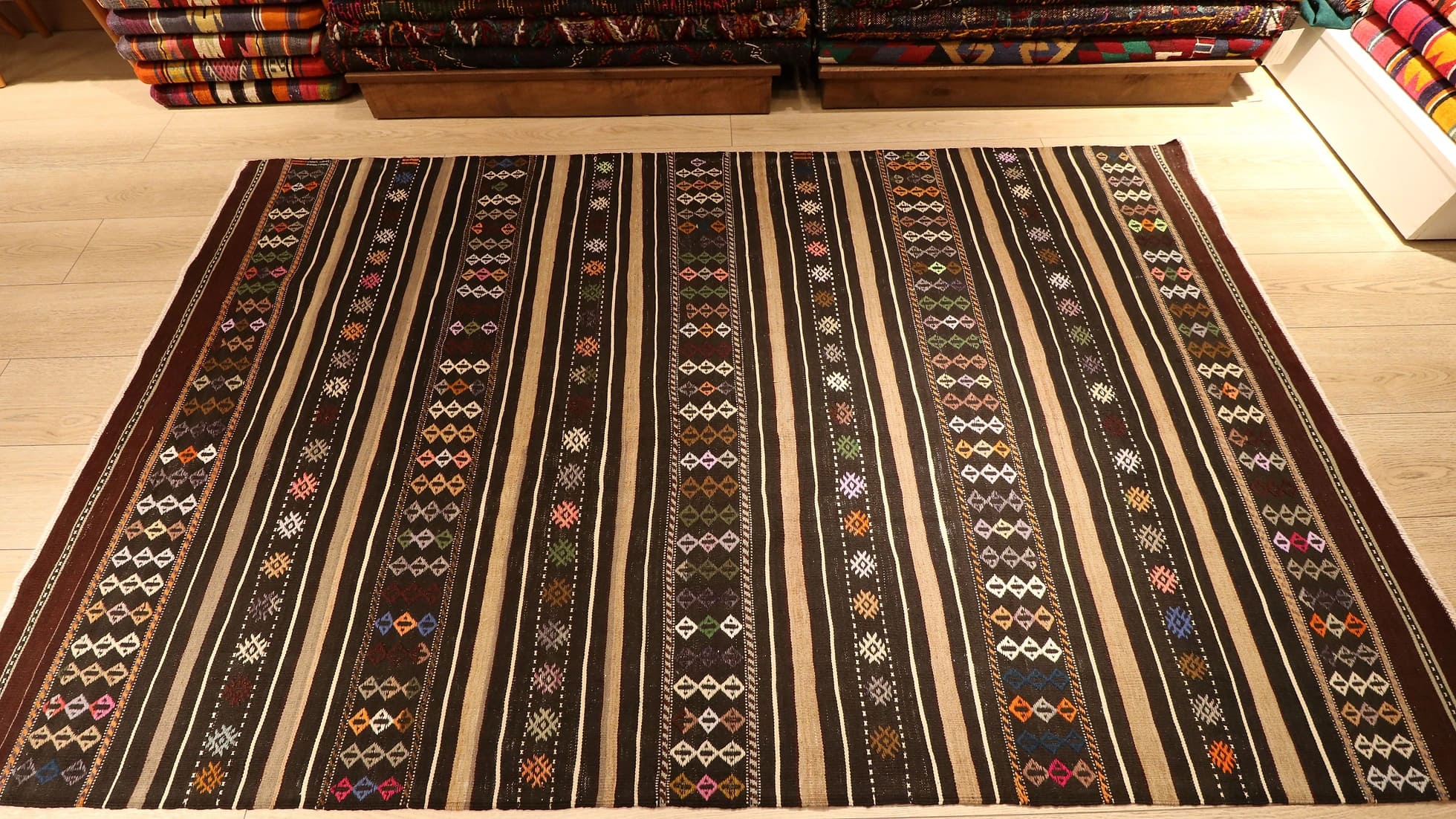 Vintage Turkish Hand-Knotted Rug | Balikesir Geometric Flat-Weave Rug in Taupe / Beige 1960s
Sale price

$1,990.00
Regular price
(/)
---
Allow us to present our Mid-Century Vintage Turkish Tribal Rug, a veritable masterpiece hailing from the storied town of Balikesir, Turkey. This rug transcends mere ornamentation, for it is an embodiment of cultural heritage and craftsmanship, guaranteed to impart your living space with an unparalleled aura of personality and character.

Artisanally conceived in the heart of Anatolia, this resplendent nomadic rug unfurls a captivating tapestry of intricate geometric motifs, thoughtfully interwoven upon a sumptuously taupe canvas embellished with refined champagne beige stripes. These stripes, akin to the pastel hues of traditional Anatolian kilim motifs, serve as a testament to the rich artistic traditions that have been nurtured and refined for generations in the Balikesir region of Turkey.

Each strand within this woolen masterpiece has been fastidiously handwoven by skilled Anatolian women using wool, thus preserving the age-old techniques of rug weaving. The result is not merely an aesthetically dazzling rug but a testament to the enduring durability and longevity that inheres in artisanal craftsmanship. Employing high-quality materials and natural dyes ensures that the opulent, vibrant hues of this rug will retain their luster for years to come.

Spanning a substantial 4x7 in dimensions, this Turkish tribal flat-weave rug is exquisitely suited to grace any corner of your residence or place of business. Its history and allure, deeply rooted in the cultural tapestry of Anatolia, impart it with a timeless quality that effortlessly transcends the vagaries of fleeting fashion trends.

This nomadic rug is not a mere accoutrement; it is an indelible legacy poised to adorn your living room, bedroom, hallway, or entryway, bestowing upon your space an enduring allure suffused with cultural significance. It is impeccably suited for a wide array of interior settings, including modern farmhouse, rustic abodes, snug cottages, and eclectic design schemes. Embrace the enchantment of this Balikesir-born masterpiece, and allow its presence to elevate your surroundings to unprecedented echelons of sophistication and elegance.
Age: 1960s

Condition: Excellent

Dimensions: 4' 4" W x 7' 0" L

Floor Heating Safe: Yes

Material: Wool on cotton

Origin: Balikesir, Turkey

Primary Color: Polychromatic

Product Care: Vacuum clean gently or professional cleaning

Shape: Rectangle

Style: Yuruk style
Choose options