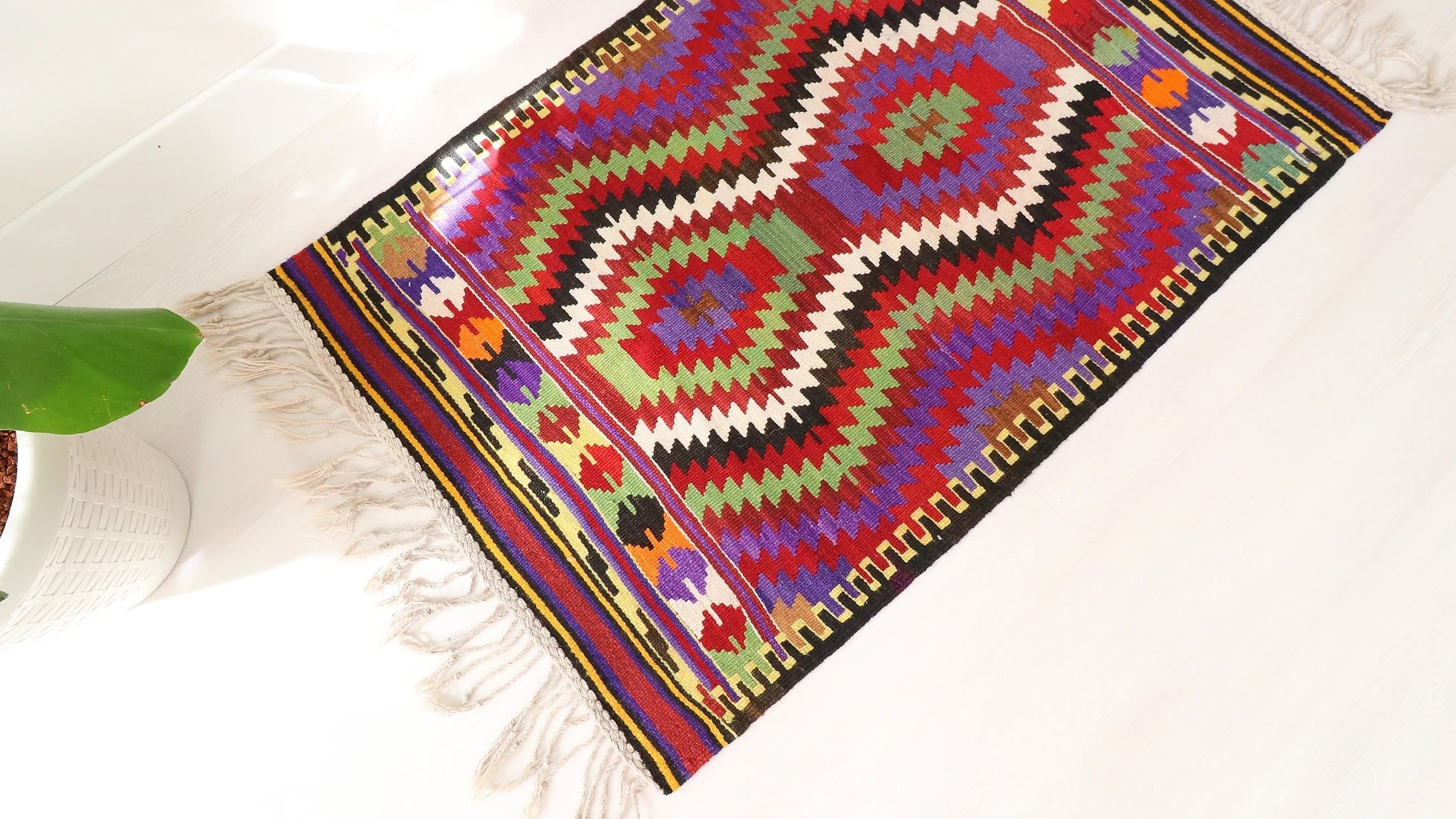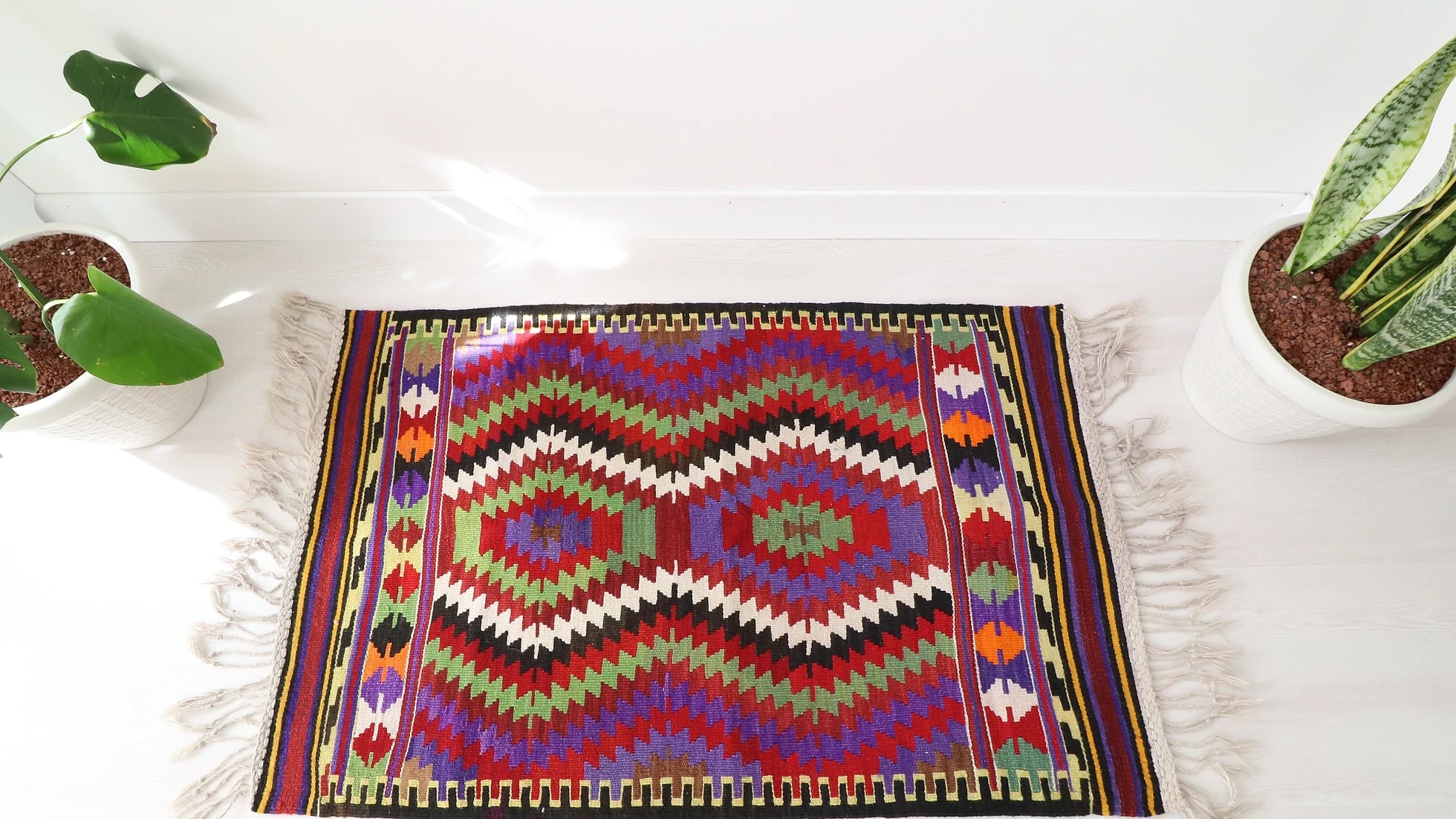 Vintage Turkish Hand-Knotted Rug | Antalya Modern Kilim in Polychromatic Lozenge Patterns 1960s
Sale price

$690.00
Regular price

$890.00
(/)
---
Step into the world of elegance and tradition with our 1960s Vintage Turkish Hand-Knotted Rug, a true masterpiece that encapsulates the artistry of Turkish rug-making. Hailing from the enchanting city of Antalya, this rug is a testament to the craftsmanship of local women artisans who lovingly handwove it during the mid-20th century. This geometric rug adorned with mesmerizing polychromatic lozenge patterns, beckons you to an era when craftsmanship and intricate design were the hallmarks of every creation.

The first thing that catches your eye is the contemporary palette that adorns this rug, a rich symphony of colors that includes regal purples, vibrant greens, and passionate reds. These hues intertwine harmoniously to craft a mesmerizing tapestry of symmetry, evoking a visual delight that is truly unparalleled. The lozenges at the center are elegantly highlighted with a pristine white accent and a striking black contrast, adding depth and character to this masterpiece.

As your gaze travels along its length, you can't help but be captivated by the flawless symmetry of the design. Every element falls into place with precision, creating a visual rhythm that is soothing and enchanting. The canvas is skillfully enclosed with a border that boasts traditional Anatolian motifs - the "fetter" along its width and the "comb" along its length. These motifs pay homage to centuries of Anatolian craftsmanship and lend a sense of timeless beauty to this rug.

Measuring a perfect 2x4 feet, this rug is as versatile as it is captivating. Whether you place it in your kitchen, your entryway, or any small area in your home, it effortlessly adds a pop of color and a touch of cultural charm. Its compact size allows you to infuse any space with a dash of Turkish mystique, creating an ambiance that is both captivating and inviting.

This flat-woven rug is not just a testament to the past; it is a bridge to the present and future of interior design. Its vivid and vibrant design lends itself seamlessly to modern, eclectic, transitional, Southwestern, and maximalist interior design projects. It's a testament to the enduring allure of the Turkish artistic tradition, a heritage that continues to inspire and mesmerize.

Embrace the magic of the 1960s Vintage Turkish Hand-Knotted Rug and make a statement that transcends time and trends. With its mesmerizing geometric kilim patterns, contemporary palette, and rich Anatolian motifs, this rug is more than a piece of decor; it's a work of art that brings history and culture into your home. Experience the symmetrical elegance, the vivid colors, and the timeless beauty of this exceptional creation, and make it the centerpiece of your living space.
Age: 1960s

Condition: Excellent

Dimensions: 2' 5" W x 3' 10" L

Floor Heating Safe: Yes

Material: Wool on cotton

Origin: Antalya, Turkey

Primary Color: Polychromatic

Product Care: Vacuum clean gently or professional cleaning

Shape: Rectangle

Style: Contemporary style
Vintage Turkish Hand-Knotted Rug | Antalya Modern Kilim in Polychromatic Lozenge Patterns 1960s
Sale price

$690.00
Regular price

$890.00
Choose options