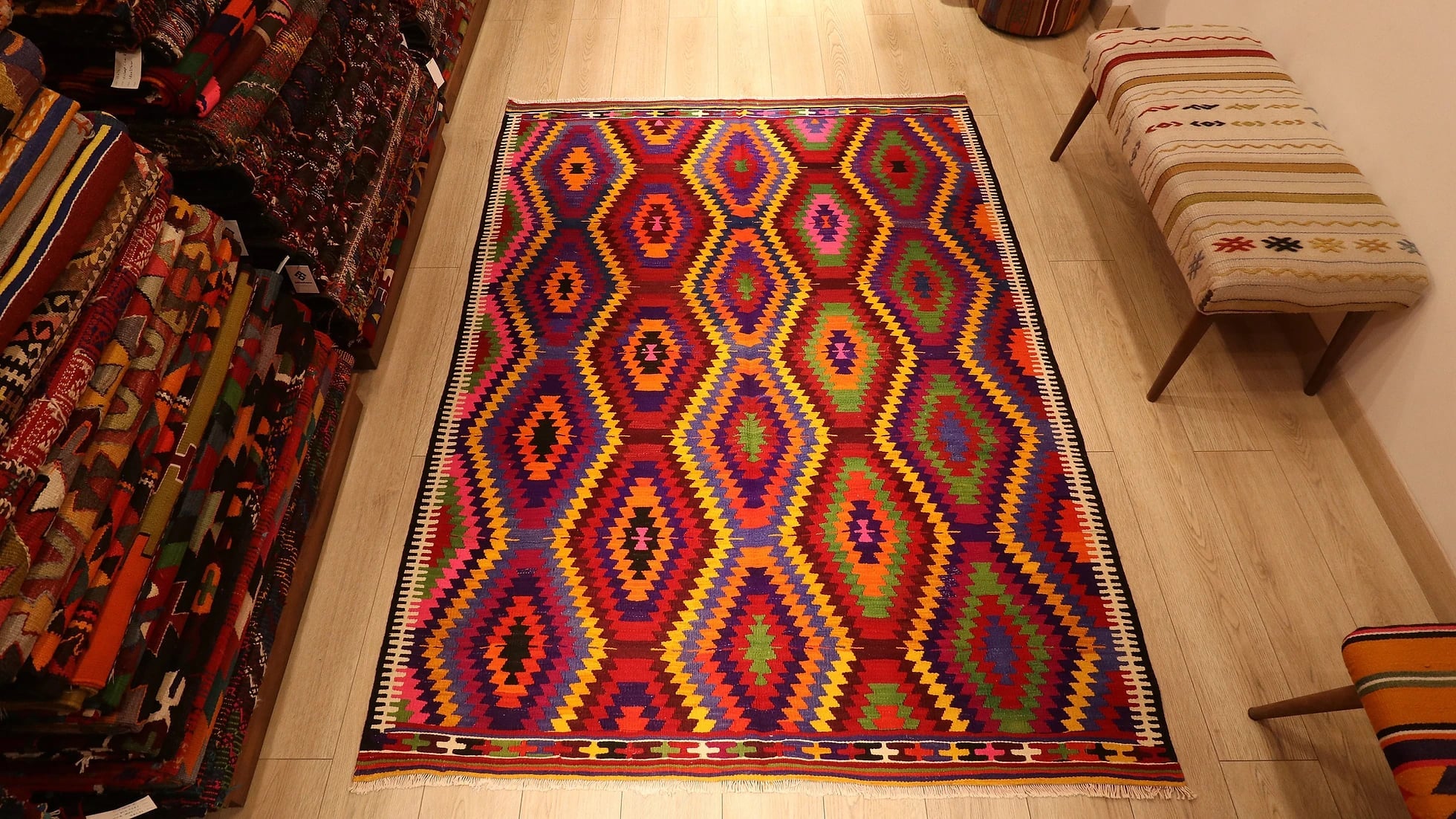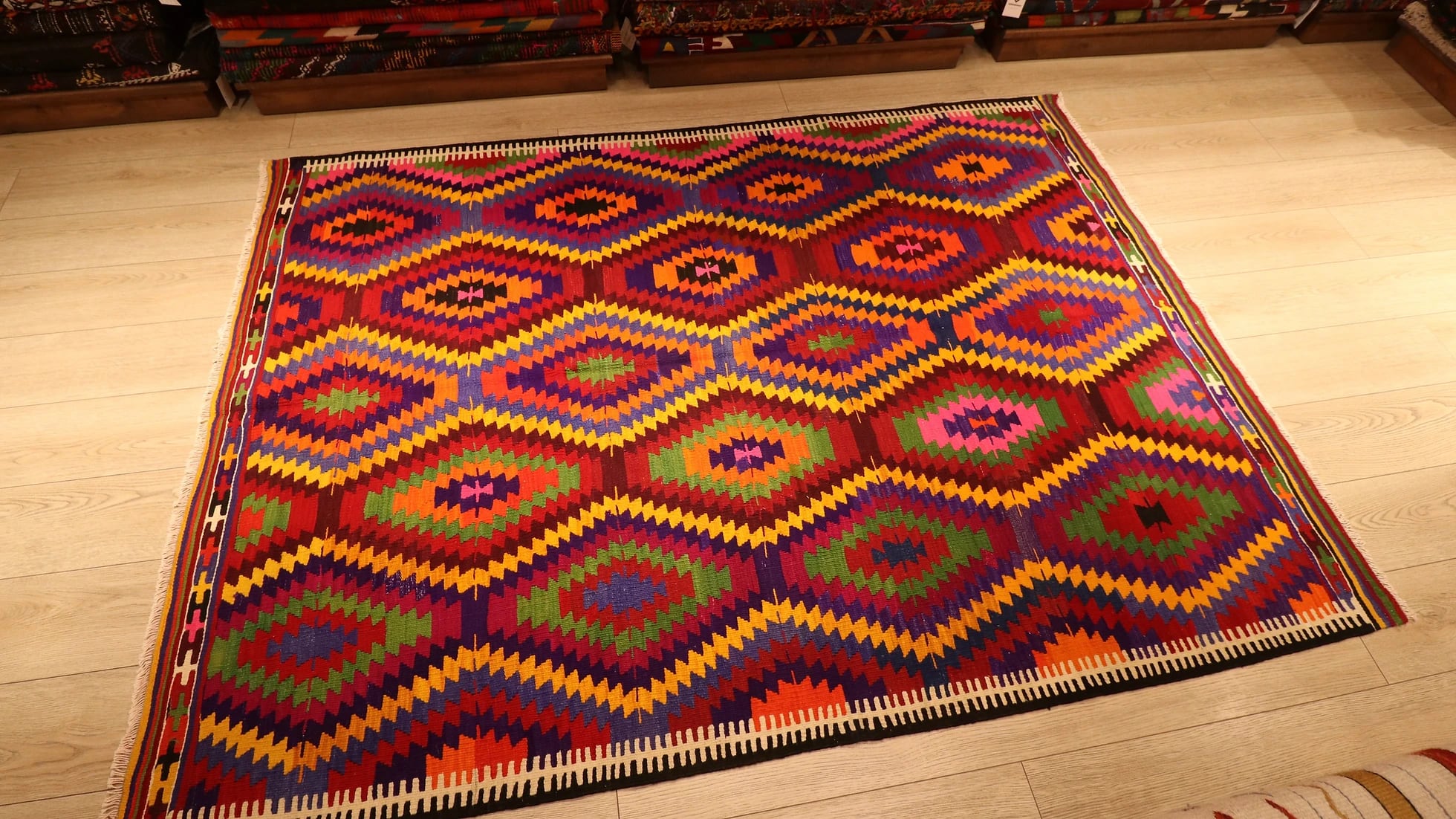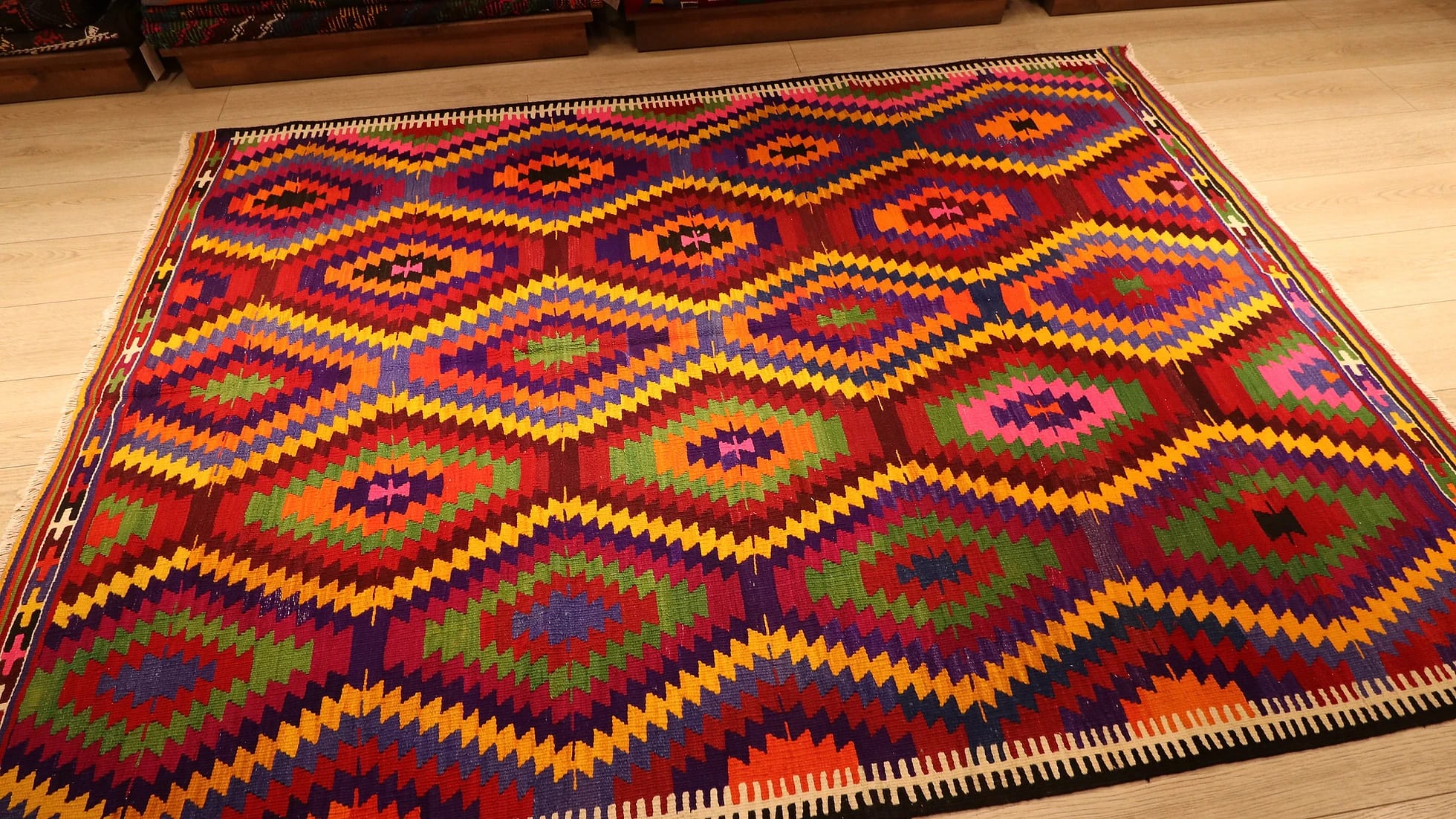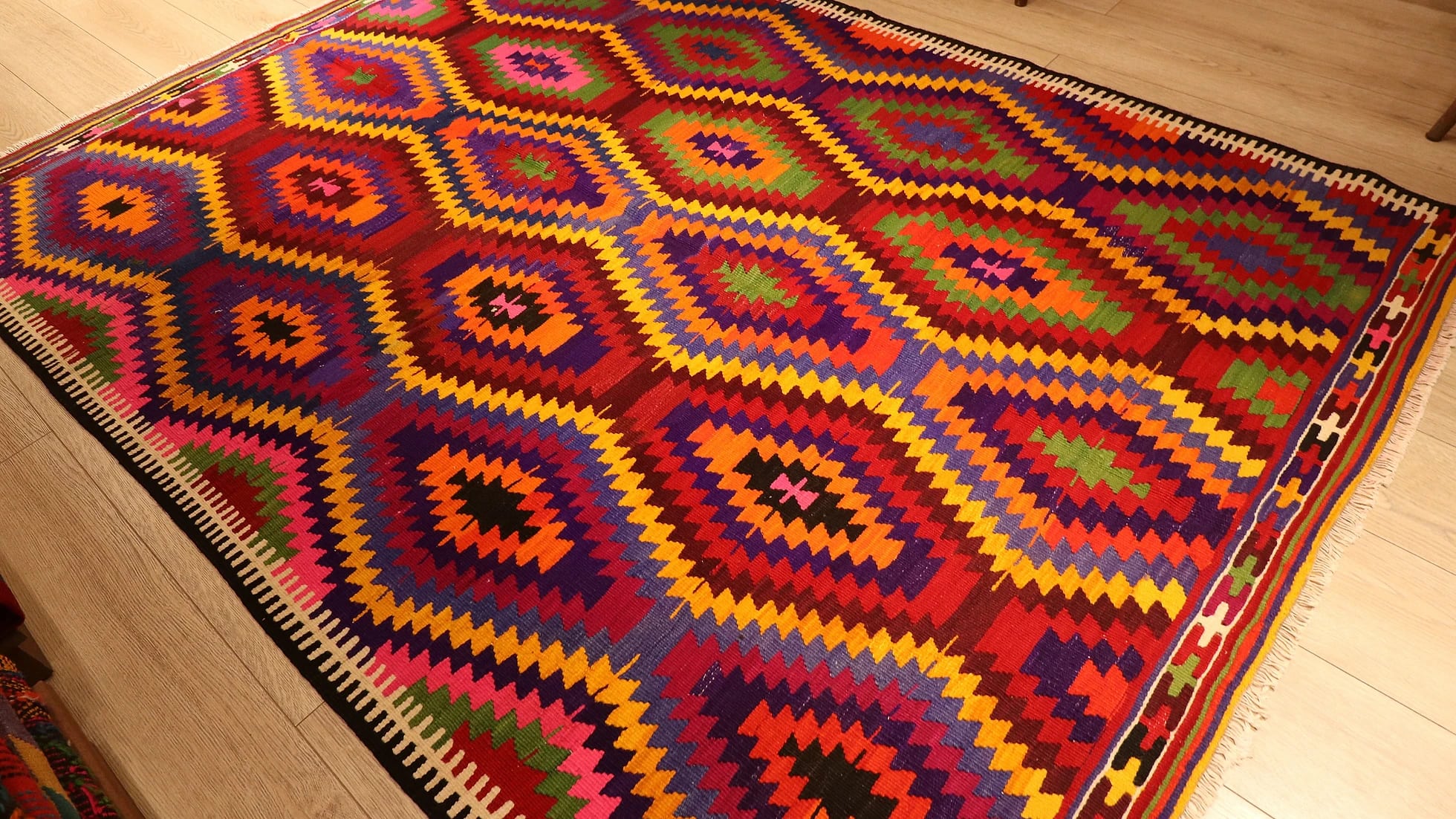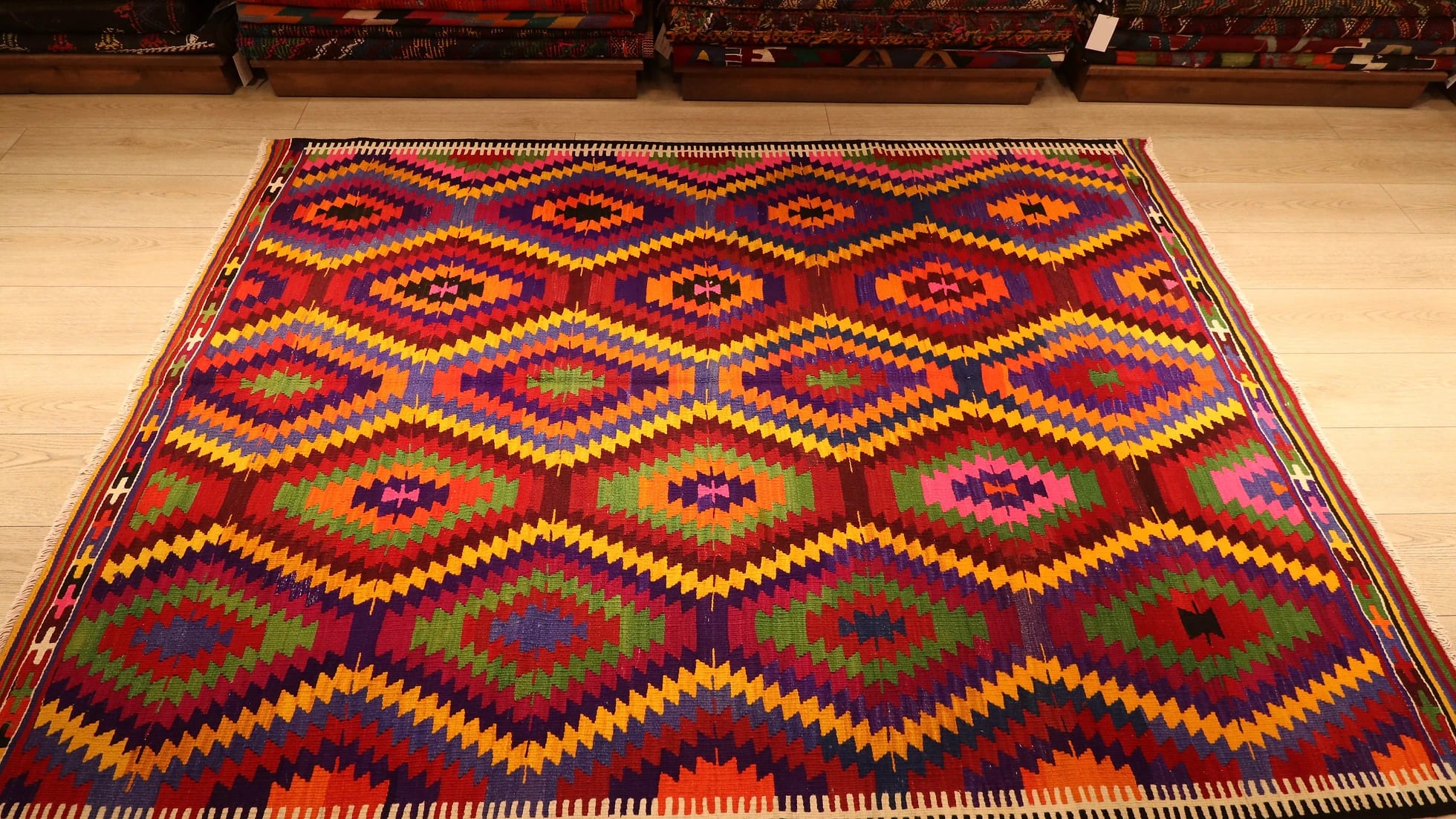 Vintage Turkish Hand-Knotted Rug | Antalya Polychromatic Kilim in Diamond Patterns 1950s
Sale price

$2,090.00
Regular price
(/)
---
Embark on a visual journey with our Mid-Century Flat-Woven Rug, a vibrant relic from the artistic tapestry of 1950s Turkey, specifically hailing from the sun-soaked city of Antalya in the Mediterranean region. Immerse yourself in a kaleidoscope of colors, each shade carefully chosen to create a mesmerizing canvas reminiscent of a bygone era. Picture yourself surrounded by the rich warmth of sunset rouge, the energetic embrace of citrine burst, the earthy allure of olive grove, the serene coolness of sapphire dream, and the regal sophistication of amethyst velvet.

This flat-weave rug transcends time, boasting an all-over diamond pattern that transforms its surface into a captivating work of art. Despite its age, the rug exudes a contemporary allure, a testament to the enduring elegance of Turkish craftsmanship. Preserved meticulously over the years, it emerges from the depths of our chests, untouched and waiting to grace your living space.

At a convenient and versatile 5x7 feet, this rug defies convention with its almost-square dimensions—an unusual and distinctive feature among Turkish kilims. Adorning both sides of its length are traditional "comb" motifs, adding a touch of heritage to its already remarkable design. Along its width, minimal tassels/fringes frame the edges, a subtle accent that completes the rug's aesthetic charm.

Transform any space into a gallery of sophistication as this magnificent rug finds its place in your living room, doorway, entryway, dining room, guest room, lounge, offices, and even galleries. Lay it beneath your feet for a touch of opulence, or elevate your interior design by hanging it on the wall as a tapestry. Versatility knows no bounds as this rug seamlessly complements various design styles—maximalist, minimalist, contemporary, transitional, or boho-chic.

Indulge your senses in the allure of this Mid-Century Modern Rug—a piece that transcends time, a symphony of colors that harmonize with every interior. Elevate your living spaces with a touch of history, sophistication, and unmatched beauty. Impress, inspire, and make it yours today, a piece of Antalya's vibrant soul now gracing your home.
Age: 1950s

Condition: Excellent

Dimensions: 5' 4" W x 7' 5" L

Floor Heating Safe: Yes

Material: Wool on cotton

Origin: Antalya, Turkey

Primary Color: Polychromatic

Product Care: Vacuum clean gently or professional cleaning

Shape: Rectangle

Style: Contemporary style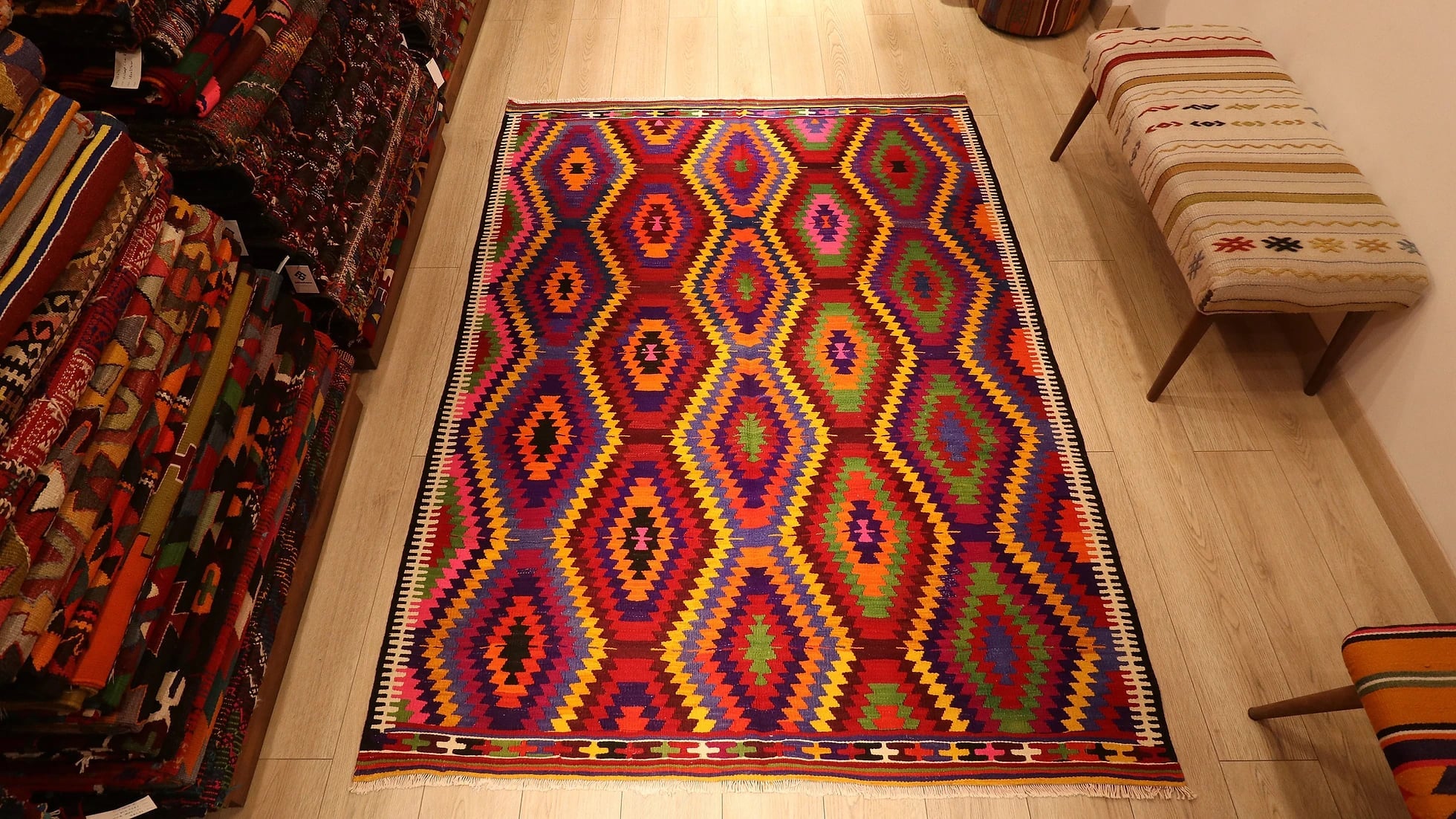 Vintage Turkish Hand-Knotted Rug | Antalya Polychromatic Kilim in Diamond Patterns 1950s
Sale price

$2,090.00
Regular price
Choose options