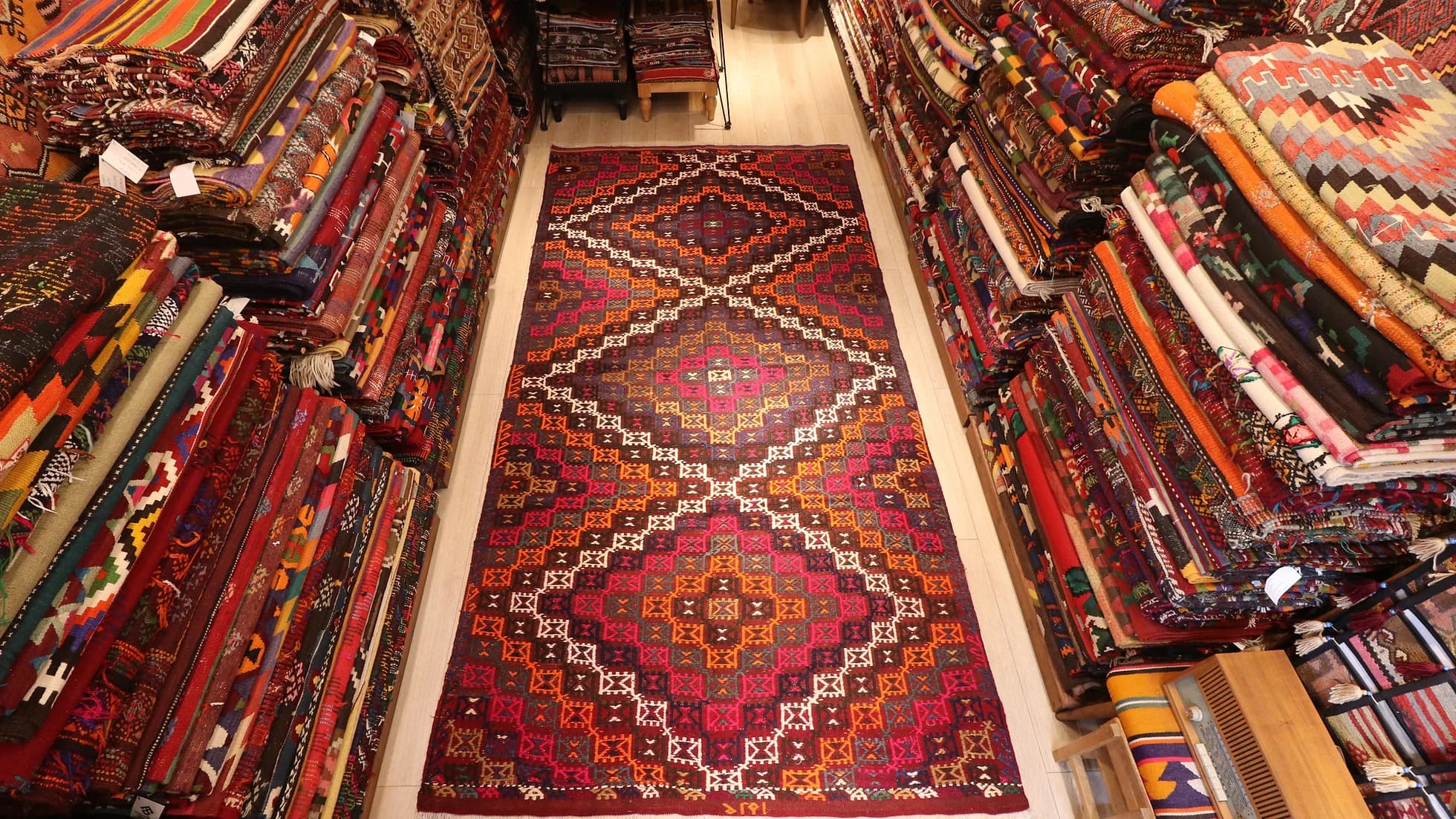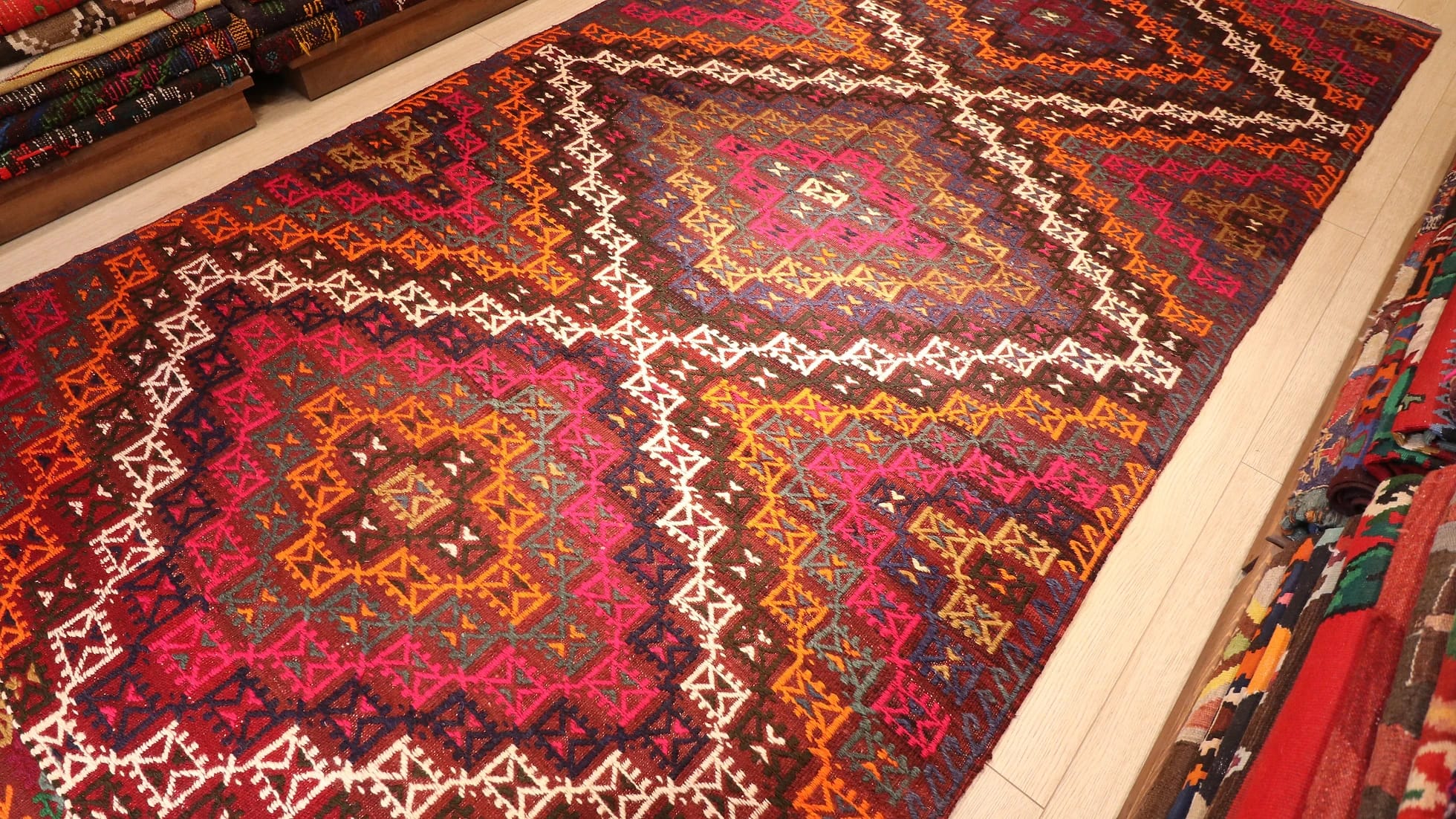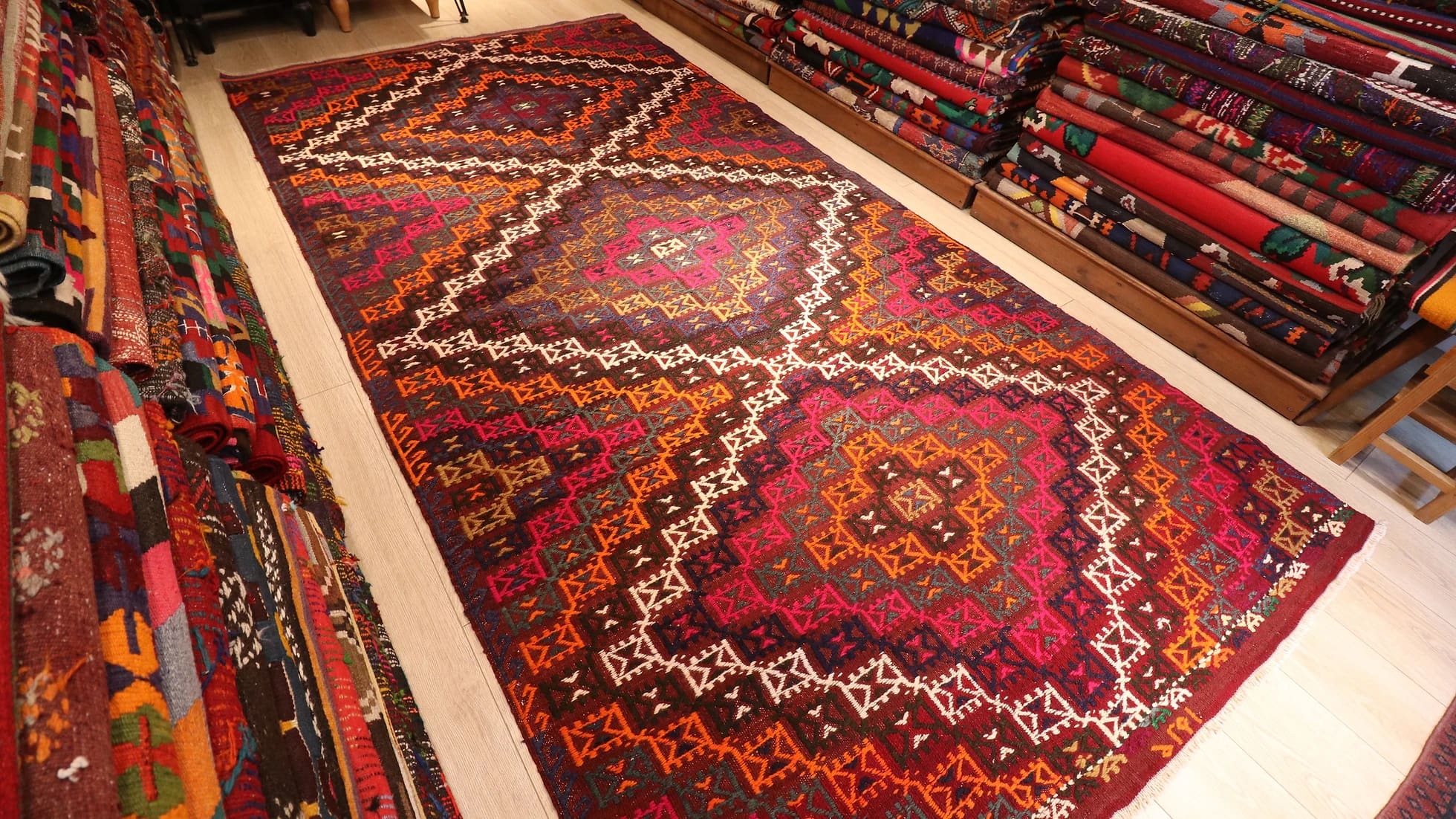 Vintage Turkish Hand-Knotted Gallery Rug | Manisa Diamond Cecim Kilim in Fuchsia / Orange / Red 1950s
Sale price

$1,990.00
Regular price

$2,490.00
(/)
---
Elevate your living space to a realm of timeless sophistication with our Vintage Mid-Century Cecim Runner. Nestled in the heart of New York City's most prestigious rug gallery, this masterpiece hails from the artisanal tapestries of Manisa, Turkey, where tradition and craftsmanship merge in a breathtaking symphony.

Handwoven with the exquisite Cecim technique, also known as cicim, jajim, jejim, or jijim, this tribal rug weaves together a tale of artistry and heritage. Immerse yourself in the captivating allure of giant diamond patterns, meticulously composed of small squared motifs, harmoniously converging to create a visual spectacle. It's a testament to the unparalleled skill of Anatolian women artisans, who have channeled their expertise into this magnificent creation.

The designer's discerning eye has carefully selected a palette of natural earthy tones, with pastel fuchsia, orange, and brick red hues elegantly interplaying with serene white accents. The result is a striking contrast that breathes life into this exceptional design, enhancing its allure as a coveted collector's piece.

This geometric kilim rug, a relic of the mid-century era from the 1950s, boasts a generous size of 5x11, making it particularly suited for grand hallways, majestic entryways, or the refined ambiance of art galleries. What sets it apart is the seamless transition of color distribution within the patterns, creating a nuanced sense of movement that sets it apart from traditional flat weaves.

Our Turkish handwoven gallery rug is a true chameleon, blending seamlessly with diverse interior designs. Whether your home is an ode to the oriental, classic, Victorian, or a contemporary minimalism, this mid-century marvel effortlessly adapts to your vision. It's not just a rug; it's a statement, a testament to your discerning taste.

As you bring this woolen masterpiece into your space, you're inviting the legacy of Turkish craftsmanship to become a part of your home's narrative, forever lasting. Make your home and its inhabitants feel truly special with this enduring rug. Own the allure of fuchsia dawn, sunset orange, rustic brick red, and crisp ivory - a captivating piece of history that transcends time.

This is your chance to redefine luxury; seize it now. Your journey begins here, with the Vintage Turkish Hand-Knotted Gallery-Sized Rug. Cherish your home like never before.
Age: 1950s

Condition: Excellent

Dimensions: 5' 5" W x 10' 8" L

Floor Heating Safe: Yes

Material: Wool on cotton

Origin: Manisa, Turkey

Primary Color: Polychromatic

Product Care: Vacuum clean gently or professional cleaning

Shape: Rectangle

Style: Cecim style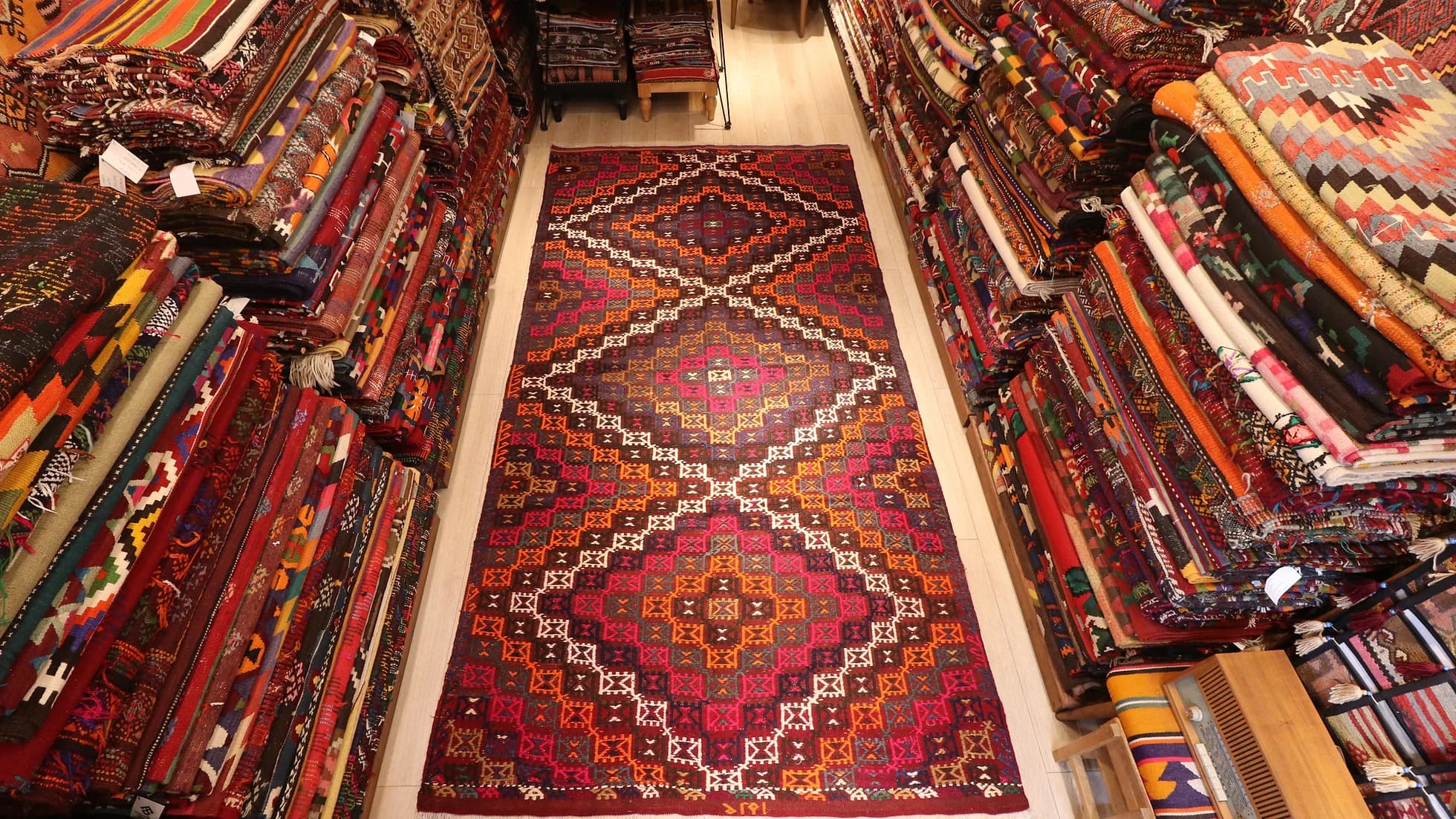 Vintage Turkish Hand-Knotted Gallery Rug | Manisa Diamond Cecim Kilim in Fuchsia / Orange / Red 1950s
Sale price

$1,990.00
Regular price

$2,490.00
Choose options