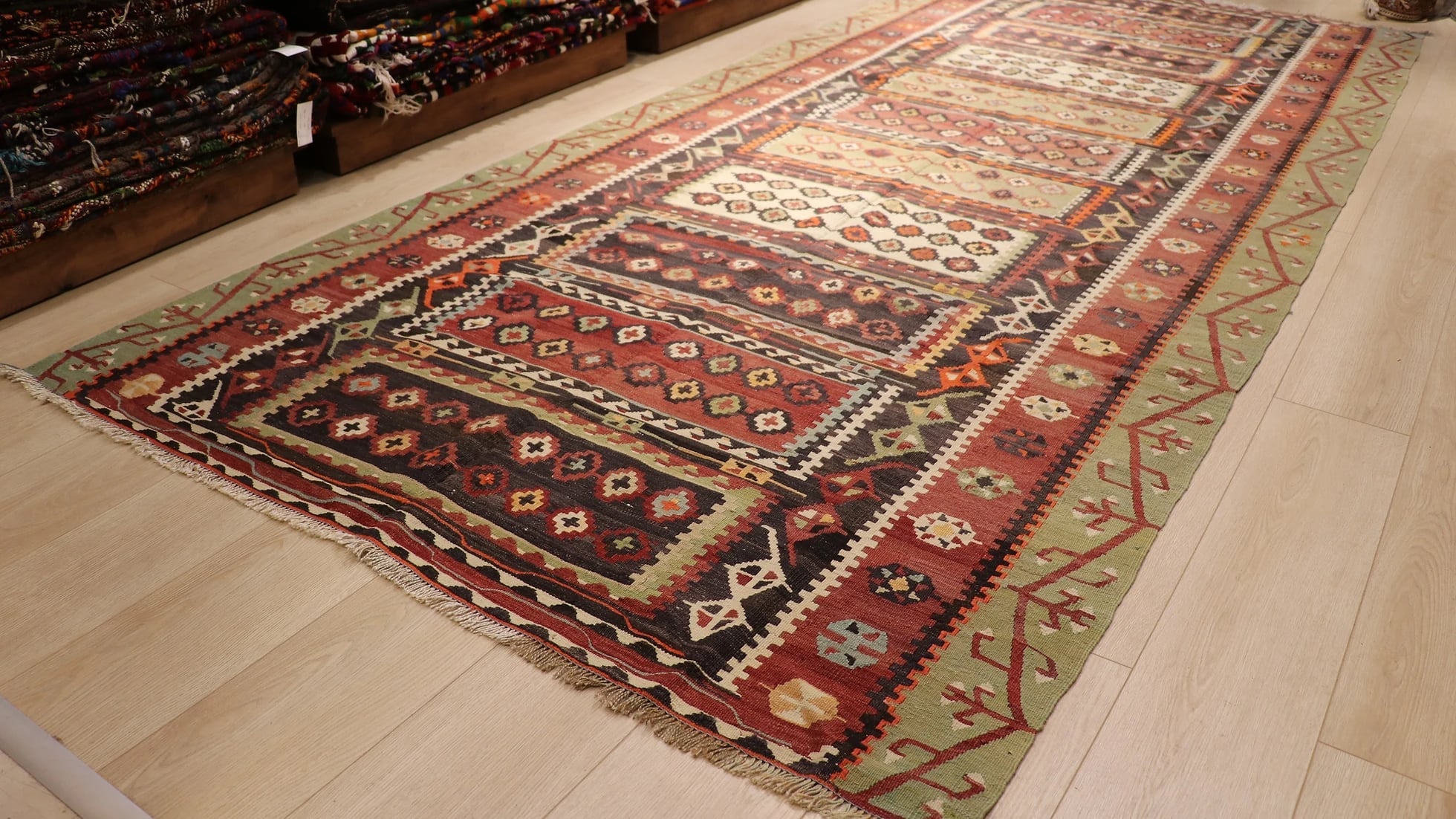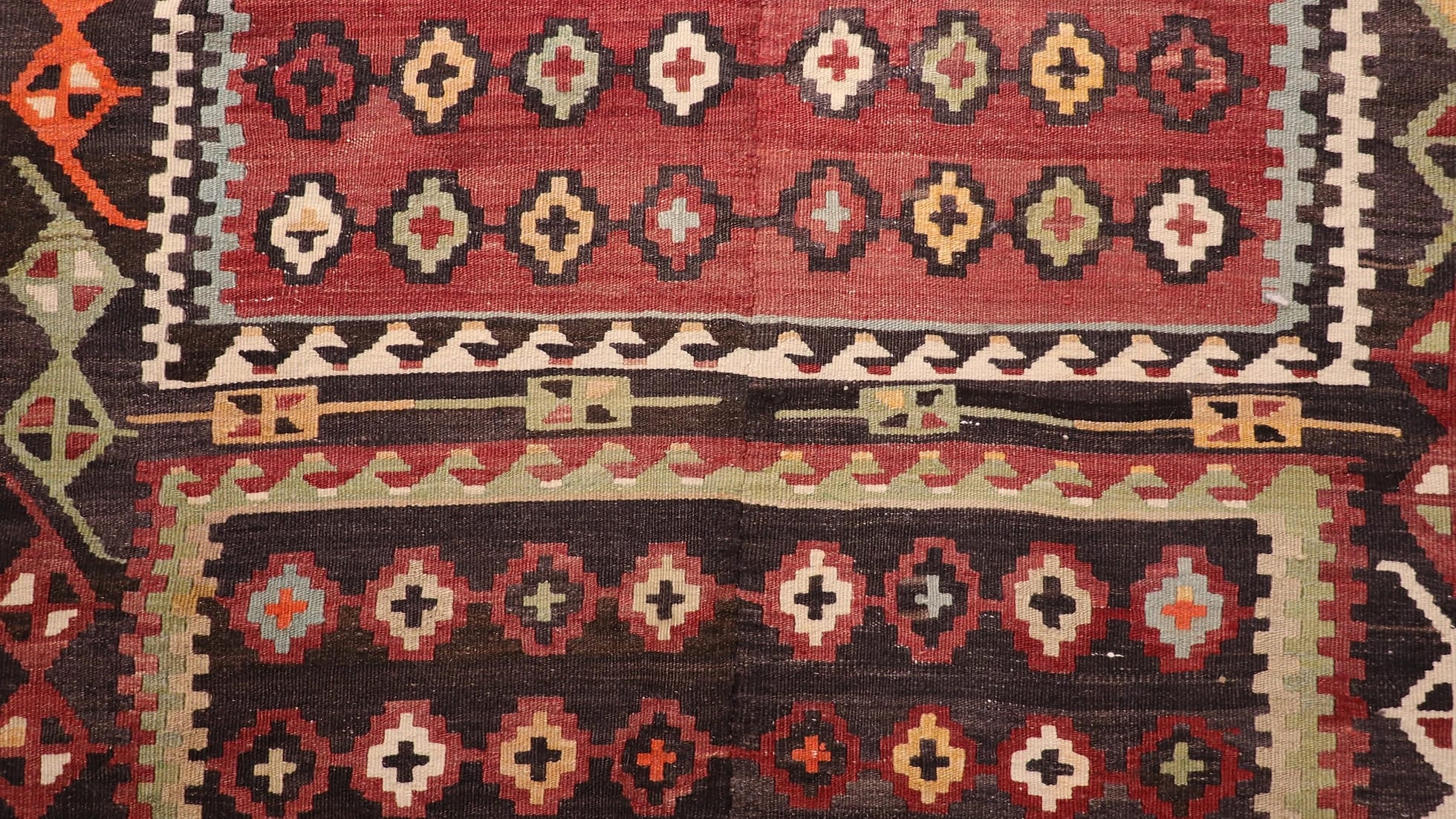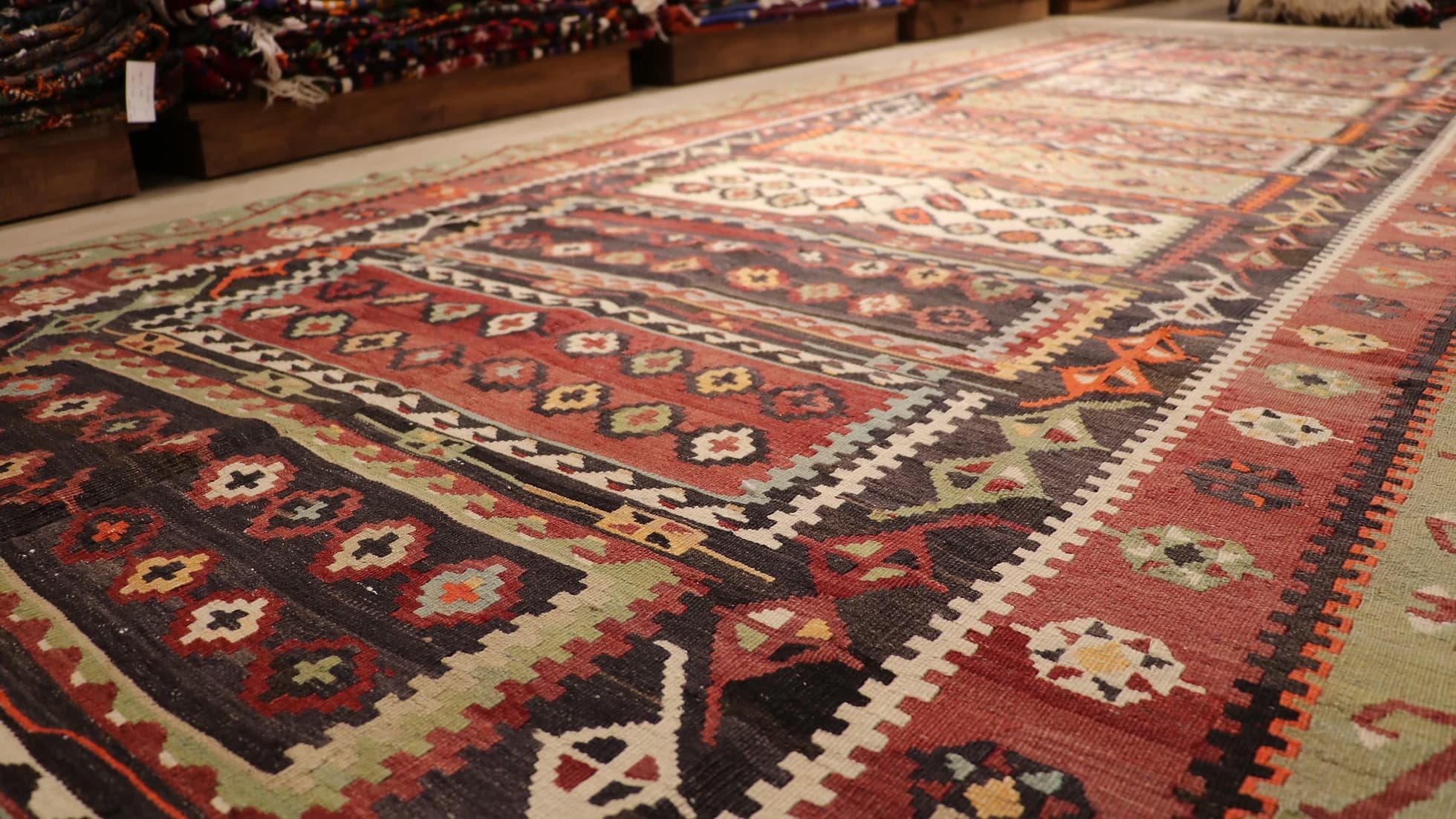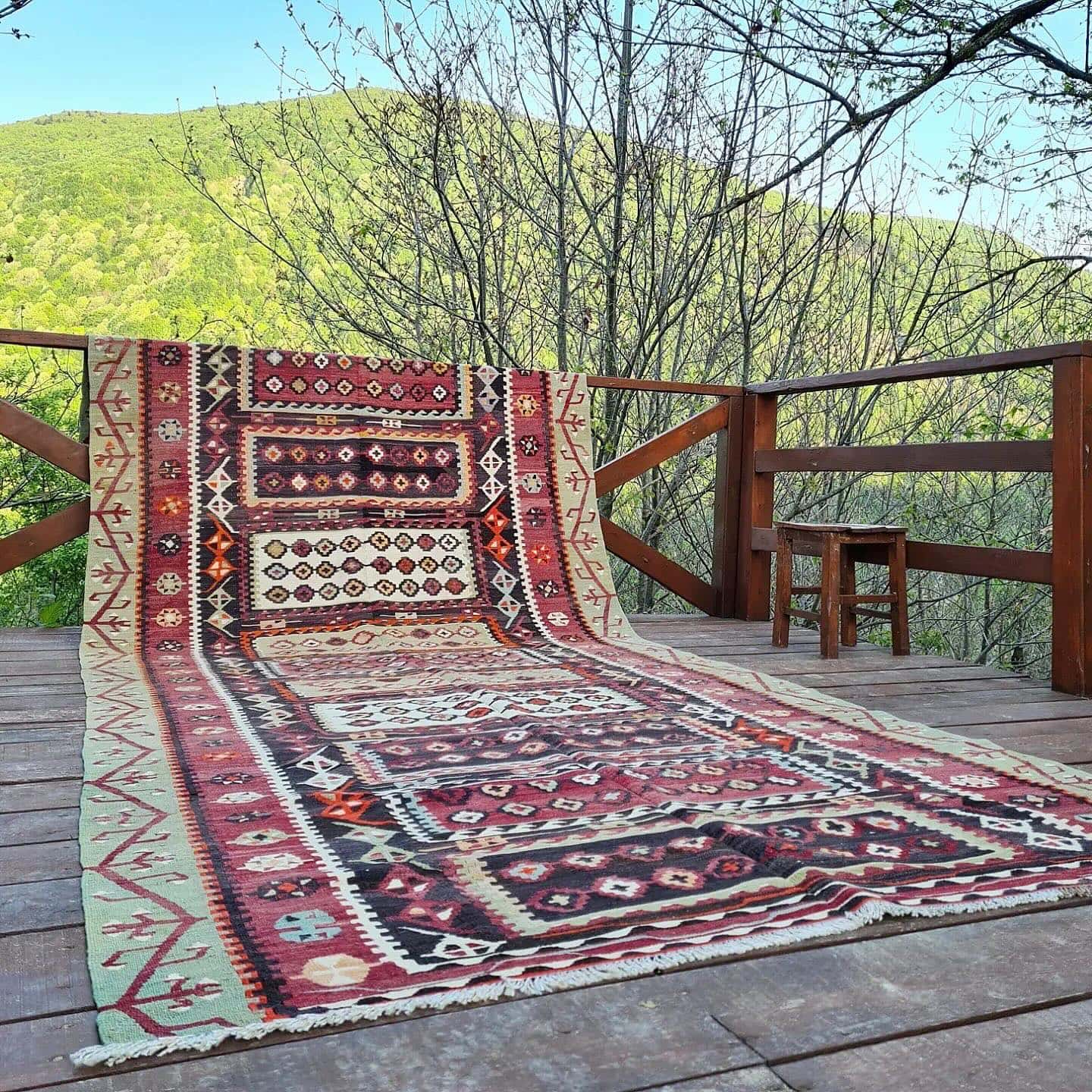 Vintage Turkish Hand-Knotted Gallery Rug | Kurdish Zara Kilim in Rustic Tones 1940s
Sale price

$1,990.00
Regular price

$2,490.00
(/)
---
Introducing the Kurdish Zara Kilim from the 1940s - a remarkable piece of artistry that not only adds warmth to your space but also carries with it a rich tapestry of cultural heritage and symbolism. This extraordinary extra-large flat-woven wool rug, measuring an impressive 5x12 feet, is a testament to the craftsmanship of the Zara village in Sivas, Turkey. 

What makes it truly exceptional is its unique construction; it was first handwoven in two symmetrical pieces, then skillfully combined together. At the heart of this kilim are 11 rectangles, each adorned with the sacred "cross" motif. In Anatolian tradition, the cross is a powerful symbol used to ward off the malevolent influence of the evil eye. This ancient motif predates Christianity and can even be traced back to the wall paintings of Catalhoyuk. According to local belief, the cross divides the evil glance into four pieces, thereby reducing its potency.

Adjacent to these rectangles, you'll discover an intricate interplay of "love and unison" motifs, reminiscent of the Yin-Yang symbol from the Far East. This symbolizes the harmonious balance between man and woman, accentuating the duality of existence. Each motif comprises two opposing colors, each with a dot in the color of the other, reminding us that imperfection is a part of nature. In Anatolian culture, the number two signifies reproduction and fertility, making this kilim even more significant.

The borders of the rectangles, as well as those throughout the kilim, feature the distinctive "comb" pattern. This motif is steeped in symbolism related to marriage and birth, signifying the desire for wedlock and protection against the evil eye for both marital unions and newborns. Alongside the "comb" motif, you'll encounter "star" and "running water" patterns, further enriching the narrative of this masterpiece.

The color palette of this kilim is a symphony of earthy tones, including warm reds, soothing taupes, natural greens, creamy whites, and gentle pastel oranges. These hues blend seamlessly to create a visual masterpiece that is not only a testament to craftsmanship but also a collector's dream.

This Kurdish Zara Kilim is a rare find, steeped in history and cultural significance. Its combination of motifs and colors make it a captivating and collectible piece of art, and its size ensures it can transform any space into a haven of cultural richness and aesthetic beauty. Add a touch of Anatolian heritage and artistry to your home with this extraordinary kilim.
Age: 1940s

Condition: Excellent

Dimensions: 5' 1" W x 11' 7" L

Floor Heating Safe: Yes

Material: Wool on cotton

Origin: Sivas, Turkey

Primary Color: Earthy tones

Product Care: Vacuum clean gently or professional cleaning

Shape: Rectangle

Style: Tribal Kurdish style
Choose options