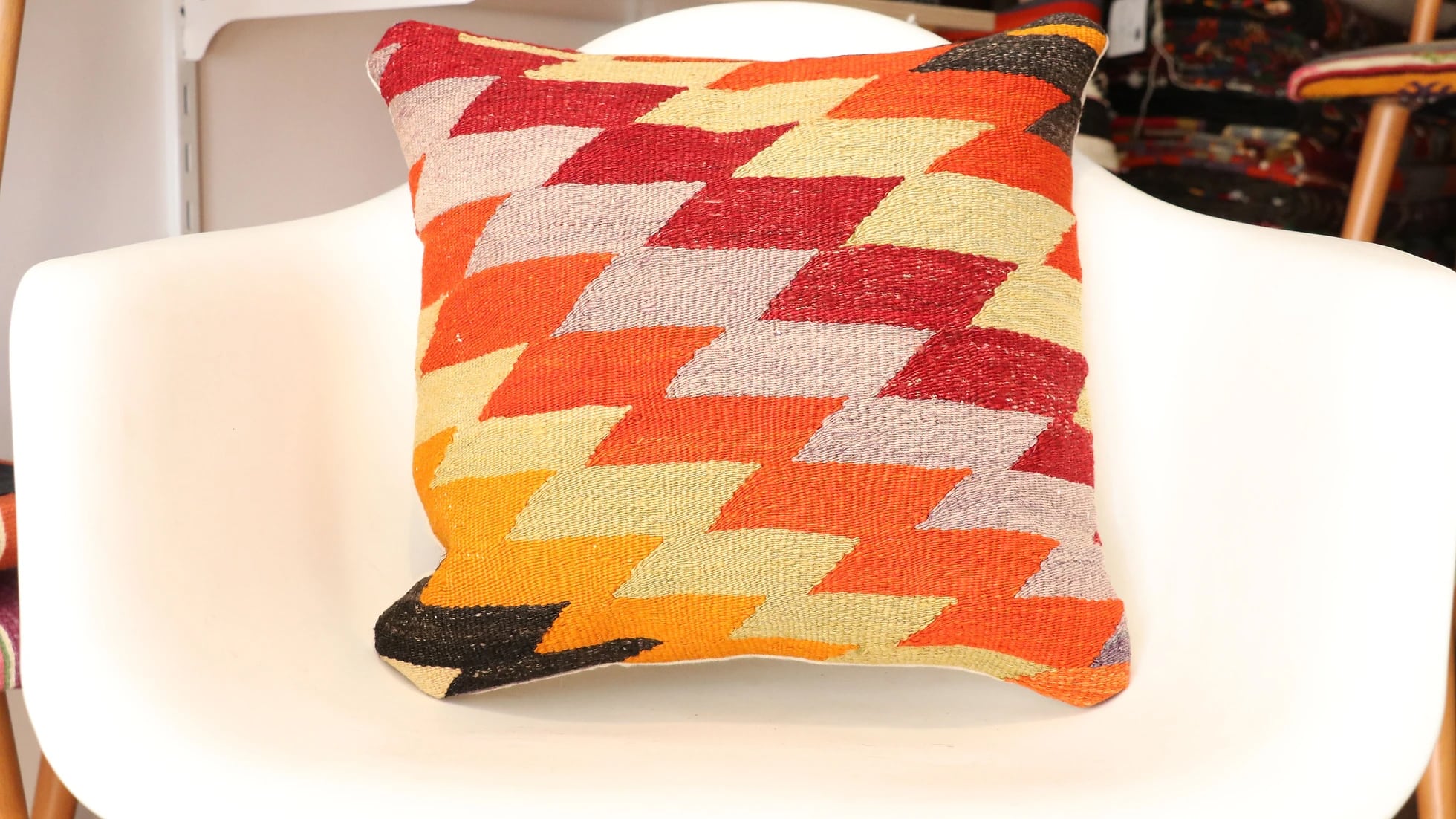 Vintage Handwoven Kilim Pillow in Orange / Yellow / Red
Sale price

$249.00
Regular price
(/)
---
Introducing our remarkable Vintage Handwoven Kilim Pillow, an embodiment of elegance and artistry that invites you to immerse yourself in a world of rustic sophistication. This exquisite cushion cover is a captivating symphony of natural earthy tones, featuring opulent shades such as autumn blaze orange, creamy ivory, red, and black.

Exemplifying the pinnacle of kilim craftsmanship, this handwoven rug showcases a harmonious array of multicolored, repetitive zigzag patterns that gracefully adorn its entire surface.

Much like its kindred spirit, our kilim throw pillow, this gem is not just a mere home accessory; it is a testament to the timeless tradition of kilim weaving. Each thread, meticulously woven by skilled hands of the local women weavers, carries with it the legacy of generations, making this pillow a veritable piece of history and culture.

As you gaze upon the intricate patterns that dance across the fabric, you'll feel a connection to the nomadic tribes of old, whose enduring spirit is embedded in every stitch. This throw pillow transcends the boundaries of design styles, effortlessly blending into boho-chic lofts, cozy cottage retreats, modern farmhouses, and even the ornate interiors of vintage French and British design. Its authenticity knows no bounds.

What sets this kilim cushion apart, however, is its unwavering commitment to sustainability. Handcrafted from ethically-sourced, eco-friendly materials, including sumptuous wool and soft cotton, it stands as a testament to our dedication to preserving the natural world while celebrating its beauty.

Beyond being a decor piece, this vintage kilim pillow is a statement of character and warmth. Whether gracing your couch, armchair, or bed, it infuses your living space with a profound sense of history and soul. Guests will find themselves captivated by its unique charm and timeless allure.

In a world saturated with mass-produced items, our Rustic Kilim Pillow in earthy tones emerges as a symbol of artisanship, heritage, and authenticity. It's not just a pillow; it's a piece of cultural significance that can transform any room into a sanctuary of style and comfort. Upscale your home with this sustainable and affordable luxury kilim cushion, and be prepared to witness the enchantment it brings to your living space. Welcome history, warmth, and artistry into your home, one stitch at a time, as though you were curating a vintage masterpiece.
Age: New

Condition: Excellent (Does not include an insert)

Dimensions: 1' 4" W x 1' 4" L

Floor Heating Safe: Yes

Material: Handwoven vintage kilim

Origin: Turkey

Primary Color: Polychromatic

Product Care: Vacuum clean gently or professional cleaning

Shape: Square

Style: Vintage style
Choose options