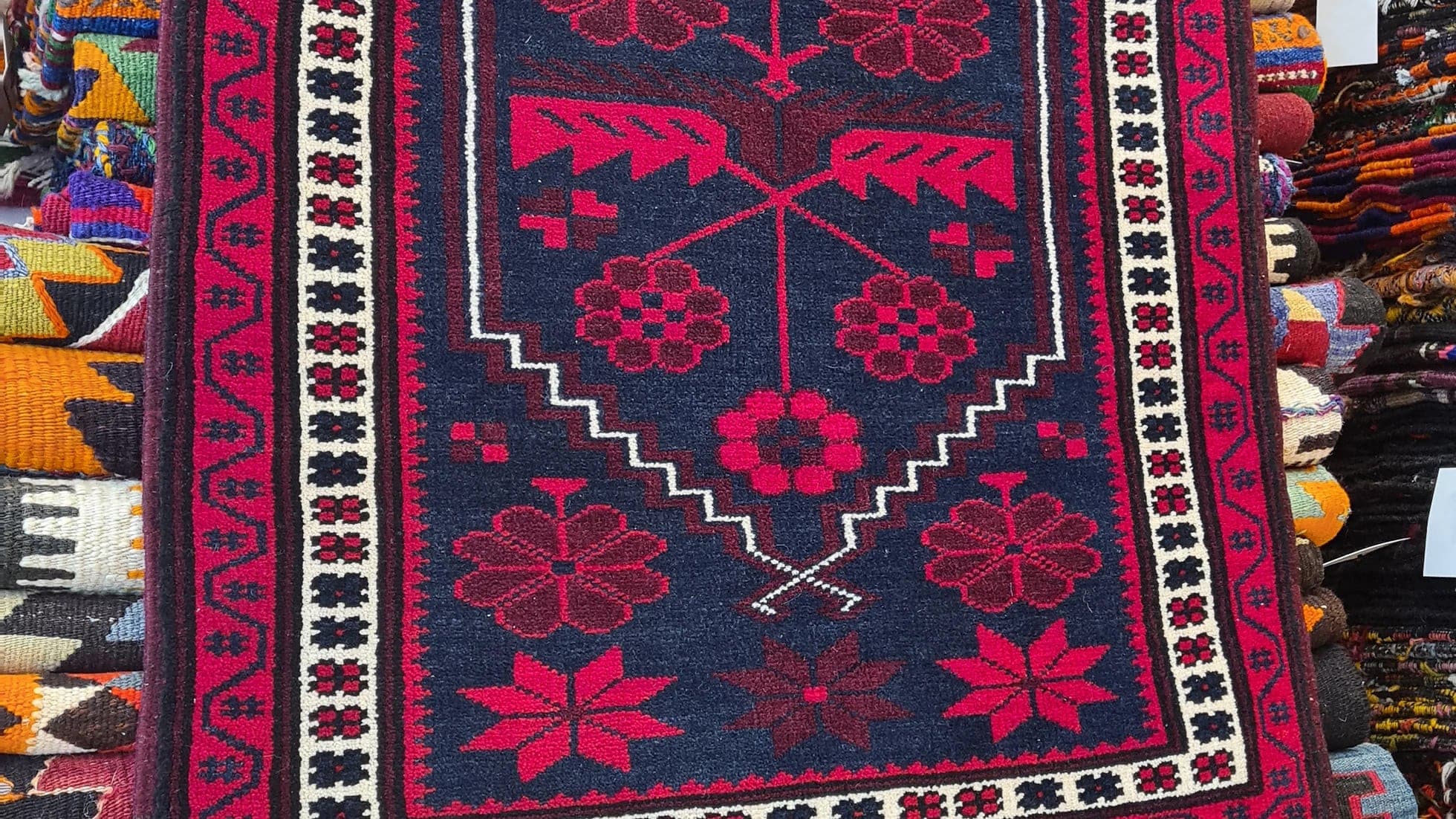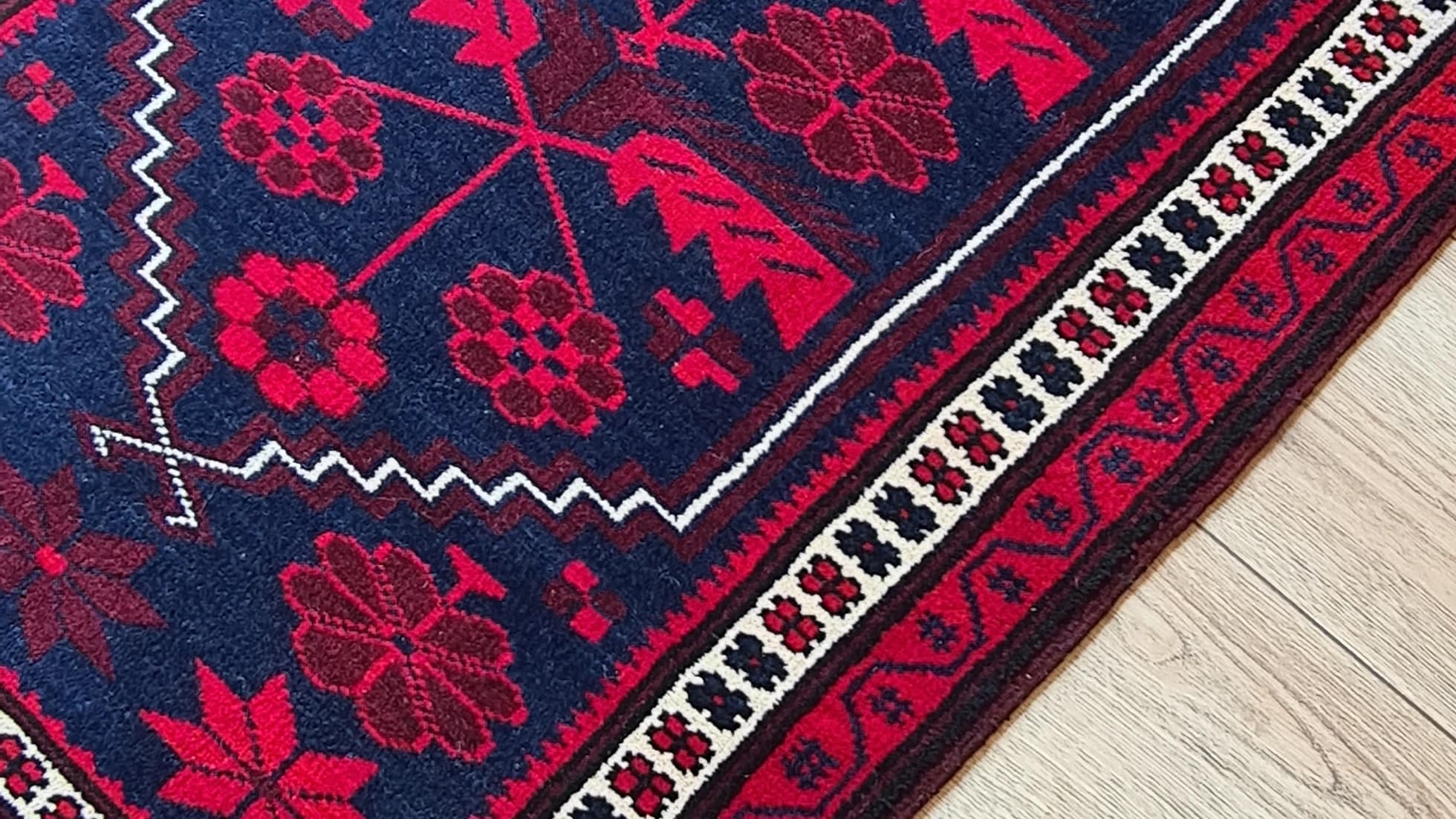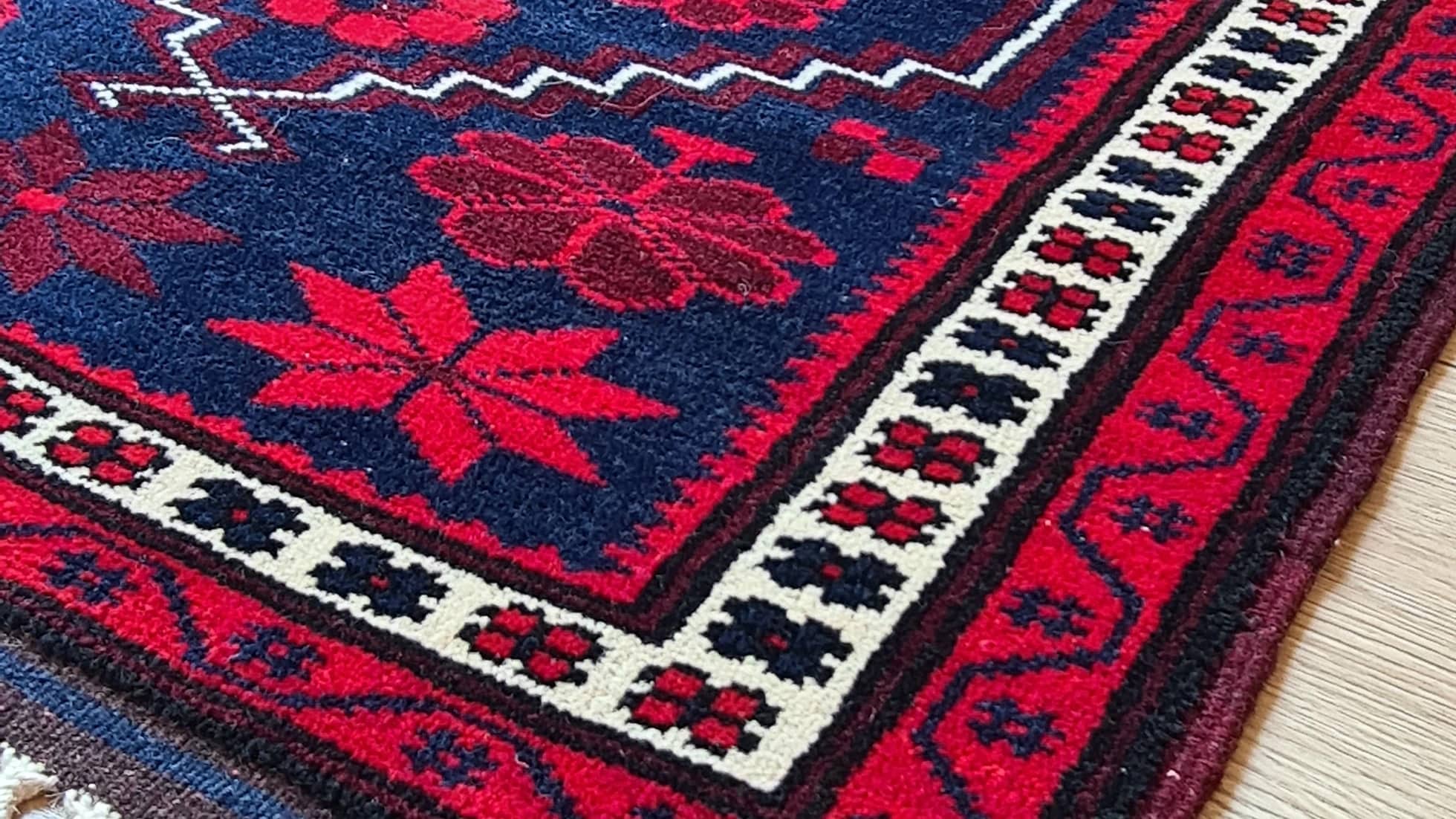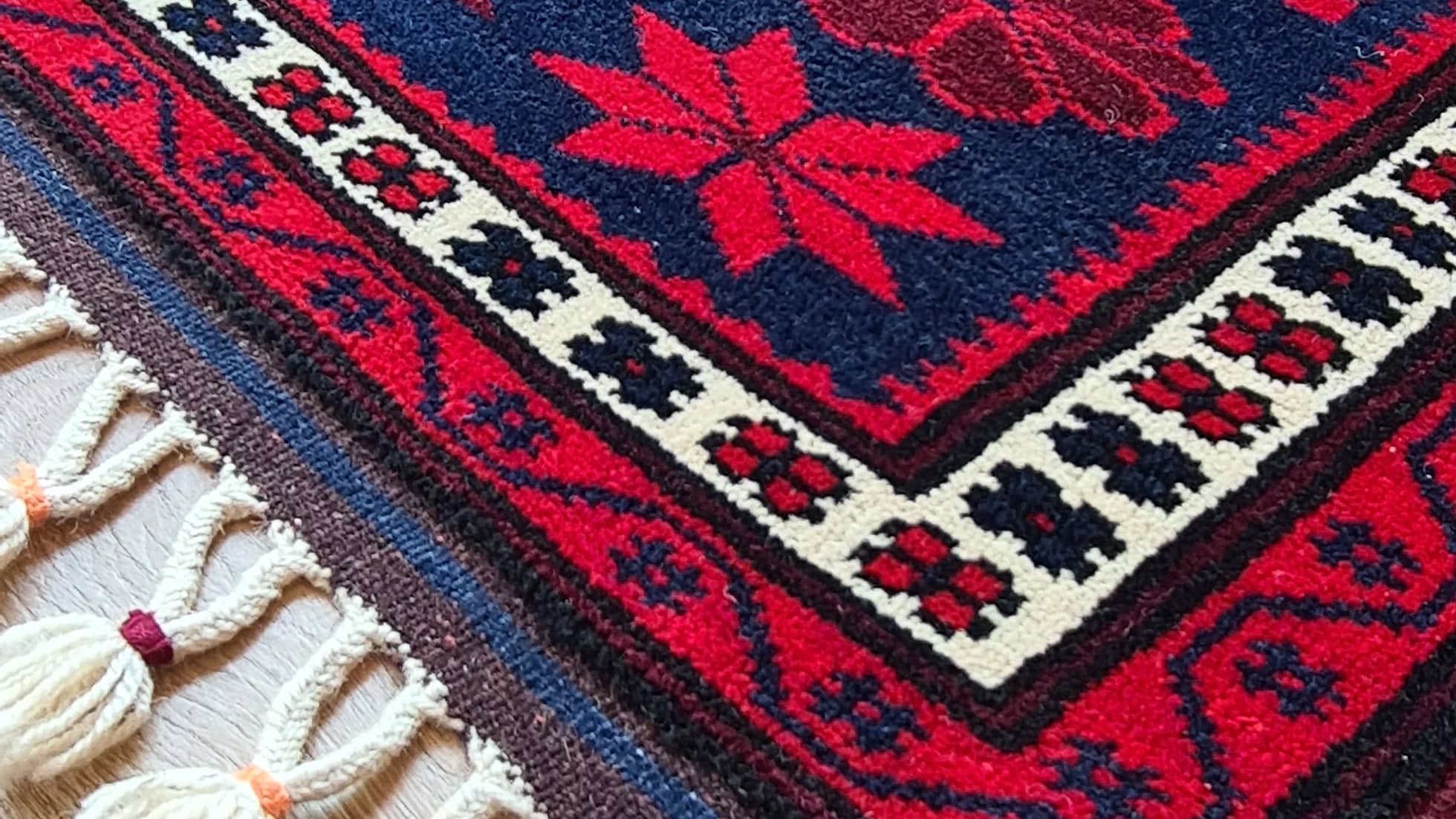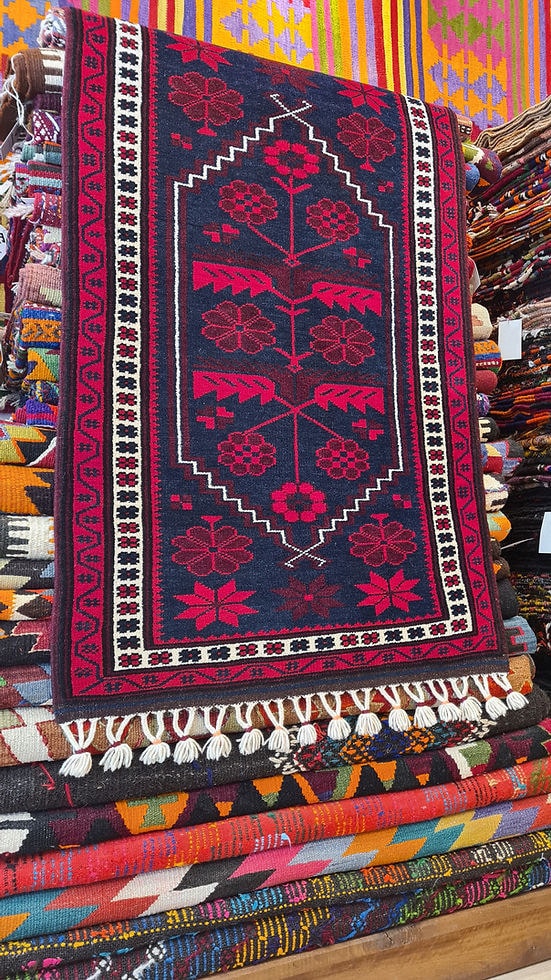 Vintage Turkish Hand-Knotted Rug | Yagcibedir Yoruk Style Floral Rug
Sale price

$990.00
Regular price

$1,290.00
(/)
---
Introducing our Handwoven Turkish Vintage Rug from the charming Balikesir village in Turkey. This exquisite rug, measuring 2x4 feet, encapsulates the captivating beauty of Yagcibedir style. Renowned for its sumptuously attached tassels and a mesmerizing blend of colors including midnight blue, white, maroon, and scarlet, this rug is a true masterpiece.

At the heart of this rug lies the enchanting Yagcibedir design, celebrated for its striking combination of elements. Traditional floral patterns, comprised of a myriad of distinct red flower motifs, gracefully adorn the deep midnight blue canvas. Encircled by a refined white border adorned with repetitive smaller floral patterns, the rug's composition radiates elegance and sophistication.

Hailing from the Sindirgi district of Balikesir, Turkey, our Yagcibedir carpet is not just a rug, but a cultural emblem. Its allure lies in the fusion of cultural significance and understated design, making it a truly unique piece for your space.

Originating from the skilled hands of the Yoruk people in Western Anatolia, Yagcibedir rugs have a penchant for highlighting intricate motifs against a serene backdrop. The subdued color palette of navy, white, and red not only pays homage to the region's cultural heritage but also evokes a sense of timeless beauty.

Every motif woven into a Yagcibedir carpet carries with it a specific meaning, infusing each piece with stories of tradition and history. These meticulously designed carpets are not just home accessories; they are profound symbols of culture and refinement.

Crafted with care using locally sourced wool, Yagcibedir carpets showcase an exquisite fusion of simplicity and elegance. The wool, procured from sheep, is skillfully dyed with natural pigments before being woven into intricate patterns. With every thread, the rug carries the echoes of Balikesir's deep-rooted history, adding an aura of authenticity to any space they grace.

This Yagcibedir rug seamlessly aligns with Kilim Couture New York's unwavering commitment to quality and excellence. By welcoming this masterpiece into your home, you not only invite a touch of Anatolian heritage but also a piece of art that transcends time. Let the cultural narrative and historical ambiance of this rug enrich your living space, turning it into a sanctuary of beauty and tradition.
Age: 2000s

Condition: Excellent

Dimensions: 2' 4" W x 3' 9" L

Floor Heating Safe: Yes

Material: Wool on cotton

Origin: Balikesir, Turkey

Primary Color: Scarlet, midnight blue

Product Care: Vacuum clean gently or professional cleaning

Shape: Rectangle

Style: Yuruk style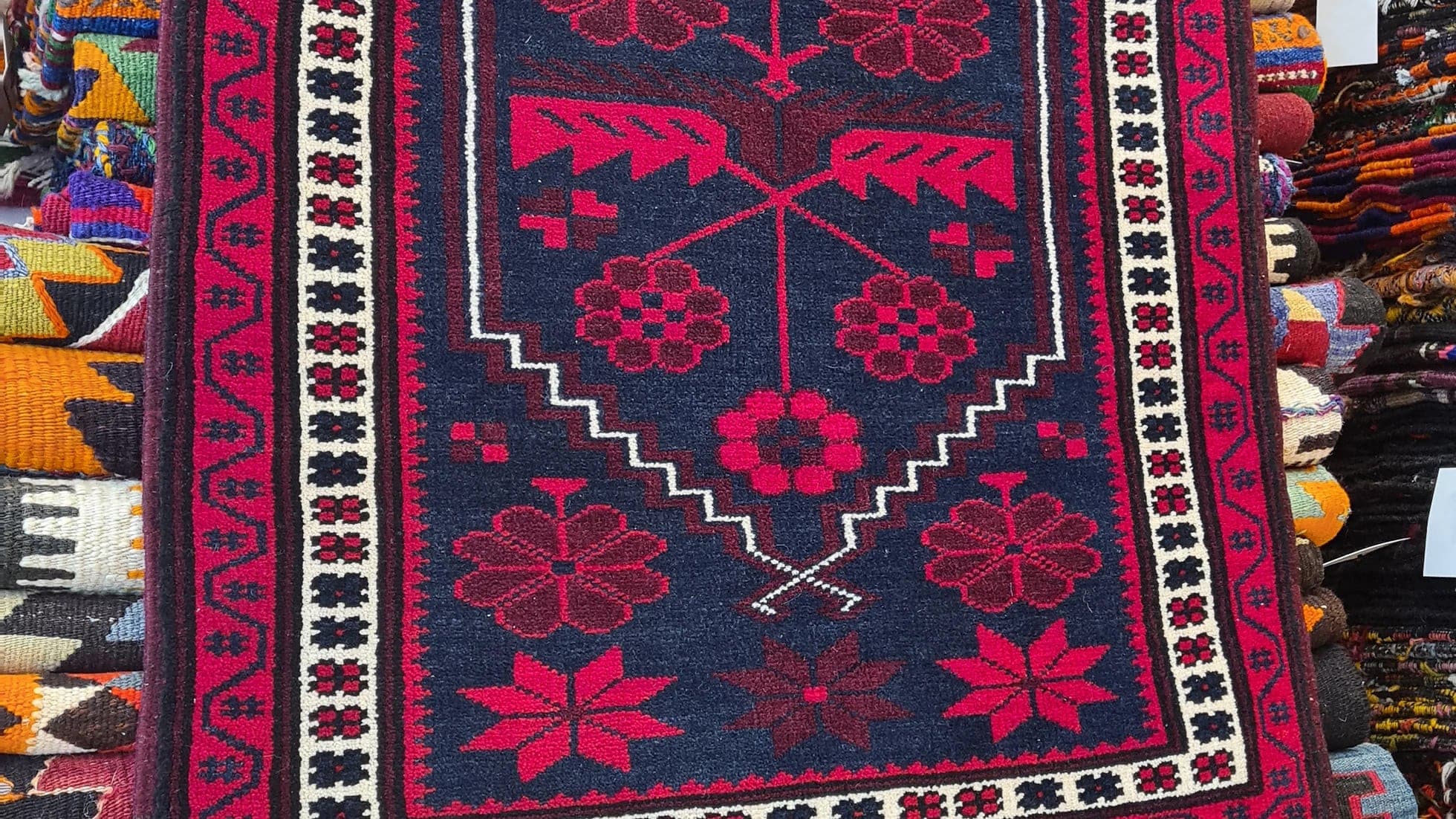 Vintage Turkish Hand-Knotted Rug | Yagcibedir Yoruk Style Floral Rug
Sale price

$990.00
Regular price

$1,290.00
Choose options