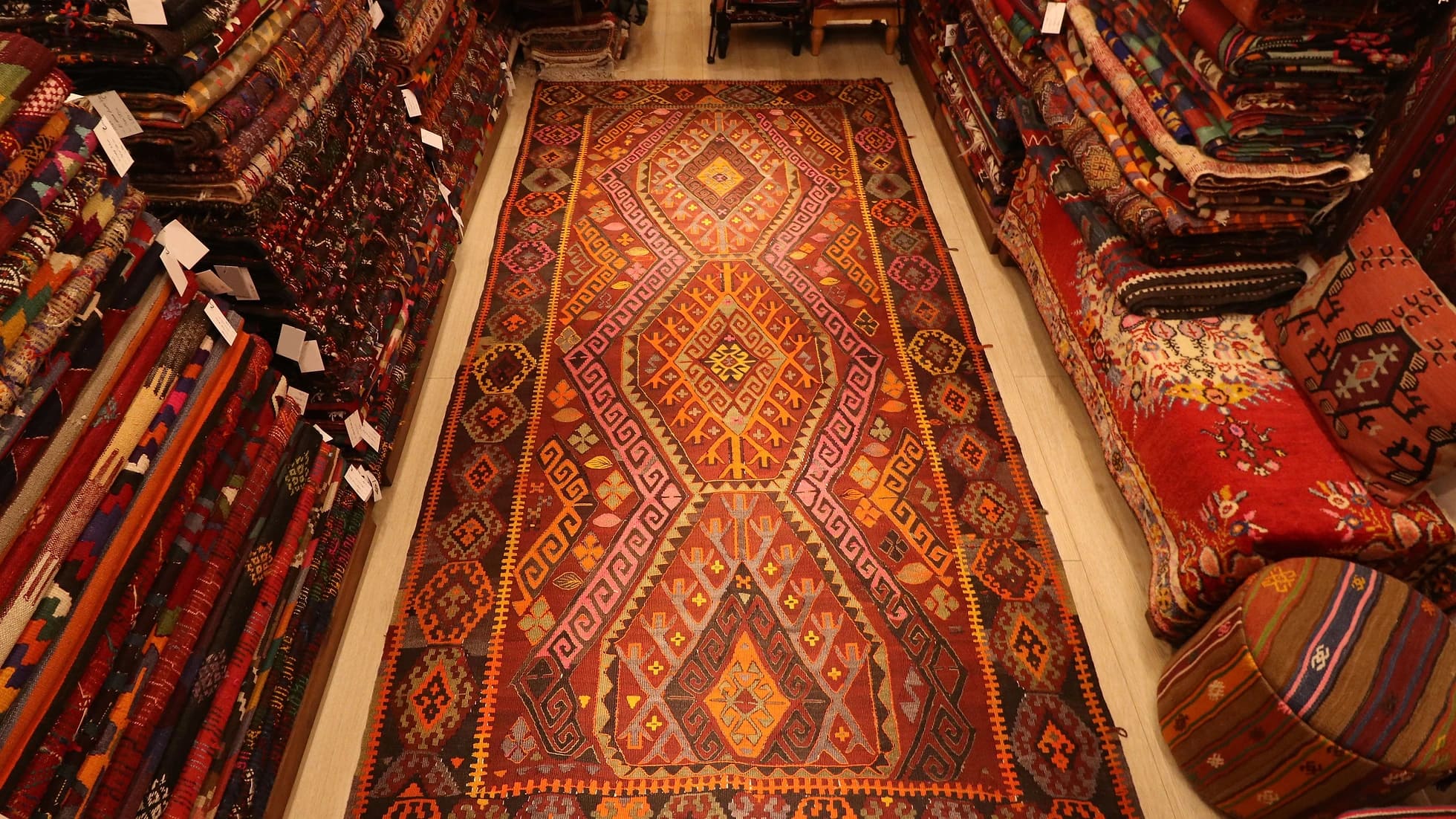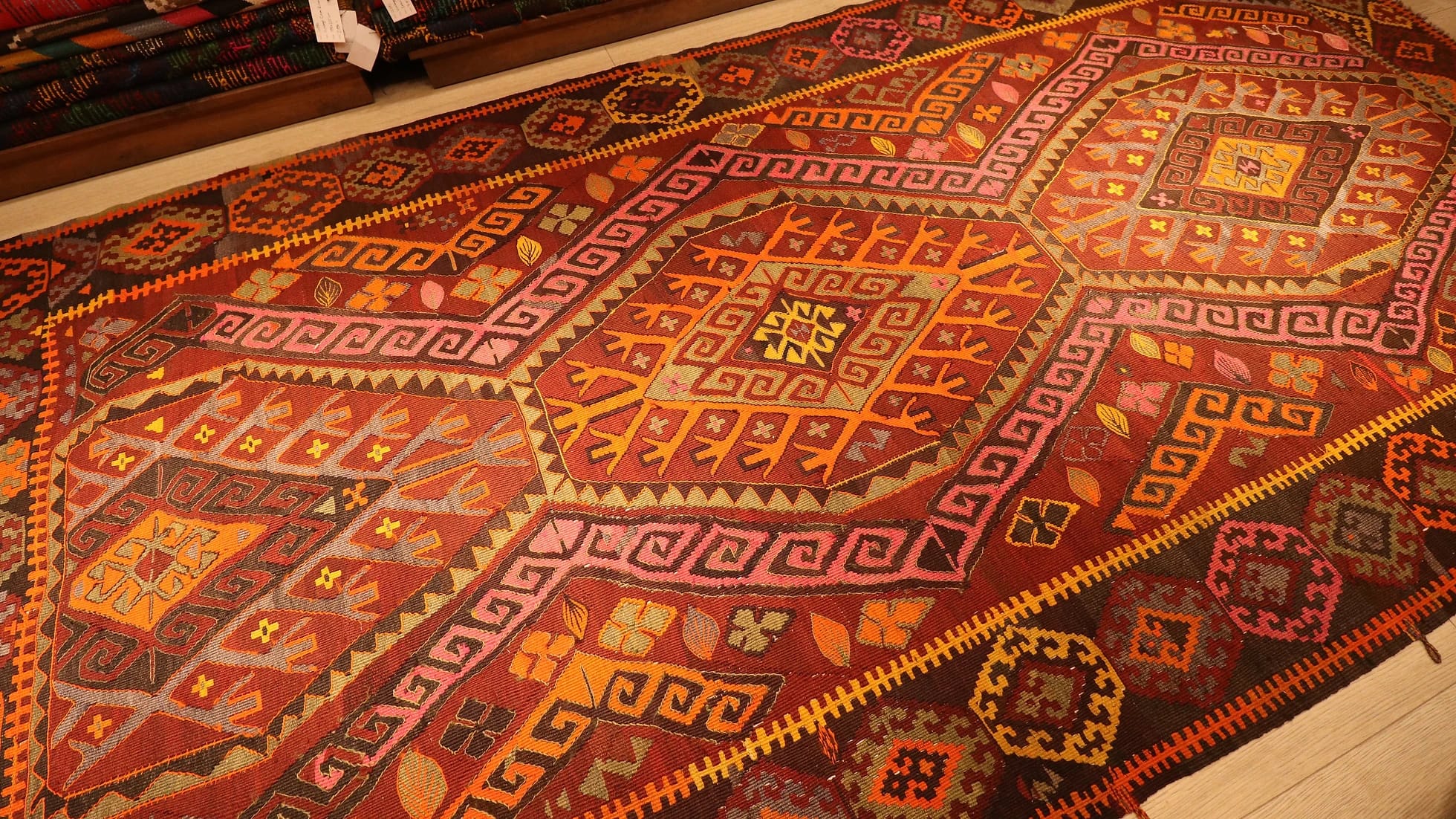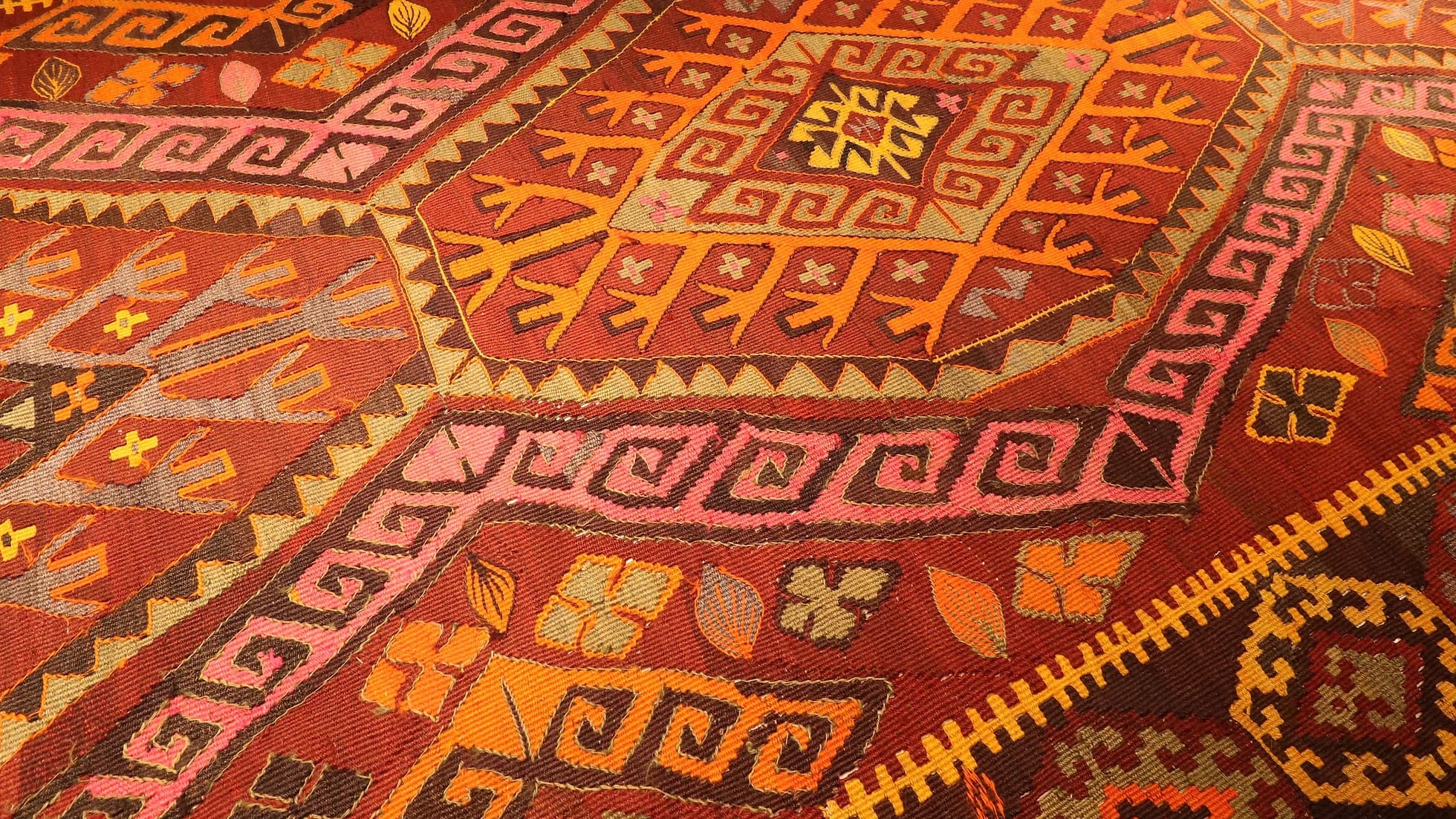 Vintage Turkish Hand-Knotted Rug | Oushak Tribal Kilim in Pink / Yellow / Orange
Sale price

$2,990.00
Regular price
(/)
---
Step into a world of timeless elegance and exquisite craftsmanship with our handpicked treasure from the renowned Ushak City, celebrated worldwide for its unparalleled mastery in creating extraordinary hand-knotted rugs and kilims. This 6x11 ft sized masterpiece, hailing from the mid-century era, encapsulates the very essence of Ushak's rich heritage.

Meticulously handwoven with a harmonious blend of lustrous wool and soft cotton, this exceptional area rug unveils an enchanting narrative of artistry and culture. At its heart lies the pièce de résistance – not one, but three asymmetrical giant "dragon" medallions, each a unique testament to the artisan's skill and creativity. These medallions, reminiscent of mythical creatures, enthrall with their charismatic presence, drawing you into a world of enchantment.

Gaze upon the rich, earthy hues that grace this opulent kilim, each shade carefully selected by skilled women artisans. Picture the warm embrace of the earthy red, the vibrant dance of orange and yellow, and the delicate whispers of pink – all coming together in a mesmerizing symphony. The medallion at the bottom, with its subtle variations in color, adds an extra layer of allure, making this rug a true work of art, infused with its own unique character and charm.

These magnificent medallions are gracefully enclosed within a border adorned with smaller "dragon" motifs containing the iconic "ram's horn" patterns. This border serves as a testament to the unparalleled attention to detail and devotion to preserving the traditions of Ushak's master weavers.

Versatility meets opulence in this handwoven kilim, making it the ideal choice for a wide range of interior aesthetics. Whether adorning an oriental haven, adding a touch of boho-chic, enhancing a rustic retreat, or lending an air of eclectic sophistication to your transitional or traditional decor, this kilim effortlessly adapts to your style and elevates your living space to new heights of elegance.

Discover the legacy of Ushak City, captured in the threads of this magnificent 1950s Mid-Century Tribal Oushak Rug. With its one-of-a-kind "dragon" medallions, intricate motifs, and a palette of earthy shades, it is more than a rug – it's a masterpiece that weaves history, art, and culture into the very fabric of your home. Elevate your surroundings with the sophistication and heritage of this exquisite kilim, a testament to the enduring craftsmanship of a bygone era.
Age: 1950s

Condition: Excellent

Dimensions: 5' 7" W x 11' 5" L

Floor Heating Safe: Yes

Material: Wool on cotton

Origin: Usak, Turkey

Primary Color: Natural earthy tones

Product Care: Vacuum clean gently or professional cleaning

Shape: Rectangle

Style: Tribal Oushak style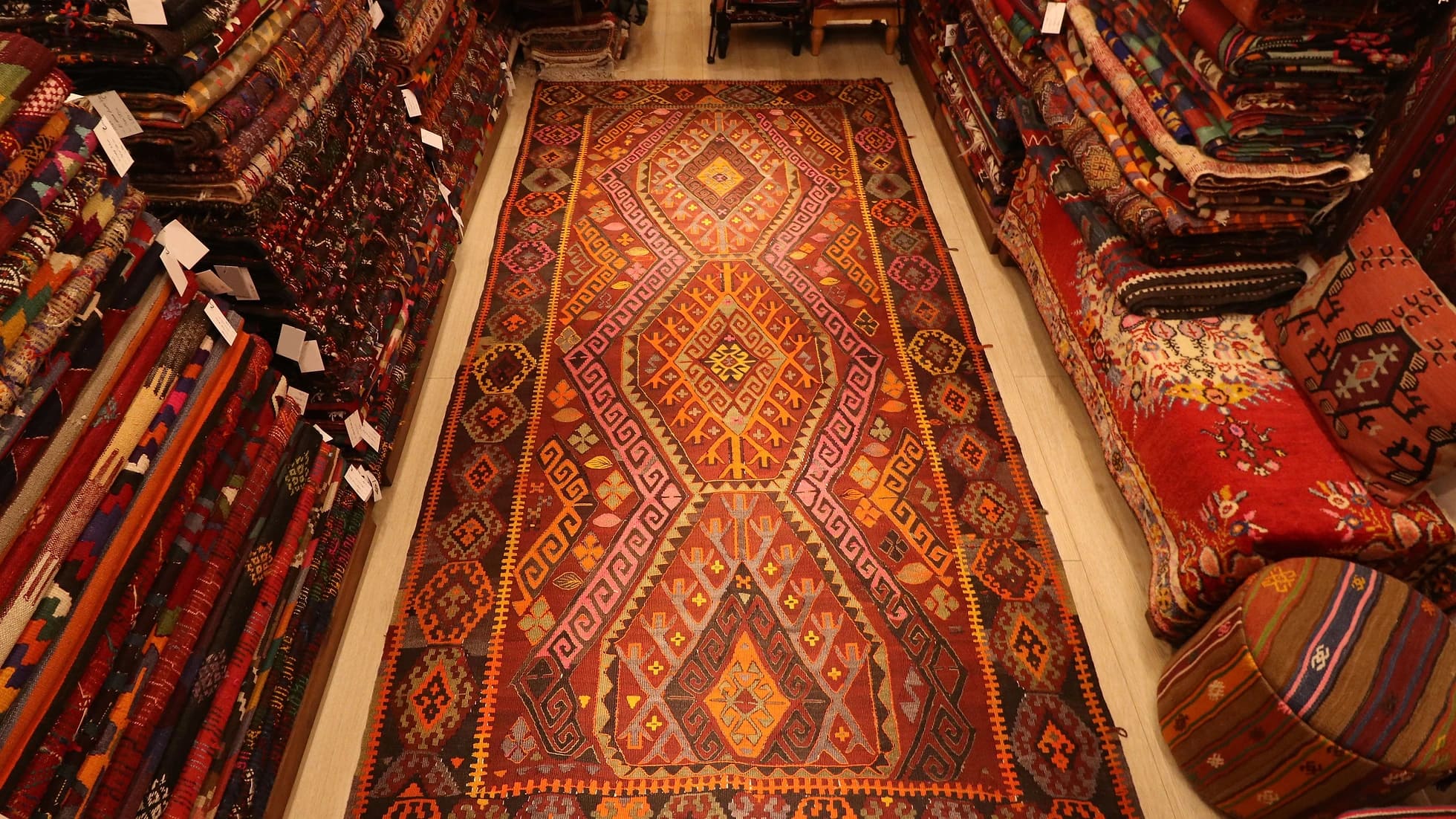 Vintage Turkish Hand-Knotted Rug | Oushak Tribal Kilim in Pink / Yellow / Orange
Sale price

$2,990.00
Regular price
Choose options