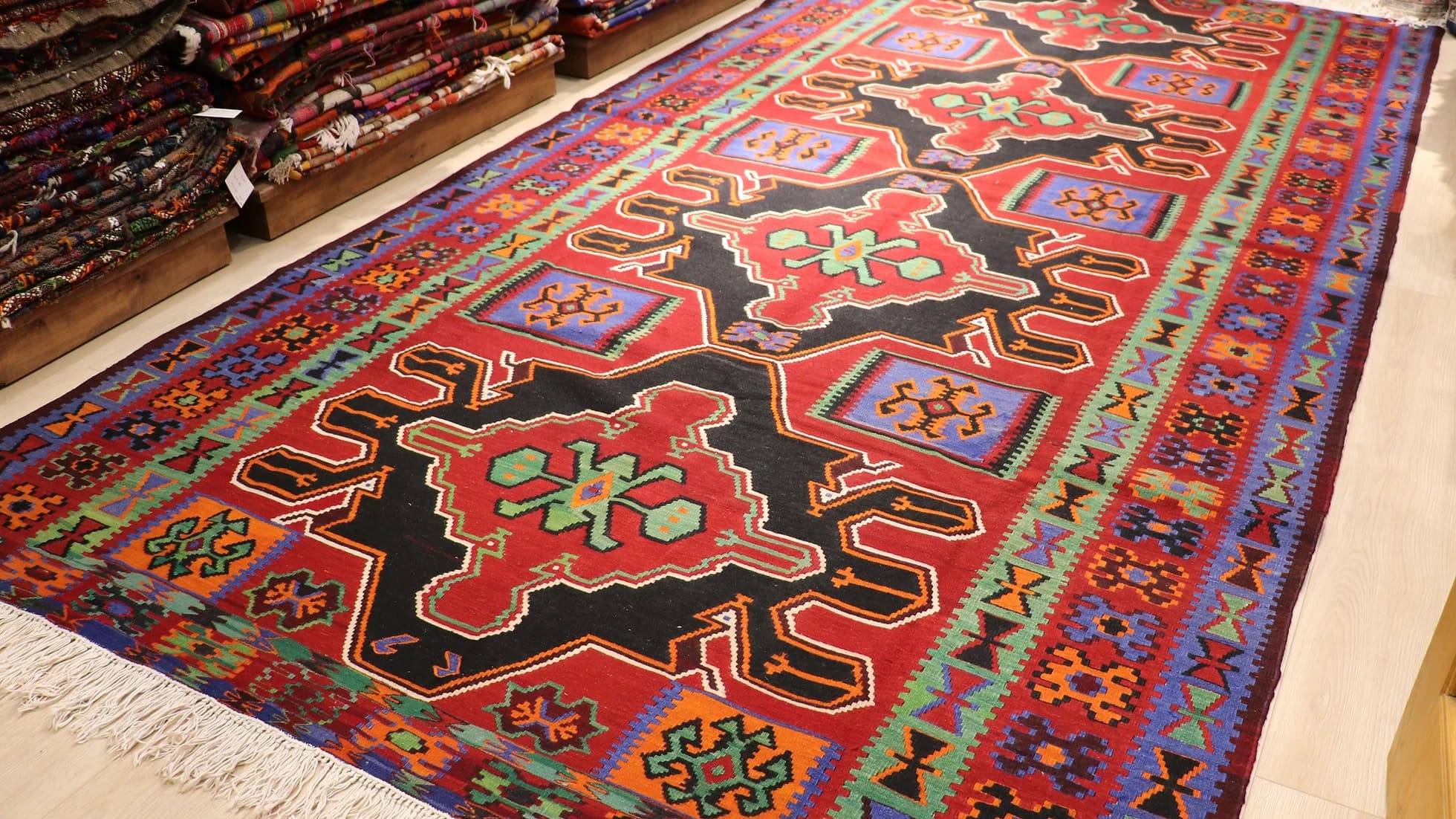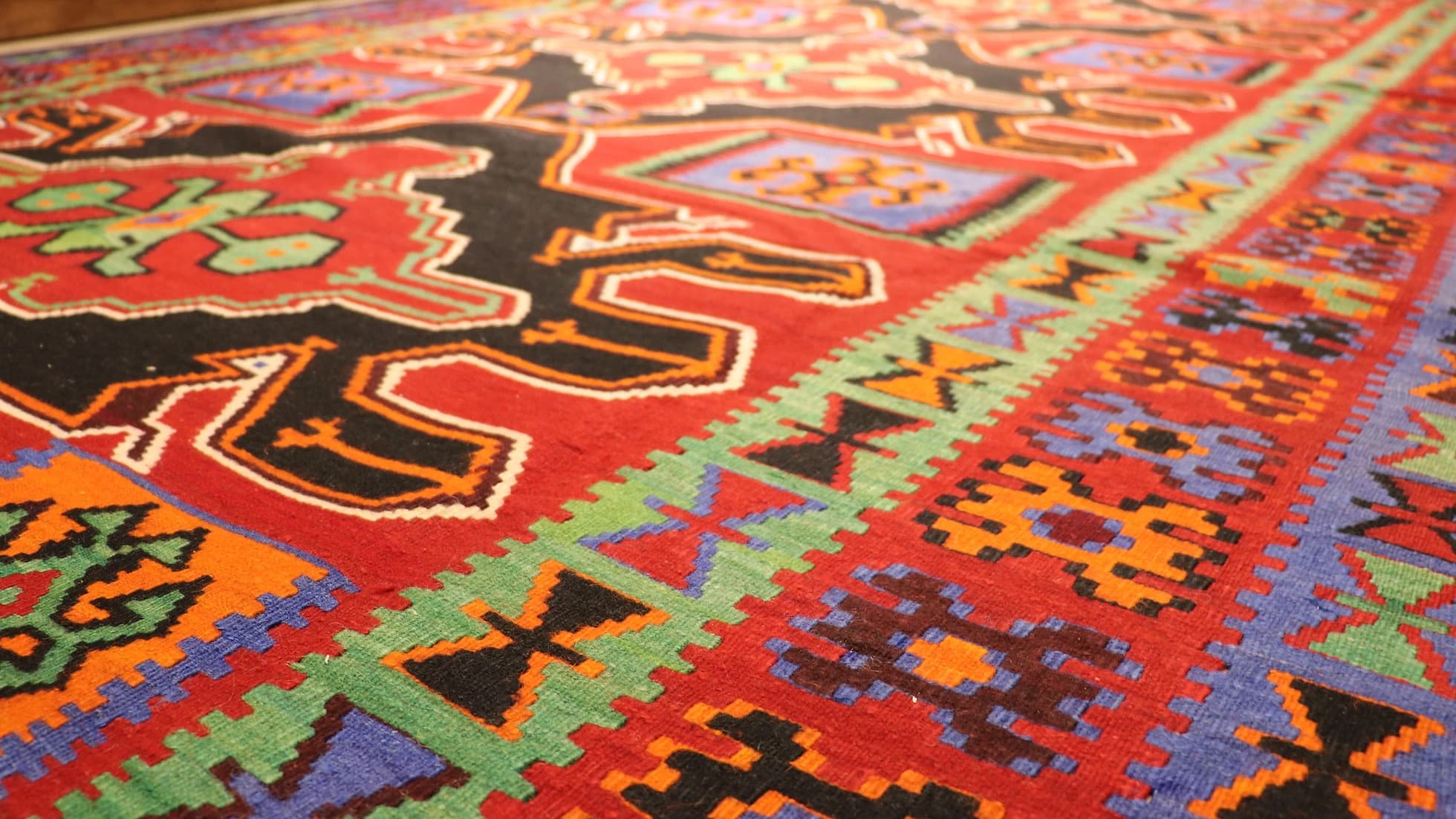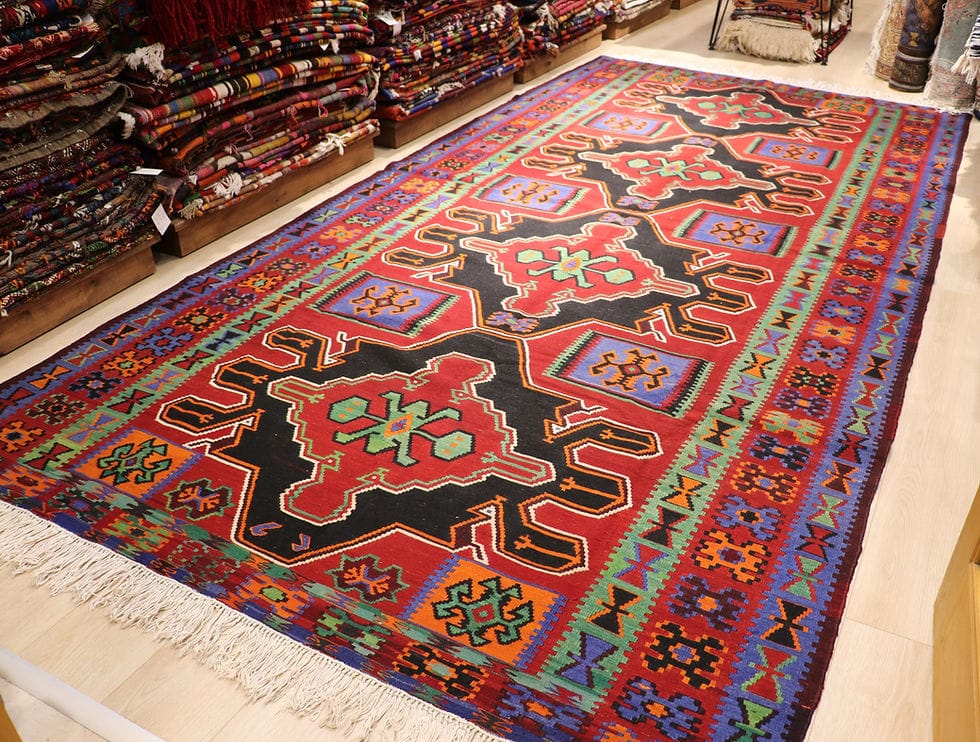 Vintage Caucasian Hand-Knotted Gallery Rug | Oriental Flat-Weave Rug in Red / Black
Sale price

$3,590.00
Regular price

$4,490.00
(/)
---
Step into a world of timeless artistry with our Handwoven Vintage Flat-Weave Oriental Caucasian Rug, straight from the rugged splendor of the Caucasian mountains. This captivating masterpiece boasts a 6x13 mid-century gallery rug format, with an aesthetic that transcends eras. At its core, this runner rug flaunts four mesmerizing medallions that take center stage along its length. These medallions, adorned in rich black, terracotta, and green traditional patterns, are far more than mere adornments – they tell a story.

Enclosed within an exquisite triple border consisting of Anatolian "hair band" motifs, this kilim rug is a work of true craftsmanship. The inner border graced by a soothing shade of emerald green and the outer one adorned with a deep, oceanic hue reminiscent of midnight sapphire, adds an extra layer of charm and elegance.

Intricately designed, the medallions are infused with "fertility" motifs represented by captivating "chest" patterns. "Hands on hips" and "ram's horn" motifs, in harmonious union, symbolize the essence of man and woman. The "fertility" motif is a delicate composition of two 'elibelinde' motifs, epitomizing the female, and two 'kocboynuzu' motifs, emblematic of the male. The ever-watchful eye motif at the heart of this artwork stands guard, protecting your family against the malevolent influence of the evil eye.

The "chest" motif, a powerful symbol, represents the trousseau chest of a young girl, brimming with the expectations and hopes of her future. This motif, shared with the carvings on wooden cradles, suggests a yearning for marriage and the gift of a child. These traditional rugs, often employed as cradle covers, embody the dream of a family.

While this rug is a mid-century treasure, its geometric allure and unique medallions blend seamlessly with contemporary decor. Many modern area rugs strive to imitate these traditional patterns, yet nothing compares to the authenticity of the original. The colors and patterns of this Caucasian flat-woven rug harmonize effortlessly with today's interior styles.

Geometric designs, a perennial favorite, grace this rug on various scales, lending it a distinct character and depth. Despite its seven-decade vintage, the colors resonate with a contemporary palette, invoking an earthy and organic ambiance, perfect for eclectic spaces. If you seek a rustic or oriental accent for your transitional, traditional, or even modern farmhouse interiors, look no further.

Don't miss your opportunity to own a piece of history, art, and culture, all woven into this stunning masterpiece. Act now, and make this exquisite work of art an exclusive addition to your home. Embrace the unique and be part of a tradition that spans generations. Let your space resonate with the rich heritage of the Caucasian mountains and let this Oriental Caucasian Runner Rug be the focal point of your interior narrative. Own a piece of history today and be a part of its timeless tale.
Age: 1950s

Condition: Excellent

Dimensions: 6' 2" W x 12' 7" L

Floor Heating Safe: Yes

Material: Wool on cotton

Origin: Turkey

Primary Color: Terracotta

Product Care: Vacuum clean gently or professional cleaning

Shape: Rectangle

Style: Oriental style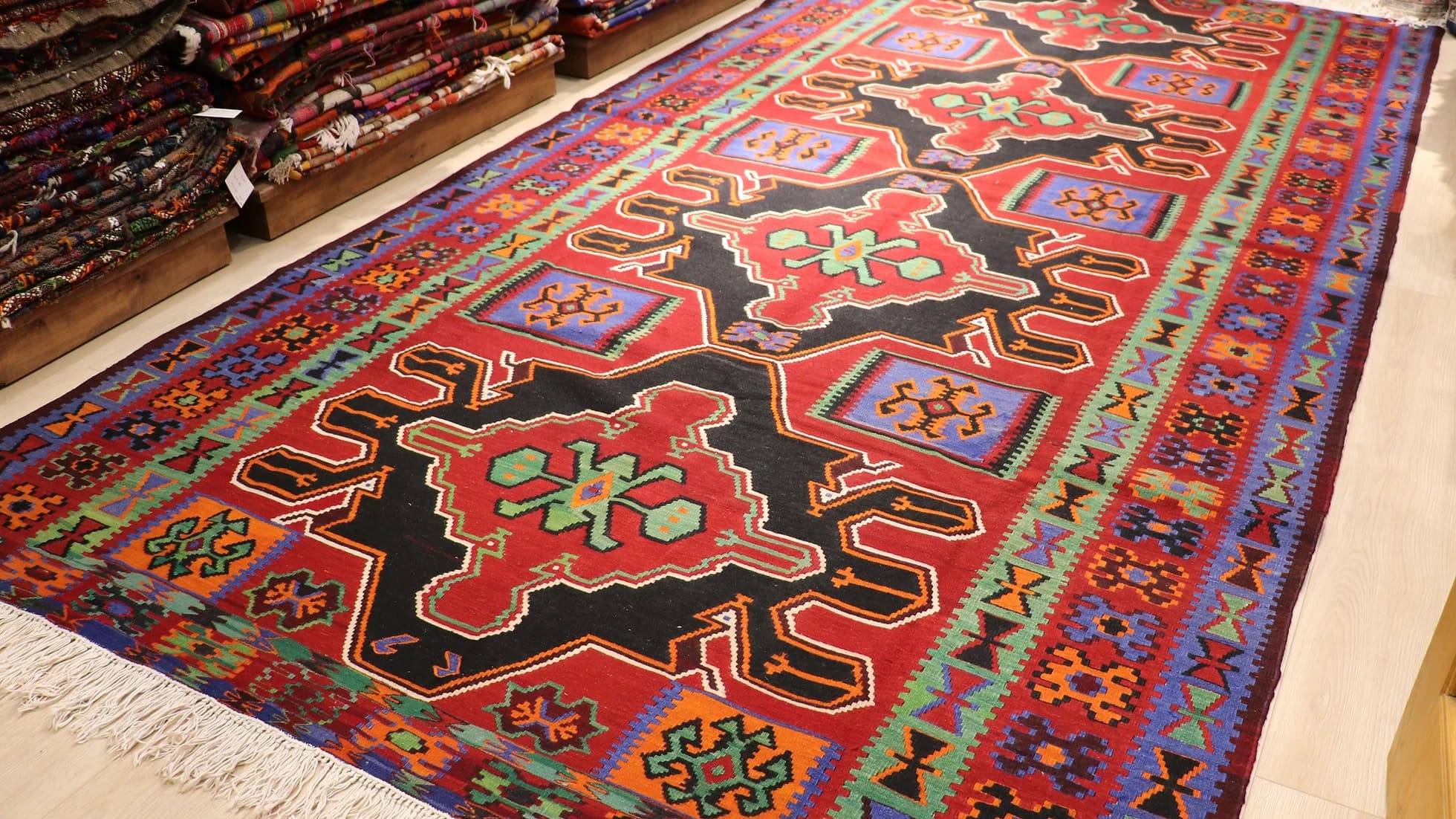 Vintage Caucasian Hand-Knotted Gallery Rug | Oriental Flat-Weave Rug in Red / Black
Sale price

$3,590.00
Regular price

$4,490.00
Choose options