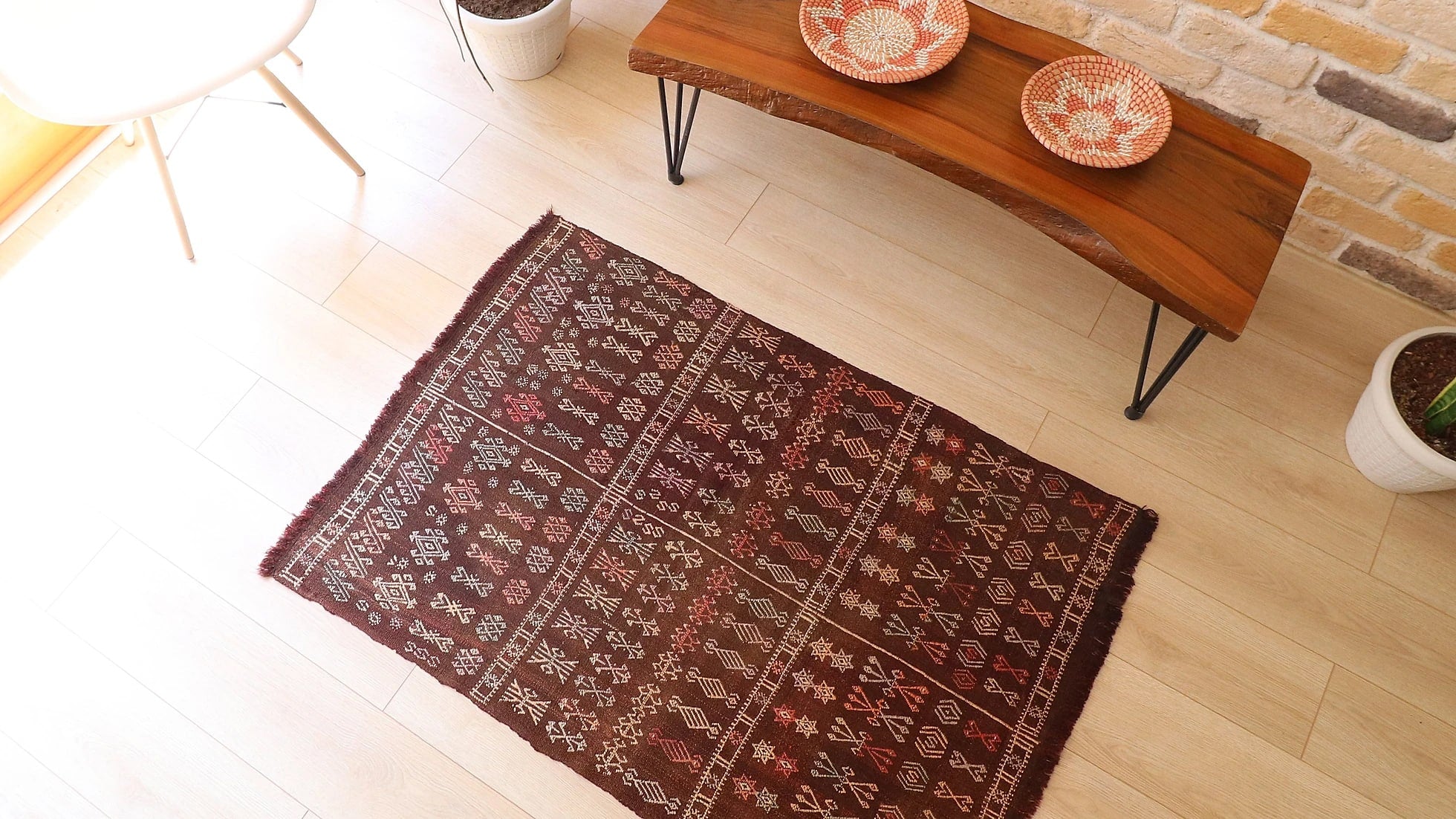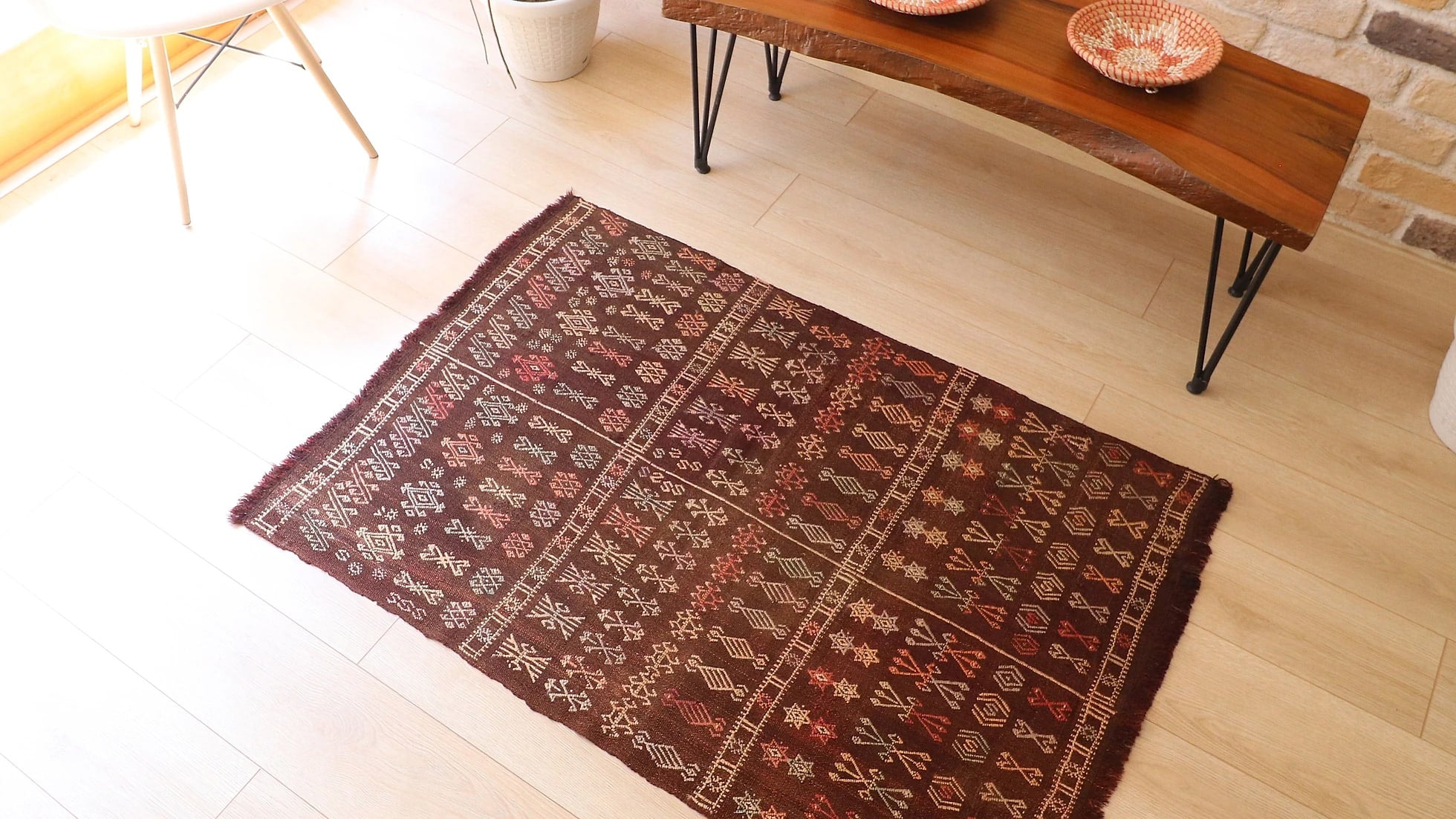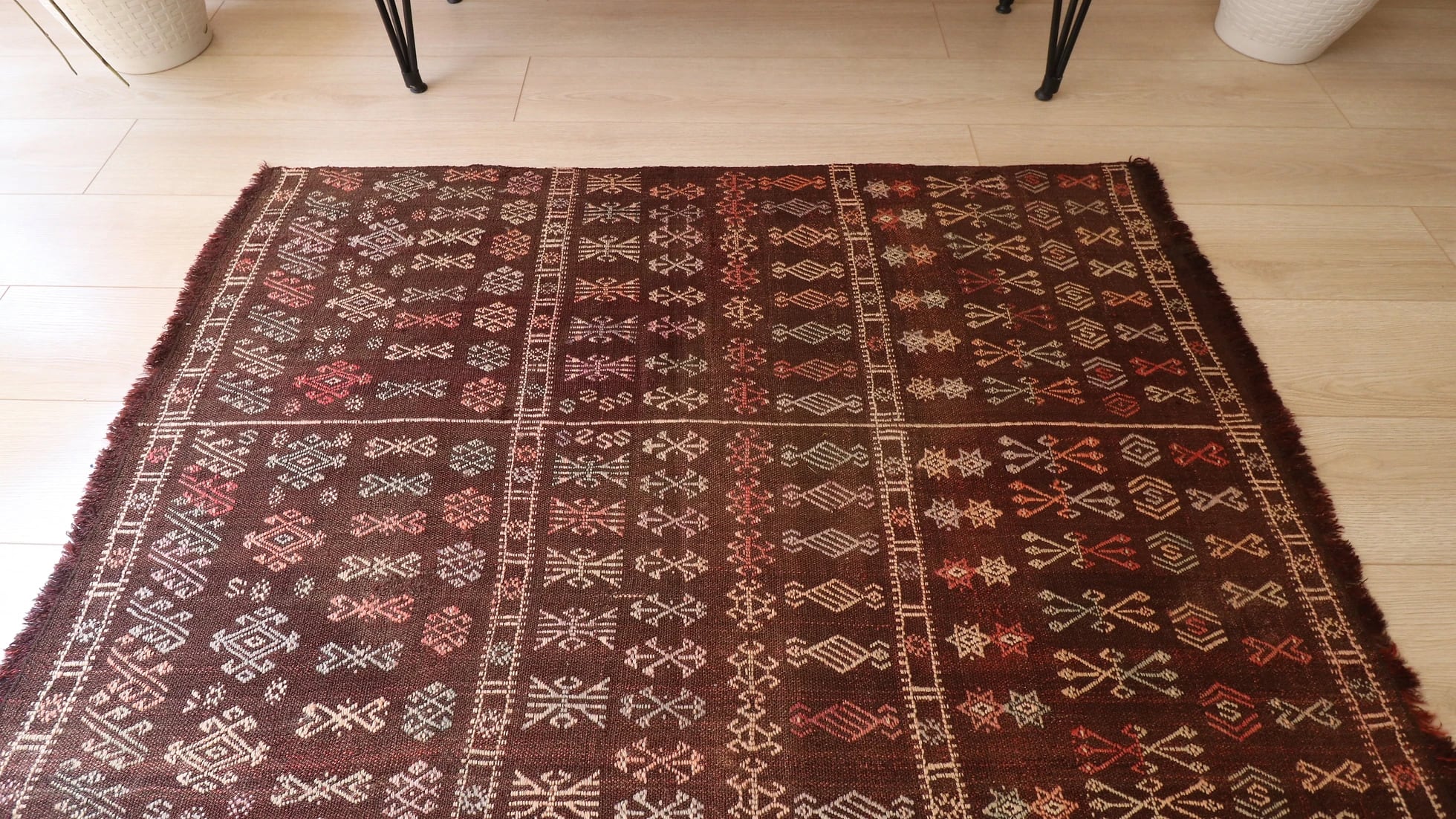 Vintage Moroccan Hand-Knotted Rug | Oriental Flat-Weave Rug in Muted Earthy Tones
Sale price

$990.00
Regular price
(/)
---
Introducing the epitome of timeless elegance and cultural artistry, our Vintage Hand-Knotted Moroccan Oriental Rug is a masterpiece that transcends eras and captivates the senses. Crafted with precision and adorned with tribal motifs, this kilim represents a rich tapestry of heritage and history.

Immerse yourself in the warm embrace of earthy terracotta and the subtle interplay of light and dark taupe tones, reminiscent of the profound landscapes that inspire awe and reverence. These enchanting hues, a harmonious symphony of sienna, earthen taupe, and dusky sepia, evoke the very essence of Moroccan mystique.

Dating back to the mid-century era, a testament to the 1960s, this flat-weave Moroccan rug possesses a perfect 3x5 size, making it a versatile addition to any space. Allow its presence to effortlessly enhance your decor, whether it's gracing your floor with solitary grace or harmoniously layered with other Oriental rugs to create a symphony of design elements that is nothing short of eclectic and transitional.

This wool rug, a true embodiment of quality and authenticity, is equally at home within traditional or mid-century style rooms. Its adaptable size renders it suitable for a multitude of settings - the heart of your home, your kitchen, the grandeur of your entryway, the warmth of your living room, the intimacy of your bedroom, or the creative sanctuary of your office. Its versatility knows no bounds.

Crafted with unwavering dedication, each knot whispers the tales of Moroccan heritage and tribal traditions, narrating stories of generations past. This Vintage Handwoven Moroccan Rug is not just a rug; it's a work of art that reflects the soul of a culture and the creativity of artisans. Invite the spirit of Morocco into your home and watch as this kilim weaves its magic, turning every moment into a timeless memory.

Embrace the past, and let this Moroccan masterpiece be the cornerstone of your interior design, where history and aesthetics converge, in a symphony of color, texture, and style.
Age: 1960s

Condition: Excellent

Dimensions: 3' 1" W x 4' 6" L

Floor Heating Safe: Yes

Material: Wool on cotton

Origin: Turkey

Primary Color: Muted earthy tones

Product Care: Vacuum clean gently or professional cleaning

Shape: Rectangle

Style: Oriental style
Choose options