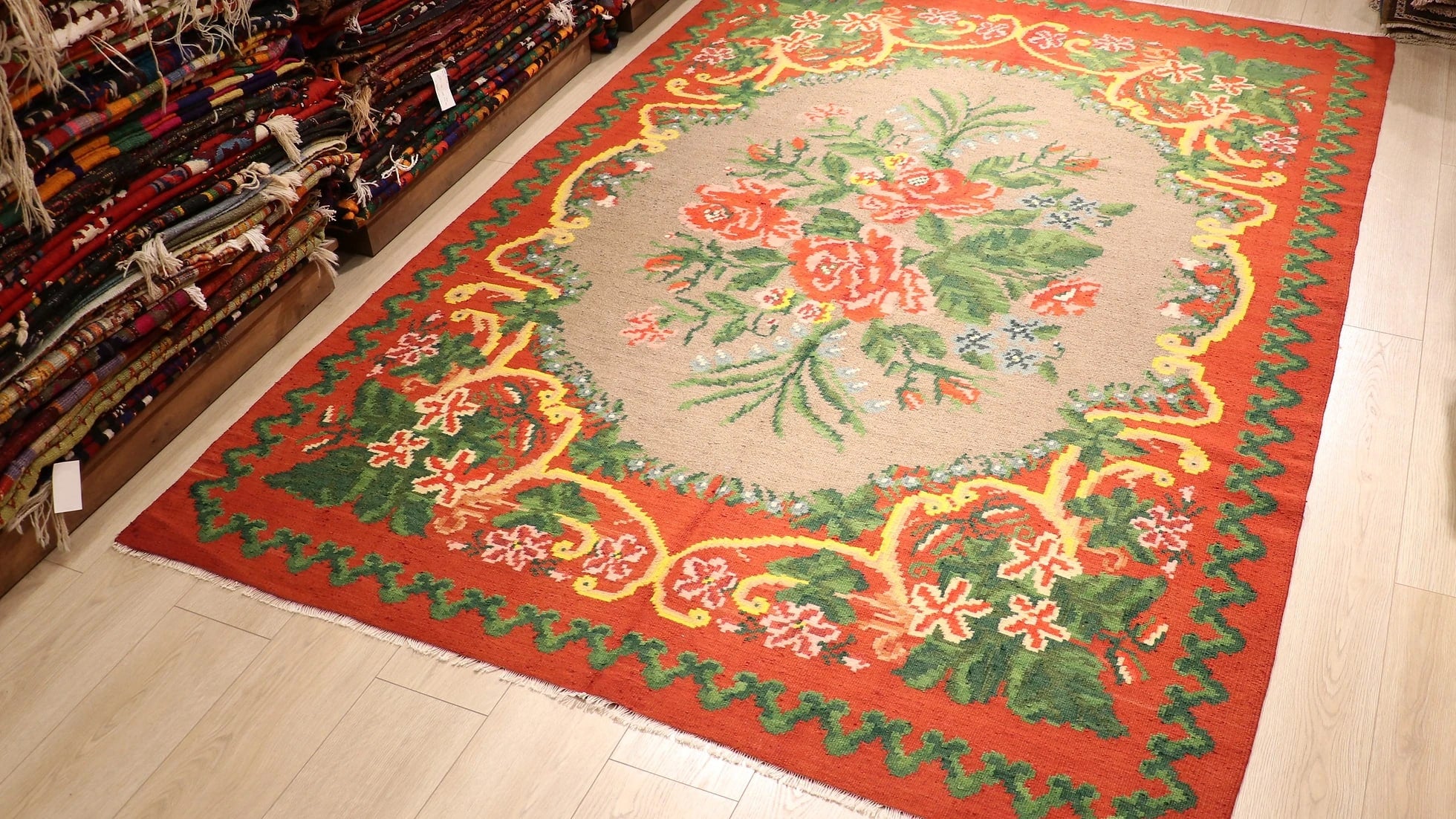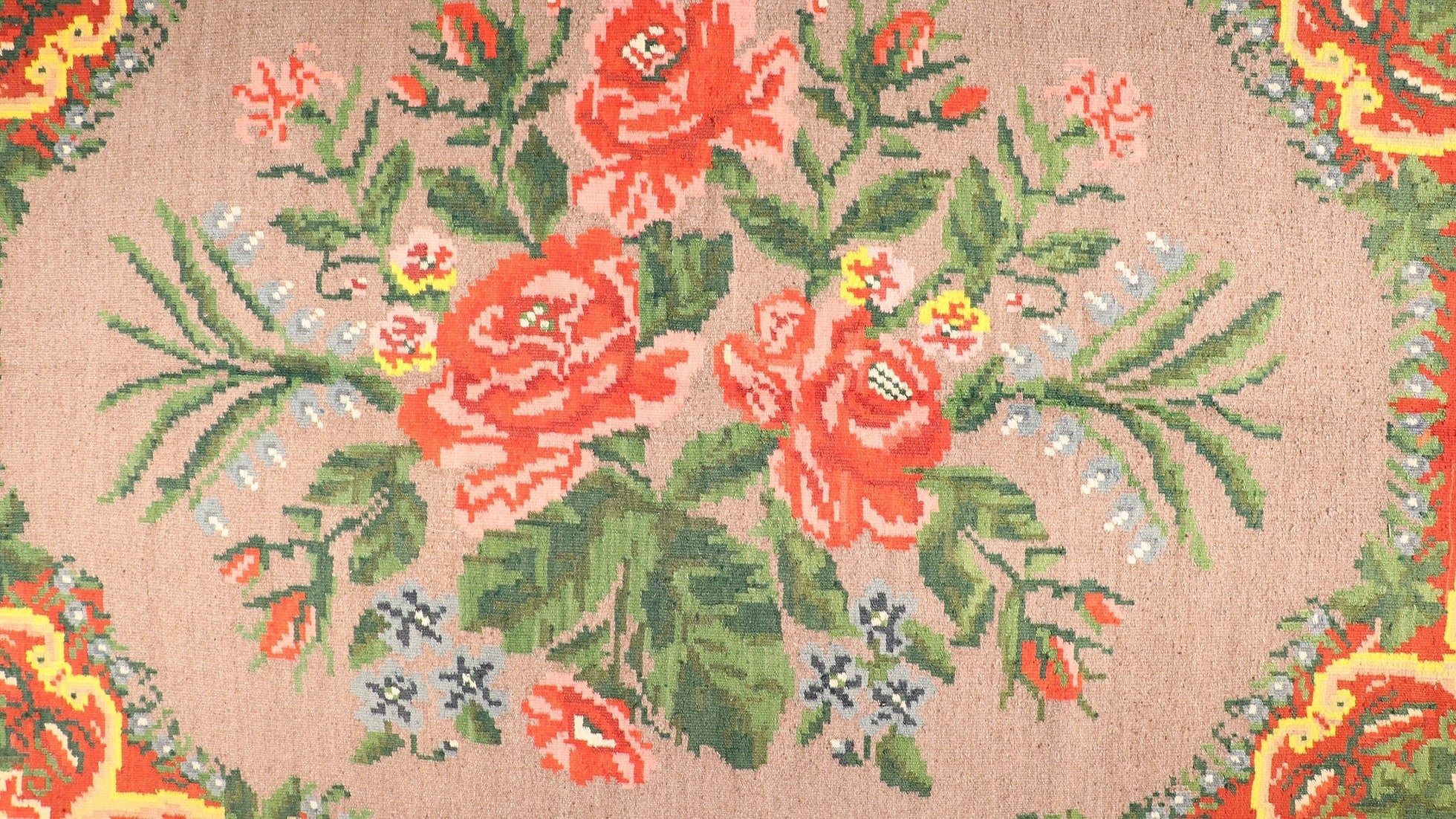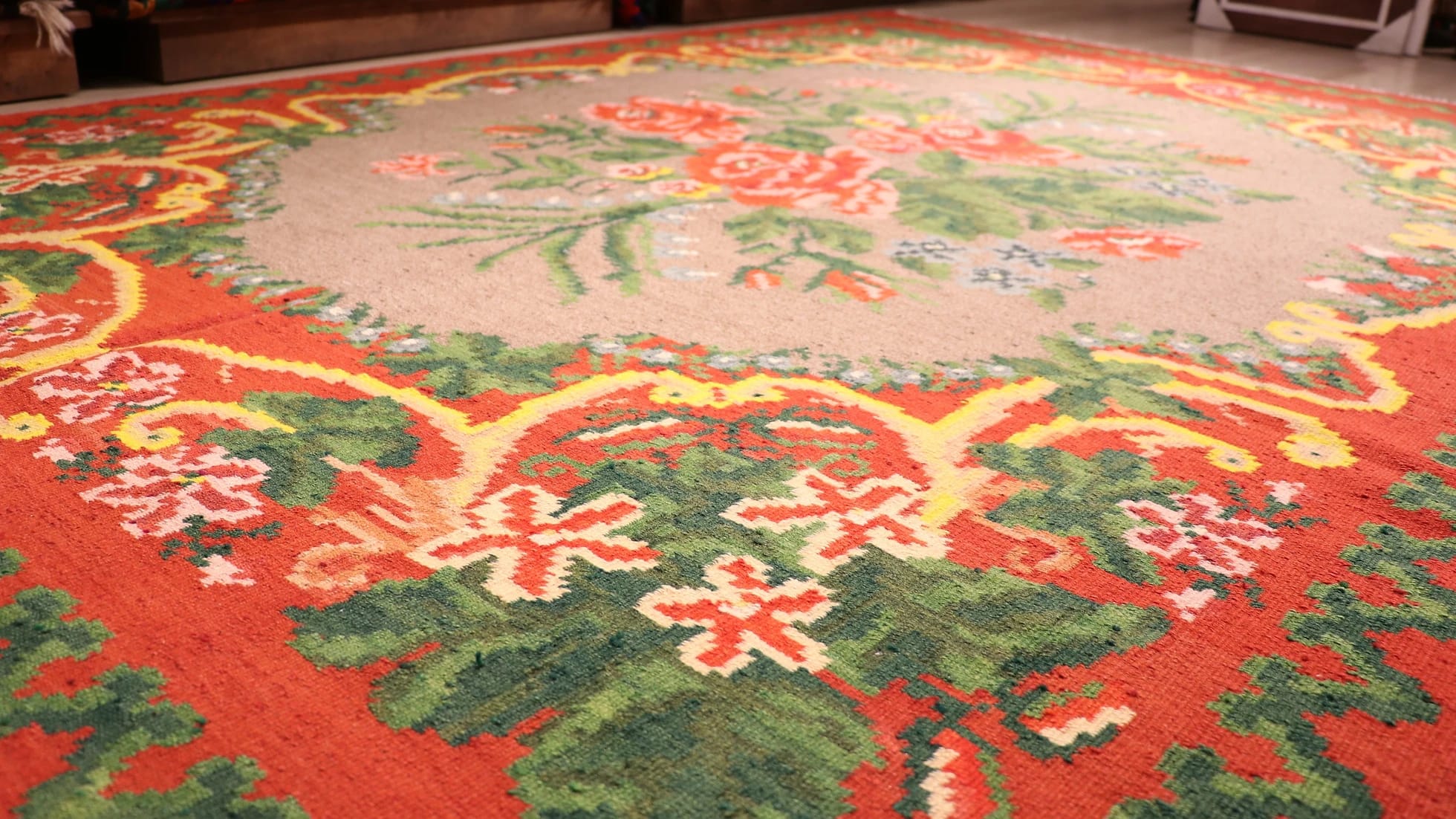 Vintage Bessarabian Hand-Knotted Rug | Moldavian Art Deco Kilim in Floral Patterns
Sale price

$2,790.00
Regular price
(/)
---
Indulge in the captivating allure of our Vintage Bessarabian Hand-Knotted Rug, a relic of Moldova's rich heritage that transports you to the golden age of Art Deco sophistication. This superlative 6x9 kilim rug is a masterpiece that exudes timeless charm and artistic finesse.

At the core of this opulent rug lies a resplendent giant rose bouquet, ensconced within a graceful medallion awash in a muted stone color palette. The arrangement of this medallion, along with its flowers painted in hues of refined reddish pink, weaves a truly exceptional tapestry that offers a whimsical and profound portrayal, akin to an elaborate giant wreath. This design possesses a depth of meaning and sarcasm that promises to be a conversation piece in any setting.

Beyond the expansive medallion wreath, one encounters a meticulously rendered array of smaller floral patterns, adorned with delicate leaves, resulting in a mesmerizing tapestry that gracefully spirals around the central bouquet in resplendent gold. This fusion of colors and floral motifs evokes the nostalgia of antique art deco Chinese rugs, imbuing the piece with historical significance and artistic tradition.

A lush, verdant green border, mirroring the hue of the leaves, forms an intricate frame that not only enhances the rug's aesthetic, but also serves as a seamless enclosure, elegantly containing the visual splendor within.

This Art Deco vintage rug stands as a splendid complement to an eclectic range of interior aesthetics, including maximalist, vintage French, oriental, classic British, transitional, traditional, and eclectic design sensibilities. Its versatility is rivaled only by its authenticity and superlative craftsmanship. Numerous imitations have attempted to emulate its design, yet none can rival the authentic allure and unparalleled quality it embodies.

Handcrafted with the utmost precision from superior wool and meticulously woven by skilled artisans, this rug transcends the boundaries of time. It is an enduring masterpiece, destined to elevate and grace any space it graces. Whether it finds its place adorning the floors of a regal dining room, a gracious guest room, an austere office, a refined living room, or even as a resplendent tapestry adorning your wall, this remarkable piece of art is not merely a decoration; it is a work of art that imparts a sense of history and creativity to your surroundings.
Age: 1950s

Condition: Excellent

Dimensions: 5' 10" W x 8' 8" L

Floor Heating Safe: Yes

Material: Wool on cotton

Origin: Turkey

Primary Color: Scarlet

Product Care: Vacuum clean gently or professional cleaning

Shape: Rectangle

Style: Bessarabian floral style
Choose options