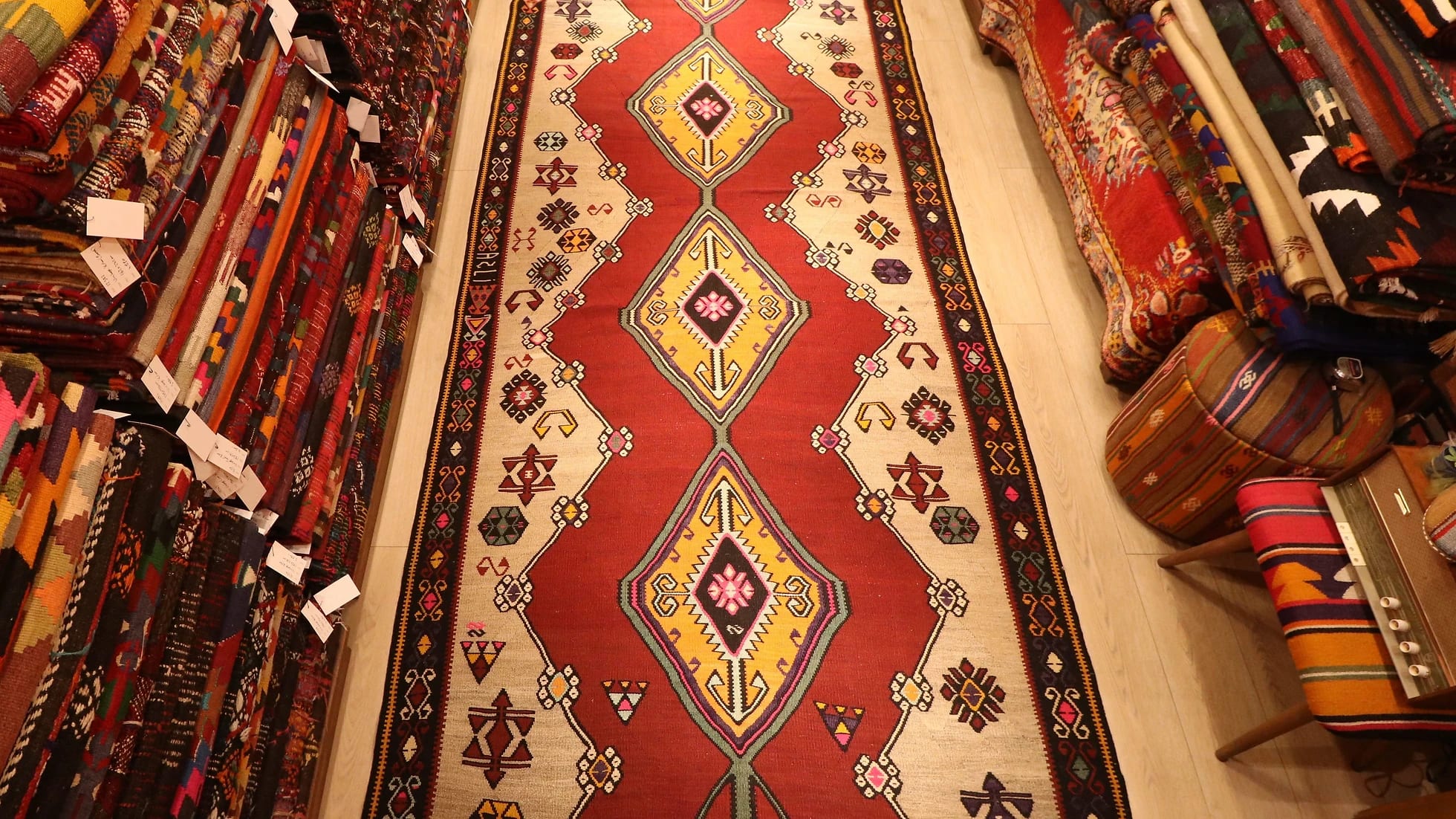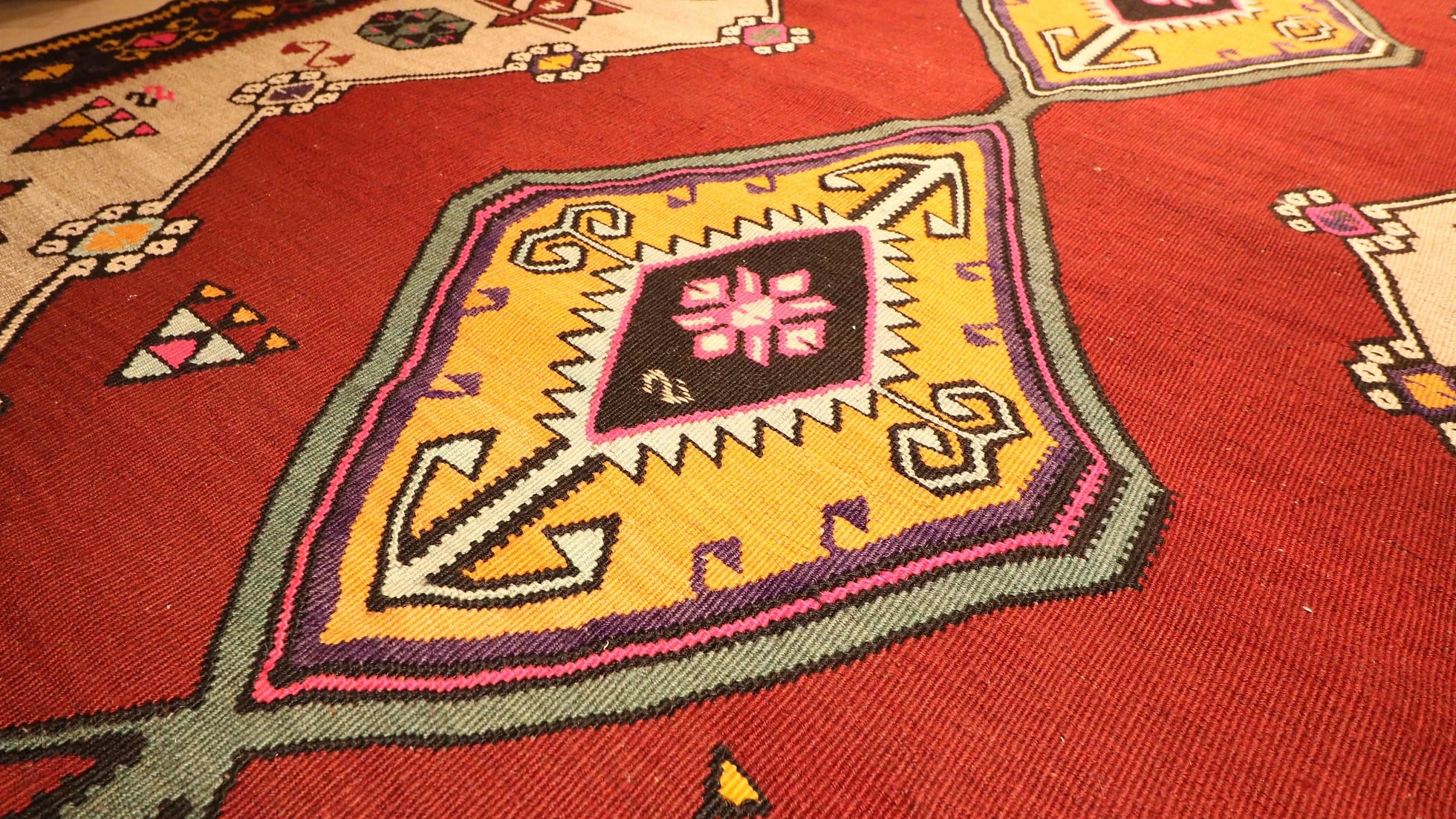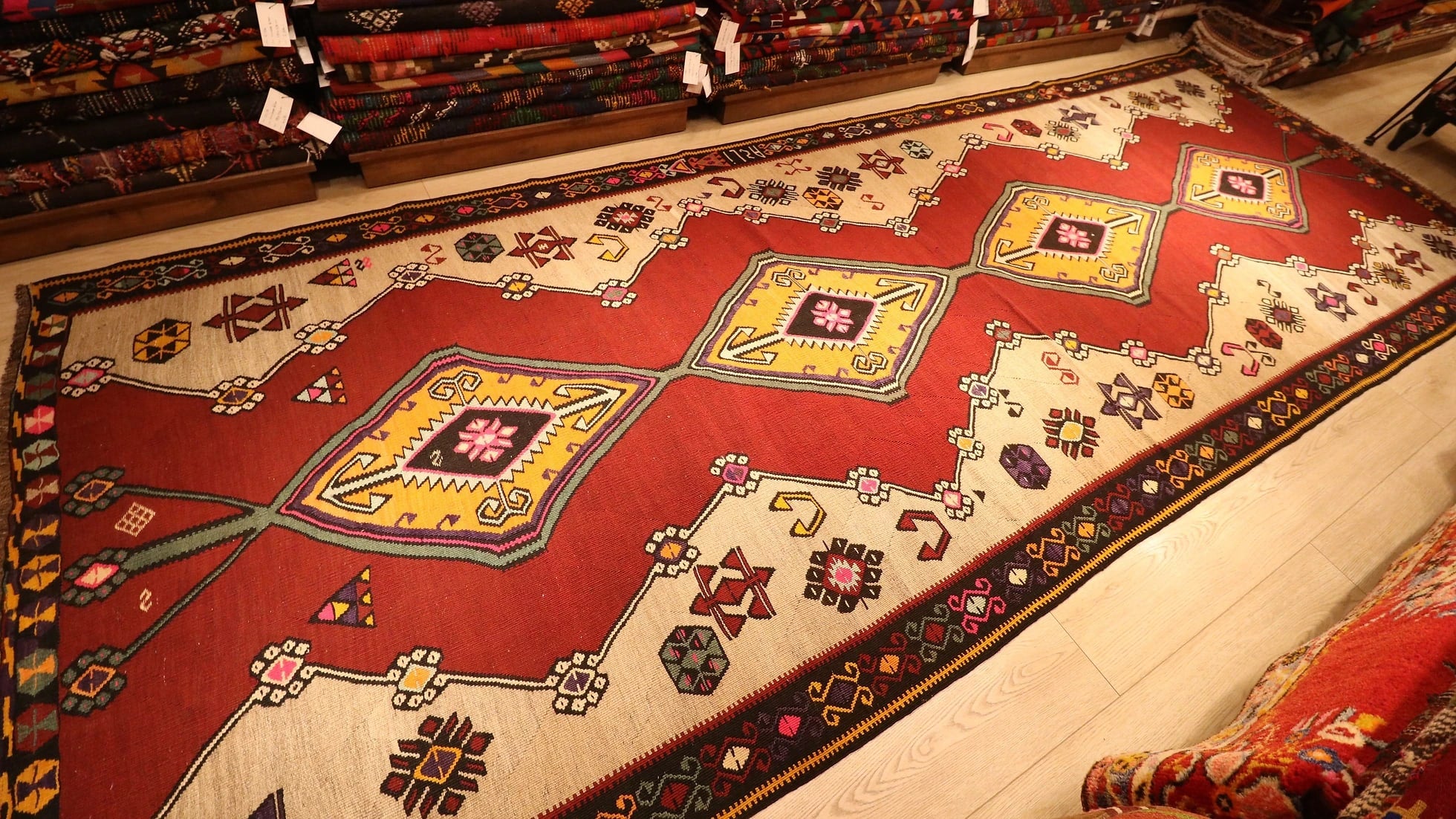 Vintage Turkish Hand-Knotted Gallery Rug | Kars Medallion Kilim in Burgundy / Cream / Bronze 1940s
Sale price

$3,590.00
Regular price

$4,490.00
(/)
---
Step into a world of timeless beauty and rich cultural heritage with this Handwoven Vintage Turkish Kilim Runner Rug from the 1940s. Measuring an impressive 5 feet in width and an astounding 14 feet in length, this remarkable piece originates from the renowned city of Kars, Turkey – a place celebrated globally for its exquisite handwoven nomadic kilims.

The focal point of this kilim's design is an enchanting composition of interlaced lozenge-like bronze medallions that immediately catch the eye. At the center of each medallion, delicate pink floral blossoms bloom gracefully, creating a captivating contrast against the deep burgundy background. The medallions are meticulously constructed, framed by a triple border that showcases vibrant forest green, fuchsia, and deep purple tones, adding an extra layer of brilliance to the already mesmerizing design.

The surface of this handwoven masterpiece hosts an array of Anatolian patterns and motifs, each telling a story of ancient traditions and cultural symbolism. Among them, you'll find the distinctive "hands on hips" and "hook" motifs, surrounded by a striking black border adorned with an abundance of intricate patterns.

Crafted from luxurious wool, this kilim runner exudes a sense of warmth and authenticity, embodying the traditional techniques passed down through generations of skilled artisans. As your hands glide over its surface, you'll feel the softness and durability that only comes from time-honored craftsmanship.

The creamy background serves as a canvas for the repeating tribal motifs, which pay homage to the legacy of Kars carpets, known for their unique charm and artistic expression. Each tribal motif is a testament to the weavers' dedication and passion, as they poured their hearts into crafting a rug that transcends time and brings the beauty of the past into your home.

Elevate your living space, dining area, or hallway with this captivating 1940s Kars Runner Rug. Its vibrant colors, intricate designs, and historical significance make it a rare and cherished piece of art that will undoubtedly spark conversations and admiration from anyone who lays eyes on it.

Embrace the allure of Turkish culture and the legacy of Kars' nomadic kilims by welcoming this handwoven masterpiece into your home. The stories woven into its fabric and the artistry displayed in its patterns will forever enchant you, turning your living space into a haven of timeless beauty and cultural appreciation.
Age: 1940s

Condition: Excellent

Dimensions: 5' 4" W x 14' 1" L

Floor Heating Safe: Yes

Material: Wool on cotton

Origin: Kars, Turkey

Primary Color: Polychromatic

Product Care: Vacuum clean gently or professional cleaning

Shape: Rectangle

Style: Kars medallion style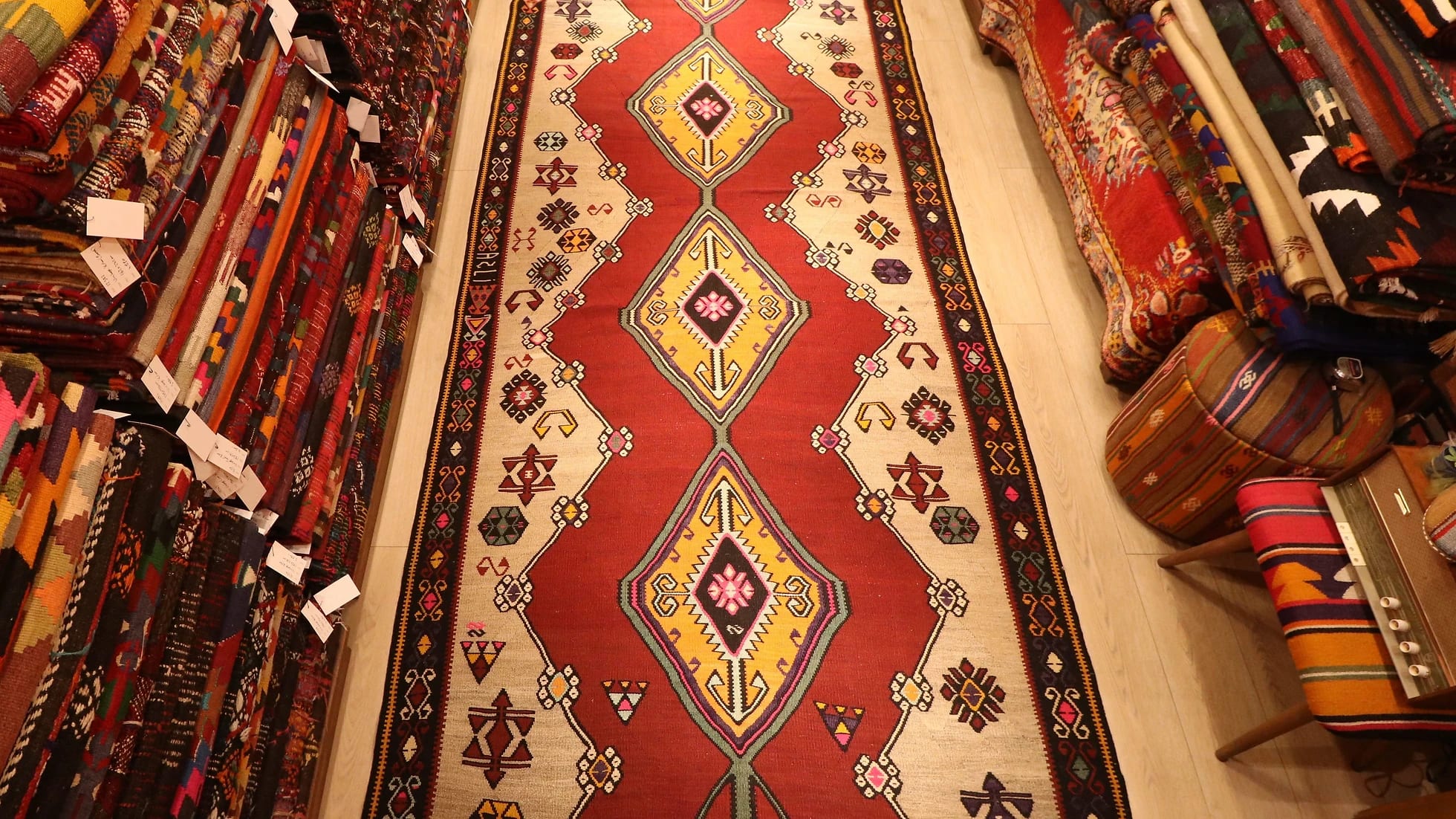 Vintage Turkish Hand-Knotted Gallery Rug | Kars Medallion Kilim in Burgundy / Cream / Bronze 1940s
Sale price

$3,590.00
Regular price

$4,490.00
Choose options