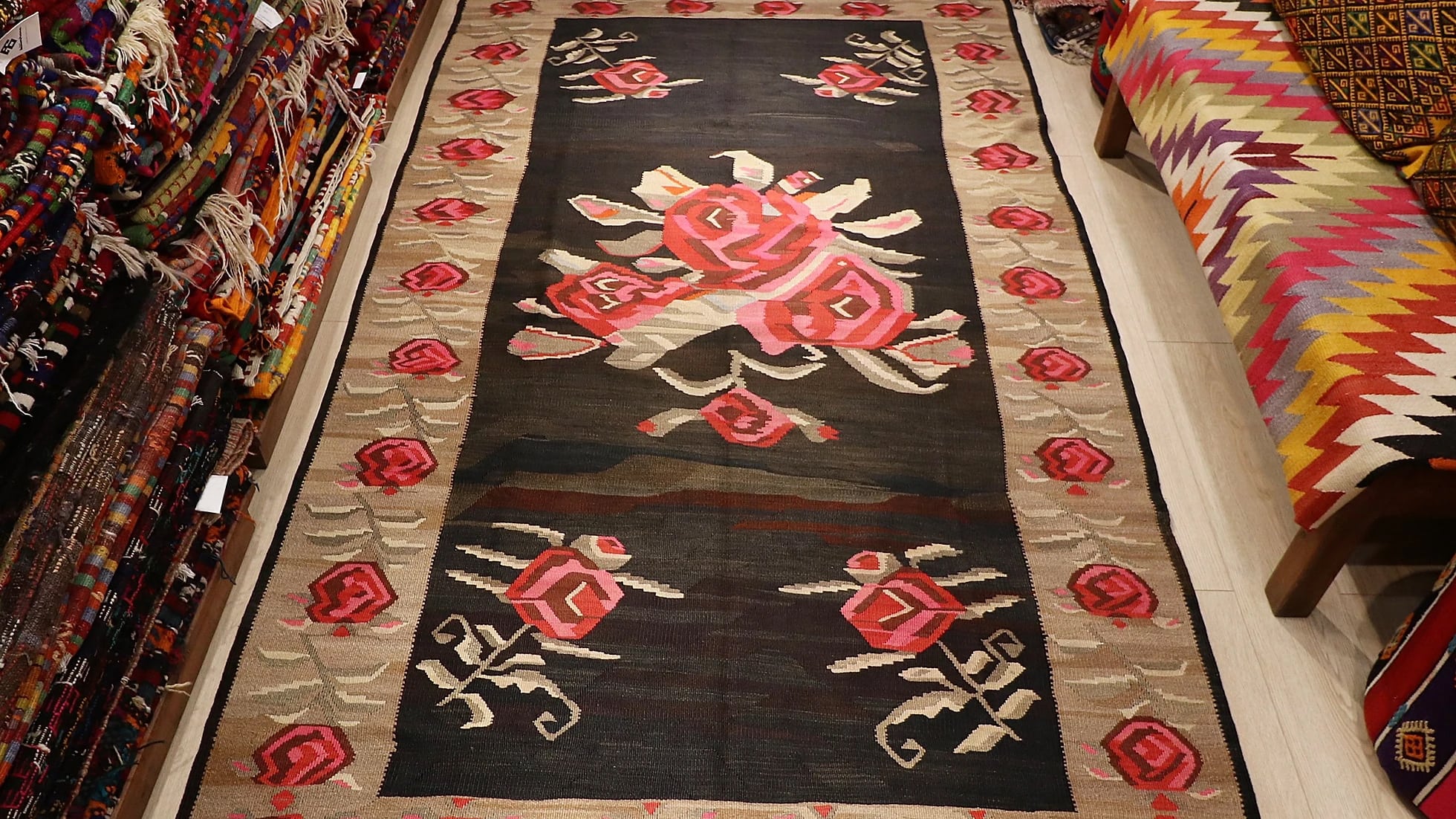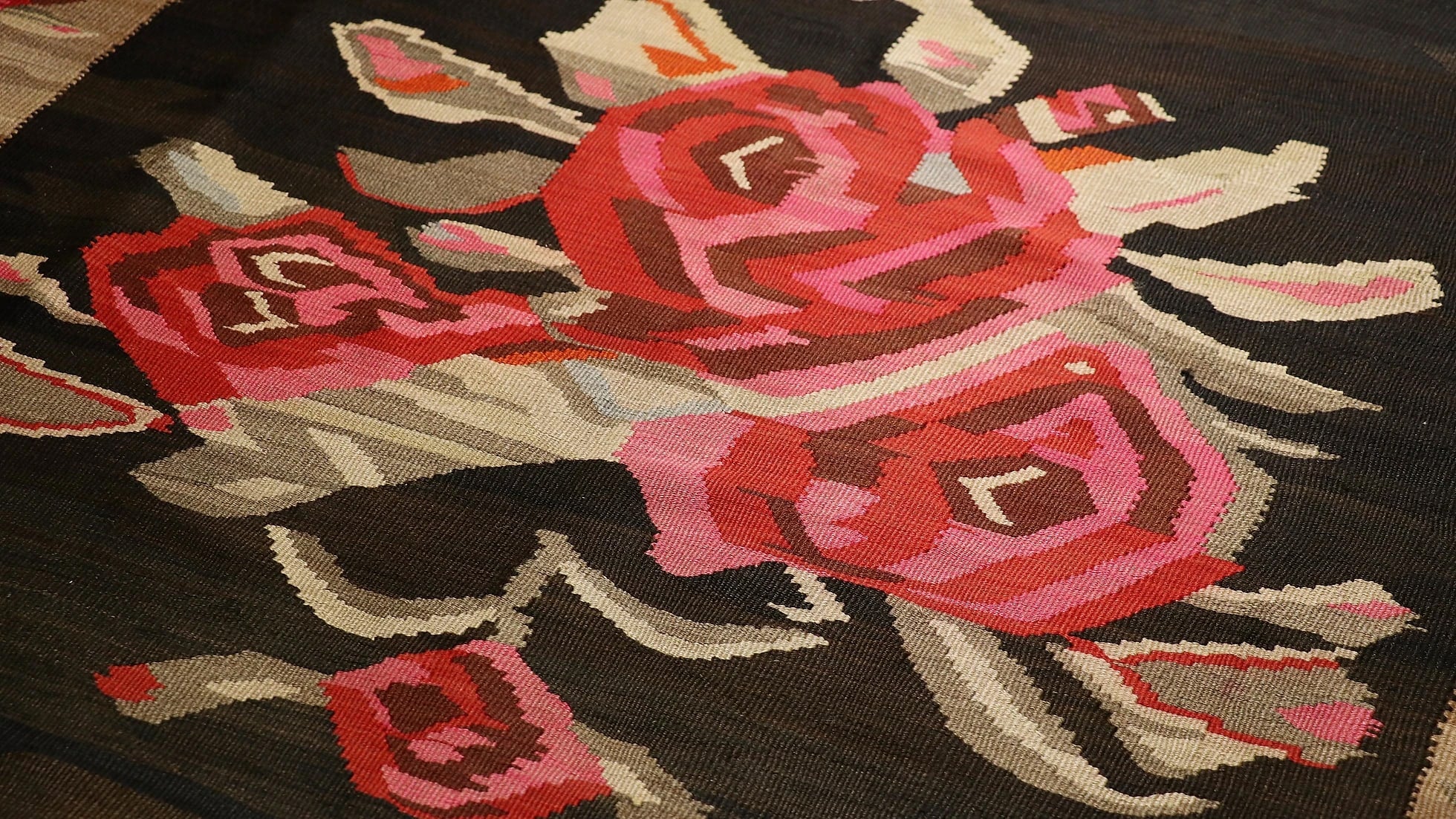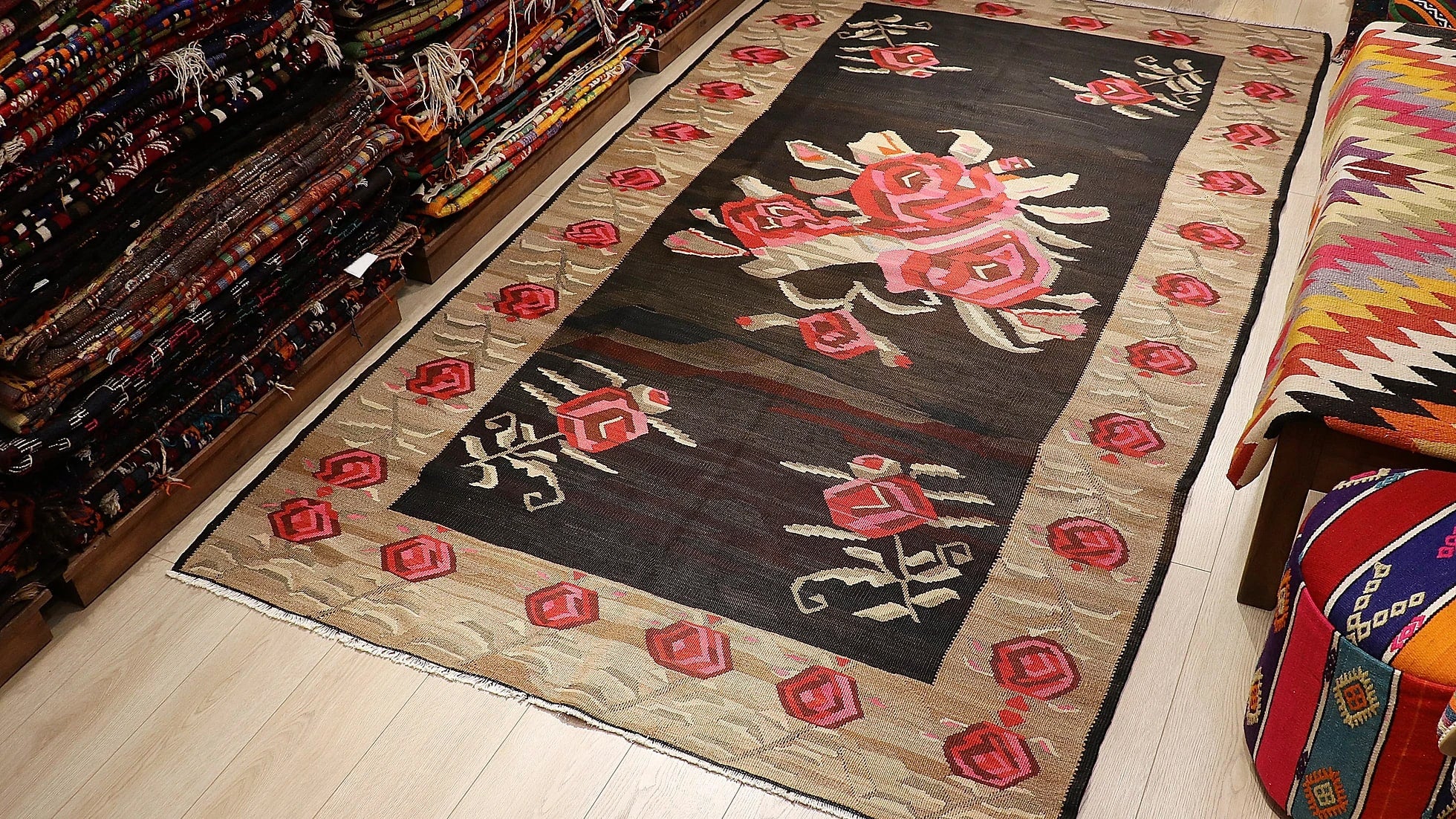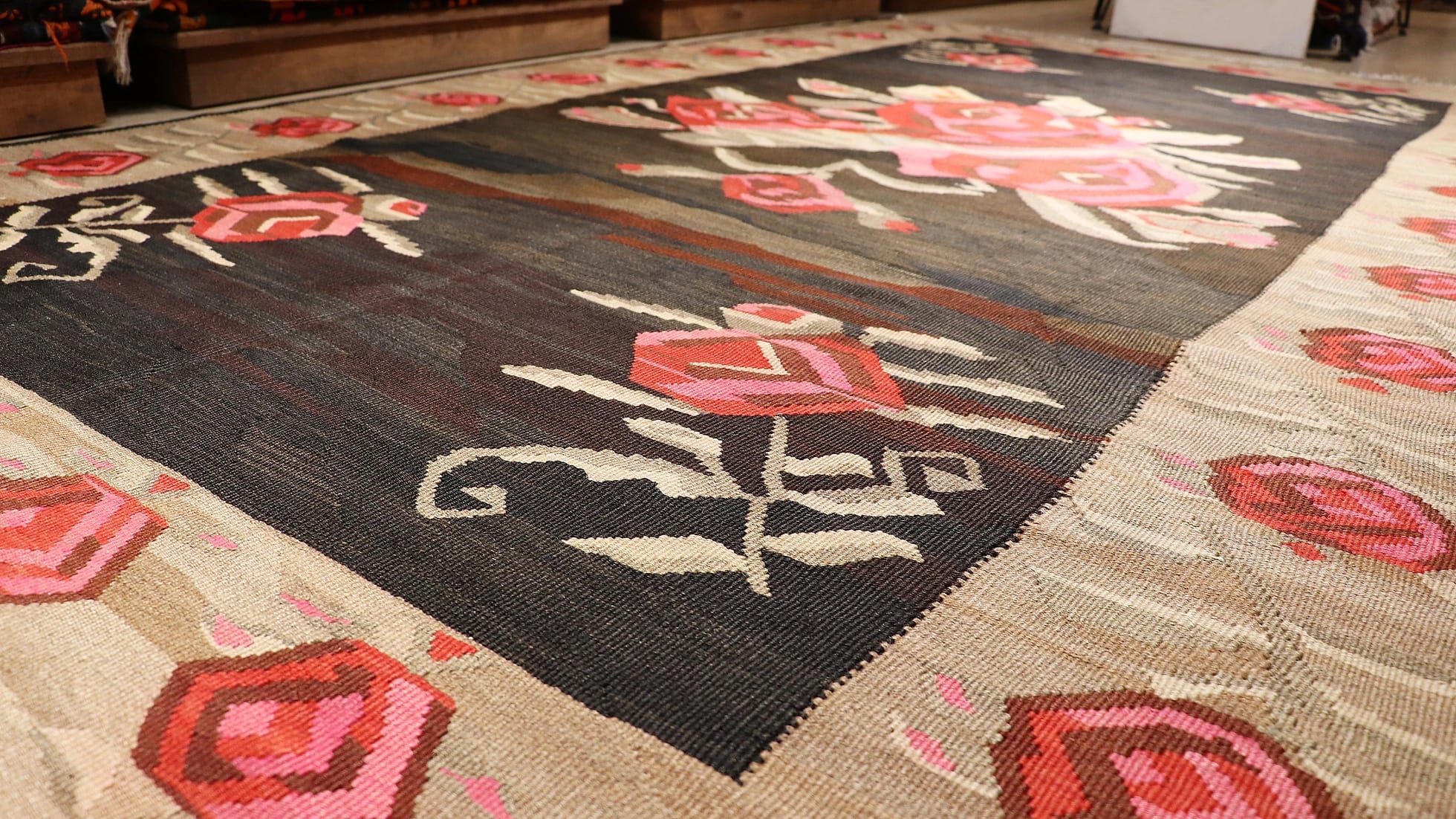 Vintage Turkish Hand-Knotted Rug | Kars Karabakh Floral Tapestry Kilim in Taupe / Crimson 1940s
Sale price

$2,490.00
Regular price
(/)
---
Indulge in a realm of enduring sophistication as you immerse yourself in the exquisite world of our Vintage Turkish Hand-Knotted Rug, the Kars Karabakh Floral Tapestry Kilim in taupe and crimson. A true masterpiece that harks back to the early mid-century of the 1940s, this Anatolian flat-woven gem carries within it the allure of a bygone era, showcasing the famed Karabakh floral tapestry design.

Measuring an impeccably balanced 6x10, this rug's canvas weaves a mesmerizing narrative of history and craftsmanship. At its core, a resplendent bouquet of grand roses, cloaked in the softest pastel pink and muted crimson, commands attention. Against a dark brown backdrop, adorned with gracefully faded sections, the rug's subtle imperfections whisper tales of authenticity, infusing it with an unparalleled character and a rich, storied past.

The central masterpiece is elegantly encircled by smaller roses that bloom in each corner, their grace accentuated by a remarkably wide border in a tasteful taupe hue. This border, adorned with delicate floral motifs in earthy, natural tones, elevates the composition to new heights, endowing it with an added layer of grace and sophistication.

This magnificent Turkish rug is far more than a mere floor covering; it is a living work of art, a testament to the craftsmanship of a bygone era, and an embodiment of the cultural opulence from which it hails. Its versatility knows no bounds, seamlessly harmonizing with a myriad of interior design styles, from the opulence of the oriental to the rustic charm of a farmhouse, and from the contemporary to the vintage French and British aesthetics. This is a versatile masterpiece that transcends time, making a captivating statement in living rooms, kitchens, bedrooms, offices, or even within the hallowed halls of an art gallery.

With a color palette that gracefully interplays soft pastels, muted reds, and earthy neutrals, this woolen work of art will infuse your space with an air of sophistication and a tangible touch of history. Should you so desire, it can also be artfully displayed on your wall, transforming your home into a veritable museum, a living testament to eras long past and the enduring allure they evoke. Acquiring this rare treasure means ushering your home into an era of refined beauty, where the past effortlessly converges with the present, creating a harmonious tapestry of timeless elegance.
Age: 1940s

Condition: Excellent

Dimensions: 5' 7" W x 9' 11" L

Floor Heating Safe: Yes

Material: Wool on cotton

Origin: Kars, Turkey

Primary Color: Taupe, crimson

Product Care: Vacuum clean gently or professional cleaning

Shape: Rectangle

Style: Bessarabian floral style
Choose options