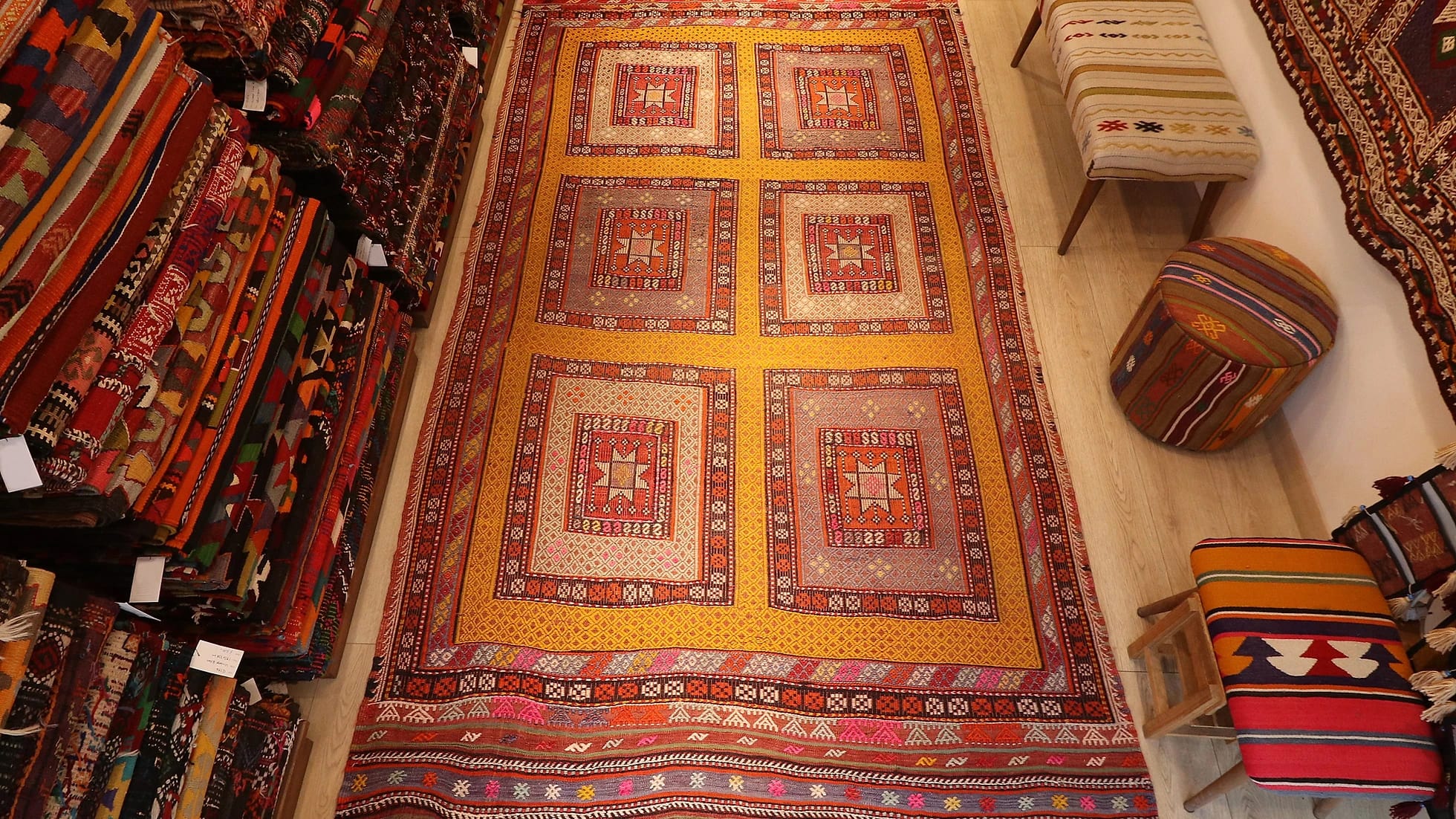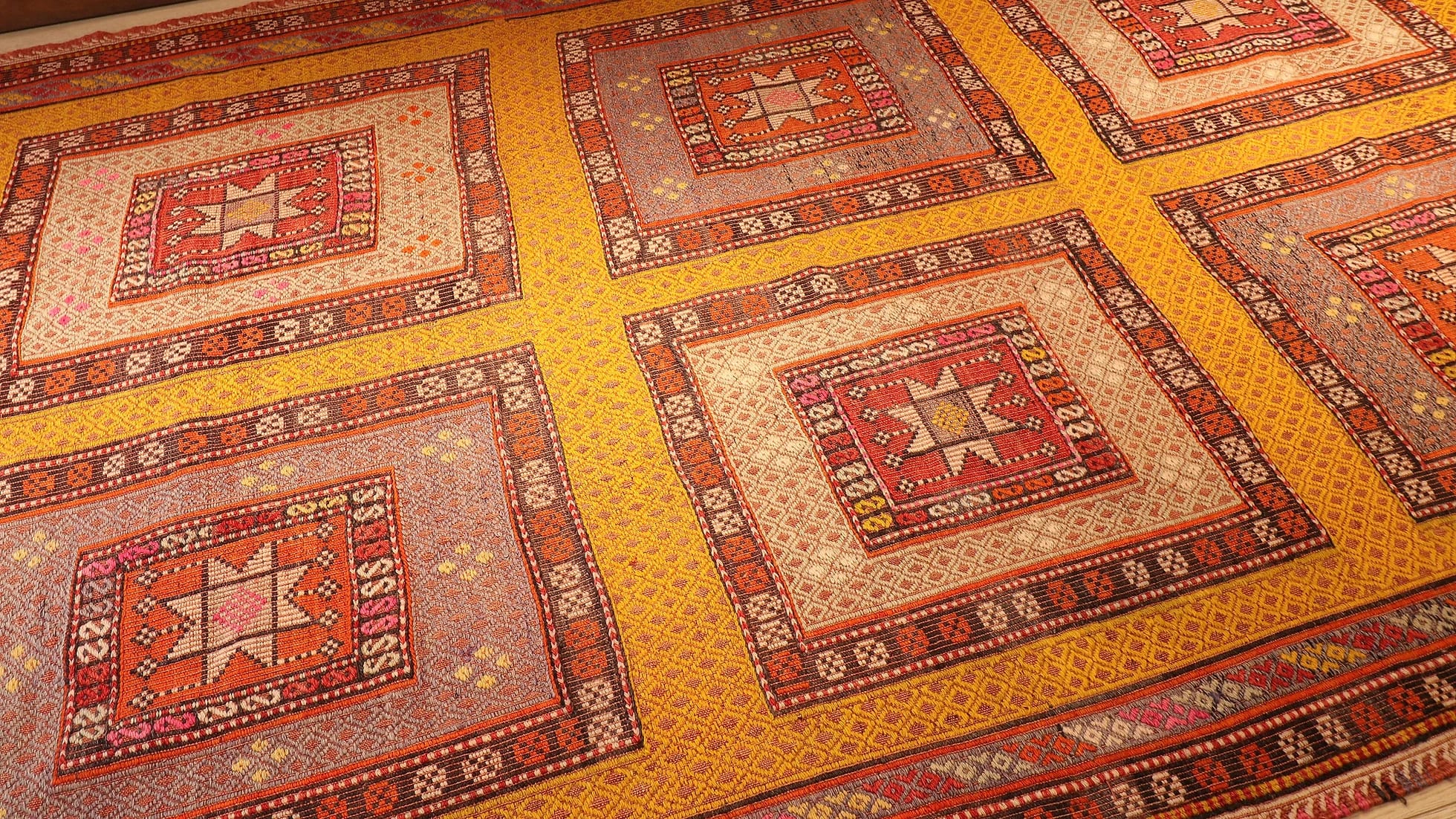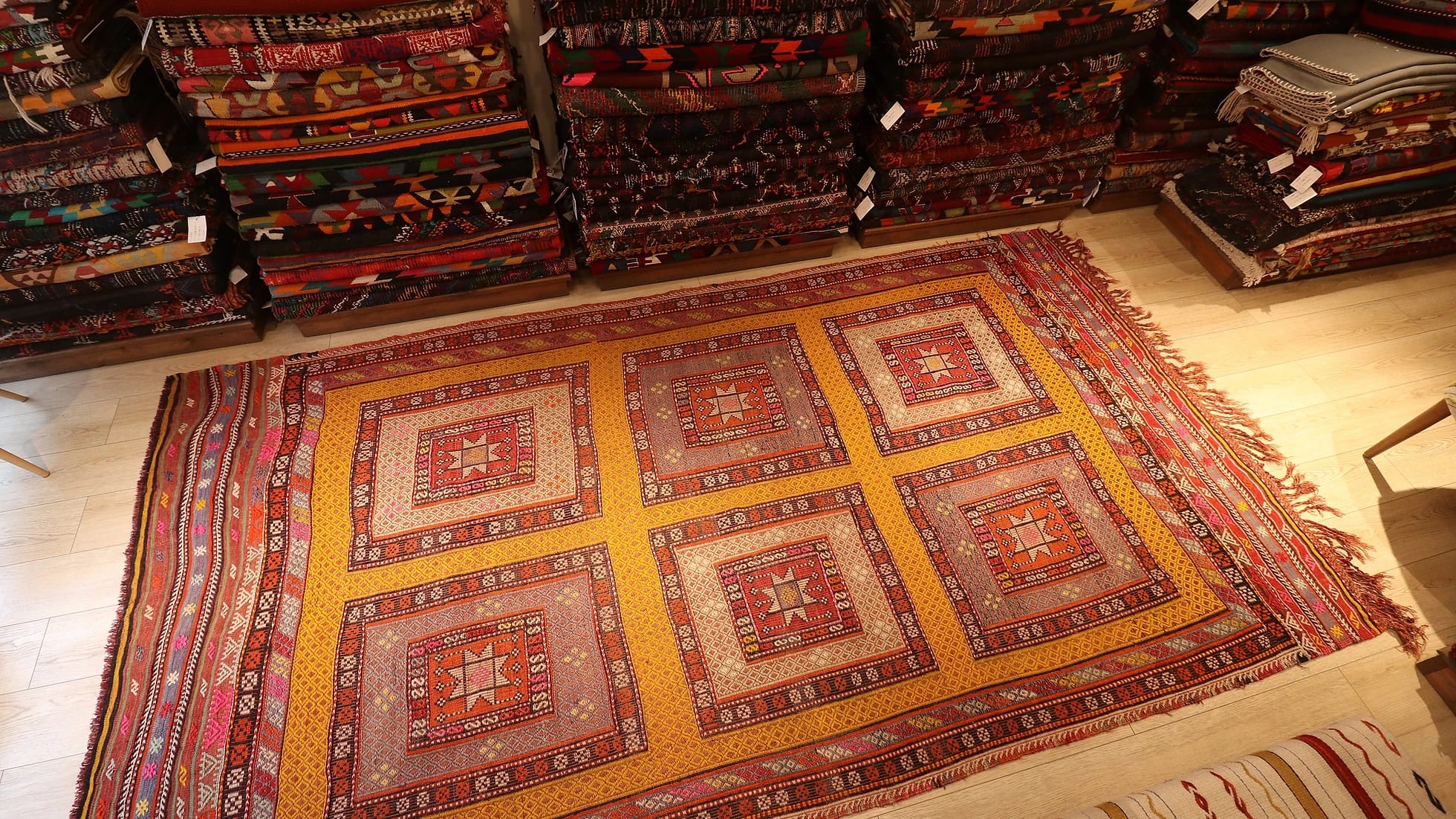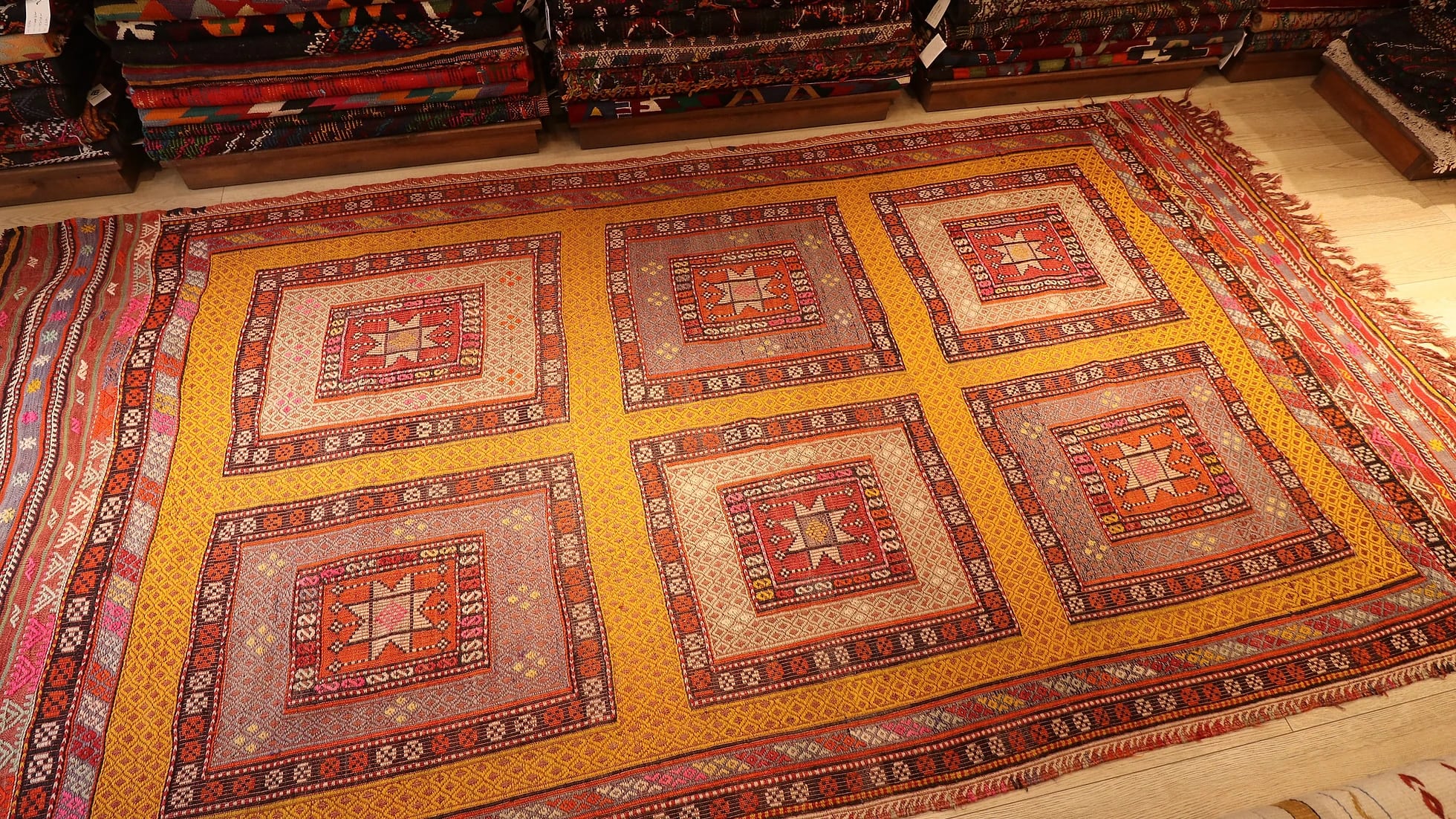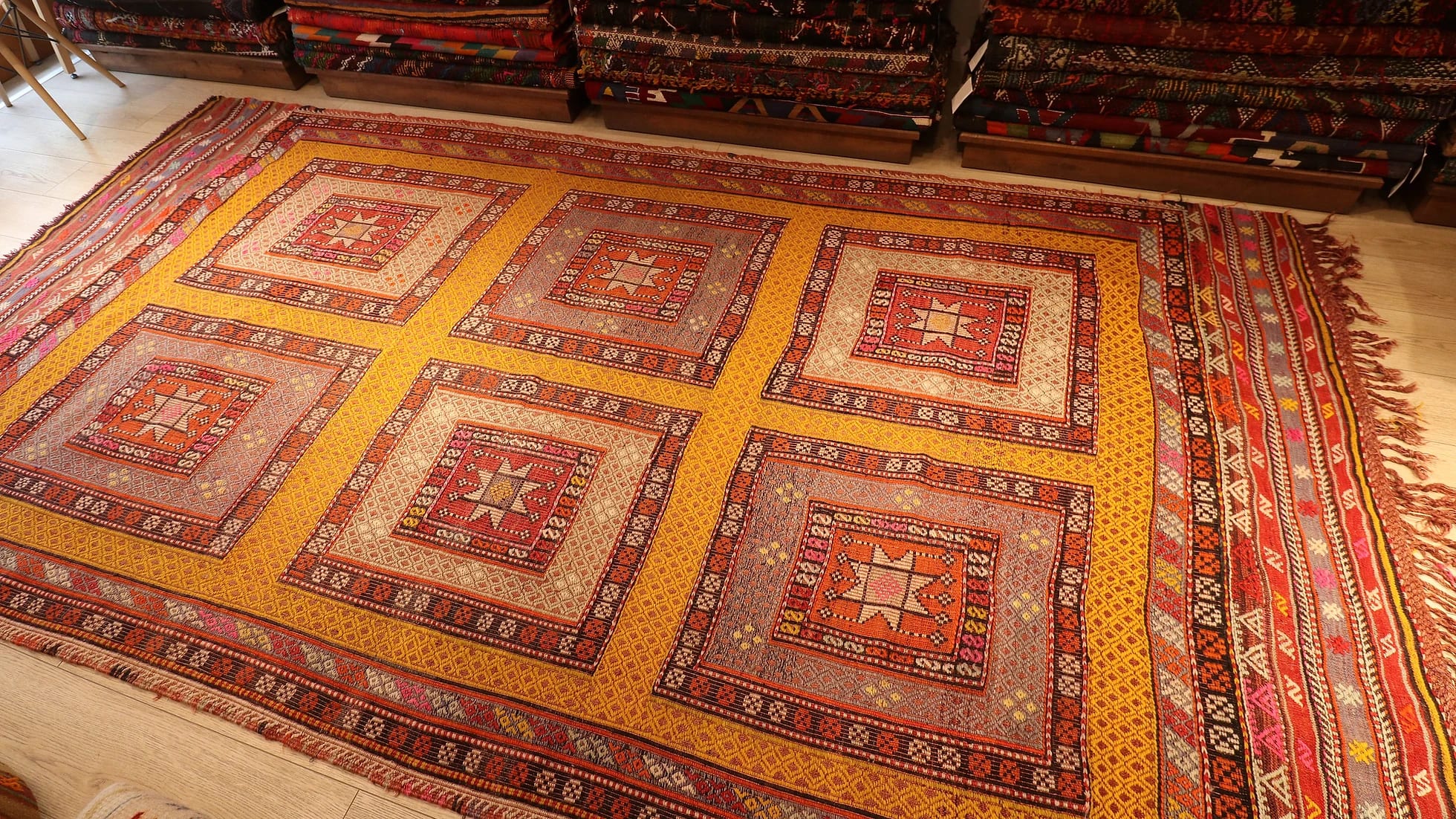 Vintage Turkish Hand-Knotted Rug | Fethiye Semi-Antique Cecim Kilim in Red / Saffron 1950s
Sale price

$2,190.00
Regular price

$2,690.00
(/)
---
Step into the timeless allure of the 1950s with this captivating handwoven kilim, a true gem from the Fethiye region in Turkey. Crafted with meticulous care and skill, this exceptional piece of textile art showcases the finest traditions of the renowned Cecim Kilim style, boasting an enchanting embroidered look that tells a story of unparalleled craftsmanship.

What sets this kilim apart is its remarkable intertwined squares motif, a specialty of Fethiye. Each square weaves together history, culture, and artistic expertise, resulting in a visually stunning masterpiece that transcends time. As you delve into the rug's rich tapestry, you'll discover a harmonious blend of earthy tones, with a deep saffron background radiating warmth and elegance. It serves as a perfect example of the remarkable balance achieved through the interplay of captivating colors.

Unveiling a design element rarely seen, this kilim, measuring 6x11, features more frames alongside its width than its length, influenced by the celebrated Balikesir style kilims. This unique composition enhances the rug's visual impact, further emphasizing its distinctive character and individuality. The precision and artistry with which these frames are integrated into the overall design are a testament to the skill of the weavers who brought this remarkable creation to life.

It perfectly matches with any interior design including classic, traditional, transitional, or eclectic styles. Whether you seek to infuse a touch of tradition into a contemporary setting or create a focal point within a more traditional ambiance, this rug is a rare find that effortlessly bridges the gap between past and present. 

Don't miss this chance to own a masterpiece that seamlessly combines artistry, tradition, and beauty. Take the leap and bring home the extraordinary today.
Age: 1950s

Condition: Excellent

Dimensions: 6' 0" W x 11' 3" L

Floor Heating Safe: Yes

Material: Wool on cotton

Origin: Fethiye, Turkey

Primary Color: Saffron

Product Care: Vacuum clean gently or professional cleaning

Shape: Rectangle

Style: Tribal Cecim style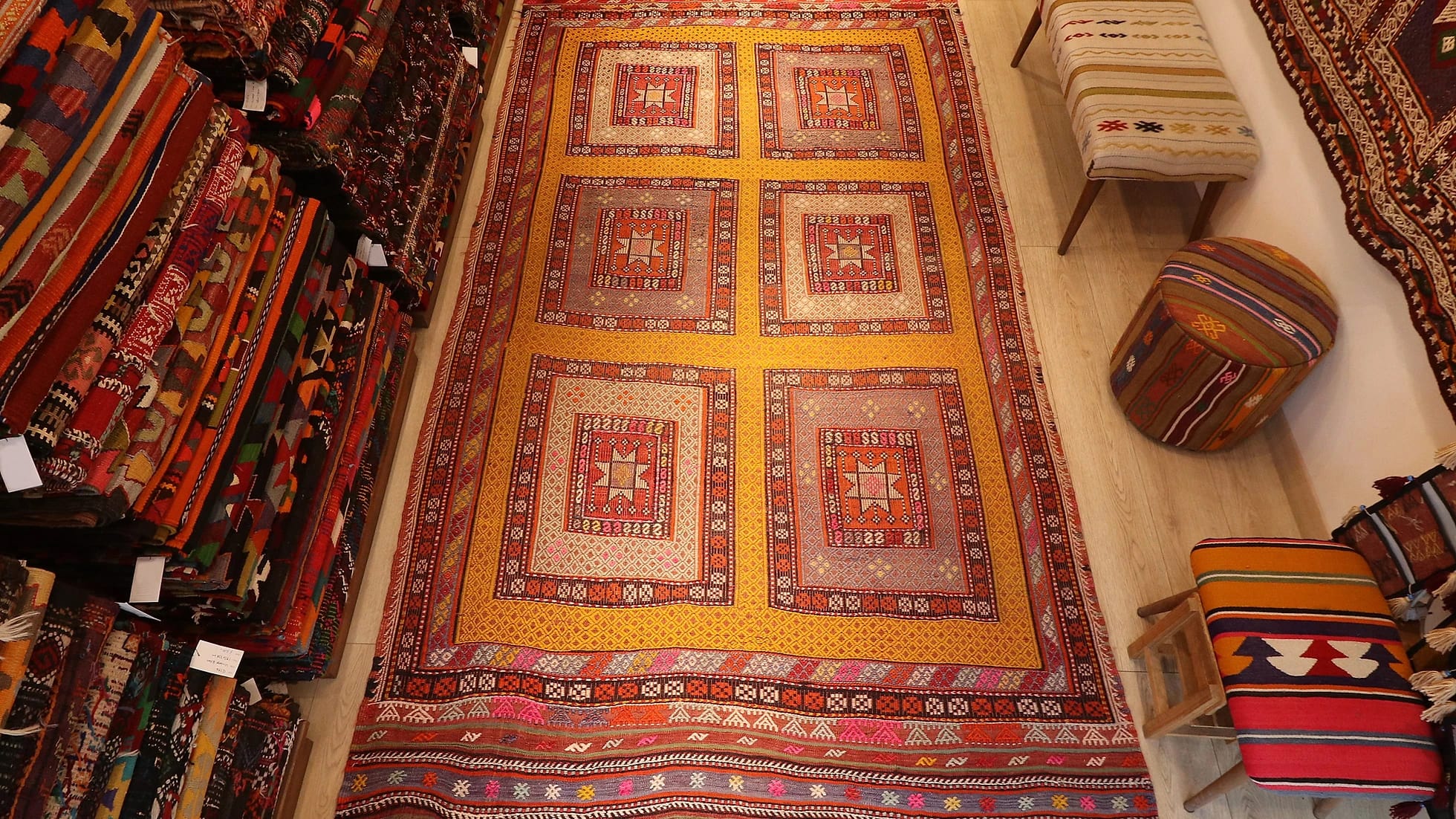 Vintage Turkish Hand-Knotted Rug | Fethiye Semi-Antique Cecim Kilim in Red / Saffron 1950s
Sale price

$2,190.00
Regular price

$2,690.00
Choose options