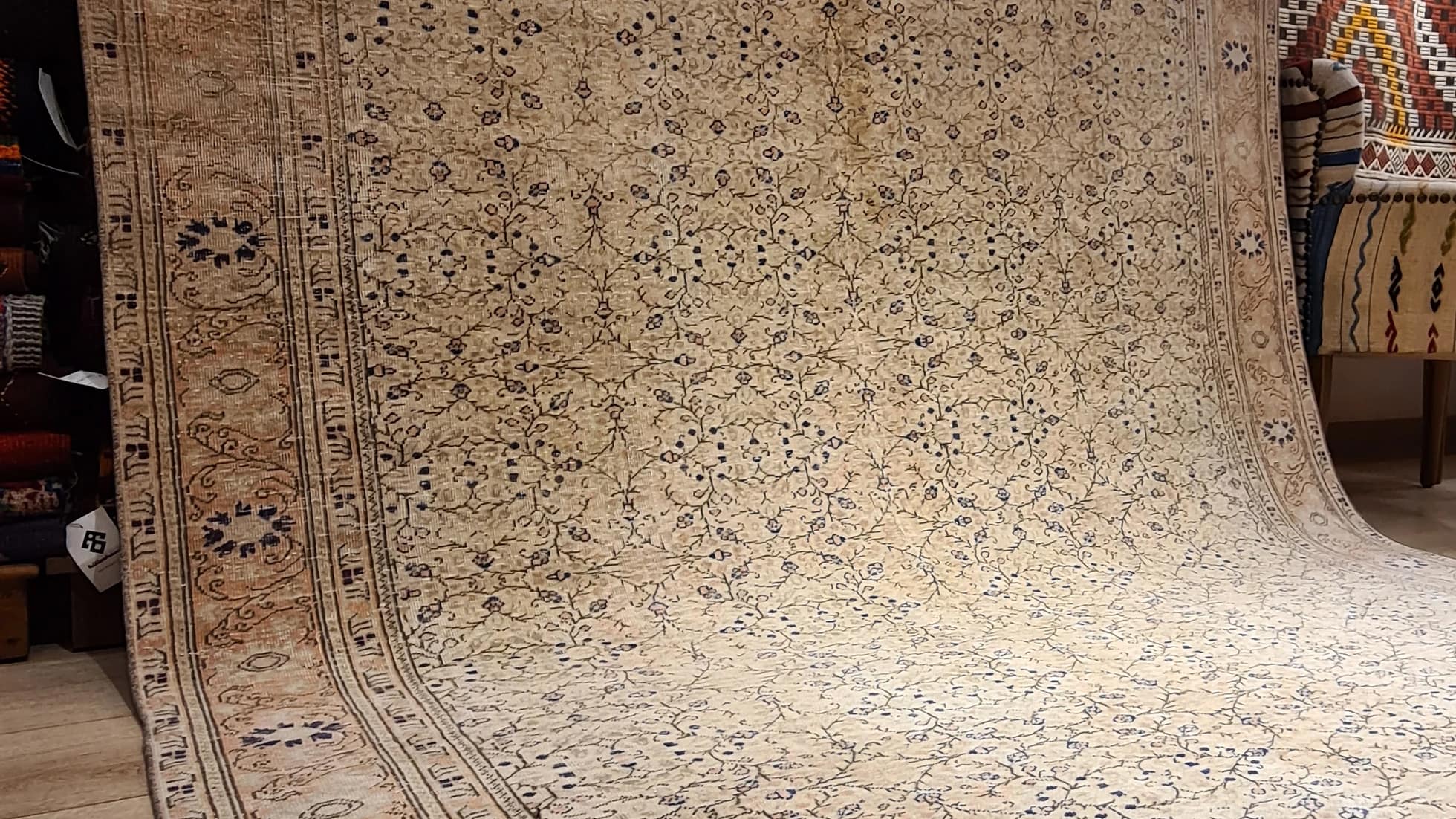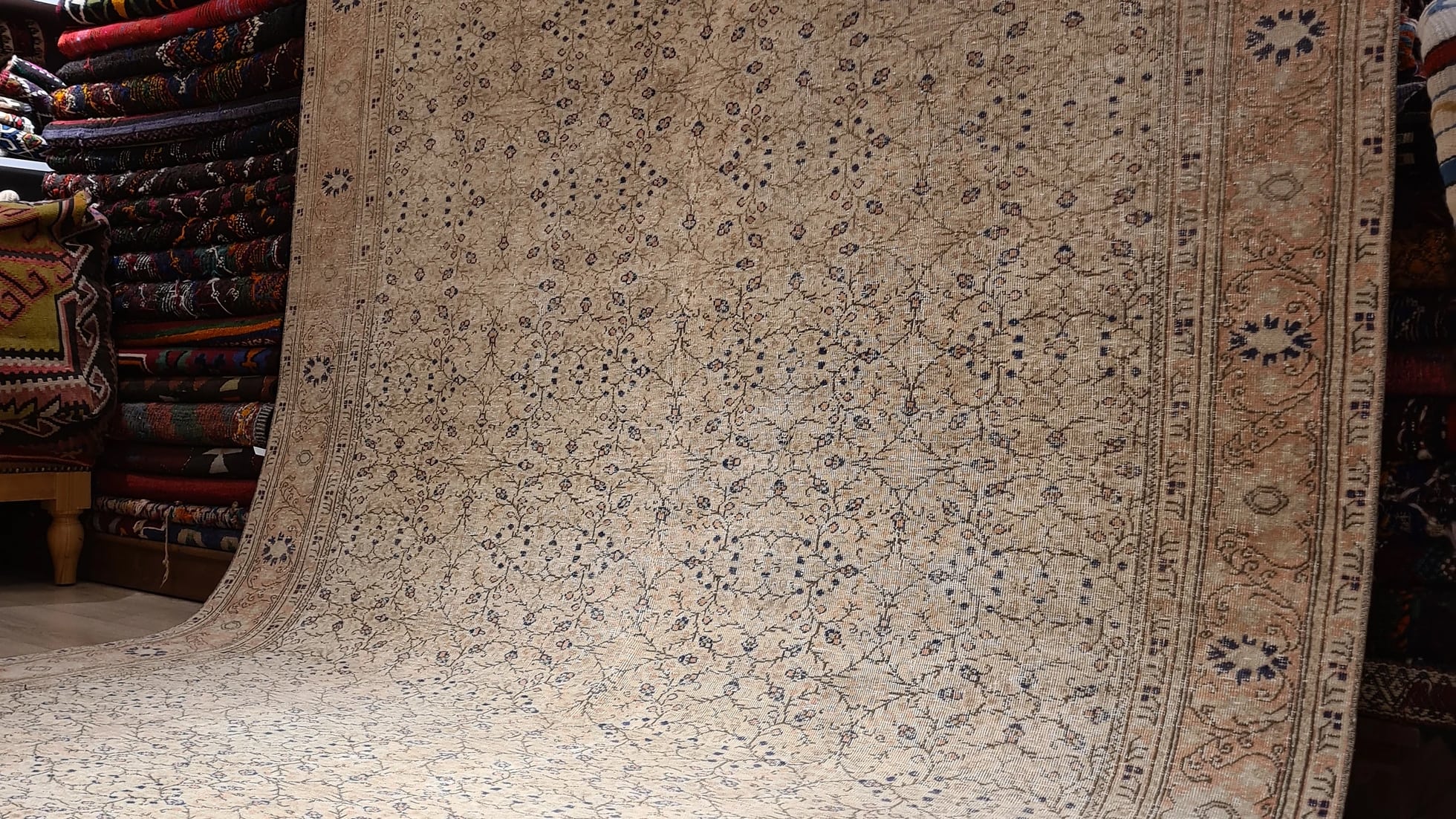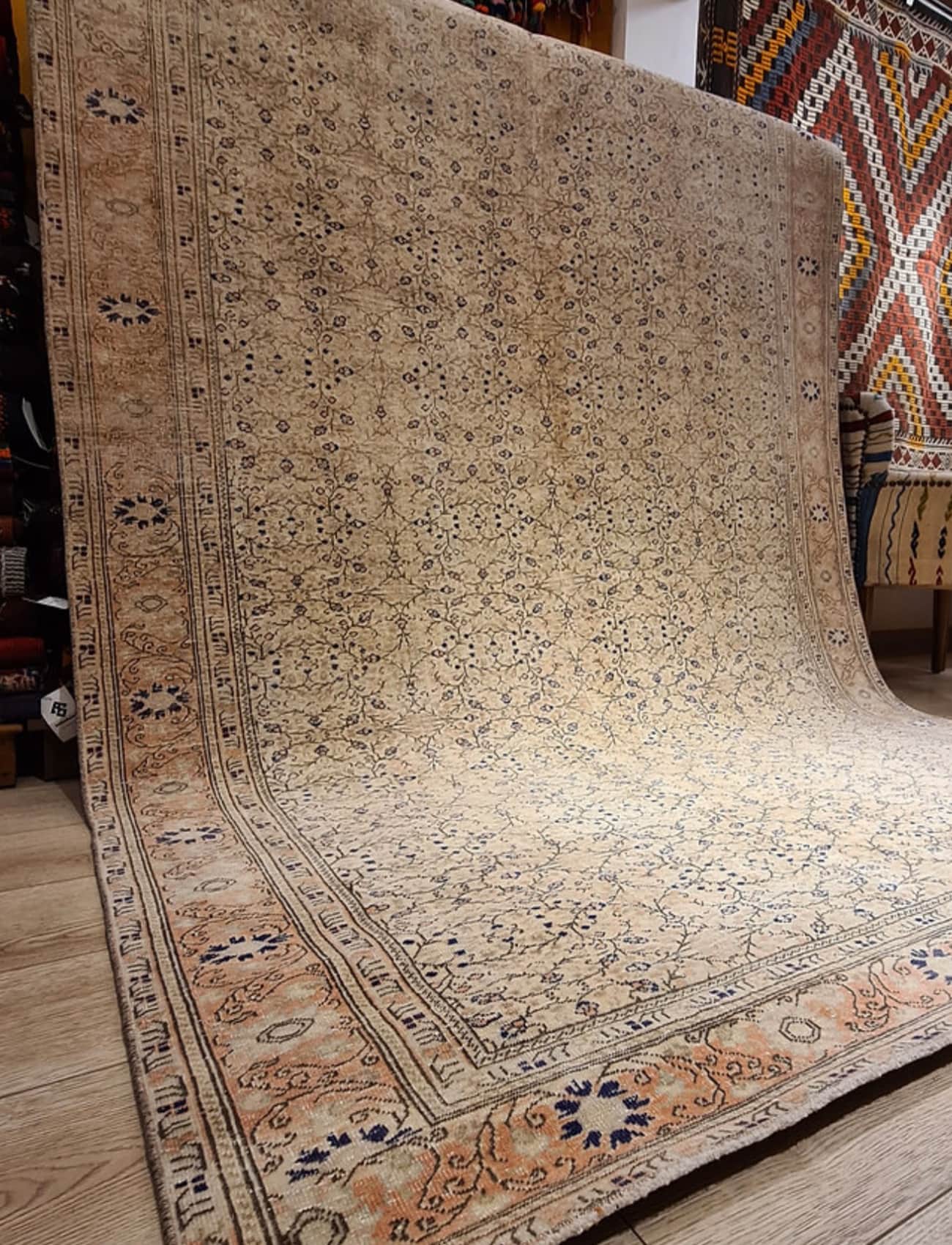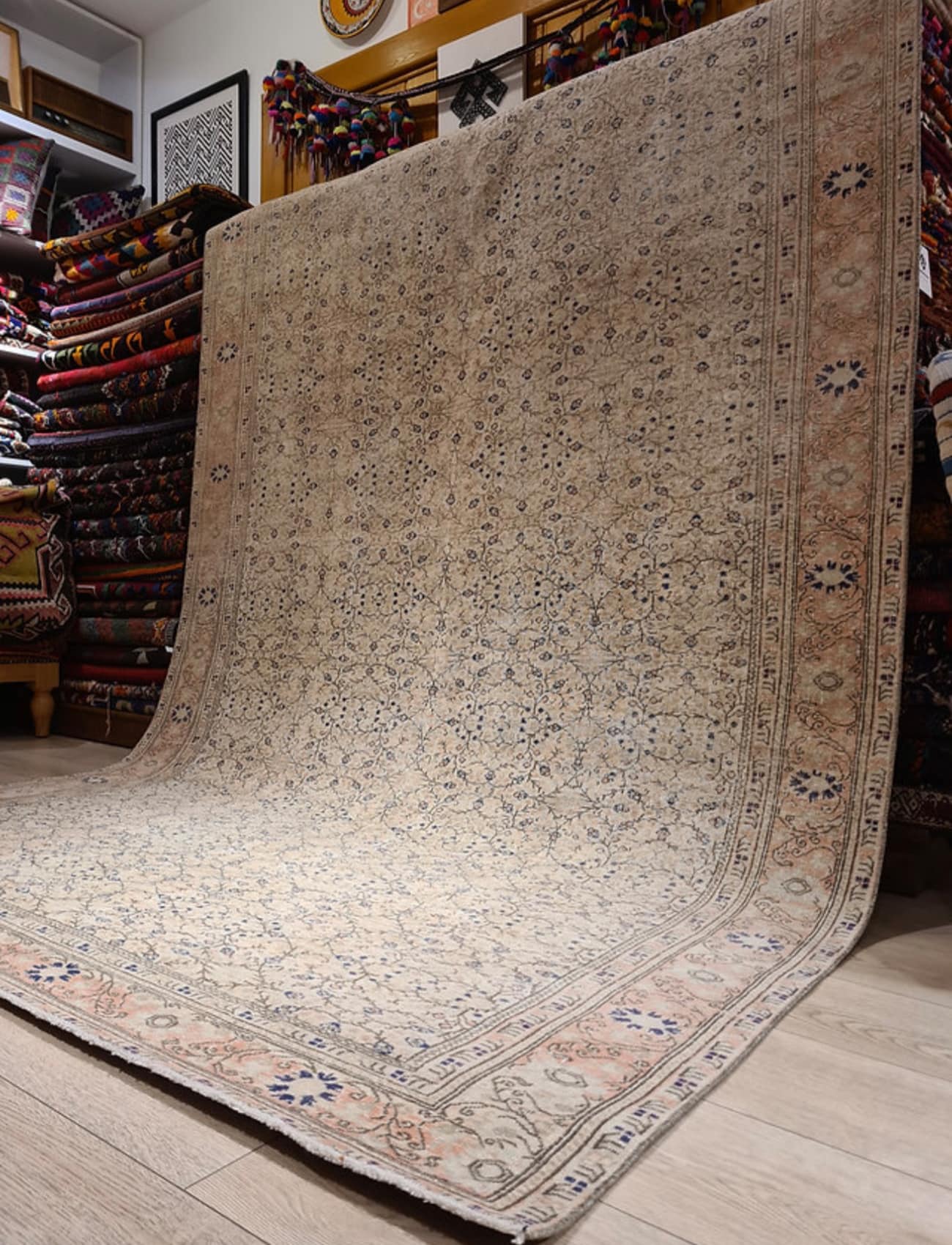 Vintage Turkish Hand-Knotted Rug | Bunyan Oriental Floral Rug in Ivory 1950s
Sale price

$1,990.00
Regular price

$2,490.00
(/)
---
Introducing our extraordinary Vintage Bunyan Oriental Carpet, a true masterpiece hailing from the historic city of Kayseri in Turkey, where the art of rug-making has thrived for centuries. Crafted with impeccable precision, this magnificent 6x9 rug pays homage to the rich heritage of Bunyan carpets, showcasing the timeless elegance of oriental design.

Kayseri, a bustling center of rug production since the days of the Ottoman Empire, has given birth to a unique family of designs that have captivated admirers worldwide. Our floral oriental rug embodies the essence of this legacy, making it a true gem among area rugs.

At the heart of this rug lies a mesmerizing tapestry of intricate patterns, featuring a harmonious blend of exquisite floral and arabesque motifs. The centerpiece boasts repetitive floral patterns that draw the eye and heart in. These intricate designs are gently cradled by a border that's equally breathtaking, showcasing the craftsmanship that has made Bunyan rugs renowned around the world. This fusion of elements transports you to a bygone era, where every thread tells a story of artistry and tradition.

Measuring a generous 6x9 feet, our Bunyan Oriental Rug is perfect for those with a penchant for grandeur. Whether you're decorating a gallery, a spacious living room, a bedroom, or any area adorned with transitional, traditional, or eclectic to maximalist interiors, this rug is your statement piece.

Crafted with the utmost care, this rug is a testament to quality and tradition. Handwoven to perfection and made with sumptuous wool, it offers a luxurious underfoot experience that is both timeless and durable.

Choosing this rug means embracing the charm of a bygone era while making a sustainable choice. Each thread is a testament to the skilled hands that wove this piece, and it carries with it the history of a time-honored craft. The use of vintage materials adds character and sustainability to your space, making it a conscious choice for those who appreciate the value of preserving history.

Our Floral Turkish Rug is more than just a floor covering; it's a piece of art, history, and tradition. By adding this rug to your space, you're not just decorating; you're making a statement, preserving history, and investing in a sustainable future. Elevate your space with the grace and beauty of Kayseri craftsmanship – order your rug today and step into a world of timeless elegance.
Age: 1950s

Condition: Excellent

Dimensions: 6' 2" W x 9' 5" L

Floor Heating Safe: Yes

Material: Wool on cotton

Origin: Kayseri, Turkey

Primary Color: Ivory, beige

Product Care: Vacuum clean gently or professional cleaning

Shape: Rectangle

Style: Floral Bunyan style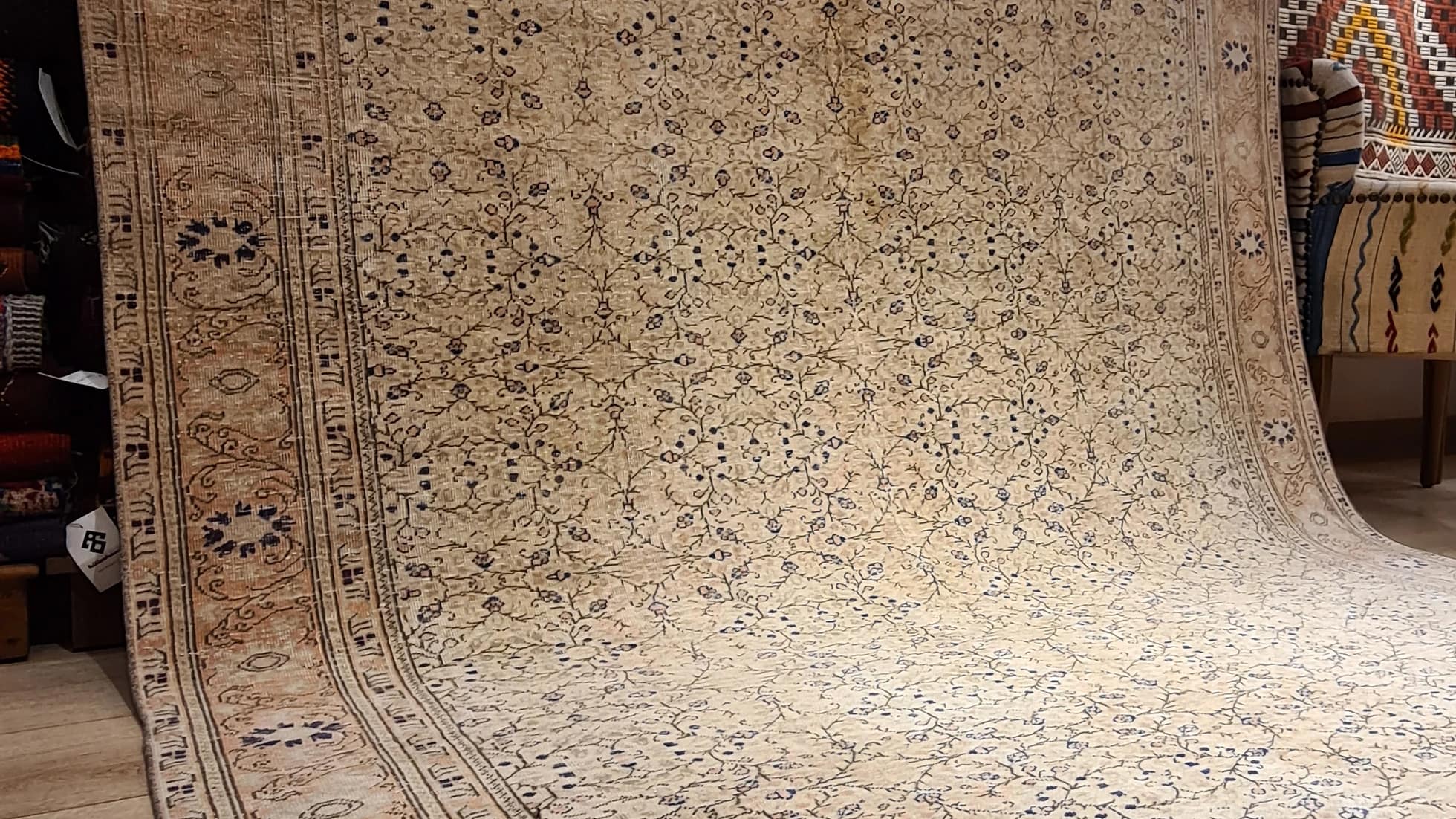 Vintage Turkish Hand-Knotted Rug | Bunyan Oriental Floral Rug in Ivory 1950s
Sale price

$1,990.00
Regular price

$2,490.00
Choose options