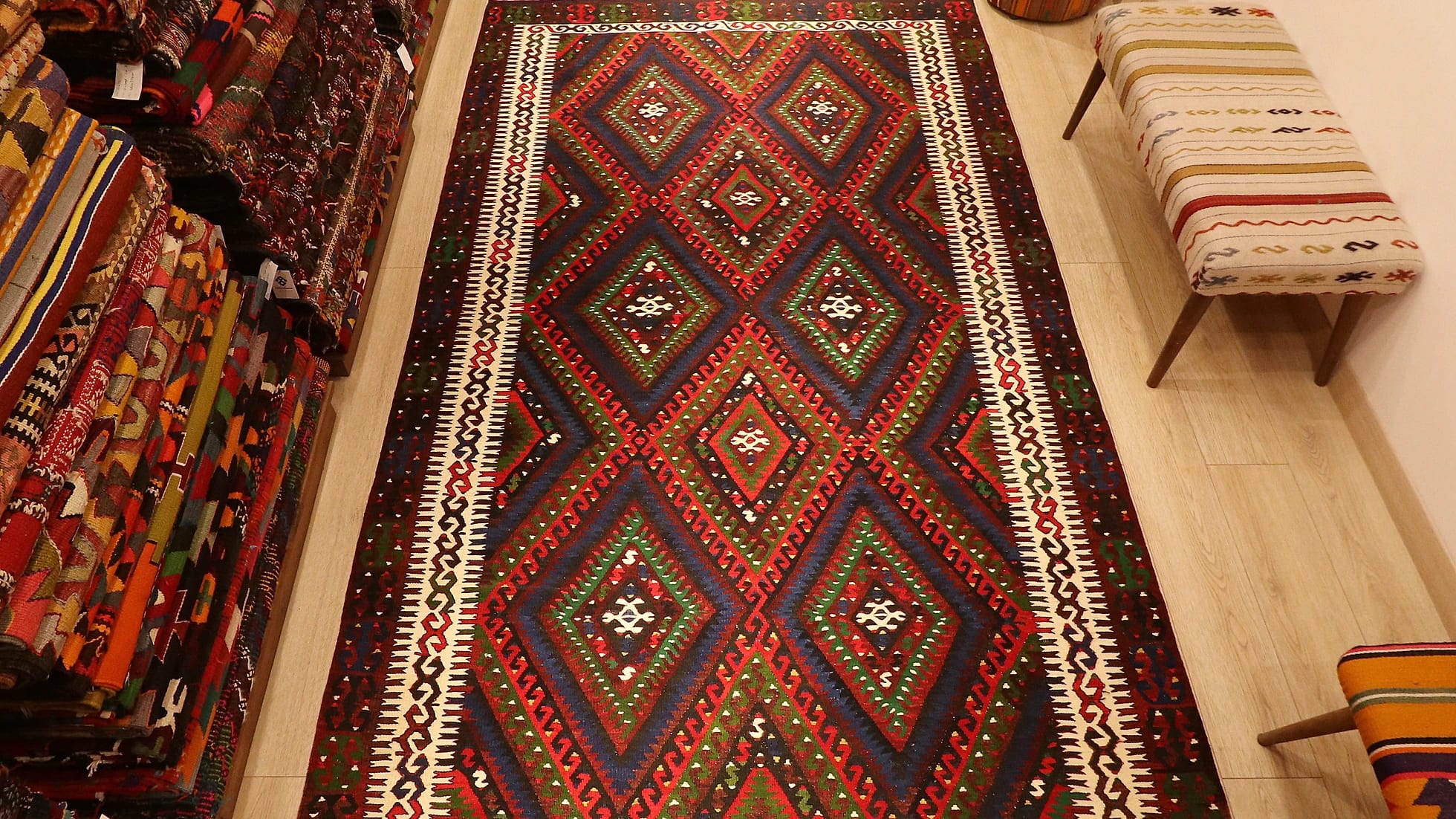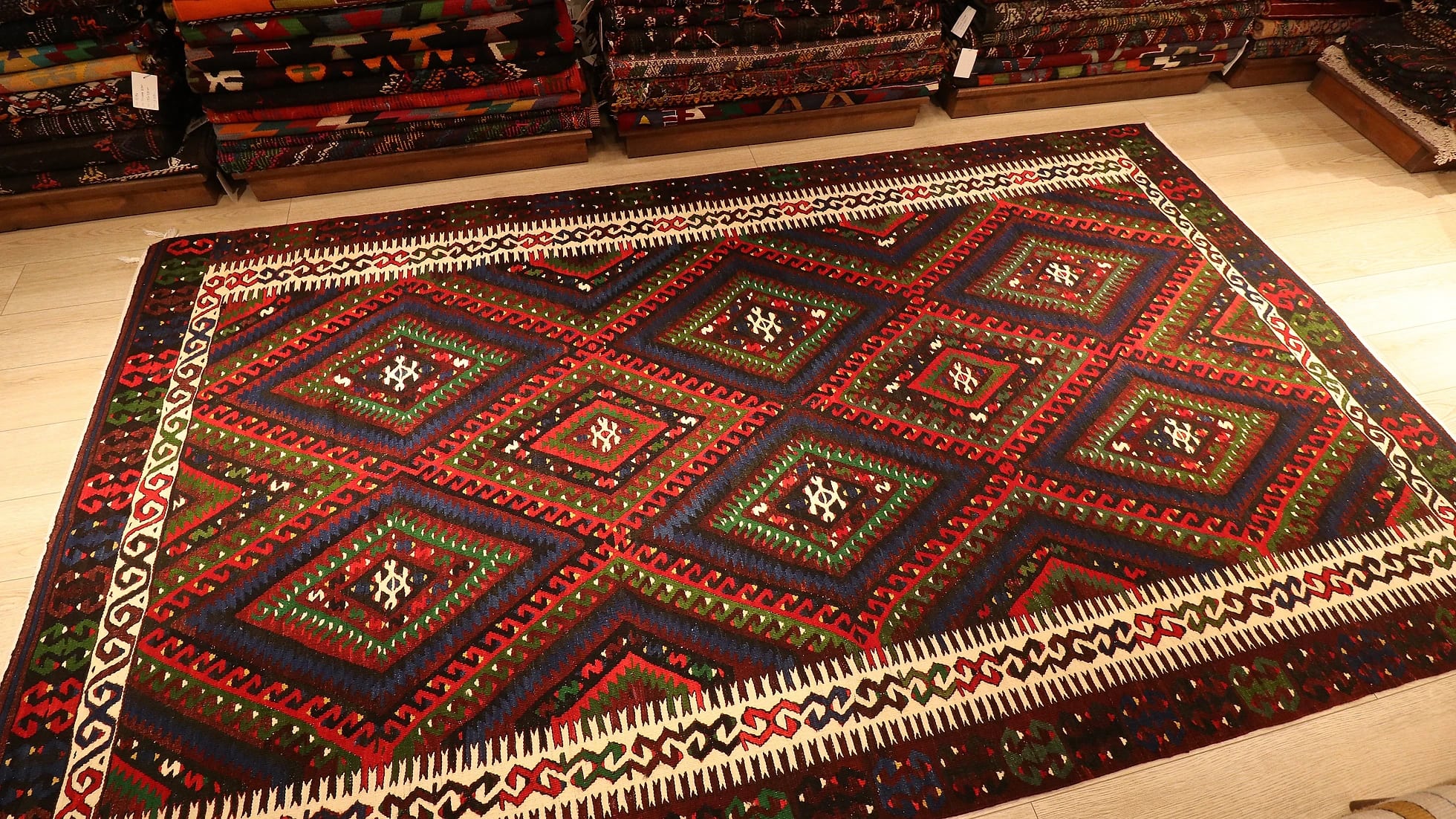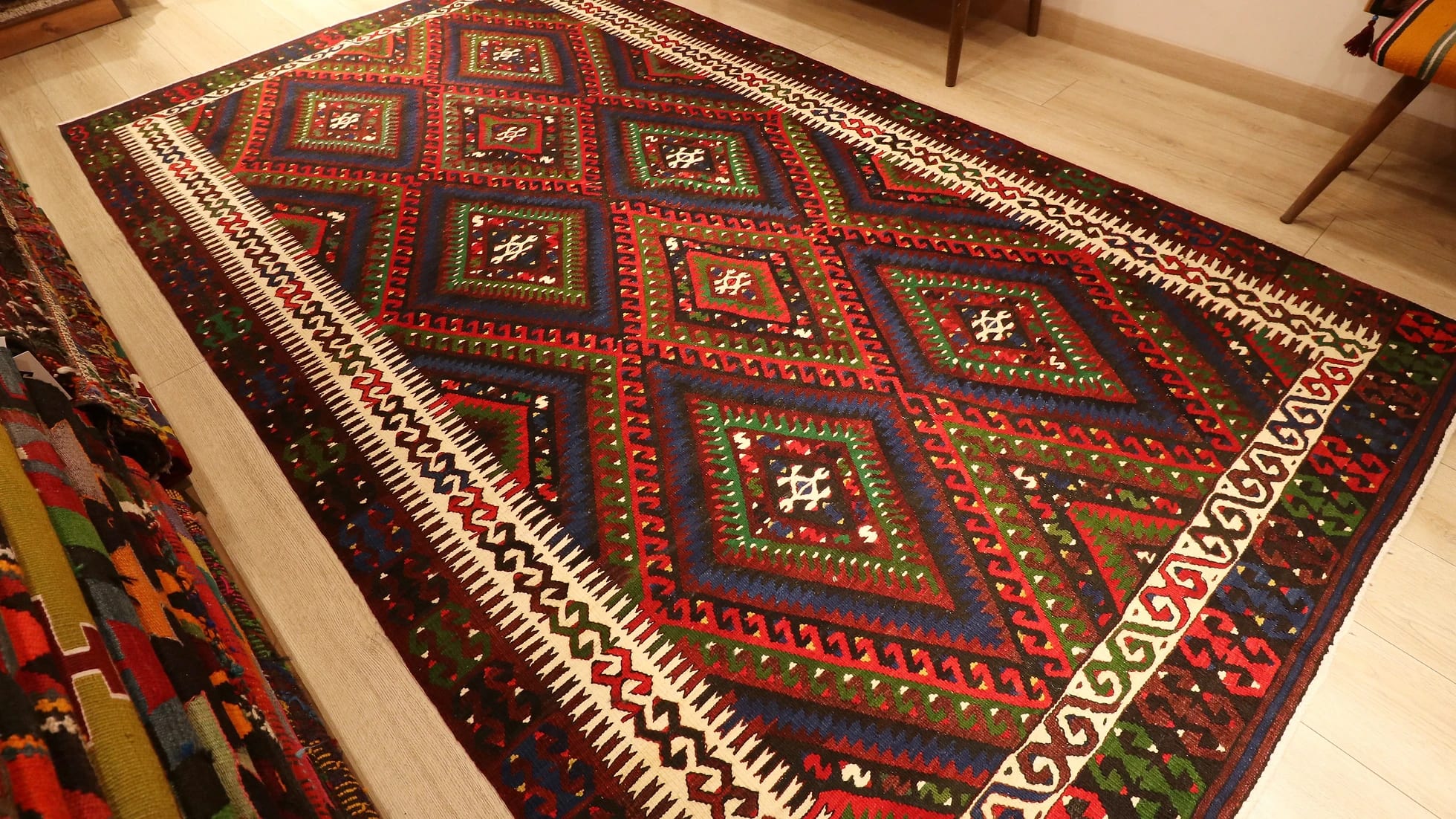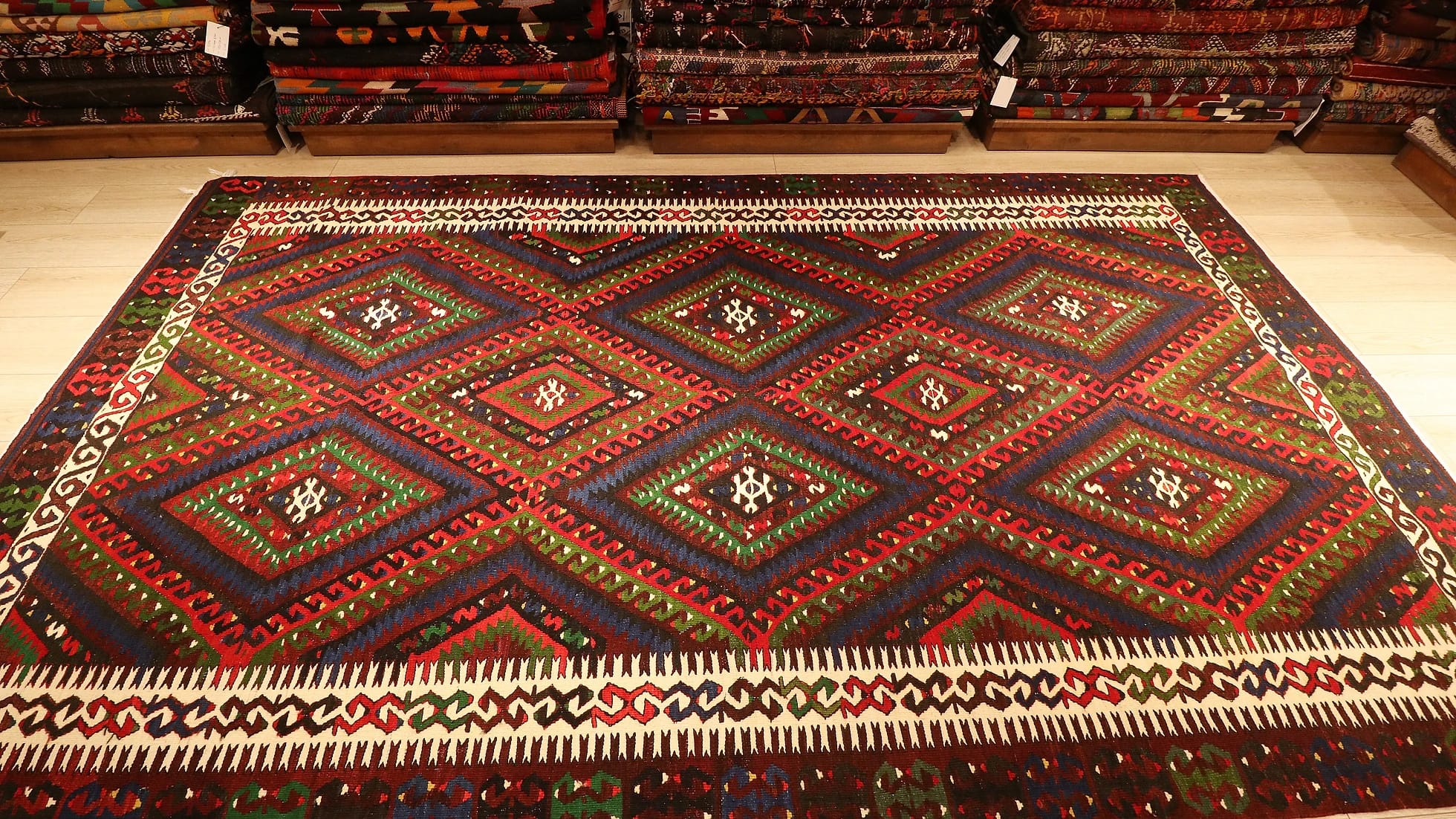 Vintage Turkish Hand-Knotted Rug | Fethiye Oriental Flat-Weave Rug in Rustic Tones 1940s
Sale price

$2,990.00
Regular price
(/)
---
Elevate your space with a touch of history and artistry embodied in our exquisite Vintage Turkish Kilim Rug. Handcrafted in the enchanting town of Fethiye, during the 1940s, this 6x10 rug is more than a floor covering – it's a testament to the skill, tradition, and cultural richness of Anatolian craftsmanship.

Immerse yourself in the rustic allure of its color palette, a symphony of earthy tones and vibrant hues meticulously derived from natural dyes extracted from plant roots. The story unfolds in the hands of local women artisans who intricately handwove this masterpiece using premium wool, resulting in a texture that is both luxurious and enduring.

Behold the captivating beauty of transitional motifs, a dance of elegance and tradition seamlessly woven into the fabric of this Anatolian rug. The "dragon" patterns, in shades of green, navy, and brick red, gracefully adorn the terracotta canvas, with a focal point featuring the enigmatic "wolf's mouth" at its heart. The interplay of these motifs is heightened by the judicious use of black, creating a tapestry of depth and character that captivates the discerning eye.

Two borders encircle this magnificent creation, each telling its own story. The inner border boasts the timeless "ram's horn" motifs on a cream background, a symbol of strength and resilience. Meanwhile, the outer border introduces the whimsical "hands on hips" patterns in earthy tones against a black canvas, adding a layer of intrigue and sophistication.

This kilim rug transcends design boundaries, making it a versatile addition to a variety of interior styles. Whether your aesthetic is inspired by oriental opulence, classic elegance, mid-century charm, vintage French allure, or a unique fusion of styles, this rug seamlessly integrates, imparting a touch of splendor to your space.

Perfectly sized for grandeur, this rug becomes a statement piece in dining rooms, a focal point in living spaces, a touch of refinement in offices, or a gallery-worthy addition to artful spaces. Embrace the artistry, heritage, and timeless elegance woven into every fiber of this Vintage Turkish Oriental Rug – a living testament to the craftsmanship of a bygone era.
Age: 1940s

Condition: Excellent

Dimensions: 5' 9" W x 10' 2" L

Floor Heating Safe: Yes

Material: Wool on cotton

Origin: Fethiye, Turkey

Primary Color: Rustic tones

Product Care: Vacuum clean gently or professional cleaning

Shape: Rectangle

Style: Oriental style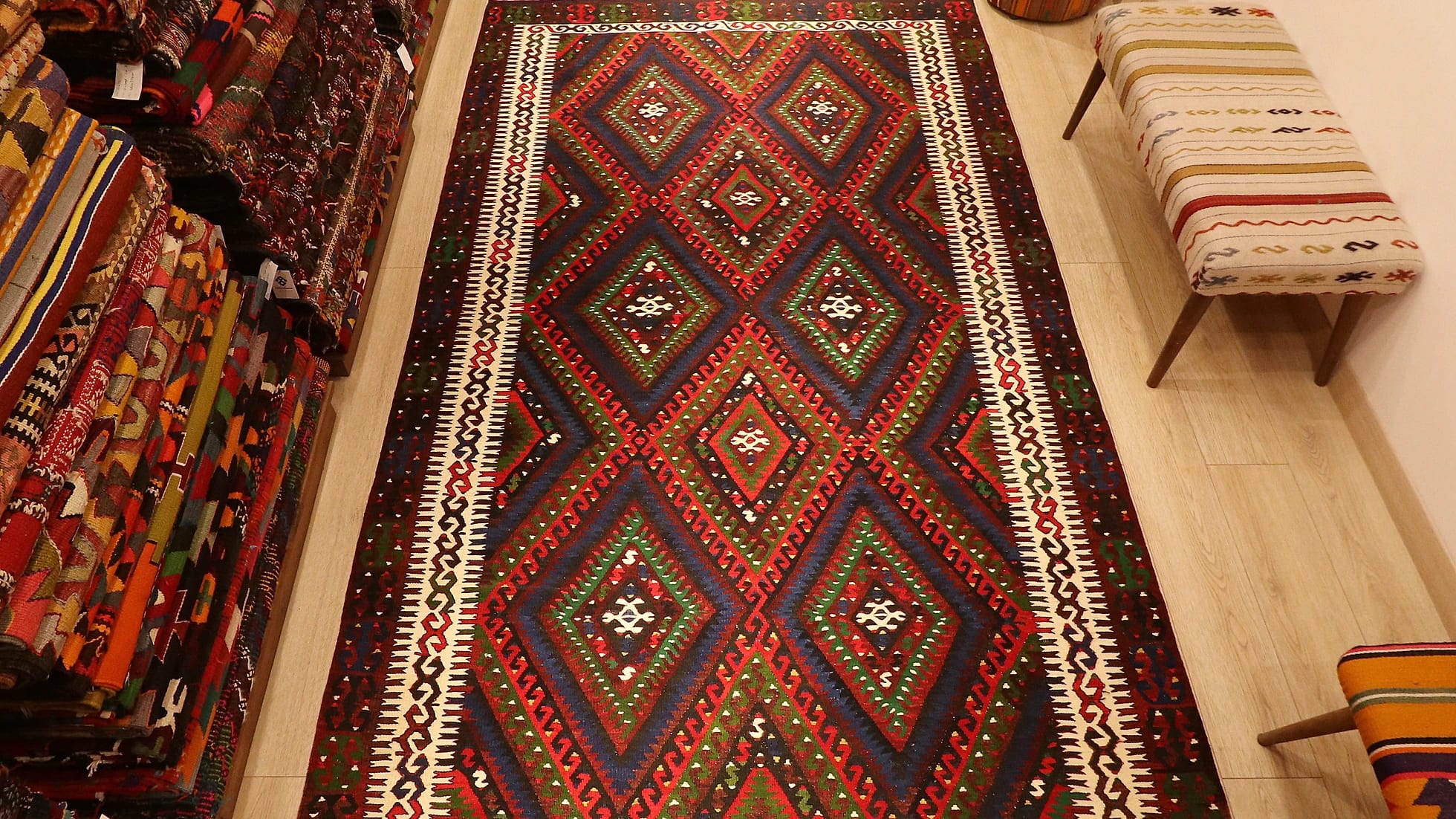 Vintage Turkish Hand-Knotted Rug | Fethiye Oriental Flat-Weave Rug in Rustic Tones 1940s
Sale price

$2,990.00
Regular price
Choose options