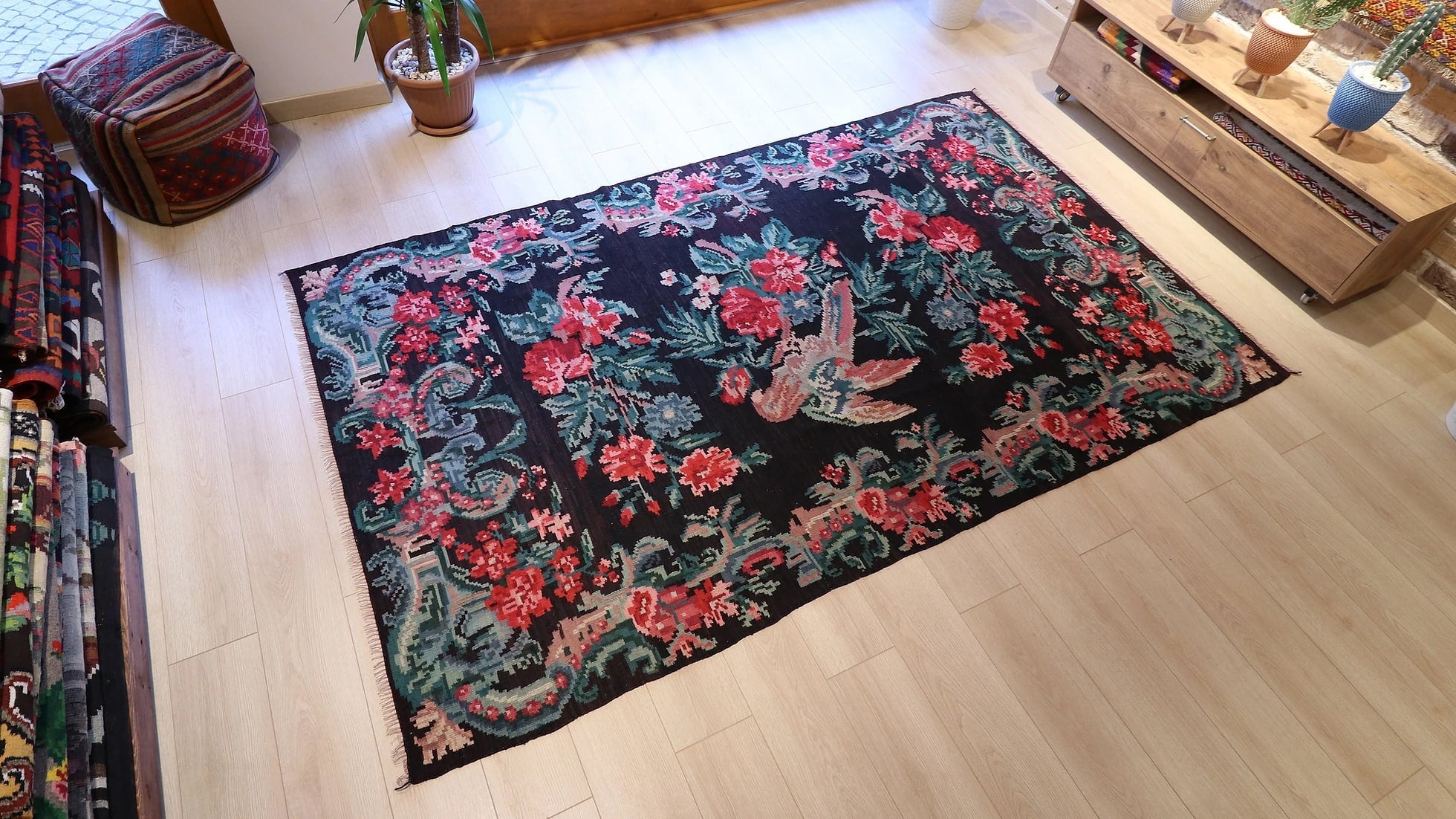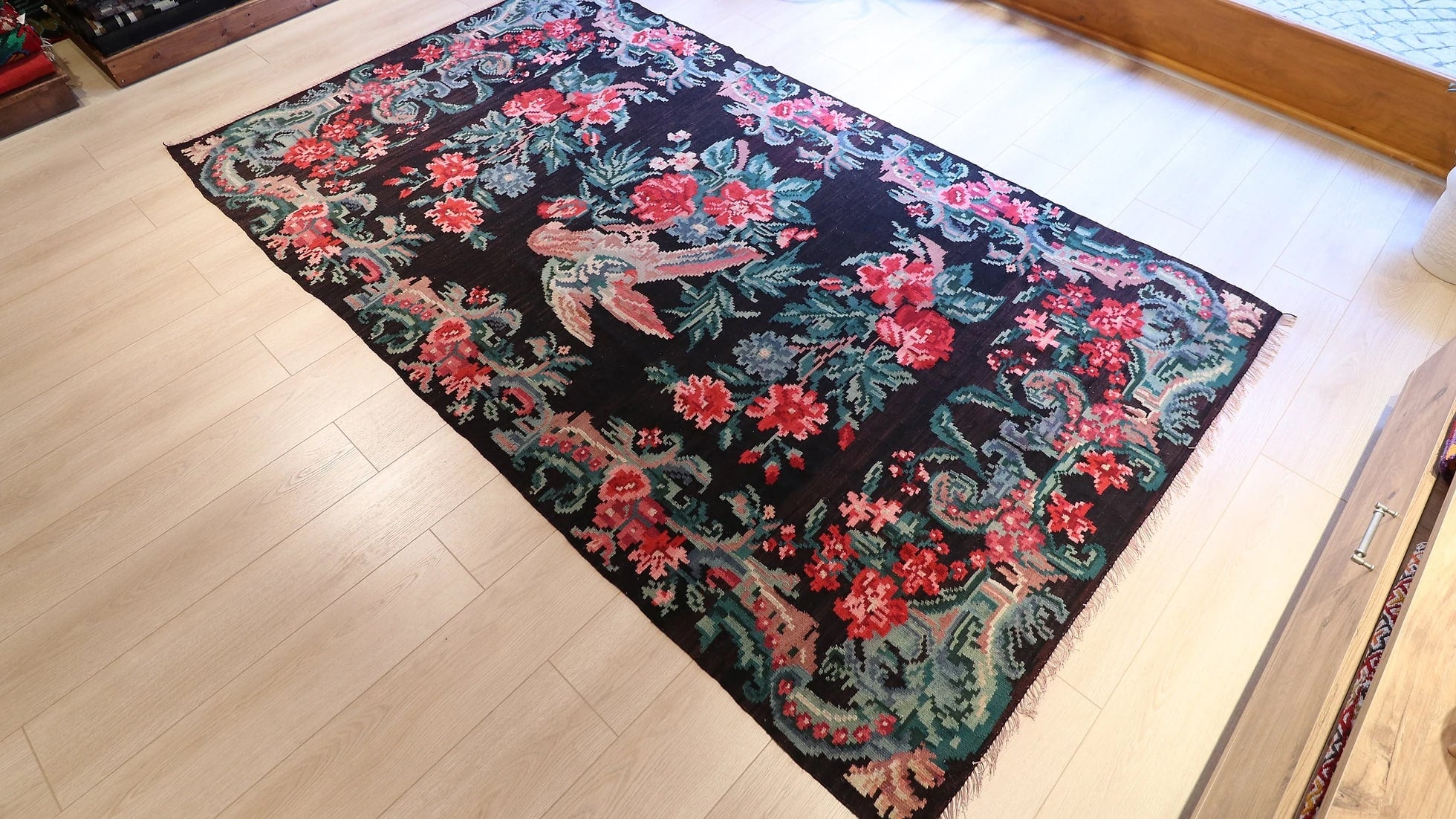 Vintage Caucasian Hand-Knotted Rug | Karabakh Figural Tapestry in Floral Patterns
Sale price

$2,290.00
Regular price

$2,890.00
(/)
---
Introducing the Karabakh Handwoven Tapestry - a masterpiece that embodies the essence of timeless elegance and artistic ingenuity. Crafted with unwavering dedication in the illustrious Karabakh region, this rug is not merely a floor covering; it's a tapestry of stories waiting to be discovered.

Measuring a generous 5x9 ft, this rug commands attention and transforms any space into an opulent sanctuary. The all-over floral patterns are a symphony of nature's beauty, with resplendent bright pink and red roses dancing alongside lush green leaves. Against the backdrop of a deep, enigmatic black canvas, these blooms come to life, creating a captivating contrast that sets this rug apart.

What truly sets the Karabakh Haven apart is the enchanting presence of a graceful bird at the heart of each floral bouquet. Picture a delicate bird, elegantly perched amidst the blooms, its feathers painted in soothing pastel pink and mint hues that harmonize with the roses. This avian muse adds a touch of whimsy and wonder, inviting you to lose yourself in its intricate details.

There's more to this rug's story – at the center of these floral masterpieces, smaller rose bouquets lovingly encircle the main blossoms. These intricate details further elevate the rug's charm, creating a mesmerizing visual journey that draws you in with every glance.

This handwoven masterpiece is more than just a rug; it's a collectible, a statement of maximalist or traditional interiors. It's a visual feast, an artwork for your floor, and an heirloom for generations to come. Crafted by artisans who pour their soul into every thread, the Karabakh Haven is more than a rug; it's a celebration of heritage, nature, and the limitless possibilities of design.

Elevate your space with this one-of-a-kind treasure, the Karabakh Tapestry - where artistry meets tradition in a symphony of color and elegance.
Age: Early 21st century

Condition: Excellent

Dimensions: 5' 5" W x 8' 10" L

Floor Heating Safe: Yes

Material: Wool on cotton

Origin: Turkey

Primary Color: Black, pink

Product Care: Vacuum clean gently or professional cleaning

Shape: Rectangle

Style: Traditional floral style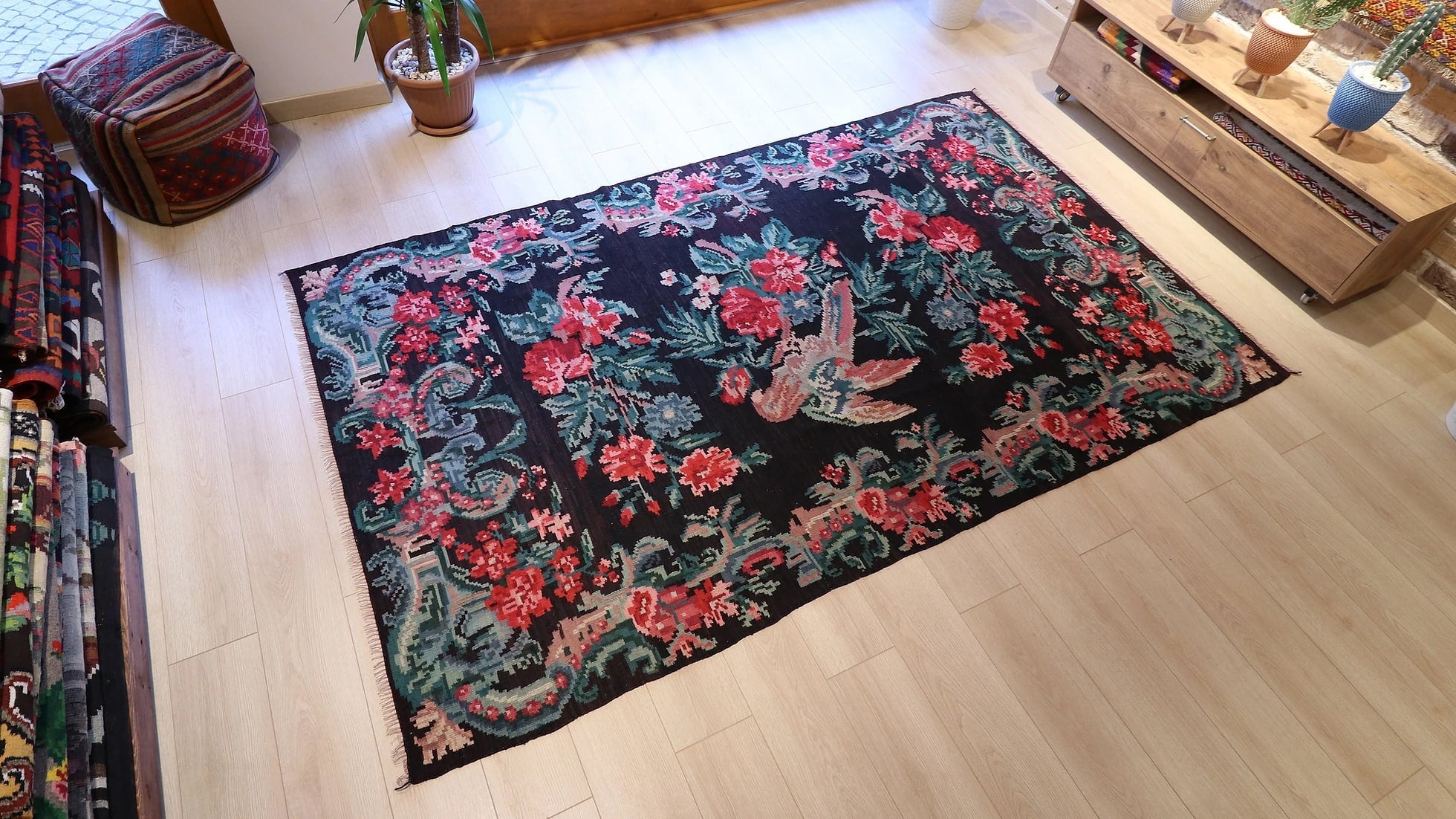 Vintage Caucasian Hand-Knotted Rug | Karabakh Figural Tapestry in Floral Patterns
Sale price

$2,290.00
Regular price

$2,890.00
Choose options