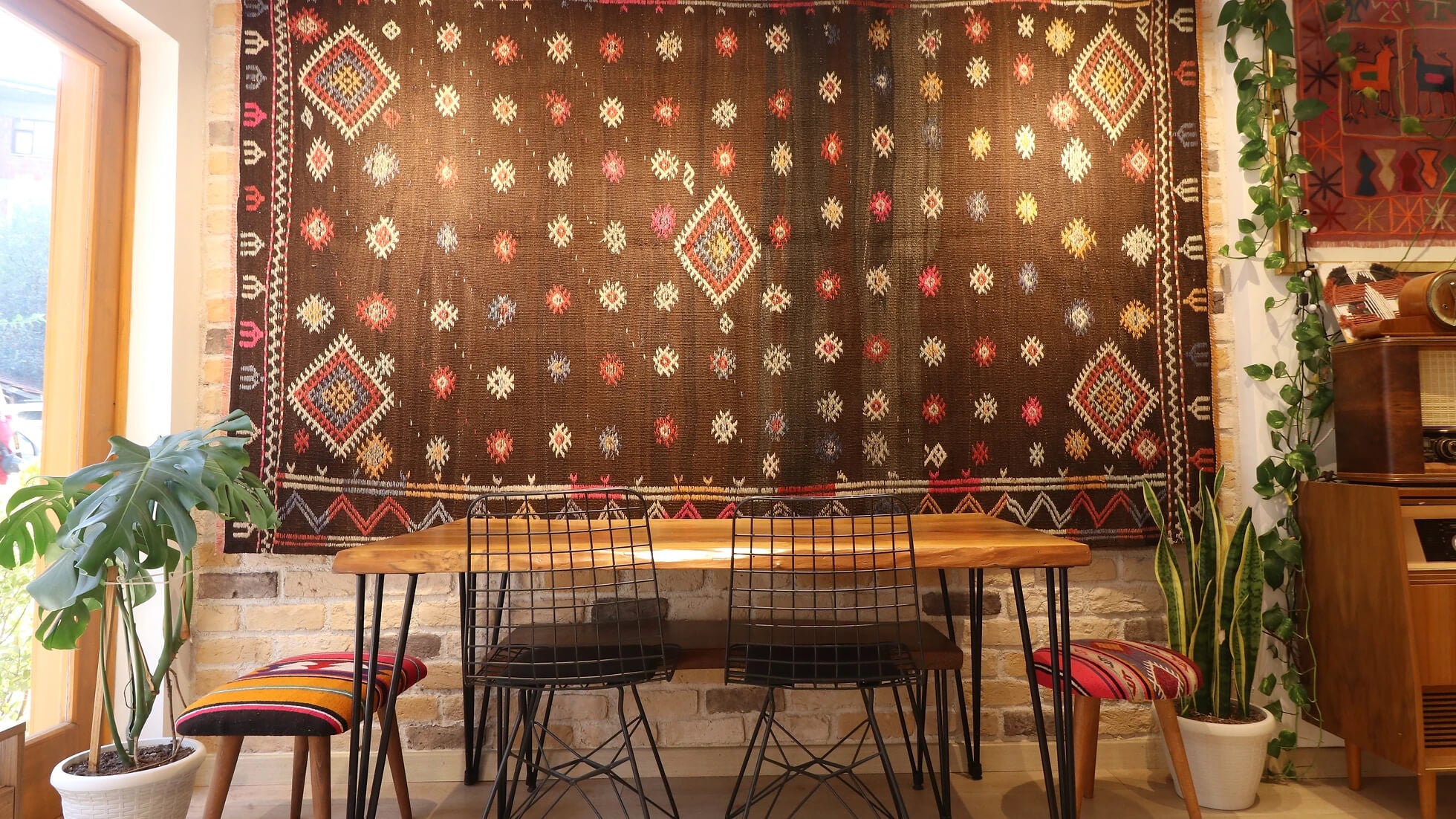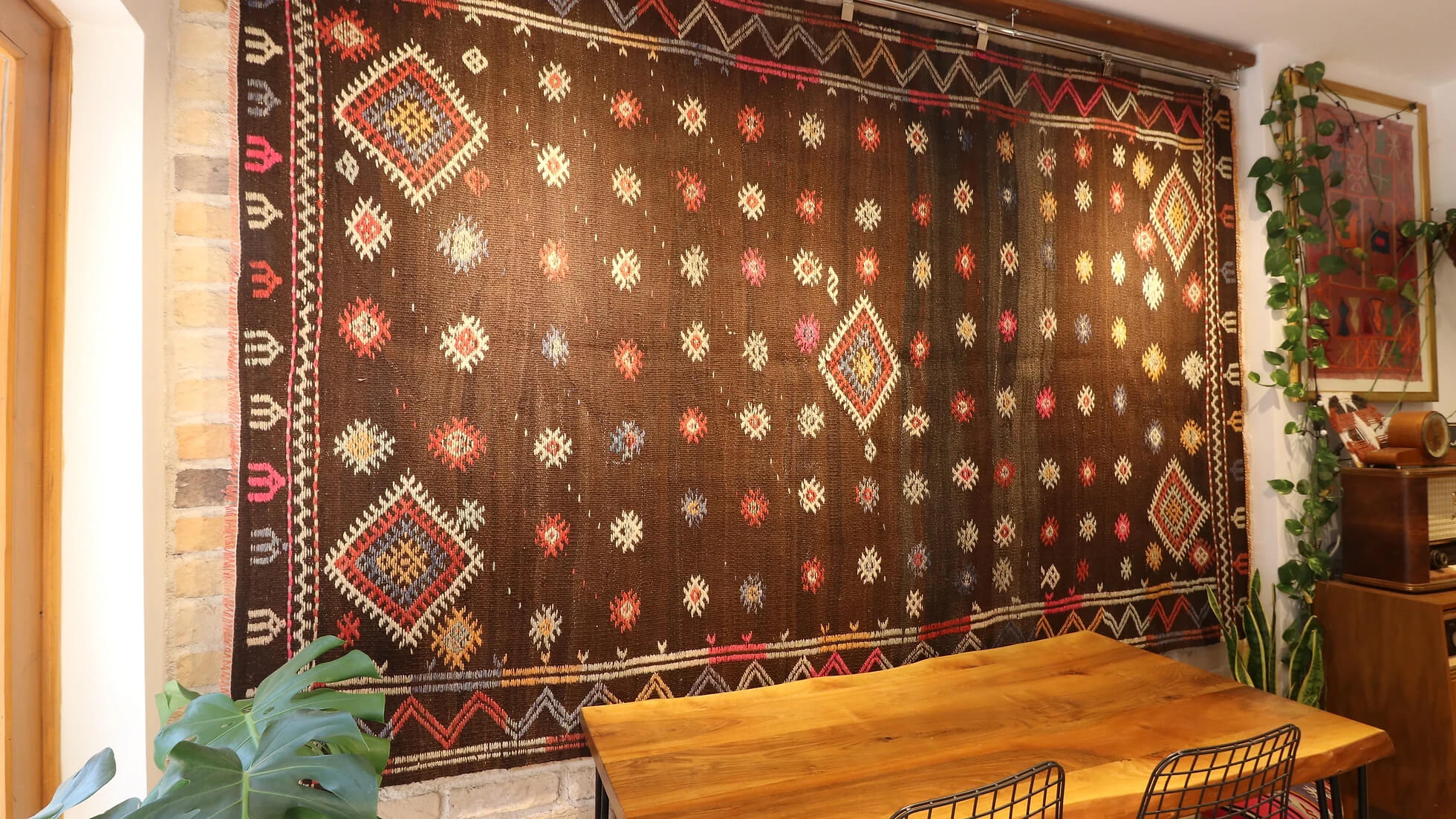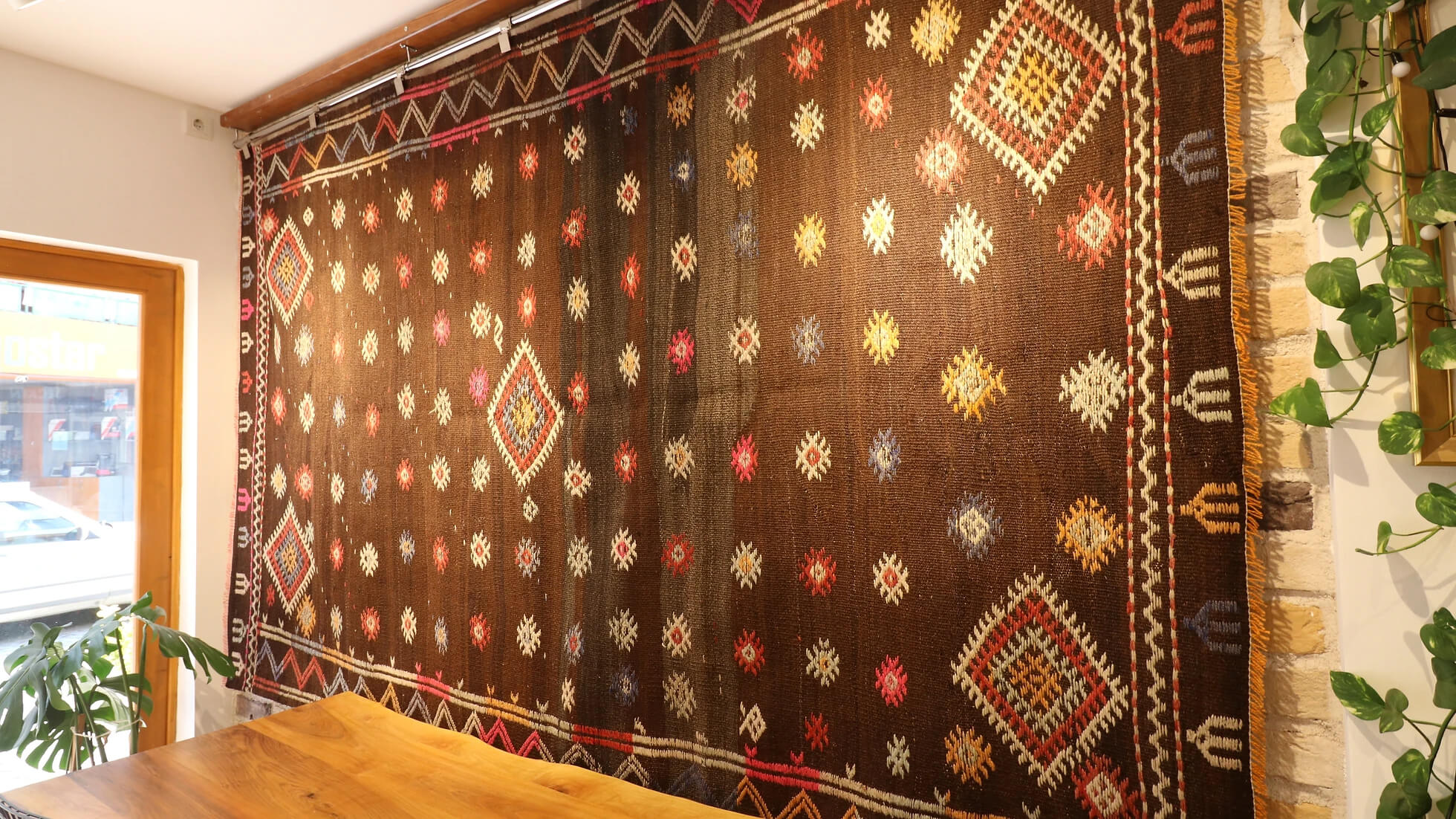 Vintage Turkish Hand-Knotted Rug | Balikesir Nomadic Flat-Weave Rug in Muted Taupe 1940s
Sale price

$1,890.00
Regular price

$2,390.00
(/)
---
Transport your living space to an era of nomadic grace and timeless beauty with our Vintage Nomadic Kilim Rug. This exquisite piece, steeped in history and crafted with meticulous care, features a flat-weave Kilim style in muted taupe shades reminiscent of aged fine wine. Measuring a generous 6x9 feet, this rug is not just a floor covering; it's an heirloom, a conversation starter, and a piece of art that breathes history into your home.

Crafted from the finest wool, this rug embodies the essence of "Yuruk" style, a testament to the enduring artistry of its women artisan weaver. The color palette is a symphony of earth tones, where warm brown takes center stage, while terracotta and cream accents dance around it. The result is a tapestry of opulent elegance that evokes feelings of warmth, comfort, and nostalgia.

What truly sets this rug apart are the striking motifs adorning its surface. At each corner, the grand Anatolian "burdock" motif makes a bold statement, a tribute to the heritage of the craft. Throughout the design, smaller "burdock" motifs abound, creating a spectacle of tradition and artistry that is truly extraordinary and rare to find.

The rug's design is further enriched by a graceful "running water" pattern bordering the perimeter. This border creates small zigzag effects along the width and larger, more pronounced zigzags along the length, adding a mesmerizing visual texture to the rug's surface.

Embracing its age, this collectible treasure carries the marks of time in faded areas, adding even more character and beauty to its already rich narrative. These faded parts tell stories of bygone eras and evoke a sense of nostalgia that few other pieces can achieve.

Our tribal flat-woven rug may hail from the 1940s, but its allure is timeless. Its tribal and traditional color palette, despite its age, effortlessly complements classic, boho, and traditional homes. Yet, its versatile design also finds itself at home in eclectic, transitional, maximalist, and even contemporary interior design projects. This rug is a chameleon of style, adapting to your unique tastes and preferences with unparalleled grace.

As you contemplate bringing this geometric kilim rug into your home, imagine the conversations it will spark, the warmth it will bring, and the memories it will create. Don't just buy a rug; invest in a forever-lasting piece of heritage and embrace the timeless beauty of the 1940s.

Own a piece of history and transform your living space into a haven of elegance and tradition. Click the button below and make this rare and extraordinary Vintage Yuruk Style Rustic Kilim yours today. Feel the nostalgia, the warmth, and the artistry every day as you walk upon this masterpiece.
Age: 1940s

Condition: Excellent

Dimensions: 6' 0" W x 9' 4" L

Floor Heating Safe: Yes

Material: Wool on cotton

Origin: Balikesir, Turkey

Primary Color: Muted earthy tones

Product Care: Vacuum clean gently or professional cleaning

Shape: Rectangle

Style: Yuruk style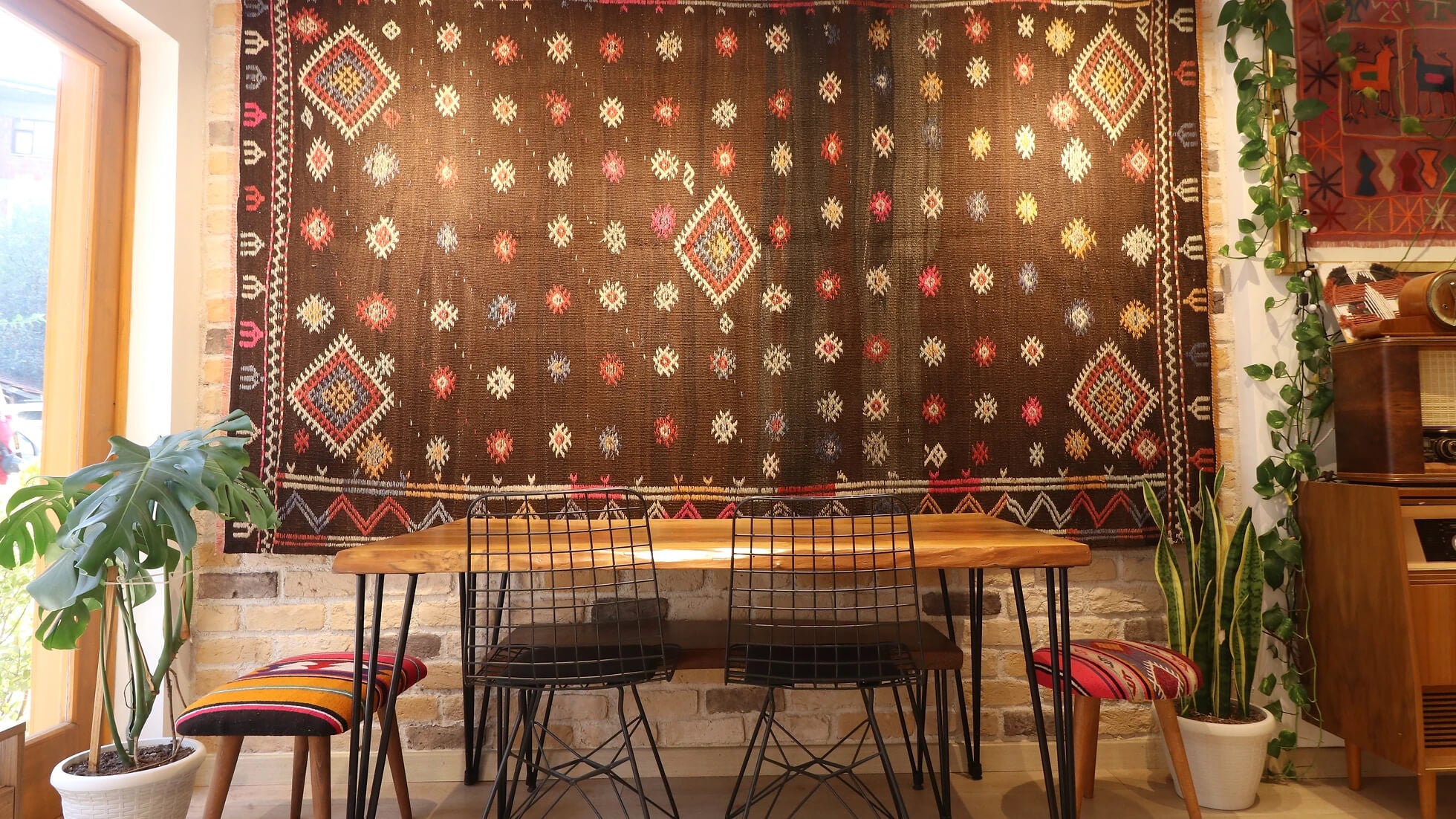 Vintage Turkish Hand-Knotted Rug | Balikesir Nomadic Flat-Weave Rug in Muted Taupe 1940s
Sale price

$1,890.00
Regular price

$2,390.00
Choose options