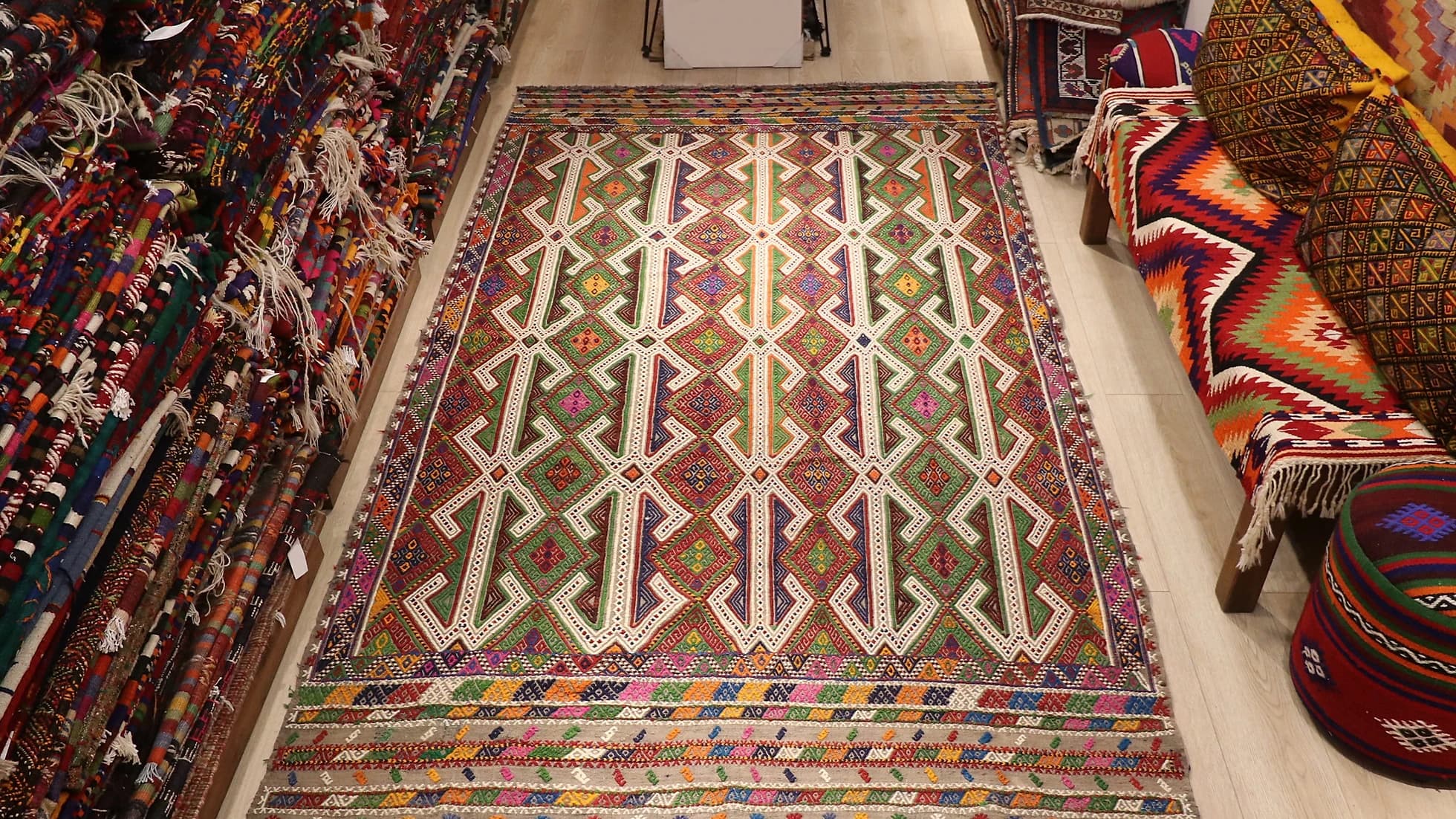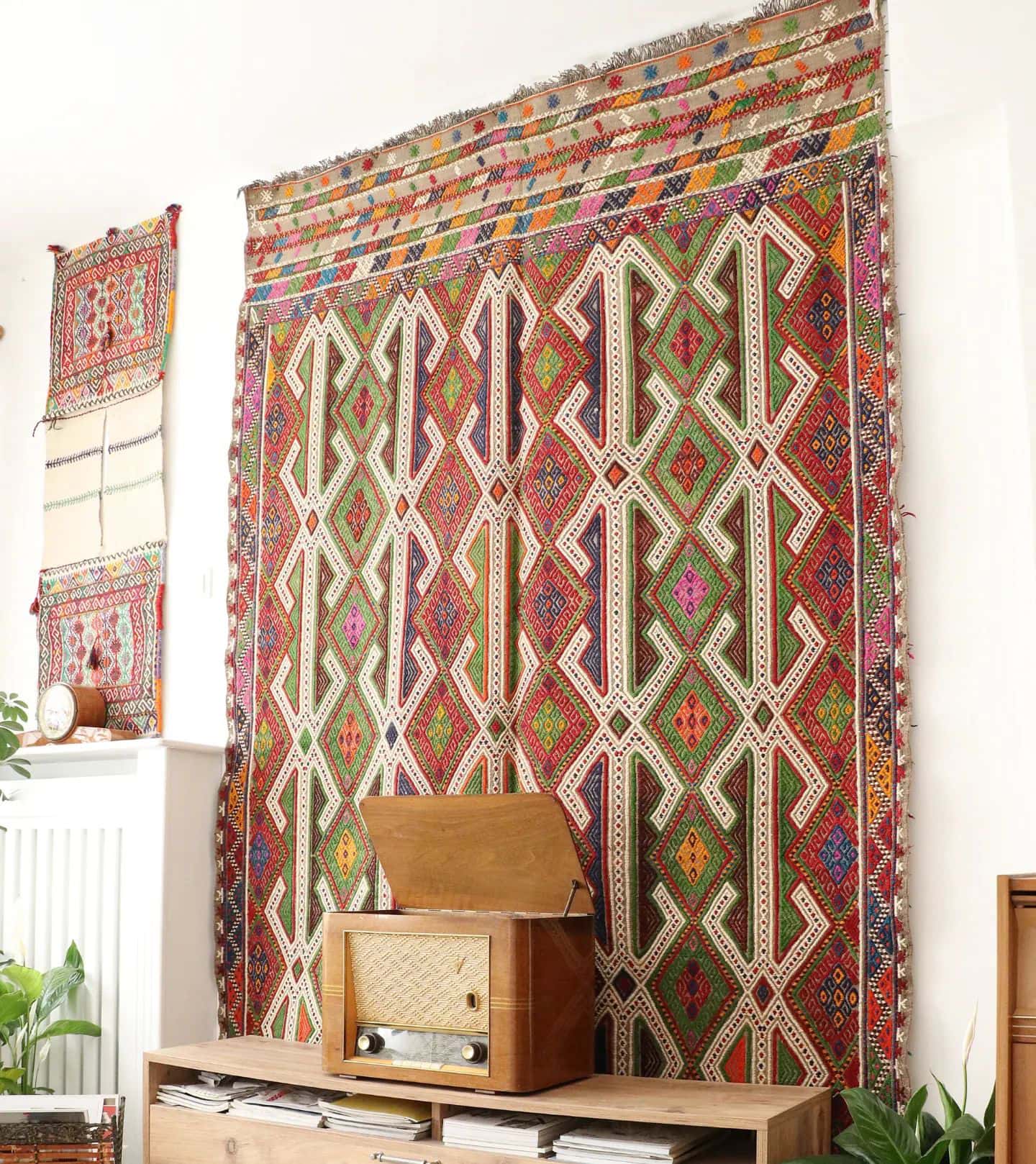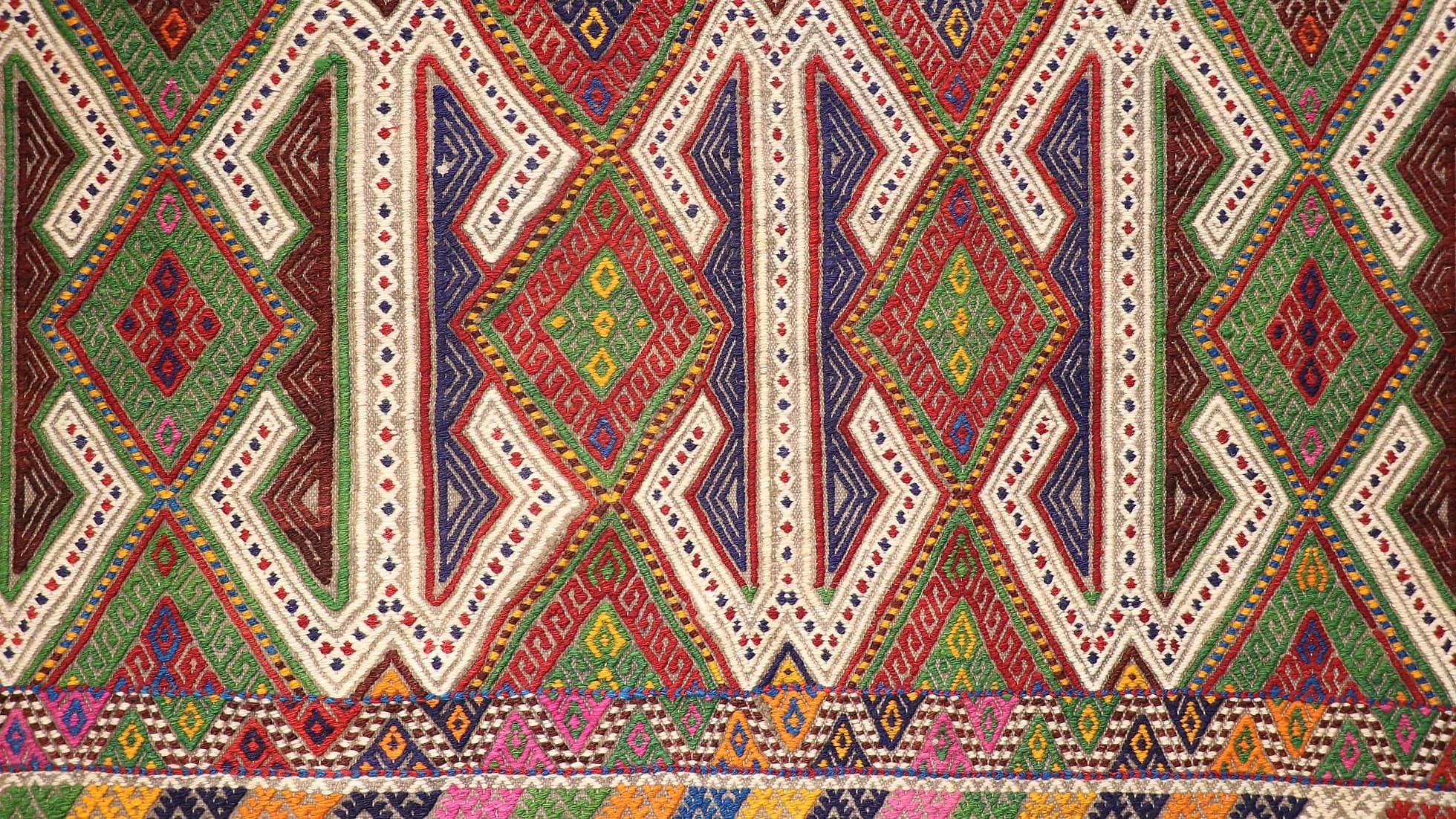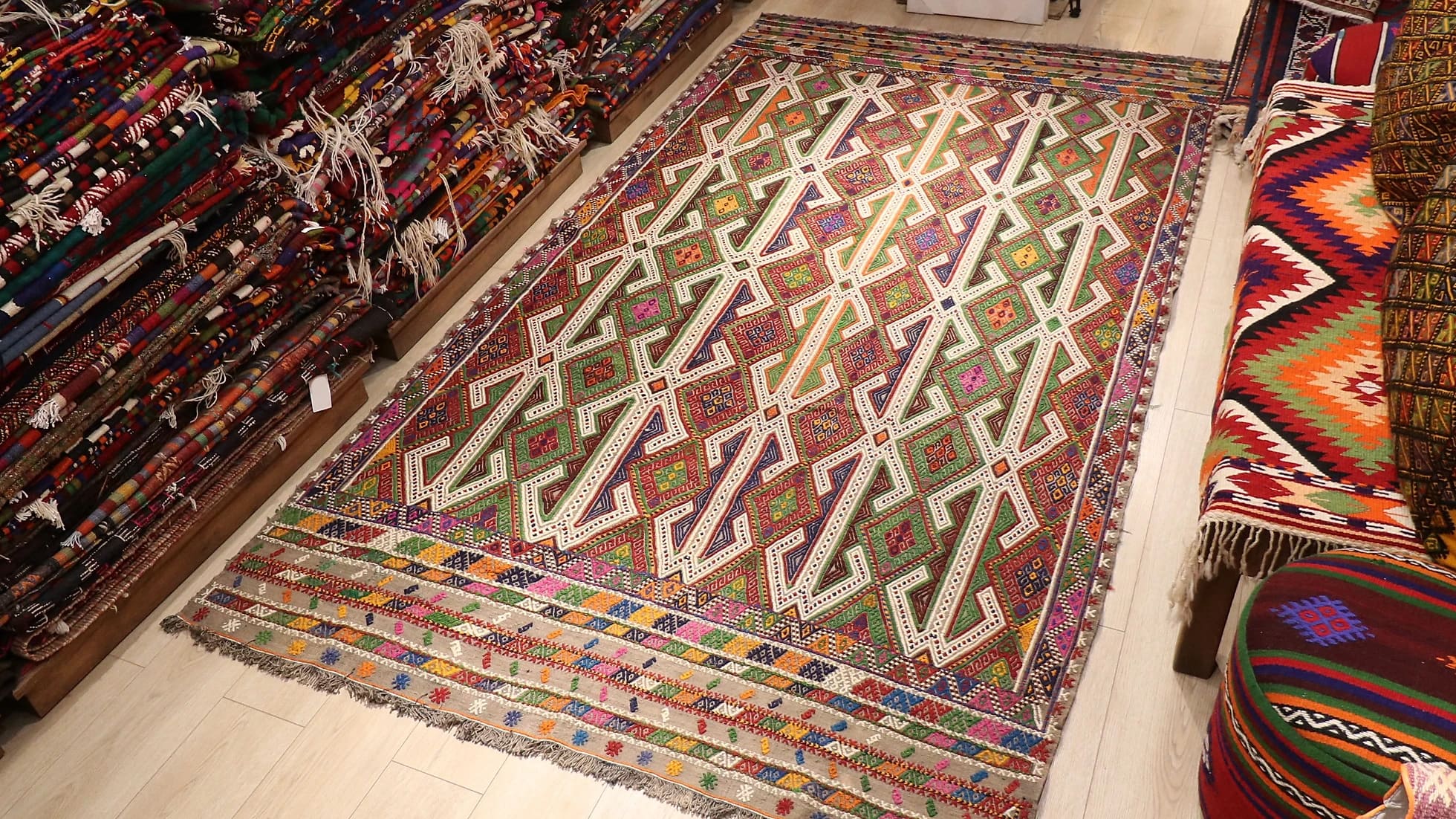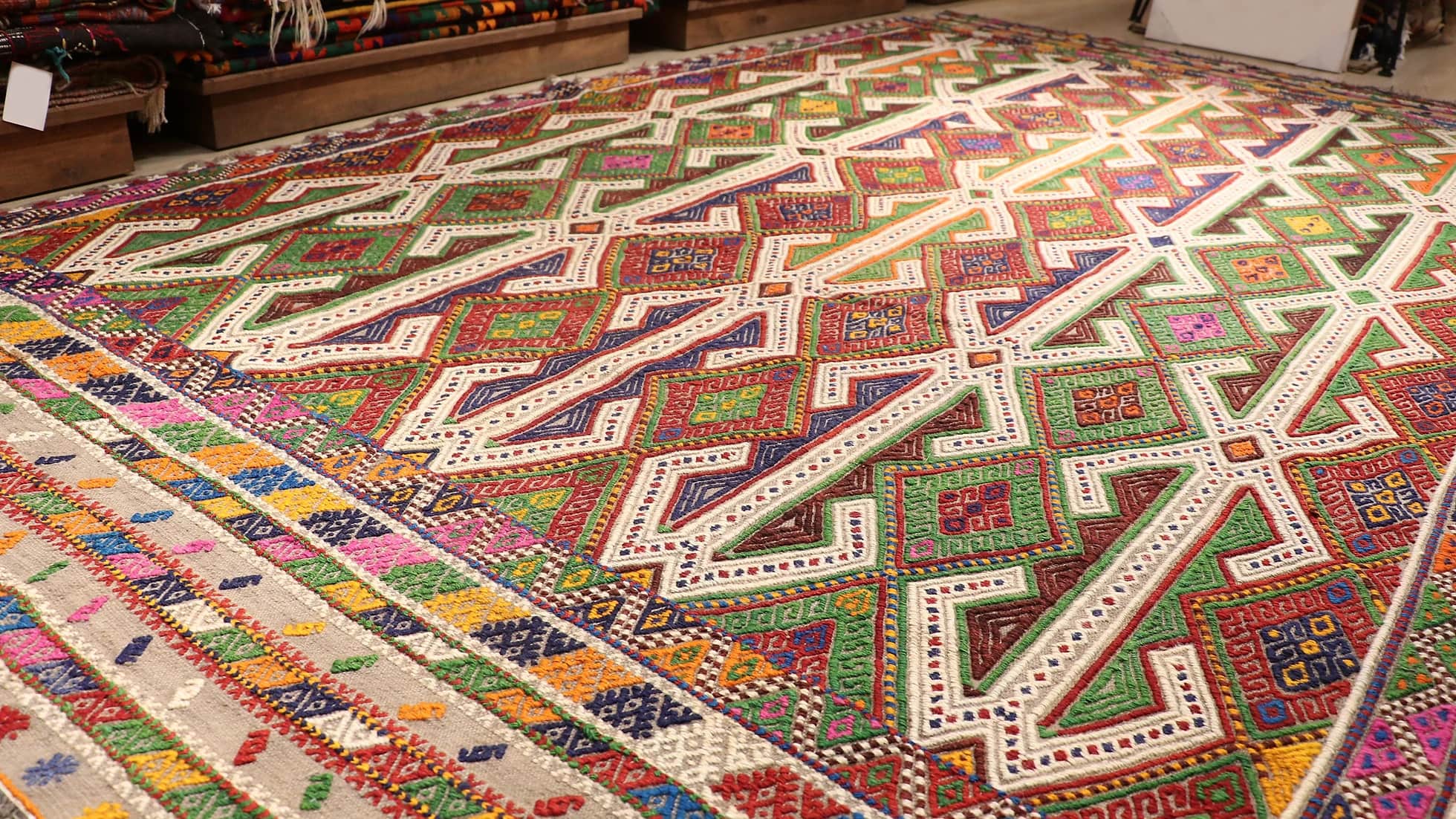 Vintage Turkish Hand-Knotted Rug | Rare Semi-Antique Cecim Kilim 1960s
Sale price

$2,390.00
Regular price

$2,990.00
(/)
---
Step into a world where craftsmanship meets artistry with our Rare Handwoven Turkish Kilim Rug, a true masterpiece that transcends time. This mid-century marvel, measuring a generous 6x10 ft, is a testament to the enduring allure of traditional weaving techniques. Crafted from the finest wool, it's a collector's dream, a rare gem that holds the history of generations within its intricate threads.


As you run your fingers across the surface, you'll be captivated by the extraordinary attention to detail. Each knot was meticulously woven, a labor of love that speaks volumes about the artisan's dedication. Despite its age, this flat-woven rug remains in remarkably excellent condition, preserving its flawless allure even better than a newly manufactured rug. It's a testament to the quality and durability of handcrafted artistry.

The vibrant colors and playful motifs adorning this kilim bridge the gap between tradition and modernity. You'll find a captivating parade of "ram's horn" motifs gracefully running along its length, a symbol of fertility, heroism, power, and masculinity. Known by various names like "boynuzlu yanis", "boynuzlu", "koclu yanis", and "gozlu koc basi", these motifs carry the weight of cultural history.

Separated by charming diamond motifs in sophisticated sapphire blue, vibrant tangerine, lush emerald green, delicate blush pink, and sun-kissed goldenrod yellow, the "ram's horn"s form a mesmerizing rhythm across this rare rug's surface. These diamonds encircle the central "ram's horn"s, forming a captivating kaleidoscope of colors and shapes. The multi-layered border along the width adds an extra layer of rarity and beauty, elevating this woolen wonder into a true collector's piece.

What sets this cecim kilim apart is its multi-layered border with "burdock" and "hook" motifs along the width, adding a touch of rarity and enhancing its overall beauty. It's a one-of-a-kind piece that exudes elegance and charm, making it the perfect choice for maximalist, eclectic, transitional, or traditional interior designs. Whether you're seeking to cherish a unique piece of art that lasts for generations or wish to make a sustainable choice for your home, this rug has it all.

By choosing this vintage rug, you're not only enriching your living space with history and culture but also supporting women weavers who have dedicated their lives to preserving this cherished art form. It's more than a rug; it's a piece of heritage that will stand the test of time. Embrace the past while creating a brighter future for your home – own this exceptional Tribal Turkish Rug today.
Age: 1960s

Condition: Excellent

Dimensions: 5' 8" W x 9' 11" L

Floor Heating Safe: Yes

Material: Wool on cotton

Origin: Turkey

Primary Color: Polychromatic

Product Care: Vacuum clean gently or professional cleaning

Shape: Rectangle

Style: Tribal Cecim style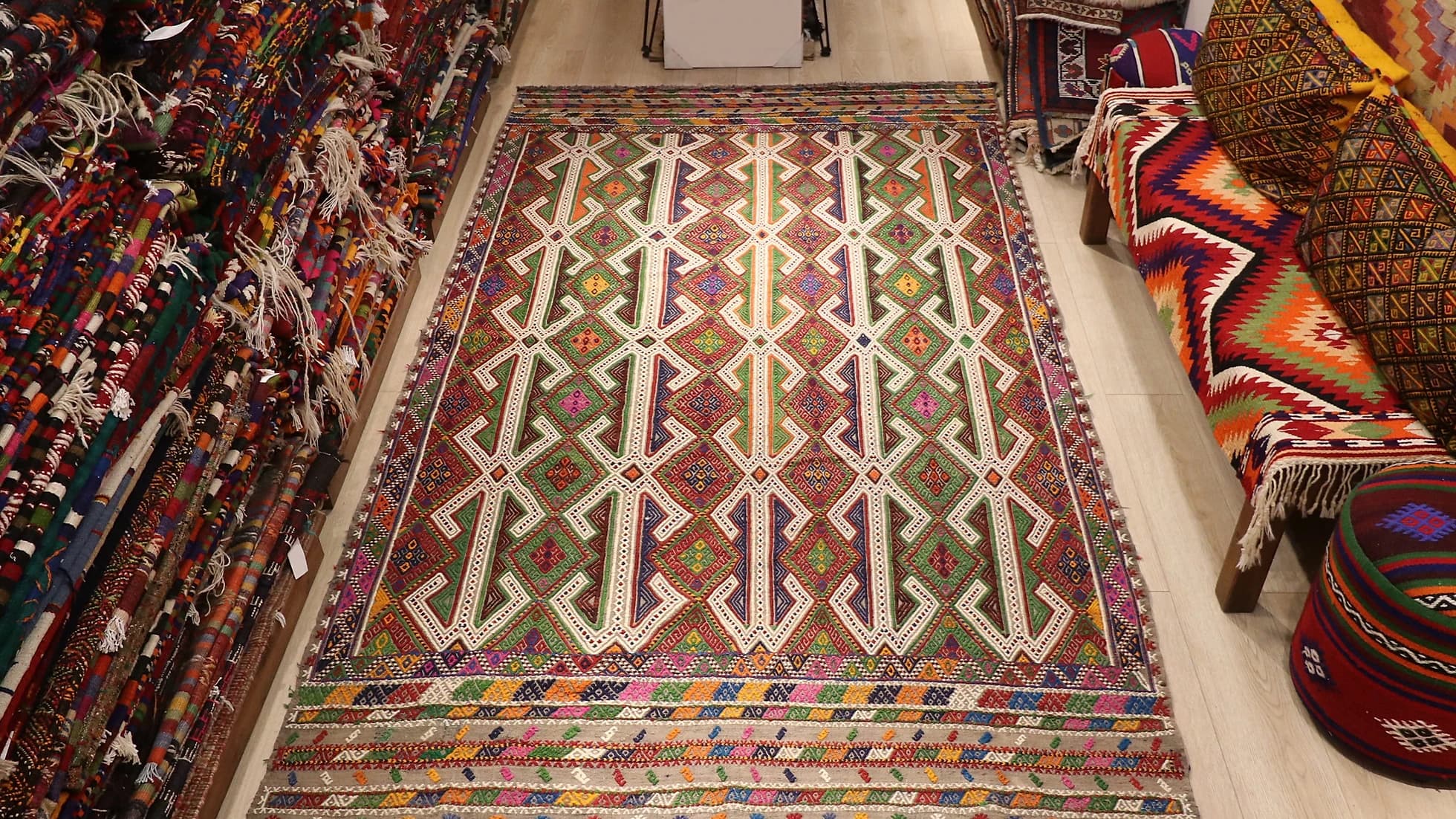 Vintage Turkish Hand-Knotted Rug | Rare Semi-Antique Cecim Kilim 1960s
Sale price

$2,390.00
Regular price

$2,990.00
Choose options