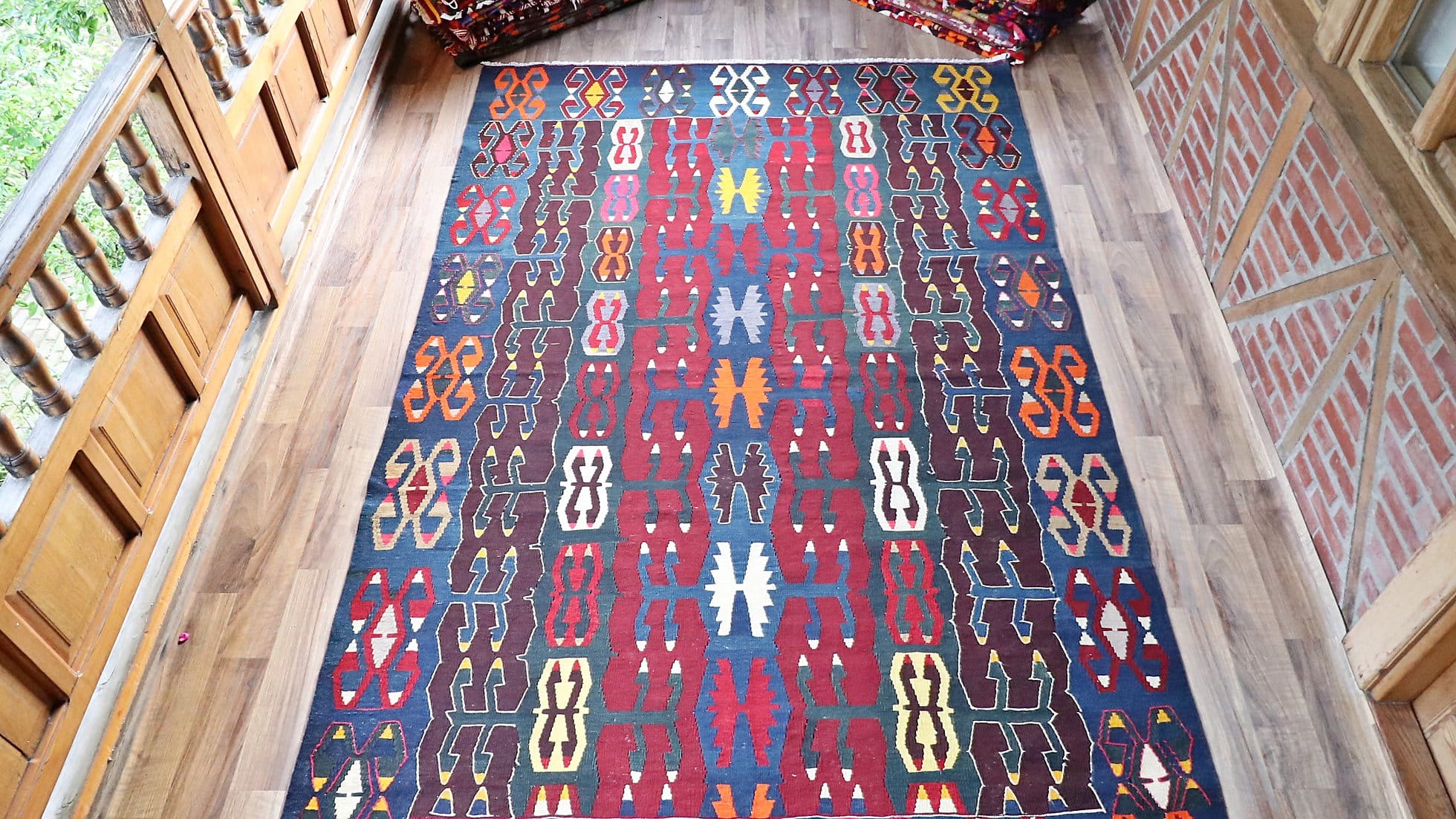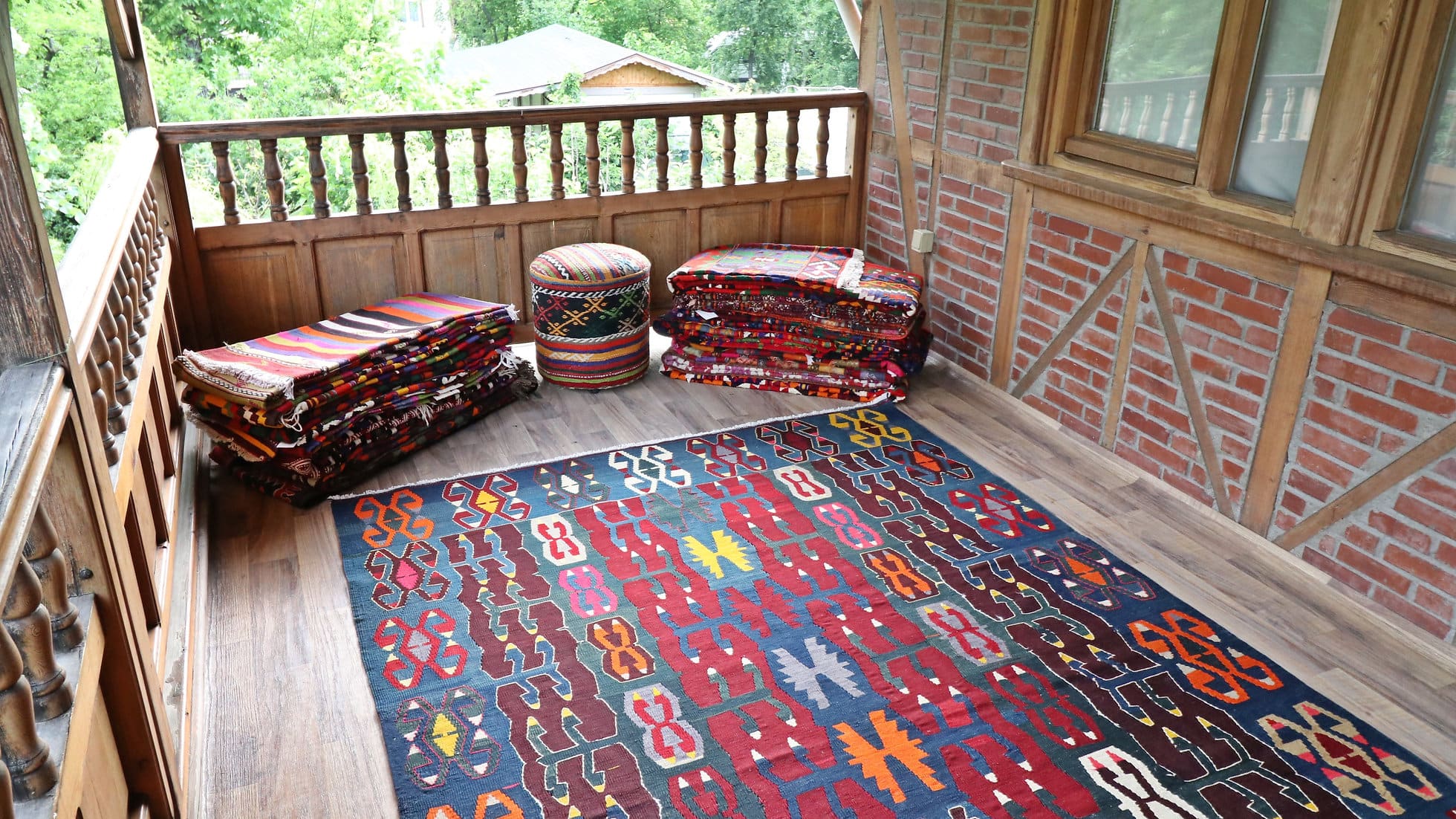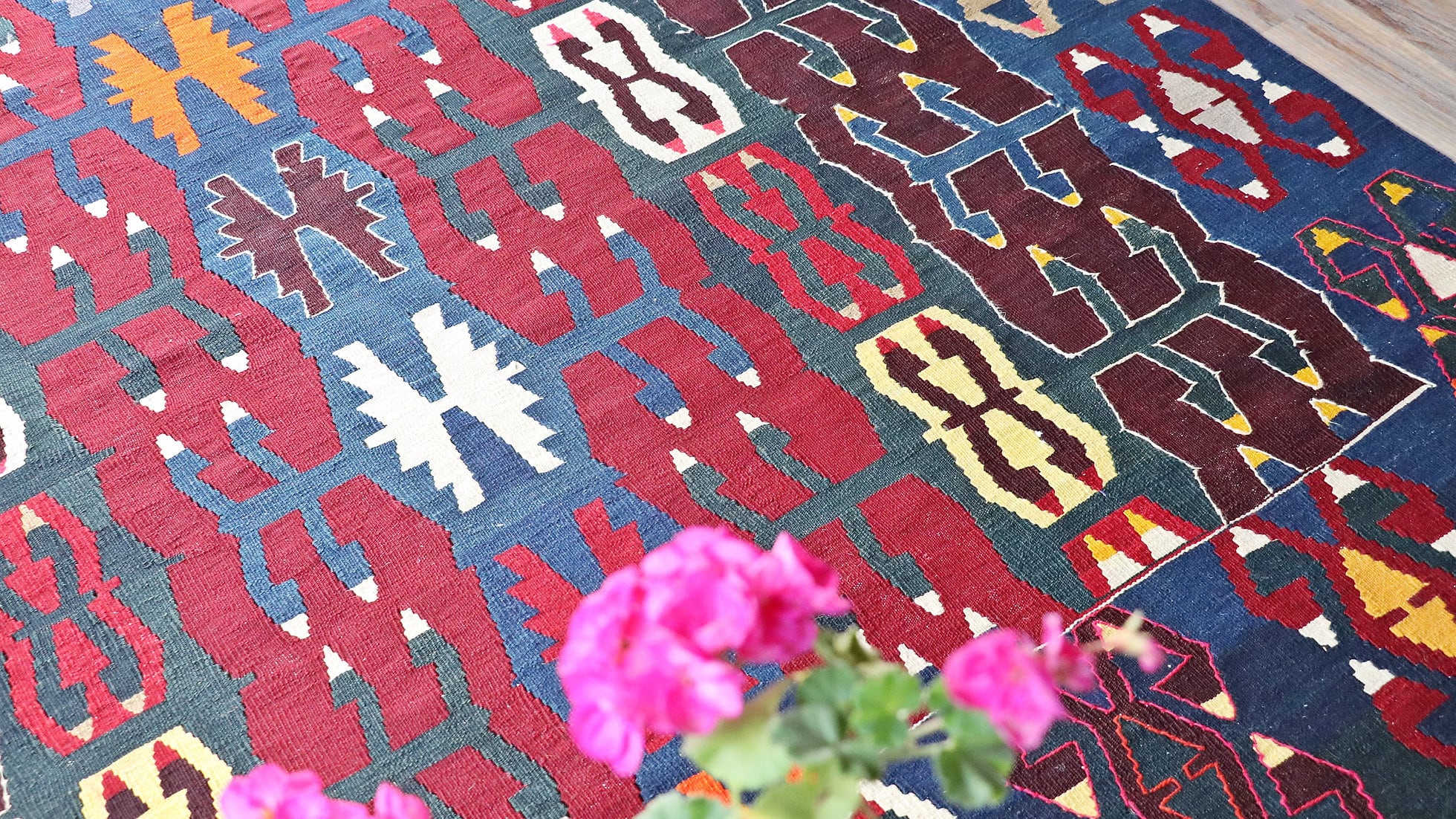 Vintage Turkish Hand-Knotted Rug | Nomadic Flat-Woven Rug in Blue / Red / Orange
Sale price

$3,990.00
Regular price
(/)
---
Elevate your living space with our exquisite Vintage Mid-Century Large Kilim Rug—a masterpiece that transcends time and tradition. Enveloped in a symphony of captivating blue, red, and orange hues, this tribal rug is not just a floor covering; it's a narrative woven into the very fabric of your home.

Crafted with meticulous care, this kilim is a testament to the age-old art of handweaving, using only the finest wool available. The result is a tactile and visual feast—a sensorial journey across the loom, showcasing an intricate pattern of geometric motifs. Shades of blue, red, and orange dance harmoniously, creating a visual symphony that speaks volumes about the skill and artistry of the weaver.

Measuring at an impressive 6x10 feet, this area rug transcends mere functionality to become a versatile piece of art. Whether gracing the expanse of your living room, the intimacy of your dining room, or the comfort of your bedroom, this kilim promises to transform any space it inhabits.

As your guests step into your home, their eyes will be drawn to the bold colors and striking design, setting the stage for conversations and admiration. This rug is more than just an accessory—it's a focal point, a conversation starter, and a silent storyteller.

Don't merely decorate; curate an experience. The mesmerizing blend of blue, red, and orange hues, coupled with the precision of geometric motifs, creates a rug that is not just an object of beauty but a tangible piece of cultural heritage. Each thread is a whisper of tradition, a connection to a rich artistic lineage.

Seize the opportunity to make this Vintage Mid-Century Kilim Rug yours—a timeless fusion of color, craftsmanship, and cultural significance. Let your living space reflect not just your style, but your appreciation for the artistry that transcends generations. Own a piece of history, and let your home tell a story that echoes through time.
Age: 1950s

Condition: Excellent

Dimensions: 6' 2" W x 9' 7" L

Floor Heating Safe: Yes

Material: Wool on cotton

Origin: Turkey

Primary Color: Polychromatic

Product Care: Vacuum clean gently or professional cleaning

Shape: Rectangle

Style: Tribal style
Choose options