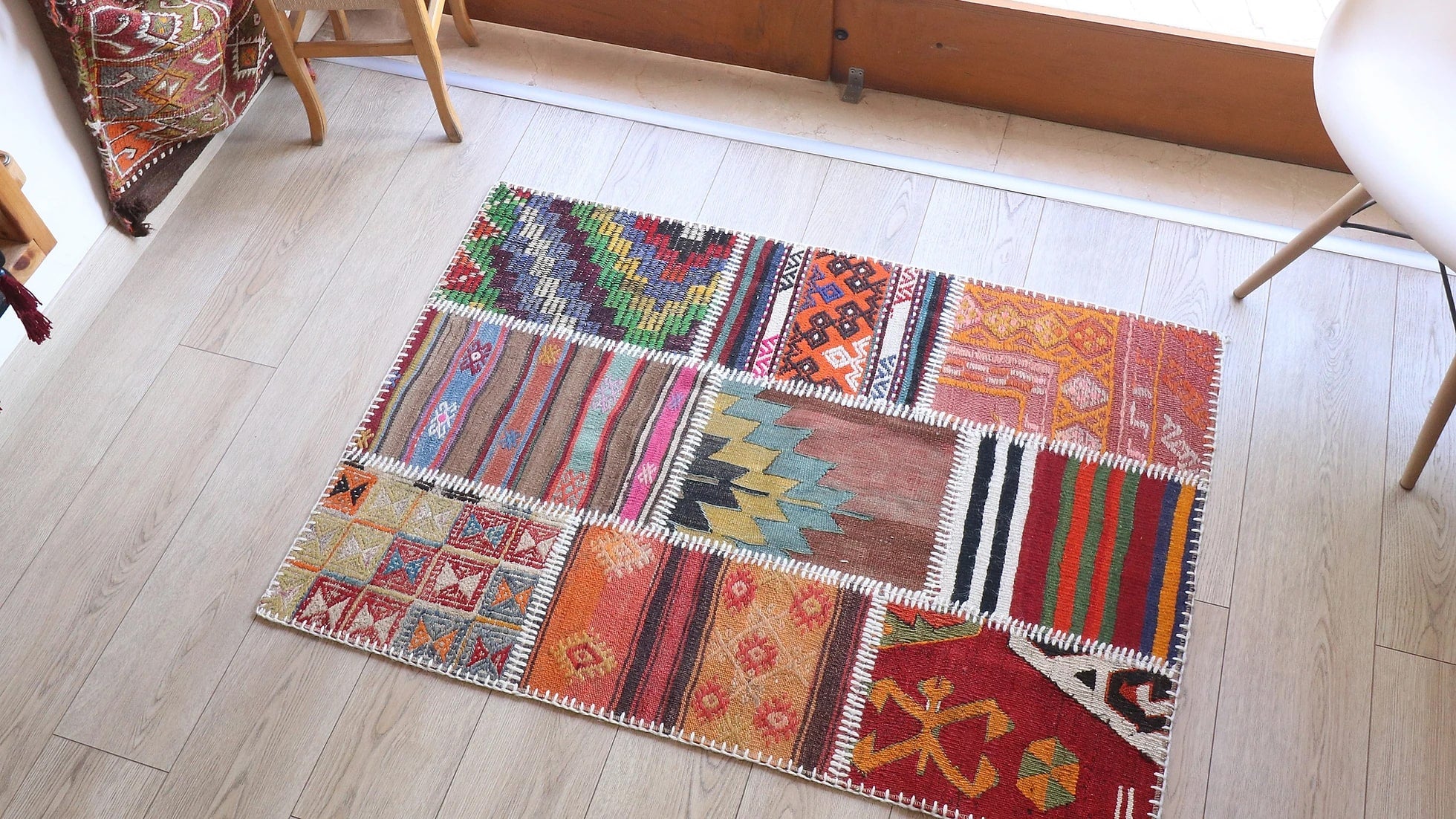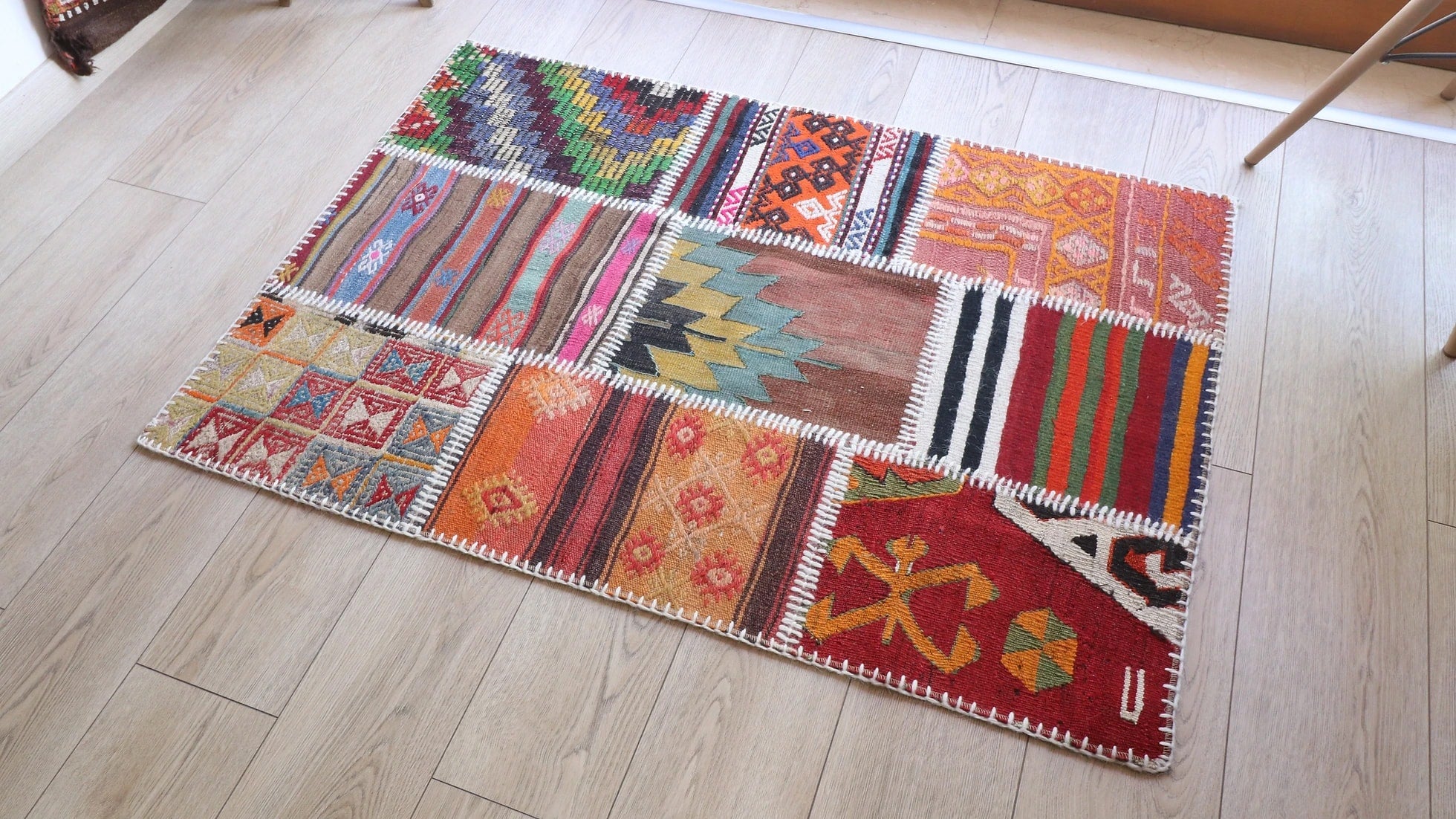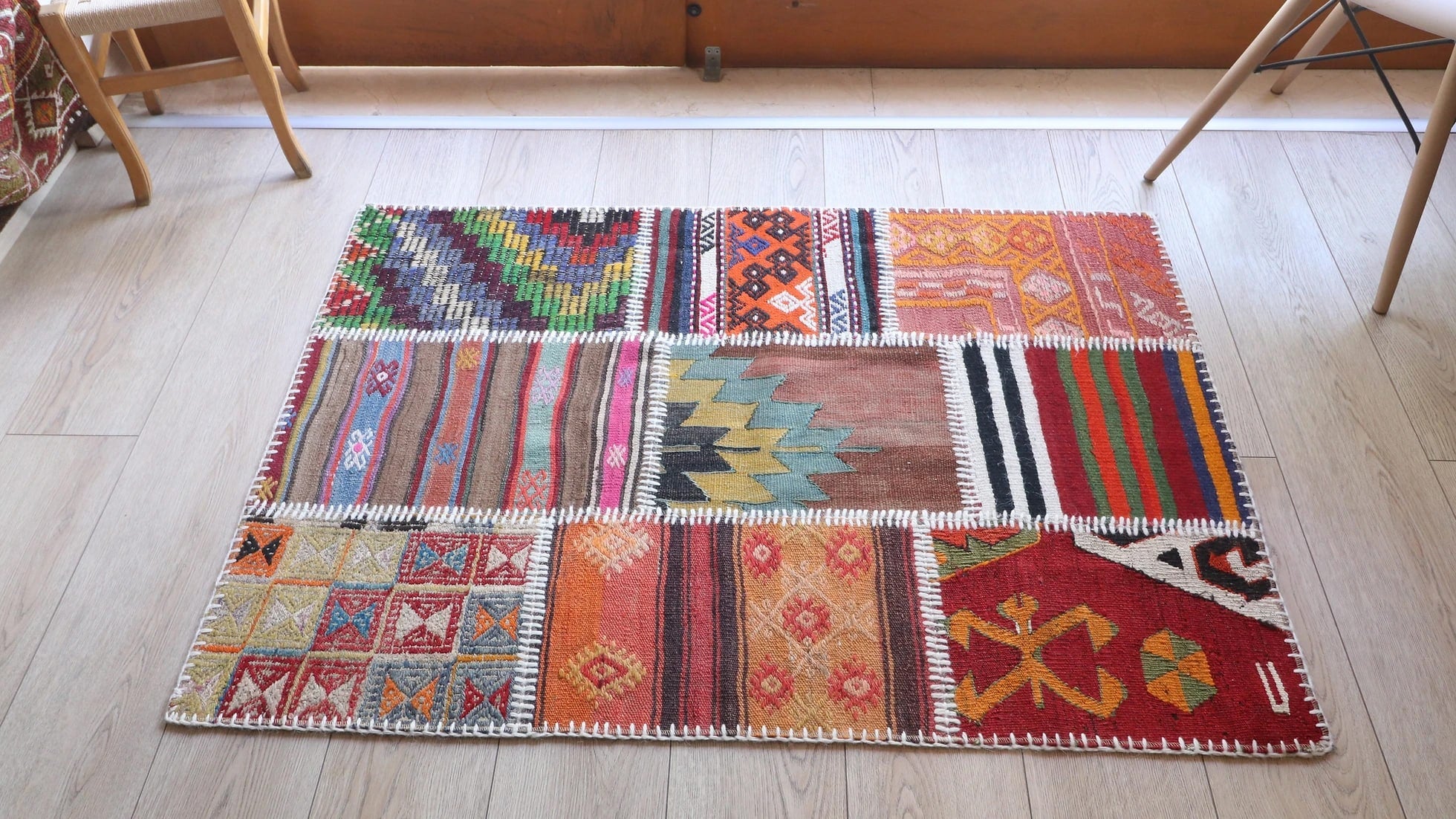 Antique Handwoven Turkish Rug | Eclectic Patchwork Flat-Weave Rug
Sale price

$990.00
Regular price
(/)
---
Introducing our Hand-Knotted Patchwork Kilim Rug, measuring 3x4, a true masterpiece that weaves together the rich history and artistry of Turkish women weavers. This remarkable creation is a harmonious symphony of antique and vintage handwoven kilim pieces, meticulously stitched together by the skillful hands of Turkish women weavers. Each kilim piece hails from different period and distinct villages of ancient Anatolia, Turkey, carrying whispers of generations past and weaving together the stories of diverse cultures.  

This patchwork flat-weave is a visual masterpiece, boasting a captivating blend of earthy faded and muted tones that evoke a sense of timeless elegance. Its multi geometric tribal motifs pay homage to ancient traditions, infusing your space with a touch of nomadic spirit and authenticity. This small area rug is the perfect companion for your favorite spot, inviting you to unwind and bask in its warmth, making any corner of your home irresistibly cozy.  

Despite the passage of time, the rug's impeccable condition stands as a testament to the enduring quality of its craftsmanship. With every step, you'll feel the embrace of history underfoot, a tangible connection to the hands that wove this masterpiece. The patchwork kilim effortlessly transcends eras and design styles, seamlessly complementing modern, transitional, and eclectic interiors alike.  

More than just a rug, this is a unique art that tells the stories of countless women weavers who poured their hearts and souls into creating a symphony of color, pattern, and texture. It's a testament to their ingenuity and dedication, a celebration of their legacy, and a tangible reminder of the power of human hands to shape beauty and culture.  

Embrace the fusion of tradition and modernity, and let it be the centerpiece that anchors your space in heritage and beauty. Own an exquisite one-of-a-kind masterpiece that transforms your home into a living canvas of history, artistry, and craft.
Age: Antique

Condition: Excellent

Dimensions: 2' 11" W x 4' 3" L

Floor Heating Safe: Yes

Material: Wool on cotton

Origin: Different regions of Turkey

Primary Color: Polychromatic

Product Care: Vacuum clean gently or professional cleaning

Shape: Rectangle

Style: Traditional style with a contemporary twist
Choose options