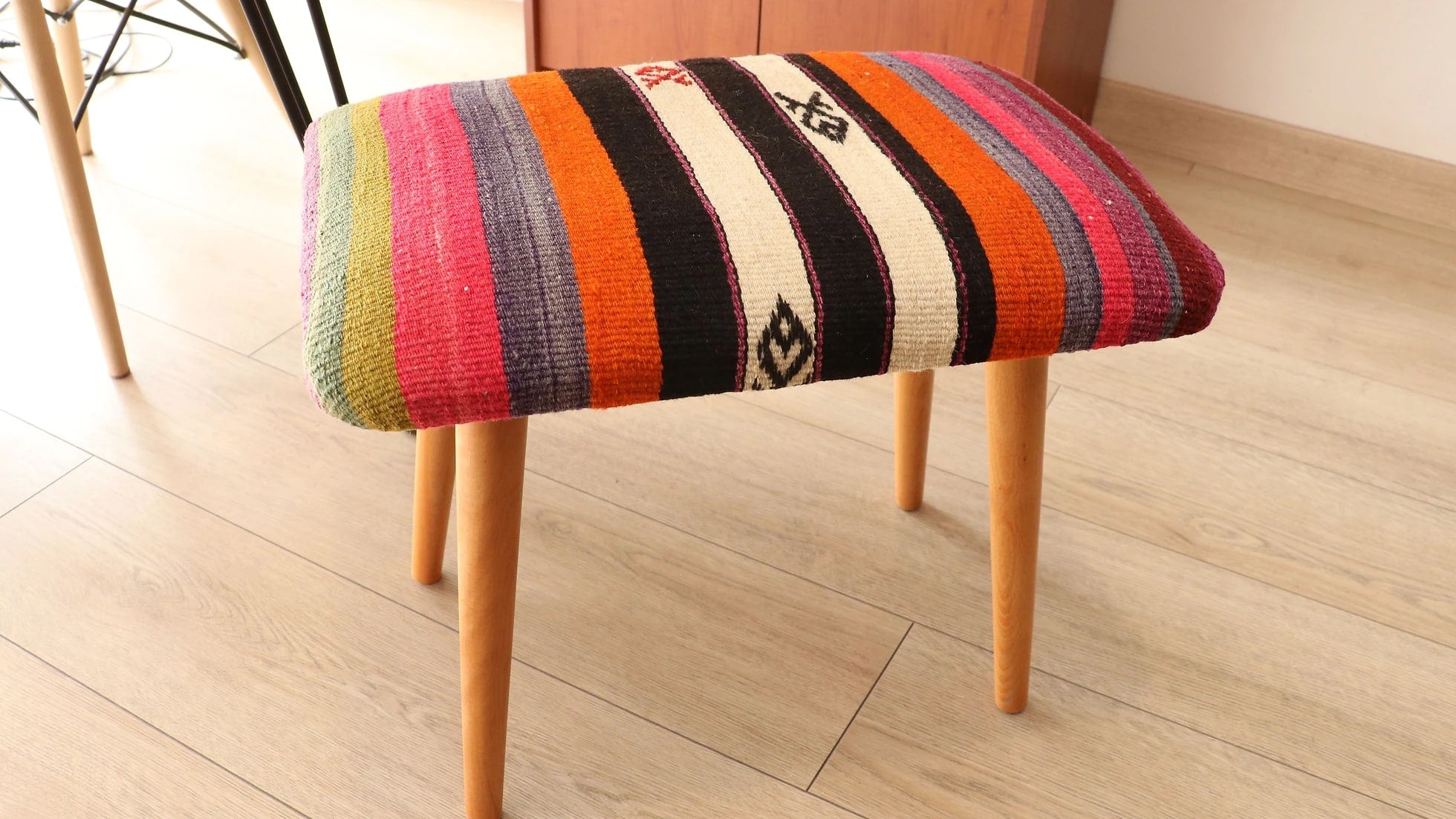 Vintage Kilim Upholstered Stool with Polychromatic Stripes
Sale price

$490.00
Regular price
(/)
---
Introducing our exquisite Kilim Upholstered Bench, a true work of art that seamlessly weaves in the rich heritage of Turkish kilim craftsmanship, accentuated by vibrant colors and Anatolian "bird" motifs. Crafted by hand with unwavering precision, this bench is a testament to our unparalleled expertise in kilim upholstery.

Much like the diverse meanings attributed to the "bird" motif in Anatolia, our bench is a symbol of many facets of artistry and tradition. Just as doves, pigeons, and nightingales symbolize good luck, happiness, joy, and love, our bench embodies these positive emotions in its very essence. It carries the soulful essence of the departed, representing longing and the anticipation of news, just as the "bird" motif does.

Moreover, our bench stands as a symbol of power and strength, akin to its historical significance as an imperial emblem for various states founded in Anatolia. This profound symbolism infuses our Kilim Upholstered Bench with layers of cultural significance, making it not just a piece of furniture but a tangible connection to Anatolia's rich heritage.

Crafted with meticulous attention to detail, each kilim incorporated into our bench is a unique masterpiece, painstakingly handwoven by skilled women weavers. This inherent uniqueness is lovingly preserved in our Kilim Upholstered Bench. What truly sets us apart is our unwavering commitment to sourcing the most exceptional kilims, thoughtfully chosen from various regions of Anatolia. Each piece is selected for its exceptional quality and distinct character, ensuring that your bench is a genuine treasure.

This stunning kilim bench effortlessly complements a wide range of interior styles, from rustic and Southwestern to modern farmhouse, mid-century modern, vintage French, and British designs. Its versatile design positions it as the perfect accent piece for any room, infusing timeless charm and character into your home decor.

Immerse yourself in the transformative essence of our Kilim Upholstered Bench – a captivating fusion of Turkish kilim heritage, meticulous craftsmanship, and vivid polychromatic style. It's an authentically unique accent piece that epitomizes the sophistication your home truly deserves. Elevate your living room, kitchen, entryway or office with this one-of-a-kind kilim ottoman today, and bring home a piece of Anatolia's diverse and meaningful artistic tradition.
Age: New

Condition: Excellent (Legs are demounted)

Dimensions: 1' 2" W x 1' 8" L x 1' 4" H

Floor Heating Safe: Yes

Material: Handwoven vintage kilim

Origin: Turkey

Primary Color: Polychromatic

Product Care: Vacuum clean gently or professional cleaning

Shape: Rectangle

Style: Vintage style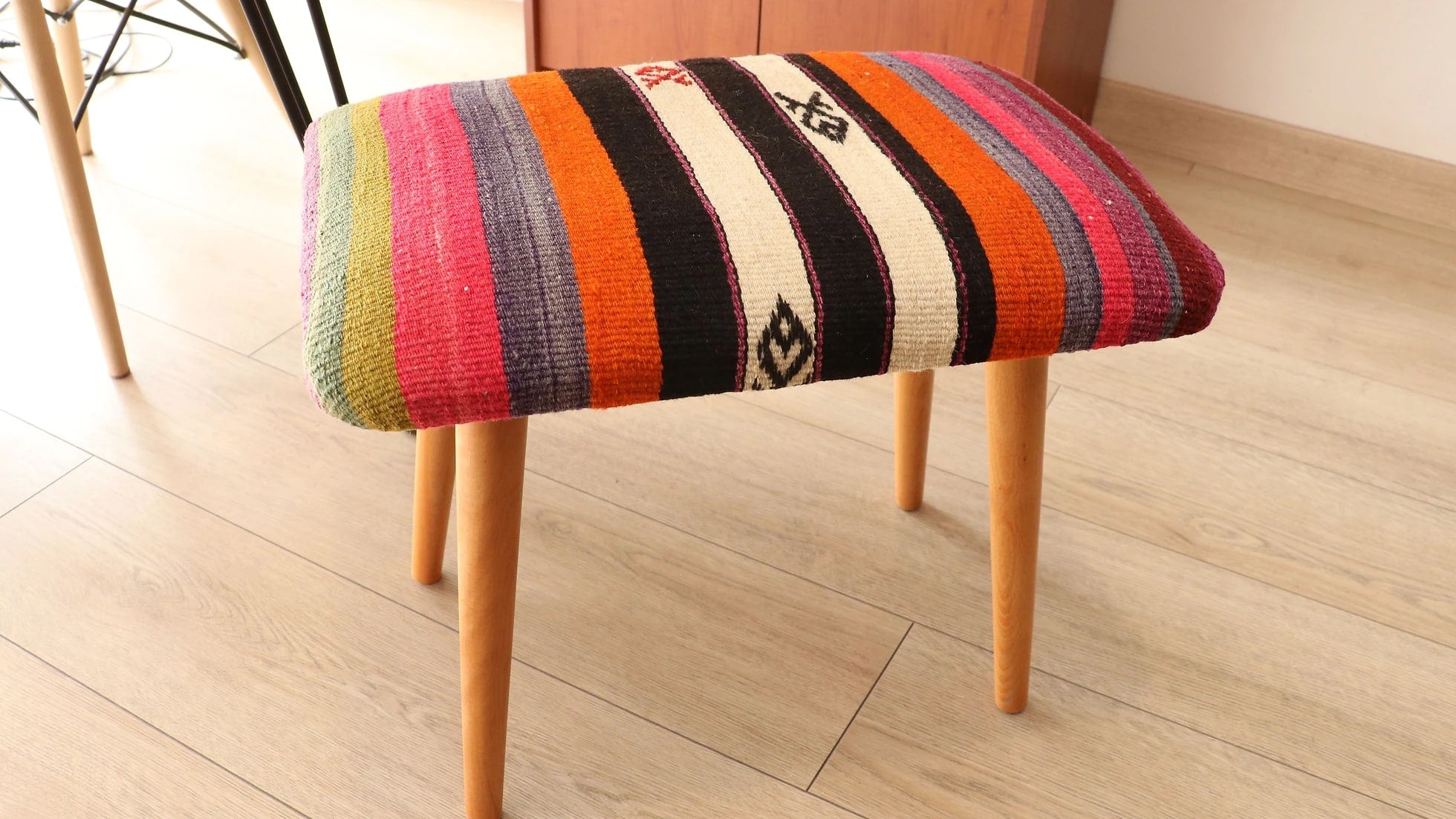 Vintage Kilim Upholstered Stool with Polychromatic Stripes
Sale price

$490.00
Regular price
Choose options