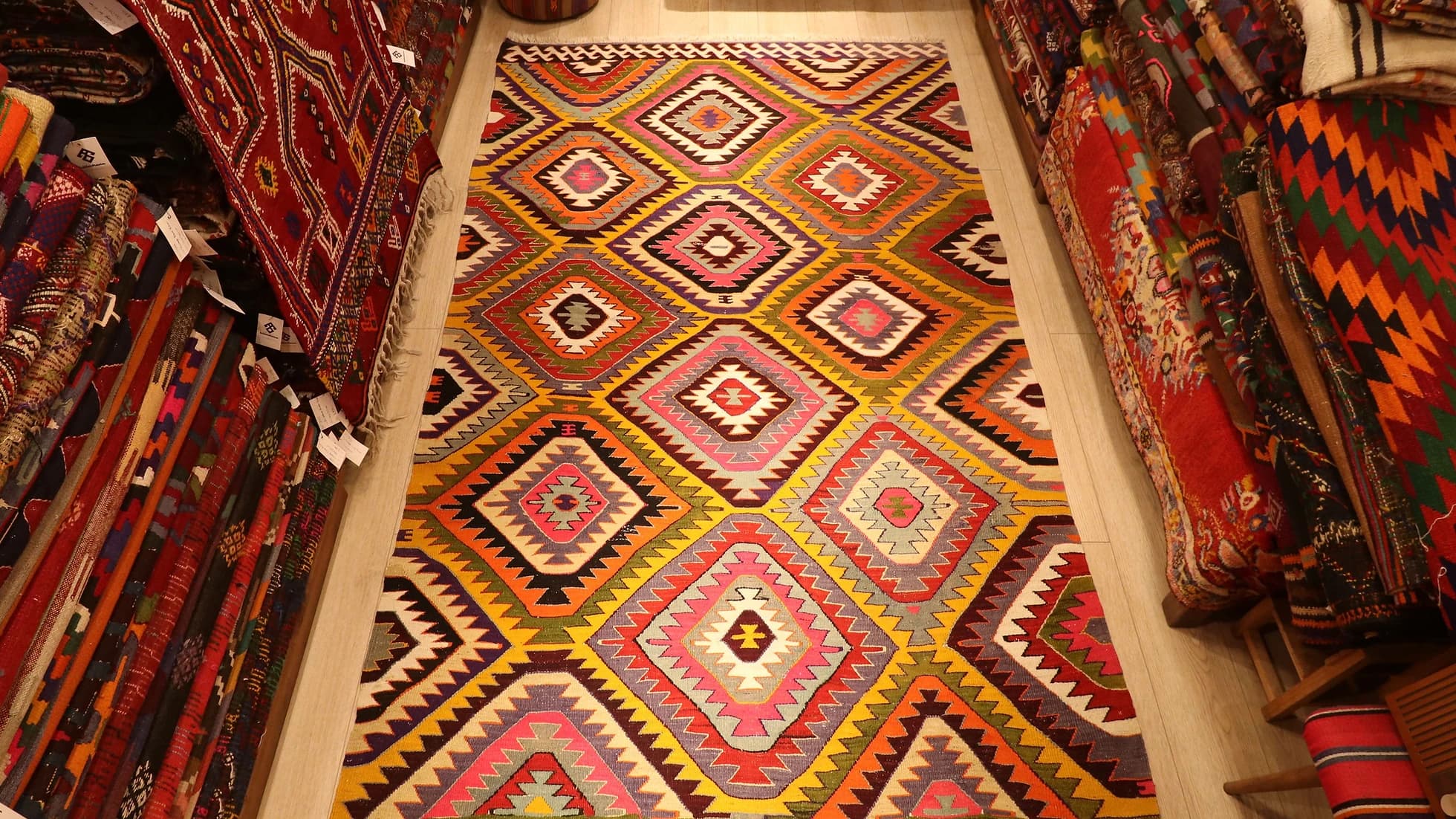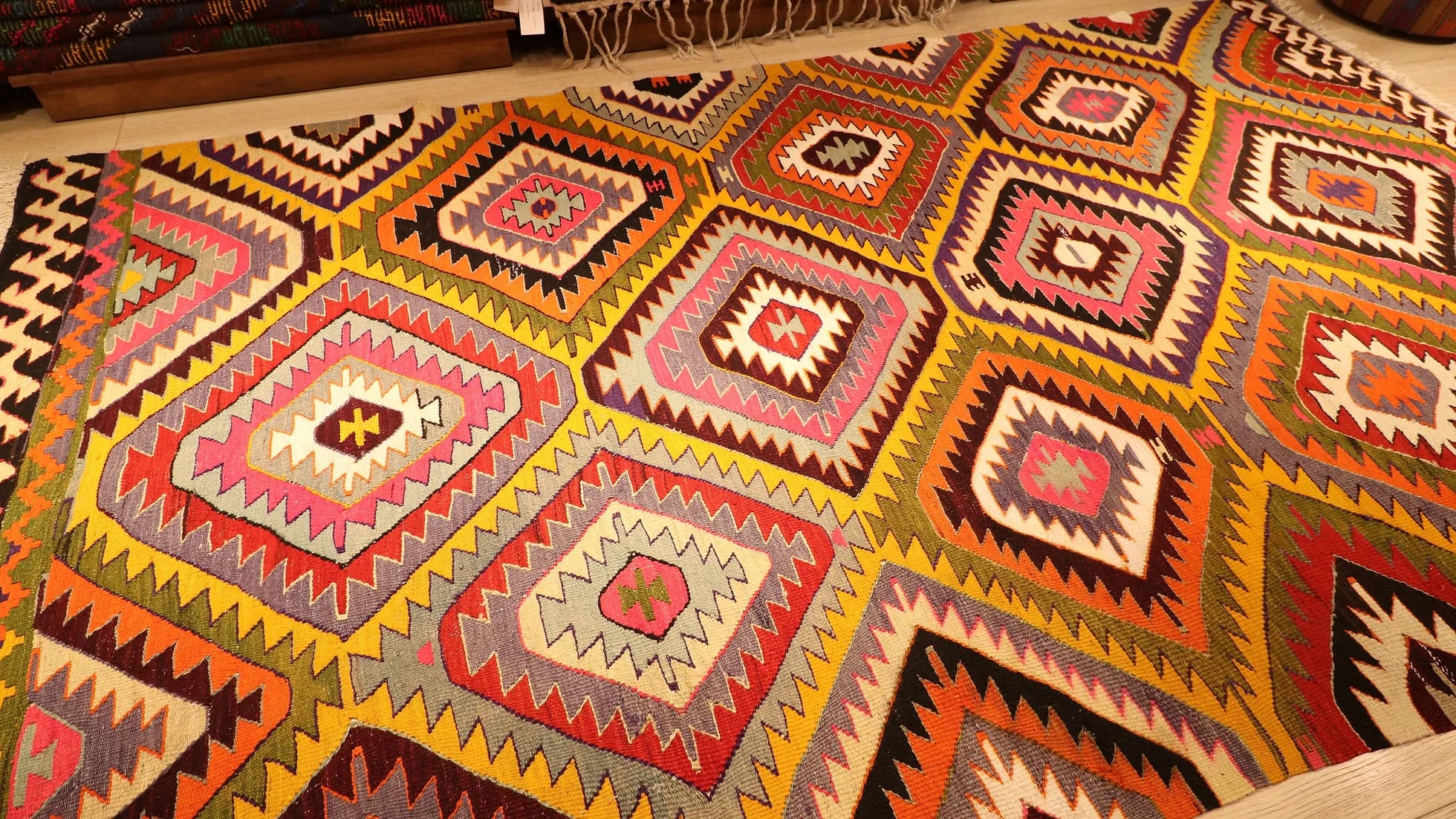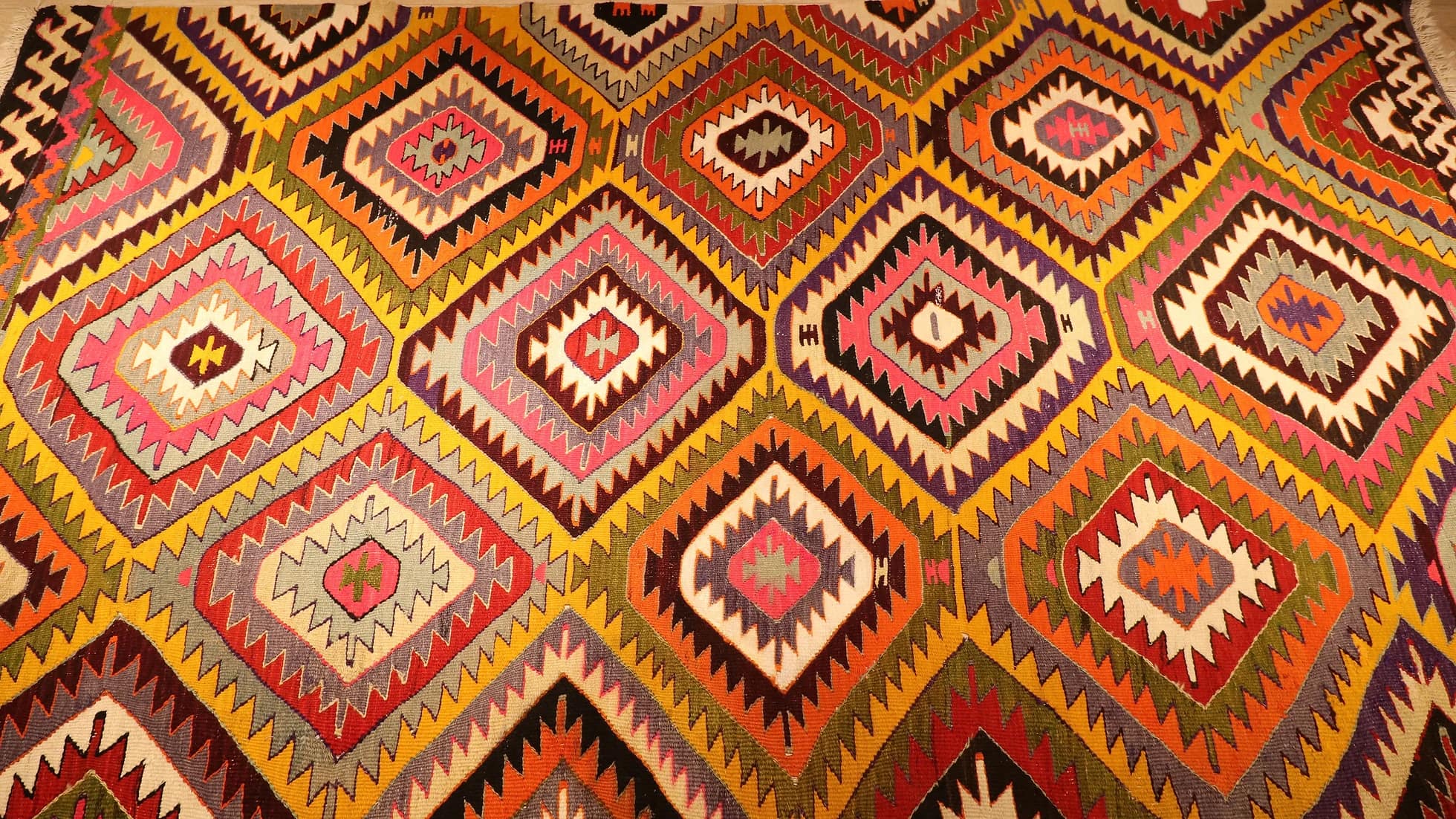 Vintage Turkish Hand-Knotted Rug | Antalya Flat-Woven Tribal Rug in Polychromatic Diamond Patterns
Sale price

$2,190.00
Regular price

$2,790.00
(/)
---
Introducing our resplendent Tribal Flat-Weave Rug, an embodiment of mid-century artistry originating from the enchanting city of Antalya, Turkey. Born from the skilled hands of the Barak tribe, who traversed from Eastern Anatolia to the coastal oasis of Antalya, this rug stands as a testament to the distinctive weaving prowess that defines the Baraks.

Adorned with captivating diamond patterns, each brimming with a kaleidoscope of hues, our rug transcends the ordinary. A symphony of color dances across its canvas, from the regal depths of royal purple and vibrant pinks to the tranquil blues, fiery oranges, sunlit yellows, earthy browns, passionate reds, crisp whites, and the mysterious allure of jet black. These intricate diamond motifs weave a narrative that seamlessly blends tradition and modernity, creating a masterpiece that is unequivocally one-of-a-kind. The rug's unique design and eye-catching color palette effortlessly capture attention, elevating every mood and inviting admiration from every angle.

The canvas of this vintage marvel is adorned with "running water" patterns, gracefully framing the tribal motifs at the ends along the widths. As if this captivating canvas and border design weren't enough, delicate white tassels, akin to elegant fringes, adorn its widths on both sides, adding a dramatic touch that propels the rug's magnificence to new heights.

Measuring a generous 5x10, this expansive area rug seamlessly integrates into a myriad of spaces. Whether it graces your living room, kitchen, doorway, entryway, guest room, dining room, office, or gallery, its versatility knows no bounds. A chameleon of design, it effortlessly complements various interior styles, including minimalist, maximalist, traditional, transitional, eclectic, cozy cottage, rustic farmhouse, vintage French, British elegance, and Victorian.

This Flat-Woven Tribal Rug transcends the realm of mere floor coverings—it is a conversation starter, a living piece of art that transforms your space into a gallery of cultural expression. Kilim Couture New York proudly presents this jewel from its curated inventory—a rug that not only reshapes your surroundings but also beckons inquiries and admiration. Seize the opportunity to own a piece of history and culture, meticulously woven into every thread of this exceptional rug. Immerse yourself in the legacy of Antalya, Turkey, and let this rug become the focal point of your home—an ode to craftsmanship, history, and unparalleled sophistication.
Age: 1950s

Condition: Excellent

Dimensions: 5' 5" W x 9' 9" L

Floor Heating Safe: Yes

Material: Wool on cotton

Origin: Antalya, Turkey

Primary Color: Polychromatic

Product Care: Vacuum clean gently or professional cleaning

Shape: Rectangle

Style: Tribal style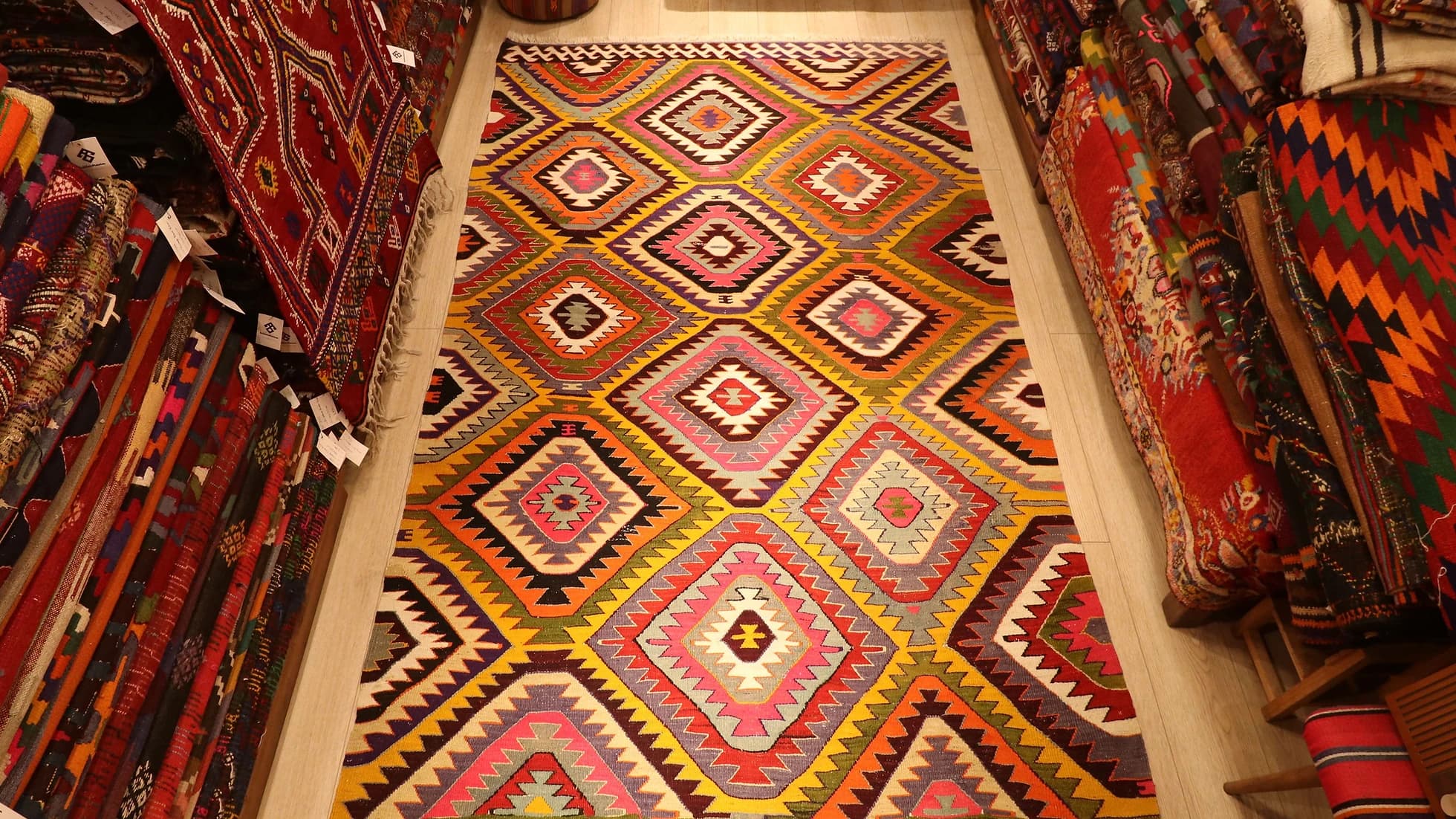 Vintage Turkish Hand-Knotted Rug | Antalya Flat-Woven Tribal Rug in Polychromatic Diamond Patterns
Sale price

$2,190.00
Regular price

$2,790.00
Choose options