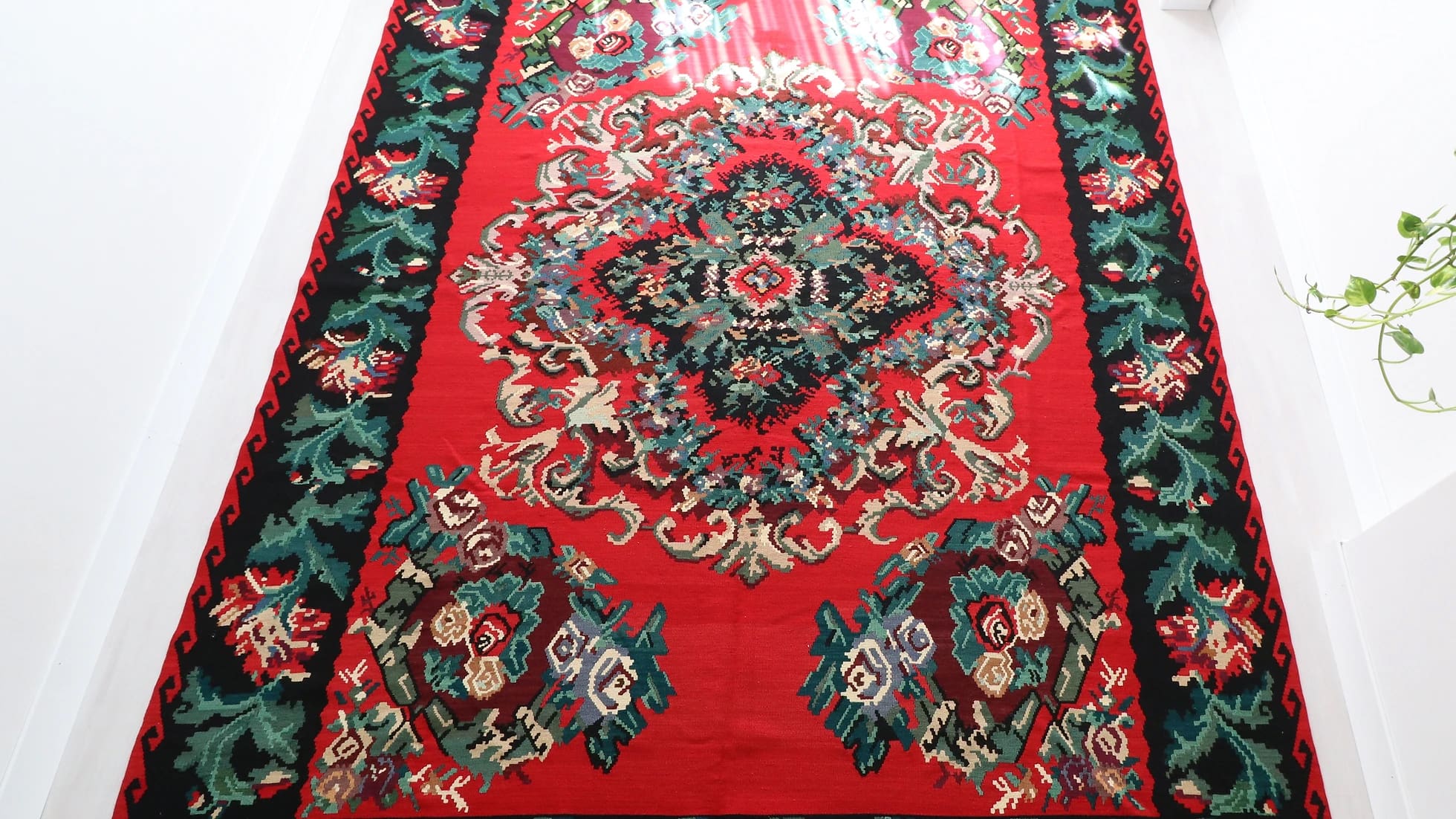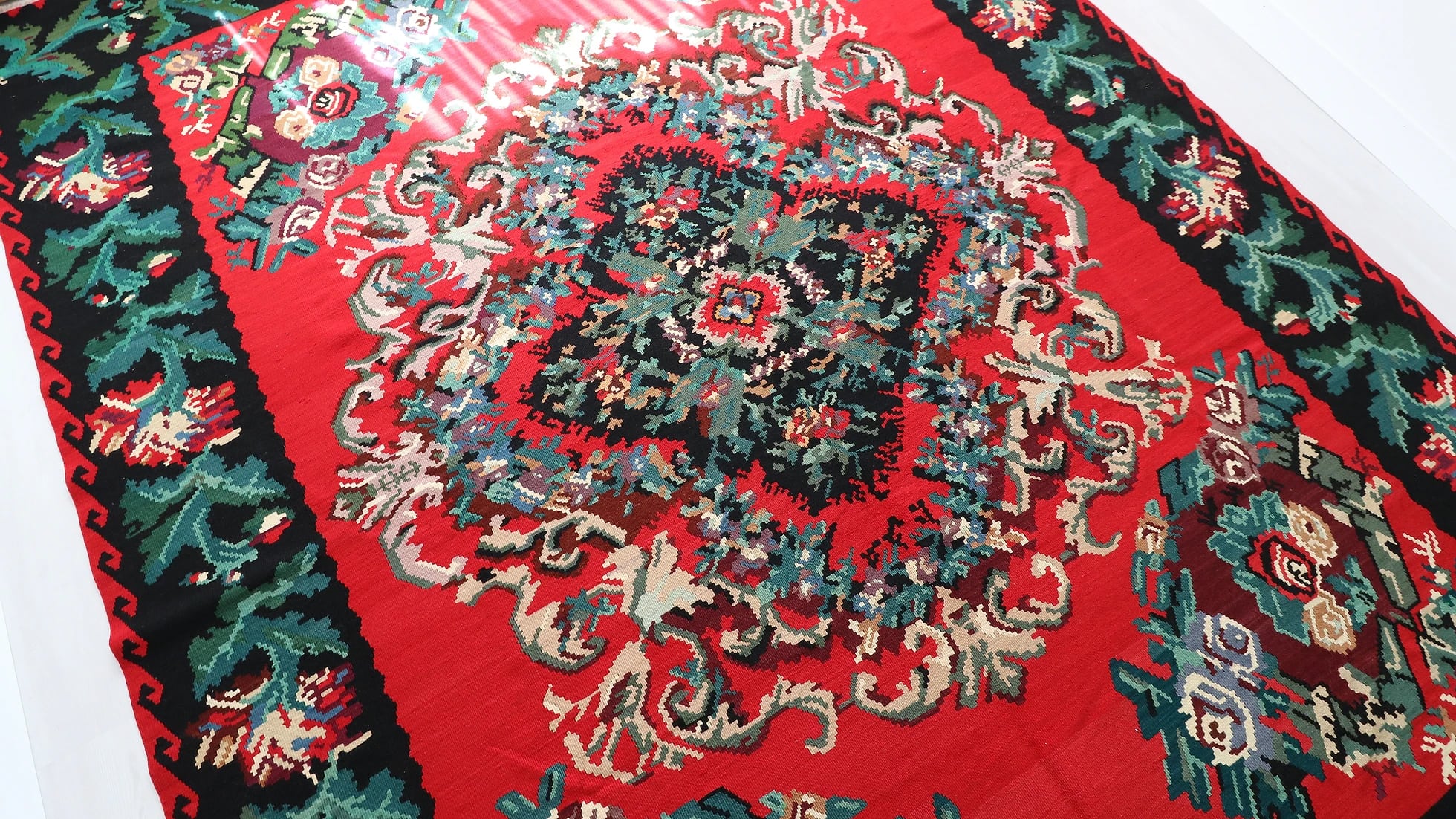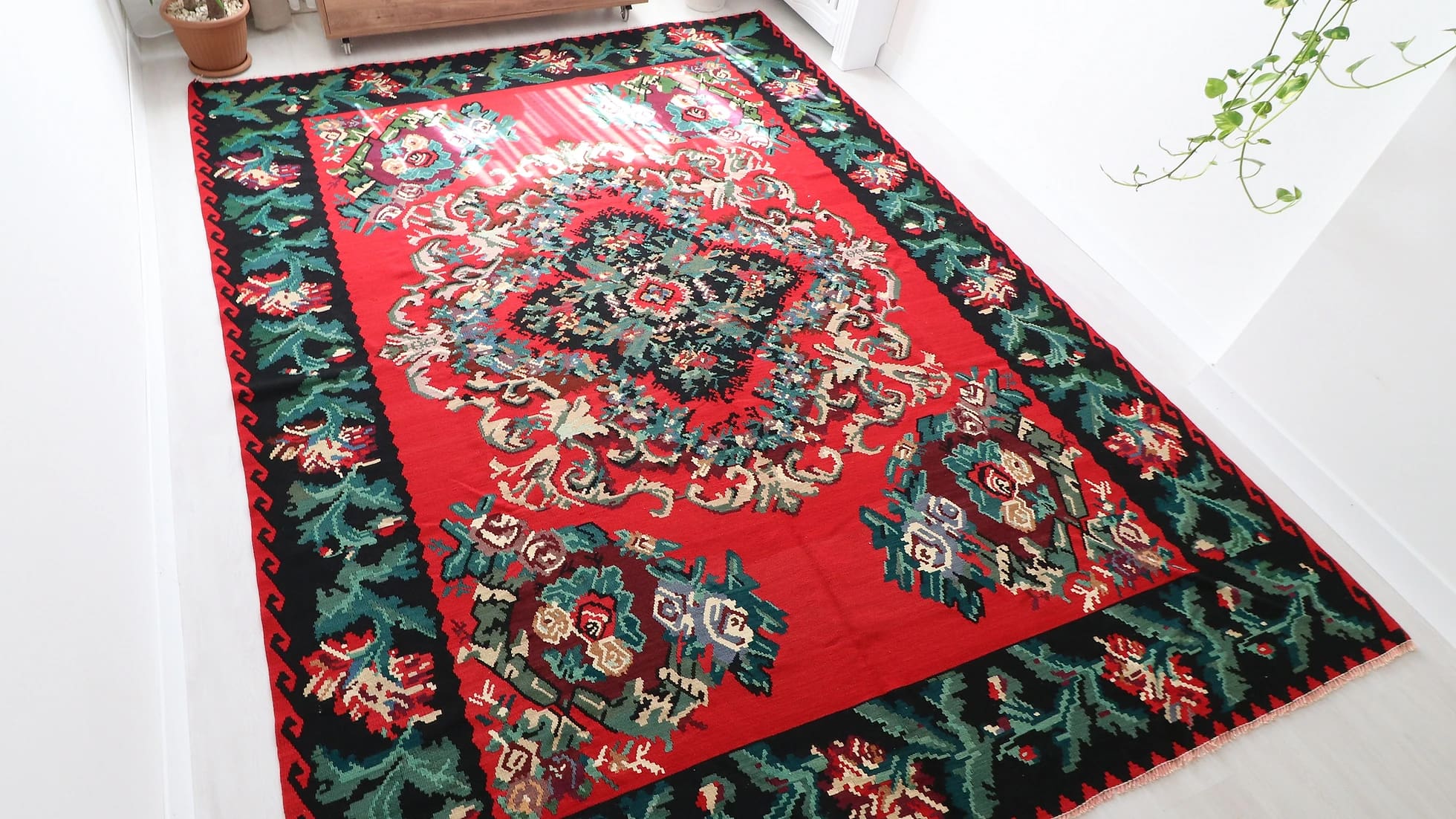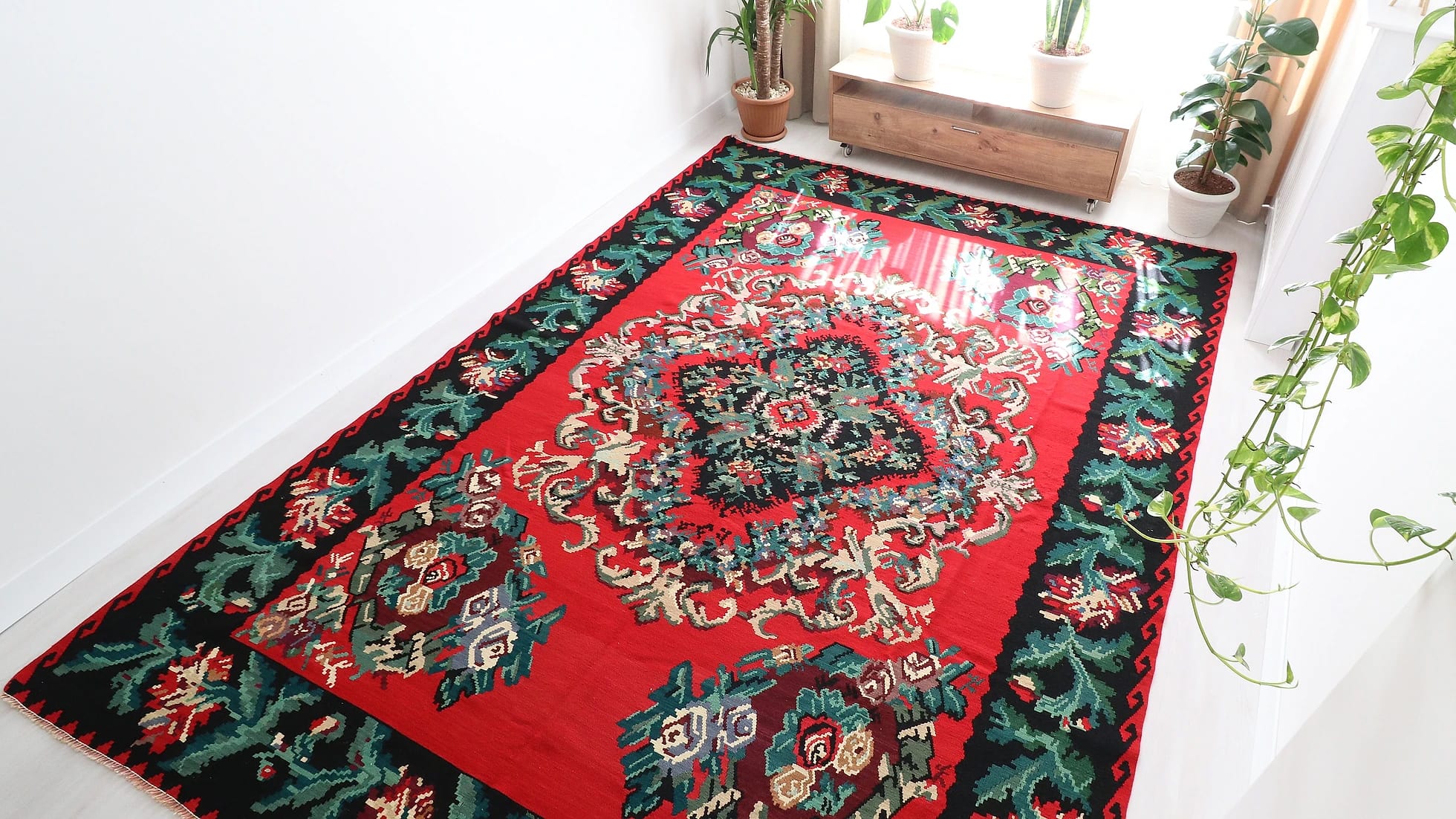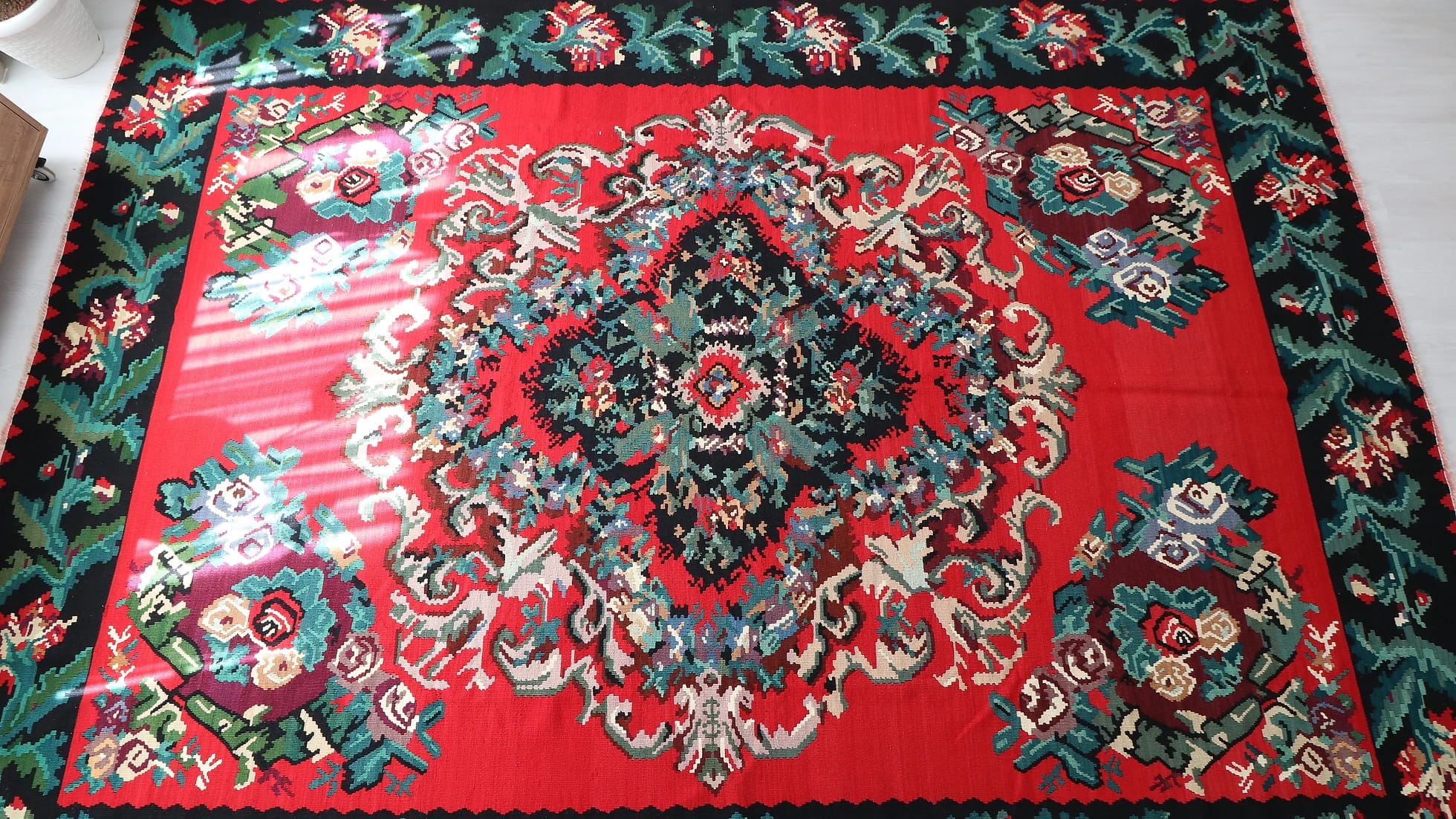 Vintage Bessarabian Hand-Knotted Rug | Moldavian Oversized Kilim in Floral Patterns 1950s
Sale price

$2,490.00
Regular price

$3,090.00
(/)
---
Immerse yourself in a realm of Moldavian refinement with our exquisite Vintage Bessarabian Rug—a meticulously handwoven flat-weave kilim spanning 8x11 in dimensions. This resplendent rug epitomizes the epitome of Bessarabian elegance, harkening back to the mid-20th century in Romania. Elevated to collector's status, its inherent value is underscored by the distinctive individuality and authenticity infused into its creation.

Capture your gaze first with a backdrop of resplendent oriental red, an ode to tradition that sets the tone for the awe-inspiring floral tapestry adorning its surface. Five opulent floral arrangements, each masterfully crafted with painstaking precision, imbue this extraordinary piece with depth and individuality.

At its core, five expansive bouquets emerge, boasting a spectrum of cream, blue, orange, and red roses that command attention, exuding a sense of innate beauty and grace. Enveloped by luxuriant green leaves, the rug harmoniously connects with nature, its design a symphony of balance and sophistication. Surrounding these focal bouquets are single roses in varying hues of blue, burgundy, pink, and cream, delicately intertwined with wisps of brown and green leaves, culminating in an enchanting and seamless pattern.

The Bessarabian style, renowned for its distinctive floral motifs and artistic allure, finds exemplary representation in this rug—a tangible bridge to the European stylistic origins of its era. Possessing this piece transcends mere ownership; it entails embracing history and infusing European aesthetics into the very fabric of your home.

Whether your interior aesthetic leans towards classic, maximalist, traditional, transitional, or eclectic, this vintage Bessarabian rug effortlessly elevates and complements your living spaces. It emerges as a focal point, imparting an air of sophistication and refinement to every room it graces, an embodiment of timeless elegance.
Age: 1950s

Condition: Excellent

Dimensions: 8' 2" W x 11' 0" L

Floor Heating Safe: Yes

Material: Wool on cotton

Origin: Turkey

Primary Color: Scarlet

Product Care: Vacuum clean gently or professional cleaning

Shape: Rectangle

Style: Bessarabian floral style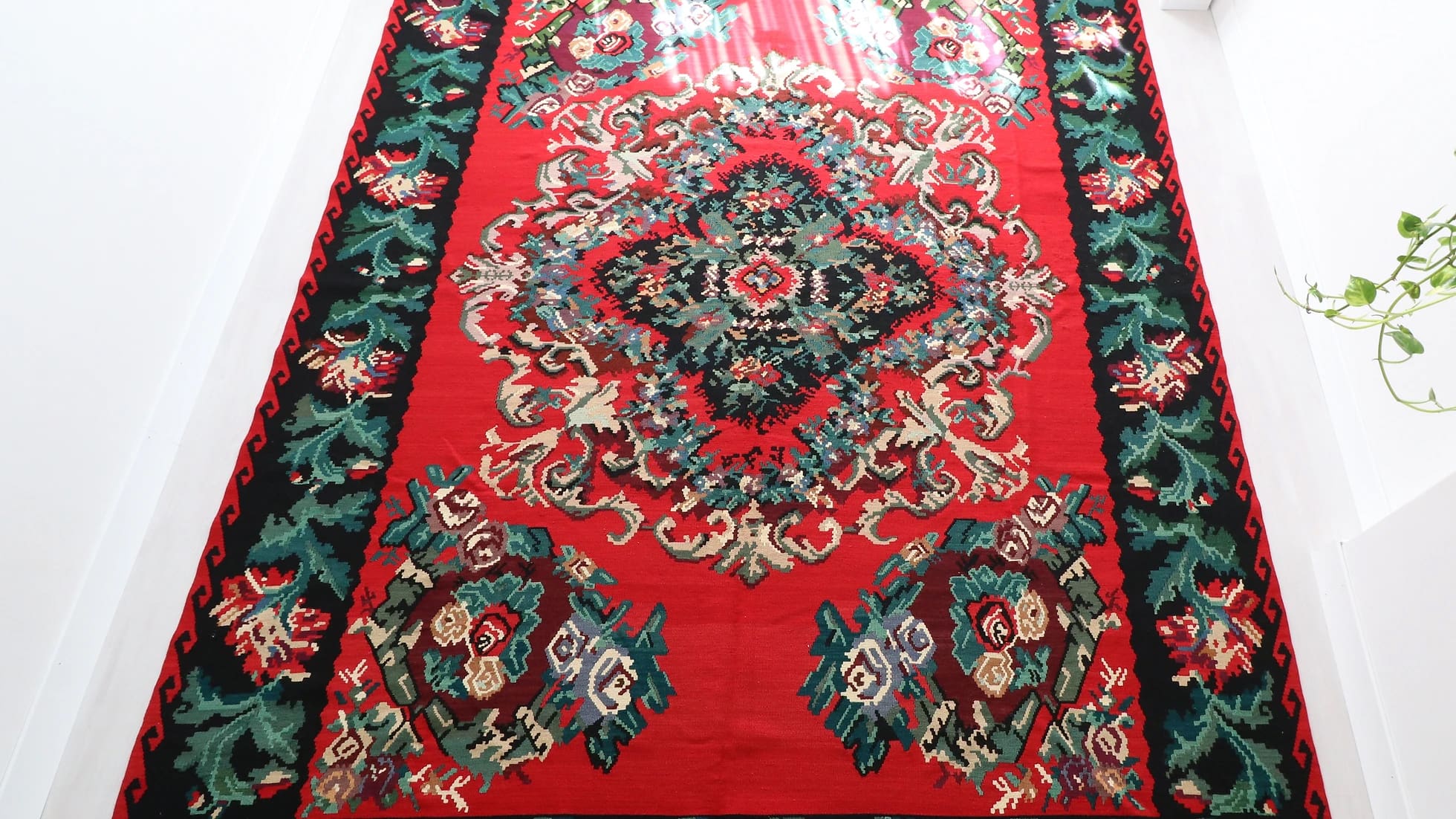 Vintage Bessarabian Hand-Knotted Rug | Moldavian Oversized Kilim in Floral Patterns 1950s
Sale price

$2,490.00
Regular price

$3,090.00
Choose options