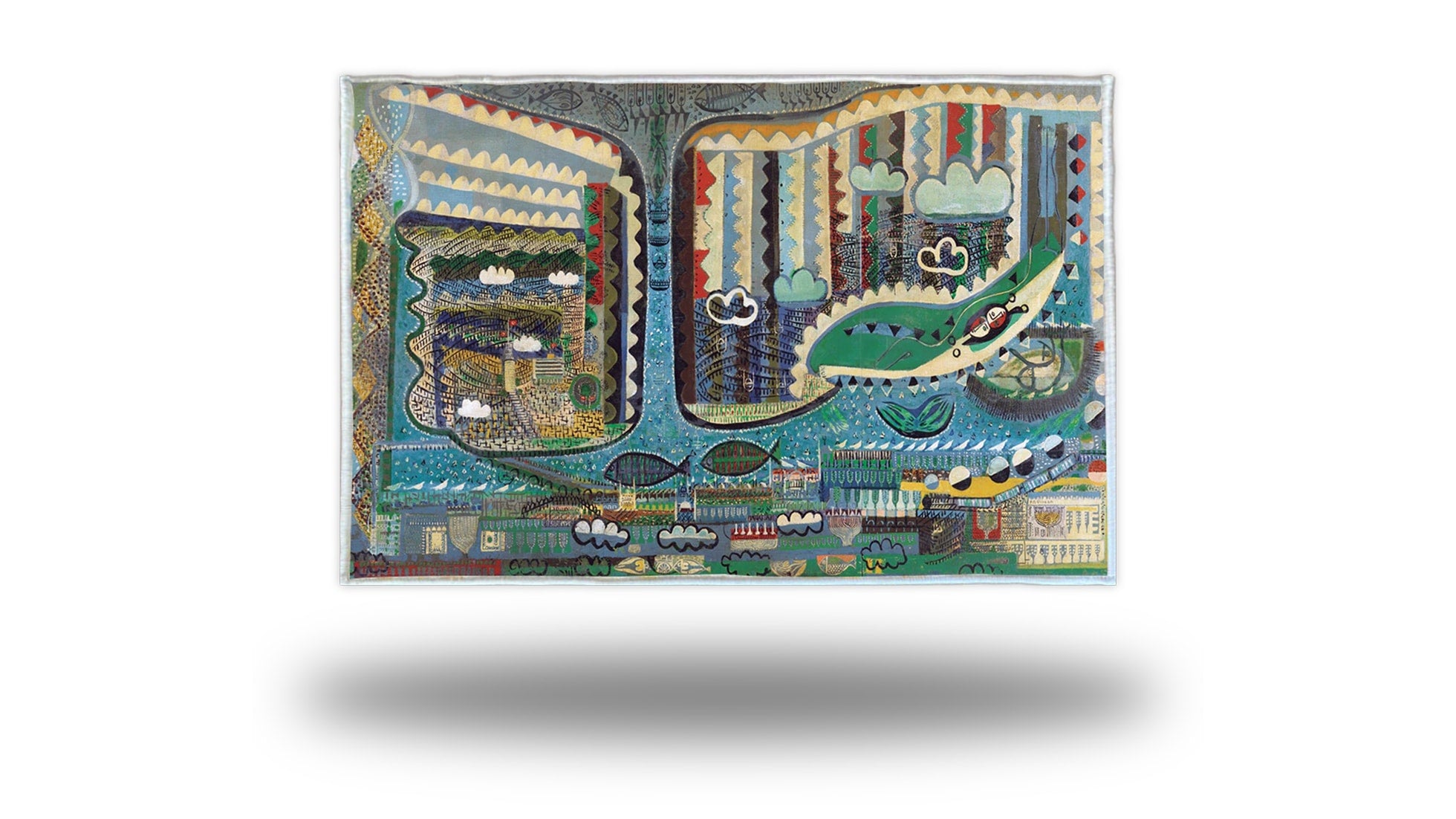 Semi-Abstract Contemporary Rug Inspired by Istanbul, Bedri Rahmi Eyuboglu
Sale price

$1,990.00
Regular price
(/)
---
Introducing our exquisite rug, a true masterpiece inspired by Bedri Rahmi Eyuboglu's iconic painting, "Istanbul." This rug captures the essence of this vibrant city in every thread, bringing the soul of Istanbul directly into your living space. Love for a city could only be expressed through the brush of a painter like this.

The design of this rug pays tribute to the rich tapestry of Istanbul's culture, history, and natural beauty. Intricate patterns and vibrant colors draw inspiration from Eyuboglu's portrayal of the city's iconic landmarks, including the majestic minarets, the shimmering Bosphorus, and the distinctive red rooftops that define Istanbul's skyline.

The color palette of this rug resonates with the warmth and liveliness of Istanbul. Dominant hues of red, blue, and yellow reflect the city's energy, while subtler shades transport you to the serene blues of the Bosphorus at twilight and the fiery reds of bustling Turkish markets.

Crafted with meticulous care and attention to detail, this rug showcases a harmonious blend of tradition and contemporary craftsmanship. We've ensured the highest quality and durability, making it not just a piece of art but a functional addition to your home.

We have used only the finest materials, ensuring a soft and luxurious underfoot experience that maintains its resilience for years to come. Just as Bedri Rahmi Eyuboglu chose his paints with precision, this rug reflects the same level of artistry in its creation.

With each step on this Istanbul-inspired rug, you embark on a journey through the artist's emotions, impressions, and experiences of this enchanting city. The intricate patterns, reminiscent of Istanbul's cultural mosaic, evoke a sense of history and unity, much like the "Istanbul" painting itself.

Whether placed in your living room, bedroom, or office, this rug serves as both a functional and artistic centerpiece. It encapsulates the essence of Istanbul's past and present, allowing you to bring a touch of this vibrant city into your daily life. This rug, inspired by the famous "Istanbul" painting, can be also hung on your wall just like the original masterpiece.

This rug is not just a floor covering; it's a portal to the heart of a city that has inspired poets, writers, and artists throughout history. With this Istanbul-inspired rug, you can infuse your living space with the same passion and creativity that Bedri Rahmi Eyuboglu poured into his iconic painting. Immerse yourself in the timeless beauty of Istanbul, right in the comfort of your home.
Age: New

Condition: Excellent (Handwoven)

Dimensions: Made to order (Contact us for shipping estimates)

Floor Heating Safe: Yes

Material: Wool on cotton

Origin: Turkey

Primary Color: Polychromatic

Product Care: Vacuum clean gently or professional cleaning

Shape: Rectangle

Style: Contemporary style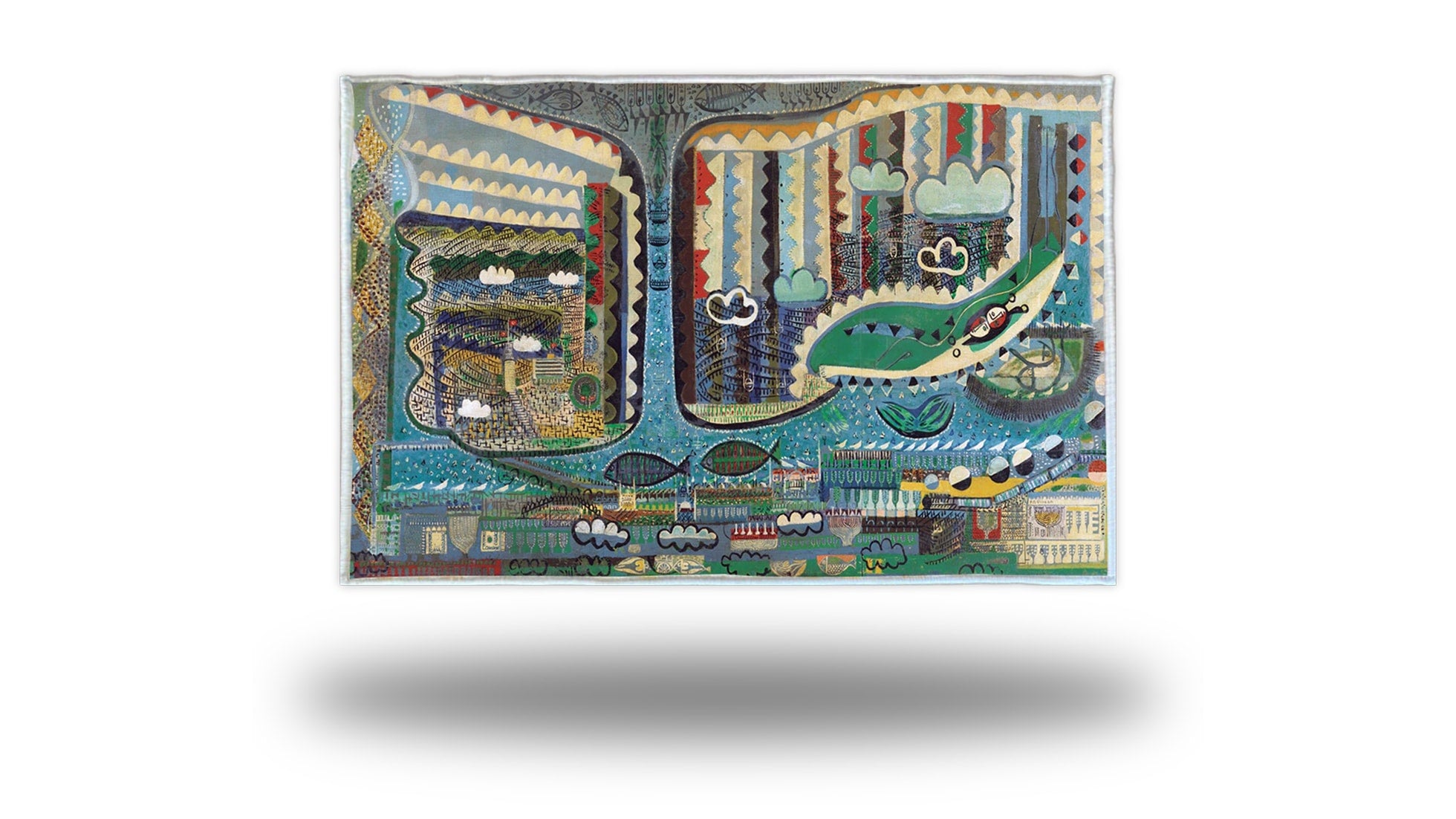 Semi-Abstract Contemporary Rug Inspired by Istanbul, Bedri Rahmi Eyuboglu
Sale price

$1,990.00
Regular price
Choose options